The Best Alternatives To VLC Media Player For Mac
When you need to play a video on your Mac, what do you do? Which app do you open? If you're new to macOS, you might just double-click on the media file and it's likely that QuickTime Player will start up — good enough for the most common tasks.
Soon though you're bound to feel QuickTime's limitations. It might be that you've transferred a file from your camera that's not supported, or you want to watch a foreign movie with external subtitles. All this is difficult, if not impossible, to accomplish with QuickTime Player. You need to upgrade.
From the first moments of looking for a better media player, VLC for Mac is going to show up in search results again and again. The app is free, has good ratings, and seems to be universally loved. What's not to love, right? Well, there are a couple of problems.
Why you might need a VLC alternative
The official story of VLC player goes back to 1996, when a few students of École Centrale Paris in France developed the app as their academic project. Back then, they called it VideoLAN Client (VLC for short). As VLC player got more and more recognition and became popular worldwide, the original developers released the code under the open-source license, so that anyone could fix bugs and contribute new features.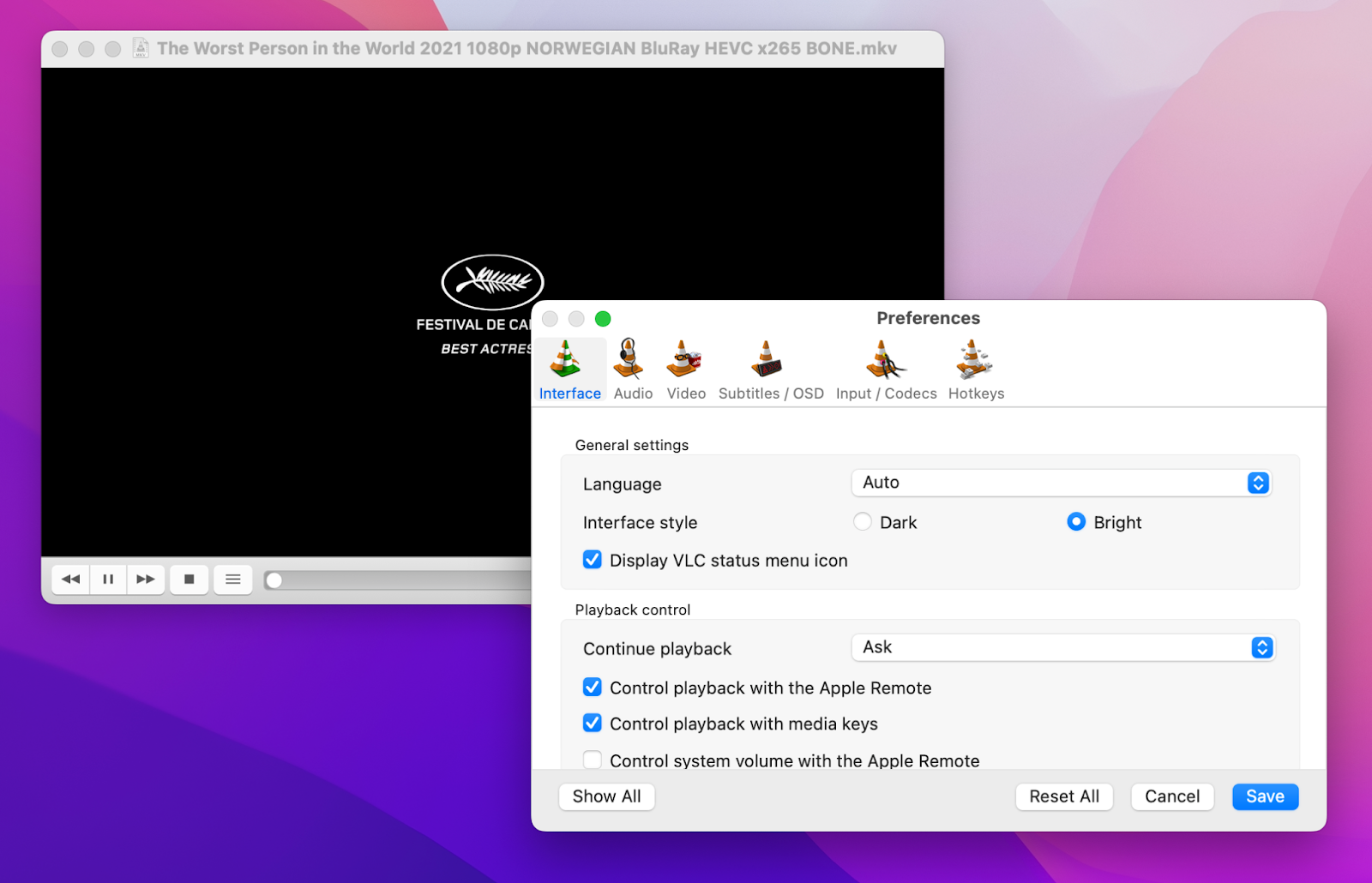 VLC became an instant hit because it could play many of the formats most players didn't support back then, including WMV, FLAC, and others. But over two decades later, many great alternatives emerged, while VLC didn't receive any groundbreaking updates. Here's why it's time to look for a VLC alternative:
Complicated tagging and metadata editing. With a slightly outdated UI, you have to dig around quite a bit to edit audio or video tags.
No AirPlay or DLNA streaming. Easy streaming has become one of those media player features we take for granted. Well, VLC doesn't have it.
macOS compatibility issues. Each time Apple upgrades macOS, VLC users are in trouble. As a free open-source player, VLC can be slow rolling out updates.
Play any media with Elmedia Player
Where VLC media player for Mac lacks power, Elmedia Player excels. Watch any videos you want anytime, in any format. Elmedia Player works with all the key media formats VLC supports, so you're not losing anything by switching.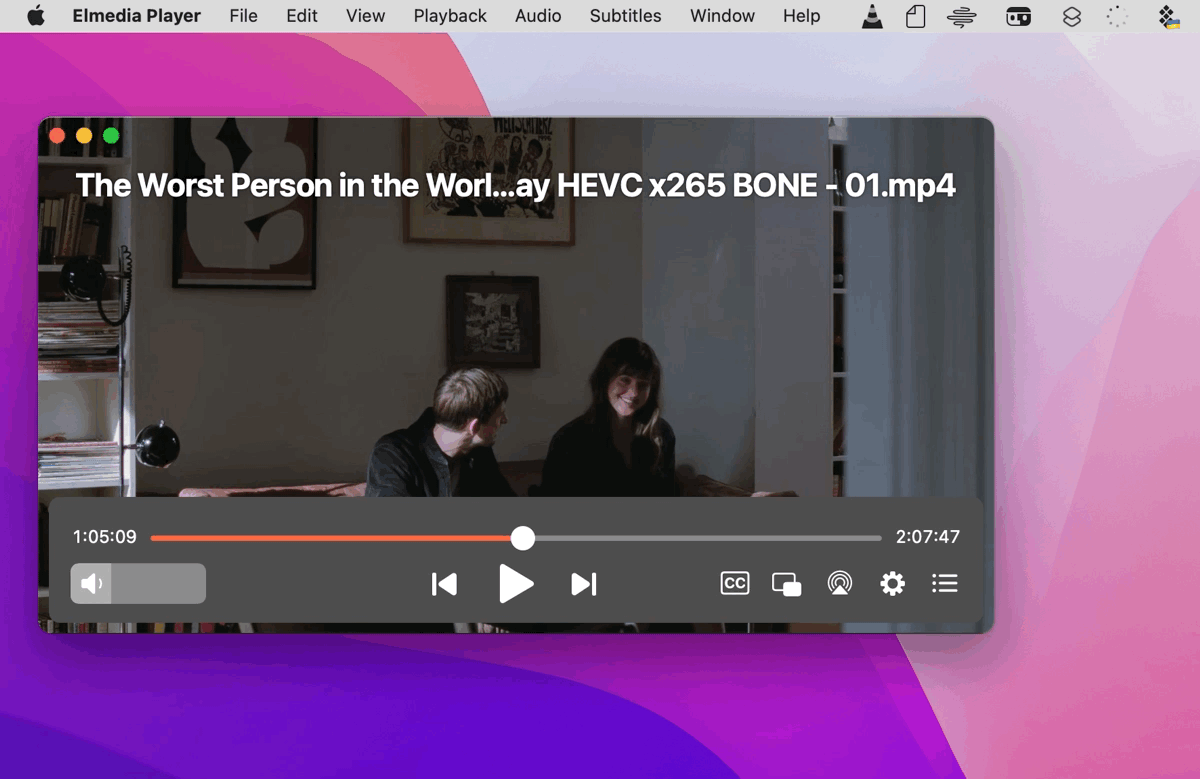 Moreover, any videos can be easily played on your AirPlay-enabled devices — watch a movie on a big screen with Apple TV, for example, without the need for USB drives or awkward cables. And while VLC media player might get stuck playing HD videos on a big screen, Elmedia will sail through them seamlessly with the help of hardware-accelerated decoding.
Now when you know the key features, let us tell you about our favorite bells and whistles Elmedia Player brings to the table:
Ad-free YouTube video playing. You can open any online video from Elmedia's menu and play it on your Mac without ads.
Bookmarking and screenshots — so you can capture your favorite moments.
Picture-in-picture and timeline preview thumbnails for comfortable viewing.
Easy subtitle control from the menu bar (change subtitles track, reset delays, and more).
Fully customizable viewing with Movist Pro
Elmedia Player is the ultimate VLC alternative for Mac, no doubt about that. But if you feel you want something even more progressive — a tool that can help you create your own video viewing automations — try Movist Pro.
Movist Pro is part of Setapp, just like Elmeda, so you don't have to choose between them — you can get both included in your membership.
Movist Pro not only effortlessly decodes any video you come across (with an option to select decoders manually if needed) but also lets you configure the perfect video-watching scenario, including the quality and the size of each file.
If you want to watch a high-dynamic-range (HDR) video, but your screen doesn't support it, the colors will show up dull and faded. Movist Pro features a built-in HDR tone-mapping technology that automatically adjusts colors to what they are supposed to be.
The biggest advantage of Movist Pro is beautifully reflected by its controller overlay that lets you adjust your experience and tweak tons of little things as you watch your video.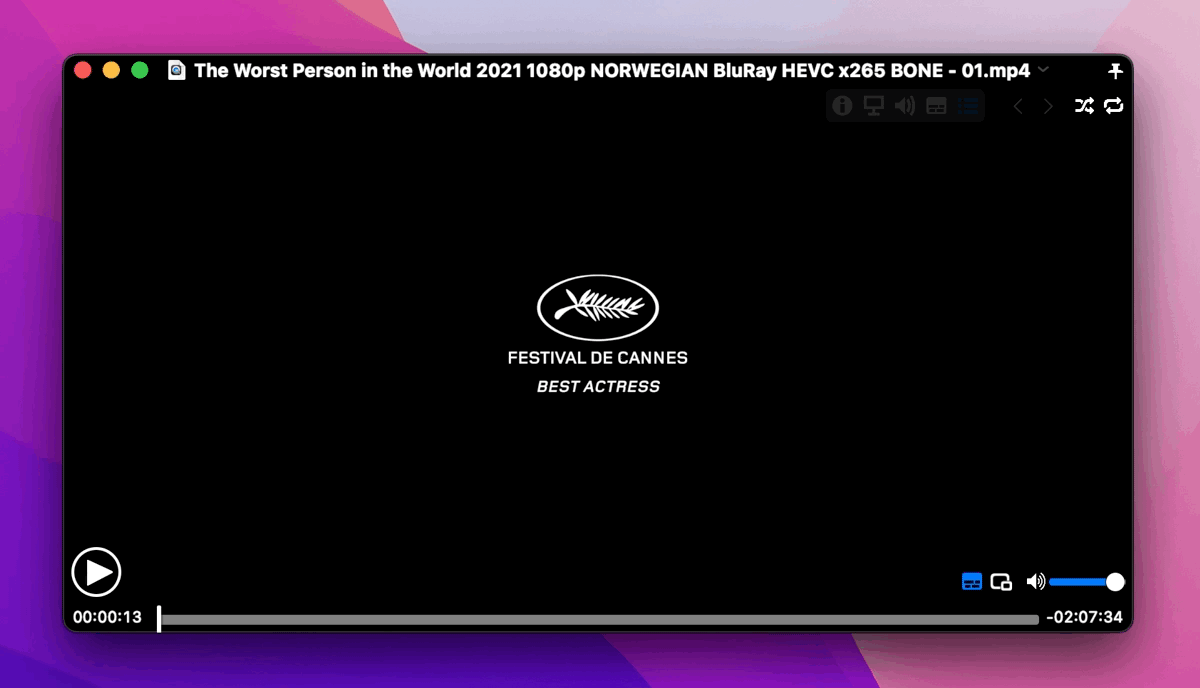 What's more, while nearly every VLC alternative for Mac lacks the powerful subtitle management that VLC is known for, Movist Pro takes it a step further with support for multiple subtitles, listening subtitles, capability to set default subtitles, disable subtitles for movies in select languages, and more. Pick your perfect scenario.
How to get a VLC download for Mac
Want to try VLC before you make up your mind? Here's how you can get your hands on it.
Unfortunately, due to some licensing issues, VLC player for Mac isn't available on the App Store (although the iOS version is). With a simple Google search you'll find that lots of third-party websites offer you VLC for Mac downloads — but beware! Such download files are often infected with various kinds of malware looking to find an easy way into your computer.
The only option that's 100% safe is to find a VLC download for Mac on its official website:
Go to videolan.org/vlc
Click Download VLC
Double-click the .dmg file in your Downloads folder
Move the VLC icon into Applications.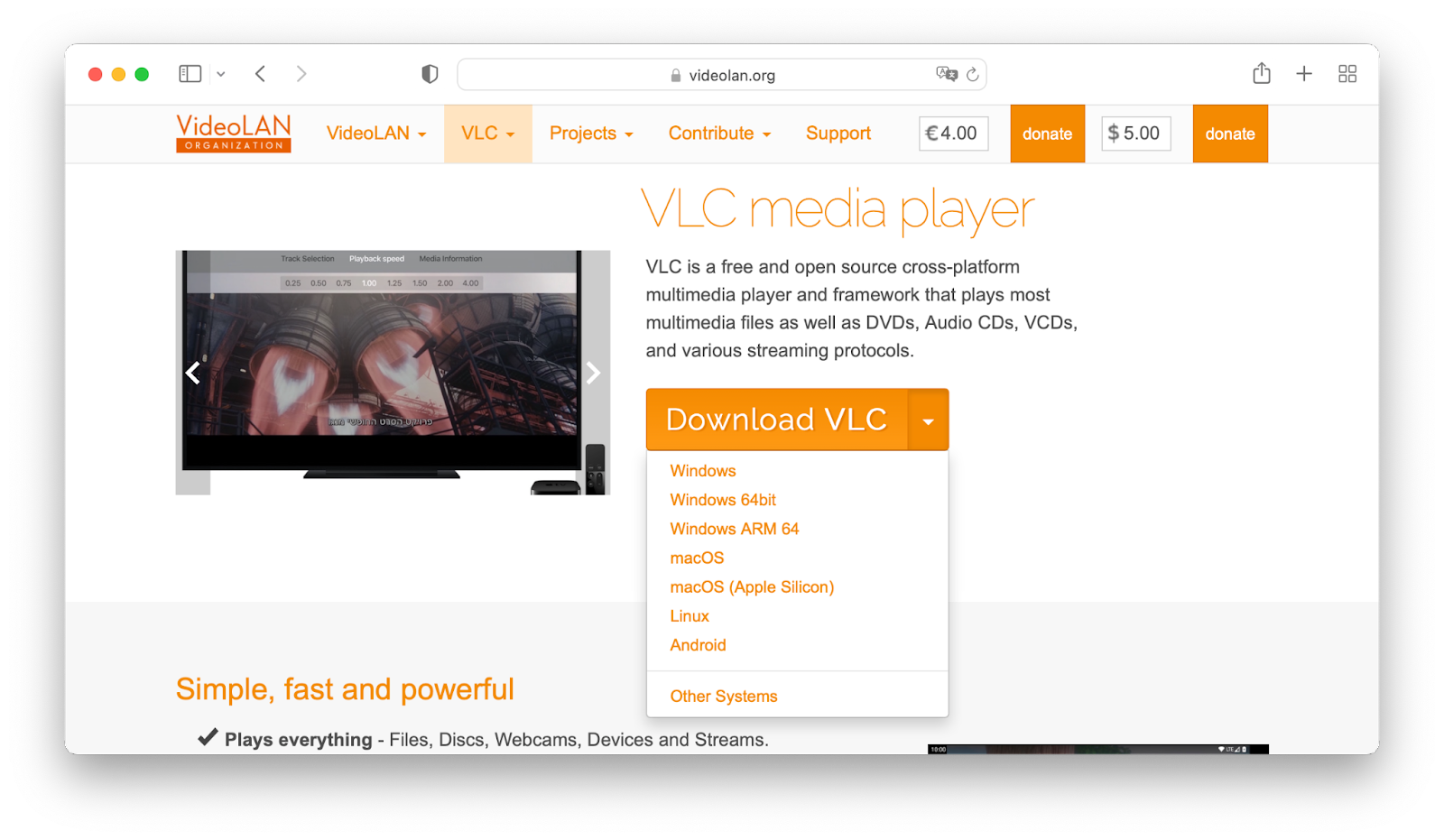 To play a video on VLC for Mac:
Open VLC
Either drag the video you like onto the app's window or go to File > Open File > select the video > Open.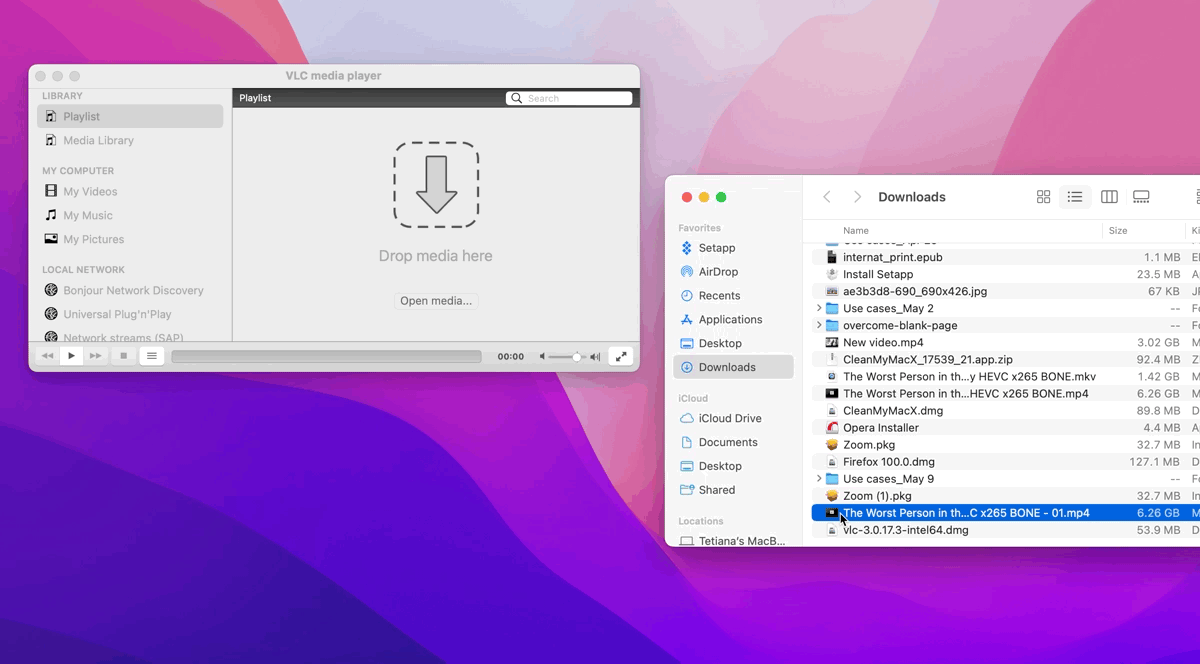 While QuickTime Player struggles with nearly every video encoder, VLC for Mac handles all the basics pretty well. But there's so much more to discover in the land of video-playing features: multiple subtitles, audio extraction, ad-free web playback, AirPlay streaming, etc. So if you're looking for modern-age media players, Setapp is your best bet.
Setapp's one-stop video toolkit
Lots has changed since 1996, the year when VLC was released. New entrants like Elmedia Player with its superb playback control and ad-free streaming, or Movist Pro with multiple-subtitle support and HDR improvements are winning the market. The one you choose should quite frankly depend on the features you're going to use the most.
Best of all, you don't need to go all in and buy Elmedia Player or Movist Pro to see how they work. Both apps are available to you on a free seven-day trial from Setapp — a platform with hand-picked Mac and iPhone apps, where each one is the best for a particular task.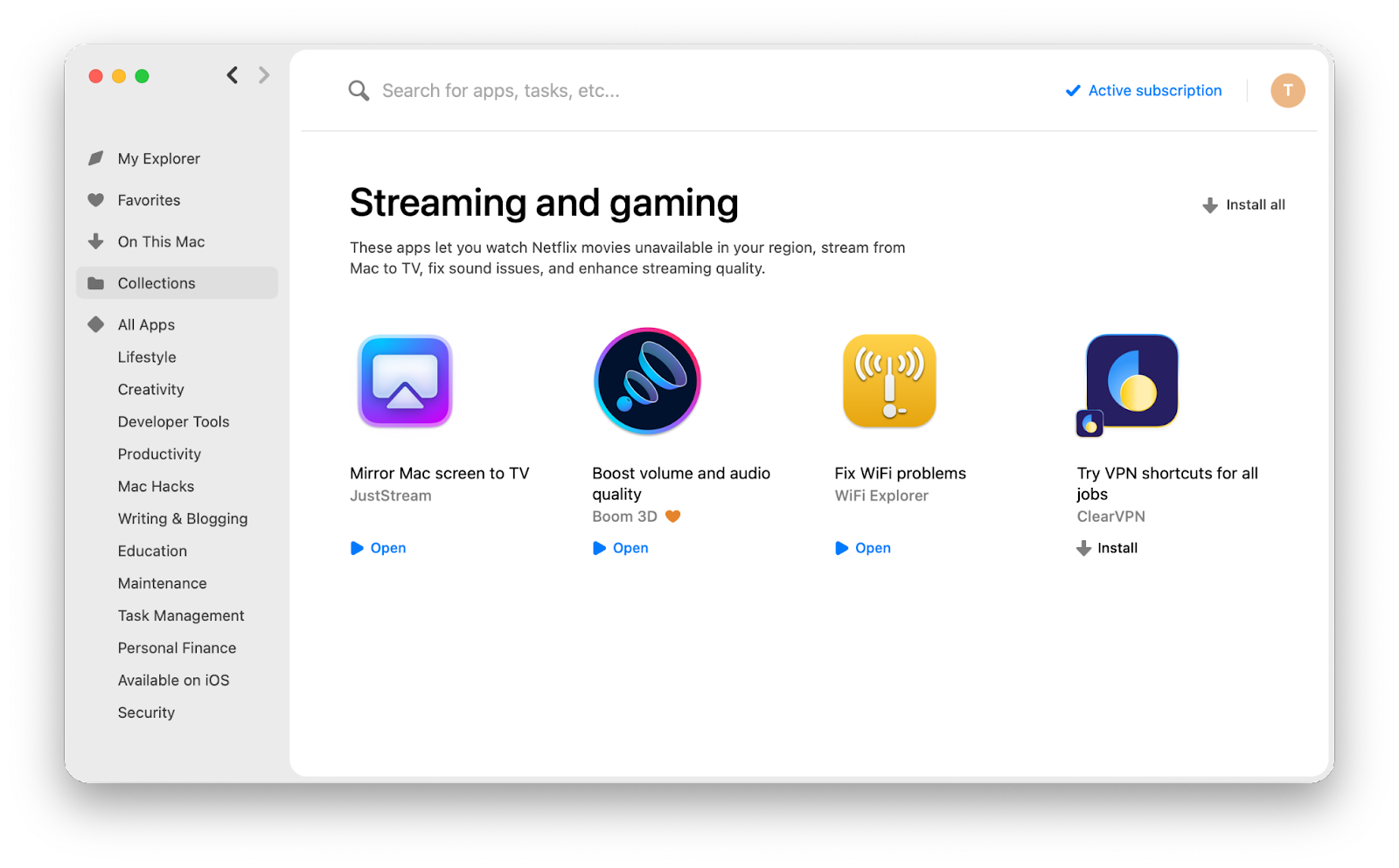 Apart from media players, Setapp has a streaming and gaming toolkit, top-notch video downloaders such as Folx and Pulltube, and more.