The Best Ways To Screen Record on a Mac 2022
People want to record the screen on their Mac for many reasons. Some use it to record video they don't know how to download, while others use it to record their workflow as a means to teach others how something is done.
You may also need to record your screen if there's an issue with an app or your Mac. When troubleshooting issues, customer service representatives often ask that you record your screen so they can see exactly what's happening when you encounter issues.
Rather than videotape your screen Mac computers have built-in screen recording services – they're just not always what you're looking for. This is why a good Mac screen recorder is so important. Here we'll show you how to video capture on Mac, which screen recorder Mac has built-in, and which apps you should download for recording your screen.
Common Reasons to Record your Screen on a Mac
Here are a few common scenarios and situations where the Mac record screen function is useful:
Teaching someone something new. You may use an app or service someone else is new to. When learning something new, it's helpful to do so visually, and have something to reference when putting a new skill into practice. A recorded session or tutorial is the perfect choice.
A family call. If your family is having a video chat, you may want to know how to screen record on Mac. You can relive the moment and share the video with anyone who may not have been able to join the call.
Difficult discussions. If you need to have a difficult discussion with someone at work or home over Skype or another video chat service, recording the video chat can be a good way to record what was said in a way that's irrefutable.
Saving a lesson from school. If you're attending class virtually, it may be difficult to pick up what a professor is saying as it happens. Recording your screen can help you revisit the lecture, or dive back into a demonstration to ensure you picked up on everything being said.
Webinars or other online sessions. Screen recording on your Mac is a great idea when you're attending online webinars or other virtual events. This is especially handy if there's a lot happening at the event or something detailed being discussed you will want to revisit later on.
Recording a video. Not all video players allow for downloads, so recording the screen on your Mac is an easy way to save the video you want. If you're looking to download YouTube videos, we recommend downloading Elmedia Player via Setapp. It has a unique browser feature that lets you download video from almost any source, including YouTube!
Troubleshooting a tech issue. When apps don't behave as designed, some tech customer service representatives will ask that you record your screen while using the app so they can try to diagnose what your issue is. Knowing how to record your screen can make a huge difference when these issues arise.
Saving a GIF. Ever found a GIF you like that you can't download? When this happens, Macintosh screen capture video tools are a lifesaver. Just record the GIF and save it to your Mac!
These are just a few of the scenarios where recording your screen is useful, but we're sure you'll think of plenty of other reasons you'll want to know how to record your screen.
How to screen record on Mac
There are several ways to record the screen on your Mac. To screen record Mac has built-in tools, but there are downloadable apps that are far better.
Record a screen on Mac using Screenshot ToolBar
Can you screen record on Mac without downloading anything? Of course! Apple has built-in tools that capture still photos as well as video. You can record the entire screen, or choose to capture a portion of what's on the screen. Here's how to use Apple's Screenshot app to record your screen:
Open the Screenshot app on your Mac
At the bottom of the screen, select "record entire screen" or "record selected portion" (Note: If you choose "record selected portion," a window selector overlay will appear. Frame the portion of your screen you'd like to record before proceeding to step three if you use this method.)
Select "Capture"
Remember the Screenshot app has a section named "Options" that lets you choose where screenshots and recordings are saved, and whether you need a timer before capture begins. A timer can be helpful of you want to start a video before screen recording begins.
The Screenshot app is simple and effective, but not nearly good enough! It shows you how to record your screen Mac style, but to do something like annotate a screenshot you need to open Preview. How tedious!
Instead, give CleanShot X a try. It has a powerful annotation tool built right in for screenshots and becomes even more powerful when you want to record video. It allows you to record full-screen video, or a portion of the screen, just like the Screenshot app. CleanShot X stands out with its snappy app selection tool; when you need to record an app, CleanShot X will limit the recording to the app you're using and block everything else out of the recording. Amazing!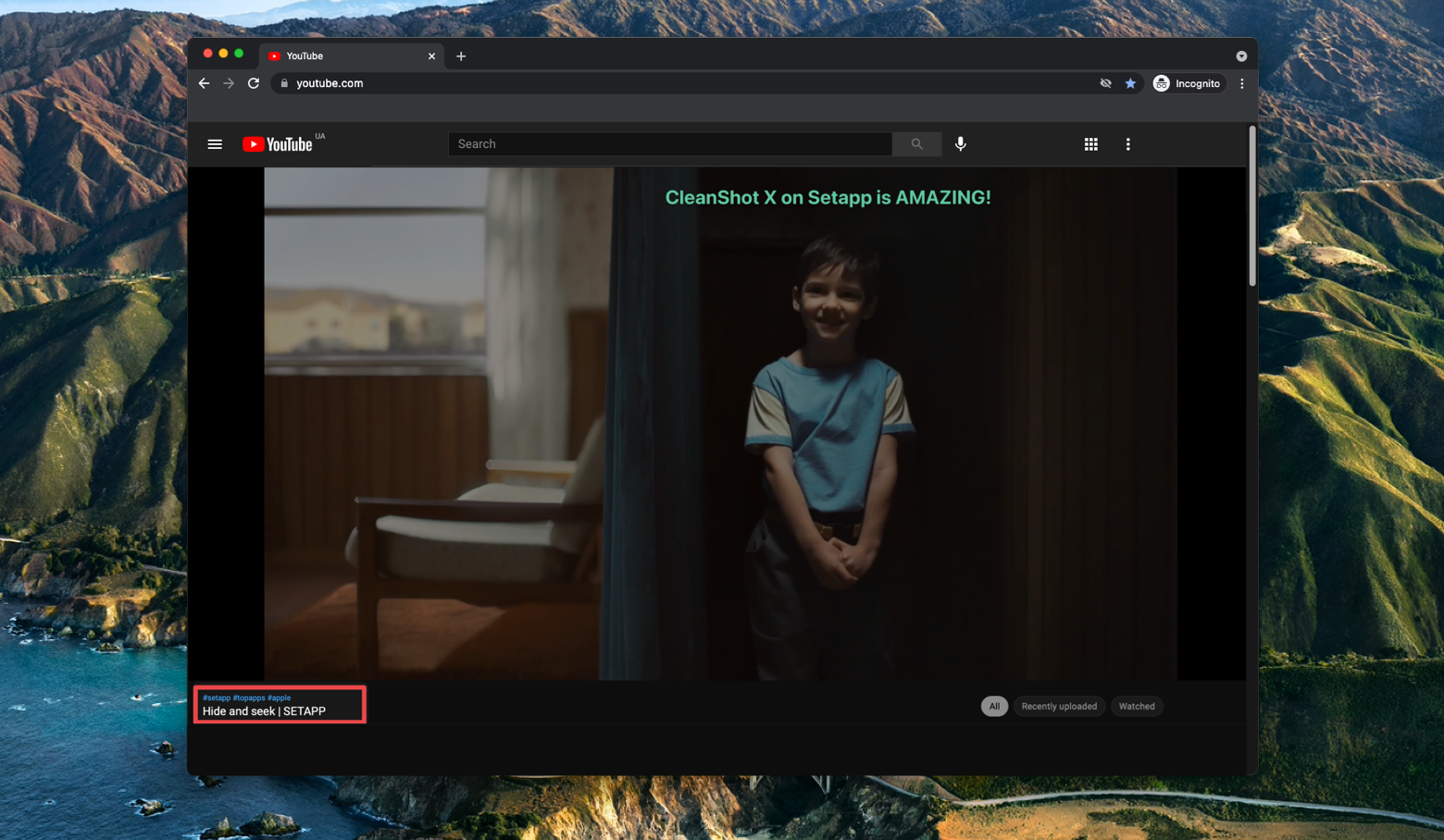 If you're trying to record a video to turn it into a GIF, CleanShot X has you covered. You can record video in GIF format, and anything you record will be saved a a looping video, or GIF. No need to open another app!
Screen record on Mac using QuickTime
QuickTime – you know, that thing you use to watch downloaded videos on your Mac – can also be used to record your screen. Don't get too excited, though.
When you record your screen via QuickTime, it's essentially opening up the Screenshot app to record the screen. QuickTime surfaces the same menu at the bottom of the screen as you see in the Screenshot app, with all the same features.
If you want to record your screen via QuickTime, here's how:
Open the QuickTime app on your Mac
In the top menu bar, select "File"
Choose "New Screen Recording"
At the bottom of the screen, select "record entire screen" or "record selected portion"
Select "Capture"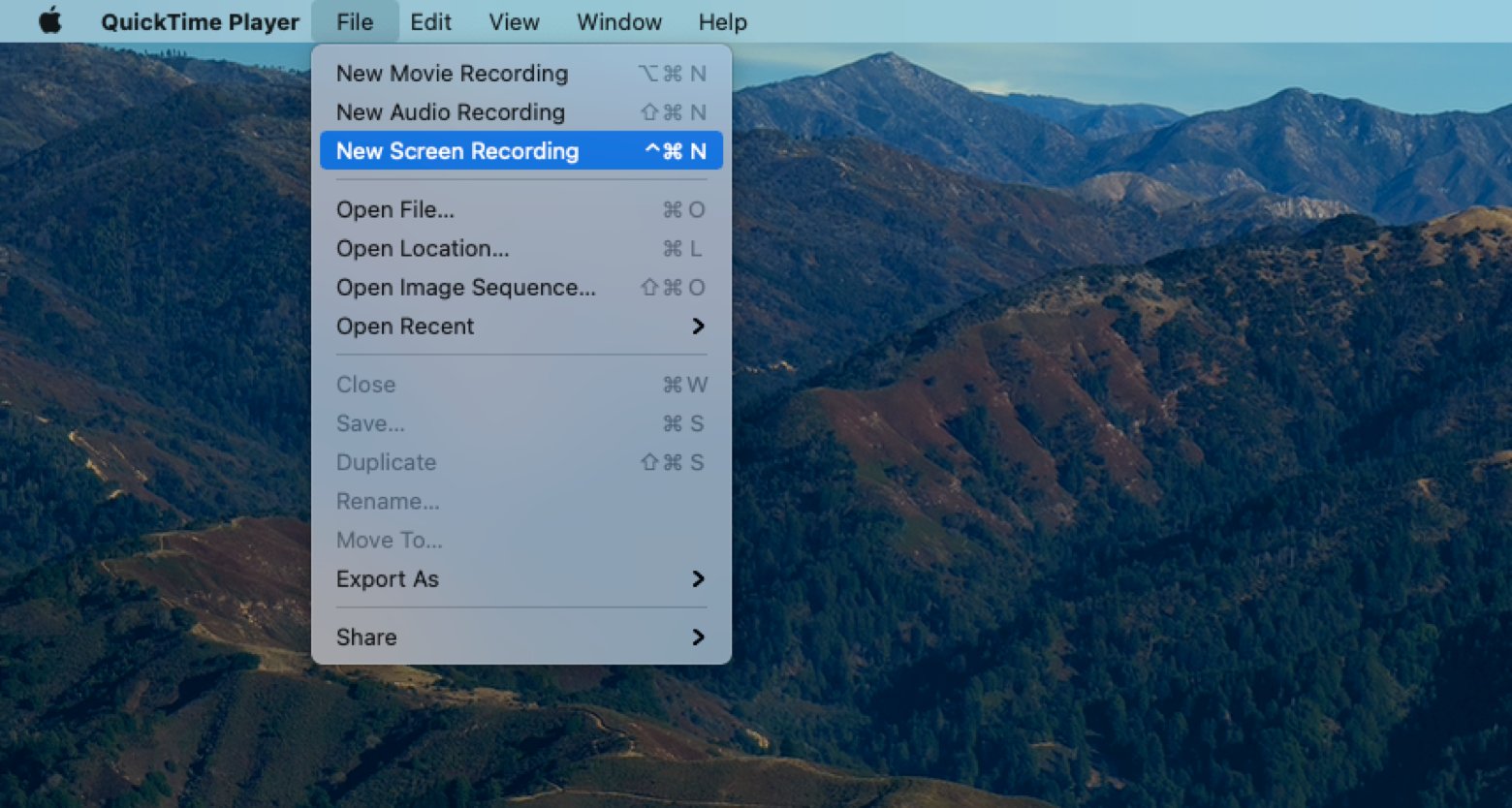 Record screen and share with team via Yac
More often than not, we need to create a screen recording to share with our teammates. Yac was designed exactly for that purpose. Create quick video messages for your team with the recording of your screen in Yac — an asynchronous voice and video messaging platform.
Conveniently, you can share the video message via a link and your recipients can watch it in their browser if they don't have Yac installed. What's more, playback can be set at 1x, 1.5x, or 2x speed to get to the bottom of the issue faster, if needed.
Record bugs, explainers, walkthroughs, product demos, and anything you like with Yac tools. You can also choose to add your webcam feed to the recording before you start. And when you are recording, you can draw on your video as you record.
To create a recording in Yac, follow these steps:
Open Yac app on your desktop.

Select the channel you want to share in.

Toggle Share Screen, under Start Recording button.

(Optional) Click the wheel settings button to open advanced settings. Toggle Show Webcam under Start Recording button, if you want to include it in your recording.

Click Start Recording.

Select the screen you want to record — one window or whole screen.

Create your recording and once finished, click Stop Recording.

Review your result in preview and click Send Yac if you are happy with it or an x to discard.
Screen record for collaboration with Tape
Tape is another great screen recording tool for your daily tasks. It lives in your menu bar and allows you to easily record your screen with a voiceover, webcam overlay, or neither. Tape can record app windows or your whole screen. And you can draw on your video with a built-in highlighter to mark key points of interest.
Depending on your needs, you can create MP4 videos or looping GIFs with Tape and either save them on your device or upload the tapes to a web dashboard and get instant links to your recording.
To record your screen with Tape, follow these steps:
Click the Tape icon in your menu bar.

Click the bottom left button to select between silent, voiceover, webcam overlay, or GIF recording format.

(Optional) Click the wheel settings button at the bottom right of the dropdown window to adjust advanced settings like recording shortcut, recording folder, automatic uploads, and more.

Select the screen you want to record — a single app or whole screen — and click on it to prompt recording.

When you are done, click the square stop icon in the menu bar to finish your recording.
The file will be saved on your device or to your web dashboard, depending on your settings.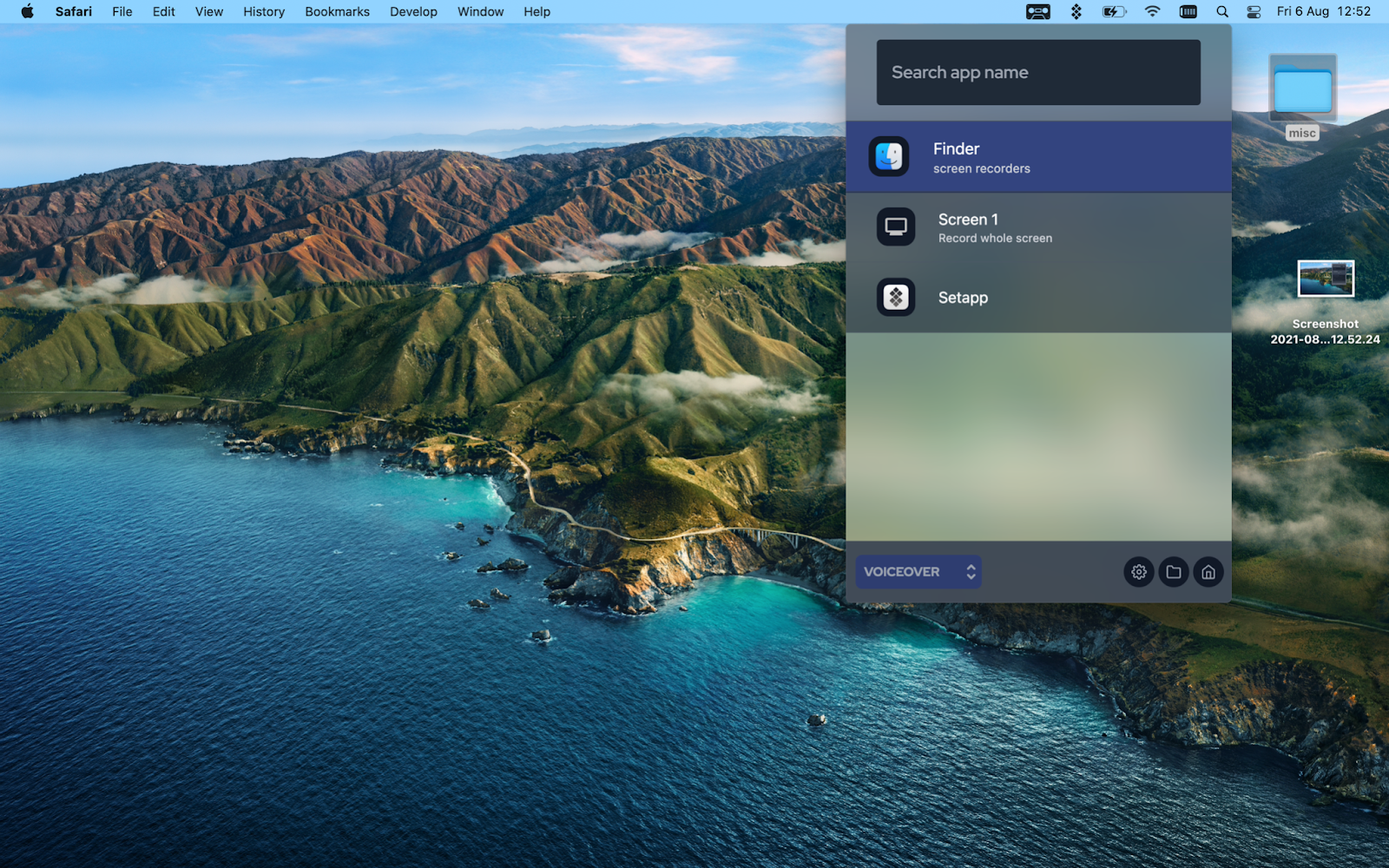 The best Mac screen recorder option
If we have to vote for one app as the best screen recorder available, it's got to be Capto.
Capto via Setapp is as robust a screen recording tool as we've seen. Like any good screen recording app, it lets you capture the full screen or an area of your choosing. We really like that Capto can record a particular screen; helpful if you have multiple monitors and need to record one screen while doing tasks on another.
There's even a desktop cleanup tool that clears your desktop during a recording so whoever watches you doesn't see all your icons and folders cluttering the screen. Simple video editing tools like fade-in and audio tracks are available via Capto, too.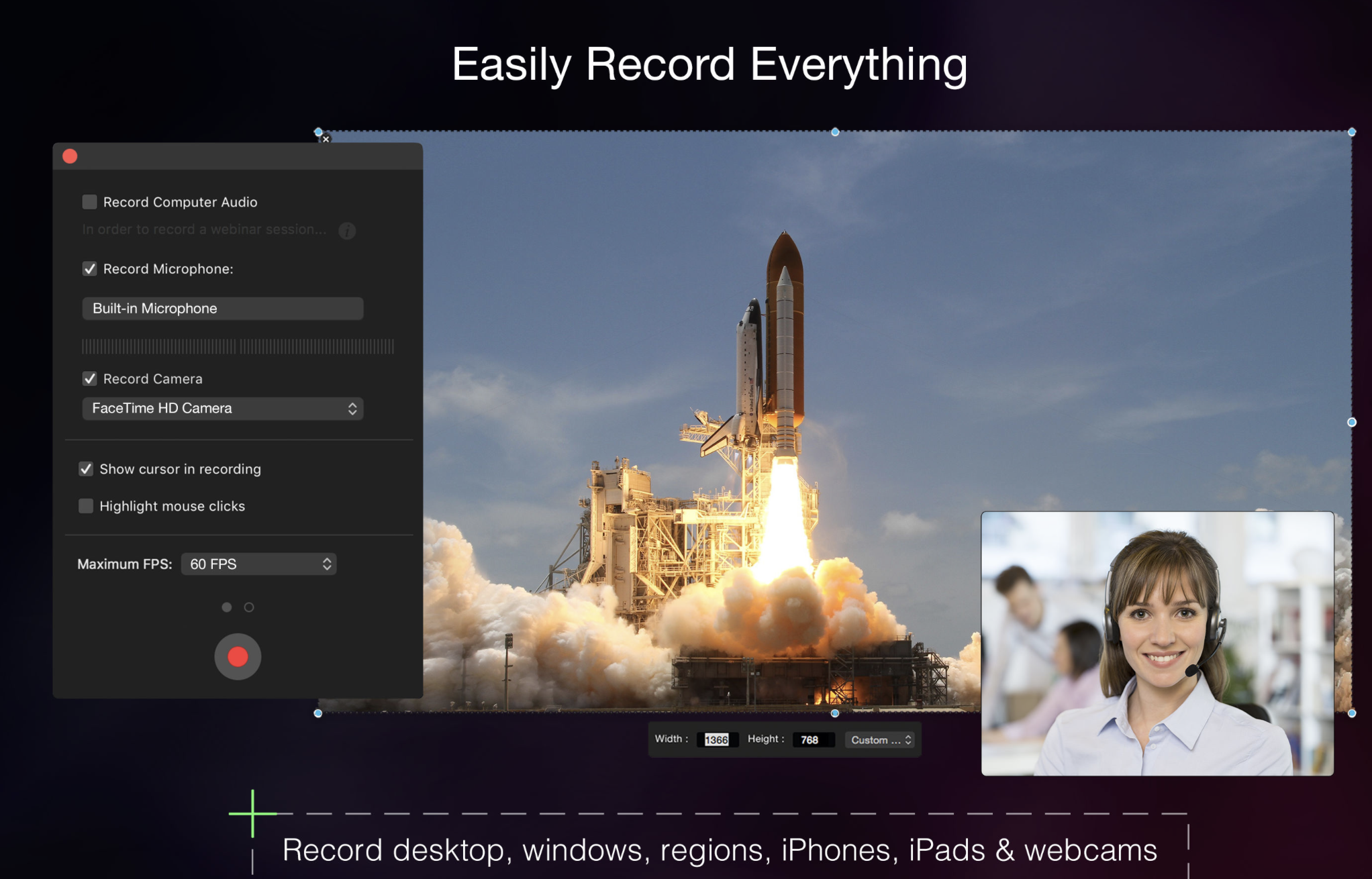 Of course, you can annotate your screen in Capto, but we love that it has a tutorial feature for voiceovers and recording you via your Mac's FaceTime camera. It's really quite special.
Even simple recordings are quick and easy. Here's how to record your screen with Capto:
Download Capto via Setapp
Open Capto on your Mac
Choose "Record" at the top of the app window
Select full-screen or "area" (Note: If you choose "area" a selector tool will appear, which is how you frame the area you'd like to record.)
Choose your options on the next screen
Press the "record" button at the bottom of the window
That's all it takes! To end the recording, hold down shift and command, then press the escape key.
Edit and improve your video after screen recording
Capto has an editing interface built in, but you may want to take your editing to the next level. Maybe you need your tutorial videos to stand out, or want to adjust color or balance of the recording. With CameraBag Pro, it's simple!
CameraBag Pro makes editing photos or video really easy. All you have to do is load your video or photo, and select the editing features you want to utilize. Editing options like white balance, contrast, exposure, and saturation appear below the image or video you're editing in CameraBag Pro. When you want to adjust something, simply select it, then use the slider that's just below the photo or video.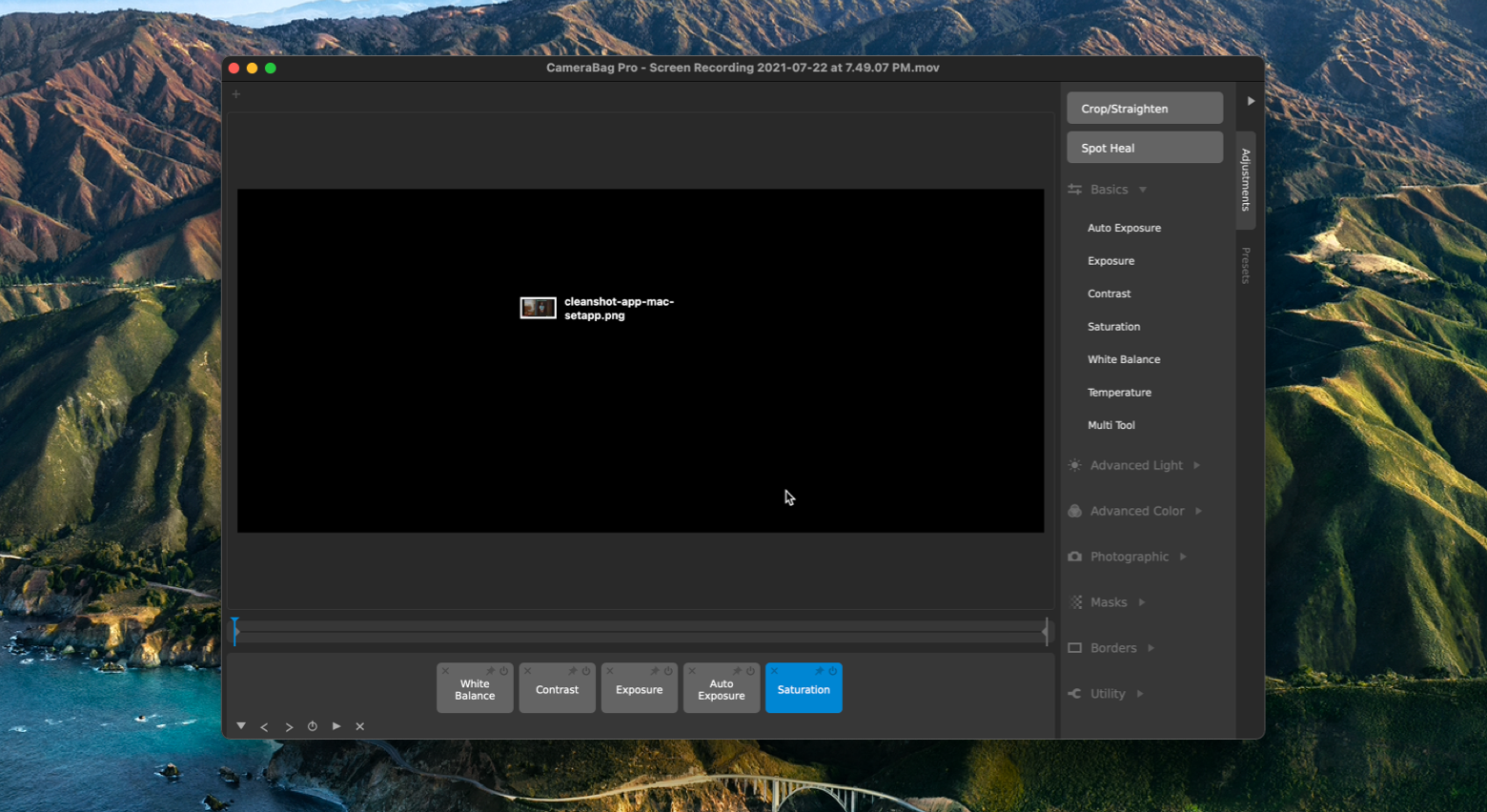 If you no longer want that items to be editable – say you decide the white balance is just fine as-is – just click the 'x' ont eh item thumbnail and CameraBag Pro removes it. (Everything is available on the right-side menu, so never worry if you decide to add that to your editing queue later on!)
To edit a video with CameraBag Pro, follow these simple steps:
Open CameraBag Pro on your Mac
Tap "Load photo/video" from the main app screen
Choose the video you want to edit in the Finder interface that appears
Select your editing options from the right side of the CameraBag Pro app window
When you've finished editing the video, select "File"
Choose "Save as" and name your newly edited video
Conclusion
Capturing your screen isn't difficult, but getting great results without the right apps can be. The built-in Screenshot app is fine for simple tasks, but the more you record your screen the more frequently you'll want to take your recordings to another level.
This is why Capto, CleanShot X, and CameraBag Pro are must-have apps on your Mac. Dipping and diving between the Screenshot app and others to do simple things like annotate or edit videos is silly. Capto stands out for tutorials; there's just no possible way to do what Capto doews natively on your Mac.
These three apps, along with over 200 others, are available for free during a seven day trial of Setapp for Mac. With Setapp, you get unlimited access to a massive catalog of productivity apps for the Mac, all included during your trial period. Mix, match, and curate the absolute best suite of apps for your own workflow!
When your trial of Setapp ends, continued access is only $9.99 per month. It's an incredible deal, so why wait? Give Setapp a try today.