The best ways to screen record on Mac
Sometimes a chance to show somebody how things are done proves more effective than having to come up with lengthy instructions. This is often true for educators, developers, IT support, YouTubers, online businesses, and teams working from different locations and even different time zones.
Taking a video of your actions as they happen on the screen of your Mac is called screen recording. (You can record your entire screen, a selected portion of the screen, or an app window.)
Learning how to screen record on Mac can help you a great deal with:
Visualizing your point
Explaining a problem or a process
Creating tutorials, how-to guides, and hands-on video instructions
Recording technical bugs and issues
Sharing game videos with live commentary
Technical assistance
The best Mac screen recorder option for your Mac
A great comprehensive all-in-one tool for screen recording Mac users can rely on is Capto.
With Capto you get to not only record your screen with real-time voiceover and webcam feed, but also edit your video and audio tracks, add text or speech bubbles, and share instantly from the app:
Capture a specific app window, a browser, your whole screen, or select an area of any size with any number of windows in it
Hide desktop while recording
Take screenshots
Edit video and images: crop, cut, fade in and fade out for audio
Add annotations
Share to Dropbox, YouTube, Facebook, and all possible shared storages, including FTP/SFTP servers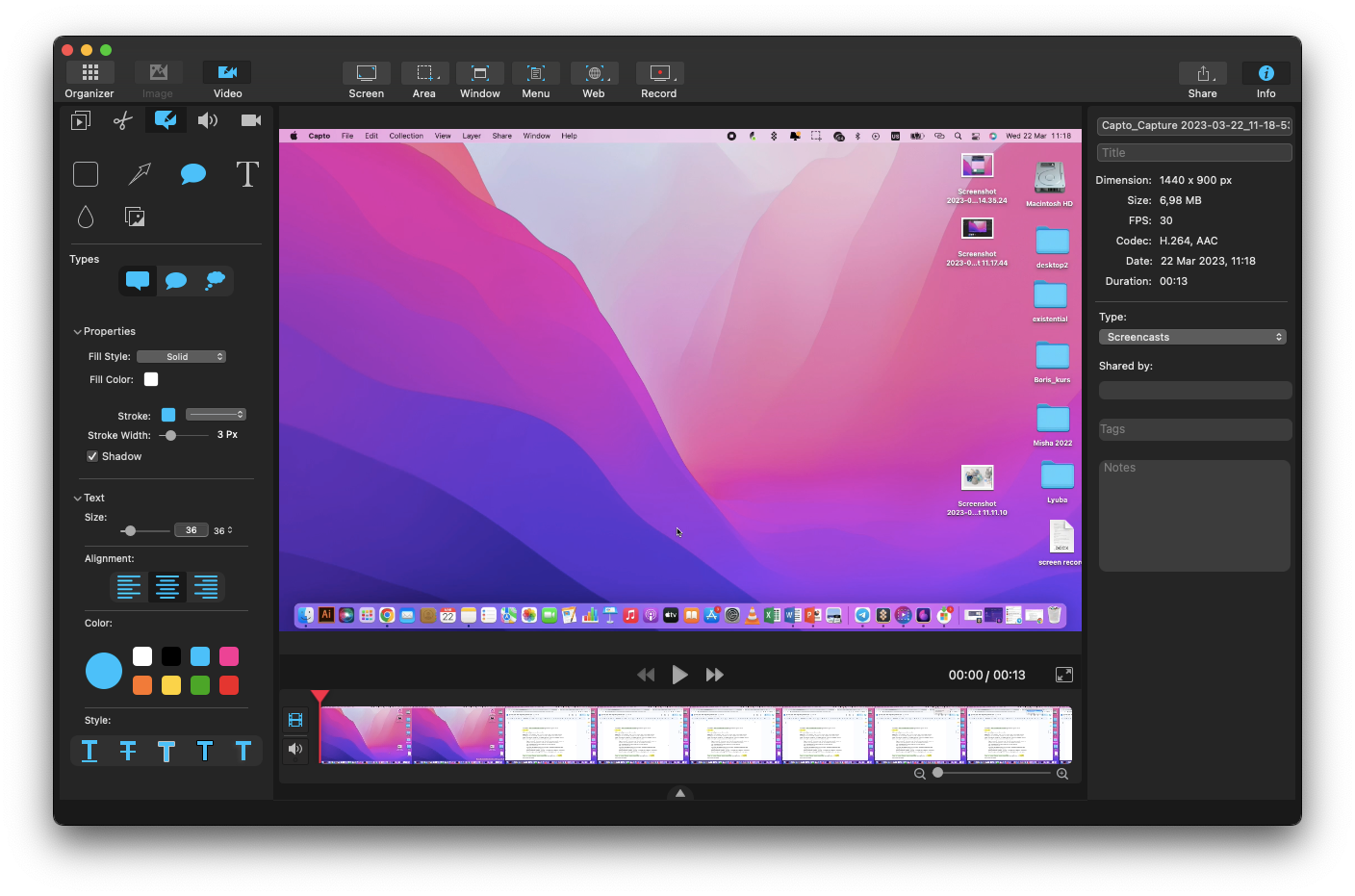 How to record your screen on Mac using the Screenshot toolbar
If you're wondering, "Can I screen record on my Mac with a native macOS utility?" the answer is — yes. Apple has its own built-in screen recording feature called Screenshot that lets you capture video of whatever's happening on your screen (with real-time audio, should you choose to).
You can use the Screenshot toolbar for taking both screenshots and video recordings of your screen (for video choose from the last two screen icons with a dot in the lower right corner).
To record with Screenshot:
Press Shift + Command + 5 to open the toolbar
Choose Record Entire Screen or Record Selected Portion (you'll be able to drag and resize the frame of the screen area you want to be recorded, if you choose this option)
Go to Options and choose microphone settings, decide where you'd like to save your recording to, or set a countdown timer
Click on Record to start the recording
Click on Stop Recording menu bar icon when you're done
How to record audio in screen recordings
When you think about how to screen record on MacBook, it's important to also understand how to include sound in your videos.
As we have already discussed, your native Mac screen recorder allows you to capture audio from your Mac's built-in microphone, but if you're looking for more advanced capabilities (like creating and editing voiceovers or learning to record your Skype meetings), you can find out more from our dedicated article on how to record your screen on Mac with sound.
How to screen record on Mac using QuickTime
Another option to record a screen Mac users can try is QuickTime Player. We know this app for playing media files, but it can also be used for recording your screen and sound.
To use QuickTime Player as a Mac screen recorder, simply launch it from Applications and choose New Screen Recording from the File menu. This will open the Screenshot toolbar that lets you configure and start your recording.
The only difference with Screenshot is that with QuickTime Player, once you're done recording, your file will automatically open inside the app and you can edit it right away.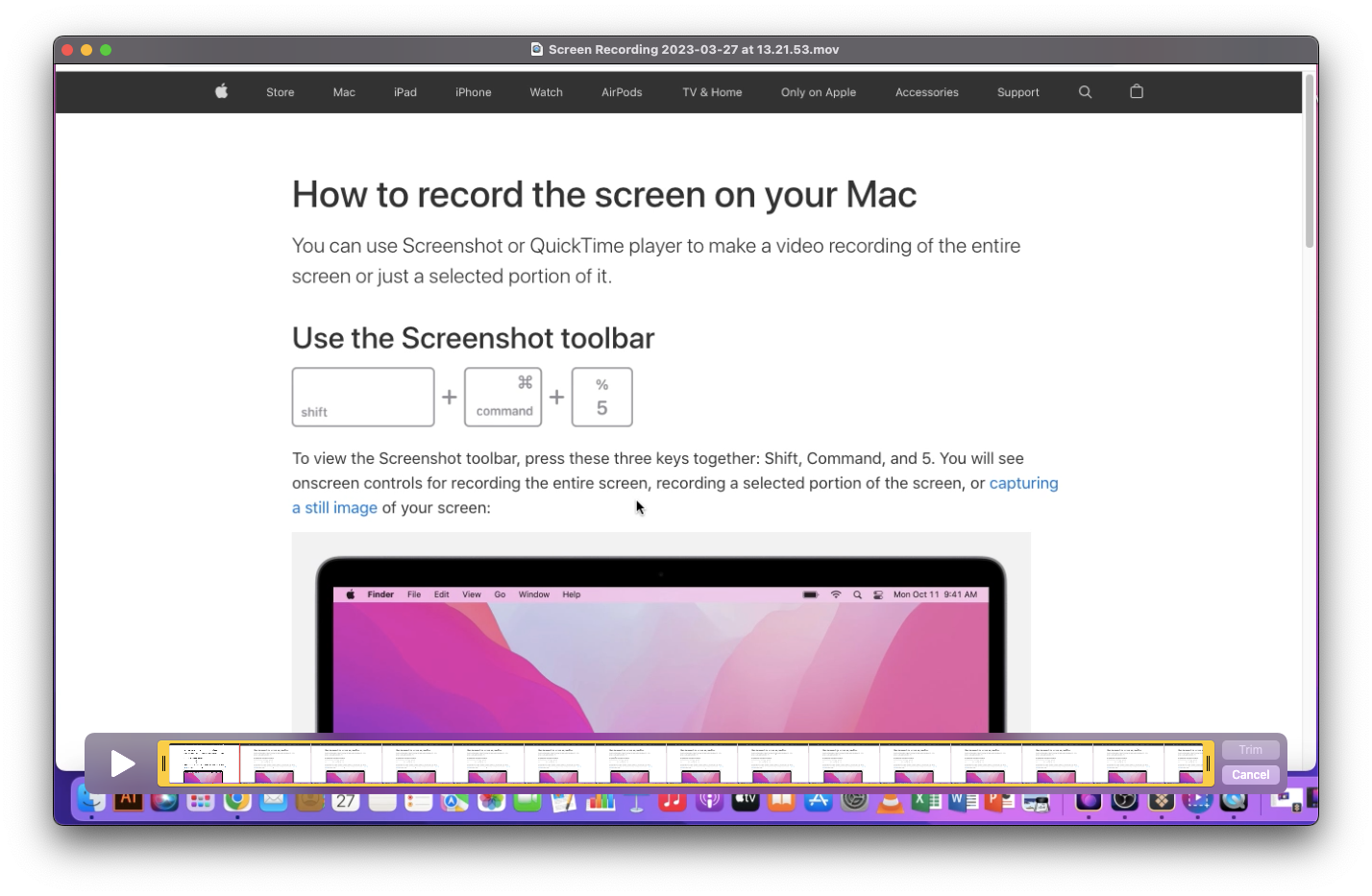 How to screen record for collaboration with Tape
Another great tool for asynchronous screen sharing is Tape.
Tape lets you create screen recordings or loop several frames into a GIF. You can also add webcam overlay, voiceover, and visual highlights to better illustrate your point. Another great Tape's feature is its online dashboard that lets you avoid an endless number of screen videos on your Mac.
Learning how to record a screen video on Mac using Tape is pretty straightforward:
Press Command + Shift + X
Select the app you want to record
Choose to record a video of your screen or create a looping GIF
Save your file locally or choose to upload it to app's cloud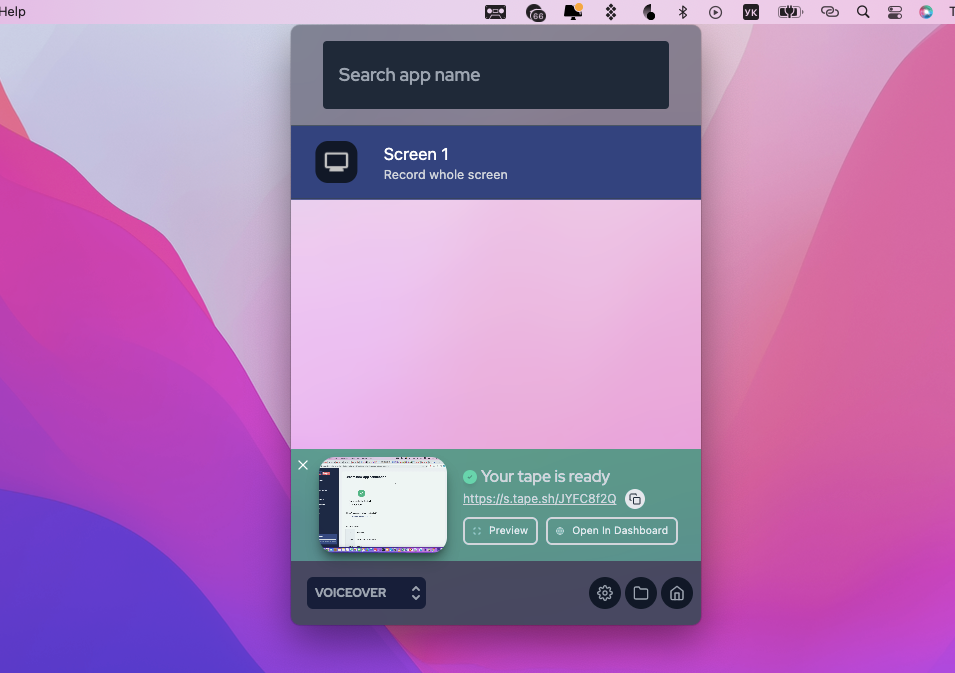 If creating GIFs is something you're interested in, make sure to also try CleanShot X. It's a simple screen recording macOS app that comes with a rich toolkit, allowing you to capture your screen without desktop icons, record as MP4 or GIF, trim video, annotate, and keep your recordings saved on CleanShot's cloud for free — all a few clicks on the menu bar icon away.
How to record a screen with OBS Studio
Another popular contender for Mac screen recorder of choice is OBS Studio.
OBS Studio is a free open-source app used for both streaming and screen recording by many content creators. It's known for a variety of advanced features, but can also be easily used by beginners.
Understanding how to screen record on Mac with OBS Studio starts with the basics:
Download (obsproject.com), install, and launch the app
Set up video: Sources ➙ + icon ➙ Display Capture ➙ name the source ➙ OK
Set up audio: OBS Studio is set to capture audio from the built-in microphone on your Mac by default — you can add external audio sources or apps for capturing system sound in Sources
Choose where you want to save your recorded files: Controls ➙ Settings ➙ Output ➙ Recording ➙ Browse ➙ OK
Choose Start Recording under Controls to begin screen recording Mac
Press Stop Recording when you're finished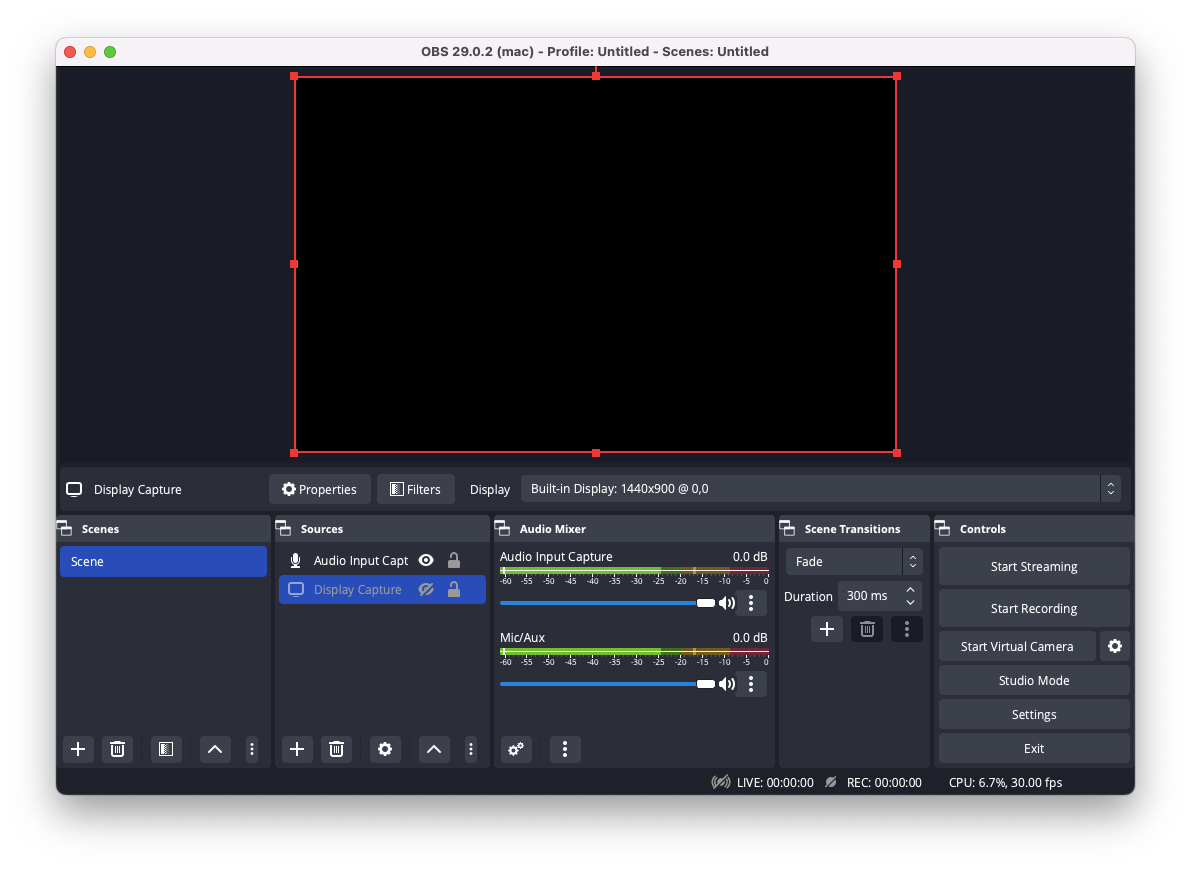 If you're also looking for an advanced app to help you edit your recordings, check CamerBag Pro. It's a powerful photo and video editor that allows for professional adjustments and offers pro-quality preset filters to add style to your creations.
How to record your screen on Mac and have an impact?
Being able to clearly get your point across even if you aren't in the same room with your audience or colleagues is very important. Having a video recording to illustrate it — is priceless. Learning how to screen record on Mac is, without a doubt, a useful skill, and you can master it in no time with Mac's built-in Screenshot and QuickTime Player or a more advanced OBS Studio screen recording setup.
If you'd like an effective tool that lets you both record and edit your videos from the same app on Mac, opt for Capto or CleanShot X (if you also like creating GIFs). For remote collaborations with your team members consider async screen sharing with Tape — it will save you time on meetings and lengthy explanations. And, finally, for advance editing and pro quality image adjustments arm yourself with CamerBag Pro to present your ideas with style.
Be sure to try Capto, Tape, CleanShot X, and CameraBag Pro for free with the seven-day trial of Setapp, a platform of high-performance, best-in-class iOS and macOS apps. Learn how to screen record MacBook and check out more than 240 other options to boost productivity.
FAQ
How to record screen and audio at the same time on Mac
All the above mentioned methods of screen recording Mac users can choose from allow for recording audio from Mac's built-in mic: you can capture your voice commentary, as well as any sounds playing at the moment (music, app sounds, etc.)
How can I record my screen on Mac with sound but without a mic?
All Macs have an internal microphone built-in, so you don't have to have an external microphone for capturing sound when screen recording Mac.
Where does screen recording go on a Mac?
The answer differs depending on the app you choose for recording your screen:
Mac's native Screenshot utility saves recorded files to Desktop (you can choose a different location in Options ➙ Save to)

QuickTime Player automatically opens the video after you hit Stop Recording, and you can then choose where to save your file (File ➙ Save)

OBS Studio lets you locate recordings using the File menu (File ➙ Show Recordings)

Apps like Tape and CleanShot X save your files to your free in-app cloud account
What is the recording shortcut on Mac?
Use Shift + Command + 5 to start screen recording Mac.