Record, edit, and share videos on Mac
Mac has always been the system of choice for creatives. It just does creative things better than anything else. Video is one of those things. Whether you're recording a short clip to share with your friends on social media, editing a home movie, or putting together a feature film, Mac allows you to produce visuals of the highest quality.
Jumping in and recording a video on Mac is really straightforward. macOS has several notable built-in tools that allow you to get right to it. Photo Booth, QuickTime, and iMovie are all incredibly easy to use — simply open them up and hit the red record button. iMovie even lets you turn your videos into movies, credits and all.
Apple's native tools are all great, but they're not the only options out there. If you're a vlogger or an aspiring YouTube celebrity, or use video for your business, there are some robust third-party apps you should know about:
Capto for powerful screen recording and video editing
CleanShot X to quickly record a GIF or video without desktop clutter
Hustl to record a video of yourself
CameraBag Pro for pro-level video edits and filters
iFlicks for adding videos to iTunes and iOS
Let us waste no more time in introducing these tools and show you how they can be used to take your video-making game to the next level.
Record videos with Capto
All the native macOS apps are good enough for a quick recording. But if you want more professional videos for your social media, YouTube, or presentations, you need Capto.
Call this a bold statement, but we think Capto is the best screen recorder and video editor on the market. Largely because of its simplicity and range of features that help you achieve high-end results.
To record a video in Capto:
Open the app and click Record in the top menu
Choose how and what you want to record: the full screen (you can even hide desktop clutter), an area of the screen, or the built-in FaceTime HD camera (or external webcam) for selfie footage
By plugging in your iOS device, you can also record footage from your iPad or iPhone.

It's then possible to set a timer for recording (handy if you're going to be talking into the camera), set the frame rate between 10 and 60 frames per second (FPS), and choose the compression type.
If you're recording an area of the screen, stop and start, pause, and cancel options can be accessed via a drop-down in the Capto toolbar in the status menu.
Record clean videos with CleanShot
This is a snipping tool for Mac that helps you record video while weeding out distractions such as desktop icons and wallpaper.
To quickly capture video on Mac with CleanShot, click on the app icon in the top bar and choose Record Screen. It's that easy. You'll only have to choose between two options – record GIF and record video. To make it clean, click on Hide Desktop icons before you start recording. In Preferences, you can also set a custom desktop wallpaper.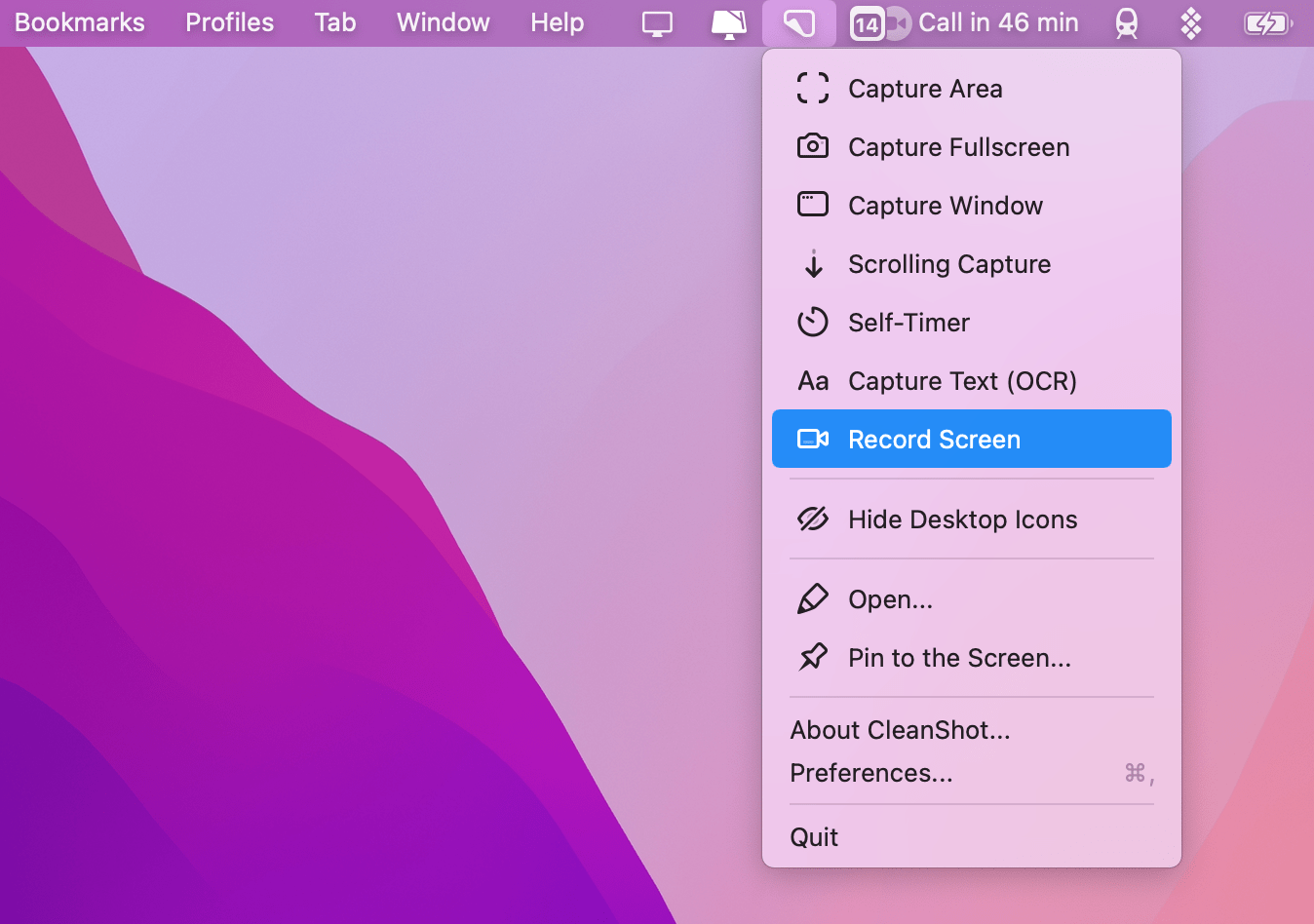 After you've captured the video, you can click the Edit icon in the overlay pop-up menu and choose to compress or trim your video before saving it. Speaking of which, CleanShot X gives you access to the internal cloud, so you don't have to waste storage space on your recordings.
Record videos using QuickTime
QuickTime is not just a video player — it can also be used to record quick videos of your screen or yourself talking into the camera. Here's how to record a video with QuickTime:
Launch Quicktime from Applications
Go File > New Movie Recording
Hit the red record button, the recording will start
Click the same button to end the recording
With the newly made video on your screen, click File > Save… and find a new home for your recording
So now you know that recording with QuickTime is very simple and if you're looking for how to record a video of yourself on Mac, it can be a good solution. You can record your screen, too:
Go File > New Screen Recording
Hit the red button
Select the area of your screen you'd like to record and click Start Recording
When done, just click on the recording icon in your menu bar
Save the video the same way as you did in the step above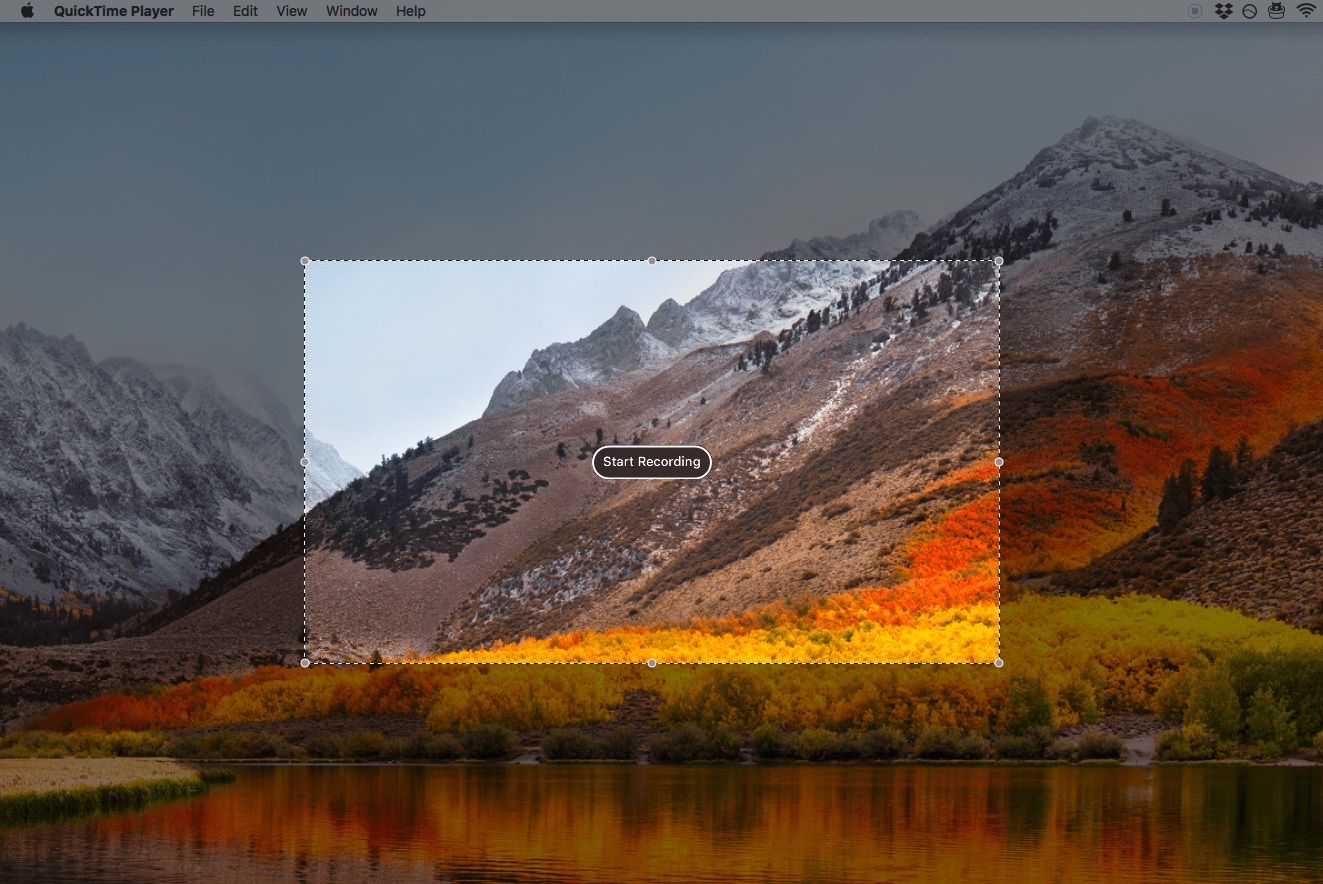 The downside with QuickTime is that it doesn't have an editing toolkit, and if you want to record something more complicated than that, you'll have to switch to a more powerful app. Moreover, QuickTime recordings can be very heavy and therefore brutal on your storage.
How to record a video of yourself on Mac with Vidrio
If you're specifically looking for good tools to record yourself, let us tell you about a unique video recording app for Mac called Hustl.
Vidrio is a holographic screencasting tool. Holographic what? Well, let's just say it can record your screen with your face in the background. Whether you create a screencast, a video demo, or an online presentation, Hustl helps share the information effectively, while guiding your audience and creating the illusion of physical presence. Perfect for the Zoom lifestyle.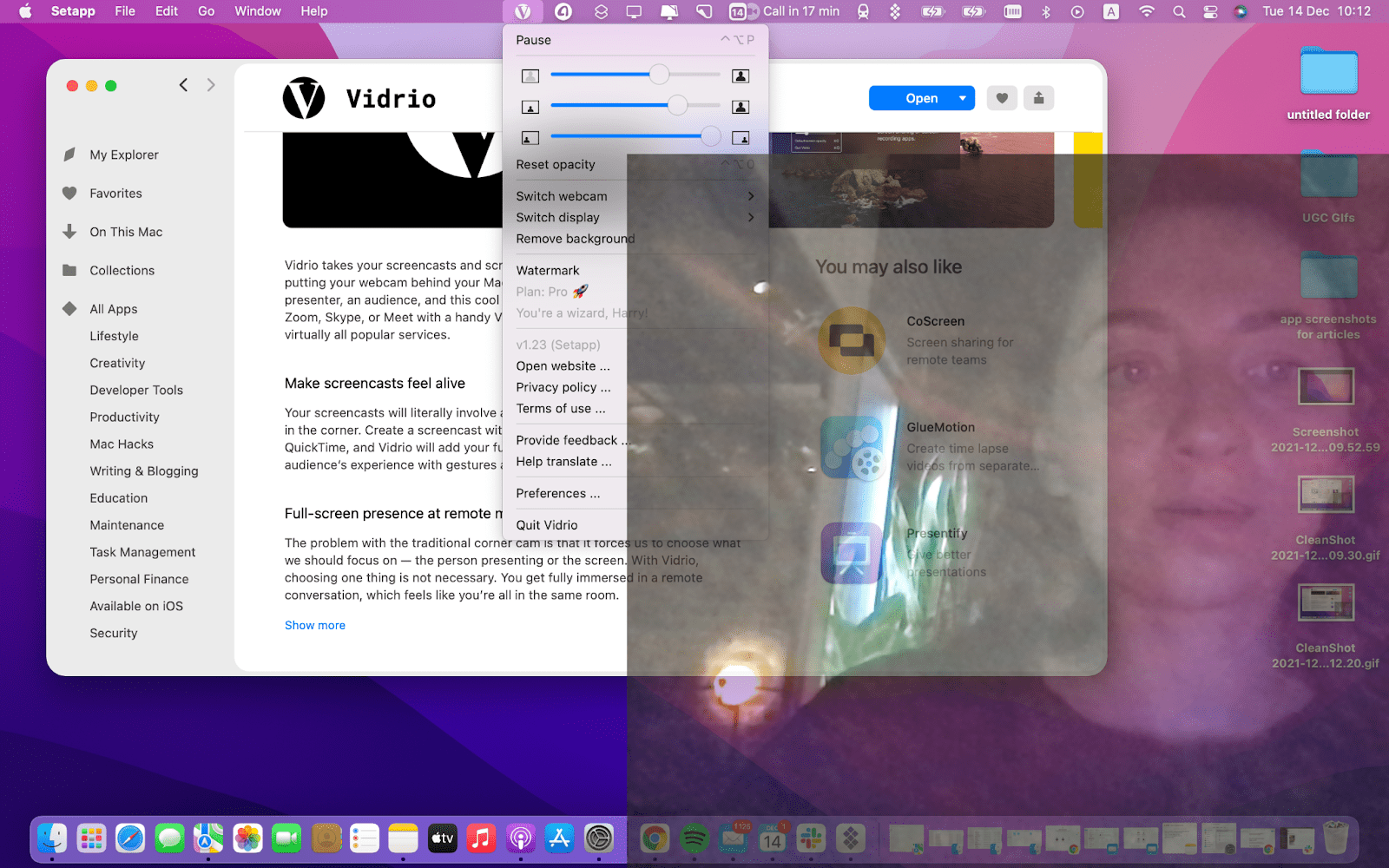 Video recording with iMovie
iMovie might as well be the most popular Mac video editing tool for beginners, thanks to how easy it is to use. You can record demos or tutorials with iMovie in no time, either by using the built-in camera in your Mac or connecting an external one.
Launch iMovie
Click File > New Event
Tap on Import Media
Choose FaceTime HD Camera
Hit Record to start recording
To stop the video, hit Record once again
Click on the save button when done.
Record the entire screen using screenshot toolbar
For quick screen capture, you don't need to open any apps, just use the shortcut to record the screen with your native macOS tool. It's a very basic option with least customization, but it works. Here's how to grab the entire screen:
Press Shift + Command + 5
Choose Record Entire Screen
Click Record
Hit the Stop button once you're done.
Record a selected portion of the screen
If you want to make a basic recording of a certain screen area — maybe it's an app or a browser window — you can do it with the screenshot toolbar:
Press Shift + Command + 5
Choose Record Selected Portion
Click Record
Hit the Stop button once you're done.
Best apps to edit your videos on macOS
Now when you know how to create video on Mac, let's talk about how to make it look pretty. In most cases, you won't be satisfied with the raw recording and will want to tweak it in some way — change the length, add voiceover, optimize quality, and more. Here are the best tools to edit screen recordings.
Tweak your videos in iMovie
By no means iMovie is anyone's video editor of choice. But it is sufficient enough to quickly drop in a video to its timeline and rearrange a few clips. Once you have a video in, use the Crop feature under the Edit menu to separate video sections and move them around. Look through the Effects library to set transitions, audio effects, or text layovers by assigning various times to Effects-in and Effects-out.
In general, this is the extent of iMovie that you want to use in your editing. For more, look to apps like Capto and CameraBag Pro.
Edit screencasts in Capto
With Capto you can record your screen, or yourself, with ease, and access a wide range of editing tools to cut, crop, fade in and out, and add annotations and voiceovers — all from within the same interface.
All of the editing tools in Capto can be found in the Video section of the app.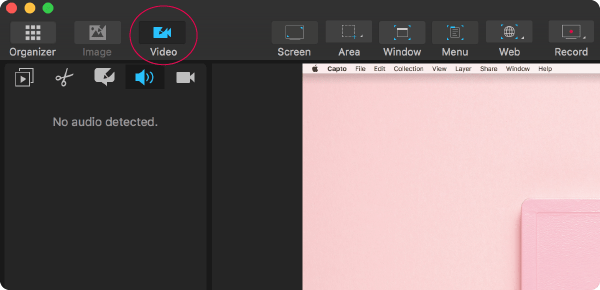 The options available include:
Media files for uploading images and clips
Edit tools for cutting, cropping, and trimming
Annotations for adding markers, arrows, callouts, and text
Audio for adding voiceovers, sounds, and music
You can easily jump between the options to tweak and tune your videos until they're exactly as you want them. And using them requires no editing skills. It's as easy as using Paintbrush. If you do struggle with anything, Capto has a good selection of tutorials to help you out.
Edit videos with CameraBag Pro
CameraBag Pro brings pro-level adjustments as well as nuanced filters in a straightforward app that's widely used by professionals but also accessible to complete beginners.
Editing videos in CameraBag Pro is similar to editing photos: just select the necessary tools or filters and apply them right to your movie in a click. Feel free to explore over 200 preset filters already included with the app or create your own and save them for later. Make full use of the adjustment tools to fine-tune exposure, hue, color, temperature, and more.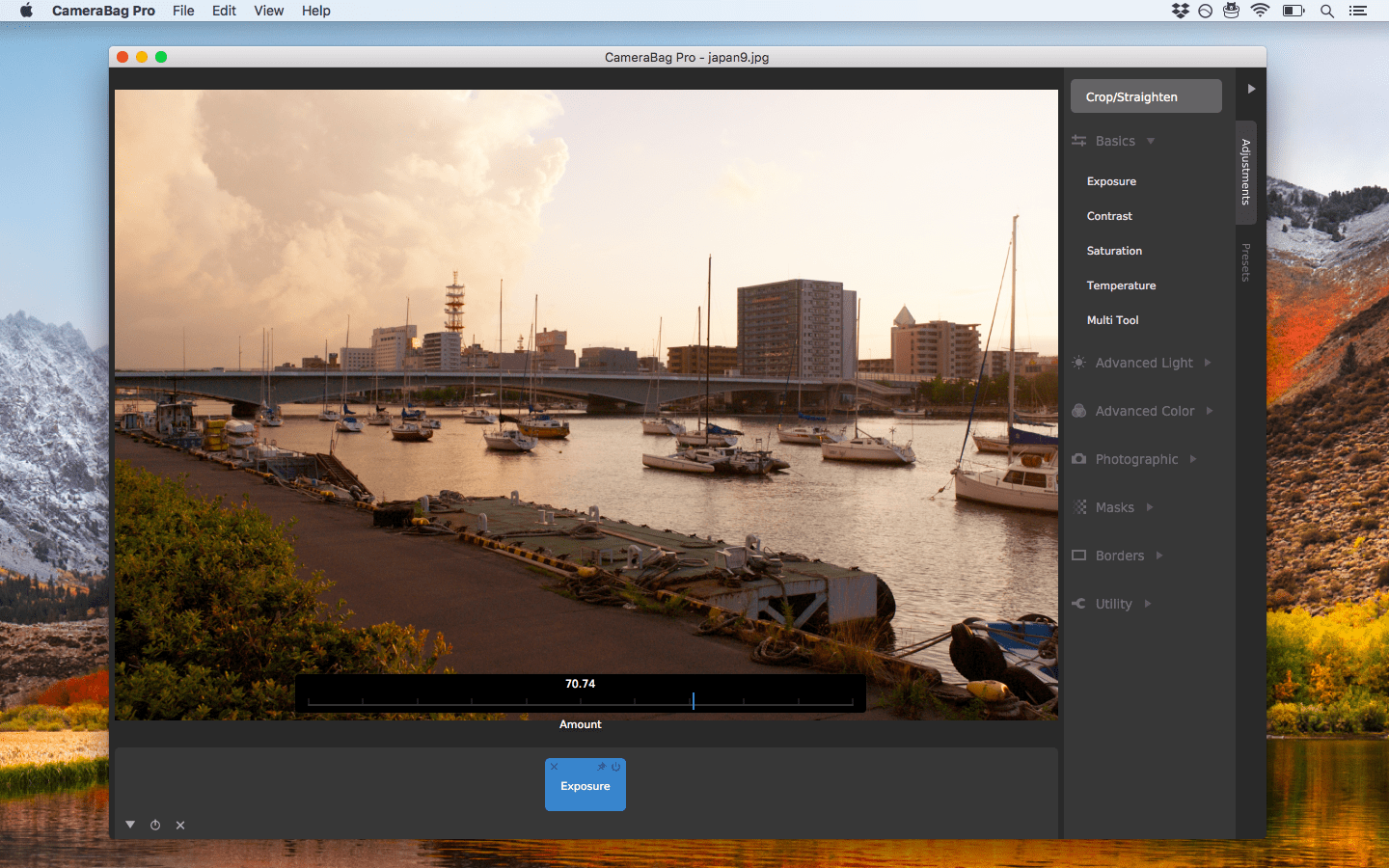 Adding your videos to iTunes
If you've just recorded a masterpiece that belongs in your iTunes library, an app like iFlicks will help you get it there with minimum fuss.
iFlicks lets you convert almost any video into an iTunes suitable format (.mov, .mp4, or .m4v) and offers features to make your video look professional, by adding metadata, subtitles, chapters, and even artwork.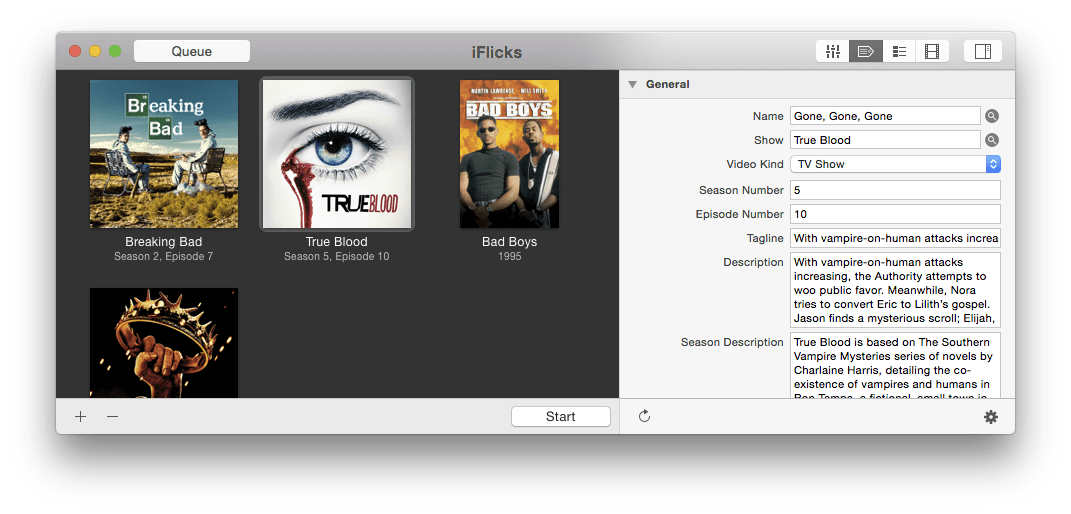 To add your files to iTunes with iFlicks, all you need to do is open the app, drag your video onto the main window, and click on the "Add to iTunes" box from the sidebar. Hit start and you're all done!
If you want to customize, add metadata, and create a cover for your video, we've written a tutorial on how to add movies to iTunes that'll help.
Record video calls
When you have an important call or a video interview, you probably won't have time for notes. Instead of worrying about remembering, stay in control of a conversation while software will record a Skype call or FaceTime interview for you. From Apple's native QuickTime to third-party tools like Capto and ChatMate, there are tons of options you can use for the job.
If you use FaceTime for video calls, it takes a few simple steps to record video for free with QuickTime:
Launch QuickTime and click on File.
Select New screen recording and click on the arrow next to the record button.
From the list of microphones, select Internal microphone.
Once you're all set, launch FaceTime and click on the record button to capture webcam video in QuickTime – you can choose to record the whole screen or only the FaceTime window.
Click on the Stop recording button once you're done and save the file to any spot on your Mac.
Using Capto and CleanShot X, capture video calls the same way you record screen with these tools. Both offer robust customization options and make a great fit for long calls and frequent use. For instance, you can use Capto to set custom timers as well as edit your videos once you're done – from annotating to removing unwanted parts.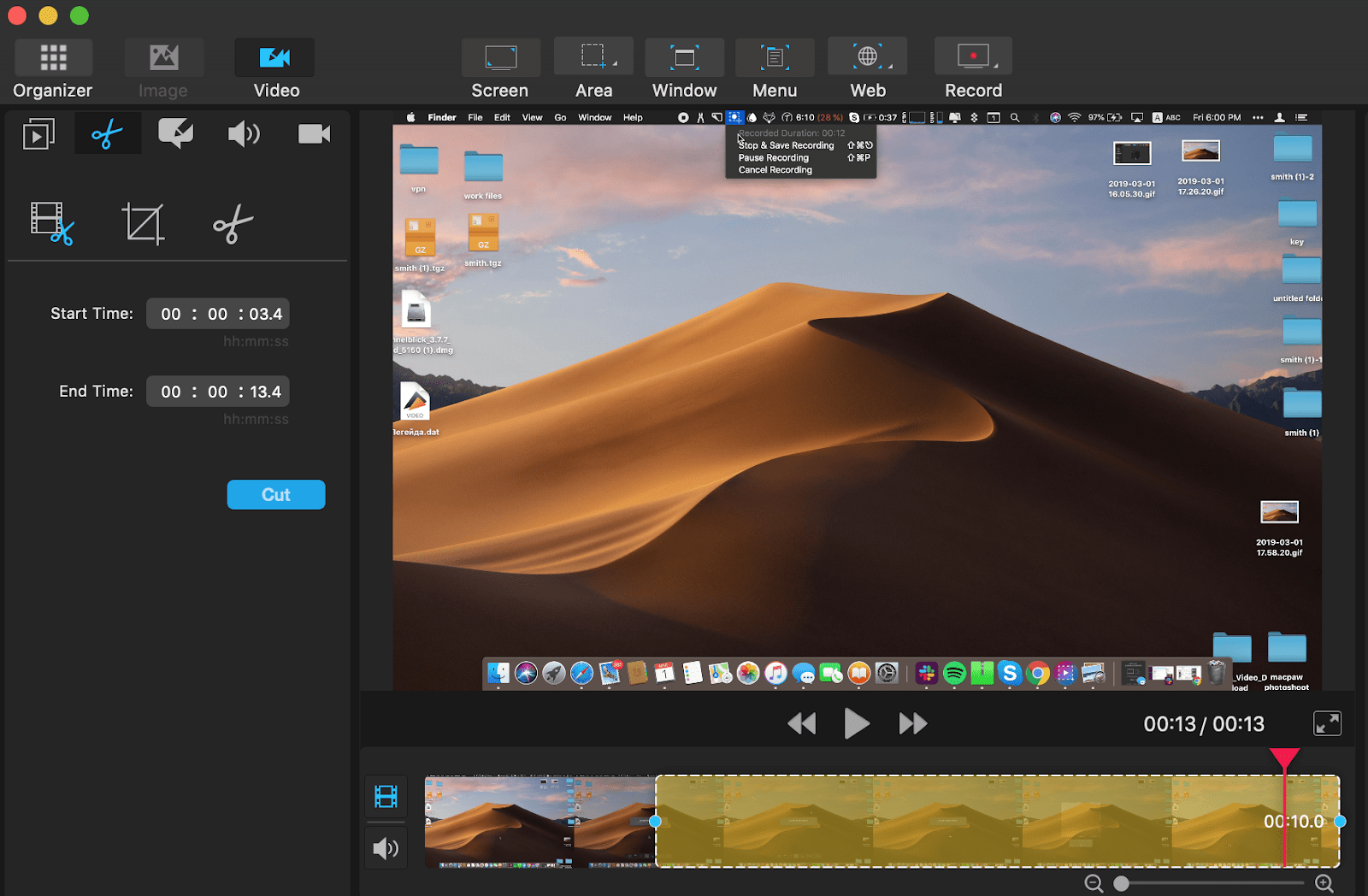 For call capturing with a desktop background, CleanShot will help you hide icons and set a wallpaper.
To record WhatsApp video call, use a dedicated tool called ChatMate for WhatsApp. Record and share your calls right inside the app – ChatMate will automatically transcode your recordings, so that you always get the right format at the output.
FAQ about how to record video on Mac
How to record video on Mac with external camera
The best app to record video on Mac is the one that gives you maximum flexibility, including the option to record with external camera. Capto, for example, has a camera selector in the Record menu — so you always know which camera you use for this particular recording and can easily switch between built-in and external camera. QuickTime and iMovie also have the options to switch to external camera in the main menu.
How to record video on Mac webcam
Most video recording tools, including both native apps and more advanced third-party apps, allow you to record video using your webcam. iMovie, Capto, QuickTime, and other popular tools work with webcam built into your Mac, as well as external webcam connected through a USB cable.
If your video recording tool doesn't seem to support the "OS X record video webcam" function, check the permissions in System Preferences > Security & Privacy > Camera.
How to record live streaming video on Mac
The tools you use for video calls recording will also work with live streams. QuickTime is the basic option to capture short live streams – easy to use and without complicated settings customization. If you want HD quality though, you'll have to go with more advanced software.
The advantage of Capto with live stream recording is that it gives you the option to capture audio only as well as rely on both internal mic and Capto device. Plus you can edit the live stream footage with Capto video editor once you're done.
Disclaimer: You may record YouTube live streams for private use only or in case you represent a copyright holder or own the permission of a copyright holder. For more details, check out YouTube's Terms of Service.
In the end, there are a lot of apps to choose from. But don't feel overwhelmed. All the apps mentioned here are available for you to try on Setapp with a free trial. In fact, there are over 230 high-quality Mac and iPhone apps across all categories on Setapp right now with new apps added weekly. Try all and see what you like best.