How to record audio on Mac in 2022
Whether you are looking to get into the podcast game, want to record your music, do some freelance voice work, or create an odd voiceover for a product demo or a quick explainer, you can rest assured your Mac can handle it. All you have to do is try out the various tools at your disposal and pick the ones that bring you the best results while not being too much of a hassle to handle.
Read on to see your options and find out if you'll need to buff your setup with just the right set of apps and gear to record audio on your Mac.
Can you record audio on Mac?
You can absolutely record audio on a Mac. But to find out exactly what you need to get started, first decide what you want to record. For creating music, recording podcasts or voiceovers, you will likely need to consider getting external gear and making sure your recording room is suitable for the best sound.
Get a quality mic
Test out your Mac's built-in mic first and see if it picks up a lot of noise and distractions, taking away from the quality of your final product. For professional-sounding audio, you are likely to require an external microphone, for casual walkthroughs or explainers you can totally get away with the built-in mic.
If you do choose to go with an external microphone, decide what audio quality you are looking for and then consider your budget. An external mic can run you between $70 and $150. Browse online best-of mic lists to pick the one that meets your specific recording needs — recording music and instruments, vocals, podcasts, and voiceovers can be vastly different in terms of what type of recording equipment to use, so tread carefully and study all the details.
Consider a USB audio interface
A USB audio interface is practically a must for musicians, but podcasters have been striving for quality and adopting the tool as well. And if you have no clue what a USB audio interface is and what it has to do with Mac recording audio, the device converts analog audio signals (the actual sound that's occurring in the room) into digital, i.e. enabling your machine to create an audio file. So basically turning the waves in the air into 1s and 0s on your computer.
Just like with the mic, your Mac already has the tools to do the job, but the pros tend to recommend using a USB audio interface for more refined controls of various sound elements and better sound quality.
Choose your recording environment carefully
And finally, no matter what way you decide to record sound on your Macintosh, how your room's walls, ceiling, floor, and furniture absorb and reflect sound can be crucial to the end result.
Unless you are specifically looking for an echo or reverb effect in your audio, you probably want to record your audio in a room with loads of soft furniture, carpets, curtains, and walls covered in breathable material. For more professional results, you might want to research more advanced adjustments that improve your recording space's acoustics — wall treatments, acoustic panels, bass traps, etc.
Either way, always test out your various sound setting options and see what works best for your end product.
How to record audio on Mac
Now, let's explore the ways you can record audio on Macintosh. You can try out the options of recording your audio with built-in apps like QuickTime Player or Voice Memos. You can also use Apple's GarageBand. Additionally, you can try the n-Track Studio app.
We will discuss all of the above next, so buckle in.
How to record audio on Mac with Voice Memos
Here's how to record a voice memo on Mac.
Open Finder > Applications.
Open Voice Memos.
Hit the red button to start recording.
Speak.
Hit the bottom left button for pause, if needed. Click Done in the bottom right corner when you are finished.
With Voice Memos, you can record both compressed or lossless audio, just make sure to pick your choice in app preferences before you hit record.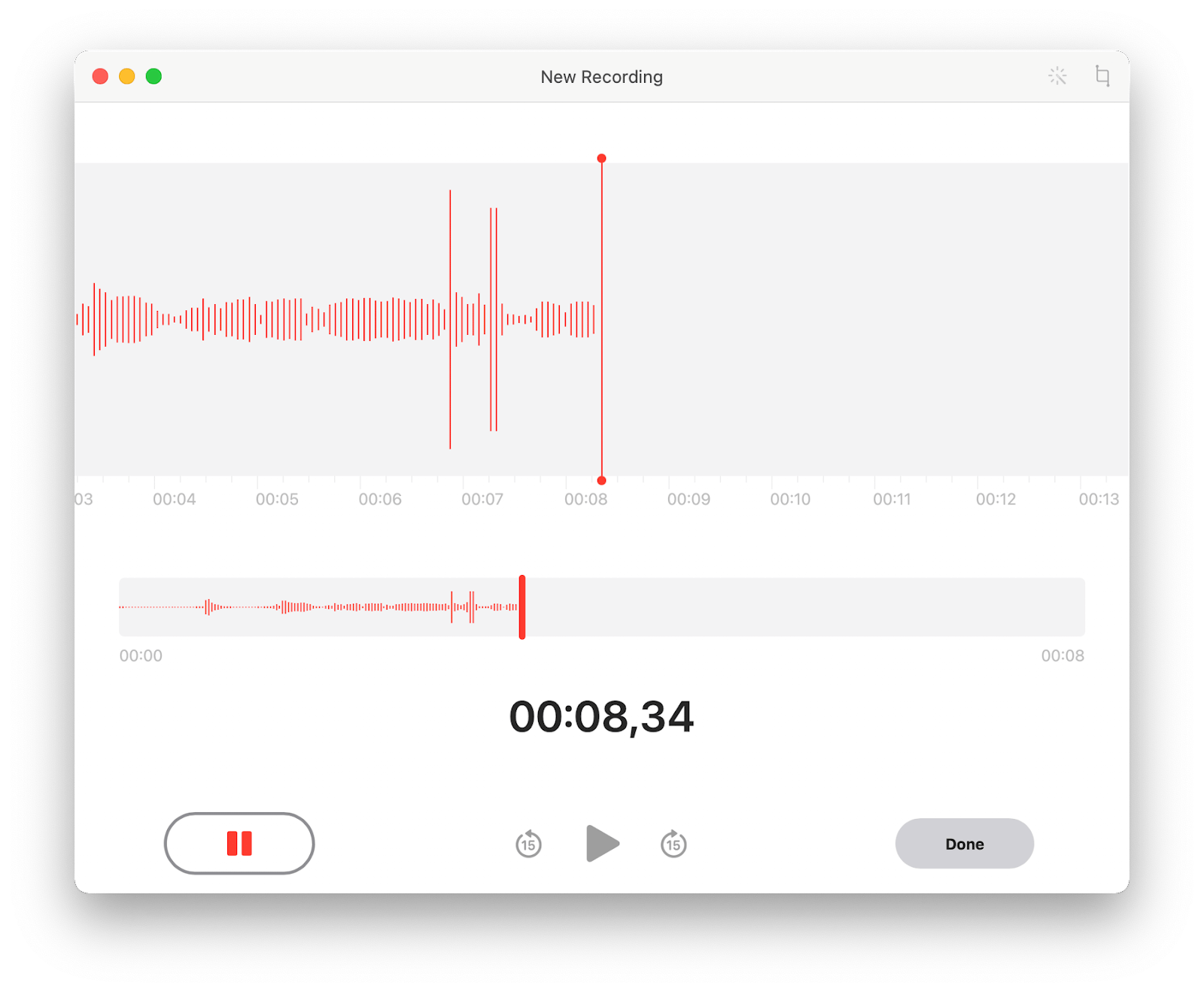 You can trim or cut out pieces of your voice memos, organize them in folders, and more with this handy built-in Mac app.
Recording audio on Mac with n-Track Studio
n-Track Studio is a comprehensive multi-track music recorder that allows you to mix and edit your tracks.
This third-party app is an advanced recording app that provides a great solution for recording music, live performances, and mixing tracks. It boasts a large library of effects, drum synthesizer, step sequencer, screen keyboard, and more.
n-Track Studio allows for layered music recording for quality sound and easy editing of each part of your song.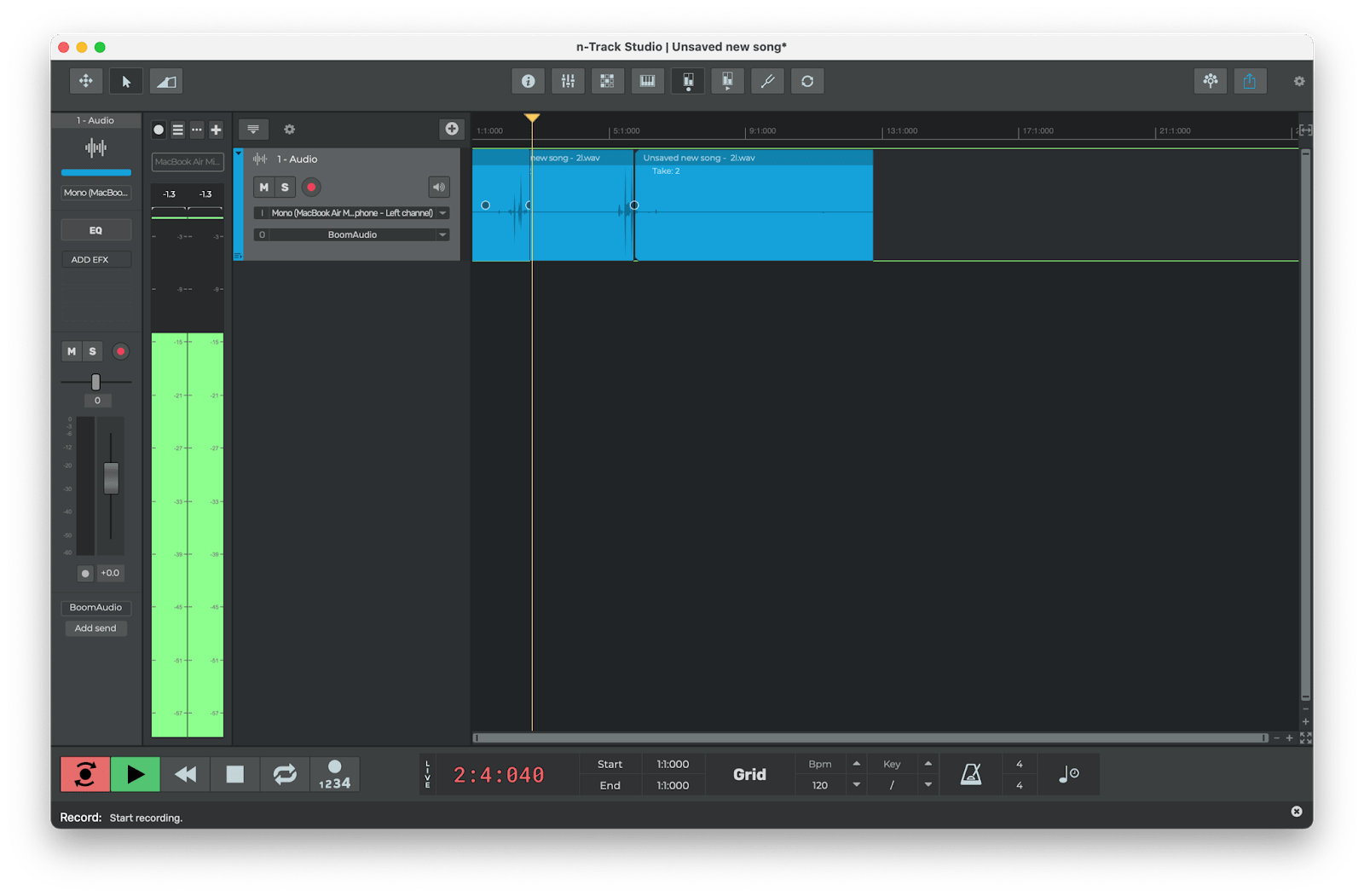 To record a track, open the app and follow these steps:
Look through your recording settings to the left and at the bottom of the app window and make the adjustments that fit your desired result and style of music.
Hit the recording button at the bottom left of the app.
Play the instrument or sing vocals for the track.
Hit stop.
Repeat steps 3 and 4 for the rest of your instruments, vocals, and other audio tracks.
Move the audio bits you've recorded around your song's timeline, edit the items individually as necessary.
Add effects or change track settings.
Save your project.
How to record audio on Mac with QuickTime
QuickTime Player is a built-in Mac app that helps you play videos but can be easily employed to record a quick audio.
If you need a simple Macintosh voice recorder, the app can do that nicely. Here's a step-by-step for recording audio with this app:
Go to Finder and open Applications.
Spot and open QuickTime Player.
Find File in the top Menu bar and select the option New Audio Recording.
Select your file quality and desired mic by hitting the bottom-pointed arrow next to the red record button.
Hit the red record button.
Press stop to finish and save your audio.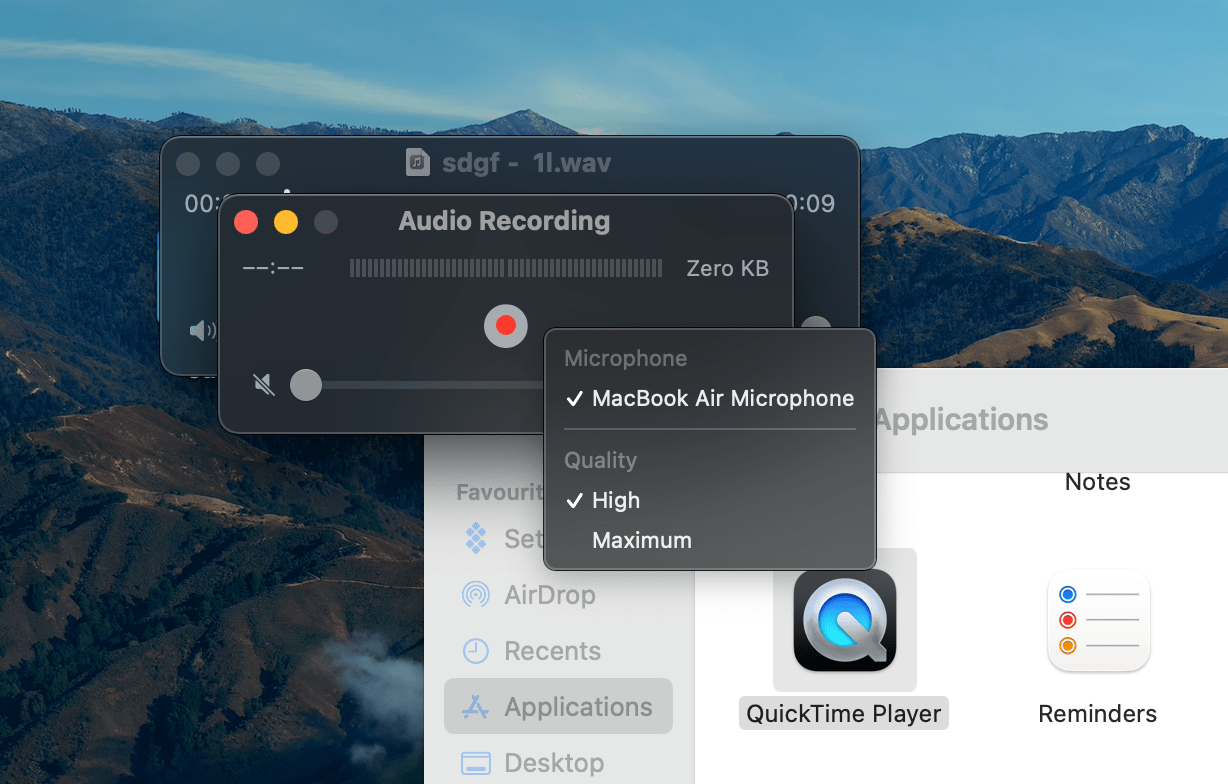 How to record sound with GarageBand
How do I record multi-track audio on my Mac with a native Apple app, you ask? No fret, GarageBand is a solution you can try.
This tool has a lot to offer — built-in music lessons, project templates, and presets for various instruments, vocals, and genres. To record your tracks with the app, just hit the record button. Edit tracks with a plethora of tools within the app, mix, and save your end result.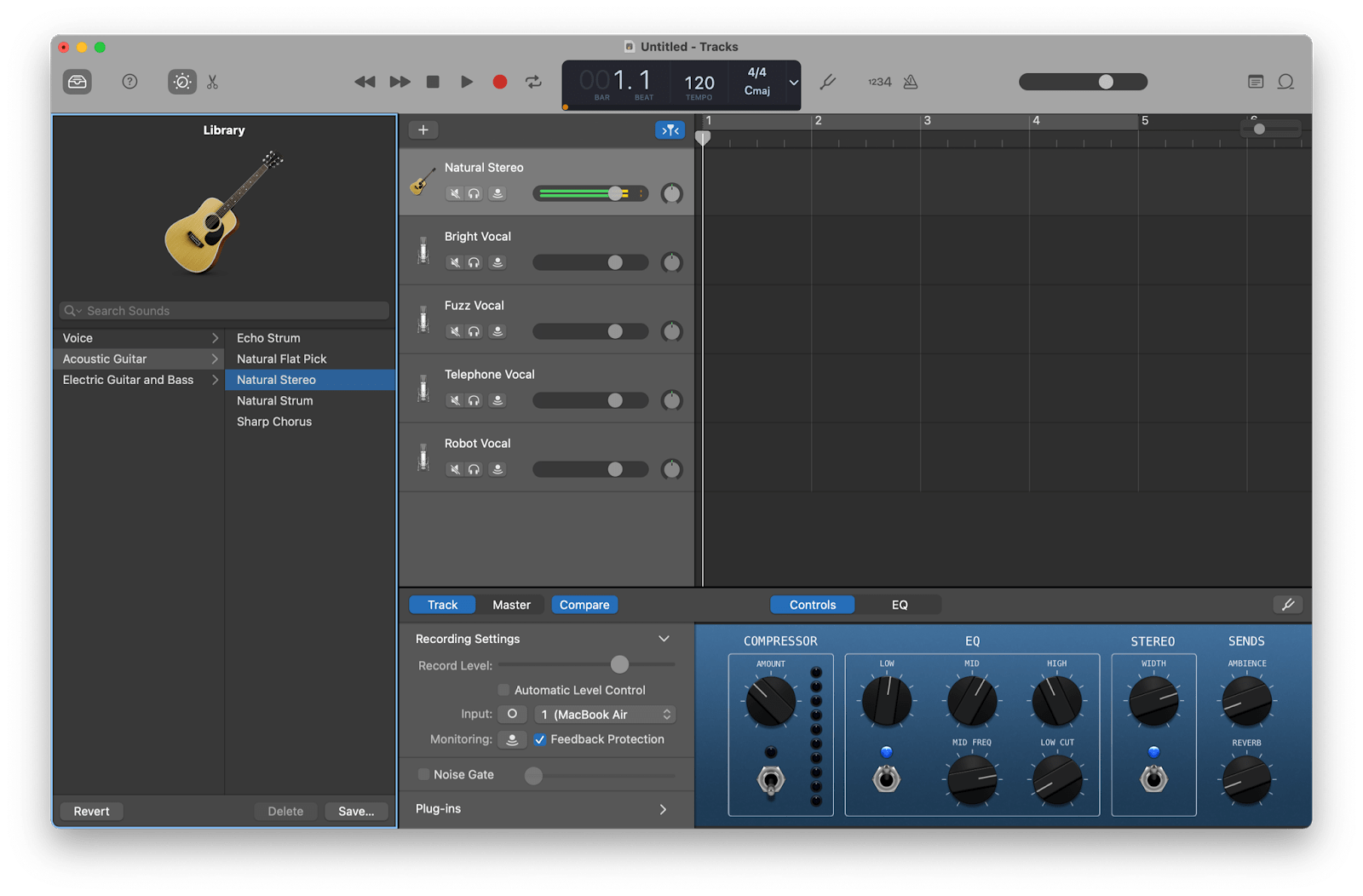 Bonus tips on recording sound on Mac
For the times when you need to create a video recording of your online event or a product or flow walkthrough with a simple voiceover, you can use screen capturing app Capto.
This app is capable of taking multiple types of screenshots on your Mac, including freehand. But it also can record your screen. Just hit the Record button in the top panel of the app, select your recording area, and set the app up to get sound from your Mac mic or use computer audio. Tick Record camera option to lay over your webcam feed onto the screen recording as you create your video.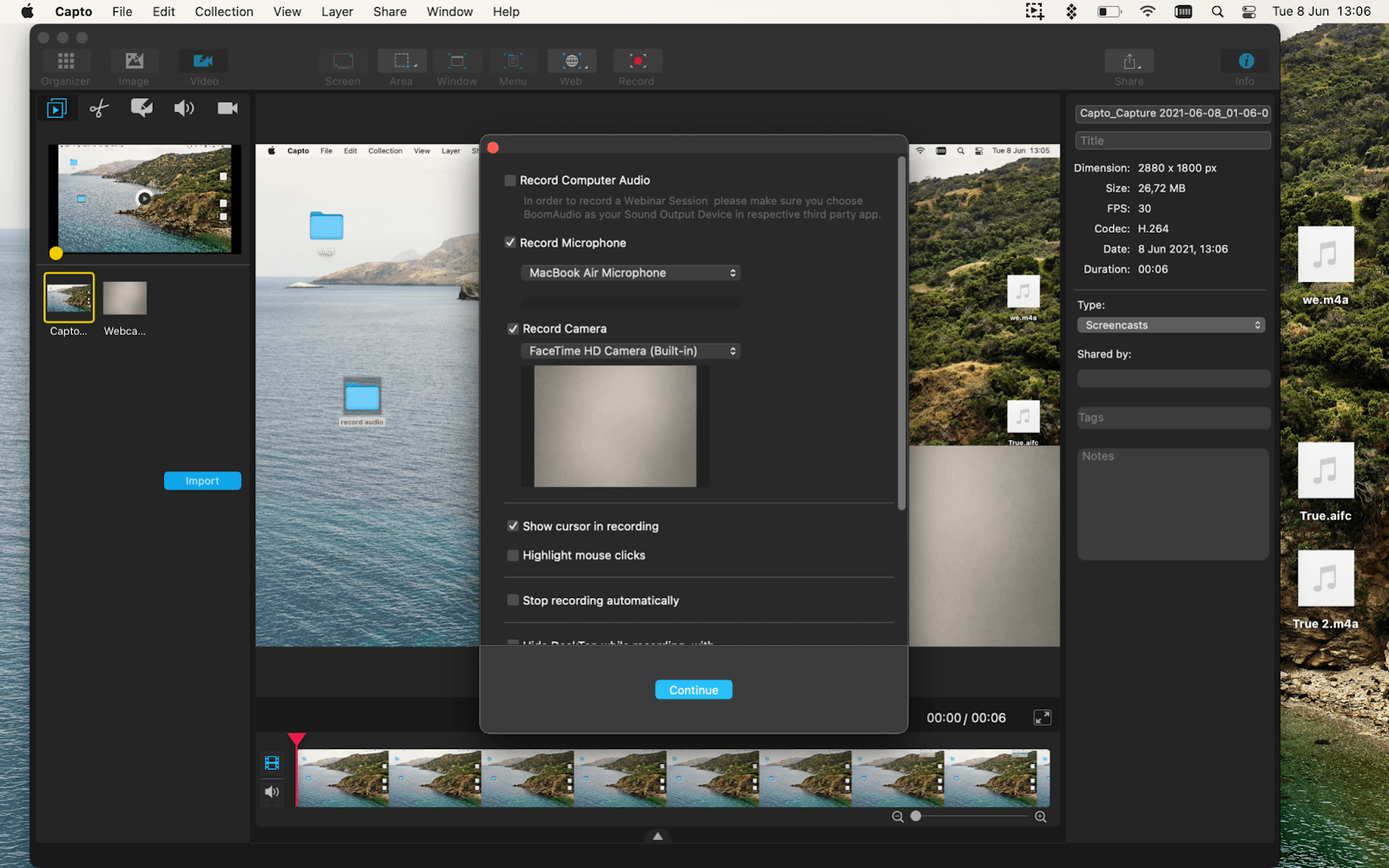 Another thing we'd recommend is creating a step-by-step plan for your recording — be it a podcast episode, product demo, or flow walkthrough, it's important to make sure your audience is engaged. Stop yourself from wandering off the topic, skipping key points, or repeating the same thing over and over by creating a quality plan for your recording or even a detailed script.
Ulysses is a great note-taking app that is fit for the purpose and you can find it in Setapp along with Capto and n-Track Studio mentioned above.
Take notes, draft plans, and don't skip a beat when recording your podcast or explainer!
On the other hand, if you are creating music on your Mac, you want your playback to sound as good as it possibly can to check the quality of your recording. Use Boom 3D to enhance your sound and enjoy the music more. The app boosts volume and provides an equalizer with multiple settings to fit your music preferences and enhance the output.
Run the app and flip through menu options to adjust settings to your liking and start listening!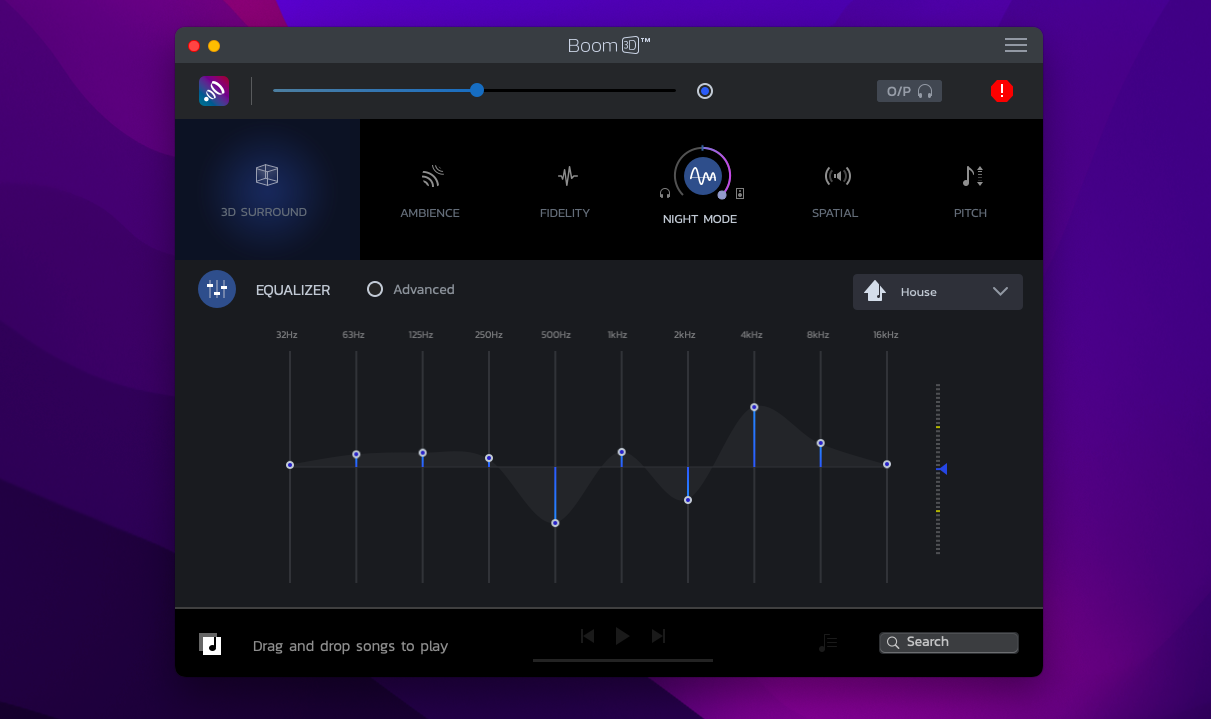 Conclusion
Now that you know how to record audio on Mac and that your options are much wider than just voice recorder apps for Macs, you can pick the right set of tools that fit your specific tasks for audio recording on your machine. Whether you want to create music and record your instruments, vocals, and live performances, or you plan to run a podcast, or maybe you just need to record audio for your product walkthrough or demo, you can find a solution for each of these.
Browse our suggestions above and get to recording! n-Track Studio, Capto, Ulysses, and Boom 3D are available on Setapp. Explore the app suite to build your own personalized app selection and smooth workflow. You can try Setapp for free with a 7-day trial.