Macs have long been the computers of choice for creative professionals and hobbyists alike, so there is no surprise that it's well served when it comes to software for recording audio.
Can you record audio on a Mac?
Can you voice record on a Mac? Sure. For very basic jobs, QuickTime Player is just fine, allowing you to record audio using your Mac's built-in or an external mic and save the file. But you wouldn't be able to create multiple tracks, edit the audio, or add effects.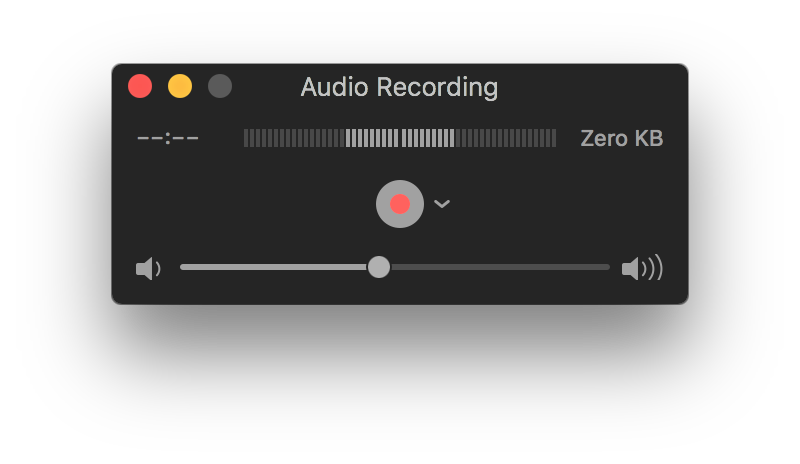 For more complex jobs, you'll need a tool with a bit more power, like n-Track Studio.
n-Track Studio is a fully fledged professional recording app on your Mac. This digital audio workstation allows you to make multi-track recordings, mixing them with custom effects. You can choose to record your masterpiece live or build it up, piece by piece, making multiple takes and using the step sequencer to create the result one section at a time. There's also a built-in drum synthesizer, so you don't need to worry about setting up a drum kit in your office.
But before you start recording audio, there are a few things to bear in mind.
Buy a good quality microphone
Modern software can work wonders when it comes to cleaning up audio, but it can't add what wasn't recorded in the first place. If you plan to podcast or make music regularly, even as a hobby, an external mic is a must. Good news that nowadays you can buy a decent quality USB microphone for less than $100. If you already have a microphone that uses XLR connectors, you could buy an audio interface with XLR inputs instead. And don't forget about a good pair of headphones to monitor your recording process.
Consider a USB audio interface
Even if you don't need XLR inputs for your microphone, a USB audio interface will allow you to record electric guitar or bass and use software to emulate the sound of your favorite guitar hero. Some audio interfaces can even control the audio input level and use hardware controllers to adjust faders and direct effects in software.
Choose your recording environment carefully
While you could choose just about any place, there's no substitute for a small quiet room with thick walls that absorb sound rather than bouncing it back at your microphone. (Unless you want real-life echo or reverb as an effect.)
Consider how you set up the microphone as well. If you're recording yourself, you'll obviously sit in front of it. But when interviewing someone or recording multiple musicians, you'll need an omni-directional mic, placed in the center of the group.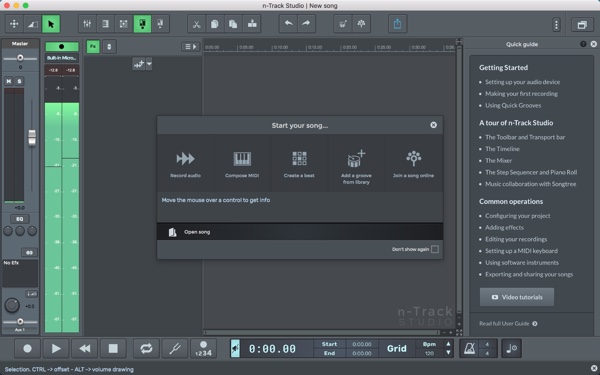 And now back to n-Track Studio. Fire up Setapp and install it. Once you've installed the application, you'll need to set it up, but first make sure your Mac is ready to record audio from your preferred audio input.
Open System Preferences from the Apple menu
Click on the Sound pane
Choose the Input tab
If you have a USB microphone or audio interface connected, you should see it here
Select the microphone you're going to use
Check the levels by speaking into the microphone and watching the meter in the System Preferences window, adjusting the volume accordingly
Now launch n-Track Studio. Click on the Settings menu and choose Audio Devices. Select Mac's Default Recording Device. This will ensure the device you selected in System Preferences is the one used for recording in n-Track Studio. Make sure to disconnect or switch off audio input devices you're not going to use.
To the left of the main window, you'll see a level meter with the name of the current audio input above it. Test the microphone level and watch the meter. It should peak below the maximum (0db). If it's too high, you'll hear distortion on the audio track. So if it's peaking at 0db, adjust the level.
You can now record your first track by clicking the Record Audio button in the quick start window that opened when you first launched n-Track Studio.
How to record system audio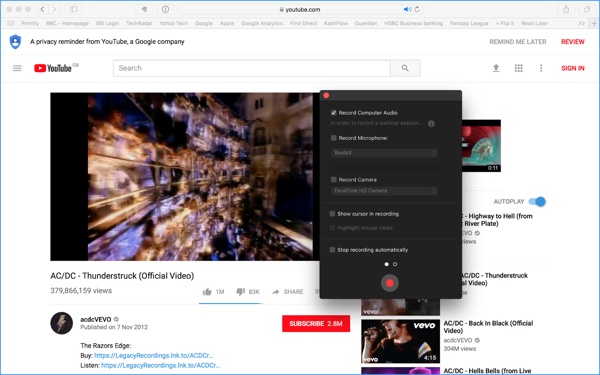 If you need to grab music or audio that's being played by your Mac rather than the audio you create, you'll need a different tool. Capto is a screen recording app designed for making screen video tutorials. It can easily grab your Mac's audio as well as video outputs. To record the audio, you would set Capto to capture your Mac's screen, with audio input set to system audio. Then when you're editing, you can split the audio and video tracks and delete the video one.
Finally, if you want to strip the audio from an online video and save it on your Mac, Elmedia Player — a player that can download video from streaming sites — can do just that.
So whether you want to start a podcast, record a hit song, or just grab audio that's already playing on your Mac, Setapp gives your a perfect tool for every job.
Get 100+ Mac apps for any job
Sign up to Setapp and try them for free.
Try for free