How to record audio on Mac in 2023
Whether you are looking to get into the podcast game, want to record your music, do some freelance voice work or create an odd voiceover for a product demo or a quick explainer, you can rest assured your Mac can handle it. All you have to do is try out the various tools at your disposal and pick the ones that bring you the best results while not being too much of a hassle to handle.
Read on to see your options and find out if you'll need to buff your setup with just the right set of apps and gear to record audio on your Mac.
How can you record audio on Mac?
Macs are great for recording audio. You can use built-in mic or plug in an external one for better audio quality and record audio with a selection of tools.
You can either use built-in Voice Memos and QuickTime Player, download Apple's GarageBand or use third-party software.
If you are recording a video call, you will be able to record both audio and video with screen capturing tools on Mac, so the only thing you need to worry about is getting permission from the person or people on the other line, who will also be recorded.
If you are set on recording a podcast, YouTube video or vocals, it's best to use the highest quality software and hardware (and set them to max sound quality settings) for the task as audio quality makes a big difference in the quality of your final product.
How to record audio on Mac with Voice Memos
Here's how to record a voice memo on Mac.
Open Finder > Applications.
Open Voice Memos.
Hit the red button to start recording.
Speak.
Hit the bottom left button for pause, if needed. Click Done in the bottom right corner when you are finished.
With Voice Memos, you can record both compressed or lossless audio, just make sure to pick your choice in app preferences before you hit record.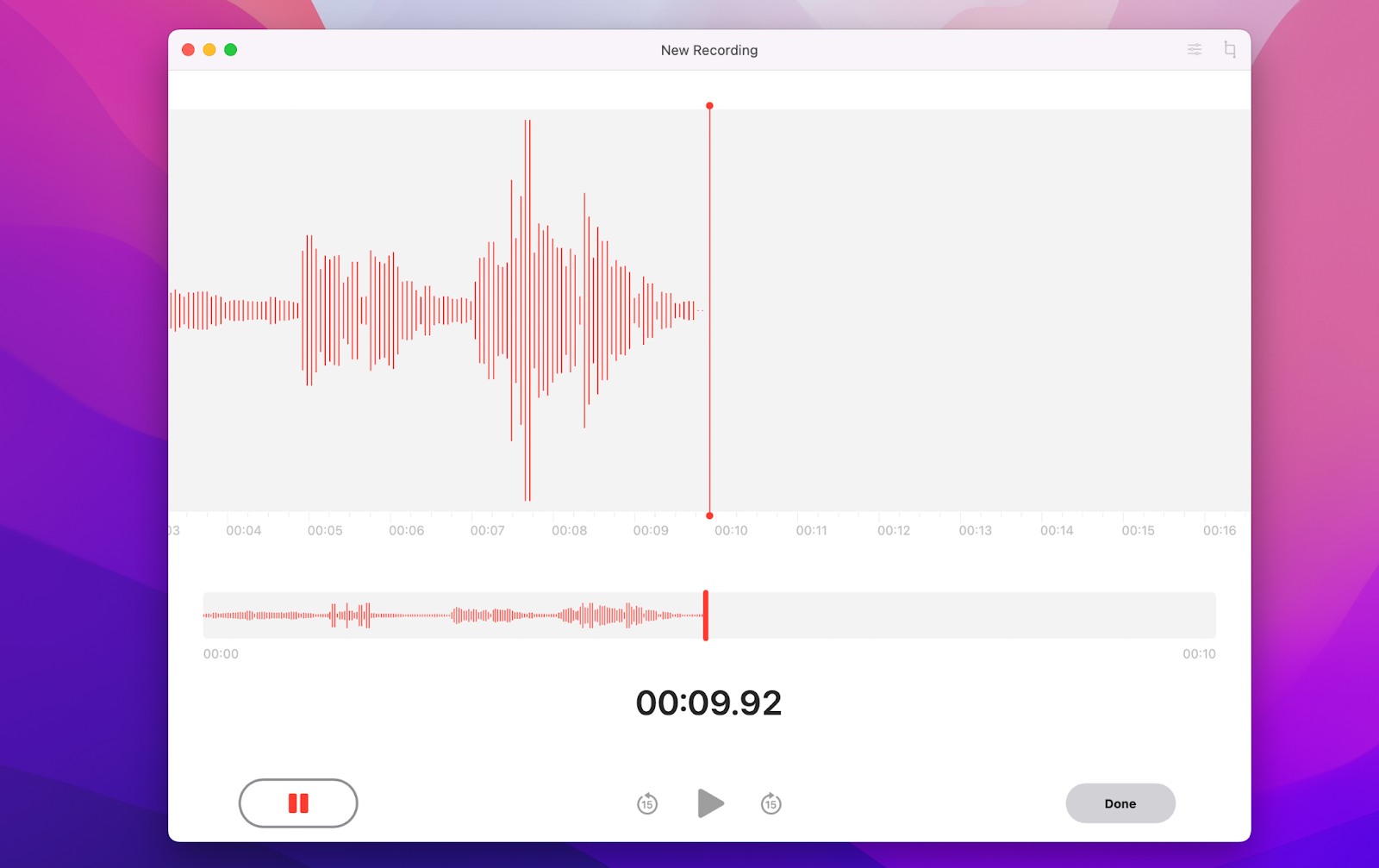 You can trim or cut out pieces of your voice memos, organize them in folders, and more with this handy built-in Mac app.
Recording audio on mac with n-Track Studio
If you are looking to record music on your Mac, n-Track Studio is the app to use.
It makes it easy for you to record audio, work on multitrack songs and mix your music. From live performances to elaborate music arrangements, you can use n-Track Studio to do it. The app even allows you to create your own sound effects and add them to songs. Want to DJ a gig? The app's step sequencer and drum synthesizer will come in handy!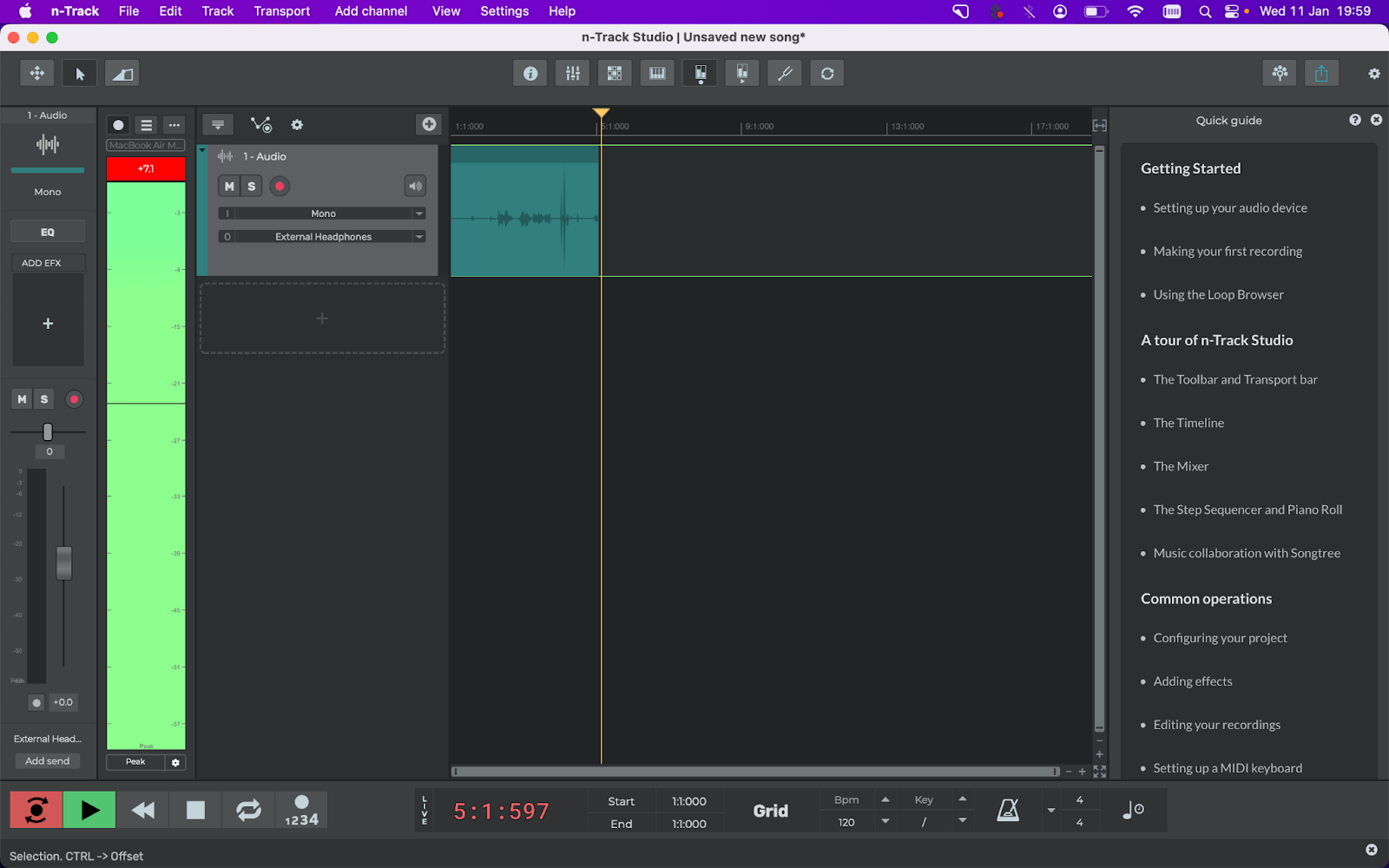 To record a track, open the app and follow these steps:
Look through your recording settings to the left and at the bottom of the app window and make the adjustments that fit your desired result and style of music.
Hit the recording button at the bottom left of the app.
Play the instrument or sing vocals for the track.
Hit stop.
Repeat steps 3 and 4 for the rest of your instruments, vocals and other audio tracks.
Move the audio bits you've recorded around your song's timeline, edit the items individually as necessary.
Add effects or change track settings.
Save your project.
How to record audio on Mac with QuickTime
QuickTime Player is a built-in Mac app that helps you play videos but can be easily employed to record a quick audio.
If you need a simple Macintosh voice recorder, the app can do that nicely. Here's a step-by-step for recording audio with this app:
Go to Finder and open Applications.
Spot and open QuickTime Player.
The app will prompt you to open a file, but you don't have to — you can just find the QuickTime Player menu at the top of your screen in the menu bar and proceed with the steps:
Find File in the top menu bar and select the option New Audio Recording.
Select your file quality and desired mic by hitting the bottom-pointed arrow next to the red record button.
Hit the red record button.
Press stop to finish and save your audio.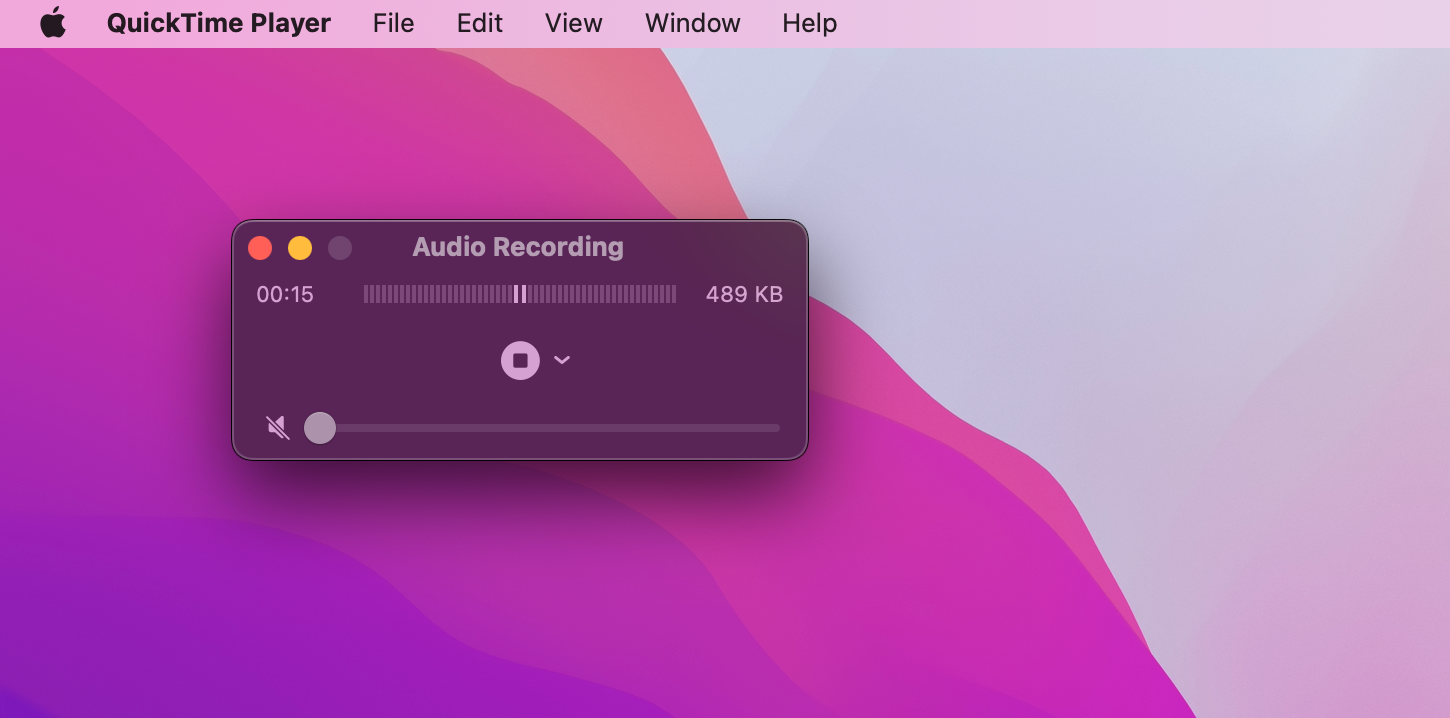 How to record sound with GarageBand
How do I record multi-track audio on my Mac with a native Apple app, you ask? GarageBand is the answer.
This Apple app that you can get from the App Store has a lot to offer — built-in music lessons, project templates and presets for various instruments, vocals and genres. To record your tracks with the app, just hit the record button. Edit your tracks with the plethora of tools within the app, mix and save your end result.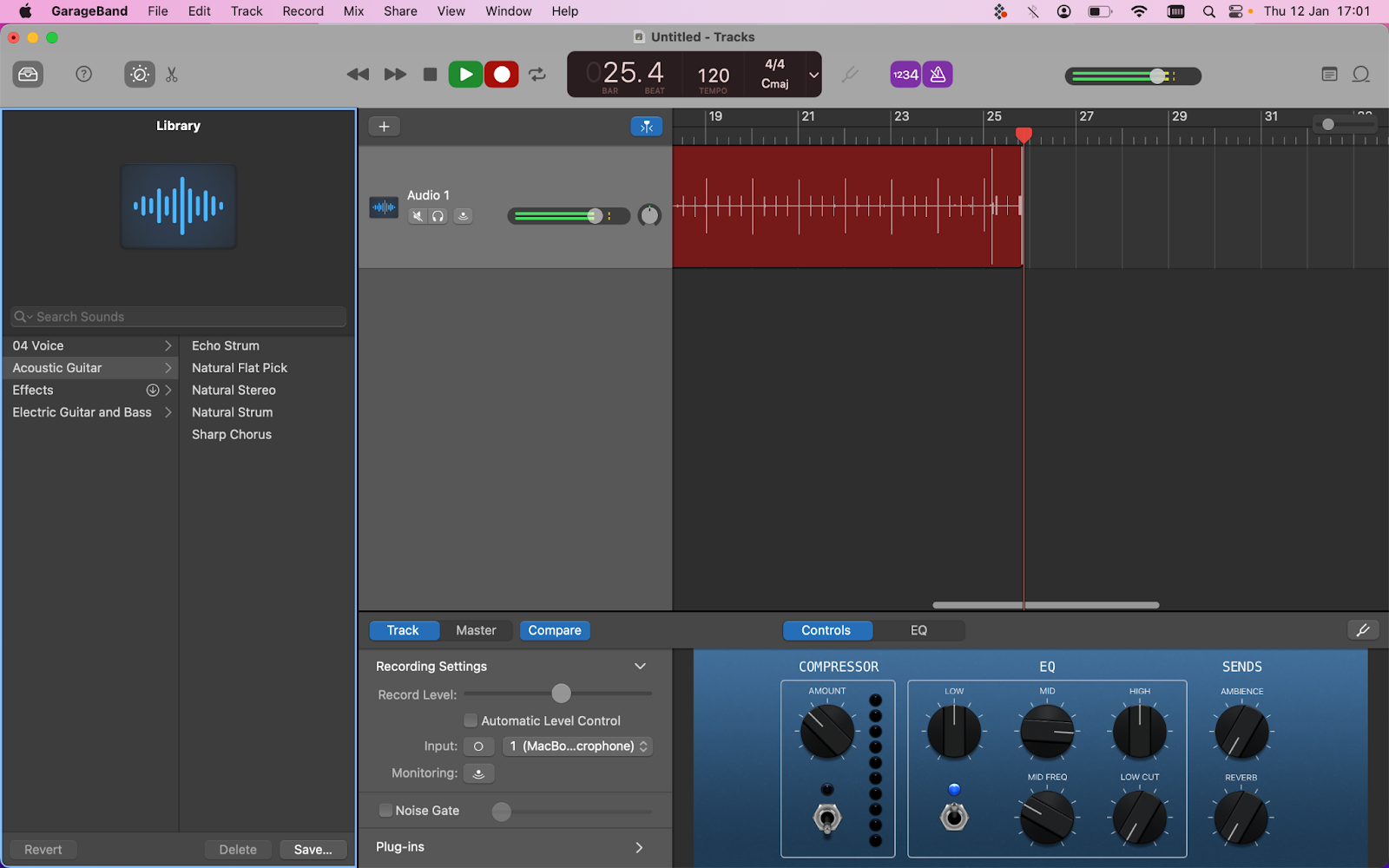 Bonus tips on recording sound on Mac
For the times when you need to create a video recording of your online event or a product or flow walkthrough with a simple voiceover, you can use screen capturing app Capto.
This app is capable of taking multiple types of screenshots on your Mac, including freehand. But it also can record your screen. Just hit the record button in the top panel of the app, select your recording area (the whole screen or a part of it) and set the app up to get sound from a mic or use computer audio.
Pro tip: You can also use the drop-down menu of the Capto menu bar icon to start recording your screen or an area of it.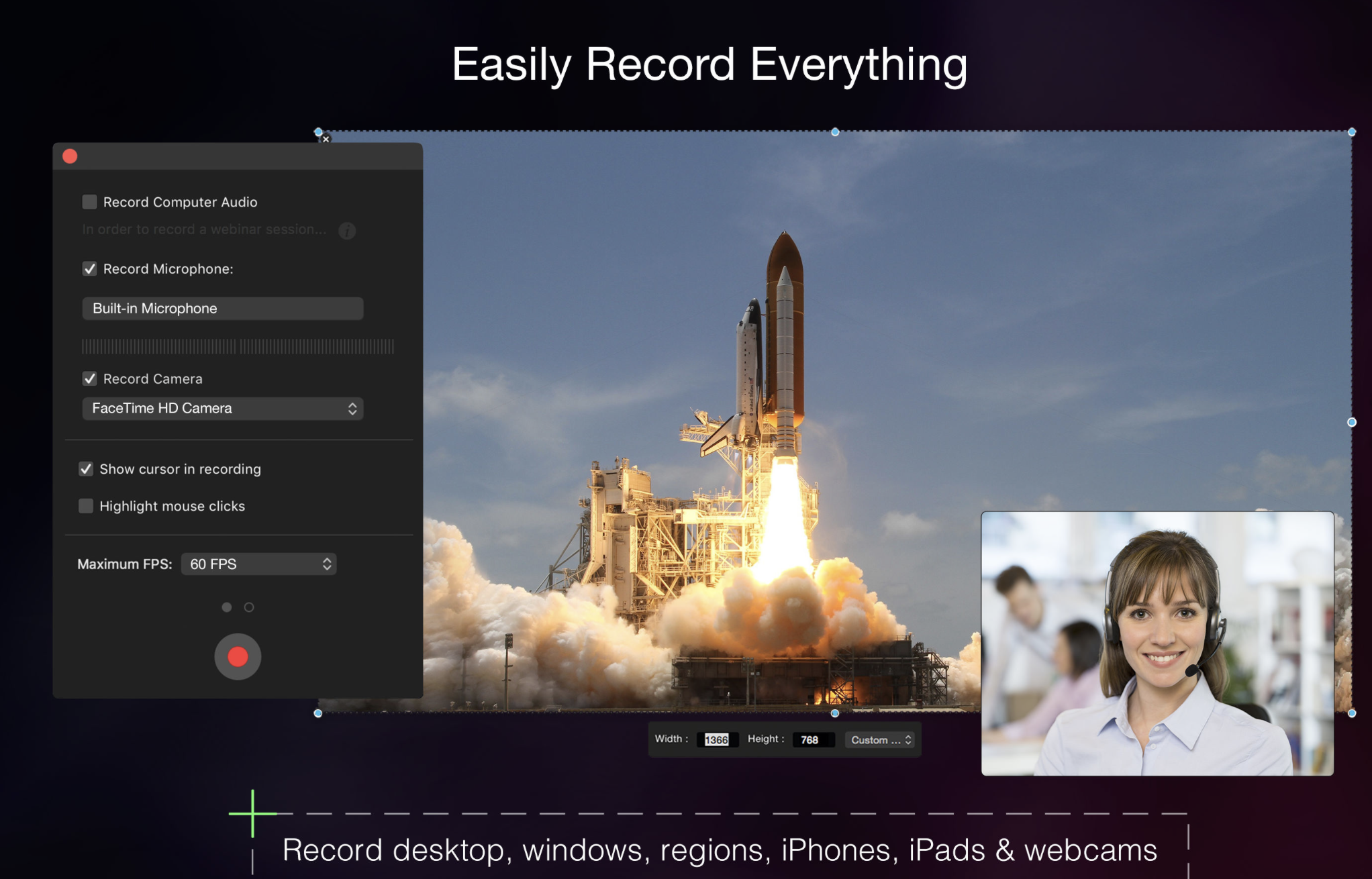 With Capto, you can opt to record your webcam as part of your screen recording as well as hide the desktop and show the cursor as you record. After your video is recorded, you can add text, objects and images, trim your timeline.
Once your recording is ready, you can play it back on your Mac. To enhance the sound of any music you play on your Mac, you can utilize Boom 3D, a volume booster and equalizer that can help add that oomph to your tracks.
Love working with your headphones on? Silenz is an app that can help you dynamically adapt the sound levels or pause playback automatically when something needs your attention, e.g. someone talks to you.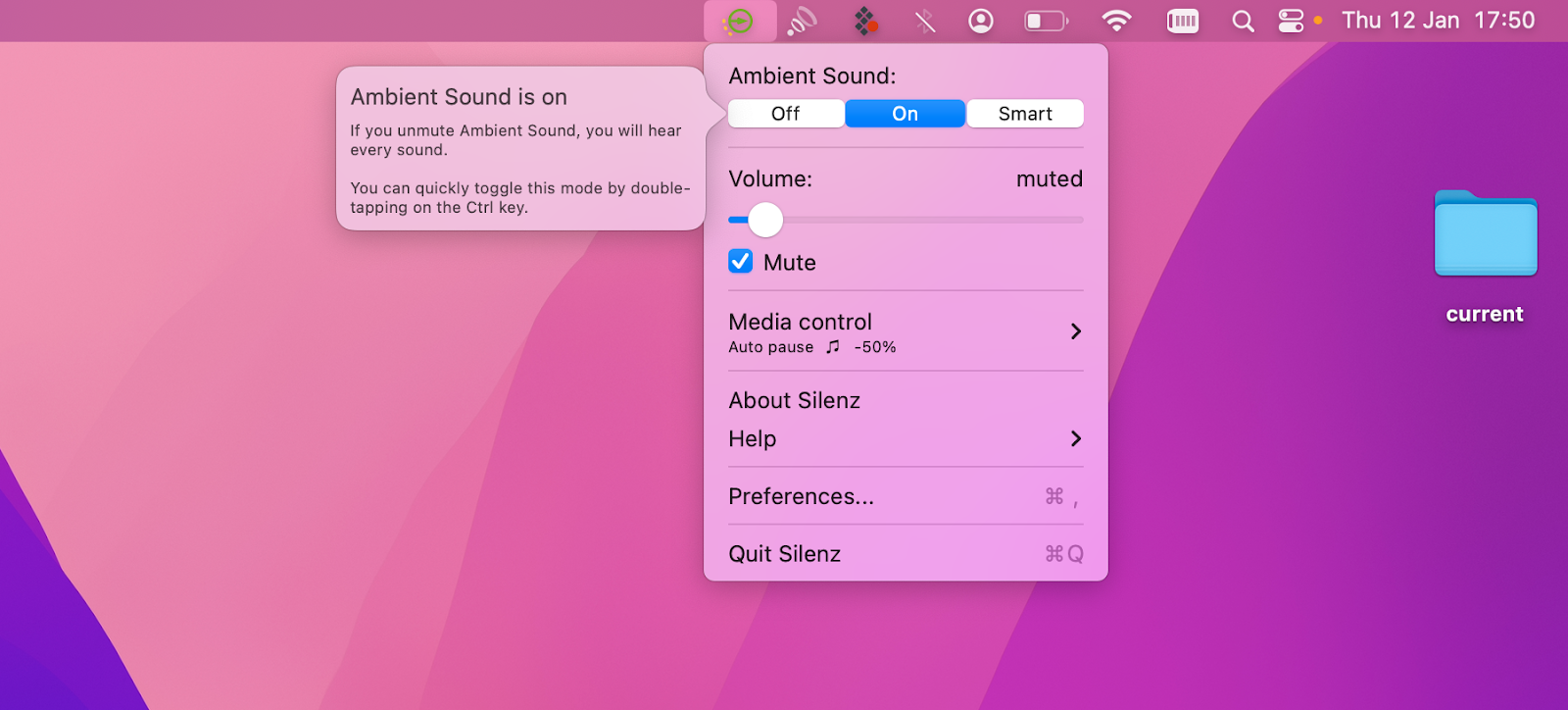 Recording Mac audio
Recording audio on your Mac is as easy as the tools you use. You can opt for built-in options or apps that are more tailored to your demands — whether you want to make a track or are recording a product walkthrough.
From QuickTime to n-Track Studio, you can pick and choose your tools. Explore third-party apps we've mentioned above — CleanShot X, Capto, Boom 3D, Silenz and n-Track Studio — on Setapp. Don't have a Setapp subscription yet? Try the free 7-day trial and use all of these apps to see which one works best for your tasks!
Extra tip: Enjoy AI-generated soundscapes
Whether you want to take a break from work on your tracks, or need a little extra inspiration without venturing into something too mainstream, GetSound is the perfect tool for this.
The app generates one-of-a-kind, location-based soundtracks that are easily customizable and instantly relaxing. If you ask us, it's a perfect palette cleanser for when you've listened to a track one too many times but don't want to put on your favorite playlists to avoid unconsciously lifting some of the ideas from them!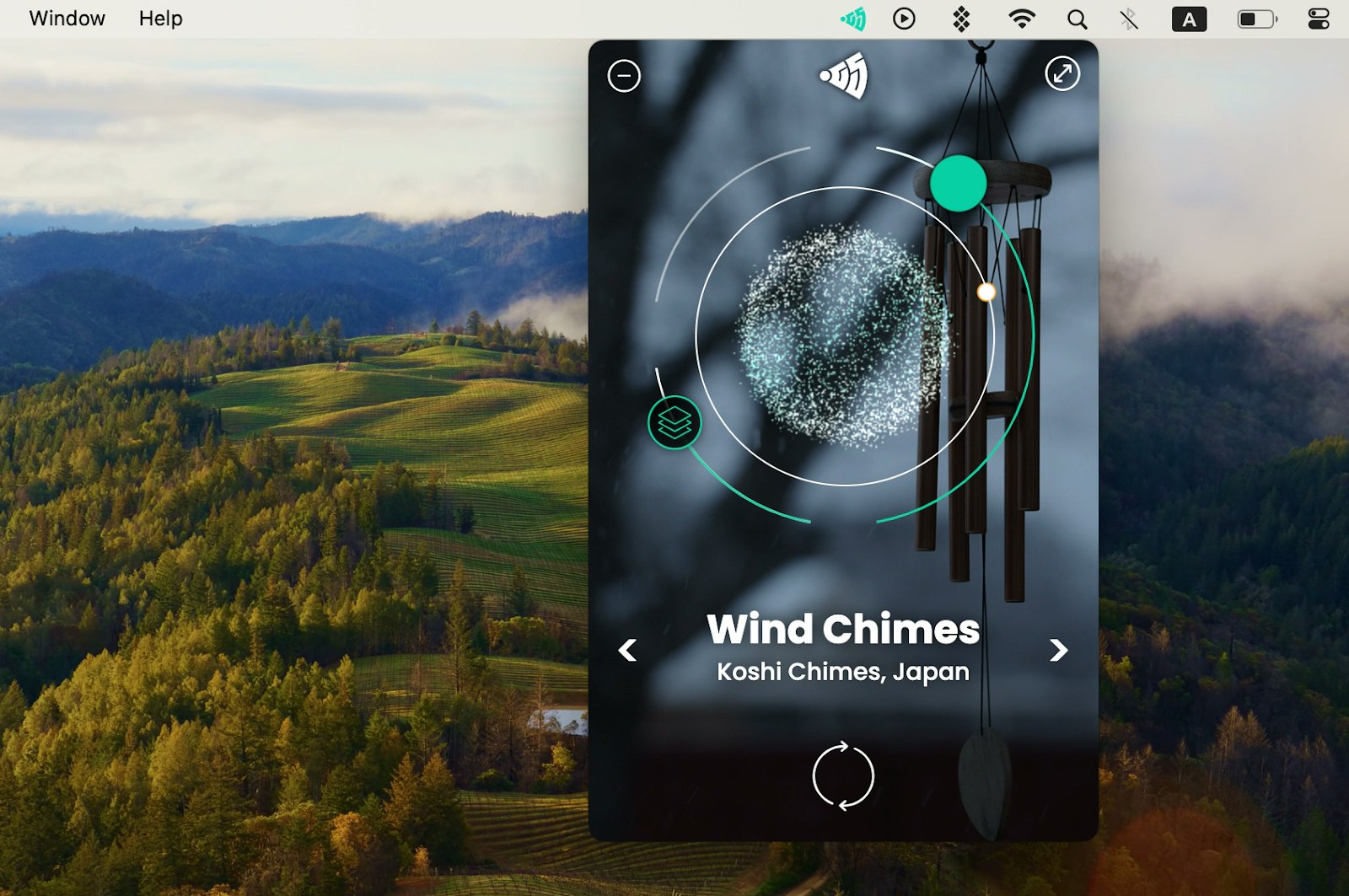 Sign up to Setapp and discover dozens of apps for tackling daily to-dos on your Mac and iOS. For one monthly fee, you get 230+ apps for a myriad of tasks, from writing to planning, to scheduling, to optimizing your devices, removing junk, coding, managing databases, design and much more.
FAQ
Why can't I record audio on my Mac?
Macs are great for recording audio, so if you run one of the apps suitable for audio recording on Mac but the audio doesn't get recorded, see if your Mac settings are set to allow the use of the built-in Mac mic. Go to Apple menu > System Settings… > Privacy & Security > Microphone and make sure the app in question is toggled on.
Next, go to the app you are using to record audio on your Mac and check that the app is set to use your built-in mic and not other hardware. If you still can't record audio, connect an external mic and try recording sound with it.
How do I record audio from a website on a Mac?
On most screen recording tools, you'll find an option to record the sound along with your video. Built-in Mac screen recorder QuickTime Player (reachable via a keyboard shortcut or through the app menu bar) as well as popular tools like CleanShot X and Capto can help you record the sound playing on your Mac along with the screen.
How do I record internal audio on a Mac?
You can record audio playing on your Mac with many apps that offer screen recording functionality. Just select the option of recording Mac audio and start the recording. Built-in app QuickTime Player, apps like CleanShot X and Capto are capable of recording internal audio on your Mac.