How to convert media files on a Mac
Audio files come in a dizzying array of file types. It can be hard to keep track, and really frustrating when you're trying to play audio but your favorite player won't play a certain file because of the type of track it is.
It may seem hopeless, but we've got your back! You can usually convert audio and video files without losing quality. Here, we'll walk you through how to convert video to MP3, MP4 to MP3, and many other audio and video conversions you'll find useful.

How to convert video to audio
Converting video to audio — MP4 to MP3, for example — means not so much converting the video file as extracting the audio track from it. That comes in handy when you want to turn your collection of music videos into a playlist to put on an iPod, or distil the sound from a video you took at a concert, or maybe use your favorite song as a ringtone for your iPhone.
macOS comes with built-in media encoding functionality that lets you convert video to audio right in the Finder. There's a similar feature in QuickTime, too. The downside is it's fairly limited in that you can't pick what the resulting audio file will be, because it generates an M4A track by default.
Your Mac comes with a really straightforward way to convert video files to audio.
How the default macOS video to audio converter works
Open Finder on your Mac
Navigate to the video file you want to convert
Right-click on the file
Select "Encode Selected Video Files" from the drop-down menu
Under the "Settings" heading, select "Audio Only" from the drop-down menu
Select "Continue"
A separate MP4 file will be created, and loaded in the same place as your video file. Note this doesn't delete or alter your video file in any way. This method can be used to convert any video file type to an audio file – but you don't get to select the type of audio file. It will always be MP4.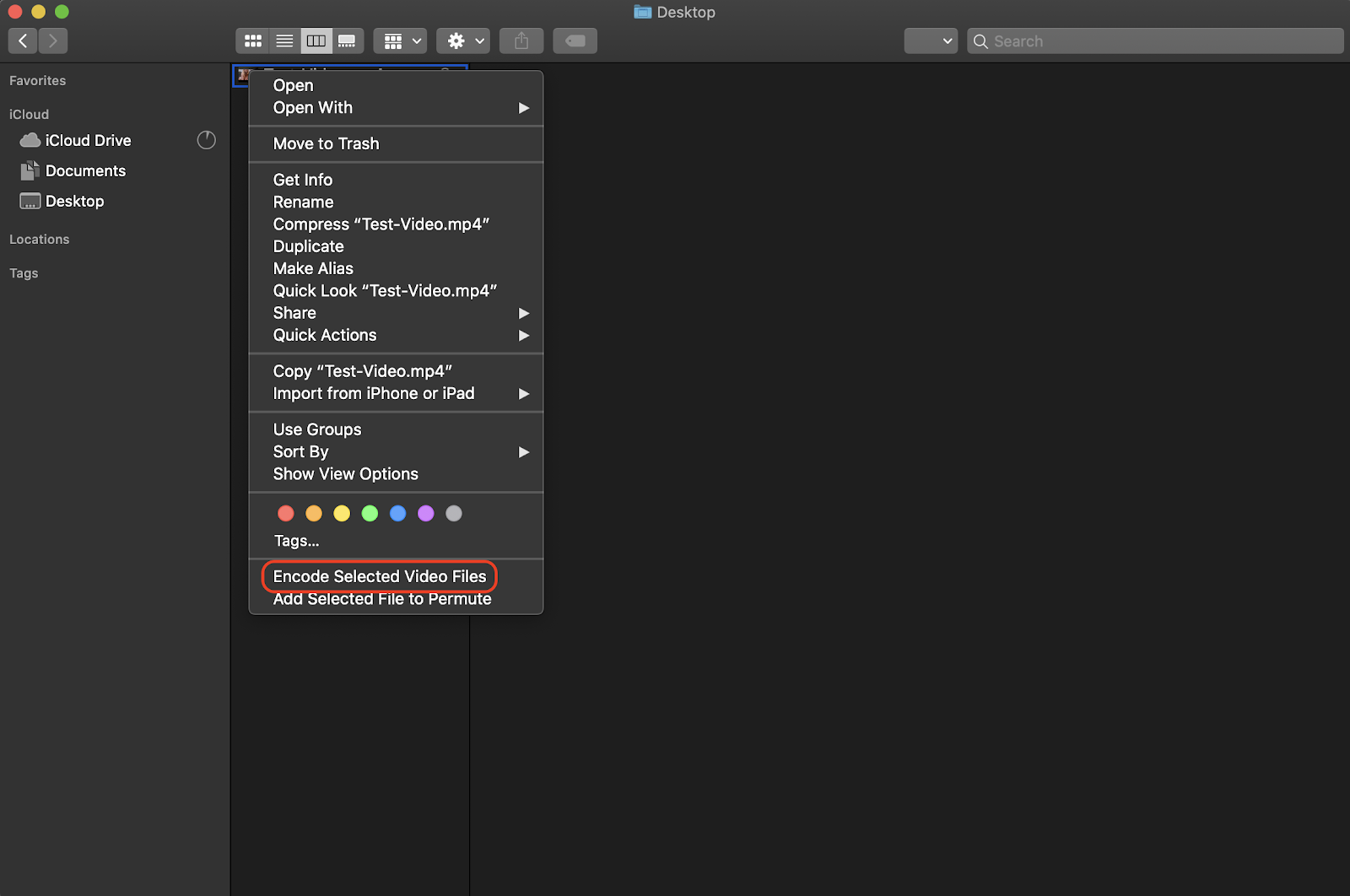 A better way to accomplish this is with Permute.
With Permute, you can choose to convert video to audio in just about any format you like. MOV to MP3, MOV to MP4, MKV to MP3 – you name it!
To use Permute to convert a movie to an audio file, follow these steps:
Open Permute on your Mac
Drag the video you'd like to convert into the Permute window
Next to "Video," select the drop-down menu
Select the audio type you'd like to convert to
Select the 'play' icon on the video or sub-window your video is in
That's all you have to do. Permute converts your video to audio in a snap!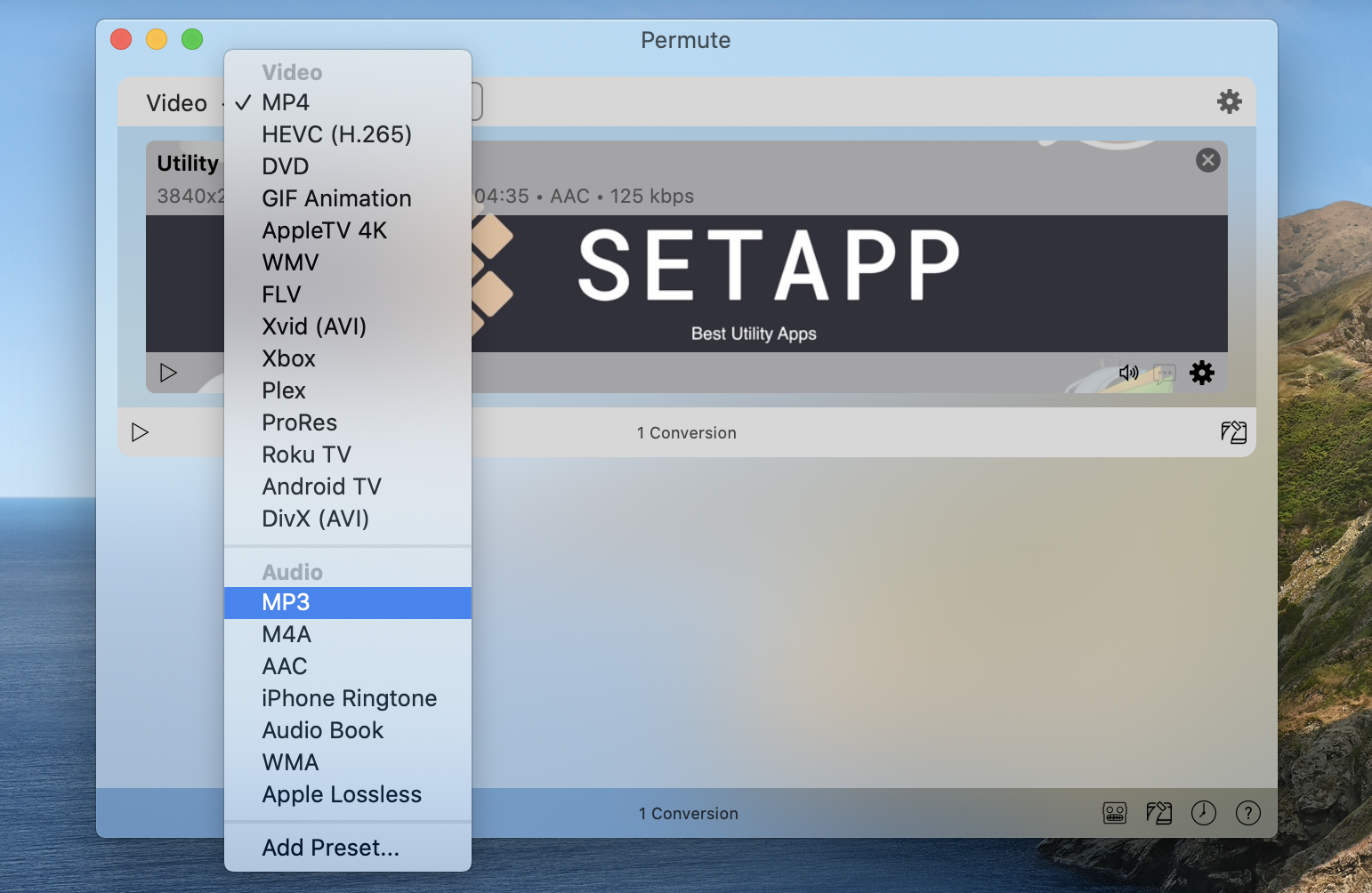 Permute is super fast, so you should have your audio in the same folder as the video file in no time. Go ahead and feed it some of your movies to see how well it works (you can try Permute converter free of charge for a week when you join Setapp, a subscription for Mac apps.)

How to convert video and music to another media format?
"MKV to MP4", "FLAC to MP3", "M4A to MP3" — chances are you typed one of those into Google search at some point, because media file formats can be a pain. Some are way too space-consuming, like FLACs, which can be 10 times bigger than equivalent MP3s. Others are unsupported by your Mac's built-in video player, like MKV. No matter the specific case, you're going to need an audio or video converter to transform the file into a friendlier, more widely used format, which is typically MP4 for video and MP3 for music.
As we mentioned earlier, there are an incredible number of formats for video. MP4, MOV, 3GP, 3G2, ASF, MKV, VOB, MPEG, WMV, FLV, AVI – the list goes on. Luckily, Permute can handle all of these file types, and convert them to audio using the steps above. If you don't see the audio file type you want to export to, here's how to add more options in Permute:
Follow the first three steps above
In the drop-down menu, select "Add Preset"
In the new window, select the 'plus' icon on the bottom left
Choose the media conversion format you like
Now, you can proceed to steps four and five in the steps above, and Permute will convert the audio with ease!
To convert audio to MP3, or any other format, simply follow the same five-step program. The only difference you'll see is where Permute says "video" for video files, it will display "Audio" for an audio file you're converting, and limit the type of conversion types to audio files.
How to change media format while downloading?
When downloading video from the internet, you may want to choose the file type or quality you wish to download. The best app for this is Pulltube.
Pulltube accepts URLs from YouTube, Vimeo, Dailymotion, and many other popular sites. To download a YouTube video to transfer to an audio file, follow these steps:
Open Pulltube on Mac
Drag or paste the link to your video (alternatively, install Pulltube extension in your browser to save links faster)
At the bottom of the window, select HQ to customize the quality: you can choose to convert mp4 to mp3
Continue personalizing by trimming your video or adding subtitles
Click Download video.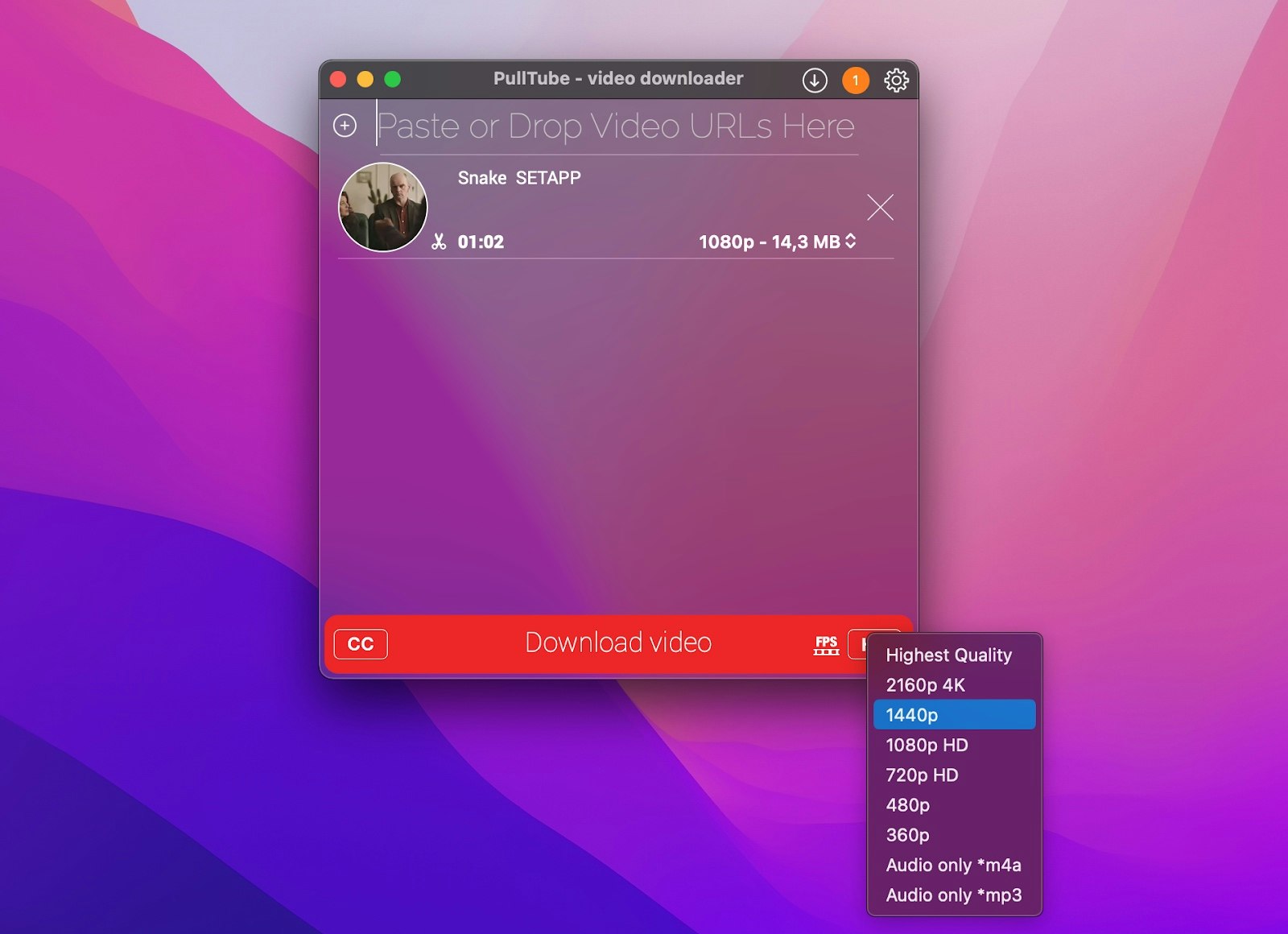 Is it possible to convert audio to video?
There's no clear cut reason you'd want to convert an audio file to video, especially because you'd just be looking at a blank screen.
Audio files can be overlaid onto video, though. If you've got an audio file that you want to use as a soundtrack or narrative track, simply add it to your favorite video editor as an audio file to have it playing over the video.
How to use online media converters
Most online services cater to the most popular user wanting to convert video to audio: those who want to save YouTube videos for use as audio tracks.
The most popular online conversion services – YTMP3, Y2Mate – all focus on exactly this. These services are easy to use, but fall short when it comes to control and quality. You have to click several buttons to initiate a download after copy-pasting a link, and the final audio quality can be hit or miss. To learn more about these tools read our full review: Best YouTube to MP3 converters 2020.
All online services raise the same concerns. We weren't too happy with the quality of audio they returned from a video file. Some even have restrictions on how many files you can convert, or require you to pay or sign up for their service. None allowed for true customization on the type of audio file we received.
Conclusion
There are many reasons to convert a video file to audio. You may want to listen to it as a podcast, especially handy if you're planning to be without a reliable internet connection for a period of time – or just want to reduce how much data you use.
Converting files locally on your Mac is still the best path forward. Permute and Pulltube make use of your Mac's hardware, so you can rest assured the final product will be great. No more relying on cloud-based servers and hoping for the best!
And both apps are free as part of a seven day trial of Setapp, the world's best suite of productivity apps for your Mac. In addition to Pulltube and Permute, you'll gain access to almost 200 great Mac apps. When the trial is over, Setapp is only $9.99 per month. Give it a try today!