How to convert MOV files to MP4
MMOV files tend to be larger than MP4, not all players will play them, and sometimes when you need to upload a video online, a platform would only accept a limited number of formats, which doesn't always include MOV. So if your camera or phone is recording videos in MOV but you need to convert them into MP4, read on.
MOV vs MP4, what's the difference?
First, let's see how these file formats differ.
MOV is a file extension that's used with QuickTime. It's a container for video and was developed by Apple. MOV files are usually larger in size and have lesser compression, providing a higher video quality.
MP4 is another video file format that is widely used and does not require QuickTime to play it. MP4 files tend to have higher compression, smaller size, and lower image quality.
How to convert MOV to MP4 without losing quality
If you are wondering how to change MOV to MP4, it's not as simple as renaming your file. You'll actually need a converter to change your file type. But don't worry, we have a step-by-step guide for you right below.
Open Setapp and type "convert video" or "Permute" in the search bar
Find Permute in the search results and click Install
Once the app is installed, click Open and go through the initialization screens
Drag and drop the video file (or multiple files) that you want to convert onto the app.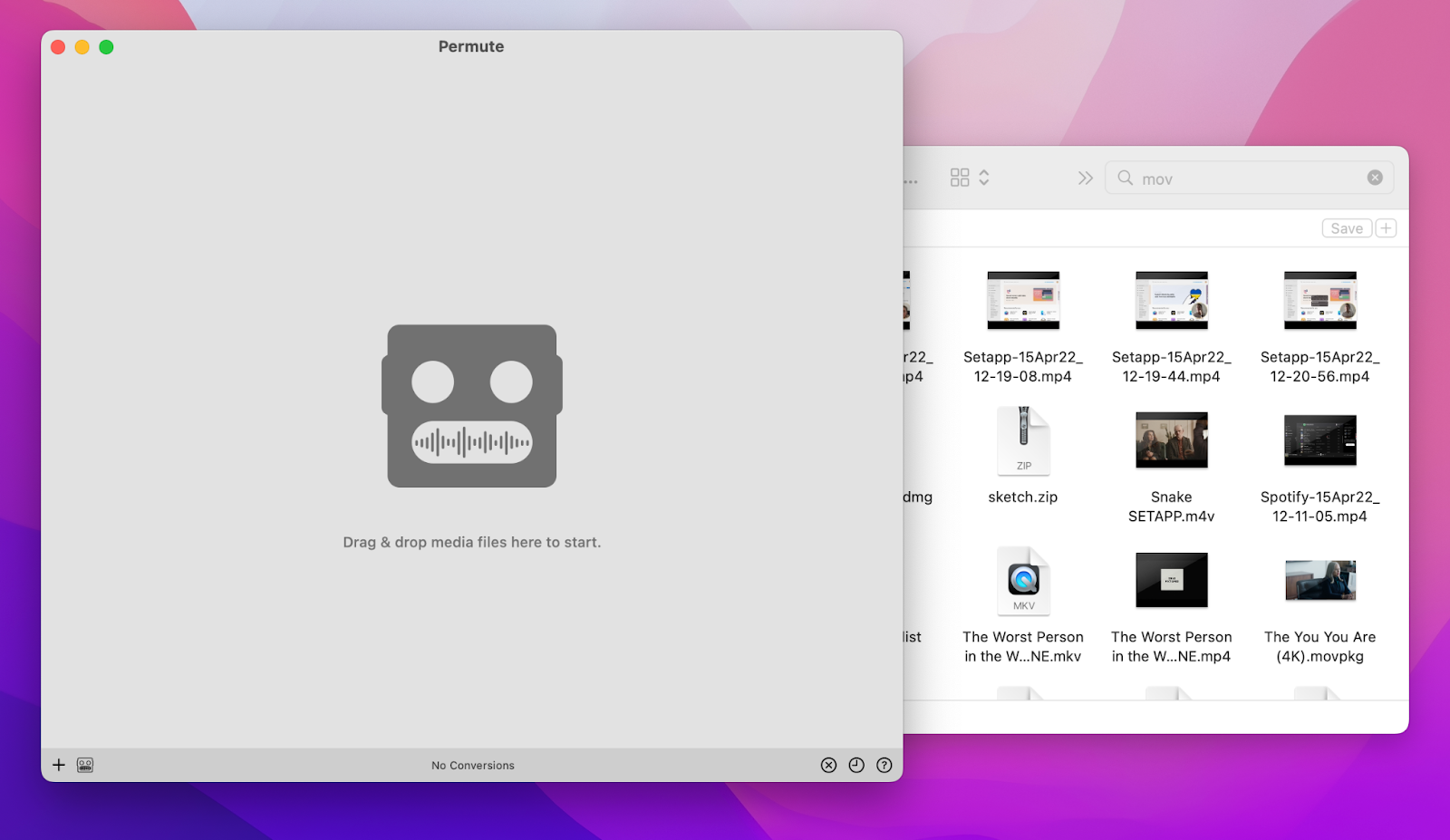 Adjust the conversion parameters, if needed, and click the Start icon under your file to convert.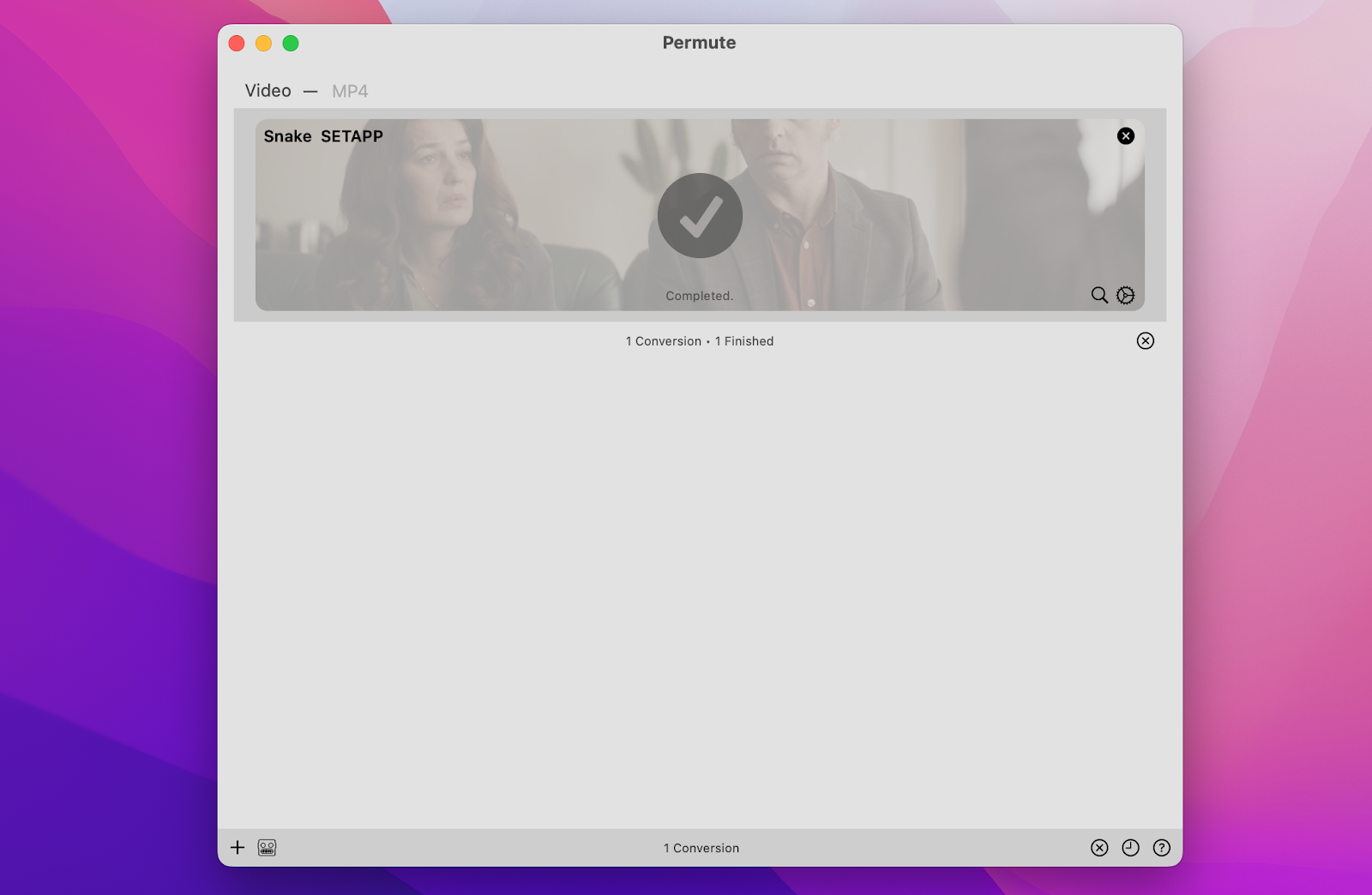 Your file will be saved in the same location as the original MOV video. So if you want to save your QuickTime file as MP4, Permute converter is one of the best solutions that we can recommend.
And if you are wondering how to play MOV files natively on Mac, without converting, you should be looking for compatible media players. The best choice is Elmedia Player: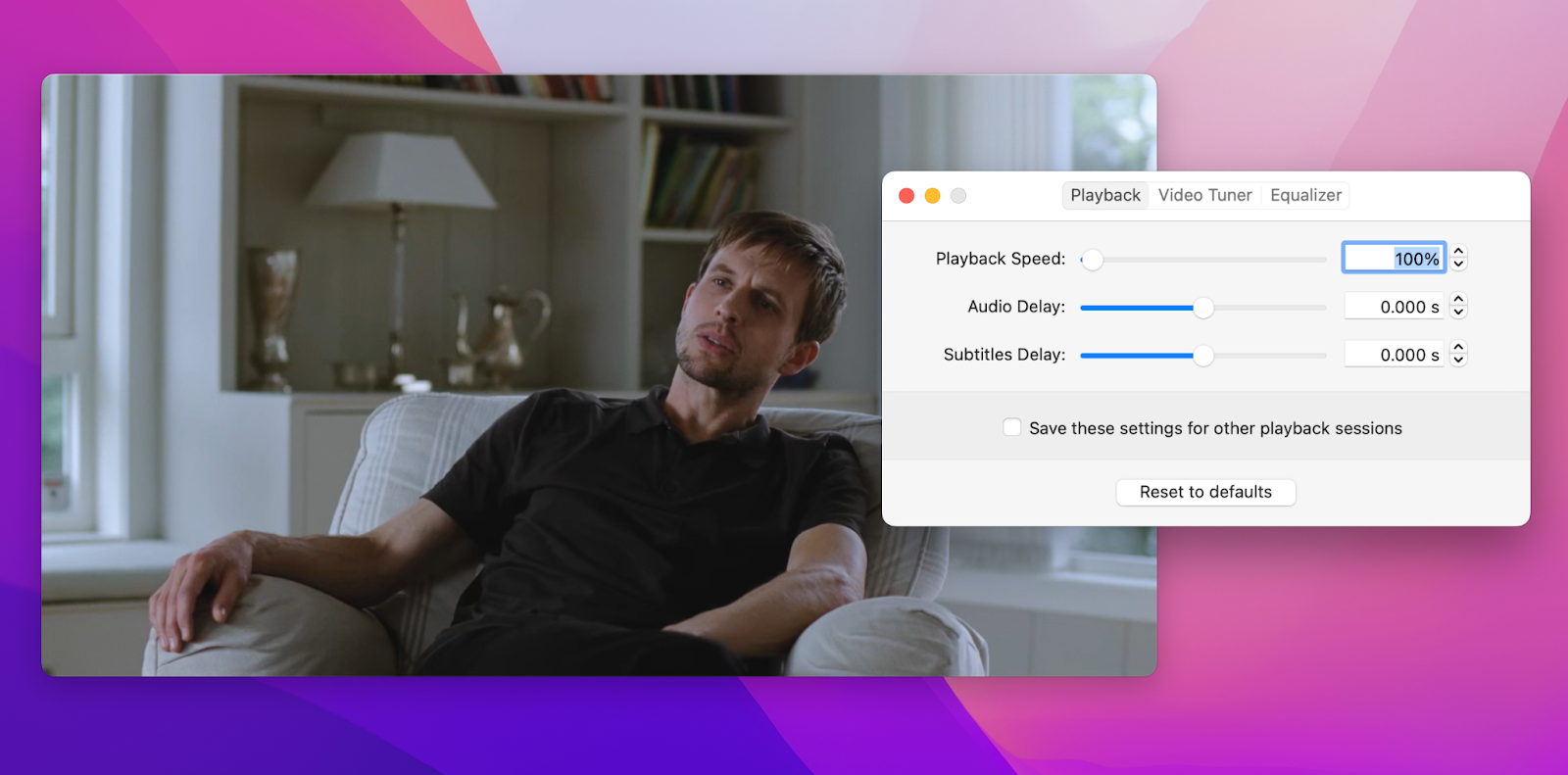 Elmedia Player is an advanced video player that has picture-in-picture mode, allows you to play YouTube videos without ads, and supports an insane number of file formats.
Change MOV to MP4 on Mac using iMovie
You can convert your MOV to MP4 on a Mac using iMovie. This is an Apple-made app for more advanced video editing.
If you look in the app settings, you might not be able to intuitively find a way to convert, as just like QuickTime, iMovie only has the export option.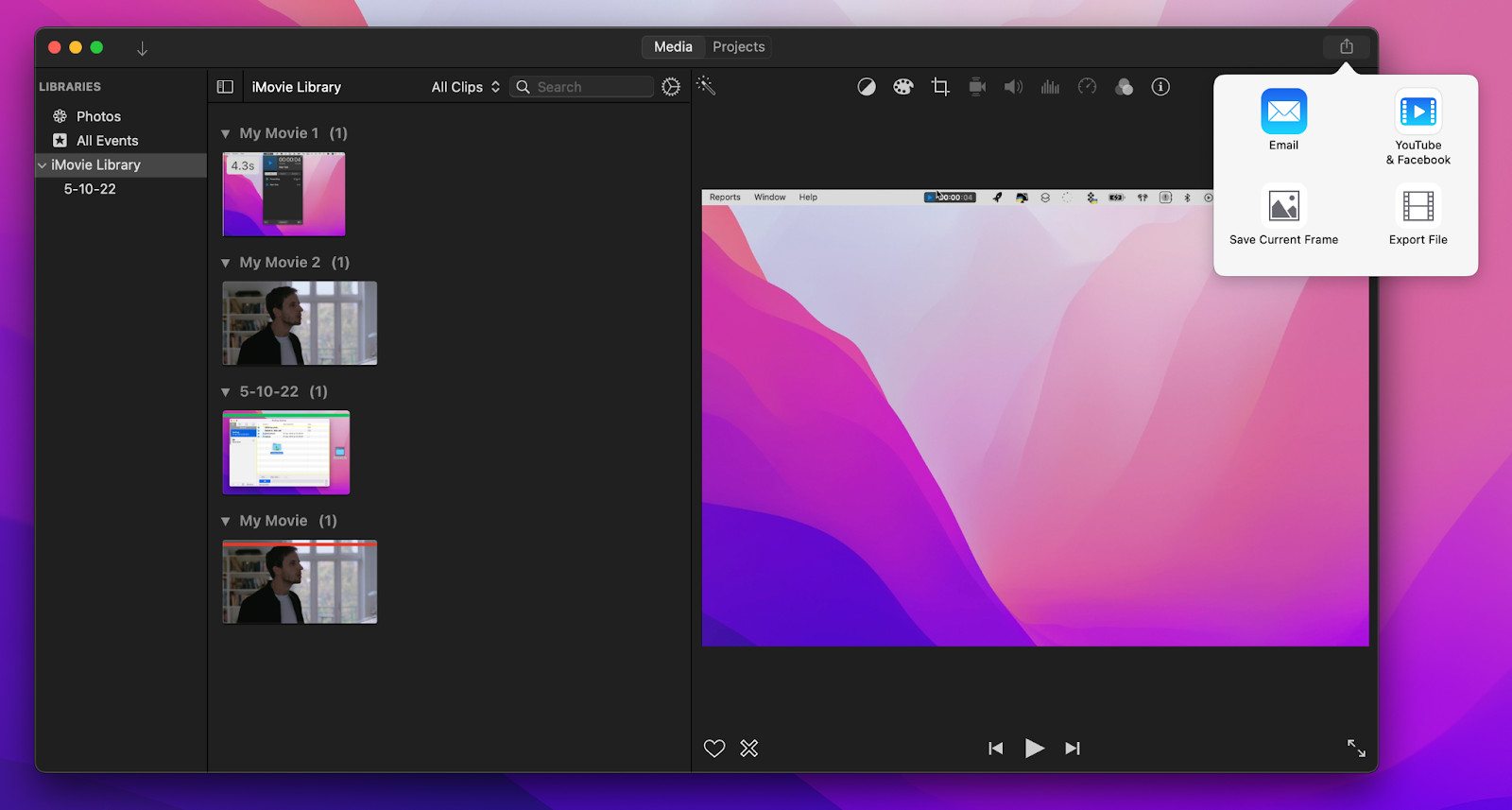 But, as it turns out, when you export your MOV using this Export File functionality in iMovie, the resulting file is actually an MP4 one. (And yes, we've tried this with QuickTime and the result was a MOV file).
All you have to do for the conversion of your MOV to MP4 with the help of iMovie is:
Import your video to iMovie
Click the Share icon at the top right of the app window
Click Export File
Select your desired video settings and exported file location (or keep the default ones)
Begin conversion.
Note that your converted MP4 likely won't be saved in the same folder, so make sure you are okay with the location where your converted file will be saved to, before you begin the conversion.
Convert MOV to MP4 files using Terminal
For tech-savvy users, there's another method you can try to convert MOV to MP4 — converting through Terminal. We have to warn you right away that you'll need to download some free open-source software for this to work. If that's something you don't want to do, feel free to skip this step.
Download FFmpeg (a suite of open-source libraries for handling media formats)
Open Terminal on your Mac
Type the following command: ffmpeg -i input.mov output.mp4 replacing input.mov and output.mp4 with the actual names/file paths of your files.
Third-party MOV to MP4 converters
If you are converting a small file and don't mind uploading it to an external service, an online converter or free open-source software might be the best solution for your needs. Note that such tools can't guarantee 100% security and are often riddled with malware, so we don't recommend using them with sensitive files. Otherwise, here are three free tools you can try:
CloudConvert. Free online service that works with different types of media files, including audio, video, documents, and more. There are over 200 formats supported, and you can of course convert MOV to MP4.
Animaker. A platform for video creators, Animaker has all kinds of online converter tools. We like that there's a dedicated page for each type of conversion, with a detailed guide on how to convert and export your file. Plus, you can share your MP4 to over 20 different social media after converting.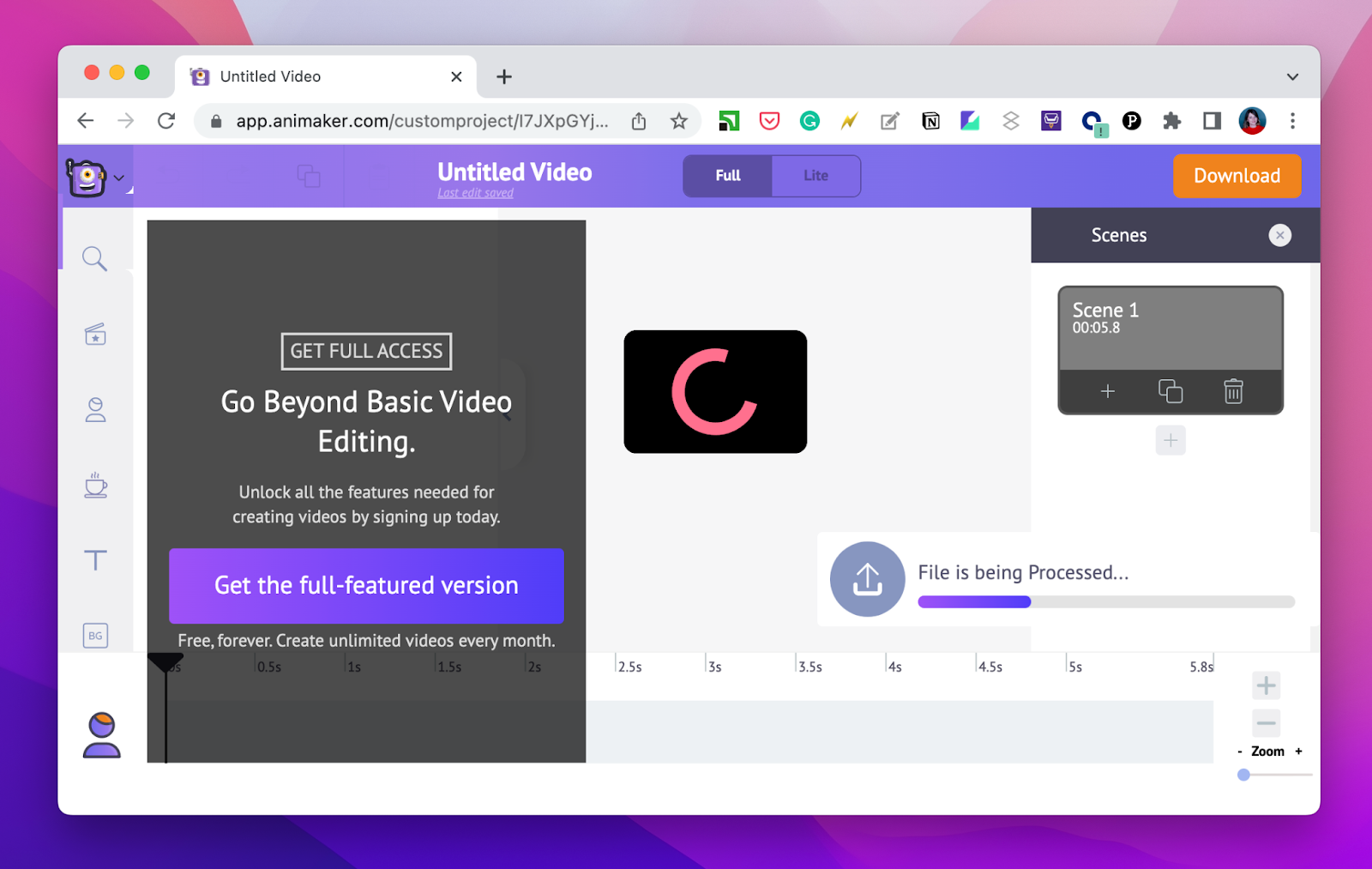 HandBrake. If you prefer converting on your Mac, you can download an open-source video transcoder called HandBrake. Although the tool handles MOV-to-MP4 conversion easily, note that the interface is a bit outdated and confusing.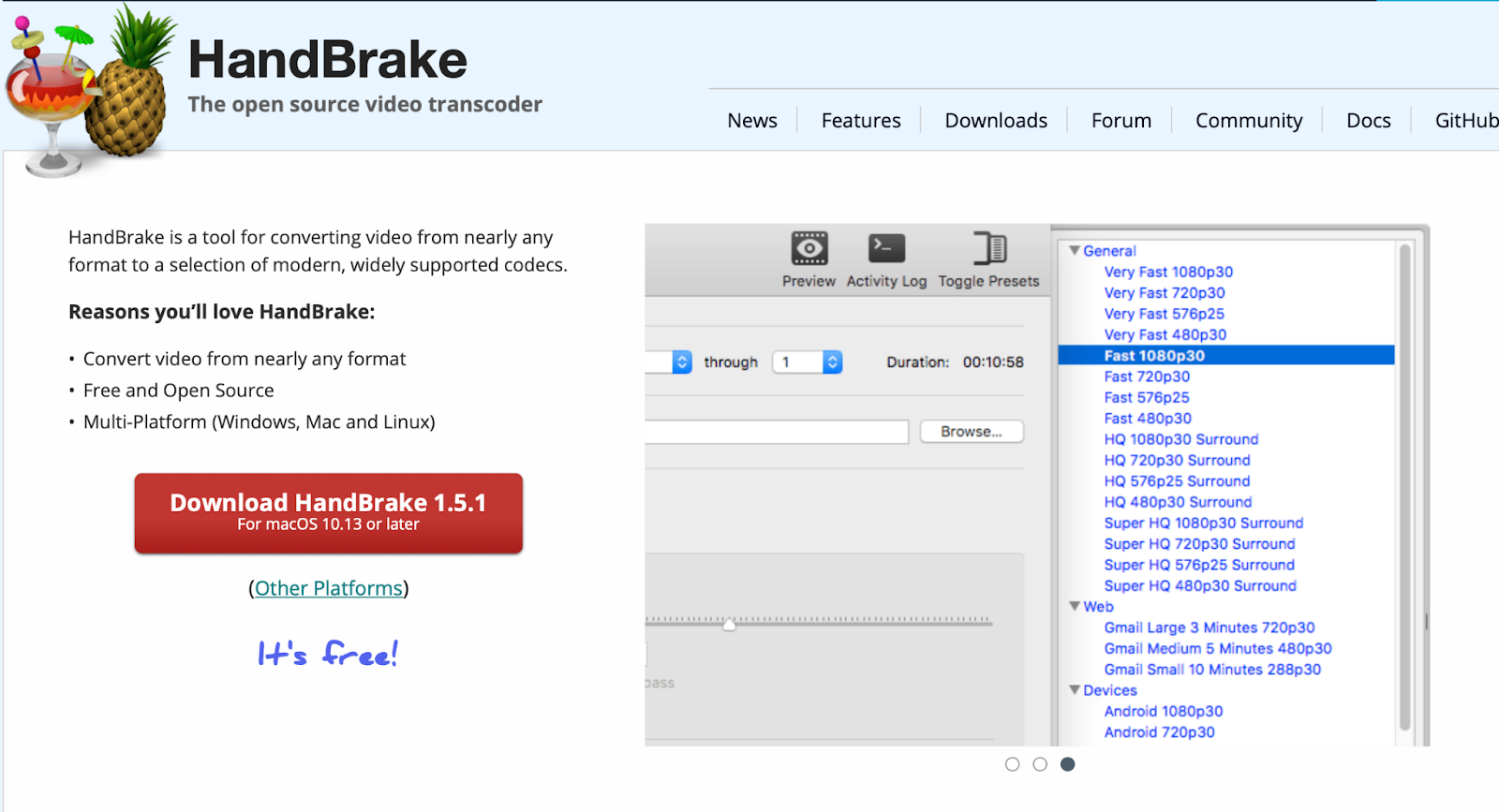 Easiest and most secure way to convert on Mac
As you can see, converting your MOV files to MP4 is an easy task and can be done with a number of readily available tools. You can use iMovie file export, convert online, or employ a universal file conversion tool like Permute.
Permute is undeniably the number one solution because it lets you convert video, audio, and images to multiple formats securely on your Mac. The files stay on your device and conversion is pretty quick (at least for the smaller video file sizes that we've experimented with).
To play your MOV videos, you can use a universal player Elmedia Player that allows you to also adjust your video to your preferences, e.g. change brightness, saturation, playback speed, and even equalize the sound.
You can find Permute and Elmedia Player on Setapp, a suite of tools for productivity, lifestyle, and better efficiency. If you are not yet subscribed, you can explore hundreds of handy tools on Setapp with a free 7-day trial.