How to convert audio files to a video on Mac
There are over 4.5 billion internet users worldwide, and video content has a 92% audience reach among them. With this kind of statistics, it's evident that videos are the most popular type of content shared online today.
Both long and short videos are getting millions, sometimes billions of views, and almost 15% of millennials watch up to 20 hours of online video per week. No wonder that creating and sharing videos on social media has also become a big part of almost every company's marketing strategy.
Plus, most social media platforms don't support direct audio files uploads, which is another reason for the need to get familiar with how to convert audio to video. Let's master this art so you can easily convert MP3 to video and expand the scope of your online presence!
Audio to video: convert files with images and effects
While extracting audio from a video or adding a voiceover to a silent MP4 file sounds familiar to many, the idea of being able to convert audio to video with pictures may sound a bit too surreal. Yet, it's very realistic and not at all as complicated as it might sound at first.
However, it's important to understand the difference between the two most popular media file formats before starting the conversion process. The mp4 file format is highly versatile and can handle many media types like text, images, audio and video, whereas the mp3 format can only handle audio. That's why converting mp3 audio to mp4 video can't be done by simply changing the file extension and requires changes on the level of content creation.
Convert audio to video on Mac
Let's start with the simplest and most effective solution, and like with most tasks, that means turning to professionals for help. A universal media converter is the quickest way to convert audio with images into a video file. Let's explore Permute, a handy conversion utility for Mac.
Permute is a highly convenient converter that can change any audio, video, or image format into any other media. All that's needed from you is a click to begin the conversion process. Permute features a simple drag-and-drop interface and lets you queue up multiple files for batch processing. This app doesn't only convert to a video format, but can also merge videos and even strip audio from video files.
Here's how to convert audio to video with Permute:
Download and open Permute
Go to File > Open from the menu bar or simply drag and drop the audio you want to convert
Select MP4 as the end file format from the dropdown menu and click Start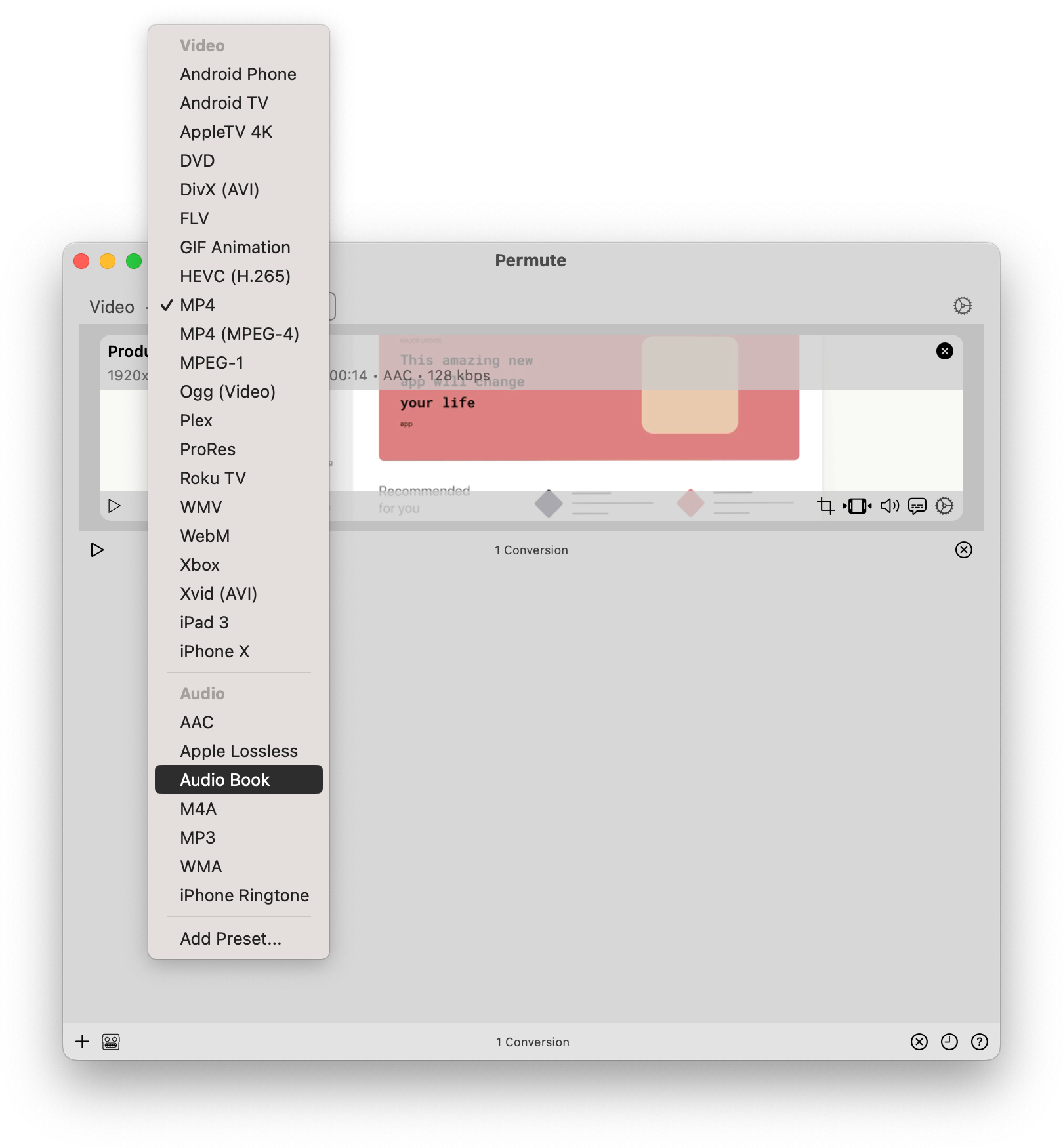 That's it! You'll never have to worry about file compatibility again because the format you need will always be three simple steps away!
If you're creating a video to share on social media, keep in mind that auto playback in the feed is almost always set to mute by default. So to beat the algorithms and get through to your audience, your video needs subtitles. VidCap will help in this case.
VidCap will save your time when you won't ever have to create captions for your videos again, because this simple tool will generate them automatically for you. Use VidCap's formatting tools to easily customize the look of your text and adjust when it appears. Plus, if your blog features a language other than English, VidCap is able to generate captions in more than 60 other languages, so choose yours and focus on creating!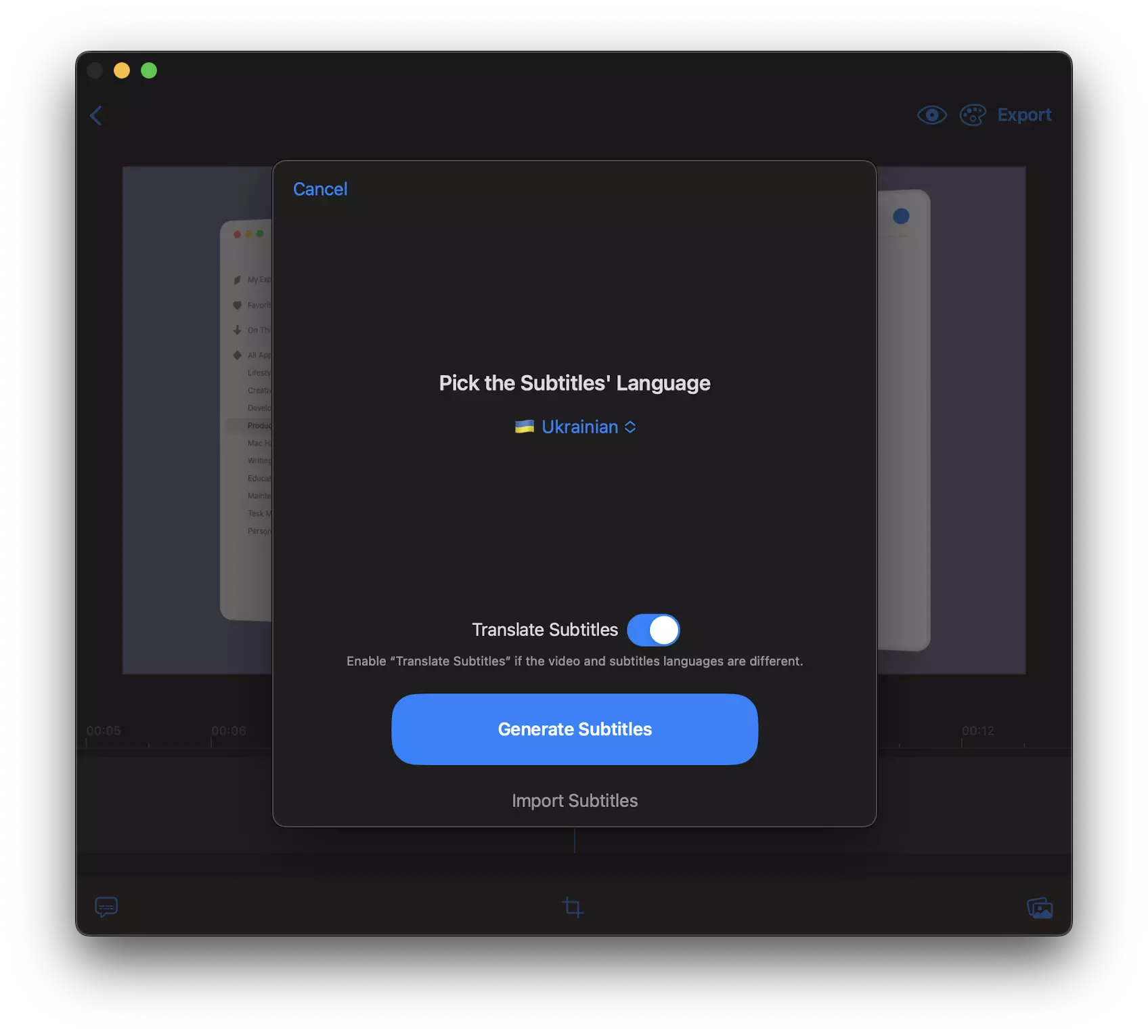 Audio to video converters online
There are also plenty of MP3 to video converters online that perform basic conversions. All you need to do is upload your file, select the background for your video, and click to convert. Although easy to use, these online tools fall short when it comes to control and quality, lacking advanced settings and often outputting a low resolution video file.
Apart from that, there are certain privacy and security concerns associated with using some of these online services, so if you do decide to take this route, protect yourself by using ClearVPN to safeguard your network connection, and regularly check your Mac for malware and viruses using CleanMyMac X.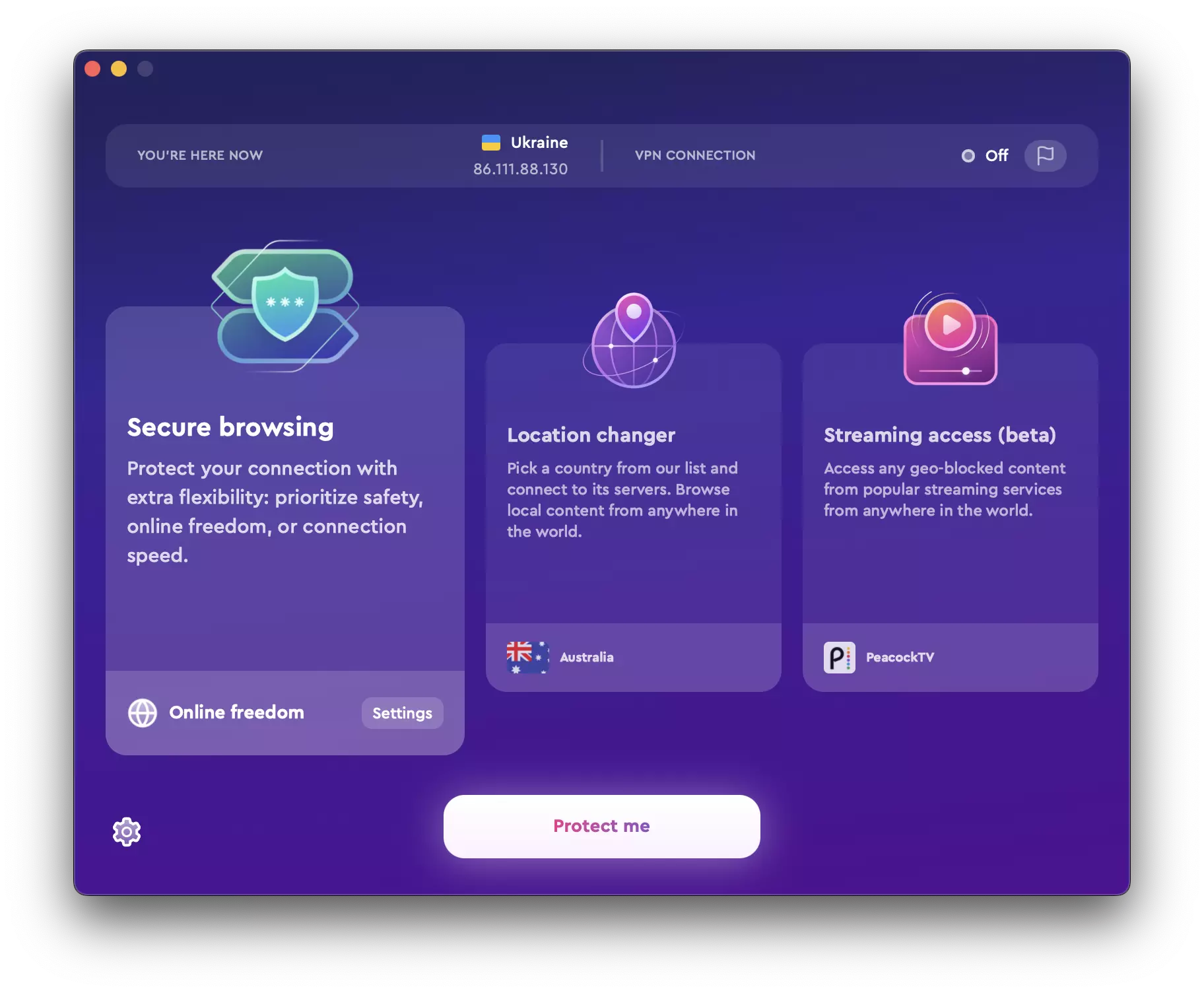 How to add audio to video on Mac
Videos get more exposure and engagement than any other content on social media and stay relevant for longer, but what would make a video even more interesting for the viewers? That's right, audio. So if you have a silent video file lying around it's time to make it into a trendy Instagram reel with some music, sound effects or a voice over. Try using Capto for this job.
Capto is one of the best tools to help record a video of your screen, do some quick editing and add audio to video on your Mac. While simple in use, this app has a ton of handy features like cropping, cutting and combining videos to achieve a high-end result. With Capto it takes just a click to upload your newly-edited video anywhere from Dropbox to YouTube and Facebook!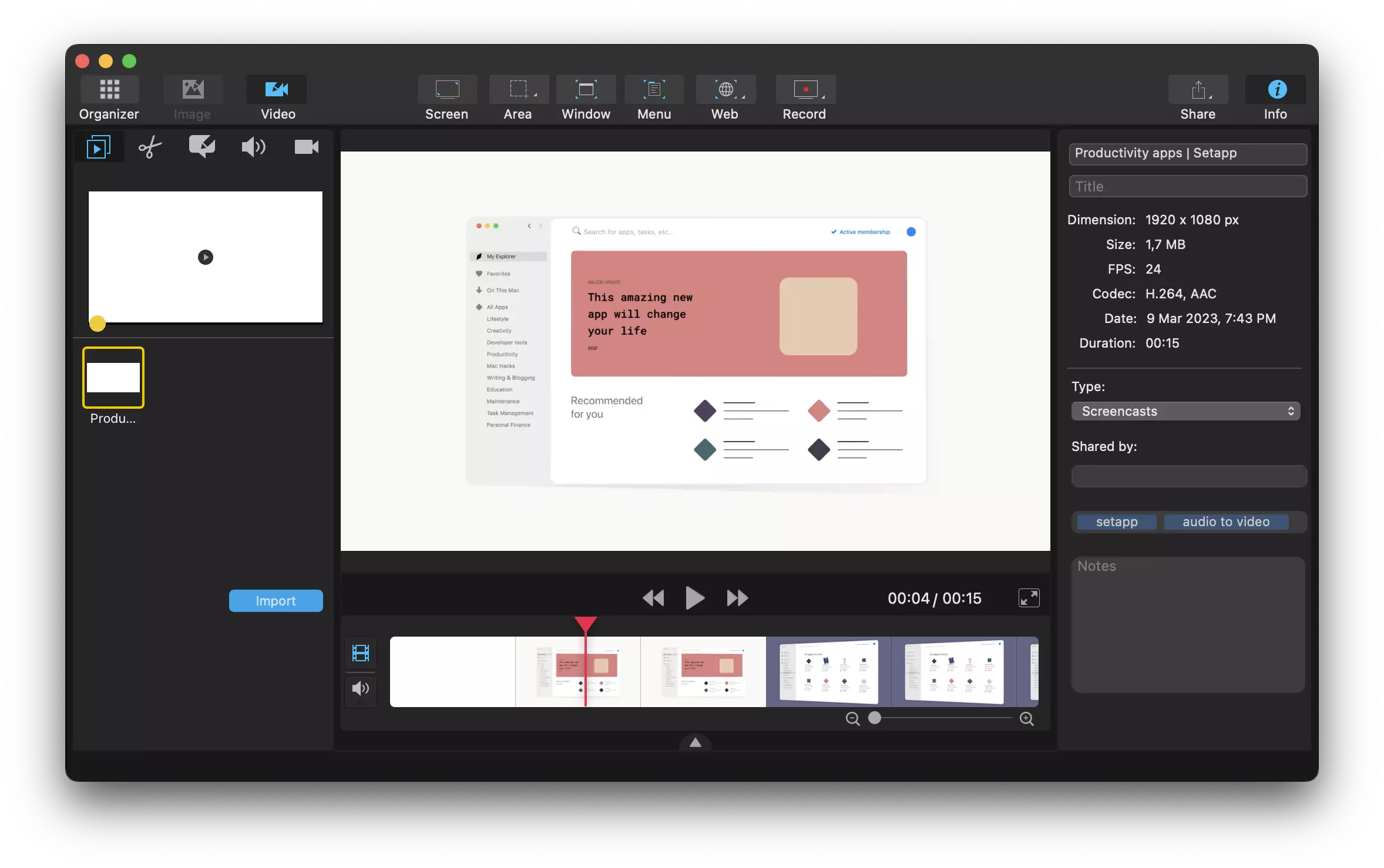 And whether you just want to add audio to video or are looking to do more professional edits to your MP4 file, you need Filmage Editor in your toolkit.
Filmage Editor is one of a kind video editor, which lets you create professional-looking videos even if you're just a beginner. Filmage was created with an easy-to-use and quick-to-master interface with almost endless possibilities that range from frame-by-frame editing, multitrack timeline and overlays to filters, effects, picture-in-picture mode, and much more.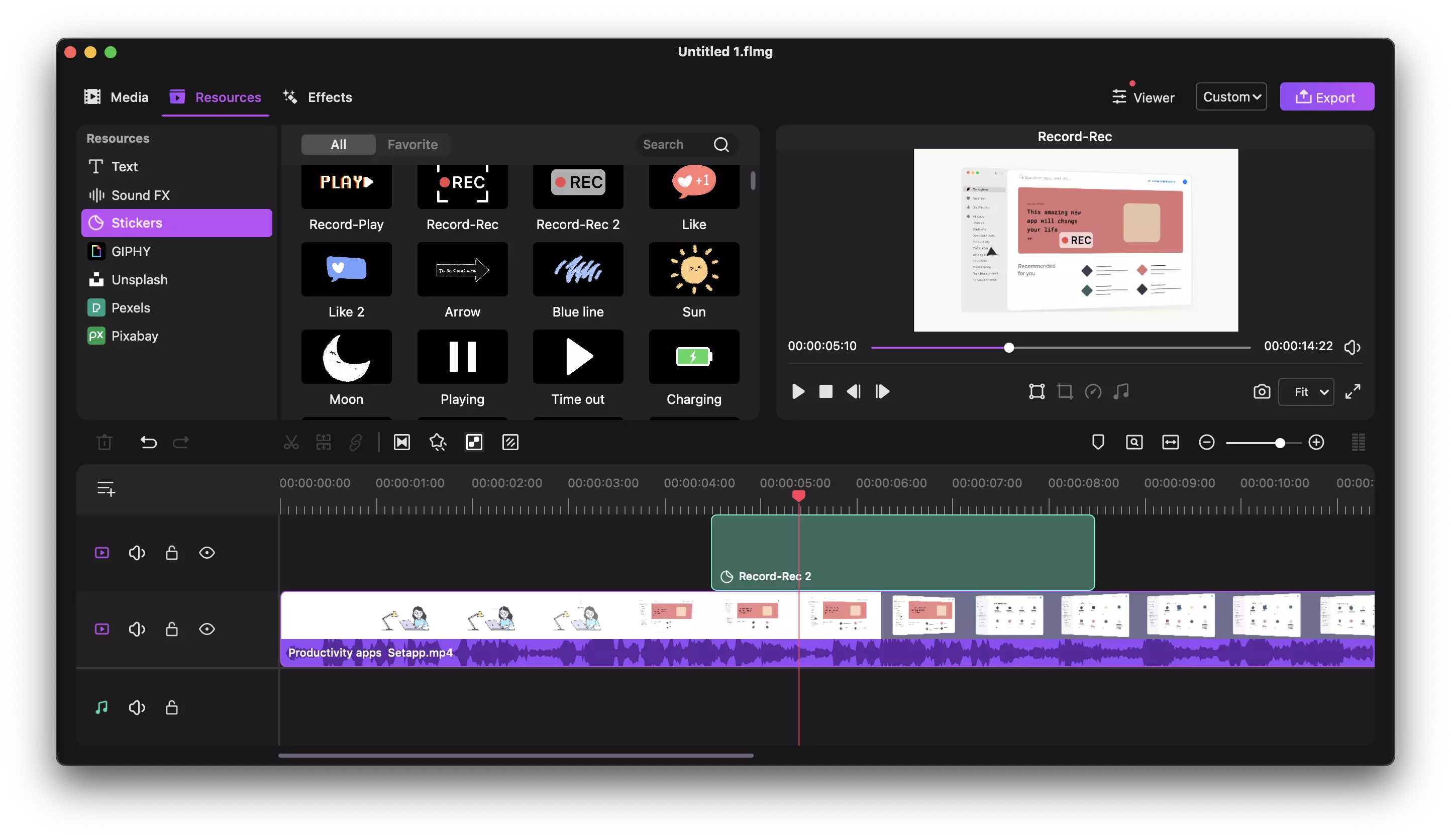 Why convert audio to video?
Here are some of the most popular reasons for people to convert audio files to a video:
Repurpose content. Creating unique content takes time and energy, so once you've produced a file ready to be shared, it's worth utilizing it in all possible ways and that's when audio to MP4 conversion can come in especially handy.
Upload to social media. Most social media platforms don't have the option to share audio or sound files on their own, so creators are using convert to a video functions as a workaround to make their content reach more people.
Add subtitles. After you convert audio to video with pictures, you'll be able to add automatic subtitles, making your video globally understandable and thus widening the scope of your target audience.
Improve marketing. An unprecedented 96% of experts recognize videos as an essential part of a winning marketing strategy. When compared to images and audio, videos have proven to be more successful in generating views and engagement from the audience.
Convert audio with image into video file in seconds
Creating engaging and powerful content has just become easier after discovering the best tools to convert audio files to a video like Permute. Now it's time to edit those videos to perfection with Capto and Filmage Editor and let VidCap generate subtitles in almost any language you'd like.
Try all these apps — Permute, Capto, Filmage Editor, and VidCap for free through a seven-day trial of Setapp, a platform with more than 240 top-rated macOS and iOS apps for every kind of use case and preference!