How to delete Netflix history on Mac
If there's one company that could sum up the entertainment of the current decade, it would be Netflix. With over 200 million subscribers worldwide, Netflix today is the go-to destination for watching movies and TV shows, with apps available for smartphones, TVs, and the web.
Netflix constantly produces media in all genres, from animated features to soap operas. With hundreds of titles being added every day, it can be quite difficult to pick what to watch at any given moment. Luckily, Netflix also boasts one of the best recommendation engines, which you can generally rely on when you're not sure what to watch.
Not everyone knows that everything you watch on Netflix is being recorded in your Netflix viewing history. Let's see what the Netflix history is, where you can find it, and how to clear Netflix history if you want to do so.
What is Netflix viewing history?
Your Netflix history is simply a record of all the movies and TV show episodes you've ever watched. If you've ever rated something you've watched before, it will show up there as well.
The point of Netflix history is to ensure that you always have a great user experience by remembering where you've left off on any given show and which episodes you still have to watch, for example.
To see your Netflix history in your browser:
Log in to your Netflix account
Hover over your profile in the top-right corner and click Account
Under the Profile & Parental Controls section, click on your name
Select View under Viewing Activity
As you might know, not all Netflix content is accessible in all countries. The good news is if you ever want to watch a show that's not available in your geographical location, you can use a reliable VPN client to do so.
ClearVPN is the first truly effortless VPN client for Mac. Instead of a complicated setup and a bunch of technical settings, ClearVPN works at the click of a button to personalize your online experience. You can use a variety of shortcuts to get rid of ads, change your IP address, and watch Netflix content from other countries, including USA, UK, Australia, and more.
To switch your Netflix to another country:
Launch ClearVPN
Select "Watch other countries' Netflix"
Choose a country
Click Activate
The Netflix recommendation engine is also based on your viewing history and ratings, tailoring its suggestions to show you more of the things you like and fewer of those you don't. That said, sometimes you might want to filter some of the data being pushed to the engine to prevent the wrong kind of recommendations from popping up.
Why use Netflix delete history settings?
The best reason to occasionally clear Netflix history is maintaining the highest level of recommendations possible. You might get suboptimal recommendations because you've watched a few episodes or movies you didn't like, or because you share an account with someone who has wildly different preferences. It might also be that Netflix just doesn't understand what you enjoy or you want to take a break from binge-watching.
In all cases, when you learn how to erase Netflix history, it's going to make controlling your Netflix recommendations and your Netflix homepage much easier. So here's how to do it.
How to delete Netflix history on all devices
It's finally possible to clear Netflix history on Mac (but not iOS or Android) by hiding either select or all viewing activity.
Let's start with the Netflix delete history option on Mac:
Log in to your Netflix account using any browser
Select your profile (since viewing history is recorded separately for each one)
In the top-right corner, click on your profile and select Account
Find the Profile & Parental Controls section at the bottom and click on your profile
Select View next to "Viewing activity"
Explore your history and click the "Hide from viewing history" icon on anything you don't want to influence your personalized Netflix recommendations.
Any changes in your history and recommendations will take 24 hours to come into effect.
Note: When you're deleting TV show episodes, Netflix will only allow you to do so one by one. However, once you hide one, an option to hide the whole series will appear, which you can click to get rid of the whole show right away.
In addition, now it's possible to delete your complete Netflix viewing history in one swoop. To do so, scroll to the bottom of the page and click the "Hide all" option — that's it!
There's also another approach if you want to reset your history — you can simply delete your existing profile and start fresh with a new one. None of your new recommendations will then be affected by your past watching history.
If you'd like to keep not only your Netflix history but also other apps you use on your Mac clear of unnecessary files, you need a powerful solution such as CleanMyMac X.
CleanMyMac X is the easiest and the most comprehensive way to optimize your Mac's performance. With a single scan, you can remove unneeded junk hidden in your user cache files, language files, logs, DNS, and more. You can also run maintenance scripts to clear your RAM, reindex Spotlight, repair disk permissions, and so on — it's like a spring cleaning for your Mac without all the effort.
To use CleanMyMac X:
Launch the app
Navigate to Smart Scan
Click Scan
Once the scan is done, click Run
Another solution to help you manage various apps and keep access to your Netflix account secure is Secrets.
Secrets is an intuitive password manager that encrypts and securely stores any sensitive information, including logins, credit cards, bank accounts, license numbers, confidential notes, and more. Forget about reusing the same password multiple times. In fact, forget about having to remember any passwords at all — Secrets does it all for you, and autofills them with convenient browser extensions.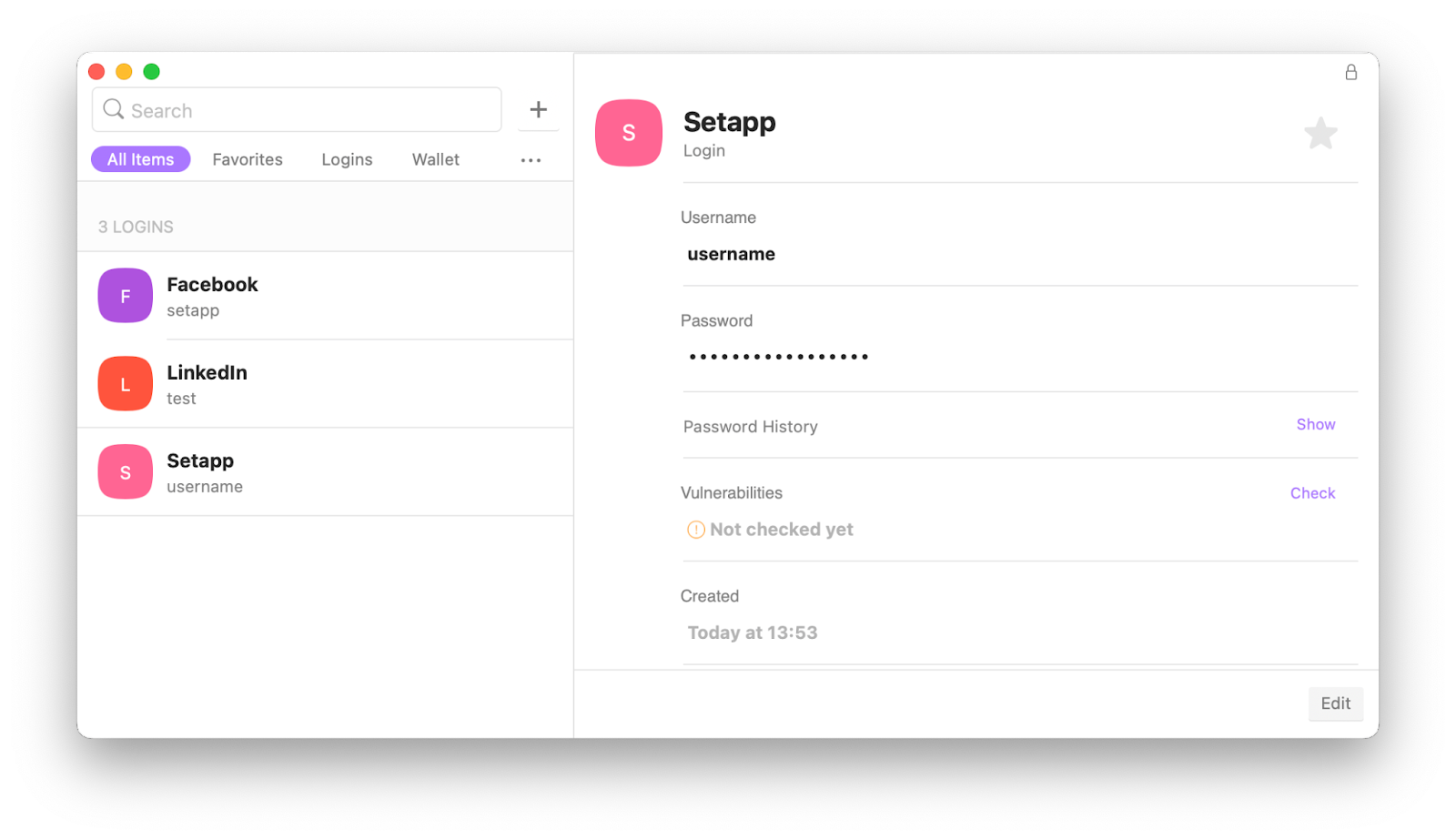 How to remove Continue Watching from Netflix
Now you know how to delete Netflix history in just a few clicks to fix its recommendations engine. But there's also another Netflix section that keeps track of your current interests — Continue Watching.
Continue Watching is a section on the homepage of the Netflix app that lets you get back to the correct episode or part in the movie you've been watching before. Overall, it's a great feature. But if you're the type of person who likes to sample a lot of shows and movies, your Continue Watching section will get quickly overloaded with irrelevant stuff.
The good news is that you can remove items from Continue Watching both on your Mac and smartphone app to keep your Netflix experience tidy.
To remove items from Continue Watching on Mac:
Log in to your Netflix account
Scroll down to the Continue Watching section
Hover over the item you don't want to be displayed anymore
Click the icon for "Remove from row"
Repeat with any other items
The process is somewhat similar with your smartphone Netflix app:
Open the Netflix app
Scroll to Continue Watching
Next to any item, tap the three-dot menu
Select Remove From Row
If you've made a mistake, don't worry — just search for the show episode or movie manually, start watching it, and it will reappear in the list.
As you can see, learning how to erase Netflix history is not really difficult. Especially when you can easily watch Netflix from other countries with ClearVPN, get rid of unneeded files on your hard drive with CleanMyMac X, and store all your logins in Secrets.
Best of all, ClearVPN, CleanMyMac X, and Secrets are available to you absolutely free for seven days through the trial of Setapp, a platform with over 220 best-in-class Mac apps for anything you want get done, from recovering a faulty hard drive with Disk Drill to converting any media format with Permute. Try every Setapp app today at no cost and experience the magic for yourself.