How to change Netflix region and watch Netflix content from other countries
Netflix was the first truly international streaming service of its kind and, as of 2023, it's available everywhere in the world, except a select few countries. The streaming platform offers over 4,000 movies and nearly 2,000 TV shows worldwide, but its content library differs country by country due to licensing and copyright restrictions.
Networks have different licensing agreements in certain regions of the world, making some shows and movies available on Netflix in one country, but not in another. Netflix determines which content library to show you based on the geographic region associated with your IP address.
If the country you're currently in doesn't have the richest library to stream, there's a work around to still be able to enjoy your favorite shows. You can get the most of your Netflix subscription by learning how to change your location on Netflix. There are a few ways to do that, so let's get right to them!
What are the ways to access geo-restricted content?
Since its creation in 1997, Netflix grew from a small DVD service to a streaming media giant having over 220 million paying subscribers worldwide today. Statistics show the average Netflix user has watched 49 days' worth of TV shows and movies since creating an account, but perhaps those numbers would have been higher if Netflix had the same content library in every region or if more users knew how to change location on Netflix.
Some countries are considered to have better Netflix libraries — Japan, for example, was ranked the best region for Netflix, followed by the Czech Republic and South Korea.
In the end, it all comes down to what you like to watch. If you're into TV shows, the United Kingdom has a Netflix library with the most variety for that type of content, whereas the Czech Republic and the US will provide a better selection of movies.
All you need to do to stream content from these or any other regions in the world is to learn how to change country on Netflix. And there are a few possible solutions:
Use a virtual private network (VPN). This proves to be the most functional way to change Netflix region for many users. A VPN gives you an IP address from another country. A VPN makes Netflix read your location differently than what it actually is and let you watch shows that were previously restricted based on your location.
Use a smart DNS service. Smart DNS works similar to a VPN in a sense that it reroutes your connection through a country of your choice and tricks websites into thinking you're physically present in that country. This is the leading method for how to change Netflix region without VPN.
Use a proxy server. Proxy servers hide your IP address and route your traffic through a third-party server located in a different country before connecting to Netflix. Similar to the methods above, but unlike VPNs, proxy servers don't encrypt your internet traffic and often tend to be very crowded, making it almost impossible to get a reliable connection.
Use remote desktop software. This tool lets you access, observe, and control another computer from a distance. In order for remote desktop software to help you change Netflix region, you need to have a spare computer actually located in the country whose Netflix library you're trying to access. This option for how to switch Netflix region is good for those who are traveling abroad and want to watch the content available back home. Otherwise, using remote desktop software can turn out to be too challenging.
While all these methods work and will answer your question of how to change your Netflix region, using a VPN remains the most effective and straightforward way to access Netflix libraries around the world.
How to change Netflix region with a VPN
Using a high-quality VPN service is not only the easiest and most reliable way to learn how to change Netflix location and view geo-restricted content, but it can also help you achieve better streaming quality and watch movies in HD with no buffering.
Some of the best VPNs can unlock over 60 international locations for streaming and switch between regions with just one click.
ClearVPN is the perfect tool to help you personalize and protect your browsing experience. With shortcuts as its main feature, ClearVPN offers ready-to-use, one-click solutions that match all your online demands. Apart from simplified international browsing, ClearVPN provides secure access to your online activities and never stores, shares, or collects your personal info, IP address, or any other data.
Here's how to change my Netflix region with ClearVPN:
Open ClearVPN
Click "Change your location"
Select USA or any other country
Activate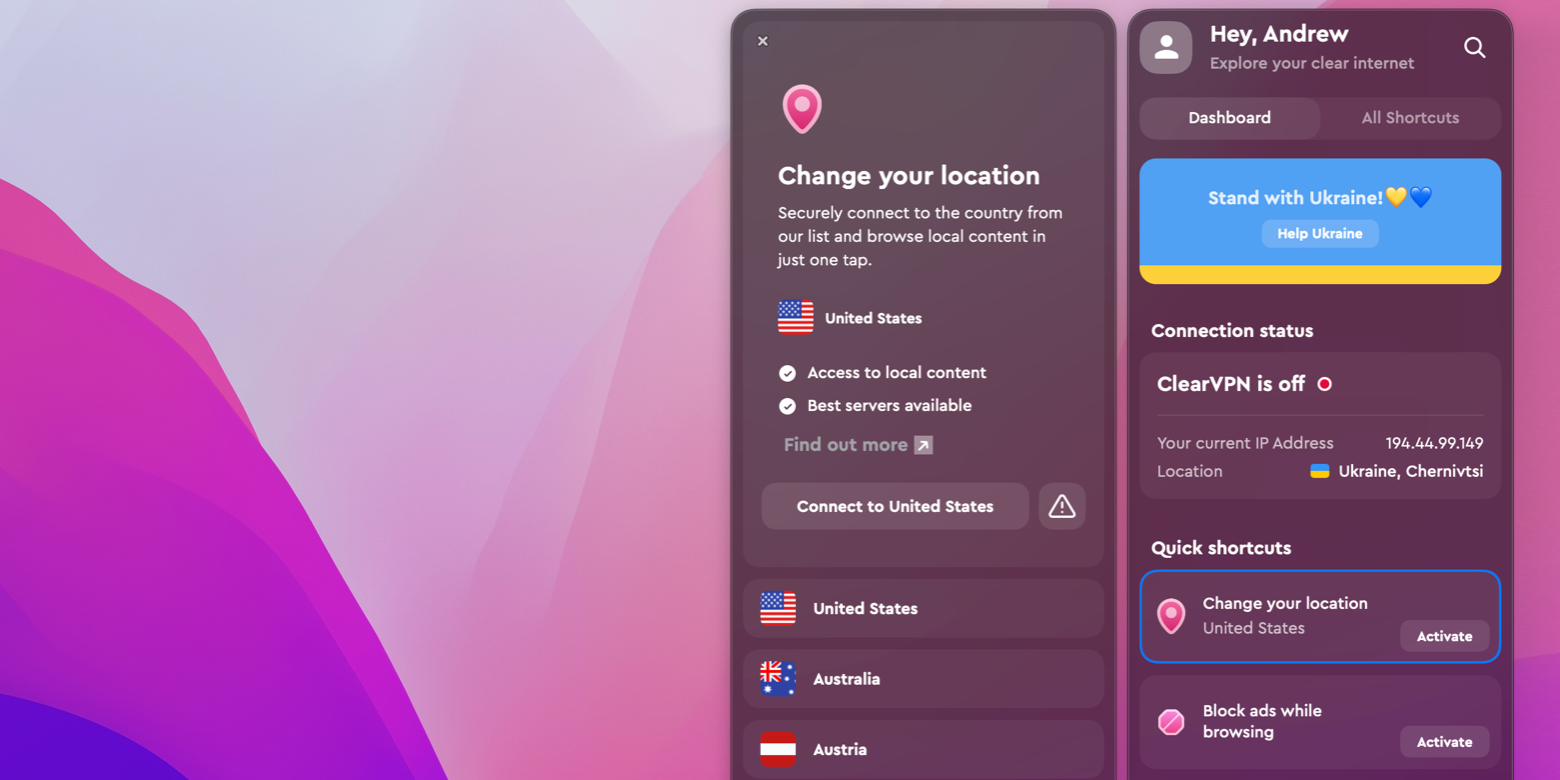 Open Netflix and you will be redirected to the site of the country or region you've chosen. Now you can enjoy the ultimate streaming experience!
Change Netflix regions with ease any time
Although Netflix is restricting some content based on the subscribers' geographical location, you now know how to watch Netflix from other countries with ease and peace of mind by using a secure VPN like ClearVPN or trying one of the other methods.
Best of all, ClearVPN is available to you for free through a seven-day trial of Setapp, a platform of over 230 leading apps for every type of user need, from desktop organization (Unclutter) to photo editing (Luminar) to budget tracking (MoneyWiz). Try every Setapp app today and unlock not just new content on Netflix, but a new level of productivity for yourself!