TikTok banned: Reasons and solutions
TikTok is one of the fastest-growing social media platforms that has popularized the short 15-second video format and grabs the attention of millions of people all over the world with over 1 billion videos viewed on the app daily.
If you're a TikTok fan, you wouldn't want to find yourself abruptly without access in light of recent efforts to have TikTok banned in various countries. The same goes for traveling to regions with TikTok content restrictions.
In this article, we'll provide answers to the "where is TikTok banned?" question and explain how to get TikTok unblocked — so that you can enjoy your daily dose of micro-entertainment without any limitations.
Why is my TikTok not working?
If it's not a matter of a weak WiFi signal, corrupted cache data, or a minor glitch with TikTok's servers or your phone, the situations when your TikTok is not working may be caused by your location.
Depending on the origin of your IP address, your access to TikTok can be blocked by your internet service provider (as is the case with requests from China), the TikTok app may become unavailable for downloads (this is how India enforces its TikTok ban), or the app itself may restrict certain content for users in specific regions.
How to unblock TikTok
The best way to get around the situations when TikTok is not working is to connect through a Virtual Private Network (VPN).
VPN allows you to route your internet connection through a remote server, hiding your IP address and encrypting your data. Simply choose a VPN server in a country that doesn't have any TikTok content restrictions or bans and you'll be able to use TikTok in restricted regions.
The best VPNs for unlocking TikTok
When choosing the right VPN to access TikTok in the countries that have introduced TikTok content restrictions, partial bans, or have banned TikTok completely, it's important to consider the following criteria:
Effectiveness: Can it bypass regional blocks in the areas where TikTok is not working?
Network: Does it have enough servers in locations that don't have TikTok banned?
Speed: Is it fast enough to stream video?
Privacy: Does it follow a zero-log policy? Is there a kill switch feature that automatically disconnects you the moment you lose the secure connection? Does it use secure encryption?
Friendly UI: Is it easy to use?
Our top three recommendations for a VPN service that meets all of the above requirements are ClearVPN, NordVPN, and Express VPN.
ClearVPN is an elegant one-button solution to any of your questions about how to access TikTok in countries that have banned this app.
To avoid any TikTok content restrictions you might be facing, use either of ClearVPN's ready-made tools that help you change geolocation — "Smart connection" or "Location changer":
Choose a No Restrictions mode to automatically connect to the server in a country with the fewest web access restrictions
Pick a country from the list, and ClearVPN will route your request to the best idle server available there
With its bank-level security and a strict no-log policy ensuring that none of your data is ever collected, stored, or shared, ClearVPN turns solving your TikTok banned problem into a matter of a few easy clicks.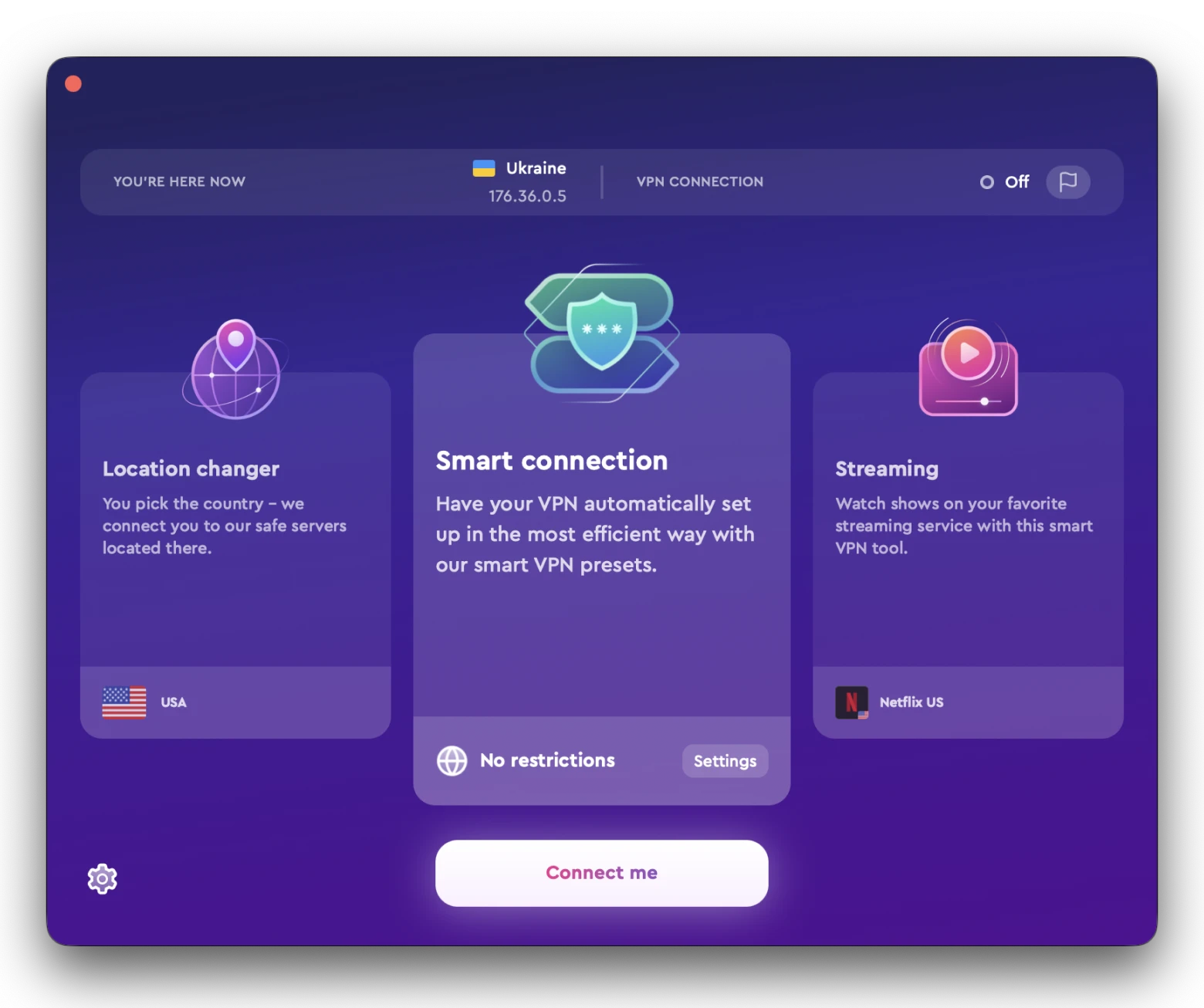 Another great VPN to access TikTok is NordVPN. It's praised for its impressive network (5,800 servers in 60 countries), speed, and an array of additional security features you get. Among them:
Malware scan for downloads
Tracking blocker
Double VPN feature that lets you connect via multiple servers for additional security
Dark Web monitor that notifies you if your personal information becomes available on the dark web
Meshnet that lets you create secure private networks from up to 10 devices you own and up to 50 external devices
Although NordVPN doesn't log any of your personal data (such as your IP address or browsing info), there are some concerns about it keeping limited logs on your use of the app's features, timestamp of your last session, and your device info (model and OS). All of these are reportedly saved for internal apps' telemetry measurements and couldn't be tied to a specific user.
But if you'd rather go for a verified zero-logs policy VPN (proven both in court and by reputable third-party audits), try ExpressVPN. It's a pricier alternative to other top VPN providers, but it claims it "never keeps data that could tie you to any online activity" — due to its innovative TrustedServer technology, none of your data ever gets written to a hard drive.
ExpressVPN isn't big on any additional features, but it's a popular choice to help you watch TikTok in banned country or easily access other content anywhere in the world thanks to:
Its extensive network of servers located in 94 countries
Top rankings in terms of connection speed and streaming capabilities
Option to use up to eight simultaneous connections from different devices with a single subscription
Why is TikTok banned in some countries?
Countries around the globe rely on different arguments when it comes to their decision to have TikTok banned. There are three main reasons for such restrictions if you're wondering "Why is TikTok being banned?":
User privacy concerns regarding TikTok's data collection practices
Threats to national security because of TikTok ties to China
Content censorship
In most cases, you can't use TikTok in restricted regions because of cybersecurity concerns: TikTok's parent company ByteDance is allegedly tied to the Chinese government and has been accused of sharing user data with the Chinese authorities.
Whereas in other countries TikTok content restrictions are imposed due to cultural norms (full bans on TikTok in Afghanistan for not being consistent with Islamic laws and Bangladesh in 2021 for promoting "obscenity, vulgarity, and pornography") or political sensitivities (as in the case of anyone using a Russian IP address being banned from seeing any non-Russian content on TikTok because of the law on "false information about the invasion of Ukraine under the penalty of imprisonment" passed by Russia).
Which countries have banned TikTok?
TikTok limitations range from partial bans to nationwide moratoriums.
Very few countries acted to have TikTok banned completely, the majority have introduced partial bans that only apply to the devices of government officials. If you'd like to know what countries have banned TikTok for reasons of national security, here's the list: Australia, Belgium, Canada, Denmark, Estonia, France, Ireland, Latvia, The Netherlands, New Zealand, Norway, Taiwan, United Kingdom, and the United States.
The US has the debate ongoing — some policymakers still advocating full bans on TikTok nationwide. But for now, the answer to your "is TikTok banned in the US?" question is partial bans: on federal and state-issued government devices in most of the states, on all personal devices in Montana, as well as on university-owned devices and campus WiFi in some universities.
When it comes to full bans on TikTok, the list of countries is much shorter:
Afghanistan: Full ban
China: TikTok is not working in China, its parent company runs a different version of the app (called Douyin) there
India: Full ban for security and privacy concerns
Iran: TikTok banned together with other social media platforms for "immoral" content
Kyrgyzstan: TikTok banned in August 2023, citing concerns about children's development
Senegal: TikTok accused of being "the preferred network for malicious people to broadcast hateful and subversive messages that threaten the country's stability" and banned (experts believe the real motive behind the ban is to suppress public criticism of the government)
Somalia: banned for "horrific images and misinformation to the public"
Safety tips for using TikTok in blocked countries
If you'd like to watch TikTok in banned country despite the imposed restrictions, here are the best practices for staying safe:
Connect through a secure VPN to have all your traffic rerouted and encrypted
Note: The use of VPN is legal in most countries, but always make sure it's not off-limits in your region
Follow any TikTok-related links with caution
Get to know the specific TikTok content restrictions in the region you're accessing TikTok from
Avoid posting or sharing anything that could be considered controversial or offensive
Make sure you understand how to manage unwanted interactions or content using reporting and blocking features
Additionally, you can easily add another layer of security and focus to your browsing experience with AdLock.
AdLock is an effective blocker app that targets both intrusive browser ads and online tracking:
It allows you to set rules for the types of commercial content you'd like to avoid (think of all the online chats, callback forms, notifications, pop-up ads, and autoplay videos you'll be able to never see again!)
It protects against trackers, analytical systems, scammers, phishing, and malware
Let AdLock take care of unwanted distractions on the web and you'll be able to reclaim your time for safe browsing.
We'd also like to recommend an app that helps you check if you're utilizing protective features already available on your Mac effectively — all in a click.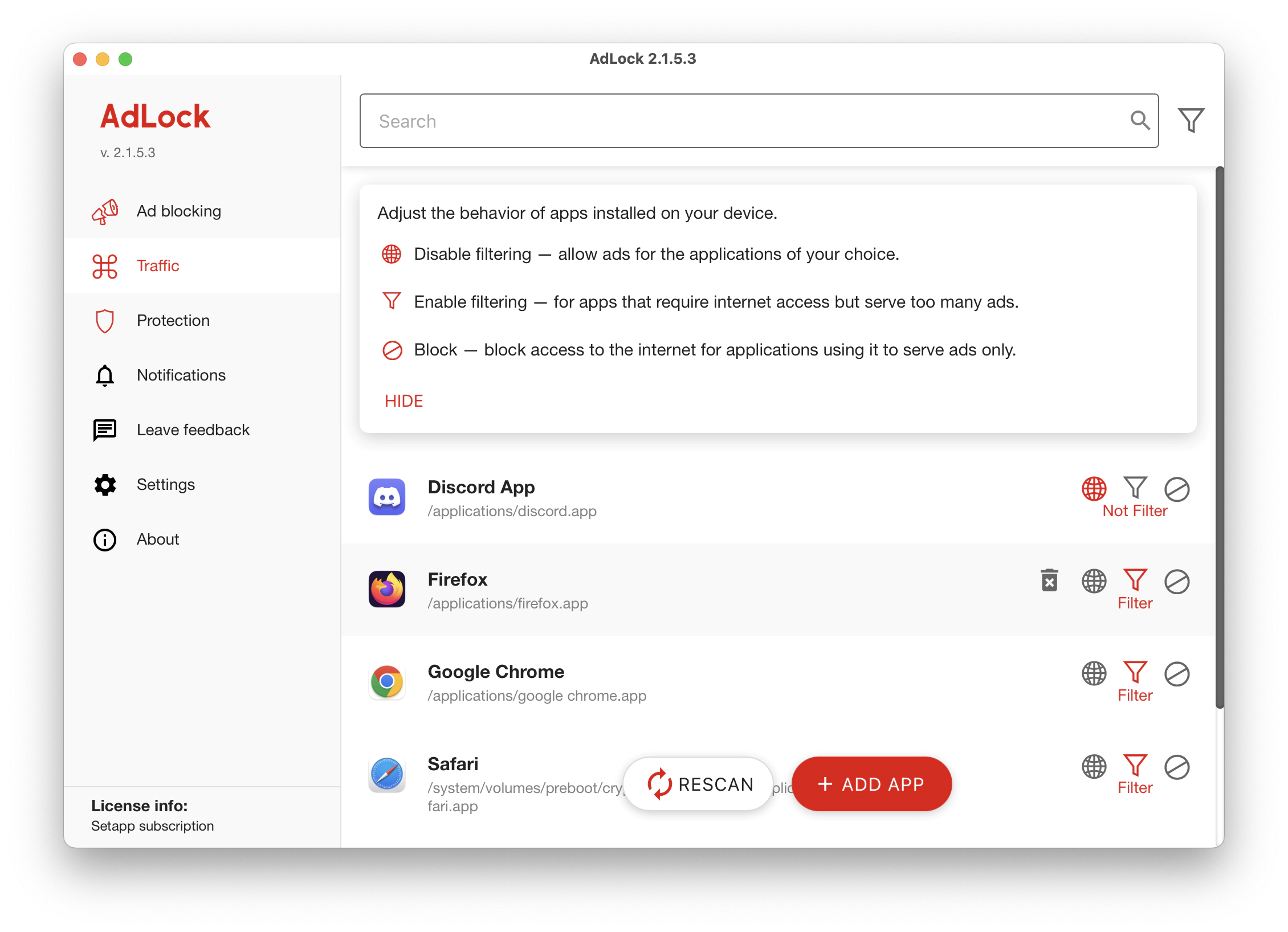 Pareto Security regularly checks your Mac's protection settings to inspect the 20% of core tasks known to be responsible for 80% of security problems (following the famous principle that gave the app its name).
Partner with Pareto Security to:
Prevent your data from being stolen or accessed by unauthorized people
Run checks to see if you've utilized all available safety measures
Know what can be improved or updated
Get reminders about turning on important security settings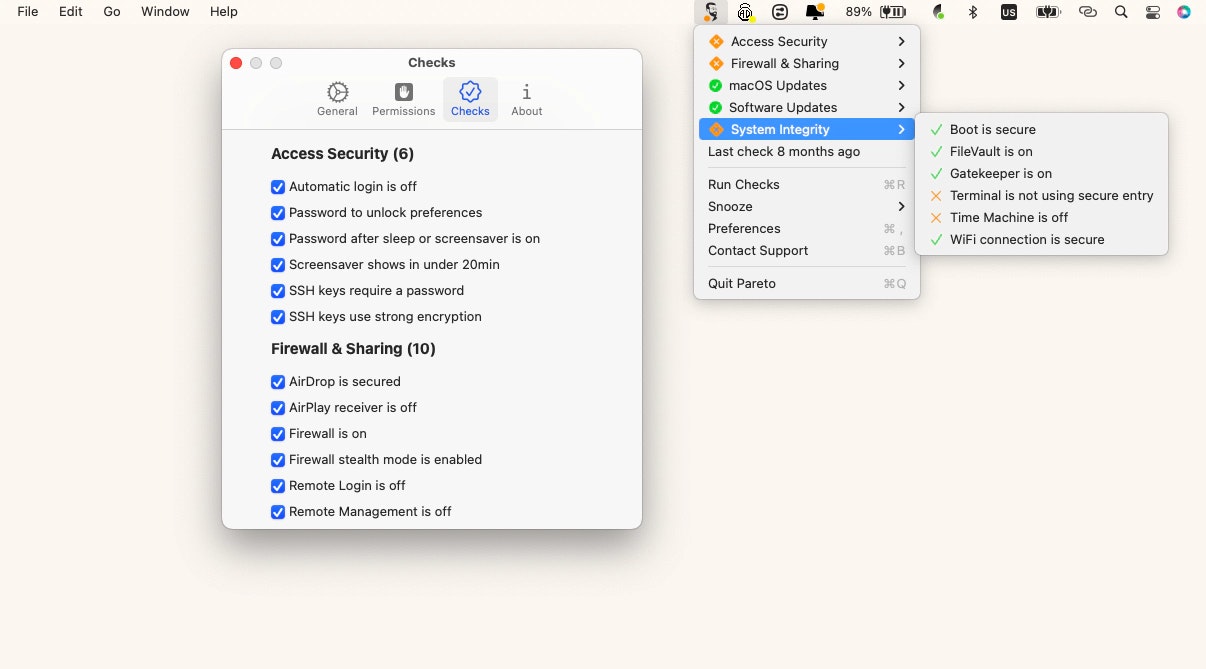 Another important aspect of both access and security online are passwords: we need to keep them close to log in to our personal accounts on the web, but we also need to keep them locked. A secure way to achieve both is with Secrets.
Secrets is a digital password organizer that generates strong passwords based on the requirements of the app or website you register with, signs you into your existing accounts (in both Chrome and Safari), allows you to import passwords from other managers, and syncs info across your devices with iCloud.
In addition to your online information, Secrets can also be trusted with your credit card details, bank info, and confidential notes of all kinds: it uses industry-standard PGP encryption, backs your account with a recovery key, and has an automatic locking feature in case your Mac gets stolen or lost.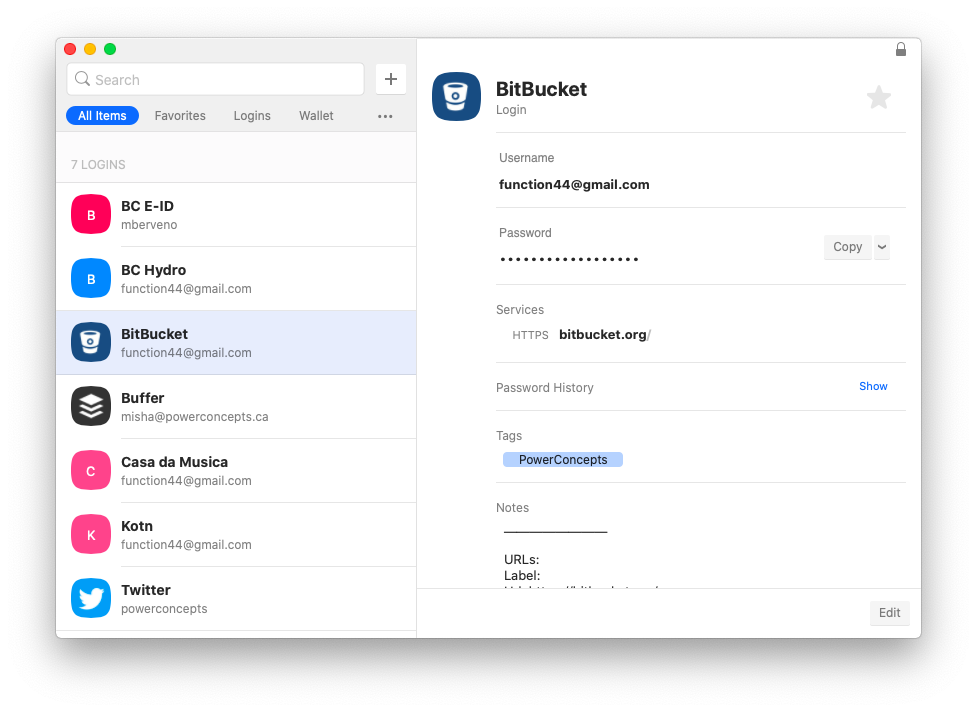 How to get TikTok unblocked where it's banned
It's easy to understand how to access TikTok in countries that banned the app or imposed severe content restrictions: the key is to have your internet provider believe you're accessing it from somewhere else. By connecting to a VPN server in another country, you can view the web as a local of that country. So as long as you know which countries have banned TikTok and which ones didn't, you can use ClearVPN or other reputable VPN services with secure encryption and high streaming speed to enjoy your favorite content.
Be sure to follow our safety tips to watch TikTok in banned country and don't pass on a chance to try ClearVPN, AdLock, Pareto Security, and Secrets for free with the seven-day trial of Setapp, a platform of best-in-class iOS and macOS productivity apps. Learn how to get TikTok unblocked and check out more than 240 other options to boost your performance.