Best YouTube video downloaders in 2021
YouTube is one of those tools that can guarantee you never run out of awesome content — as long as you have WiFi. And let's be honest, this is not always the case. Luckily, there are lots of great YouTube video downloaders you can use to save content for offline viewing. As long as you download videos for personal use and don't breach any copyright rules, it's all safe and sound. But how do you choose the best YouTube downloader online? As we researched the options, we came up with the essential must-haves.

Look for the following features in a video downloader:
Batch downloading. It's useful to be able to save multiple videos at once. Think playlists or TV series. Many online YouTube downloaders have the capability to capture as many media files from the web as you like, which is a huge time-saver.

Flexible with file formats. The first thing you come to YouTube for is music. If this is the case, it might make sense for you to look at video downloaders that can extract audio from mp4. Going even further, consider the apps that can automatically convert video downloads to multiple formats.

Safe to use. A reliable YouTube video downloader is the one that doesn't collect private data and follows copyright laws. Make sure you use a trusted utility or check their Privacy Policy before using the app.
---
Online YouTube downloaders vs desktop software
| | | | | | | | |
| --- | --- | --- | --- | --- | --- | --- | --- |
| Built-in search | no | yes | yes | no | no | no | no |
| Multi-threaded and batch downloads | yes | yes | yes | yes | no | no | no |
| 4K and HD video support | yes | yes | yes | yes | yes | yes | yes |
| Extract audio from video | no | yes | yes | yes | yes | yes | no |
| Download from YouTube, Vimeo, and any other websites | yes | yes | yes | yes | yes | yes | yes |
| 3D and 360° video support | yes | yes | yes | yes | no | yes | no |
| Schedule downloads | no | no | yes | yes | no | no | no |
| Customize speed | no | no | yes | yes | no | no | no |
| Ad-free video download | yes | yes | yes | yes | no | yes | no |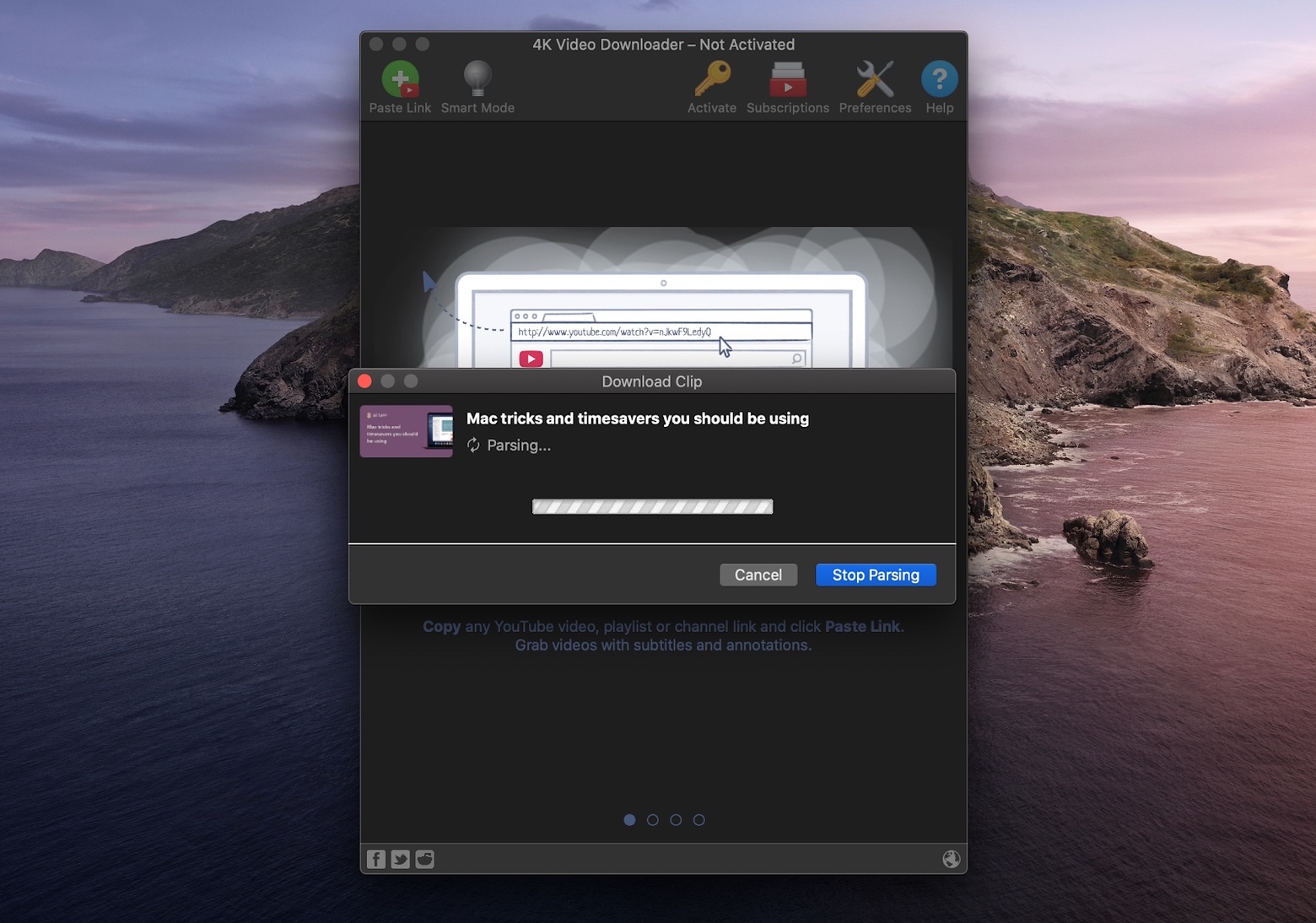 Pros
Extracts subtitles. You can download subtitles in 50+ languages with your video.
Define your defaults. The app has a Smart Mode that allows you to set a specific file format and output directory for all downloads.
Works with 4K video. If 4K quality is important, 4K Video Downloader is the right tool.
Cons
Slow download speed. Compared to other online YouTube downloaders, this app might be a bit too slow — especially with 4K content.
Limited download process. The only way to save a video is by pasting the link, which is not the best option in terms of the time spent.
---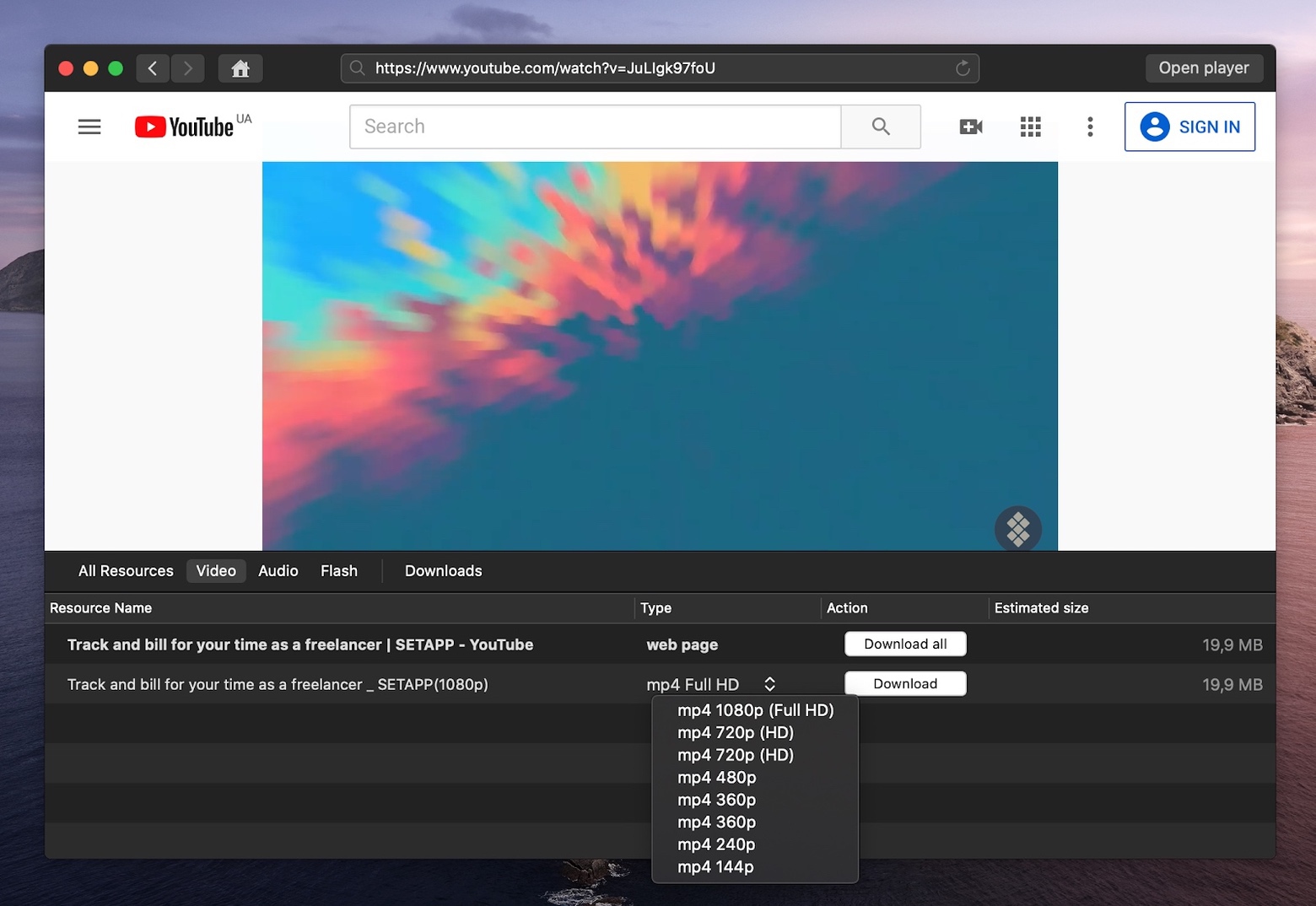 Pros
Variety of formats. Elmedia Player is a great tool to replace your default media player with, due to a huge number of audio and video formats supported.
Ad-free video. Grab any link from YouTube, Playmotion, or Vimeo, and play it in Elmedia Player without ads.
Stream via AirPlay. Take your video content to any big screen, right from the app.
Cons
All-in-one package. While this sounds more like an advantage, a huge list of features might be overwhelming for beginners.
Limited compatibility. This URL video downloader might not work with some older devices.
---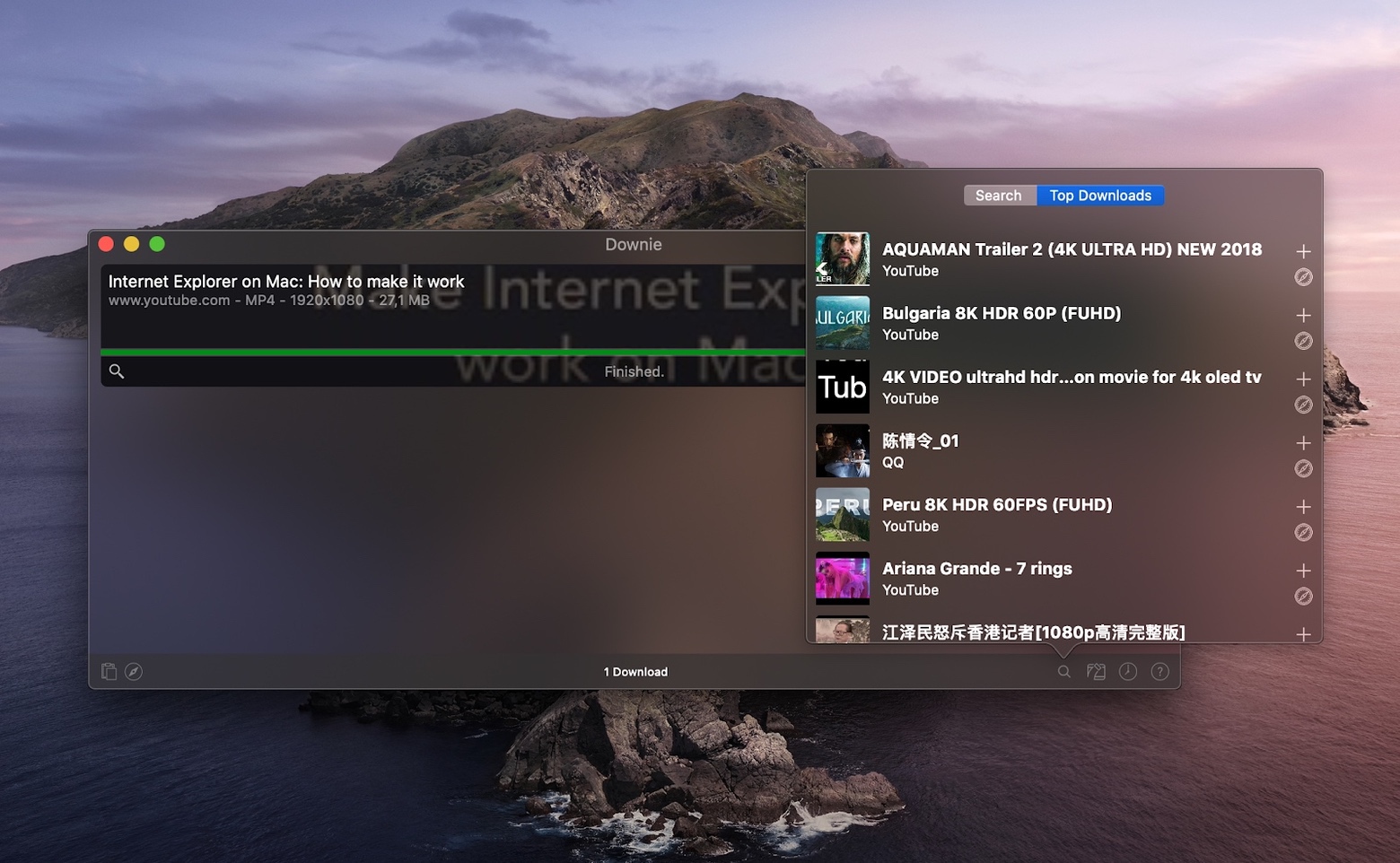 Pros
Built-in search for browsing through YouTube content right from the app
Simple Mode can be enabled to remove progress bar and other distractions
Postprocessing support for extracting audio from video files
Saves 4K video from 1200+ websites.
Cons
No built-in converter. Apart from extracting mp3 from video, Downie can't convert video to other formats
No video preview. Downie doesn't let you play video in the app.
---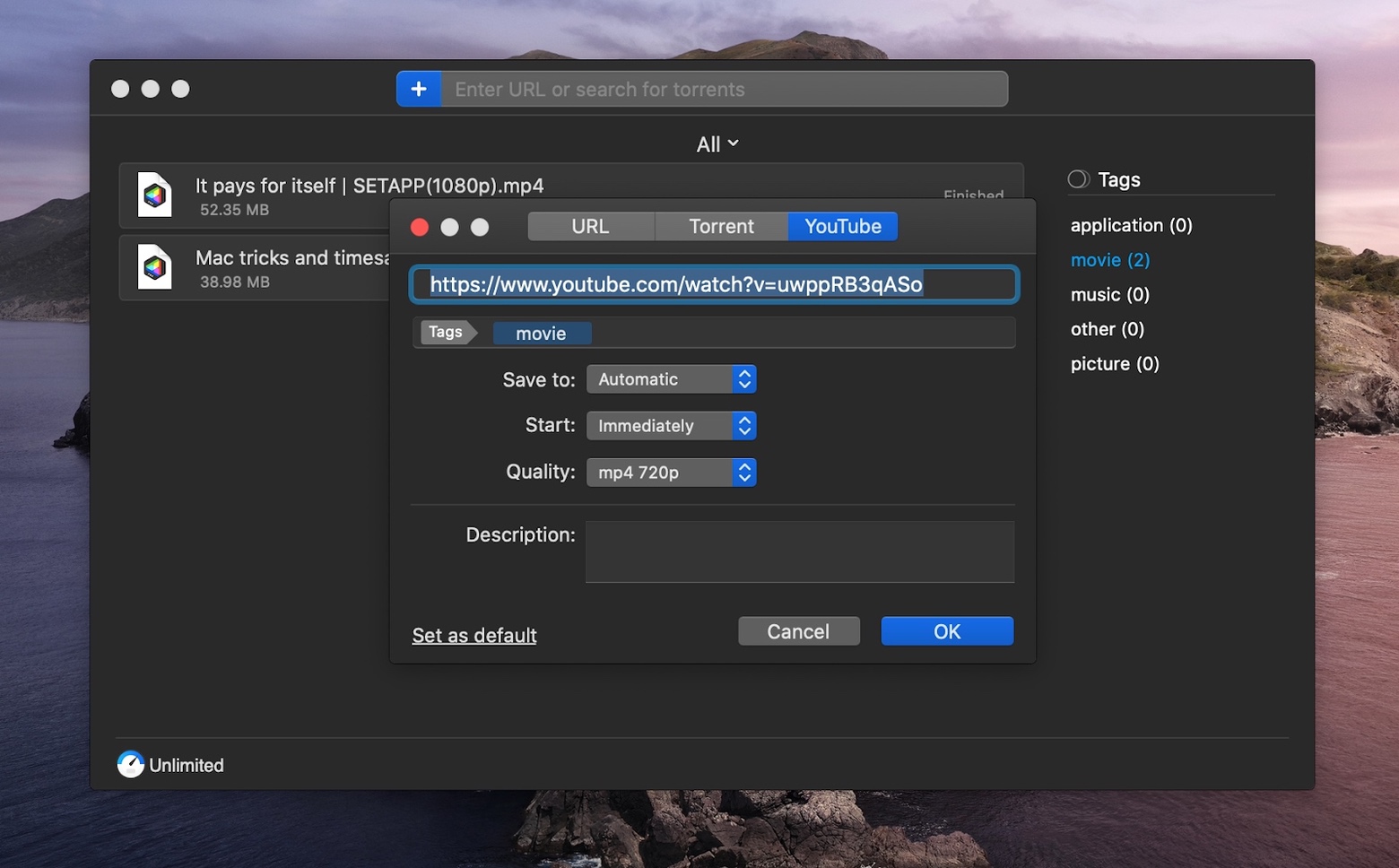 Pros
Built-in torrent search. Save torrent files directly from the app. Folx organizes torrents by the number of seeds so that you get the best options.
Save mp3 from videos. Works great for a quick download of music playlists.
Smart Speed feature. Imagine anything you've ever downloaded from the web arriving 20 times faster.
Cons
Best features are part of the PRO version. The good thing is you can get it as a free YouTube downloader with Setapp.
Impossible to delete files in batches. What Folx seems to be missing is an easy toggle for clearing your downloads list.
---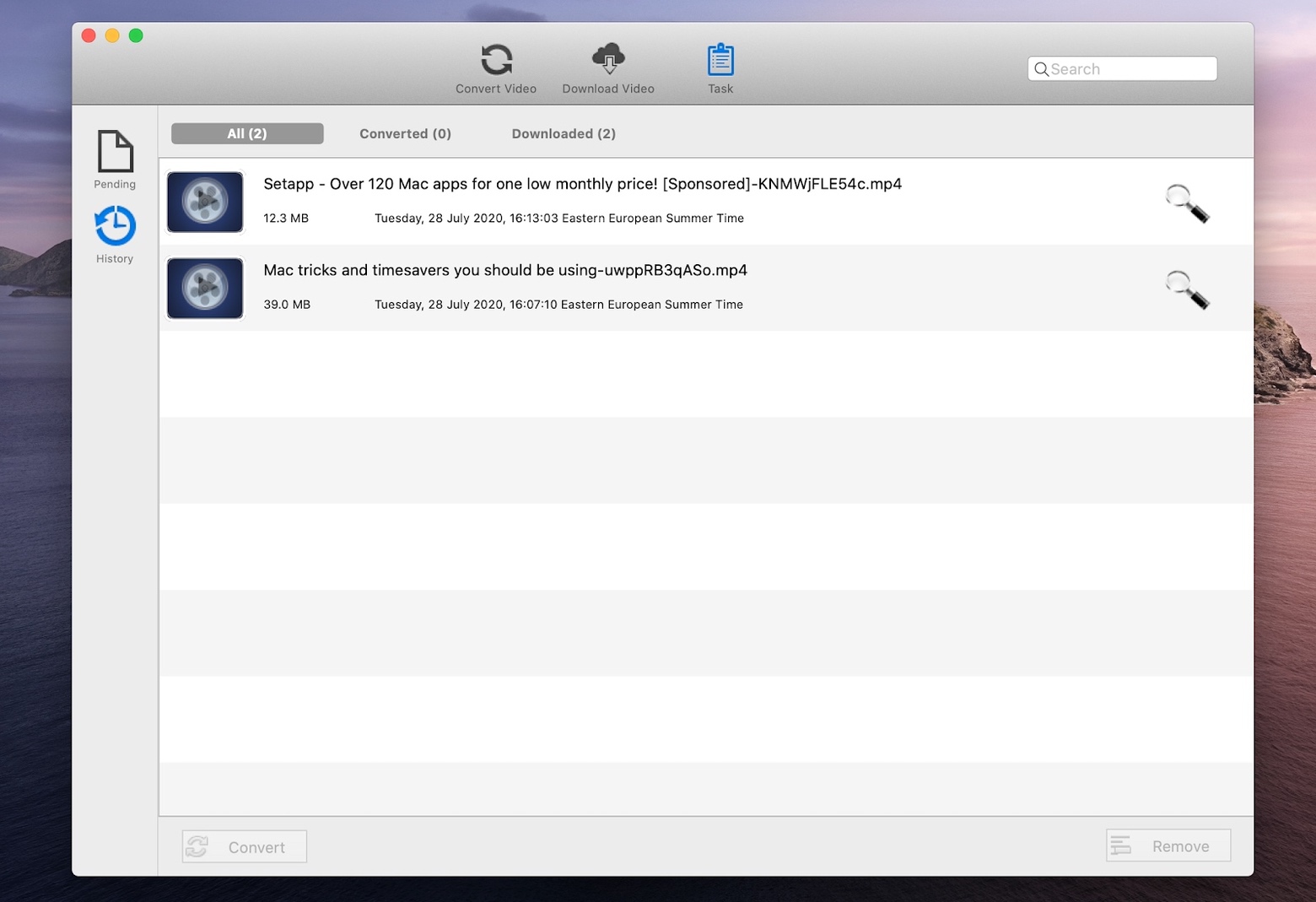 Pros
Audio downloads. Any Video Converter has support for direct music downloading.
Convert to different formats. This is the app to refer to in case your Mac can't open a specific video file format.
Cons
Poor user experience. For instance, you might not notice there's URL paste support — the app asks you to drag and drop the link (which requires windows resizing).
No video preview. The Play button would be helpful, especially if you convert a video and want to check whether it's working.
---
Pros
Control over your content. Essentially a file manager, AnyTrans helps download new content and move it to other devices if needed.
Custom formats. You can choose from a variety of file formats as well as extract mp3 from videos.
Backup feature. Keep all of your new content in a safe spot by running automatic data backups.
Cons
iTunes library limitations. There might be a problem integrating your new content with an iTunes library.
Overwhelming interface. You'll have to spend some time to embrace the full functionality.
---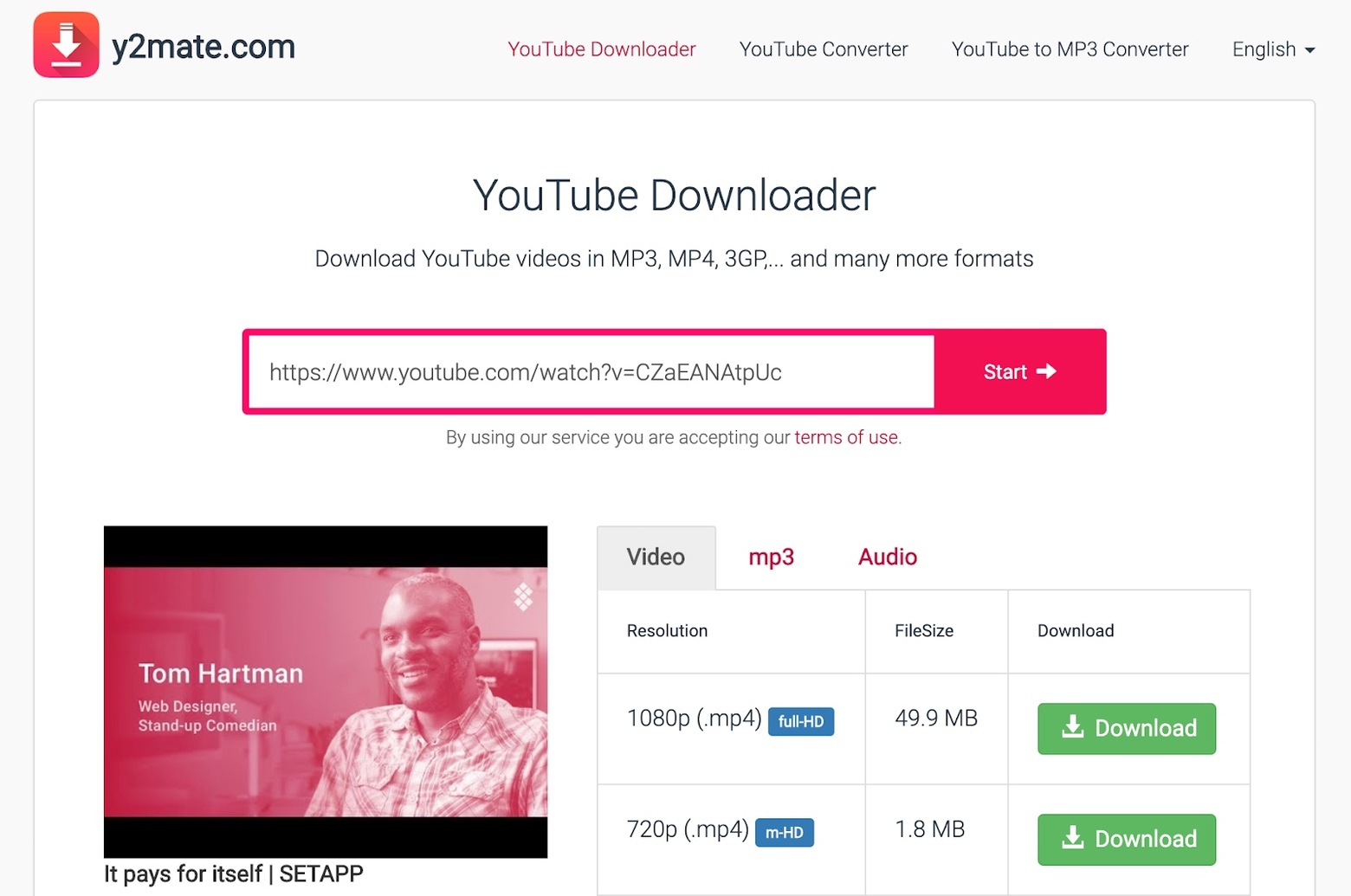 Pros
Ease of use. It's as straightforward as it could possibly be. You don't have to learn anything apart from how to paste the link.
No installations required. For some users, not having to install an app might be an advantage. Apps are believed to be more secure, though.
Cons
Might contain malware. Some users report the videos they download with the app have malware. So you might want to use a malware scanner like CleanMyMac X to make sure it's safe to use.
Limited platforms and formats. The tool saves content exclusively from YouTube and doesn't cater for file conversion inside the app.
---
Conclusion
While choosing the best free YouTube downloader, focus on your priorities. Do you need a tool with the most extensive file format support? Is 4K quality important? Do you listen to YouTube music a lot? Do you want to be able to batch download files? Truth be told, most of the reviewed URL video downloaders don't have it all. However, you can try many of them for the price of one with Setapp, a curated collection of 200+ apps. Or, if you want a free YouTube downloader, try Setapp for 7 days free — it gives you access to Folx, Downie, AnyTrans, and Elmedia Player so you can figure out which one works best for you.