How to save email as PDF on Mac
Even with all the messengers flooding our communication channels today, email remains the most fundamental part of our professional lives. Where else would you receive all the newsletters, bills, calendar reminders, receipts, account credentials, and more?
With so much information flowing through email, it's inevitable that you'd need to save some of it for later reference — and to download email as PDF is the best way to do it.
When you save email as PDF, it becomes instantly accessible on all platforms, whether you're using your browser, Mac, Windows, Android, or iOS. PDFs are universal and display the content within them just the way it was originally created.
So how to turn an email into a PDF on every platform in a scalable and easy way? Let's explore your options.
How to save an email as a PDF
When you look for how to convert email to PDF, you'll generally find two ways to do so. Some apps like Mac's native Mail client offer a specific option to export email as PDF. But most others, whether on the desktop, mobile, or web give you a way to save email as PDF while trying to print it.
How to download an email as a PDF on Mac
If you're using a Mac, chances are you either process your email through the default Mail app, or Gmail or Outlook online.
To save email as PDF in the Mail app, you can open any email and then go File ➙ Export as PDF and Save.
Alternatively, File ➙ Print is also an option (⌘ + P) and gives you more control over the file design. When all the settings are correct, just select Save as PDF from the dropdown.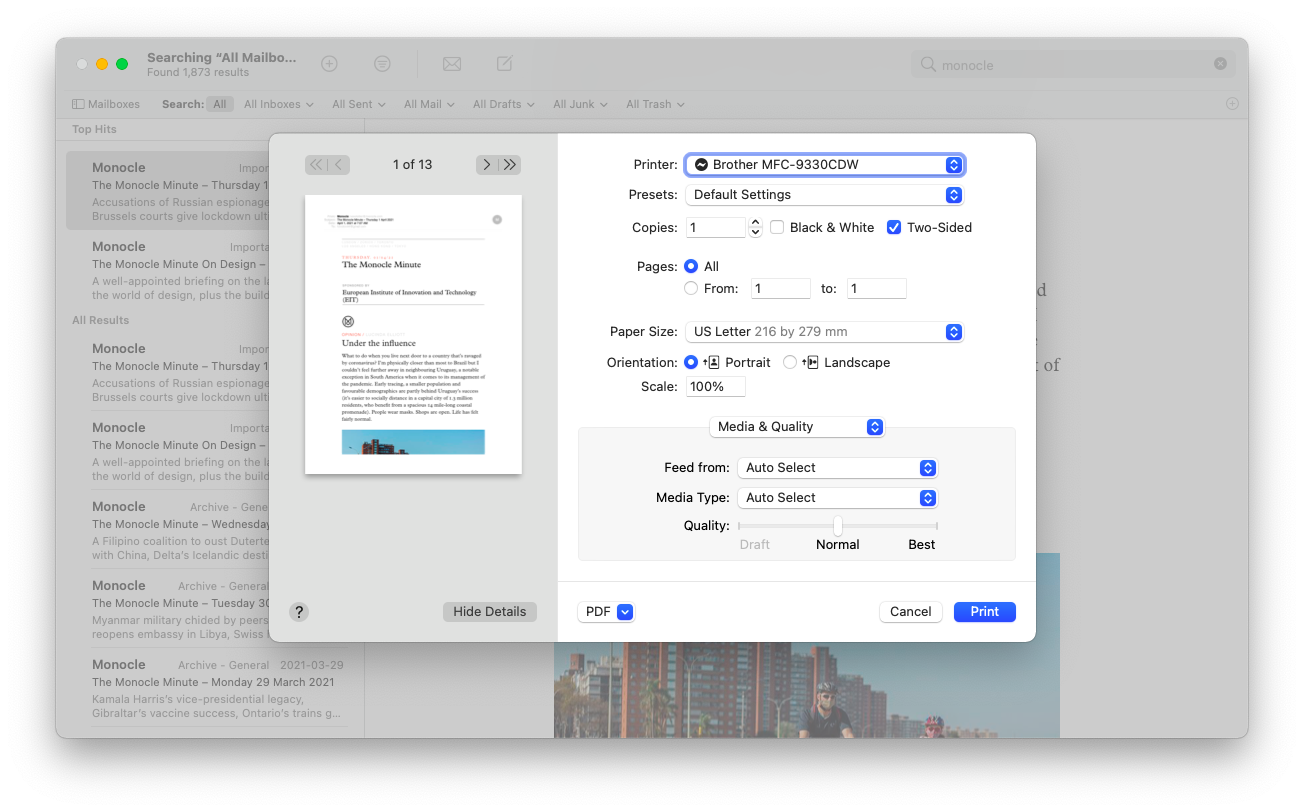 When looking for how to save email as PDF Gmail gives you similar options. Just open any email and find a print icon in the top-right corner. After that, Save as PDF from the dropdown.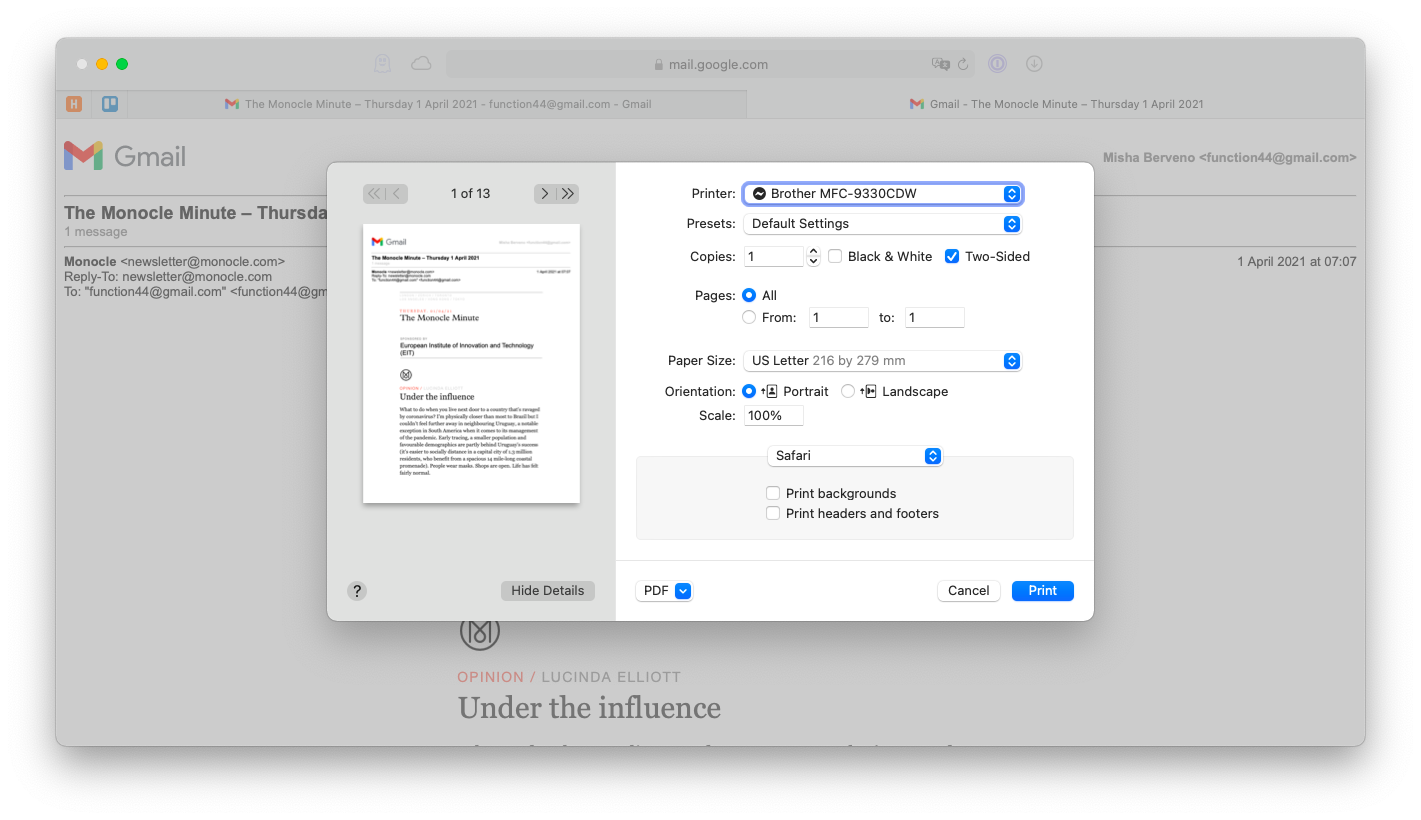 Finally, the option for how to save Outlook email as PDF is somewhat more hidden. To access it, you need to click the three-dot menu above your email and select Print. Then repeat the same sequence as described above.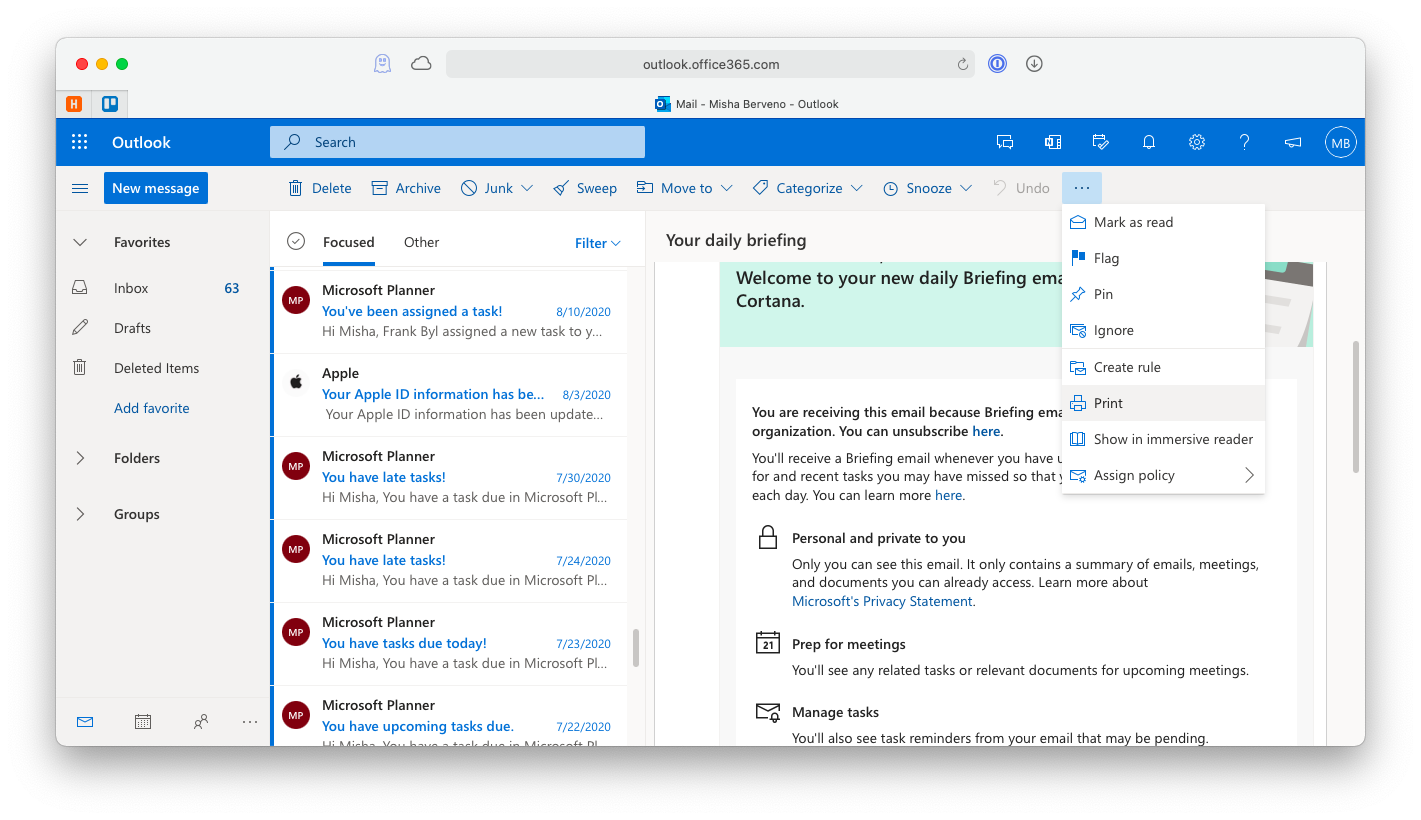 One feature that's common across all major email clients on Mac is how much extra information does a print-out of any email contain. In addition, if you save your email PDFs to share later, it might be useful to redact some personal information as well. How do you do that?
Nitro PDF Pro is by far the best PDF editing app for Mac out there. It makes it easy to sign documents, move, delete, and combine PDF pages, edit and redact information, and so much more. This app is also especially valuable when you want to make the email text usable again, thanks to its powerful OCR (optical character recognition) functionality and built-in exporting to other text editors like Microsoft Word.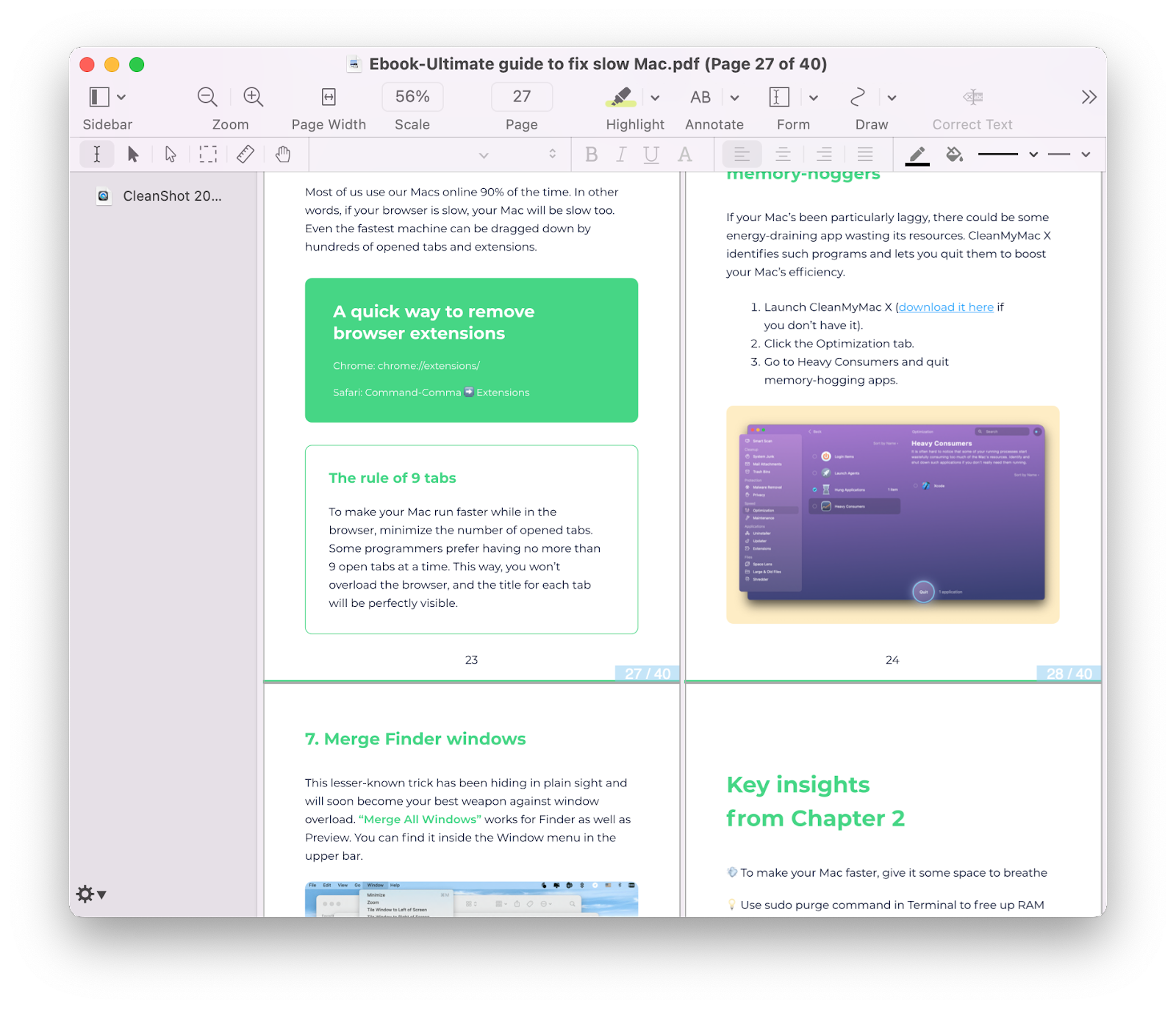 Some newsletters and documents sent through email can be quite long, especially if you bundle lots of emails together thematically. Since the default search functionality in most PDF viewers is quite limited, how do you effectively find any specific piece of information later on?
PDF Search is a specialized tool optimized for quick searches within PDF files, whether they are two or 200 pages long. This app doesn't just find exact matches, it utilizes AI to also check related terms, various combinations of phrases, and misspellings. Even better, PDF Search presents you with ranked results, putting the most relevant to your search first.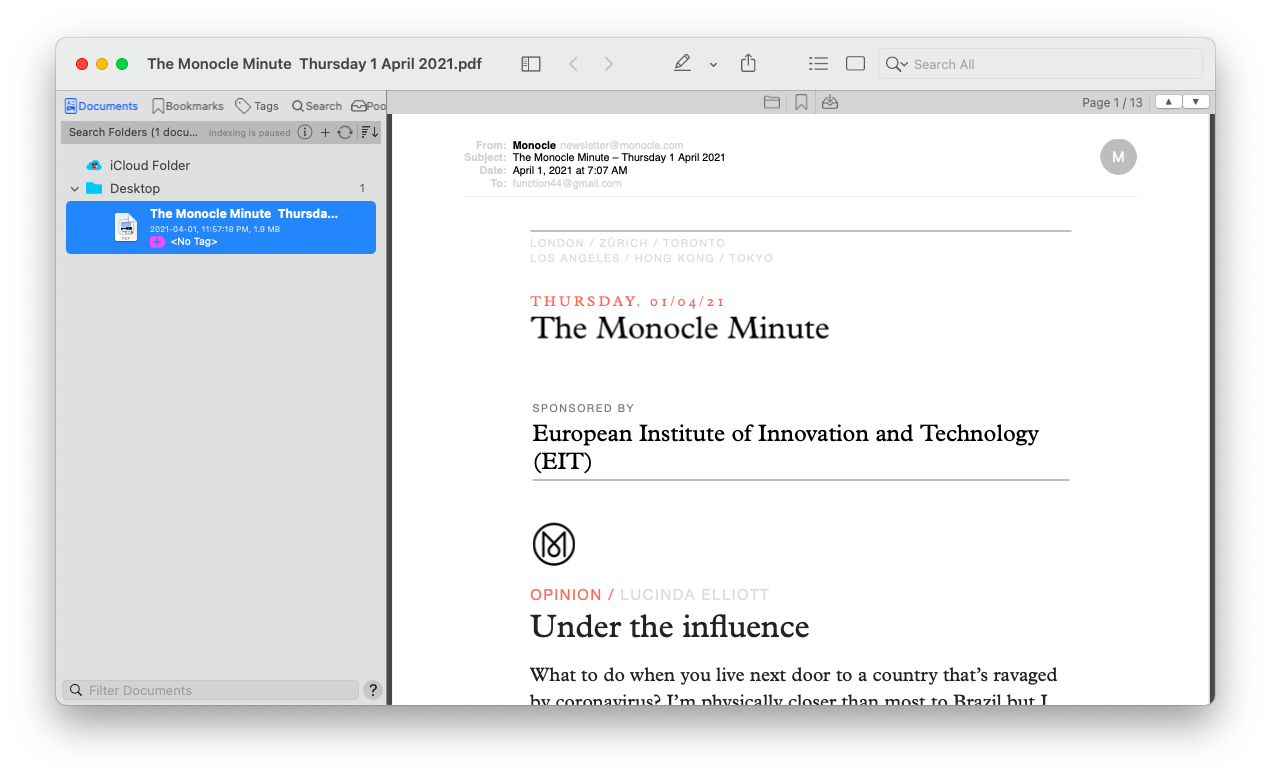 Another problem that happens frequently when you save email as PDF is that the size of the resulting PDF file gets too big to load and handle efficiently. To counter that you need to use a PDF optimizer.
PDF Squeezer reduces the size of any PDF file in a single click. Just drop one or many PDFs onto the window, choose the level of compression, and the app will get to work. The changes in quality will always remain minimal, and you can even compare the results with the originals. If you regularly compress PDFs, PDF Squeezer will save you a lot of space — and it works on password-protected files as well.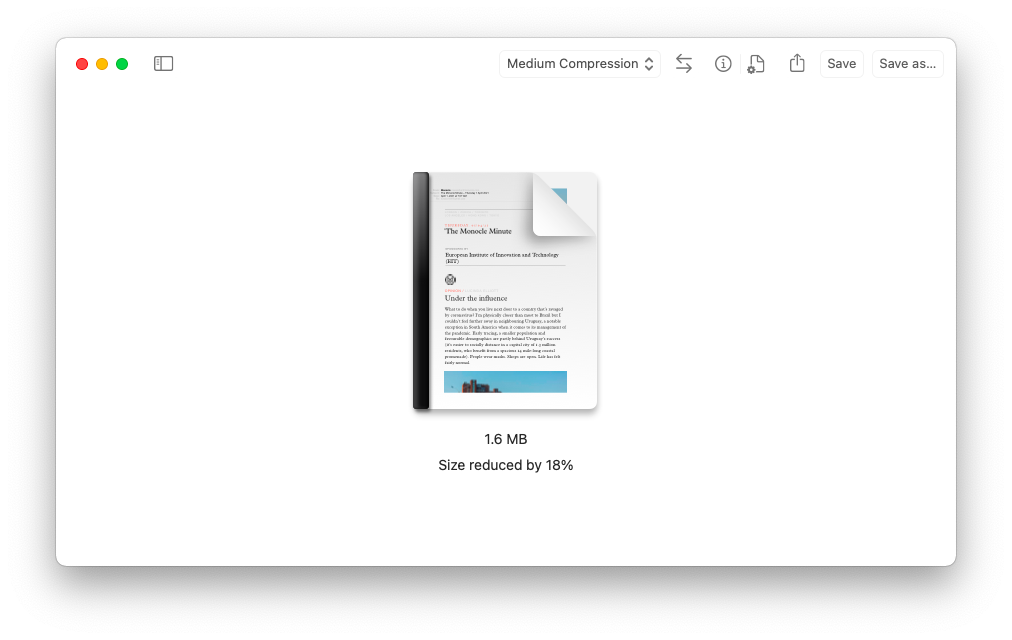 How to turn an email into a PDF on iPhone and iPad
Besides Mac, many might wonder how to download an email as a PDF on iPhone and iPad. It's not difficult to do, but there's a trick:
Using a Mail app, open an email you'd like to save as PDF
Tap the reply icon
Scroll down and choose Print
Slightly enlarge the email using your fingers
Tap the Share icon in the top-right corner
Select where you'd like to download your PDF
Since keeping PDFs on iPhone or iPad isn't very practical, you generally do need a solution that would make transferring PDFs from iPhone to Mac seamless. And that's AnyTrans for iOS.
AnyTrans for iOS is a complete all-in-one iPhone and iPad manager. This app lets you download any files from any of your devices, save backups, manage music, stream videos online, change ringtones, configure iCloud, and much more.
To move your PDF from iPhone to Mac:
Launch AnyTrans for iOS
Connect your iPhone via USB
Select Device Manager
Drag your PDF file over to your Mac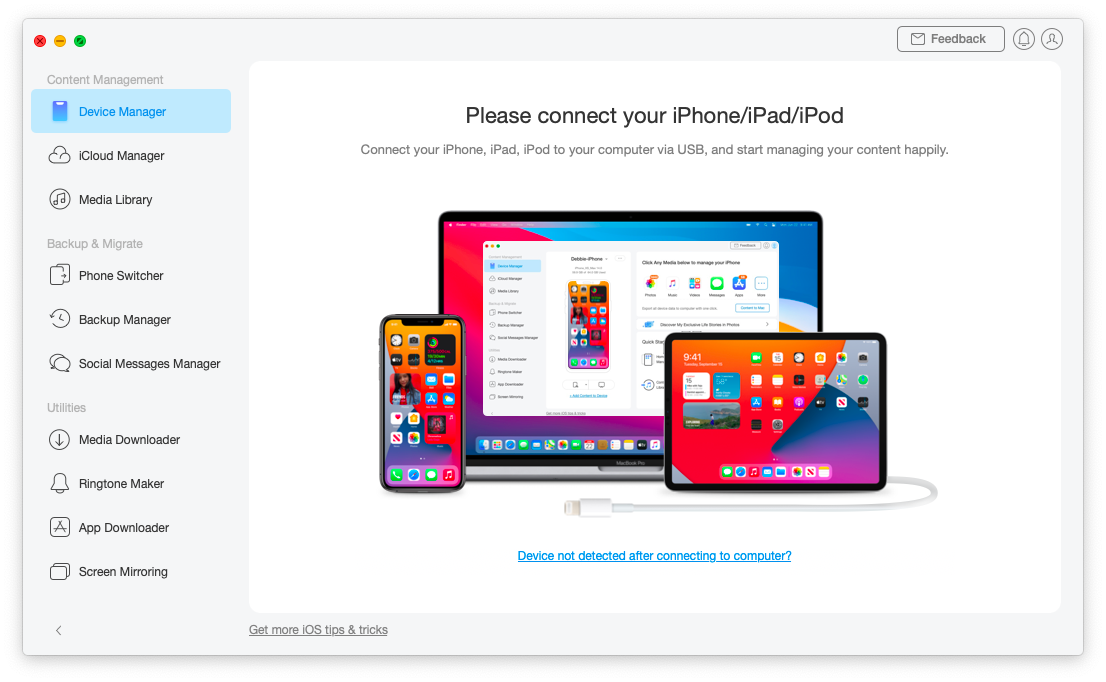 How to save an email as a PDF on Android
Most of the email apps on Android generally allow you to convert email to PDF. Depending on the exact app you choose, the option to do so will be hidden behind the three-dot menu or reply icon. Then you can select Save as PDF and fine-tune other options as well.
Similar to iOS, however, with Android you'll also need a reliable solution to transfer your PDFs to Mac. Look no further than AnyDroid.
AnyDroid is a sister app to AnyTrans for iOS, created with the same functionality and ease of use in mind. You can easily transfer files between devices, even over WiFi, manage backups, save downloads, migrate to a new phone, etc.
The process remains largely the same: connect your Android device to AnyDroid via WiFi, and drag and drop your files using the Device Manager functionality.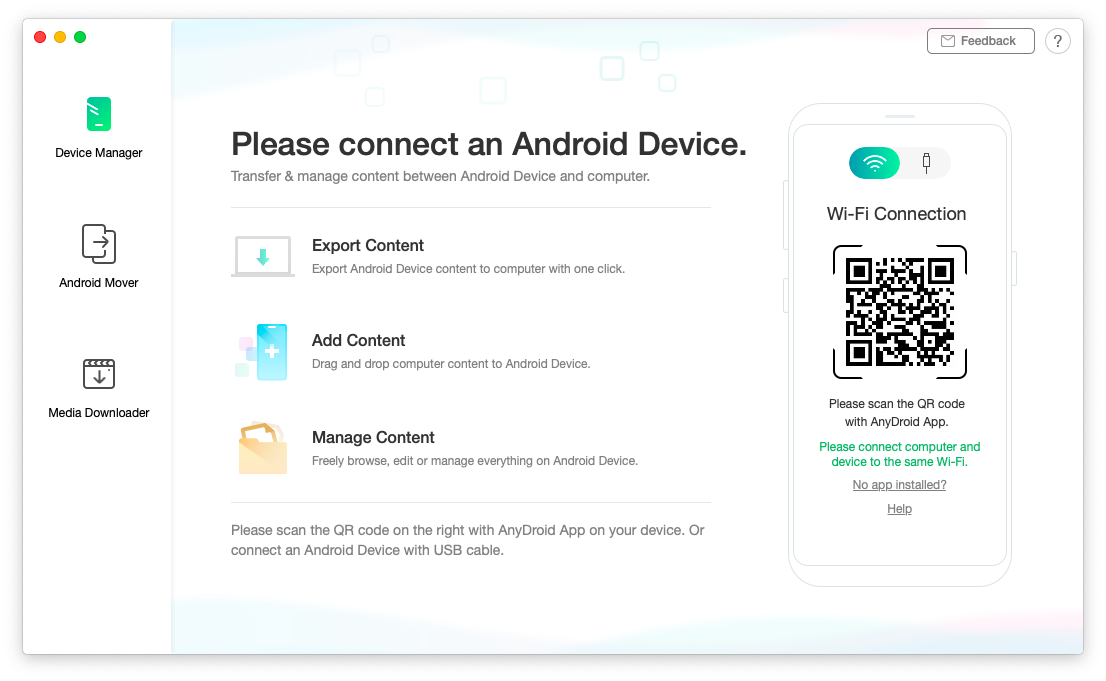 As you can see, it's not a problem at all to download email as PDF, whether you're using Mac, iPhone, iPad, or Android — just follow the directions above. What you definitely need, though, is a suite of powerful tools to make PDF management as easy as it can be. So take a look at Nitro PDF Pro for editing, PDF Search for finding things with the power of AI, PDF Squeezer for file compression, and AnyTrans for iOS as well as AnyDroid for transfer management on iOS and Android, respectively.
Best of all, Nitro PDF Pro, PDF Search, PDF Squeezer, AnyTrans for iOS, and AnyDroid are available to you absolutely free for seven days through the trial of Setapp, a platform with more than 230 useful Mac and iPhone apps for everyday tasks. Try every Setapp app today at no cost and improve your productivity in no time.