What's The Best File Recovery Software For Mac In 2022?
Over the recent past, we have become highly reliant on technology around us for storing and maintaining our information. From family photos to crucial work documents — practically everything now lives on the hard drives of our computers. When you think about it, just a decade ago, accidentally deleting files from the Trash on your Mac would cause panic and frustration — the data was lost, with no way of retrieving it. Today, there are almost too many convenient and intuitive apps to help you recover deleted files and formatted hard drives.
If your essential materials go missing or get deleted by accident or your Mac crashes, which results in the potential loss of your hard work, there's no need to wave those files goodbye, nor rush your Mac to get serviced. Instead, you can take advantage of the best modern Mac data recovery software. These effective apps will help you easily deal with all the complications of Mac data recovery and let you restore valuable files in just a couple of clicks.
How Can Mac Data Recovery Software Be Helpful?
Do you have extensive knowledge about your Mac, its operational system, and how the hard drive works? Or do you consider yourself a specialist who can salvage inaccessible, lost, damaged, or formatted data? Most people don't — so if essential files are lost from your device, you typically have two options: taking your Mac to a technician, and paying a higher price for hard disk recovery, or familiarizing yourself with some data recovery software for Mac and letting it do the magic instead.
The best professional data recovery software analyzes the memory of your device and restores all the deleted information using special markers left in the depths of the hard drive. In reality, practically every device holds a vast array of information, since even just a month after buying a gadget, people delete significant amounts of data. You most likely don't want to dig into the heap of old garbage to find a file you've accidentally deleted, which is why some good disk recovery software apps have file preview options to facilitate the process of finding the desired file.
To choose the best hard drive recovery software for your needs, here's a selection of all the top data recovery apps compatible with macOS.
Specific to Mac users: MiniTool Mac Data Recovery
In general, MiniTool is a good enough Mac data recovery option for your casual deletion accidents that don't involve big volumes. This app works in four different modes, allowing for some basic file recovery for Mac: rescuing data from existing, lost or deleted partitions, retrieving multimedia files buried in portable storage devices, and restoring information removed by accident.
Though a decent hard drive data recovery software overall, MiniTool is free to use on one computer only, with a maximum free restoring capacity of 1 MB, which is arguably very low if you need to recover more than a couple of low-resolution photos. Less of a drawback, but still worth mentioning, is that MiniTool doesn't support any other devices but Macs.
How to recover all types of files with MiniTool Mac Data Recovery:
Open the app and click Undelete Recovery

Select your hard drive ➙ Scan

Recover all the desired files from the list of results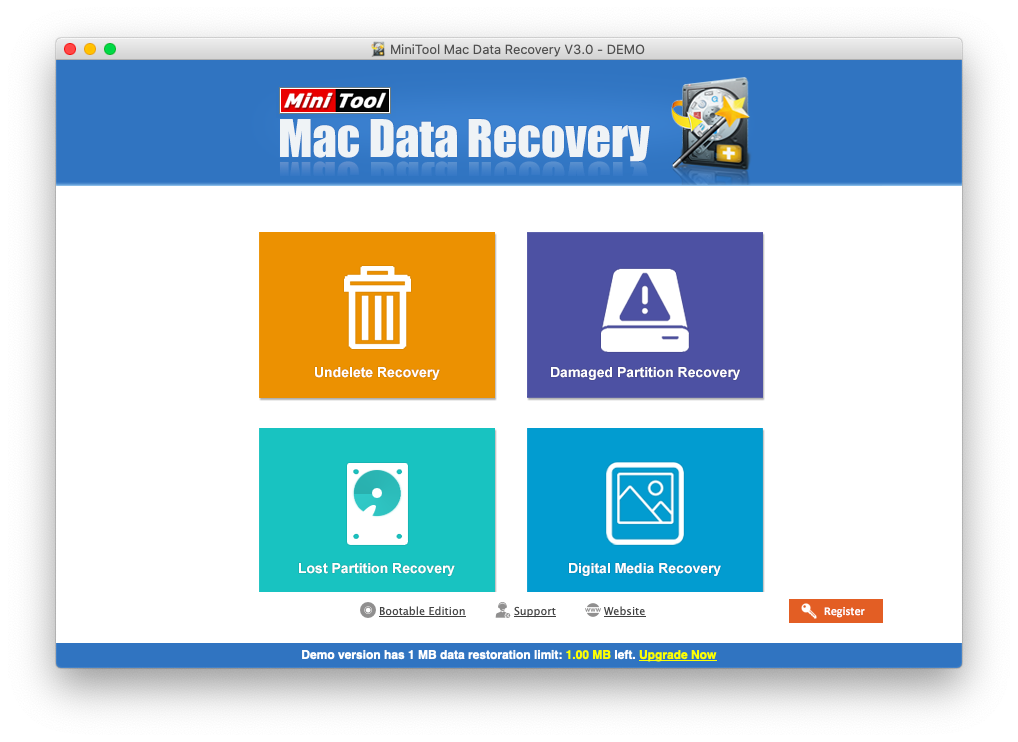 Two-type scan feature: Recoverit
A hard drive data recovery software like Recoverit is effective, has a friendly interface, and will be helpful for both easy and more complex cases, due to its effective two-type scan feature. In addition, the app features a file filter and document preview that ease the search for necessary files and assist you in swiftly restoring the exact information you need.
What's more, Recoverit allows you to pause and stop the file scan at any point if you've found what you were looking for — so you don't have to wait for the whole process to complete. Up to 100 MB of data can be retrieved for free, and this Mac data recovery software works with over 1,000 file types and formats (given that you're ready to pay the full subscription fee).
Although Recoverit might seem like the best hard drive recovery software, one thing to keep in mind is that it doesn't support RAID hard drive recovery, although it's still helpful even if the hard drive is physically damaged.
Using Recoverit is simple:
Choose the device, location, and Advanced Recovery, if needed

Click Start

Select folders or files from the results window

Click Recover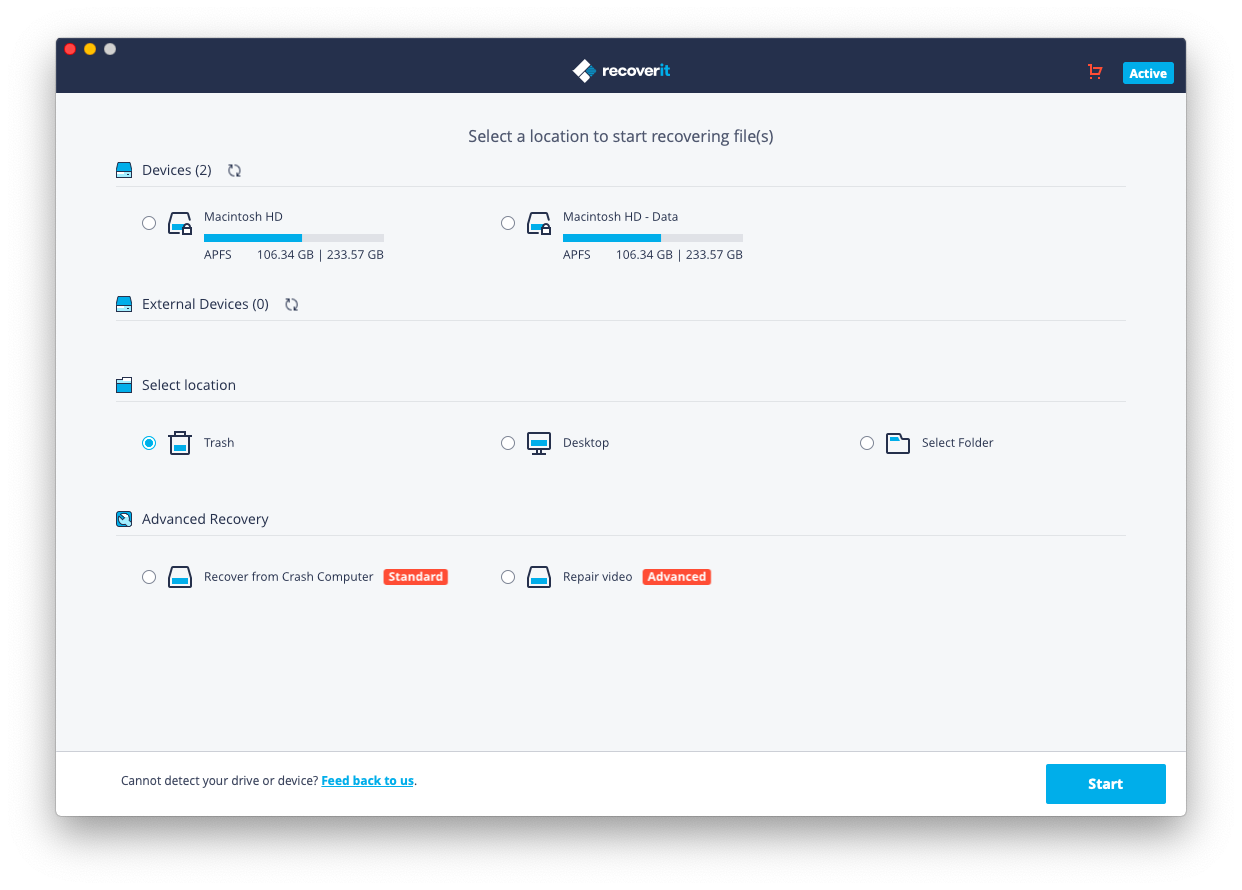 Good restoring capacity: EaseUS
There will almost always be a price associated with any data recovery for Mac app you choose, however, some of them will have a trial period with free features available to give you a good indication of whether it's still possible to restore your files. That's exactly the case with EaseUS, a useful data recovery software for Mac, offering 2 GB of files recovered at no cost — which is considerably more than most other apps, and potentially enough to find and retrieve what you were looking for in the first place.
As for the downsides, despite having one of the fastest scanning engines, EaseUS doesn't feature the option to select a particular folder or location to search for lost files. Plus, if you need to recover over 2 GB, this might not be the best professional data recovery software, just because its Unlimited version is a bit pricey. However, since EaseUS is said to be the best SD card recovery software, it makes it possible to quickly dig up information lost in old or damaged memory cards and USB drives.
How to recover lost data with EaseUS:
Choose the hard drive you want to scan from the main menu

Click Scan

Select the files to recover ➙ Recover

Save your files on your Mac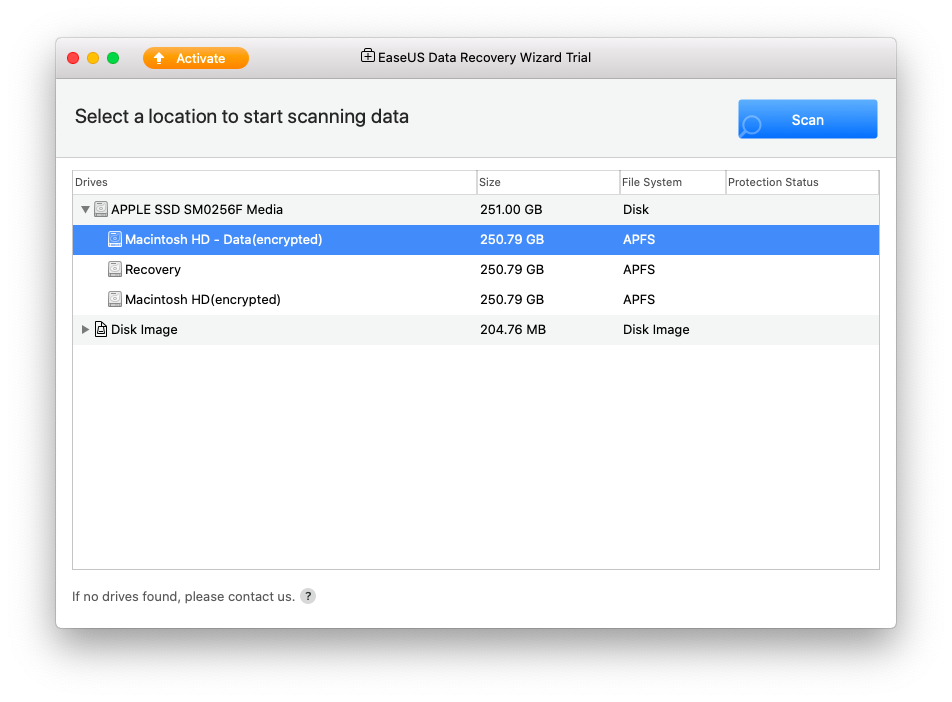 Best professional data recovery software: Stellar Data Recovery
If you're looking for a recovery app with increased customization available for a more precise file search, Stellar Data Recovery is the best recovery software for you. This recovery app features lots of adjustable preferences to narrow the search for very particular files and even has the ability to bring back long lost or deleted emails, which (you'd be surprised) comes in handy more often than not.
Practically the only flaw to note with Stellar Data Recovery is its price. While the app allows you to scan and preview files for free, you need a full paid version to recover them. But if you have scratched, corrupt or partially burnt optical media like old CDs, DVDs, or Blu-ray discs that you need to get information from, this is one of the best file recovery software you could think of.
To use Stellar Data Recovery:
Select the types of data you wish to recover and click Next

Pick your hard drive ➙ Scan

Preview data available for recovery

Save the desired files to your Mac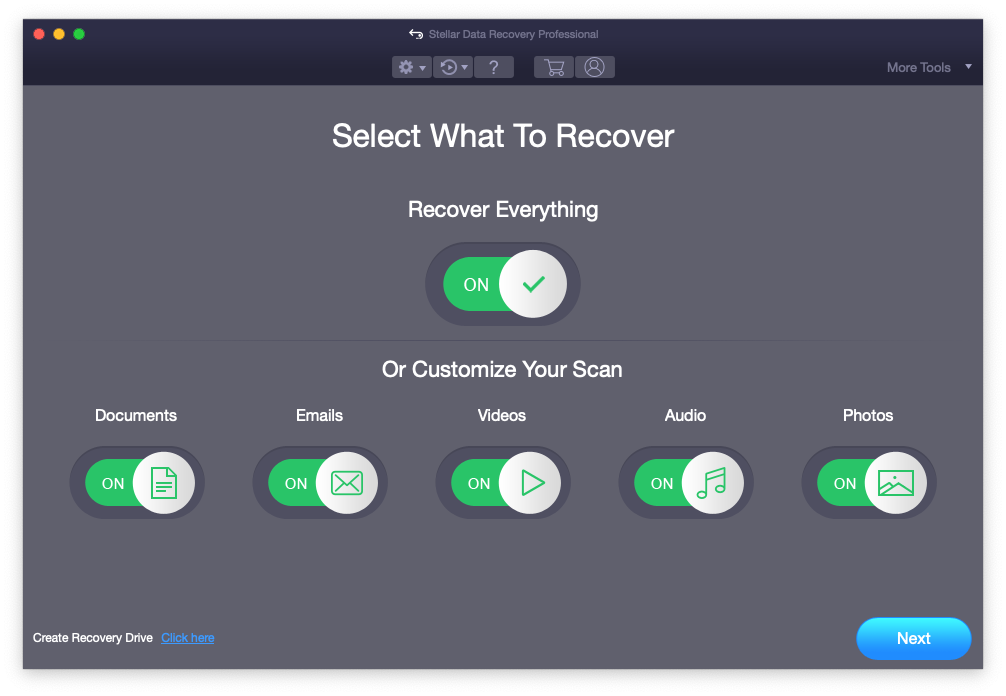 What is the most secure file recovery app?
Are you looking for the top-performing Mac data recovery software that not only provides data recovery solutions but also protects your data from accidental deletion and backup failures? Well, you've just found it.
Disk Drill is the essential data recovery software for Mac backed by its intuitive user interface and a ton of free disk tools that might become handy for any user. What makes this hard drive data recovery software so special is its versatility and a wide range of utilities for working with all types of devices. Disk Drill provides the most secure file recovery for Mac and supports all popular formats, meaning it'll be able to retrieve files missing from your iPhone and iPad too, as well as Android devices.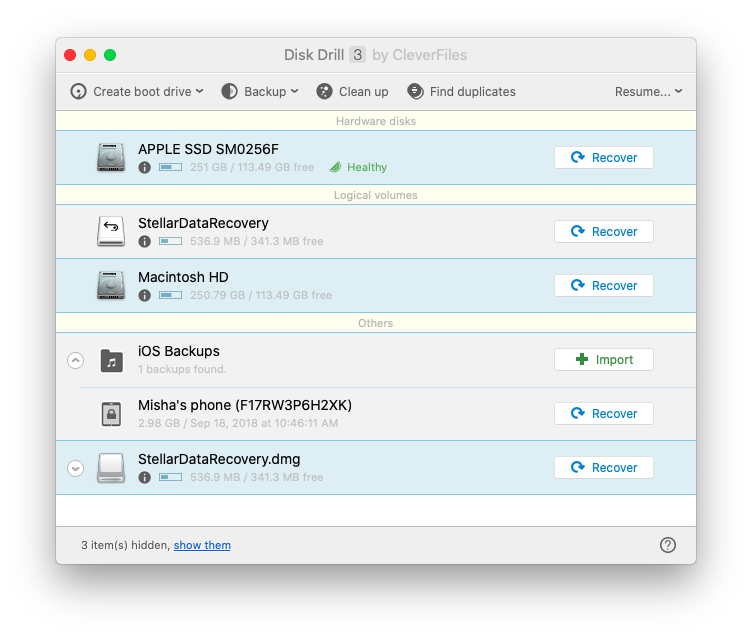 Many Disk Drill reviews point out that its algorithm is optimized for maximum performance — a decisive point in file recovery if you want the scanning process to only take a few seconds. And to protect your files in case your computer crashes, there's a useful data backup feature available as well.
How to recover your files with DiskDrill:
Open the app and select the hard drive you want to recover from

Click Recover for the process to begin

Check the scan results and Recover all the necessary files
How to delete excess data from your Mac automatically
While data recovery apps help you find and restore crucial files, it's not the best idea to overload your Mac with information, especially one you don't need. Going through all your desktop folders and deleting useless files is indeed a tiring process. That's when an effective app becomes indispensable.
CleanMyMac X is a tool created specifically to boost your Mac's performance by keeping it free of any unnecessary junk and unused files. It instantly finds and removes all system trash from your computer, searches for duplicates, and neutralizes any malware. With CleanMyMac X you can do all kinds of cleanups of your Mac in just one click.
But what if you want to delete some files forever? CleanMyMac X comes to the rescue here as well with its unique Shredder feature:
Open the app and navigate to Shredder under the Files category

Click Select Files…

Hit Shred and your files are gone forever!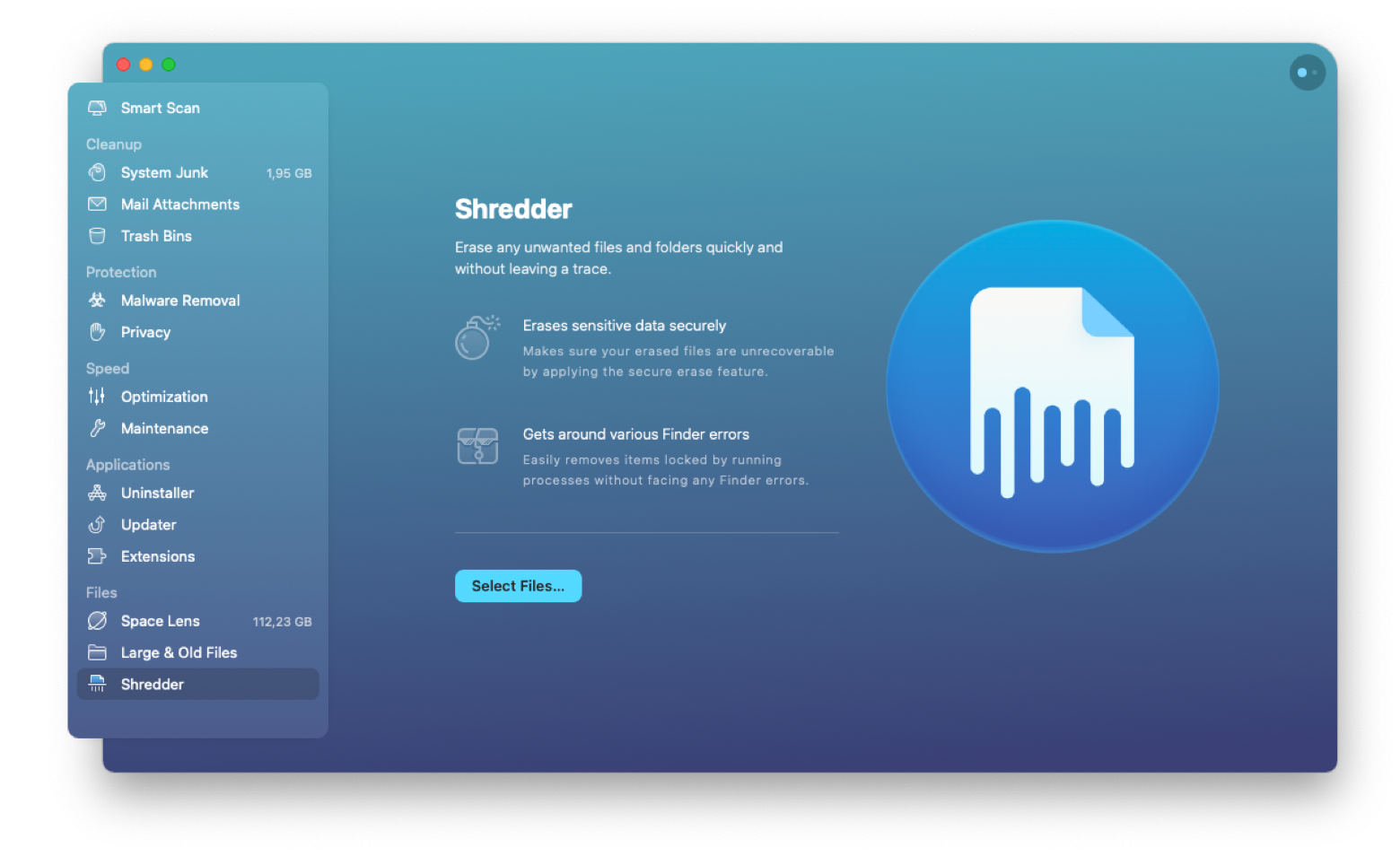 As we trust more and more information to our devices, accidentally losing files due to hard drive failures and our own mistakes becomes almost unavoidable, so it's important to be in the know of great recovery apps like Disk Drill. And once that valuable information is back on your computer, don't forget to keep it clean with an app like CleanMyMac X.
Best of all, both Disk Drill and CleanMyMacX are available to you completely free on Setapp, a platform of over 200 apps and utilities to enhance your Mac's performance. Now that you know about the best data recovery software for Mac available, you'll never have to worry about losing your files ever again!