How To Recover Data From A Failed Hard Drive Yourself
If you find yourself in need of Mac hard drive data recovery, this is the article for you. Below, we will discuss how you can recover data from Mac hard drive using built-in and third-party solutions, as well as the option to create a backup for your important data and avoid needing to recover files from Mac hard drive as sometimes data gets lost permanently due to theft, ransomware, or irreparable disk damage.
Let's dig in.
Common reasons for hard drive data loss
Data loss on your hard drive can come as a result of hardware or software issues, accidental formatting, malware, bugs…
Sometimes your machine may ask you to format your hard drive after a critical error and you click yes before assessing the situation. Other times your machine may get attacked by malware and some of your data might get corrupted or lost. System bugs, incompatible software, crashes, and the like can all lead to data loss on your hard drive.
The good news is, all might not be lost even if your files and folders are missing right now. There are ways you can try and fix the issue.
Before we get into solutions, keep in mind that timely removal of unnecessary files and malware from your Mac can just be the thing to keep it safe. You can use apps like CleanMyMac X for the task. The app allows for easy cleaning out of unneeded files, scans your laptop or computer for malware, can find large old files for you to decide if it's time to get rid of them, plus it can be handy to free up RAM, uninstall or update apps, and even clean out your mail attachments.
Now, let's get into file recovery.
Recover files from a hard drive on Mac
Disk Drill is a great solution for recovering files you've deleted or lost on your Mac. It's a go-to for many users and the app positions itself as the tool to can internal Macintosh drives, external hard drives, cameras, iPhones, iPads, flash drives, and more.
Disk Drill allows you to scan for, locate, and restore missing files. If you have plenty of files on your drive, you might find it more convenient to simply perform a search among the discovered items found in the scan to spot the exact one you've been looking for. If you don't know the exact names of your lost files, you can just type in an extension or part of the file name to see if anything turns up.
Once you locate your files in the Disk Drill scan results, you can then restore them.
Here's how to perform a scan and file recovery with the app. All you have to do is select the disk you want to recover files from: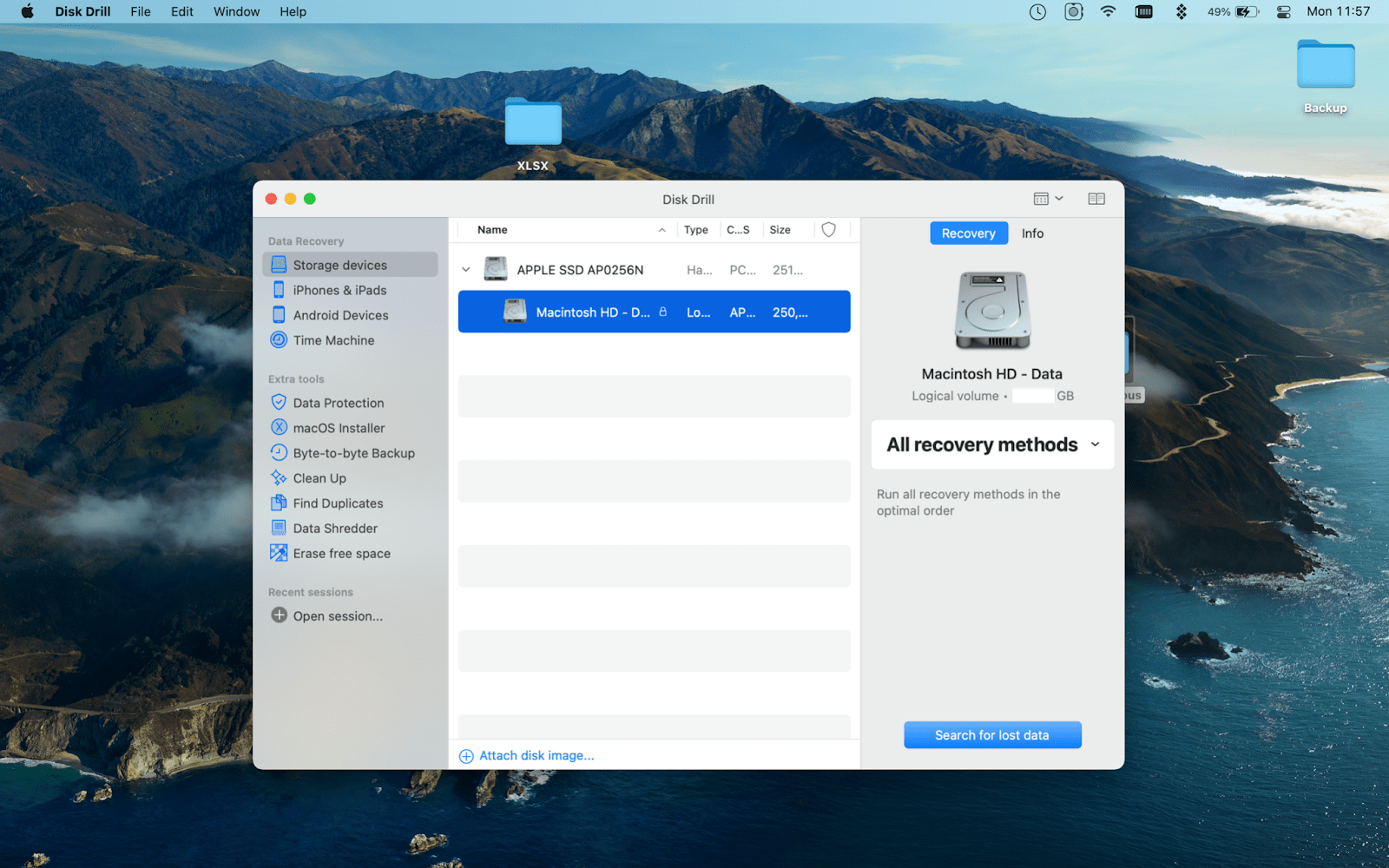 Run the scan: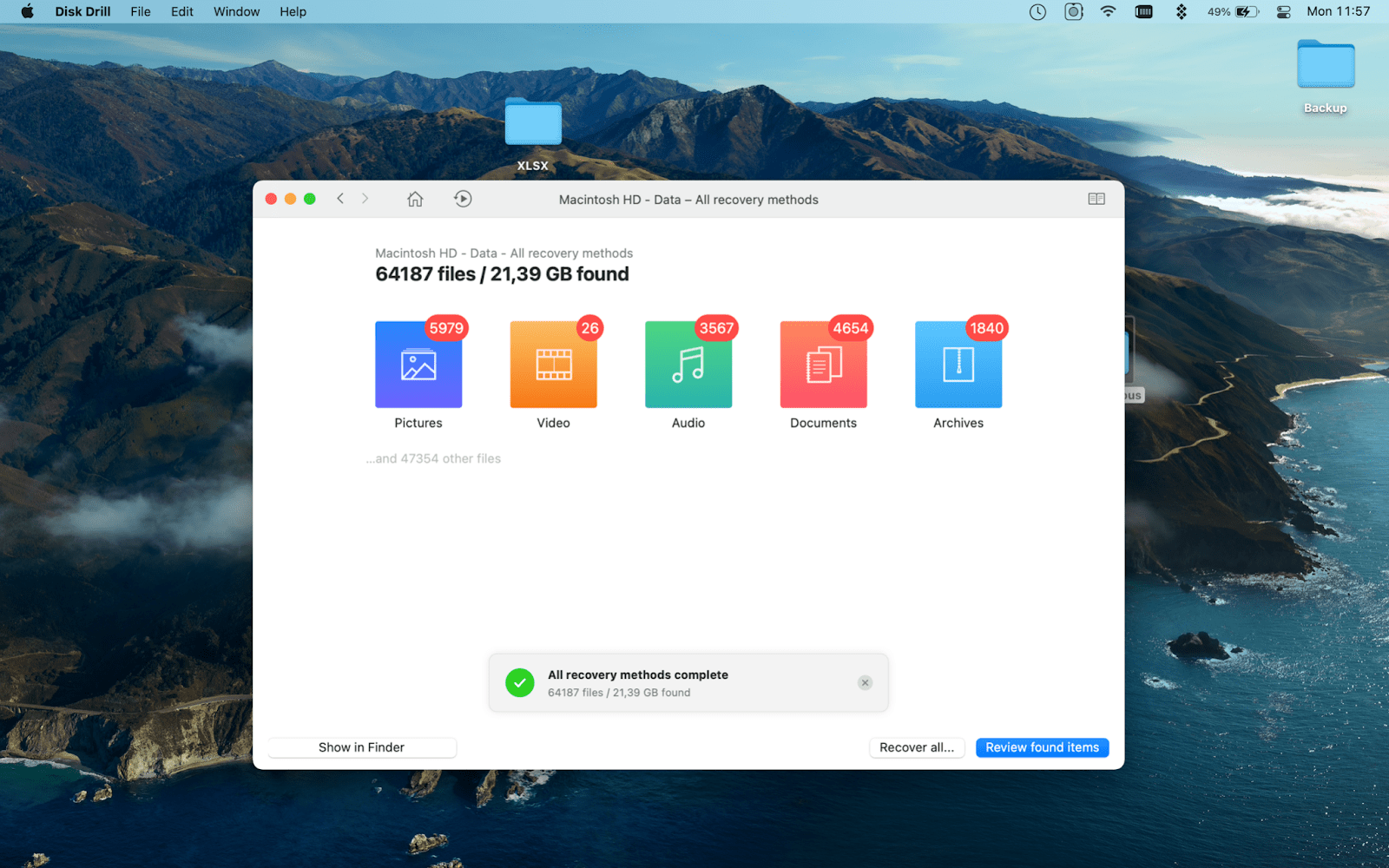 And review the items you found to restore the ones you need: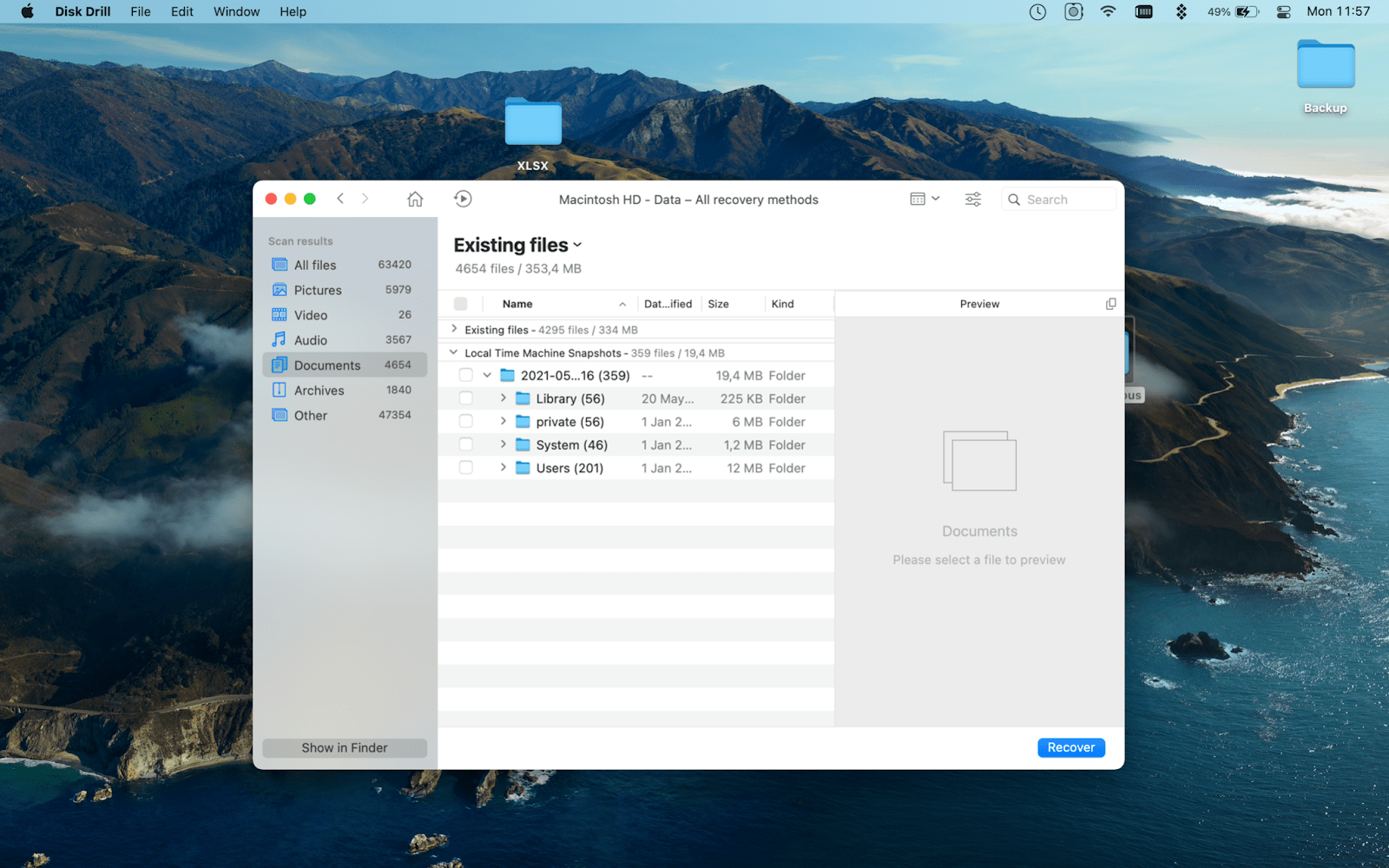 As noted above, you can also run this app on an external hard drive to try and perform data recovery on your Mac.
How to repair a Mac hard drive
If your hard drive is experiencing any errors, the good news is — Mac has a built-in tool for disk repair called Disk Utility. It can help find and repair disk errors with its handy First Aid feature.
As Apple Support explains, Disk Utility can help you find any errors that relate to directory structure and formatting of your Mac disk. If your Mac is booted up, just go to Finder > Applications > Utilities and click on Disk Utility.
Select the volume (start with volumes, scanning each one after the other, then move to containers, and finally scan the whole disk) you want to repair and click the First Aid icon in the top right menu, confirm your choice: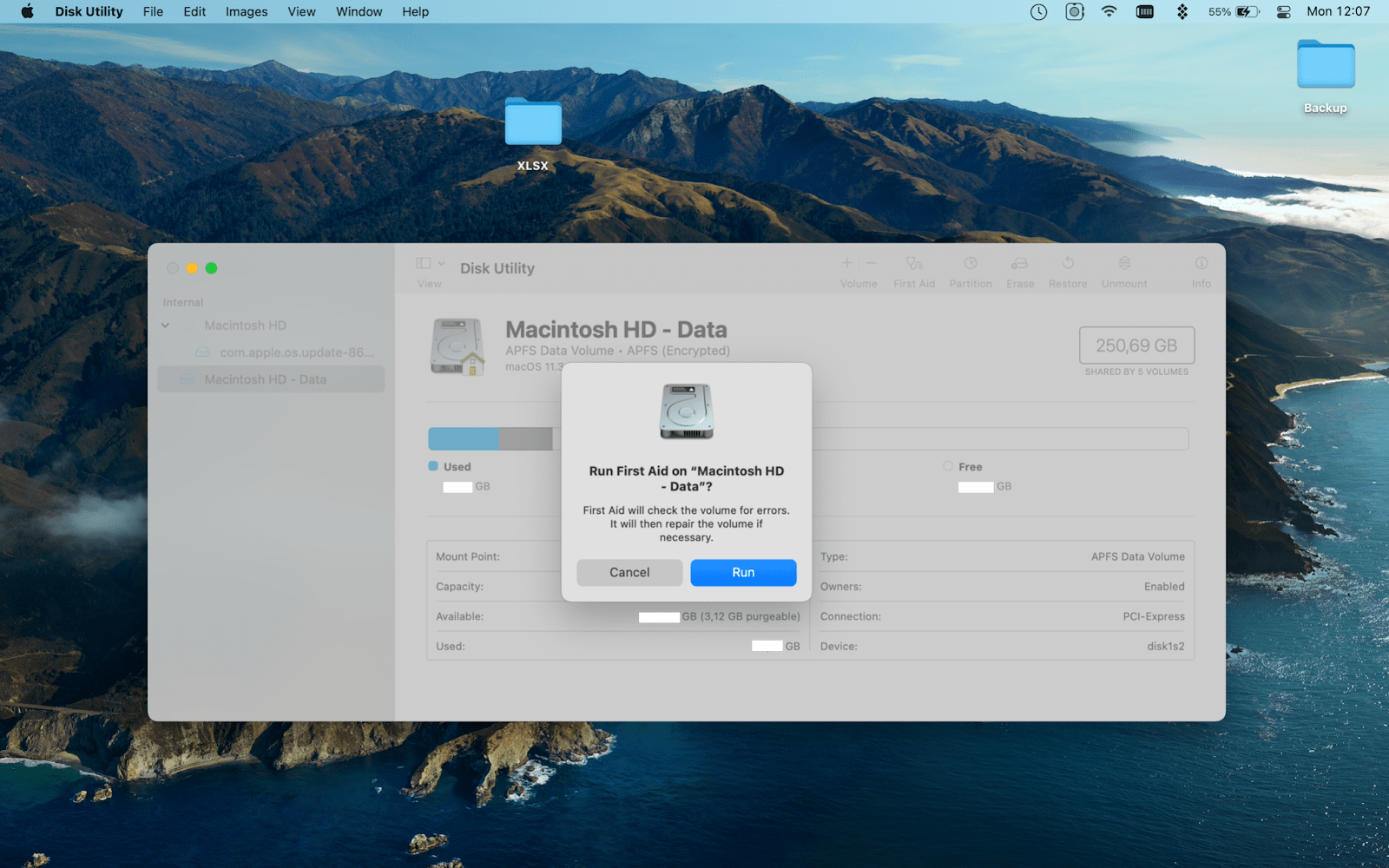 You'll get a warning that your startup volume may start responding for during the scan.
For us, the scan only lasted about a minute, but our drive hadn't experienced any critical errors as of late, so this might take longer if you are trying to fix an actual issue. This is what the scan looks like:
And finally: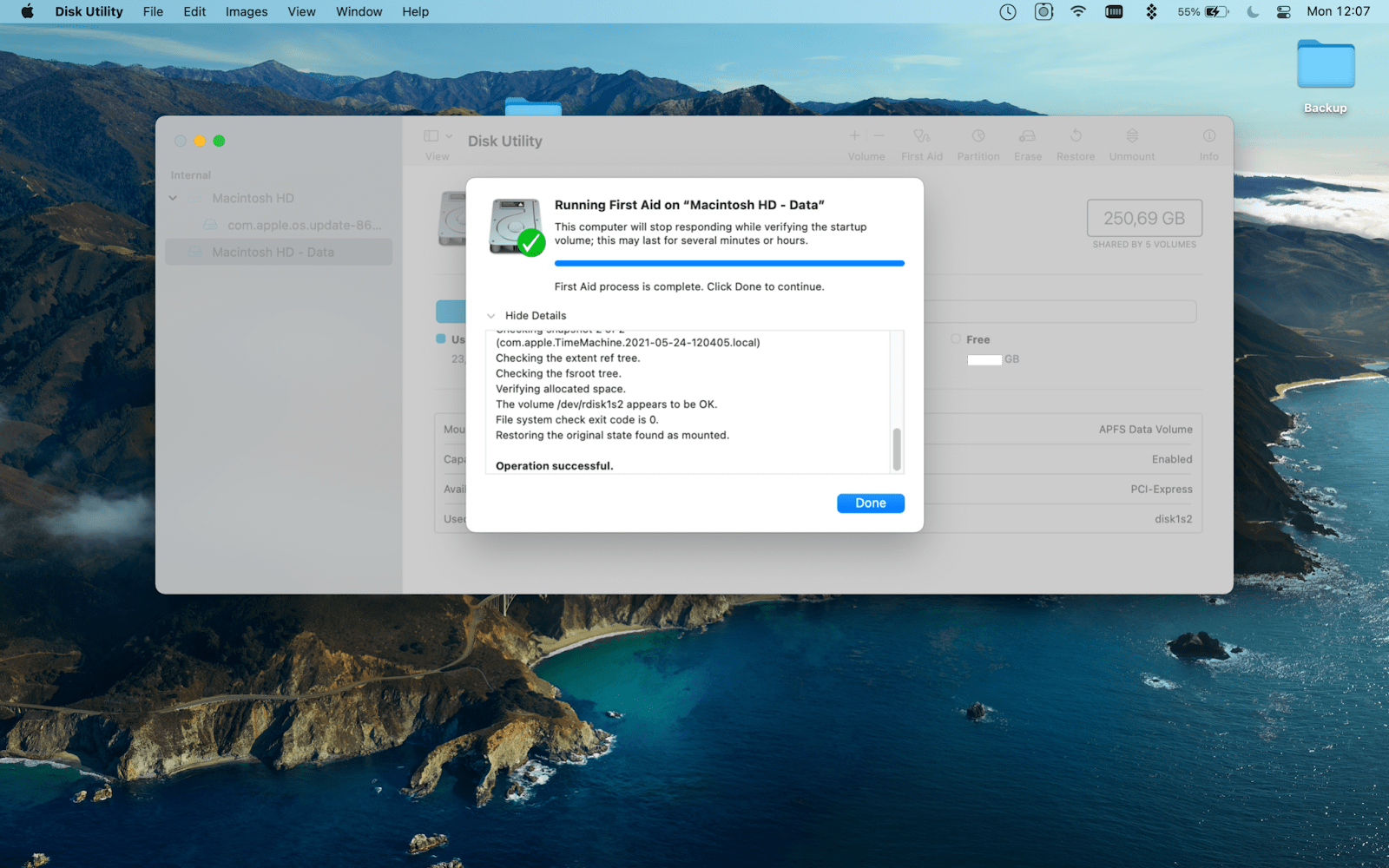 You can also opt to run First Aid in Recovery mode. The process is the same, you only need to start your Mac in Recovery mode.
Here's a refresher — press and hold Command + R right after you begin to turn on your Mac (for Intel processors). Hold the two keys until the Apple logo or other image appears on the screen.
For Apple Silicon, the process is a bit different — press and hold the power button right after you begin to turn on your Mac. Hold the button until you see startup options, then click on Options > Continue.
Once in Recovery mode, just select Disk Utility and run First aid on your volumes, containers, and then the whole disk.
To avoid issues with disk repair and data recovery, you can create backups of your data.
Get Backup Pro is a great solution to produce incremental and compressed backups of your data, as well as do your Macintosh disk data recovery by simply restoring the info to a different computer.
Start your backup by creating a project in Get Backup Pro and adding the files you want backed up to circumvent the need for Mac HD recovery, then sync them up.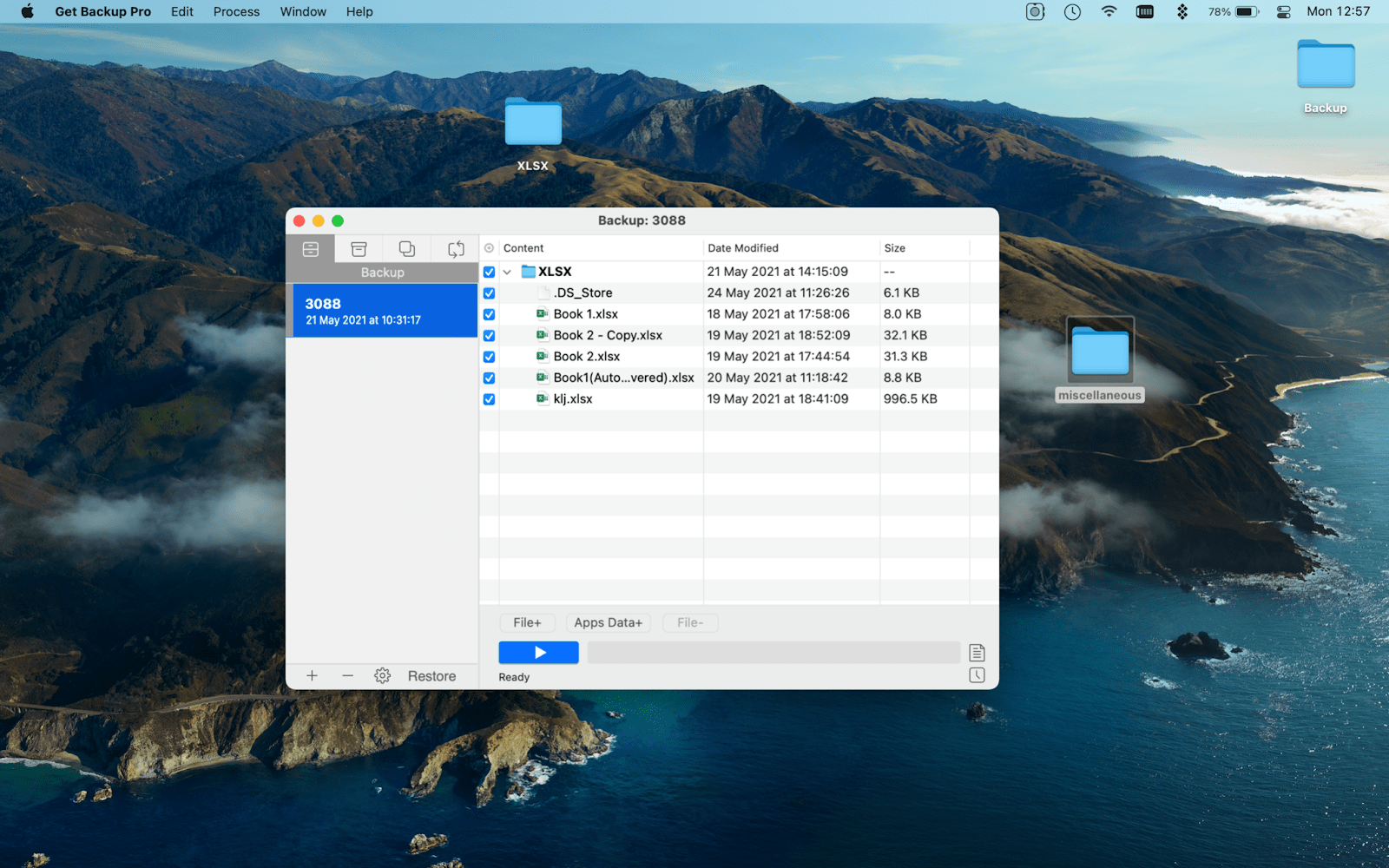 You'll see the date of the last sync next to your project name in the app.
Once you need to recover any data lost on your Mac disk, select the project with the backed up files and restore the items to your desired location.
Hard drive recovery on your Apple device can be a hassle, so we recommend scheduling backups of your Get Backup Pro projects to make sure all of them are up to date and you don't lose any data by not having the latest version of your items.
Tick the On schedule option in the Get Backup Pro menu and set your backup schedule for the project.
ChronoSync Express is a dedicated app for syncing up files and folders, and what's cool about it is that you can connect your Mac to an iPad or an iPhone to easily sync files and keep them identical on all your devices.
To sync up files between locations, start by selecting the folder you want to back up: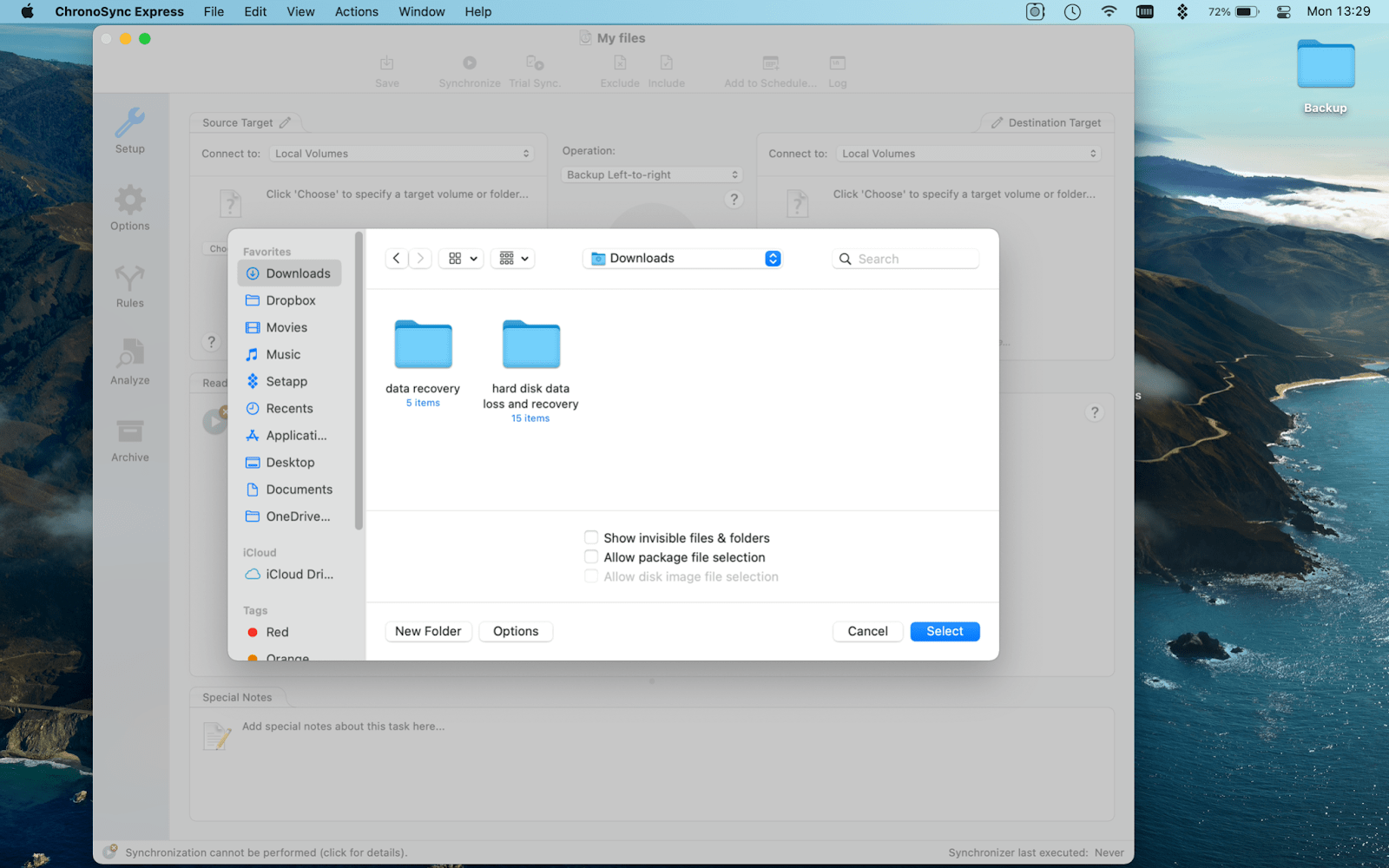 Select the type of sync — left to right, right to left, bidirectional, etc.
Run your sync to backup the files.
In ChronoSync Express, you can schedule syncing sessions, move files between locations effortlessly, and easily solve your backup needs for important (or any, for that matter) files and folders.
Creating a reliable way for recovery of any files or data on your Macintosh hard drive leaves your information more secure and gives you a piece of mind not just for situations when your hard drive fails, but also in the unlucky case of theft or ransomware.
Conclusion
As you can see, you can restore your lost data with the help of apps like Disk Drill that recover lost or deleted information on your drives. You can also try to fix disk errors on your Mac with Disk Utility's First Aid feature. All of these might not be helpful in some situations, including hardware failure.
This makes it a good idea to back up your files regularly to have a way to recover them in case of corruption of your hardware, loss, theft, or just losing data to system or hardware bugs, accidental formatting, overwriting, deletion, or a malware attack.
Get Backup Pro and ChronoSync Express can help you create data backups and restore your files to a new location whenever needed.
You can opt to use apps like CleanMyMac X that help clean out junk, scan for malware, and keep your Mac tidy.
Note that the apps we've mentioned in this post — CleanMyMac X, Disk Drill, Get Backup Pro, and ChronoSync Express — are available in Setapp. This handy app suite offers more than 210 apps for productivity and task management under a single subscription. You can try the apps we've discussed in this post as well as explore many more cool solutions for your daily tasks with a Setapp subscription. Try it free for 7 days with our free trial!