How to use Time Machine on Mac for backup and restore tasks
It's important to back your Mac up. Not only does it help create a backup of files and folders, backups provide a place you can reboot to if your Mac stops working, or you get a new Mac.
Time Machine is Apple's method for backing your Mac up, and it's a solid choice. It's reliable, fairly easy to use, and can keep your Mac backed up on a routine schedule. For some users, Time Machine doesn't cut it, because it won't allow creating bootable backups, it's impossible to change the backup schedule, and the backups can occupy too much space.
Here, we'll show you how to use Apple Time Machine, and showcase a few apps that you might prefer to Apple's Time Machine.
What is Time Machine?
Time Machine is a service from Apple to backup your Mac. It creates a simple "image" or "snapshot" of your Mac, which simply means a compressed file containing everything on your Mac at the time of the backup that you can revert to when needed. Time Machine backups can also be used when you need to boot a new device, or refresh your Mac after returning it to factory settings.
Apple's Time Machine is meant to run in the background, offering a simple, straightforward way to back your Mac up. When activated, it will periodically back your Mac up, keeping the last few versions in case you need to revert to a backup from a few weeks ago.
Most will use Time Machine when booting new Macs. On startup, a new Mac asks if you want to start fresh, or boot from a backup. Using Time Machine backups will make you feel like you picked up where you left off. Like most services Apple creates, Time Machine is in both your System Preferences menu and is available as an app for the Mac.
How to set up and use Time Machine on Mac
For most of us, knowing how to use Time Machine means knowing how to activate it. Because it typically runs in the background, the service isn't something you need to access often to create backups. But we'll cover Time Machine to restore Mac computers, to back up your Mac, and how to use Time Machine to restore files as well.
Setting Time Machine up is really simple. Here's how:
Click the Apple logo in the menu bar
Choose "System Preferences" from the drop-down menu
Choose "Time Machine."
Note: These directions will show you how to use Time Machine to set up automatic backups.
Select "Automatic Backups" on the left side of the Time Machine window
Choose the disk you want to use to store your backups.
That's all you need to do. Once you complete these steps. Time Machine will begin creating a backup to the disk you've designated on a schedule. Unfortunately, you're unable to manage this schedule yourself.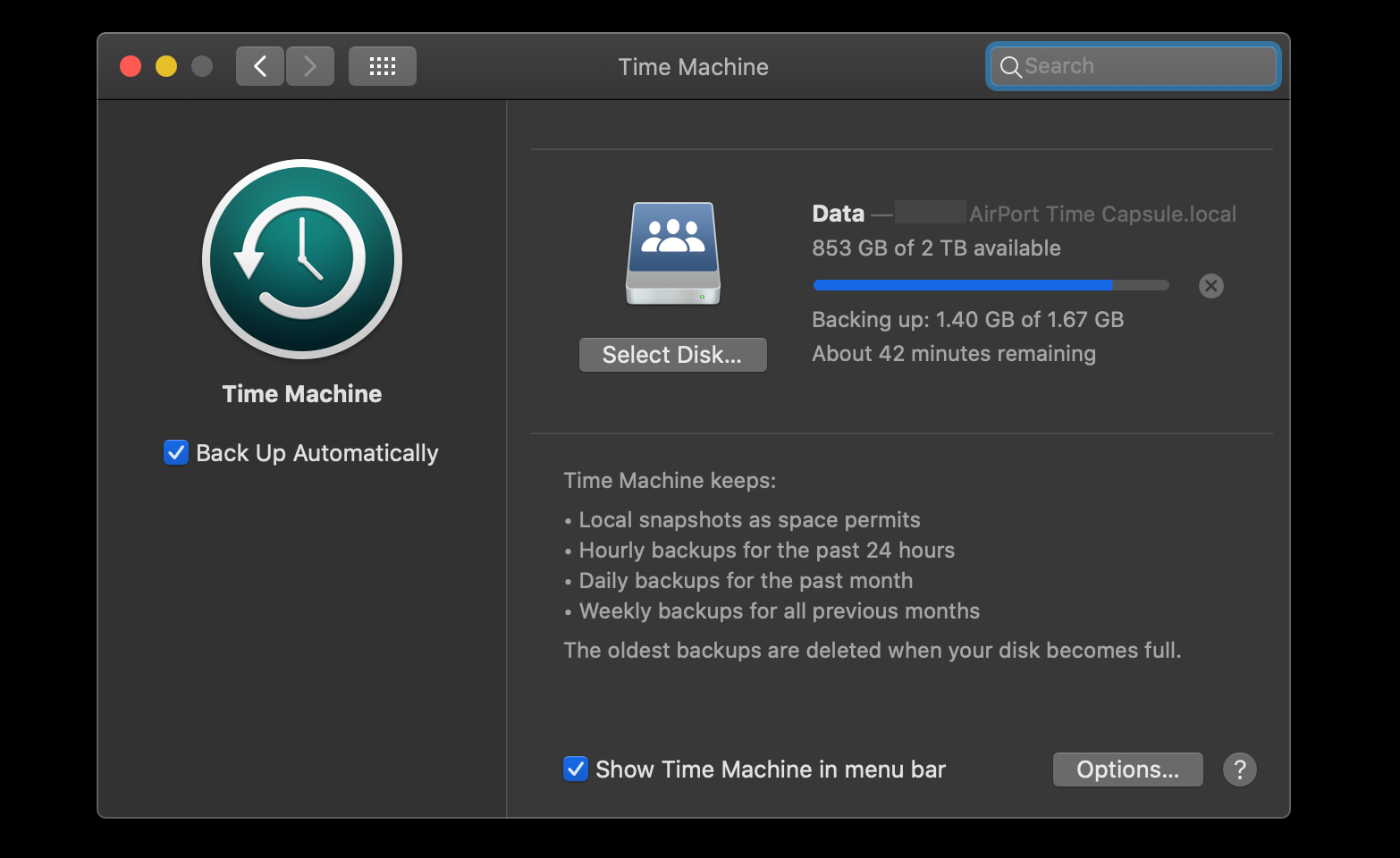 How to use Time Machine with an Apple AirPort Time Capsule
Apple used to make routers, and one of their best was the AirPort Time Capsule. You can still find Time Capsules for sale, and if you can source one, we highly recommend it. Not only are they excellent routers, the AirPort Time Capsule works perfectly with Time Machine.
Note: Since Apple discontinued AirPort Time Capsule in 2018, many users reported drive failures, which, according to experts, could be caused by the use of Time Capsule. So we don't recommend relying on this backup method unless you have solid tech expertise and know what you're doing.
The Time Capsule has a one or two-terabyte hard drive inside it, making it both a router and external drive for Time Machine backups. As you see in the screenshot above, our Time Machine is backing up to a Time Capsule.
All you have to do is to set up your AirPort Time Capsule as the main router for your network and make sure your Mac is connecting to the network the AirPort is on. Then, choose the AirPort Time Capsule as the external drive you want to save backups to.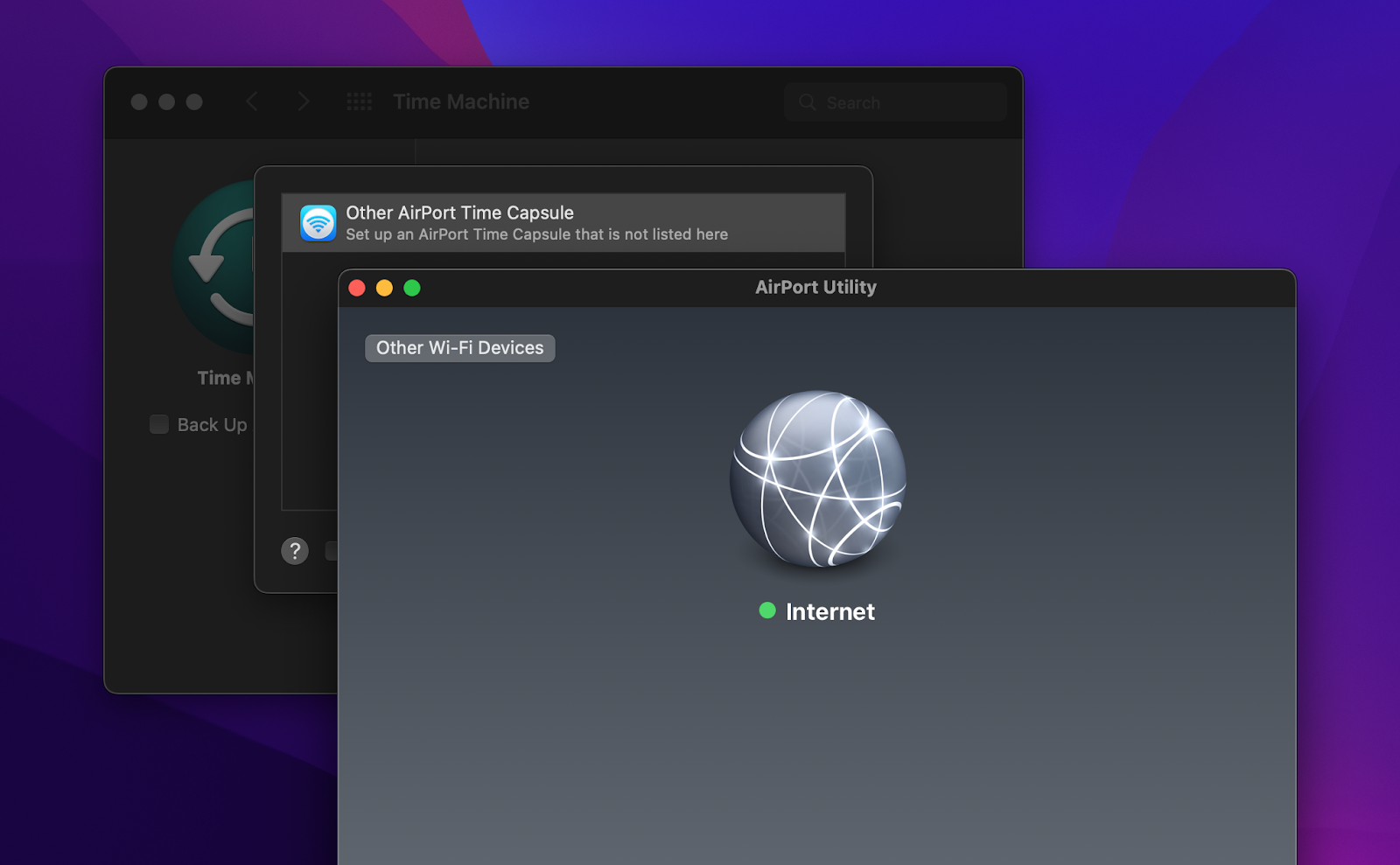 That's it! The best part about using this method is when you reconnect a Mac reset to factory settings or buy a new Mac, and log into the same network, you know your backups are available.
How to restore Mac from Time Machine
Restoring a Mac from a Time Machine backup is straightforward, but not always the best option. Having done it, we can attest it can take days for your Mac to get back up and running when restoring from a backup. Consider whether or not you have time to devote to that process. We should also note since Apple has stopped making the AirPort Time Capsule there's little chance Time Machine will improve in this area.
Consider why you're trying to restore your Mac from a Time Machine backup, too. Sometimes we restore to a backup because we believe we've lost a file that was crucial. If we go back in time, the file will be there, right? Maybe, but the process is time-consuming, and not always accurate.
A better option may be Disk Drill. It recovers lost files with ease – or at least files you think you'd lost. With Disk Drill, you may be able to find those lost files without the trouble of diving into Time Machine backups and wasting hours (or days!) restoring your Mac for one file:
In Disk Drill, choose the drive where your lost files were located
Click "Search for lost data"
Once the scan is done, review the results and select the files you want to restore
Click "Recover."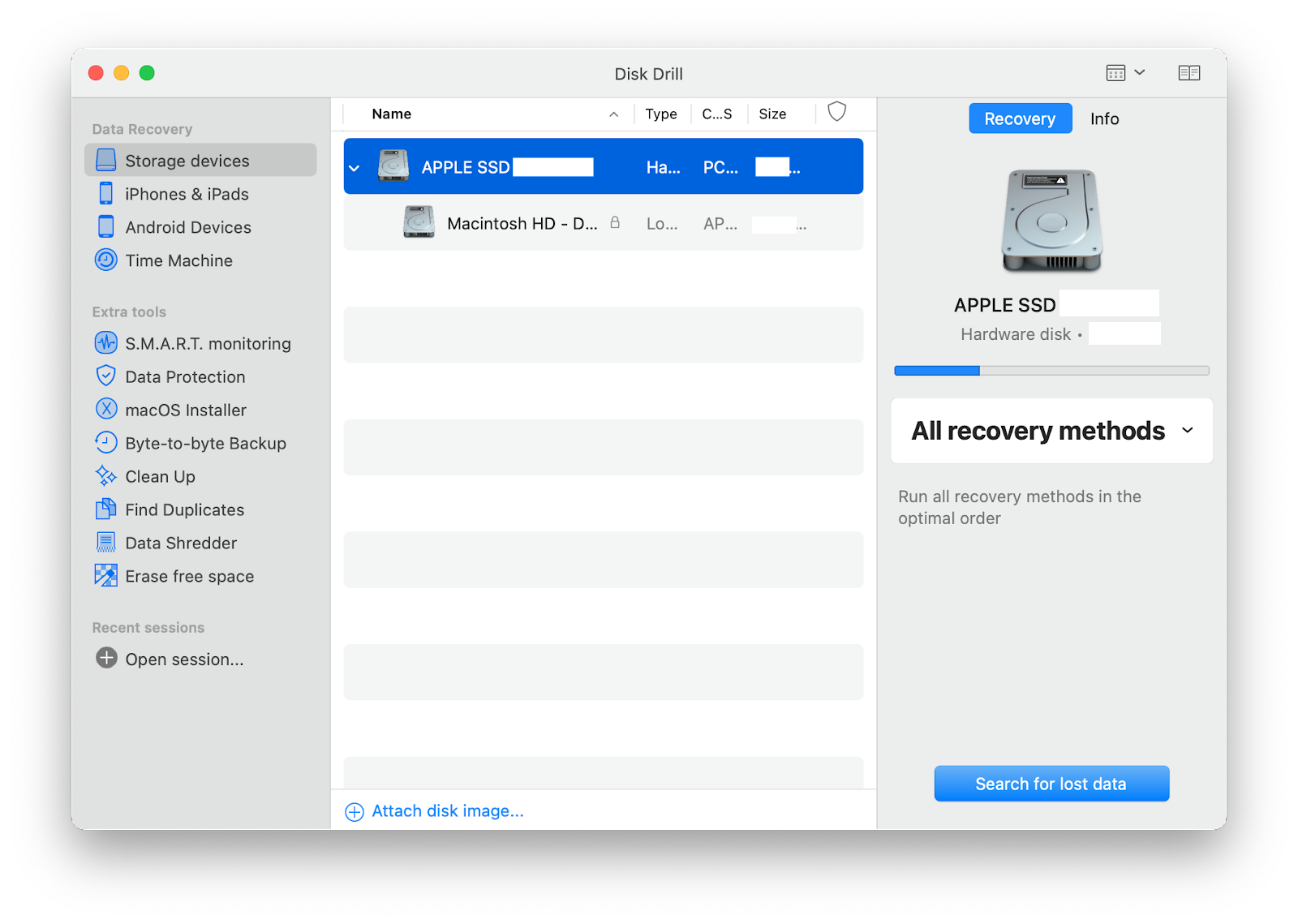 If, however, you do need to roll back to your previous backup and restore all the files and app data it contained, here's how to do it:
With your backup disk connected, restart your computer
Hold down Command + R to enter the Recovery Mode while Mac is turning on
Release the keys once you see the Apple logo
In the Disk Utility menu, choose "Restore from Time Machine backup" > Continue
Choose your restore source and click Continue
Enter the admin password if prompted and click Continue once again
Select the backup you want to restore (by date), then select the destination of the backup you want to restore
Click Restore
Restart your computer.
Alternatively, you can use Migration Assistant (you'll find it in Applications > Utilities) to move data from your Time Machine backup to Mac.
How to restore from Time Machine to a new Mac
Ready to learn how to use Time Machine on new Mac computers? We've got you covered. Here's how it's done:
Make sure your backup disk is connected to your new Mac (Note: if you're using a Time Capsule, make sure your router is set up and your computer connects to the same network. This will automatically "connect" your backup disk to your Mac)
When signing into your new Mac, select "From a Mac, Time Machine backup, or startup disk" when asked how you'd like to transfer your information
On the next screen, select your backup disk from the available options
Click Continue
Choose the data you'd like to transfer, and click Continue.
That's all you need to do. Your Mac will begin the process of transferring your data from the Time Machine backup.
Restore your Mac from a backup: Our favorite method
Now that you know how to restore your data from Time Machine backups, we won't pretend it's the best way to take care of your data.
A failing of Time Machine is you lack granular control. There's no way to really define the files or folders you want to back up, and you can't define a backup schedule that works for you. Instead, Get Backup Pro may be the better solution for you.
Get Backup Pro allows you to customize the backup schedule that works for you. If you'd rather have a weekly backup on Friday night after your work week is done, it can handle that. You're also given a lot more control over the files and folders you back up — you can include only specific data in your backup. And you can save your bootable backups to external drives.
Another advantage is that Get Backup Pro compresses backups to a really small size (60% smaller than Time Machine), which speeds up the backup process by quite a bit.
Here's how to back up data with Get Backup Pro:
Open the app and click the plus button in the left sidebar to create a new backup project (name it so you can easily locate it later)
Use the plus button to add files and app data to your backup
Click the Start button if you're ready to back up now, or schedule for later — you can set up your custom schedule in Settings.
Here's how to restore data from the Get Backup Pro backup:
Open the app and select the backup you want to restore in the left sidebar
Click Restore
If you want to restore only specific files, select those files and click Restore Selected. Otherwise, click Restore
Choose the folder to restore to, enter your admin password if prompted, and start the process.
Extra tip: How to speed up your Mac
In addition to files, folders, apps, and things you interact with daily, Mac backups also include things like settings for apps, the system, and even browser history. Those all add up to a whole bunch of garbage cluttering your system.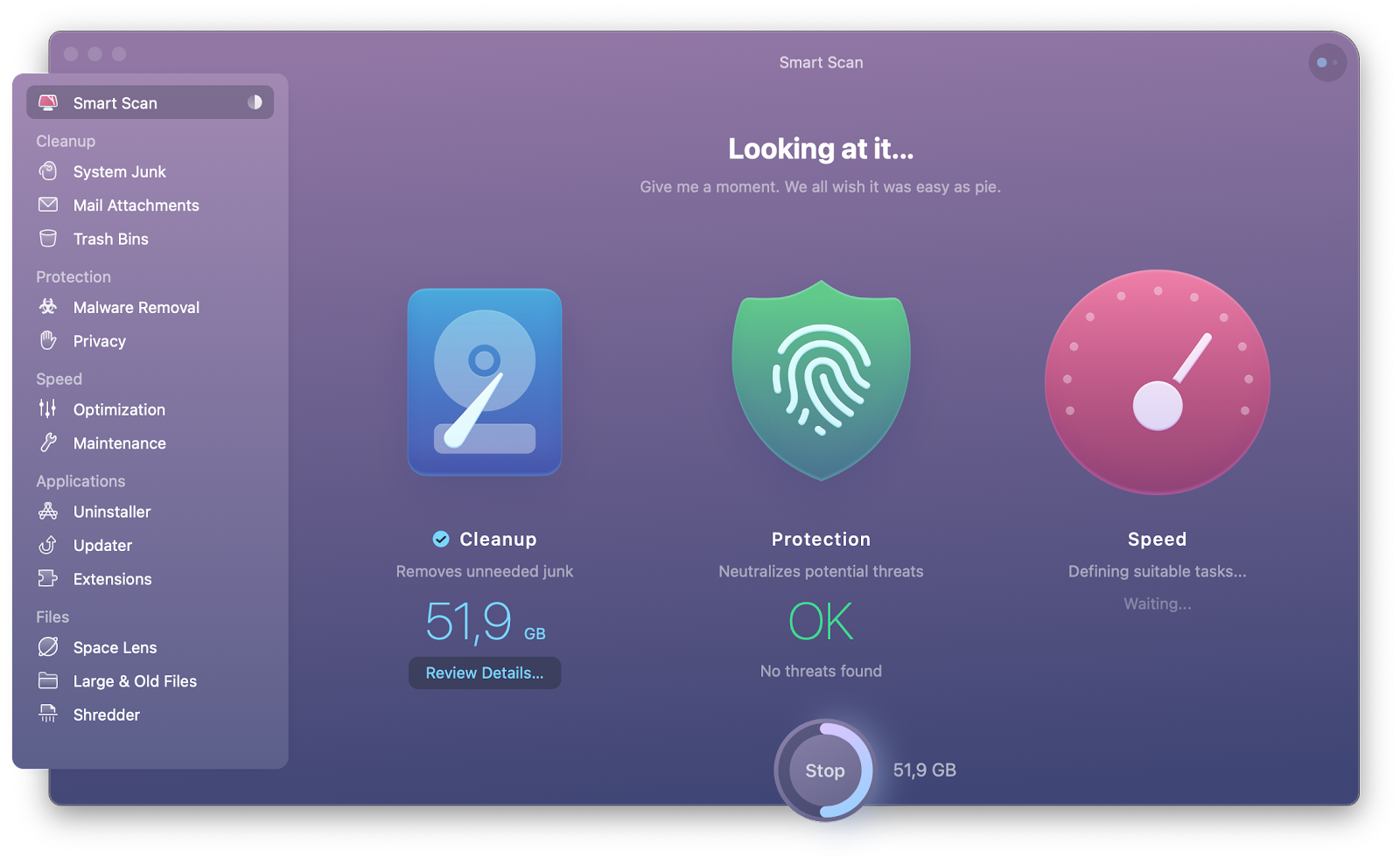 This is where CleanMyMac X shines. The app pokes through your Mac to ensure all of your settings are optimized, the file system is well organized, and unnecessary stuff like browser cookies and mail attachments are disposed of when appropriate. It runs on a schedule, and allows you some deep granular control over which settings and systems are optimized.
Run CleanMyMac X on a routine schedule, and you'll know all of your backups will be running smoothly once you boot them.
Back up, restore, and organize files with Setapp
Backing your Mac up is really important; everyone should do it on a routine basis. Time Machine is a great option, but also very basic and time-consuming.
Many may prefer to back up with Get Backup Pro, which allows for a lot more control, and compresses backups far better than Time Machine. When used with CleanMyMac X, you'll always know your backups are clean, organized, and free of any weird settings or bloatware you forgot about.
Those trying to use Time Machine to recover lost files should try Disk Drill. More often than not, you'll restore your files quickly with Disk Drill, saving you a ton of time with backups.
All three of these apps are available for free as part of a seven-day trial of Setapp, the world's best suite of productivity apps for your Mac. When your trial is through, continued unlimited access to the full Setapp catalog of nearly 200 Mac apps is only $9.99 per month.
How to use Time Machine FAQ
How much space does Time Machine need?
Time Machine will use up as much space as you give it — it's just the way it works. While Time Machine normally creates backups every 24 hours, it will keep storing new and new backups on the drive. Once the space is used up, Time Machine will start deleting the oldest backups. Generally, it's recommended that you allocate at least 2 times more storage than you have on your internal drive to backups. A better solution would be to create better-compressed backups and keep them on external hard drives with Get Backup Pro.
How to turn off Time Machine?
You can turn off Time Machine by disabling automatic backups in System Preferences > Time Machine. Note that you'll still need to manually delete all the backups made with Time Machine if you want to free up space.
How to set up Time Machine on Mac without external hard drive?
You can set Time Machine to store backups on your internal hard drive. For convenience, you can create a separate partition on your disk dedicated to backups. But don't forget that Time Machine backups can occupy a big chunk of disk space, so you should be ready to give it up.