Having a macOS backup up is never a bad idea. Your machine may get damaged, malfunction, or worse. No matter which problems may arise, backups can help you get your digital life back without starting from square one.

Apple has a built-in feature for this named Time Machine, and suggests backing all files up in iCloud. It's not a bad system, but Time Machine can be finicky about restoring to a new or refurbished machine, and iCloud is unreliable about syncing data. All told, trusting Apple's chosen system may not be your best bet.
But what options are there – and which should you use? We'll show you how to backup Mac to iCloud, how to backup Mac to external hard drive, and show you the best apps to use when you want to backup your Mac and keep all of your data safe.

Why you should back up your Mac
Plainly put, backing your Mac up is the safest way to ensure you never lose data. A backup of any Mac is like capturing a moment in time; it creates an "image" or "snapshot" of your Mac at the time of the backup. It captures all of the data, files, folders, and other info on your Mac, and saves it in a compressed file you can use to boot to or reference later on.
Apple's Time Machine is a nice, automatic way to create backups for your Mac. If you're asking how to backup your Mac, this would be Apple's preferred method. The issue with Time Machine is it's really only reliable for capturing bootable backups of your entire Mac.
There are other methods for creating backups, and you can get a lot more detailed in the data you collect and save. Some backup services also allow you to compress data far more than Time Machine will, and you can create backups on your schedule, and save them to any external disk you like.
Best ways how to backup Mac
There are many methods for creating backups, but not all are created equal! Time Machine is the de facto method, but it may not be what you're looking for. We'll show you how to backup Mac with Time Machine, how to backup Mac on iCloud, and some third party solutions you may agree are far better.
How to backup Mac using Time Machine
To start backing your Mac up using Time Machine, you only need to set it up. From there, the Time Machine service automatically backs your Mac up. Here's how to set Time Machine up if you're not already using it:
Plug in an external drive to your Mac
From your Mac's menu bar, select the Apple logo on the left side
Select "System Preferences" from the drop down menu
Select "Time Machine"
Select "Back Up Automatically" on the left side of the Time Machine window
Choose the external disk attached to your Mac to store your backups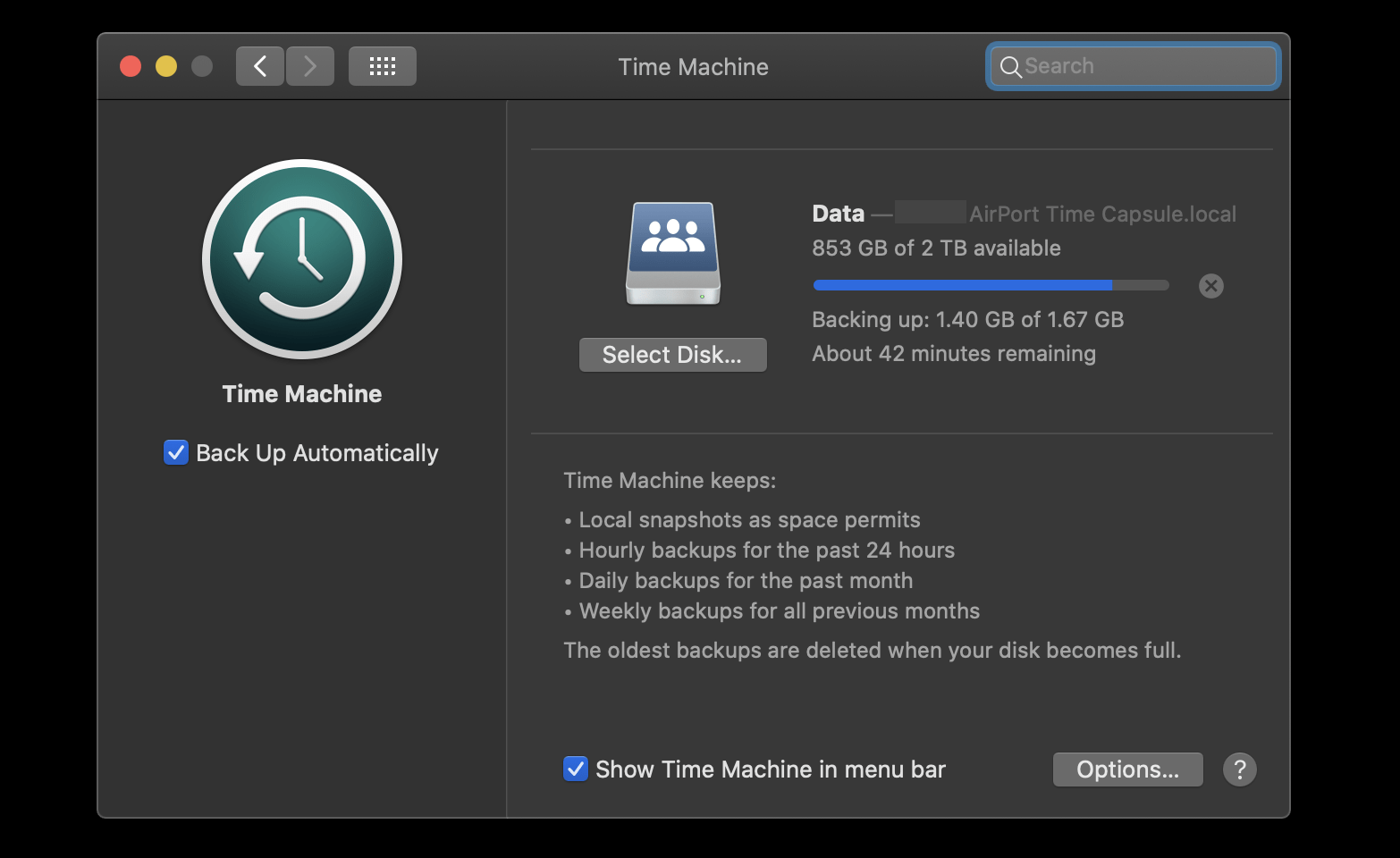 You may be wondering if Time Machine is right for you. Here are the pros and cons of using Time Machine:
Pro: It works automatically. Once you set Time Machine up, it takes care of backing up your Mac. You don't need to do anything.
Con: You don't control the schedule. Time Machine backs your Mac up when it feels like it! There have been many times Time Machine backups interfere with other work.
Pro: It works perfectly with Apple's AirPort Time Capsule routers. It's a great example of Apple hardware and software working in lockstep.
Con: Apple discontinued the AirPort Time Capsule. You can still find them for sale, but Apple is no longer making them.
Pro: It backs your Mac up often. Time Machine backups are done often, and are meant to provide routine full-Mac backups you can boot to.
Con: Time Machine is essentially for emergencies only. It backs your whole Mac up, but the concept is to provide a place to boot a Mac to, not retrieve old files or access folders.
Con: You can't control what's backed up. If you only want to back up a particular folder, for instance, Time Machine can't help you!
A better option to Time Machine may be Get Backup Pro. It provides a far better experience and allows you to backup the files and folders you care about most. Like Time Machine, Get Backup Pro is automatic, but excels because you can control the backup schedule. Rather than back up your entire Mac all the time, Get Backup Pro lets you backup the files or folders you want, whenever you want.
Of course, the app can also back up your entire Mac, too! It also compresses backups far better than Time Machine, boasting a 60 percent reduction in compression file size on average.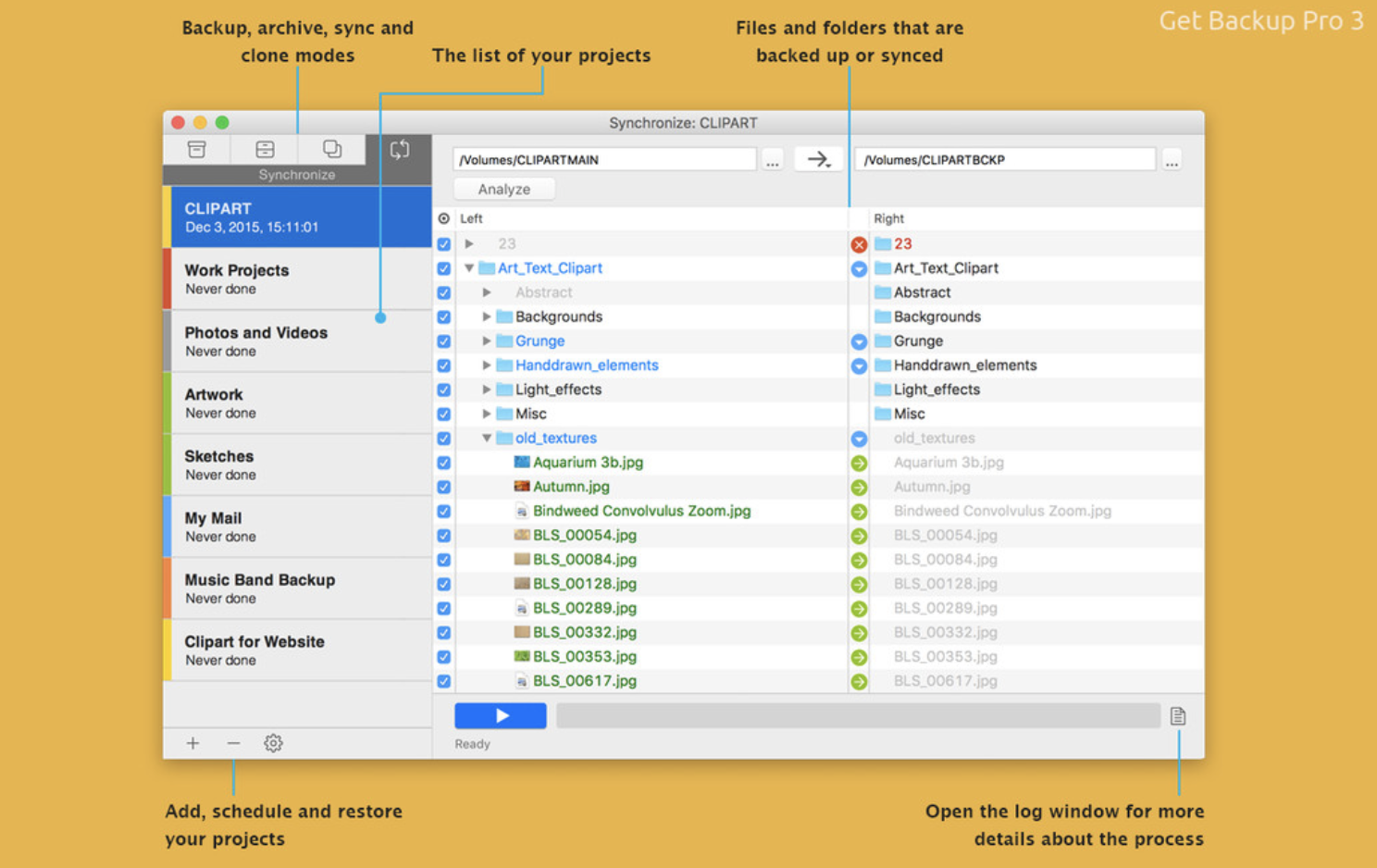 How to backup Mac to iCloud
Another lingering question on your mind may be "how to backup my Mac to iCloud." It's possible – sort of. Apple uses its cloud storage service to sync files and folders across devices, but it's not a true backup. Syncing keeps data handy across devices, but if you delete those files, they're gone forever.
Here's how to make sure your Mac is syncing files to iCloud:
Select the Apple logo in the top left of your menu bar
Select "System Preferences"
Select "Apple ID"
Make sure "iCloud Drive" is selected
Select "Options" to the right of iCloud Drive
Make sure "Desktop & Documents Folders" are selected
Is iCloud right for you? Here are some things you should consider about iCloud as a "backup" solution.
It's not a backup. A backup is a snapshot of your device. iCloud doesn't store backups of a Mac, at least not yet.
iCloud is volatile. Though better than it used to be, iCloud is still a very unstable solution as cloud services are concerned. When iOS, iPadOS, and/or macOS update, iCloud often sees some wild disruptions and many users report missing data, especially with regard to photos.
You can't retrieve data in iCloud. Once a file or folder is deleted, and it falls out of the 'recently deleted' queue, it's gone forever. This is what we mean when we say iCloud is not a backup solution.
Convenience costs money. iCloud's free tier is only 5GB, and it's mostly used to house iPhone and iPad backups. If you want to sync photos or other data, you almost definitely have to pay $0.99 or more for more storage space in iCloud.
Backup your Mac to external hard drive
You can use Time Machine to "force" a backup, but it takes a new external drive. We suggest this method for creating secondary backups using Time Machine. Just know step eight will take a long time – maybe hours!
Here's how it's done:
Plug in a new or different external drive to your Mac
From your Mac's menu bar, select the Apple logo on the left side
Select "System Preferences" from the drop down menu
Select "Time Machine"
Click "Select Disk"
Choose the new (or different!) external drive
Select "Use Disk"
Wait for Time Machine to complete the backup
Eject your external drive from Finder (Note: always use proper methods for ejecting disks; failure to do so can corrupt data.)
Unplug the external drive from your Mac
In Time Machine, click "Select Disk" and choose the external drive you were using for backing your Mac up
There's a better way, though! ChronoSync Express is great for backing up files and folders on your Mac to a remote drive or server. It allows you to choose which files and folders are synced, and pick the time most convenient for you to backup your Mac's files. ChronoSync Express really shines when there are multiple Macs involved; rather than pay Apple for iCloud, ChronoSync syncs files and folders to multiple Macs – and can be used on iPhone or iPad.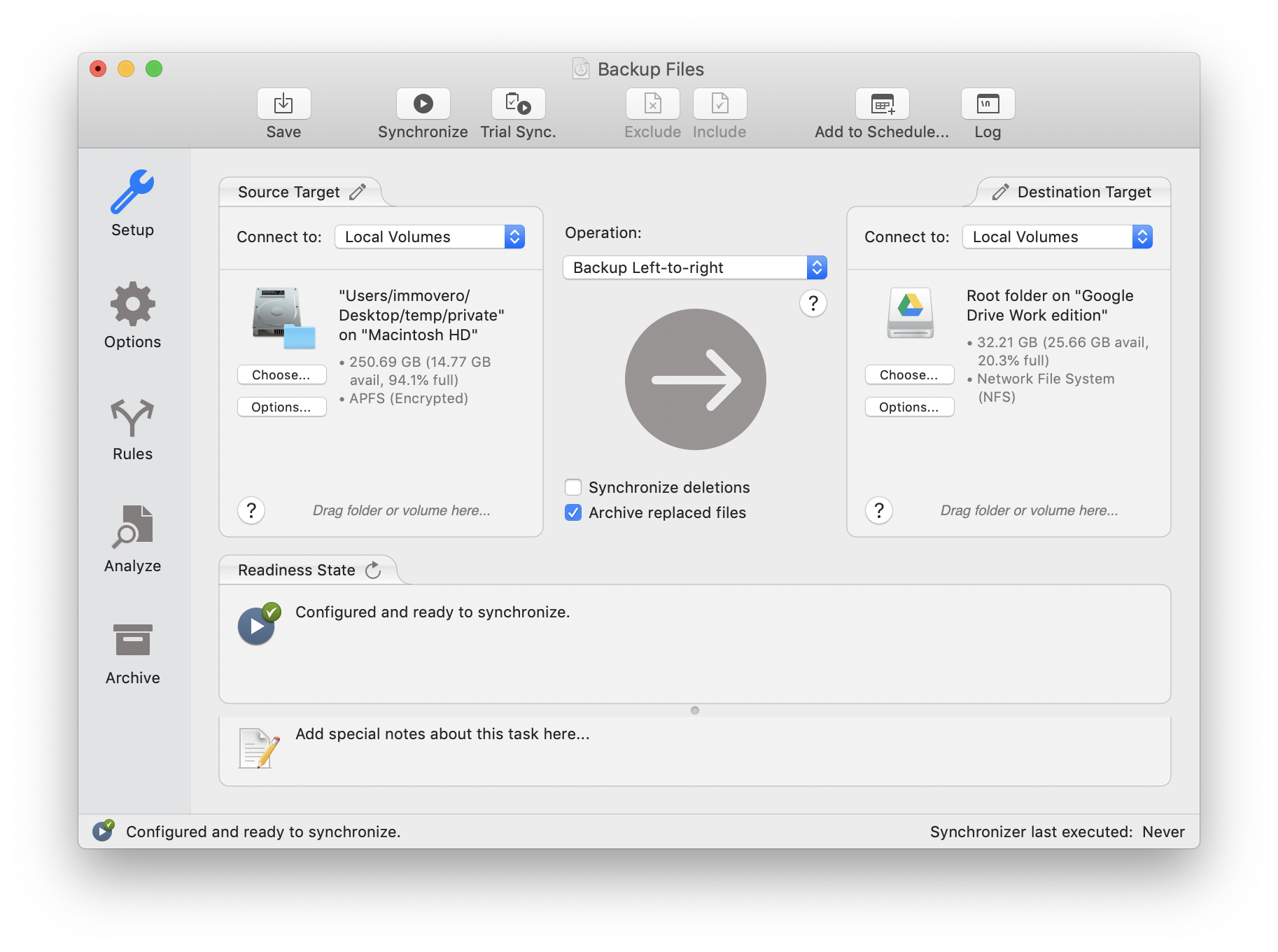 How to back up to Dropbox, OneDrive, or Google Drive
Dropbox, OneDrive, and Google Drive are all excellent cloud storage solutions for your Mac. Like iCloud, they're not true backup solutions; instead, they are best for syncing data across devices.
Each has its own app for syncing data across devices, including the Mac. Once you've downloaded OneDrive, Dropbox, or Google Drive's solutions to your Mac, they embed themselves in your Finder. This allows you quick and easy access to cloud storage solutions, including when adding or removing files from your cloud locker.
Though each has its own solution, here's a basic rundown on how to add an external cloud storage solution to your Mac:
Download the cloud storage sync app
Open the download form your Downloads folder
Add it to "apps" by dragging the app icon onto the "apps" folder in the popup window
Login to the cloud storage provider
That's it! Front here, you'll have your favourite cloud storage option right on your Mac, available in the Finder.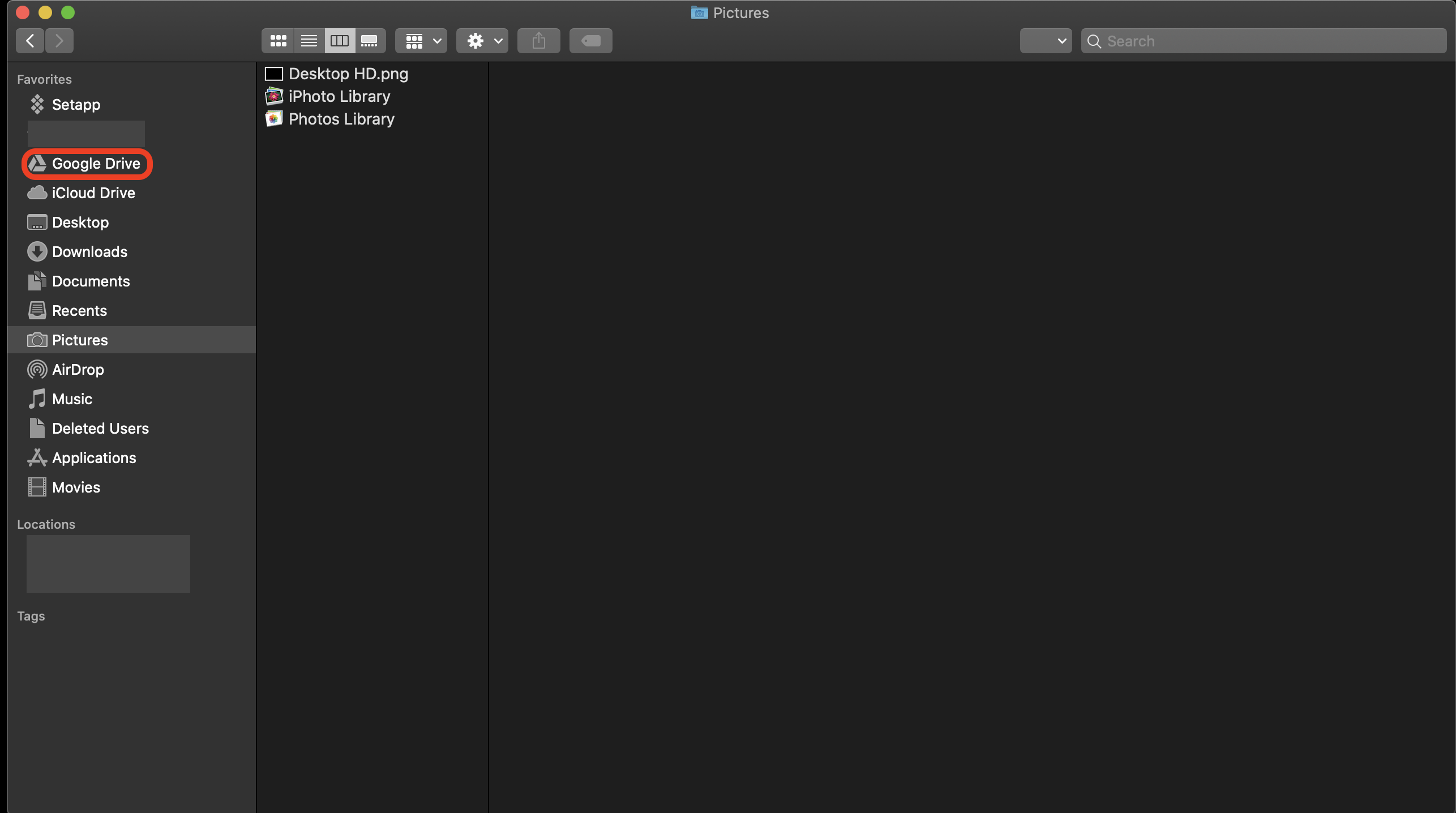 Is this the best idea, though? Here are some pros and cons to using external cloud storage systems on your Mac
Some can be gateways for malware or spyware. If you have a sketchy cloud service provider, its security practices may be lax, and allow Malware onto your Mac.
It can be difficult to remove the apps. If you decide later on you don't really want that cloud solution on your Mac, it can be difficult to fully remove it from your Mac.
Data is not always synced in real-time. Sometimes, you add a file to your cloud from an iPhone or iPad, and it doesn't show in your Mac's folder. Cloud storage syncing gets hung up, so it's not a real-time solution.
File types may not be supported. Cloud lockers can likely hold any type of file, but if you ever need to work with files from the service's website, it's possible you may not be able to if it's not supported.
Сlone your Mac
One of the best apps for creating a clone of your hard drive is Disk Drill. Here's how to use it to create a clone of your Mac:
Connect an external drive to your Mac
Open Disk Drill on your Mac
Select "Backup" in the toolbar
Choose "Backup into DMG Image"
In the popup window, select "OK, Let's Do It"
Choose your Mac's boot disk (typically "Macintosh HD")
Select "Backup"
When asked where you want to save your backup, select the external drive attached to your Mac
Select "Save"
Before you create a clone or backup, we suggest using CleanMyMac X. This app is the best tool for keeping your Mac running at peak performance. It can run routine scans, and is a great way to delete apps or files you no longer need. It removes clutter from your Mac and keeps it running smooth, which is an excellent option before creating backups and clones. Why take he system jenk with you?!
How to restore a Mac from backup
You can't boot a Mac from a disk image, but you can restore your Mac from a backup or clone if you need to. Here's how:
Shut down your Mac
Restart in recovery mode by holding down the Command and "R" keys as your Mac starts up
Click on Disk Utilities in the Utilities application
Select "Erase" (Note: If the disk image you're restoring from has macOS High Sierra installed, choose APFS from the format menu, otherwise, choose macOS Extended (Journaled). Give it a name and click Erase.)

Still in Disk Utility, click on the drive you just erased

Go to the File menu and choose Restore

Click the Image button and navigate to the disk image you created in Disk Drill

Select "Restore"
Alternatively, if you know beforehand that you're going to need to boot from the clone, choose Create Boot Drive and then Boot Drive for data recovery instead of Backup when you've created the disk image of your drive.
Rebooting from a backup or clone is another time Disk Drill shines. It can help recover files that may have been deleted, or at least appear to be lost. Disk Drill does a sensational job of finding those lost files you don't see popping up on your Mac after a reboot!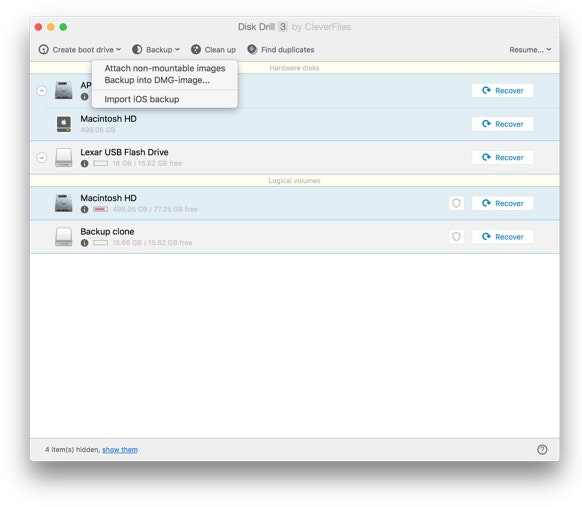 Conclusion
Backing up and syncing data is important. It's a step no Mac owner should skip.
The apps mentioned here today are all excellent solutions for ensuring the best backup experience on your Mac. They're also free as part of a seven day trial of Setapp, the world's best suite of productivity apps for your Mac. With nearly 200 incredible apps, Setapp has tons of apps you'll want to use often, and is only $9.99 per month once the trial period is over. It's an incredible deal, so why wait any longer? Give Setapp a try today!