How to backup Mac: The ultimate guide 2023
The best thing you can give your Mac is a backup. Essentially, a backup is a compressed copy of your data, stored somewhere in the cloud or on an external drive, which allows you to quickly restore your images, files, and whatever you keep on your Mac.
The most common Mac backing up tool is Time Machine. You'll also find many tips on how to save Time Machine backup to iCloud or just use iCloud to backup data. While it's easy to do, and Apple will guide you all the way through, these are not the most efficient methods. Time Machine wastes lots of storage and iCloud backup is not even a real backup.
In this guide, we explain how to backup Mac to external hard drive, when you'll need a bootable copy of your drive, and how to schedule regular backups. Also, we'll recommend the best tools to backup Mac fast, without wasting tons of storage.

Reasons to backup your Mac
It's absolutely necessary to know how to backup your Mac if you ever update macOS, especially if you install betas, which are often unstable and can cause accidental data loss. But not only that. Backups should be part of your digital life permanently because they guarantee quick file recovery, no matter what happens to your Mac. Maybe it just suddenly goes black screen one day, you spill a cup of coffee on it, or else. A backup will help you restore all the files for when you fix your Mac or get the new one.
Here's a quick list of all the reasons why backups matter:
They help get your files back if you lose your Mac or someone steals it
They save your data if your drive suddenly fails, or there's any kind of unexpected software or hardware issue
You can keep access to your files after some ransomware or any type of malware hits your Mac.
While we mostly focus on bad scenarios when we talk about backups, there are also many ways in which they can benefit your workflow. For example, you can use a backup to quickly move data to a new Mac and access it on another device if you're away from your Mac.
How to backup Mac with Time Machine
How do I back up my Mac? If you ask Apple, Apple will advise you to use Time Machine. It's a native tool designed to automatically backup Mac at specific time intervals. As long as there's storage space, the hourly, weekly, and daily backups will routinely pile up and then get replaced with the new ones — that's how it works. Here's how to backup Mac with Time Machine:
Connect an external hard drive or SSD to your Mac
Follow the prompt to 'use this drive with Time Machine,' or go to System Preferences > Time Machine > Select Disk
Select 'Back up Automatically'
Optionally, select 'Show Time Machine in menu bar' — it will help you keep an eye on the progress of your backup.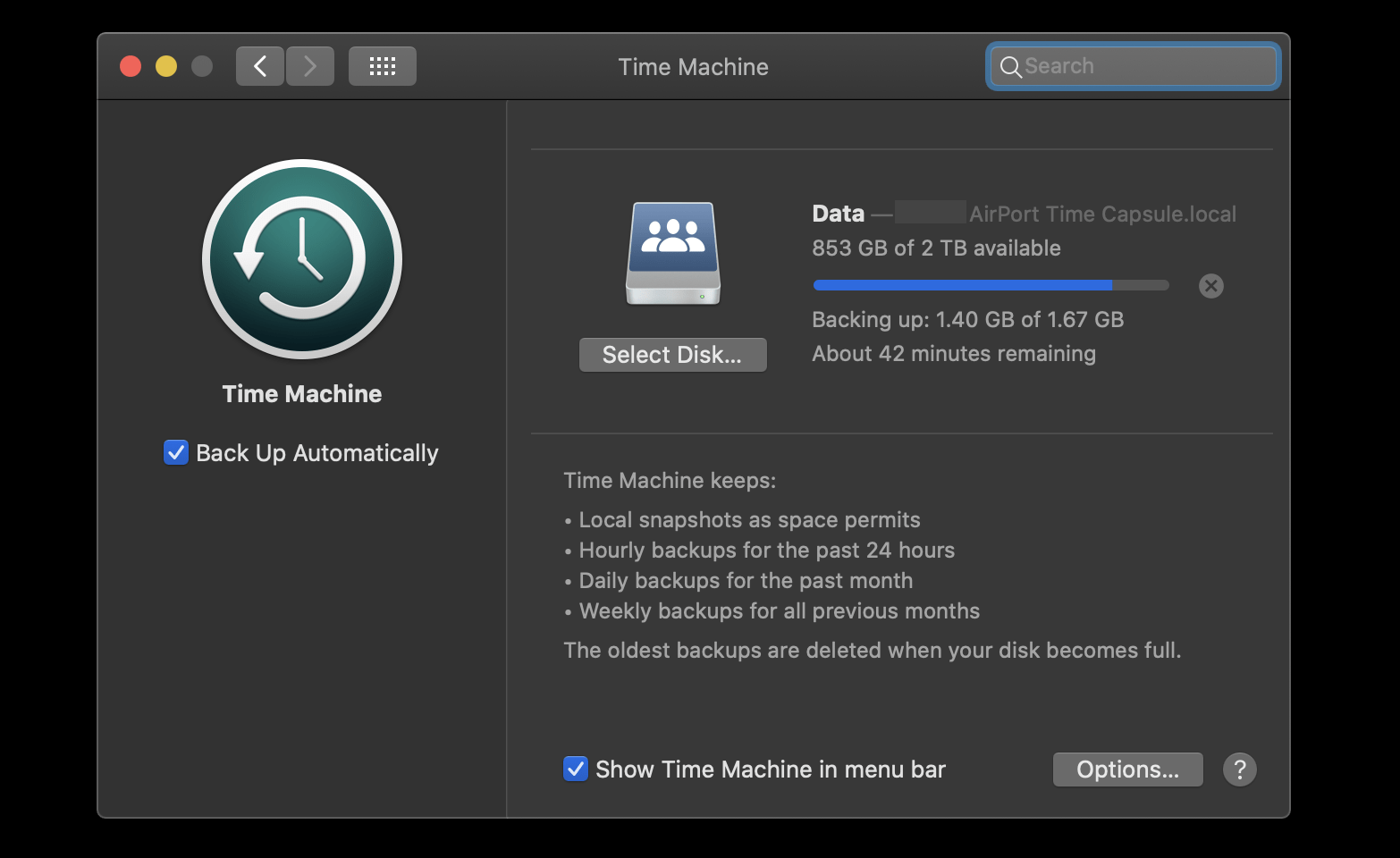 The problem with Time Machine backups is that they are poorly compressed, which means they occupy too much more space. Plus, Time Machine will routinely backup everything on your Mac — you can exclude certain files from the backup, but the process is very tedious and you'd have to do it manually every time. And since you can't control the backup schedule with Time Machine, it all gets…complicated.
Get Backup Pro is a Time Machine alternative that does a much better job — protecting data while also protecting your storage space. Unlike Time Machine's automatic backups, you can control the backup schedule with Get Backup Pro.
Best thing, Get Backup Pro in fact asks you which files and folders you want to backup, so you can backup only the most essential stuff. The level of compression is 60% better than with Time Machine. Let's just say you'll save a lot of storage space on your drive by using this app.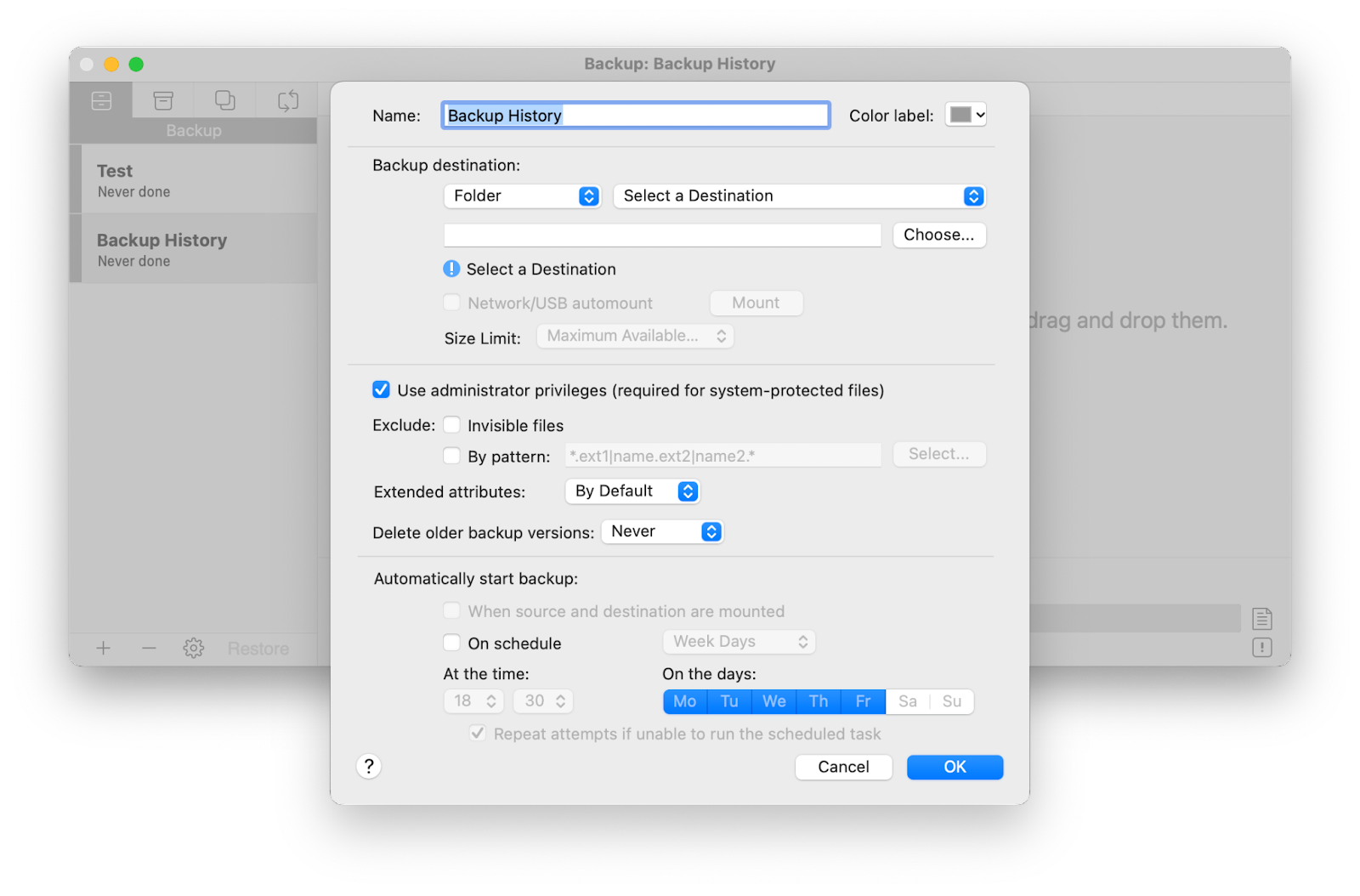 Here's how to back up Mac with Get Backup Pro:
Open the app and select 'Backup' or 'Clone' (yes, Get Backup Pro can also do a bootable clone — a mirror of your boot drive)
Click the plus button to create a new project
Specify backup source and destination
Click 'File+' or 'Apps data+' to add the data you want to back up
Hit the Backup button to get started.
This is the most basic manual backup process with Get Backup Pro. You can also do many more things — archive your backups, create a schedule of automatic backups, sync folders, etc.
How to restore a Mac from backup
How to "unpack" those files you've backed up? With Time Machine, the process of restoring data is in many ways connected with other system processes. For example, if you want to restore all the data from backup on a new Mac, you'll see this option in Migration Assistant. Just follow the prompts.
To retrieve a file from a Time Machine backup, you should open it from Spotlight, locate the file you want to restore, click the Cloud icon to download it, and click Restore.
Remember to keep your external drive or SSD connected to Mac when you're restoring from Time Machine backup.
With Get Backup Pro, you can restore your backup to any device. And that device shouldn't necessarily have Get Backup Pro installed on it! So it's really easy to pick up where you left off. Just select the backup in the left bar menu and click Restore.
How to backup Mac to external hard drive
You can consider backing up to cloud (we'll explain how to backup Mac to iCloud and external cloud services in a moment), but a safer solution is to backup to external drive, for sure. With Time Machine, you'll always need a new formatted drive to "force" an unplanned backup, though. Here's how it works:
Plug in a formatted drive
Go to System Preferences > Time Machine
Click 'Select Disk'
Choose your external drive > Use Disk
Wait for the backup process to complete (it might take a while, stay patient)
Eject your external drive via Finder and then unplug it
In Time Machine, click 'Select Disk' and choose the external drive.
Not only is it inconvenient because you always need to have a formatted drive at hand, the backup process usually goes painfully slow. This is why we suggest ChronoSync Express, an app that can back up to other Macs, remote drives or servers. Simply specify source and target, and click Backup — it will take just a moment.
Backup to Dropbox, One Drive, or Google Drive
"Can't I just move my Time Machine backup to iCloud?" — this is a valid question, considering these backups can occupy too much space on a drive. Well, you can count on iCloud syncing your data across devices, so if you have issues with your Mac, you can access that data on any other device connected to your iCloud. Technically, it's not a backup, because once you delete the files — they're gone. Still, you can call it an extra security layer.
Note: Apple doesn't automatically include the files stored in your iCloud into the Time Machine backup. To include them, you should open System Preferences > Apple ID > iCloud > deselect 'Optimize Mac storage.' Then, go to Photos > Preferences > select 'Download originals to this Mac' in the iCloud pane.
If you use other cloud services, such as Dropbox, One Drive, or Google Drive, you can use them to sync data, just as with iCloud. Each of these services has a Mac app, which you should download and move to the Applications folder. Then, log in and sync your files.
Tip: Use CloudMounter to bring all your cloud storages into one place. If you use iCloud + one or more external storage services, CloudMounter is a huge help. It streamlines all storages to Finder so they can be mounted as local drives.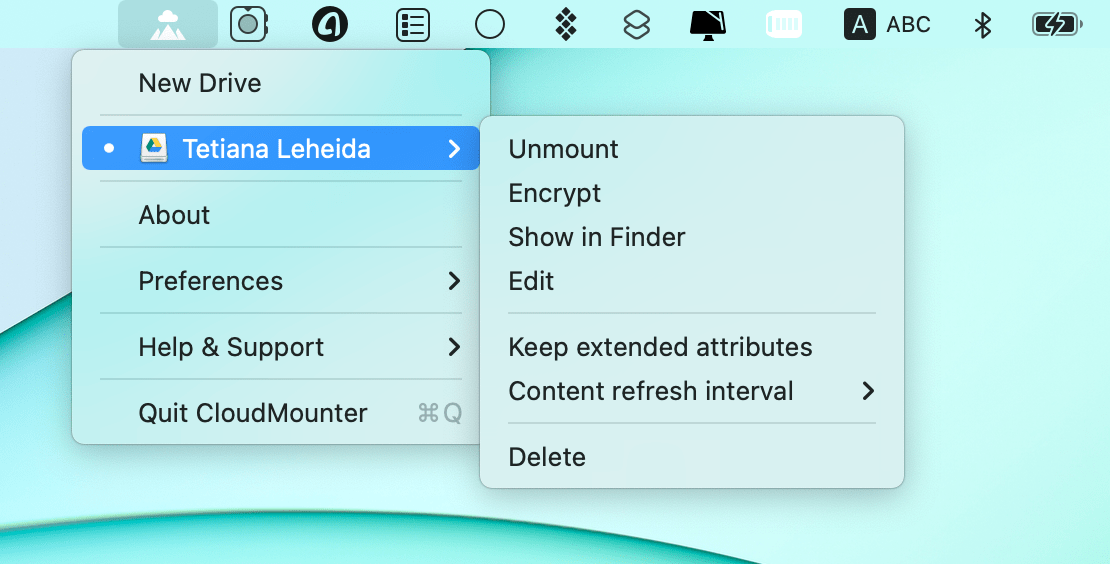 How to clone your Mac
A clone is a bootable copy of your entire drive — the best way to backup MacBook in case it doesn't work or you're away from it, so you can use your drive on another device in the meantime, with full access to your data, settings, etc.
To create a clone, you'll need a reliable tool such as Disk Drill. It's a data recovery app that makes cloning really easy. A huge perk — you can use Disk Drill to bring your files back from the dead in case you accidentally deleted them or your drive crashed, even if you hadn't backed them up. Here's how to create a clone with Disk Drill:
Open the app and select 'Byte-to-byte backup'
Confirm you want to clone a disk
Select your drive from the list > Continue > Create backup
Save your backup to the connected external drive.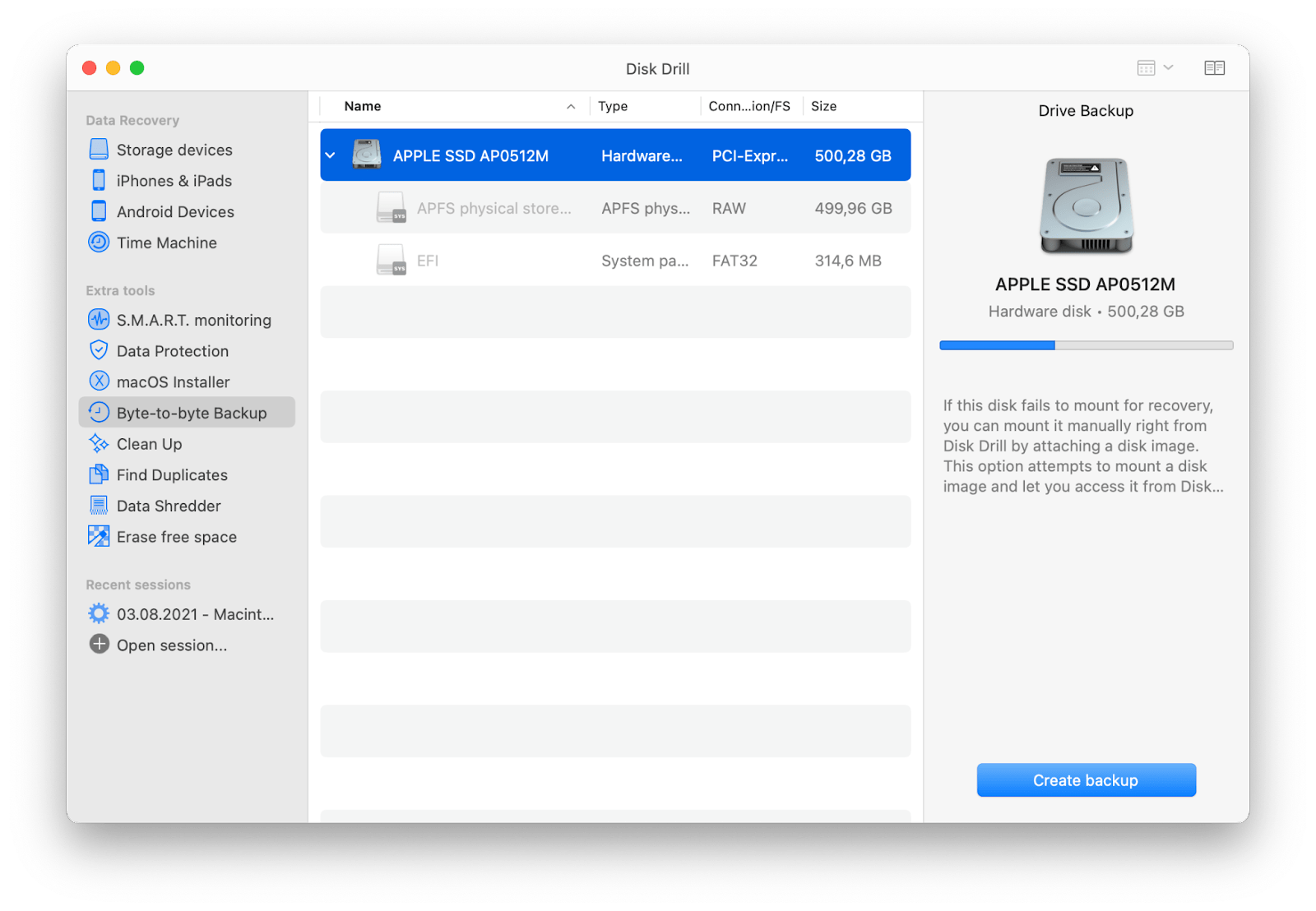 If you use Get Backup Pro for routine backups, note there's an option to clone your disk as well. So you might use any of these apps.
When cloning your Mac, you clone everything — including files you probably don't need, such as duplicates and clutter. To avoid carrying it all over to an external drive, scan your Mac with CleanMyMac X before cloning. It's the best Mac cleaner with a Smart Scan feature that can delete junk files, catch malicious files, and suggest optimisation tasks. Whether you clone, backup, or just live your Mac life, CleanMyMac X is a great addition to your toolkit.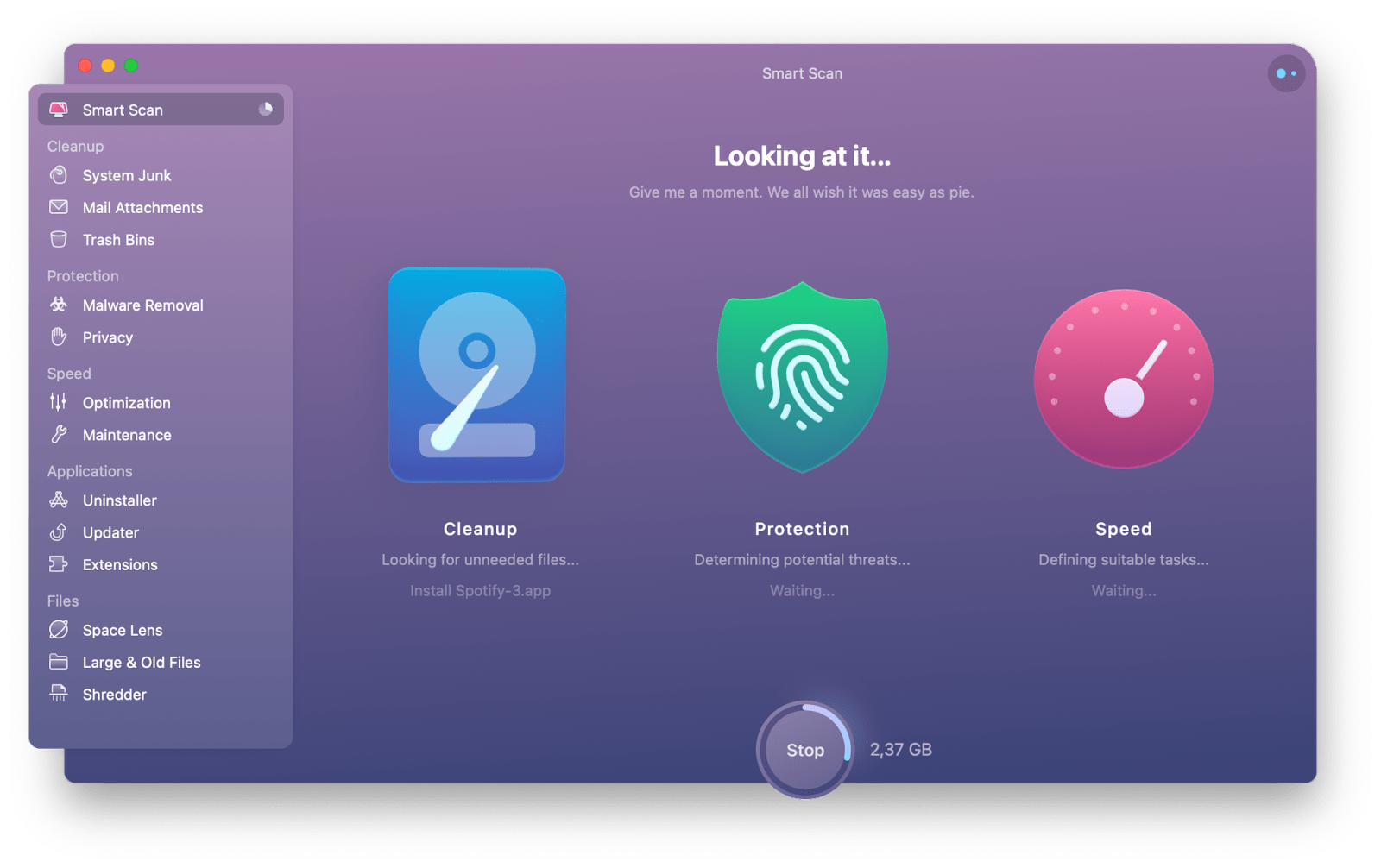 How to create a bootable backup of your Mac
Even if you don't know anything about backups, you've probably heard the term "bootable backup." Let's just clarify that bootable backups are not some "improved version of a backup." In fact, in many cases, that's not what you need.
A bootable backup is a copy of your entire boot drive — the drive that contains the operating system. It's not just files, but also all your settings and other data. You can create a bootable OS X backup by cloning your disk with Disk Drill or backing up with Get Backup Pro, we've described how to do it above.
When do you need a bootable backup? You only really need it when you want to insert an external drive into another Mac and have all the data you've had on your source Mac. Everything, from language settings to photos. In other cases, for example, when you're running a software update or just routinely back up files on Mac, a compressed backup will be enough.
Conclusion
Backups are your best friends until… they become your enemies. If you expect Time Machine to just work in the background, without attending to it, you'll end up with tons of redundant backup copies and leftovers. And if you decide to backup to iCloud, you might lose access to your files if you delete them.
We recommend you choose one reliable backup app that can do both — routine scheduled backups and bootable backups. This will help you always keep your data safe, whether you're planning to move it to another device, or there's some kind of unexpected issue with your Mac.
Get Backup Pro is the best choice, in our opinion. With Setapp membership, which is one-stop access to 220+ apps, you also get Disk Drill, ChronoSync Express, CloudMounter, and CleanMyMac X, so you can experiment and choose what works best for you. Try Setapp for 7 days free or get started with one of the apps you've liked most — the point is to make sure you always have a fresh backup at hand.