Is there a Google Calendar app for Mac?
Google Workspace aka G-Suite is a very connected space. So if you use Gmail, you probably also use Google Drive, Google Calendar, and other productivity and collaboration tools Google conveniently puts at your disposal. Upside: it's free, except when you need to upgrade your storage. Downside: there's no Google Calendar app for Mac.
Some people just say alrighty, and access their calendar via browser. But if it hinders your productivity, you can find a workaround. In this article, we explain how to get Google Calendar desktop app on your Mac. There is not one but a few working methods to bring your Google Calendar to desktop, so you can choose what works best for you.
How to get a Google Calendar app for Mac
Unless you clear your browsing activity religiously, your browser remembers the sites you visit. So when you open your browser and start typing "calendar," it will suggest the right URL right away. But hey, why bother if you could create a quick shortcut for accessing Google Calendar from Mac desktop? Next, we explain how to set up such a shortcut via different browsers, how to create your own Google Calendar for MacBook, and how to replace it with a better alternative if you feel like you're ready for a more advanced calendar tool.
We value your time, so let's start with hands down the coolest method — creating a full-featured Google Calendar for Mac with Unite.
Unite is a Mac app that lets you turn websites into native macOS, code-free. Whether it's Instagram, Google Calendar, or any service that doesn't provide a Mac app, Unite can help you fill the gap:
Open Unite via Setapp
Paste a link to your Google Calendar and enter the app name
Unite will load the app icon automatically, or you can upload it yourself
Click Create Unite Application.
That's it. Once Unite has generated the app, you can click Launch Application and start using Google Calendar app for Mac. You can put it in the Dock, menu bar, just like any other app.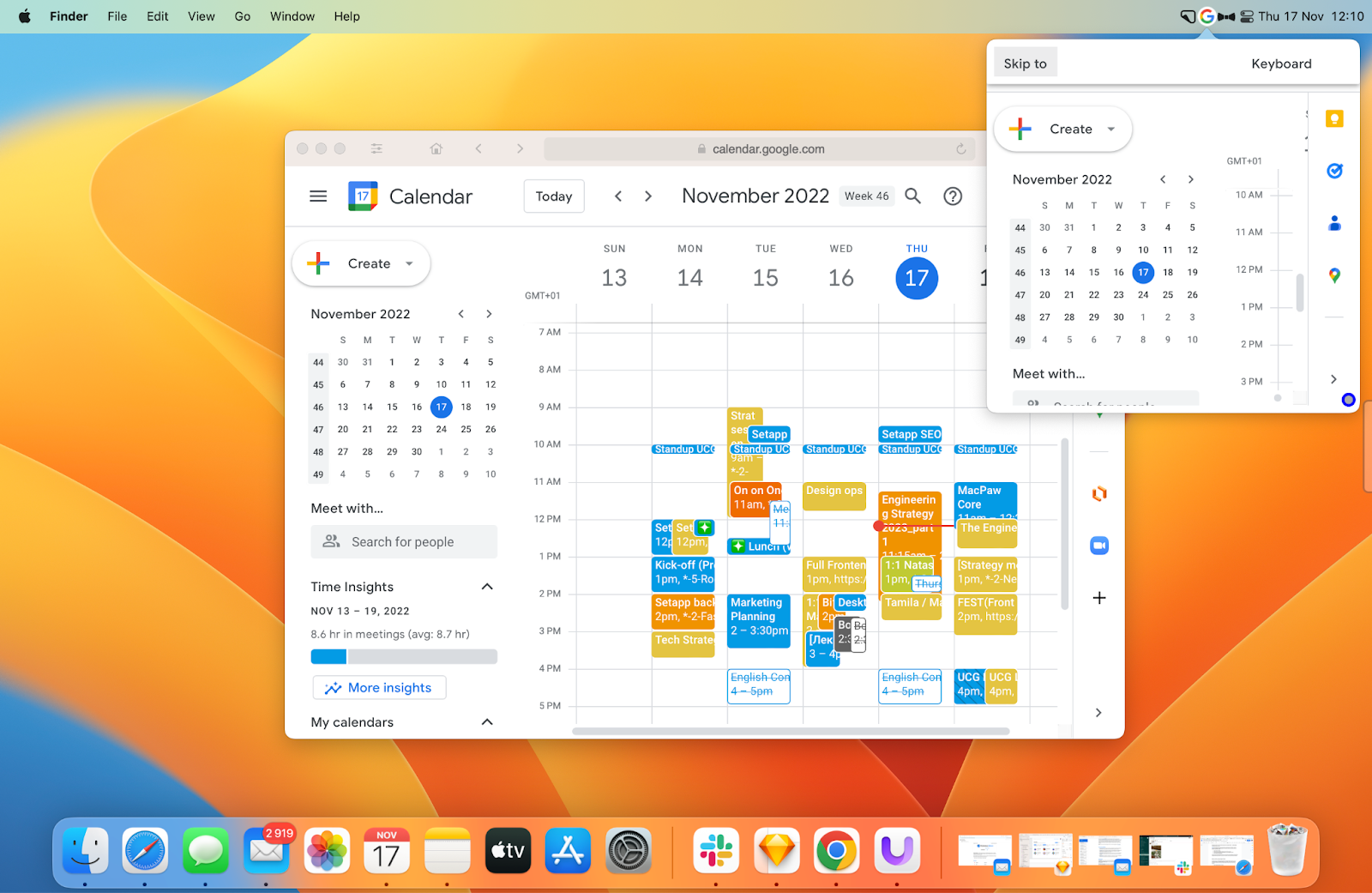 Make a shortcut using Google Chrome
The "light" version of getting Google Calendar app for Mac desktop would be to set up a shortcut that takes you to Google Calendar in your browser. You won't get an app per se, but you will get a quick way to open your Google Calendar. Here's how you can do it via Google Chrome:
Open Google Calendar in Chrome
Click the three dots in the upper-right corner > More Tools > Create Shortcut
Name your shortcut and click Create
Locate the shortcut on your Mac via Spotlight or Finder and click it — this will open Google Calendar in Chrome.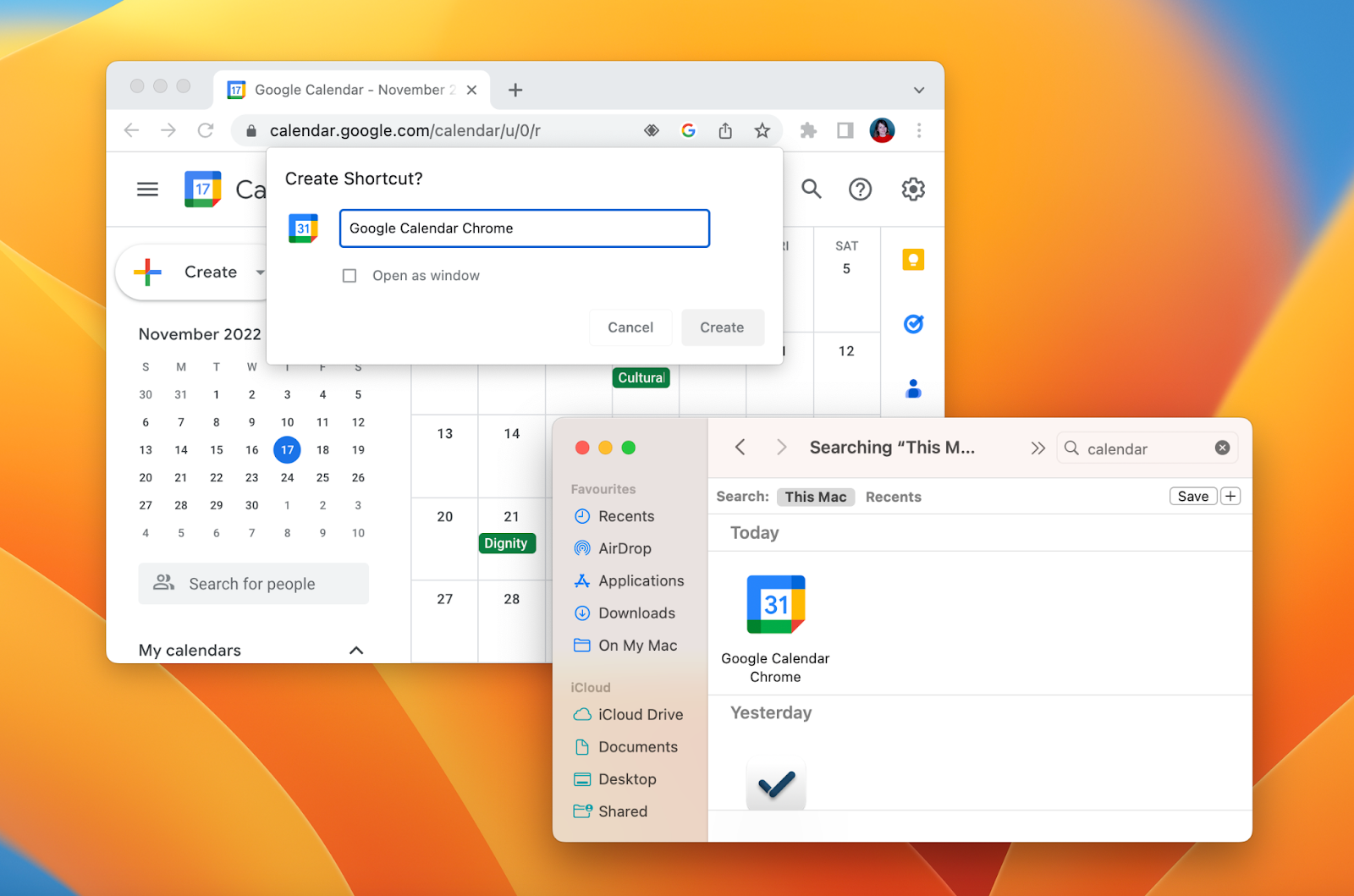 Make a shortcut using Safari
Safari users can benefit from a Google Calendar shortcut, too:
Open Google Calendar in Safari
Resize the window so you can see your desktop
Select the link in Safari's URL bar and drag it to desktop
Done. If you were wondering "How do I get a Google Calendar icon on my desktop?," this shortcut might be the answer. But note that calendar will still open in a browser.
Not great, not terrible. You'll certainly save some time with such a shortcut. But there are even better options: put a fully-functional Google Calendar app into your menu bar with MenubarX.
MenubarX basically replicates browser pages in your menu bar. Such pages are fully browsable, so you don't have to be redirected to a "real" browser to get the work done. Here's how you can set up MenubarX shortcut for Google Calendar:
Open MenubarX via Setapp
Click the app's icon in the menu bar and type "Google Calendar" in its search
Log in with your credentials and view your calendar
MenubarX will generate a menu bar icon for Google Calendar automatically, so next time you can just click it to open the calendar.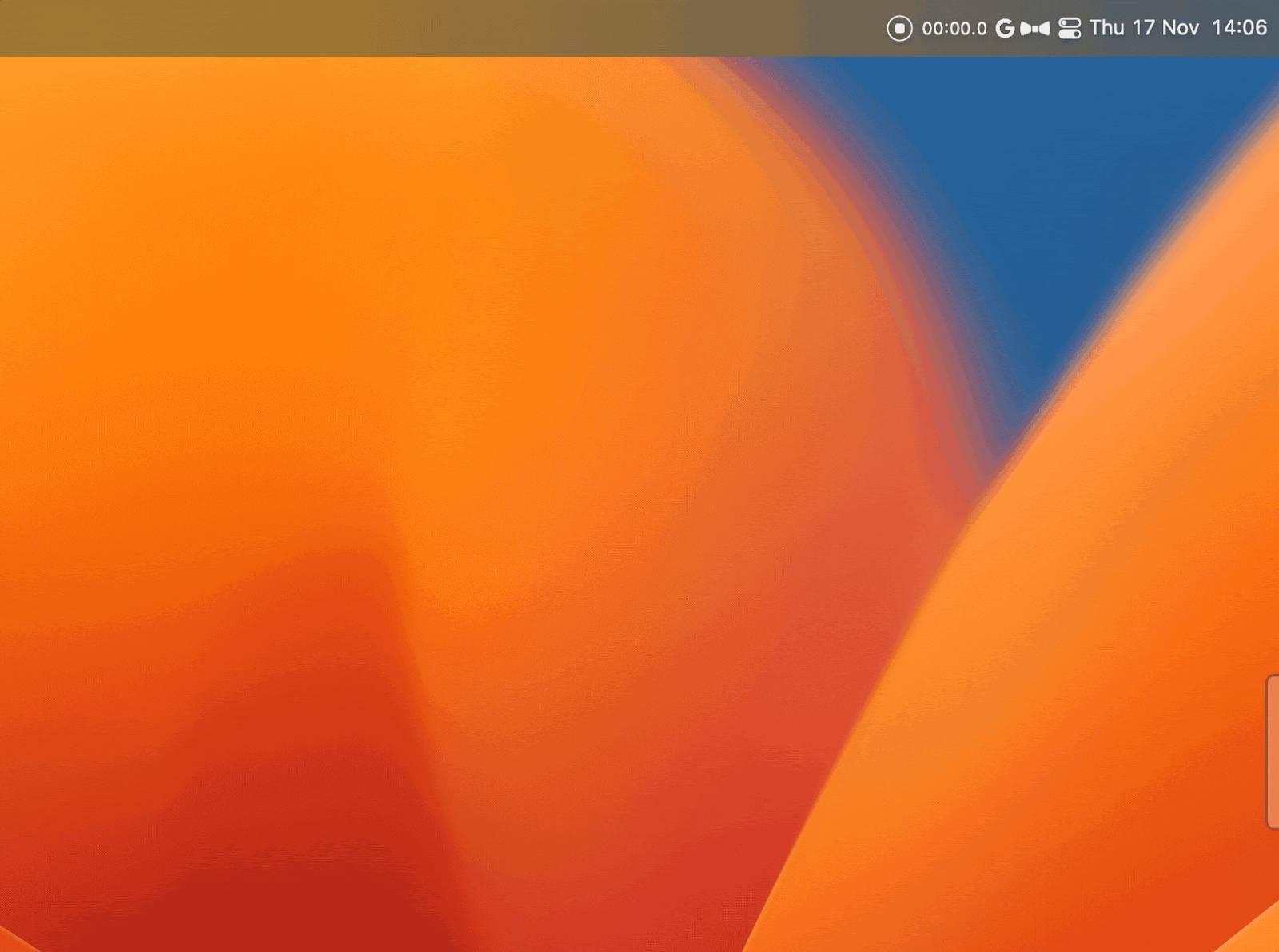 Add Google Calendar in Apple Calendar
Mac users have the Calendar app pre-installed, which explains why so many decide to switch from Google Calendar to Apple Calendar. But did you know you could have both within one interface? Consider adding your Google Calendar account in Apple Calendar. Unless you need specific Google features, this might be a good alternative to Google Calendar desktop app. Here's how to sync your Google and Apple calendars:
Open System Settings on your Mac
Go to Internet Accounts
Click Google and see if the "Calendars" item is enabled
If it isn't enabled, toggle it on and sign in with the credentials associated with your Google account
Open Apple Calendar and find your Google Calendar listed on the left. The events from this calendar should be added to Apple Calendar automatically.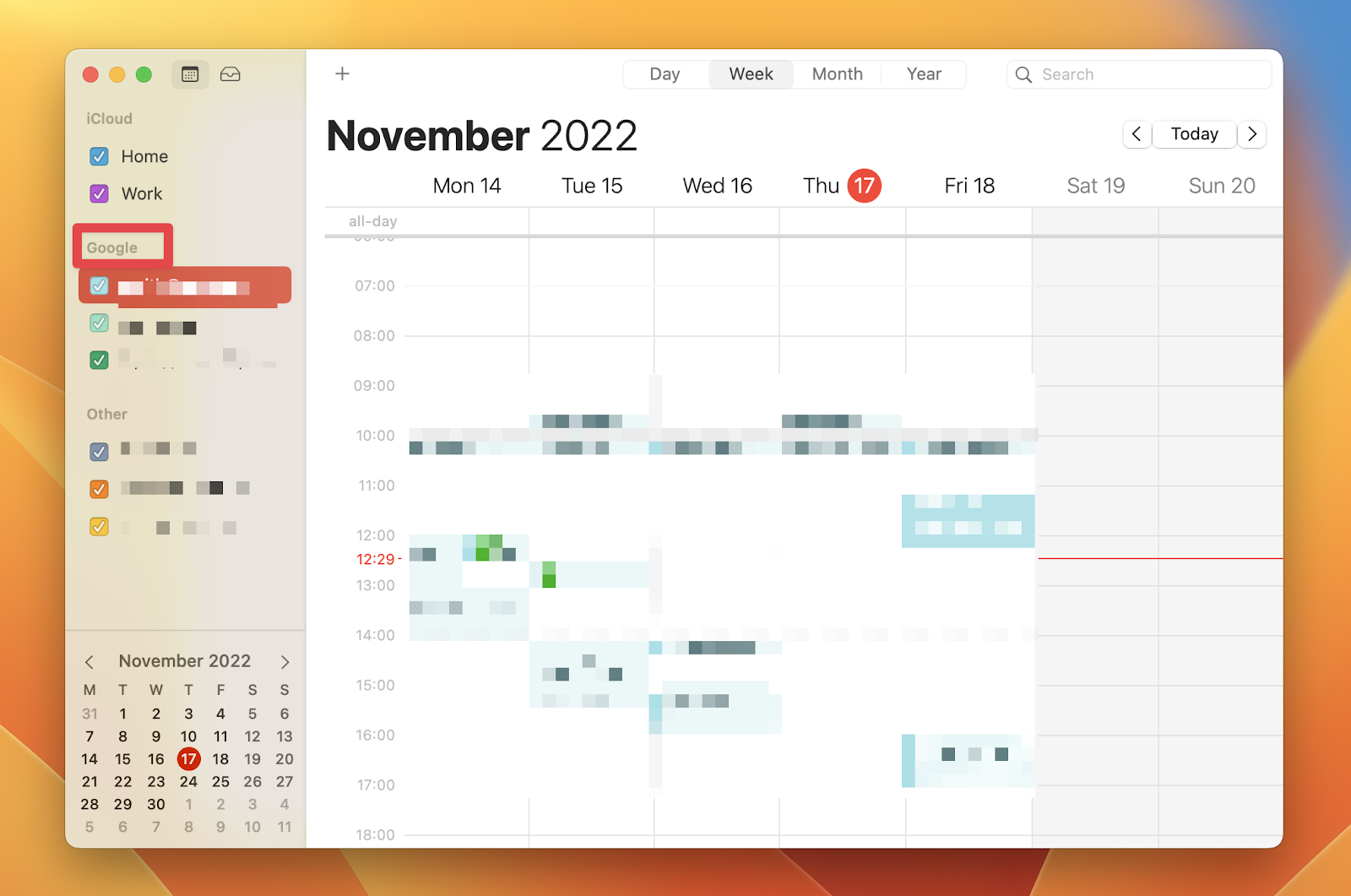 Best Google Calendar alternatives for Mac
Now when you know how to get Google Calendar for Mac, it's the best time to say "nay, I don't really need it." Joking aside, after tinkering with your Google Calendar settings, you might come to the conclusion the client doesn't really cover all your needs. So what's the point of sticking to it if there are powerful alternatives you can explore for free? Here are just the two we love.
BusyCal is a popular Mac calendar app that brings some unique UI enhancements to the table. You can view your tasks pulled from Reminders on the side, bring multiple accounts into one Calendar view, including your Google account, track real-time weather forecast, and more.
People who use BusyCal via Setapp often mention in their reviews that they love Zoom integration and how smoothly BusyCal works with SSO. Contact management, and easy contact transferring in particular, get a lot of praise, too.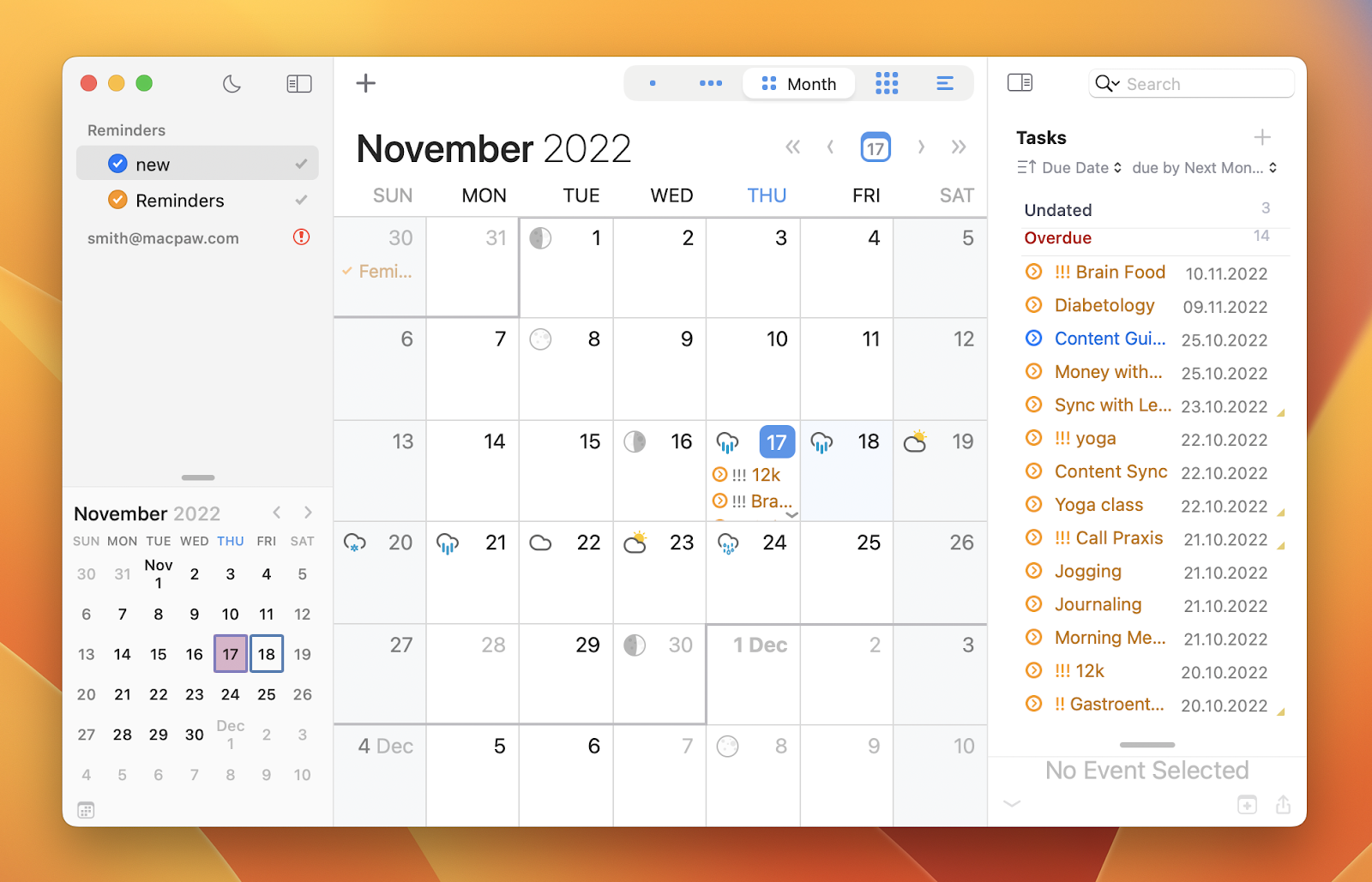 If note-taking is part of your routine, you might prefer a calendar that syncs cleverly with your notes. NotePlan is the best here. Enjoy a side-by-side view of your notes, tasks, meeting minutes, and calendar. You can also attach notes to calendar events, customize your event alerts, and more.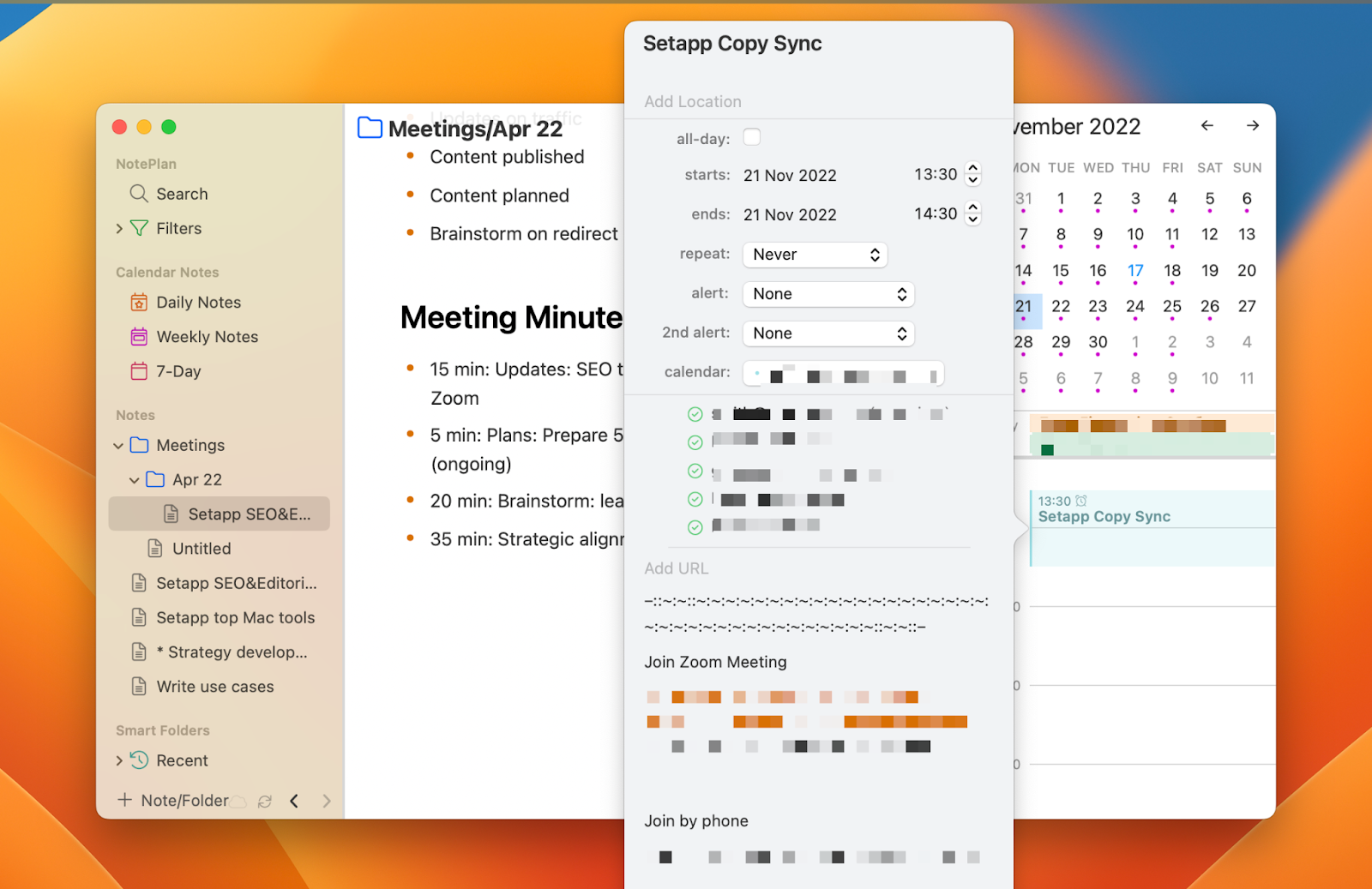 Google Calendar for MacBook — yes or no?
After we've explored multiple options for using a calendar on Mac, the ultimate question that remains is whether you need Google Calendar for MacBook as a desktop app. If you do, you can use Unite to create such an app — it will take just a minute. Or, you can rely on browser shortcuts, MenubarX, or integration with Apple Calendar, all of which give you quick access to Google Calendar events without installing a dedicated app.
Last but not least, you can try alternative calendar tools for Mac such as NotePlan and BusyCal.
If you ask us what's the best flow of using Google Calendar on Mac, we'll say you never know until you try a few. Luckily, you can try all of the tools mentioned in the article for free with Setapp, an app subscription for Mac and iPhone. MenubarX, Unite, NotePlan, BusyCal, and many other superb tools are part of the deal. Sign up today and enjoy all of them for 7 days free.