Check your calendar on the fly with BusyCal
Ever feel like there aren't enough hours in the day? BusyCal is here to change that. This full-featured calendar for Mac lets you pack your calendars with information and never get lost. Use daily, weekly, and monthly calendar views to manage your time on your terms with BusyCal.
Use the app to manage your schedule, easily add events and reminders, check off your to-do list, and make planning enjoyable!
Now, let's dive into the nitty-gritty of the app and see why it's one of the best planning tools out there.
Using the BusyCal calendar app
In a busy world, the last thing you need is a calendar app that adds to your workload — and the BusyCal app works to cut it down. Here's a quick intro to mastering your time with this handy app:
BusyCal tries to accommodate as much detail of your upcoming day as possible — it can show you the weather, moon phases, your tasks, and much more. In the app, you can factor in travel time for your appointments too.
BusyCal makes sure you don't forget where you have to be with customizable notifications and alarms. You can even set it up to send you an email reminder before your event.
You can create quick events or tasks in the app without having to fill out all the event fields — the app understands natural language and can convert "walk the dog tomorrow at 6" into a calendar entry.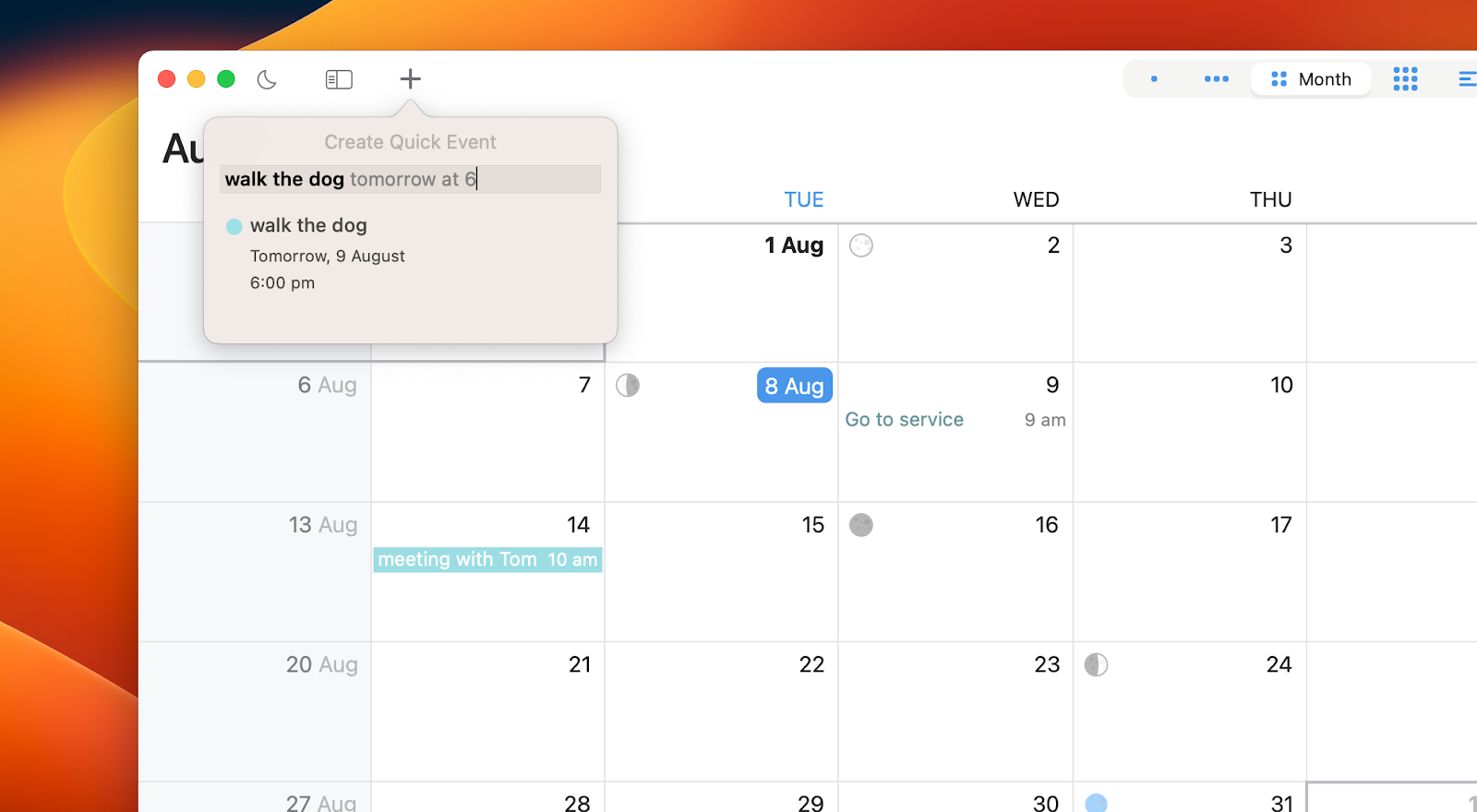 Now that you know the basics, here's a step-by-step of using BusyCal for your daily planning.
Choose your calendar view
BusyCal allows you to view your calendars in a number of layouts: day, week, month, year. Click the tab at the top of the app to switch between modes and see what's scheduled ahead or focus on the week or day at hand.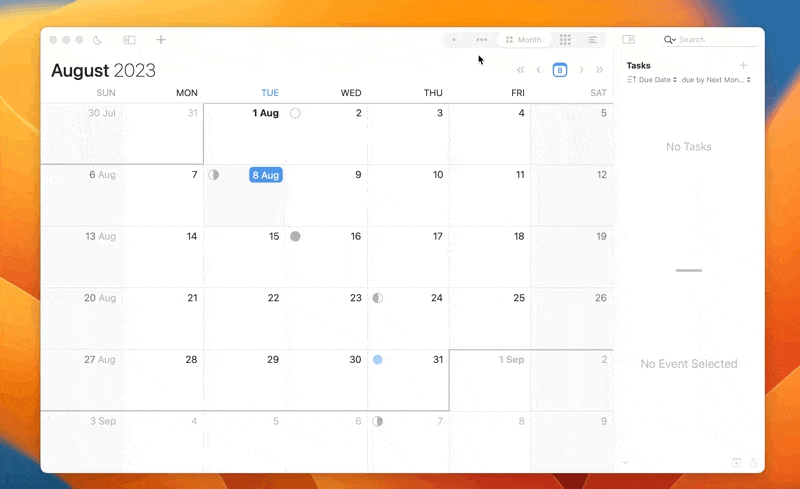 Add new events
Add new events to your calendars by double clicking on the respective day in your calendar or clicking the + icon. Type in your event outline and the app's natural language processor will automatically turn it into an entry.
Fill out any additional information, customize the alarm, add event color, travel time, and more in the event outline. The outline shows up in the right hand column once you click the event.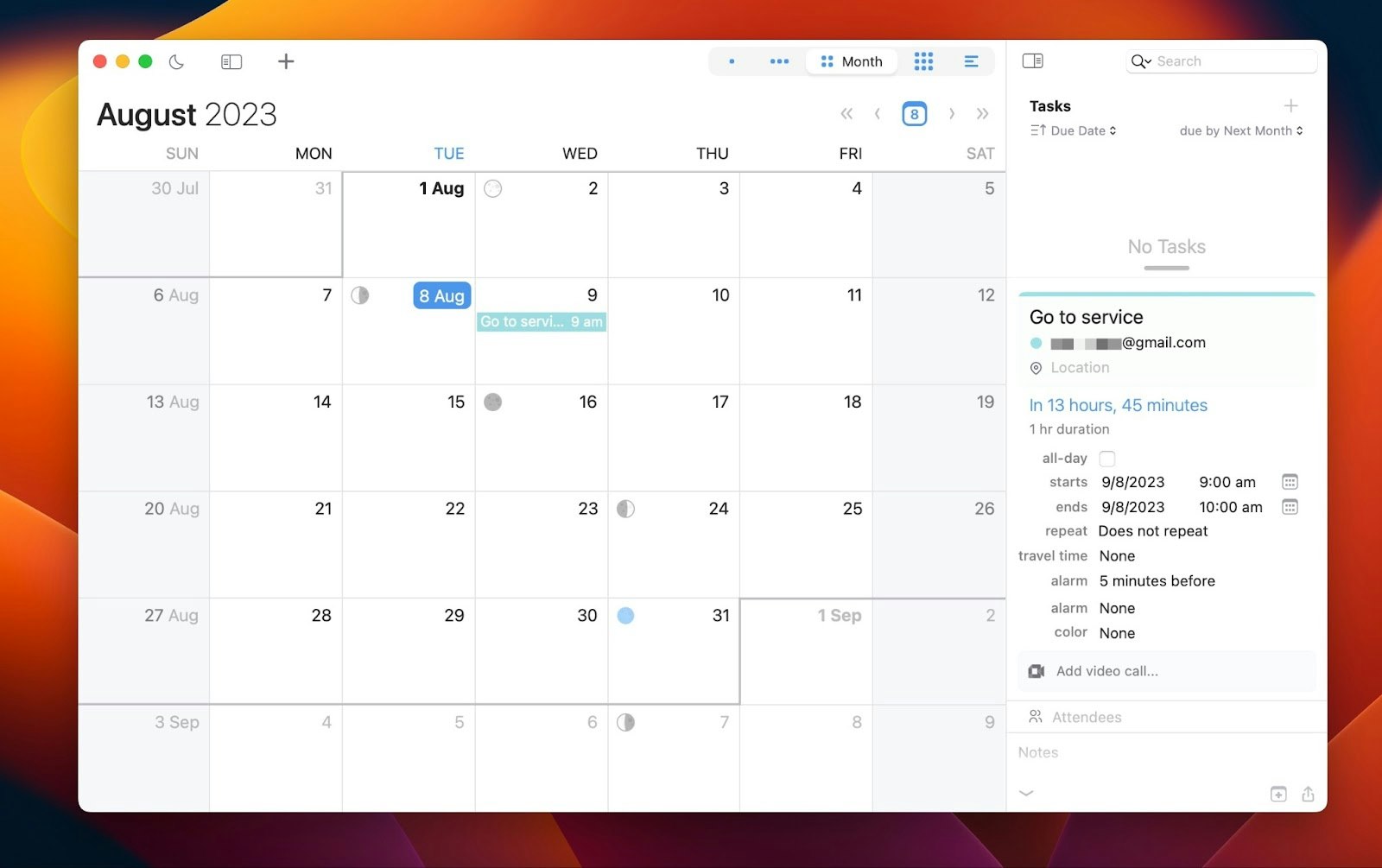 Jot down your to-dos
Stay on top of your tasks with BusyCal's custom to-do lists. Double-click in the top right panel to create a new item and use the checkboxes and drop-down menus to customize. Add regular, timed, or undated tasks. Tick the circle next to the task once you are done to check it off your list!
Use the drop-down menu at the top of the right-hand panel to organize your to-dos by due date, priority, tag, title, and more criteria.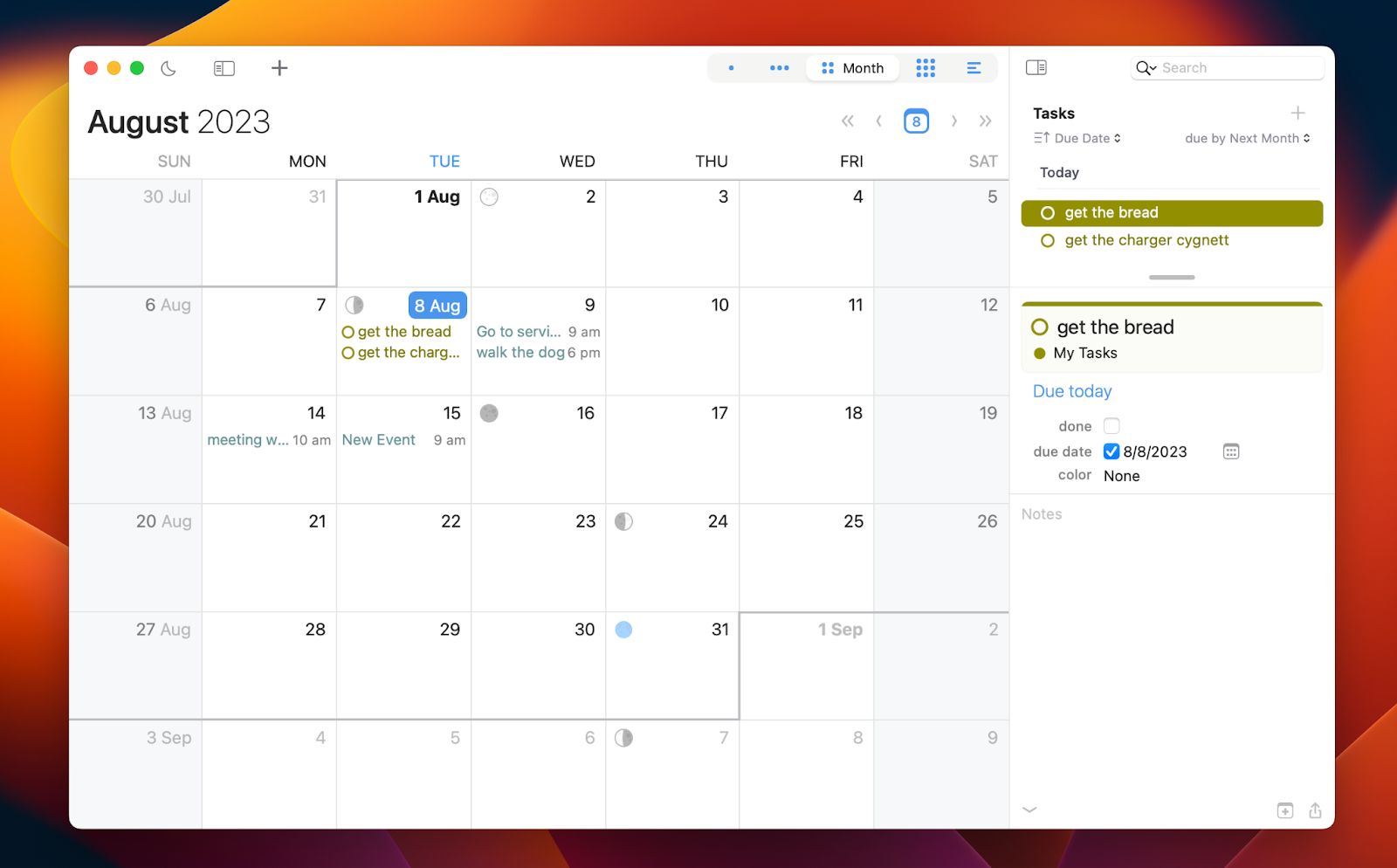 View your calendar from the menu bar
You can access a Mini Calendar straight from your Mac's menu bar. It gives you an at-a-glance view of your schedule and upcoming tasks. Click the BusyCal menu bar icon to quickly view your upcoming events without opening the app.
Text bar at the top of the Mini Calendar supports natural language quick-adds: just type in the details and hit Enter to add an item to your calendar.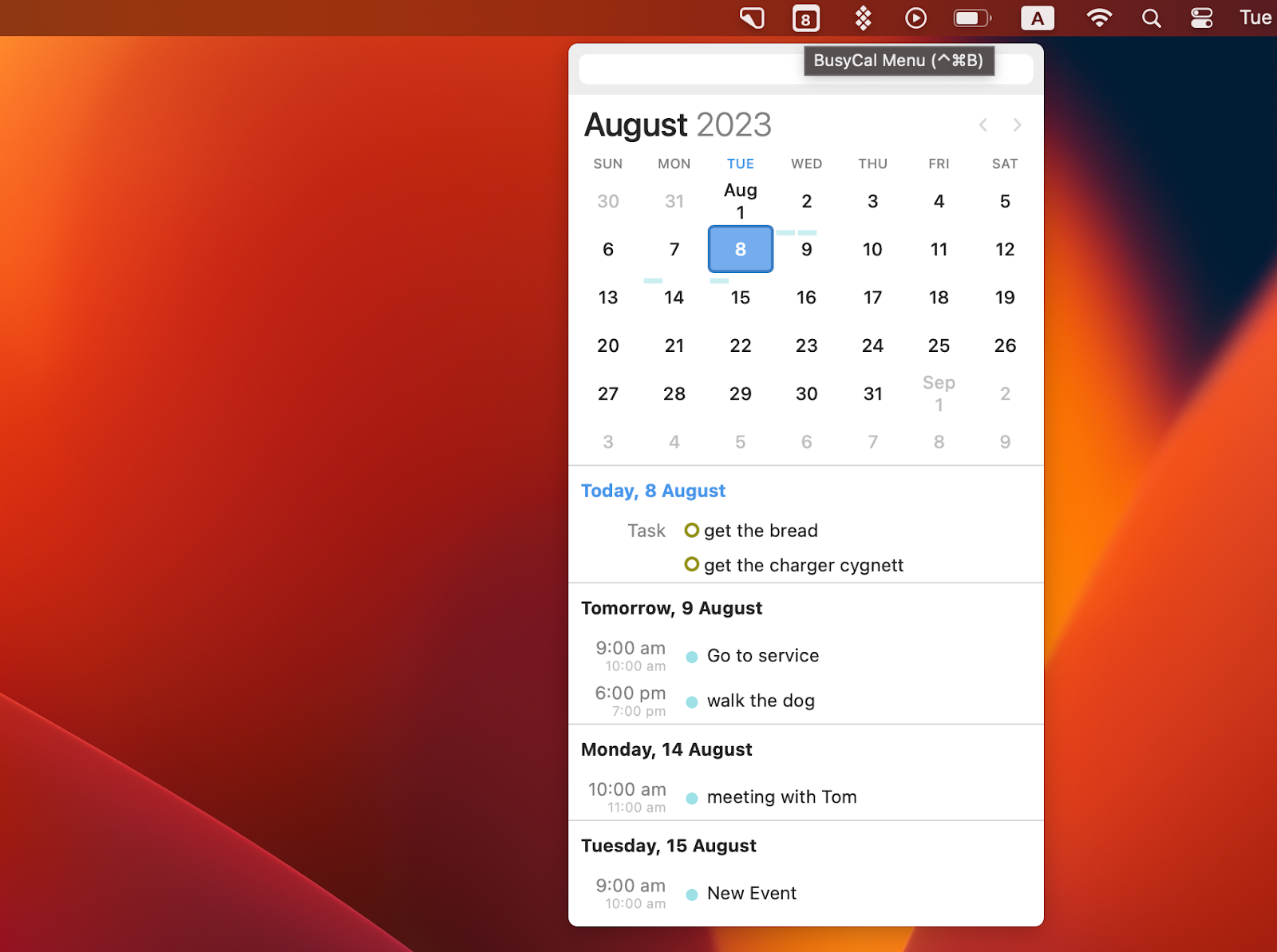 Tweak calendar settings to your liking
From default meeting duration to fonts in your calendar view, you can customize a lot in BusyCal. Set your day to start at sunrise or 8 AM, pick what alarms get added to your events by default, set temperature scale as Fahrenheit or Celcius, and much more.
Open the app's Settings to explore all the customization options:
Appearance — adjust the calendar view, fonts, and accessibility options.
Weather — customize your weather forecasts.
Alarms — pick custom sounds for your notifications.
Info Panel — tweak what shows up in an event's info panel.
Advanced > Time zones — pick the time zones to display in the toolbar.
Keep your to-dos handy
Your to-dos won't live in a vacuum anymore. Sync your tasks from Reminders and Todoist and allocate time for them. Simply drag a task to your calendar to schedule it.
Go to Settings > Tasks and check Enable Reminders. Connect Todoist and other calendars, like the ones in your Google or iCloud accounts, through Settings > Accounts > +.
Ready to take your calendar management to the next level? Get BusyCal on Setapp and start managing your day like a true pro.
Setapp is one subscription to 240+ apps for daily tasks on Mac and iOS. It powers up your day and makes it easy to tackle tasks more efficiently and save time doing so. Explore all the tools on Setapp, including BusyCal, with a 7-day free trial. Sign up today!