How to use Recovery Mode on Mac
In this article, we're looking at Mac recovery mode and how to use it on your device. We overview Apple recovery mode functionality and see the difference between M1 and Intel-based Macs in terms of macOS Recovery features as well as ways to enter recovery mode on these Macs.
What is Recovery Mode on Mac?
Recovery mode on Mac is officially called macOS Recovery. The tool is helpful for a number of situations and may help you solve some of the issues you might face without having to take your computer to service.
Apple recovery mode is a default set of tools in your macOS created to offer you safe Mac boot options to recover your Mac from software issues. First introduced in 2011 with the release of Mac OS X Lion, the ability to boot Mac in recovery mode greatly simplified macOS reinstallation while giving users more control.
MacBook recovery mode also makes using your Mac more secure. For example, if your Mac has a T2 security chip and you want to use macOS from an external drive, then your only option is to boot into recovery Mac mode.
Why use macOS Recovery
There are a number of uses for macOS Recovery tool. Among other uses, you may employ this handy recovery assistant on Mac to help you:
repair internal disk on your device,
reinstall macOS,
bring back the files that you've saved in a Time Machine backup.
Additionally, macOS Recovery can help set security options for an Intel-based Mac, while on an M1 Mac you can transfer files between two Macs, set security policy for disks on your device, as well as load your Mac in safe mode.
Get Backup Pro is a solution for easy backups of any information you want to keep extra safe. This app helps you make incremental and compressed backups that you can use to recover your info to both your or other Macs. You can also schedule your backups and don't worry about having to regularly back up your data manually.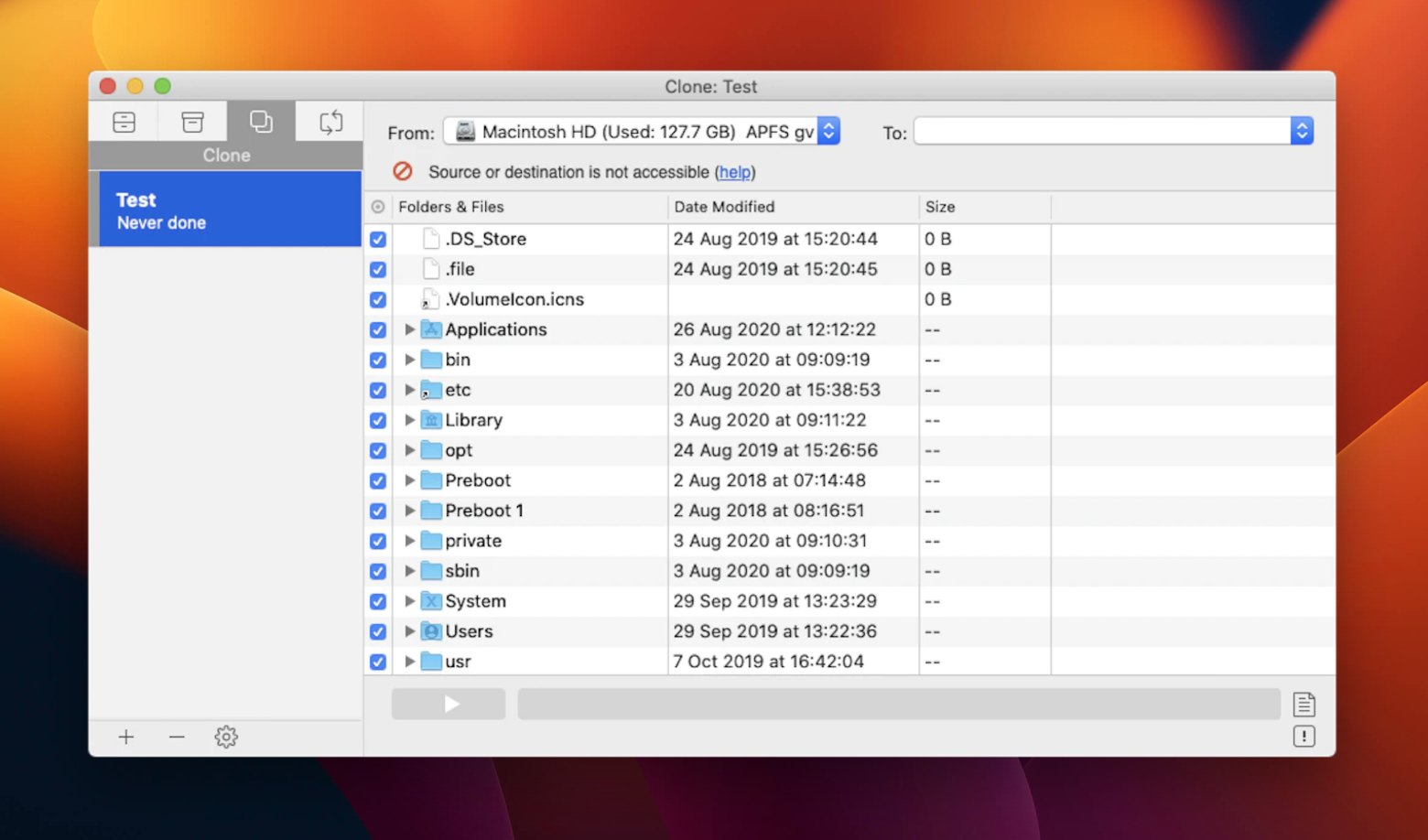 Moreover, Get Backup Pro is a smart backup manager, meaning you don't have to create copies of your cat memes or dozens of copies of that presentation you were trying to get just right for the previous quarterly report. You can tell the app exactly the folders and files you want to backup and save space while keeping your important data backed up.
And if you have a number of folders and files you want to synchronize, it's easy and fast with ChronoSync Express. Use it whenever you need to effortlessly back up or sync files on your Mac.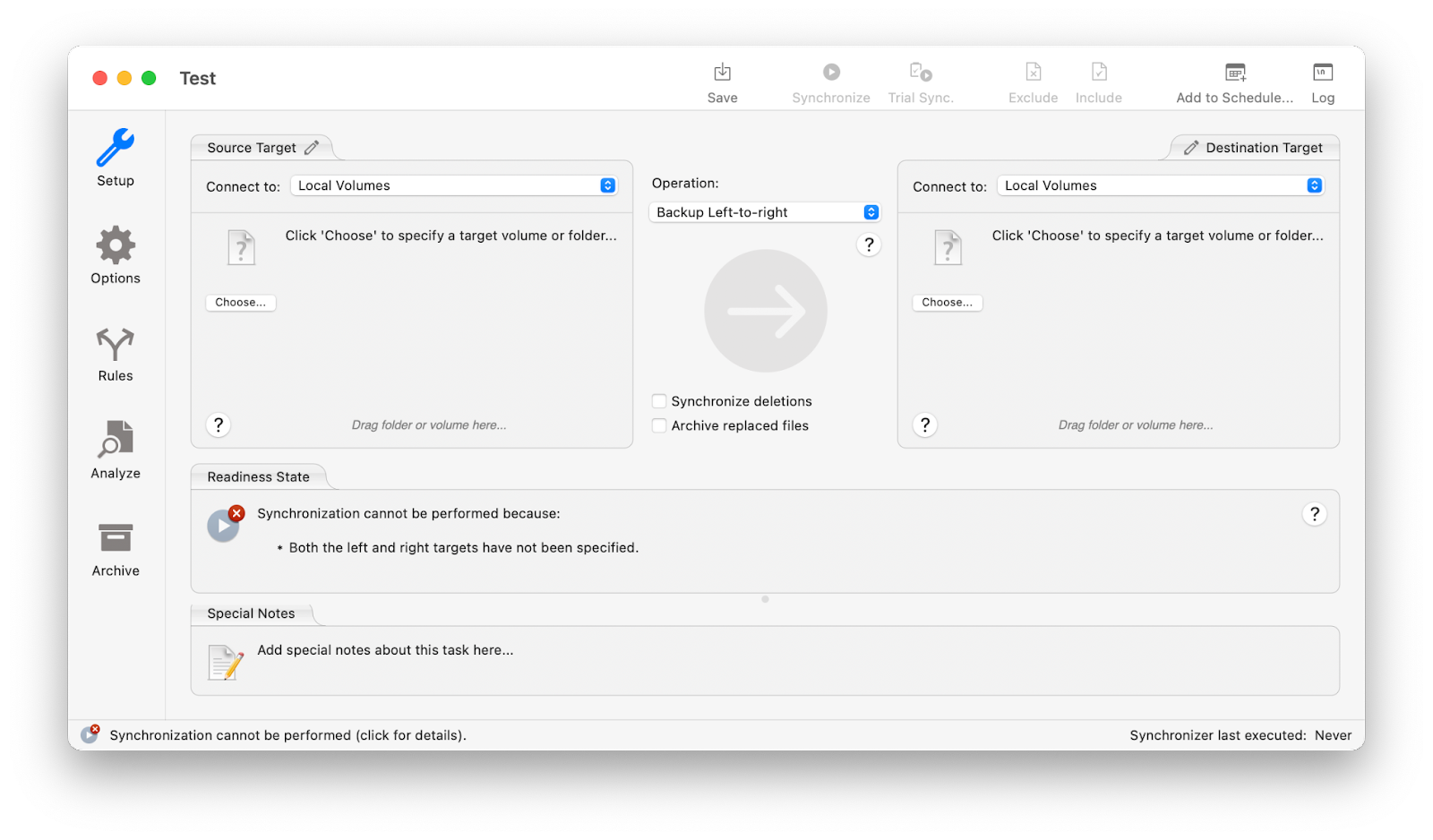 Open the ChronoSync app and create a new synchronization task.
Click Setup and choose two folders or directories you'd like to compare
Then click Analyze in the left sidebar to compare folder contents.
You'll see green checkmarks next to files that exist in both folders. Non-duplicates will be grayed out in one of the folders, meaning they are not there.
How to restart Mac in recovery mode
Before we get into instructions on how to enter recovery mode Mac, it's important to mention that the procedures will be different for Intel-based and M1 Macs. Let us explain how to find out what type of processor you have.
On Mac computers with Apple silicon, About This Mac displays an item called Chip, followed by the name of the chip.
On Mac computers with an Intel processor, About This Mac displays an item called Processor, followed by the name of an Intel processor.
Start Intel Mac in OSX recovery mode
Here's how to start your Intel-based Mac in recovery mode:
Click the Apple logo at the top left corner of your screen and then find and click Restart...
Press and hold Command + R keys until you see the startup screen.
Enter password for your Mac if required.
If you have several volumes, select the one you want to recover.
If there are multiple accounts on your device, select an admin one and enter the password for it to proceed.
Reboot M1 Mac in Apple recovery mode
Now, let's see how to restart your Mac in recovery mode if you are using an Apple silicon machine.
Shut down your Mac.
Press the power button on your device. Hold until you see Loading startup options on your screen.
Click Options > Continue.
Enter password for the admin account on your Mac.
Steps to access recovery mode on a Mac using keyboard shortcuts
Depending on what you want to do, there are a number of different key combinations you can use to boot into recovery mode.
Command + R
Use this to install the latest version of macOS you had installed on your Mac (it won't install a newer version if you haven't upgraded). Note that if you're selling or giving away a Mac running OS X El Capitan or earlier, you should also use Command + R – this will ensure that the installation is not associated with your Apple ID.
Option/Alt + Command + R
Use this to upgrade to the latest version of macOS compatible with your Mac.
Shift + Option + Command + R
This will install the version of macOS that came with your Mac, or the closest version if it's not available for download.
How to start MacBook Pro in recovery mode over the internet
And if you want, you can actually reboot your Mac in recovery mode over the internet. Using this method, you can load recovery utilities from Apple's servers.
For Intel-based Macs:
Shut down your Mac completely.
Press the Power button or Touch ID button and immediately press and hold Command + Option + R or Command + Shift + Option + R.
Hold until a spinning globe appears on the screen with the message "Starting Internet Recovery". It may take some time.
When a Wi-Fi menu appears, select Wi-Fi and enter your Wi-Fi password if prompted. Starting your Mac in internet recovery mode requires a network connection to load tools from Apple's servers.
Wait until your Mac boots into internet recovery. Make sure your Mac is fully charged, as this can take minutes or hours, depending on your internet speed.
For M1 Macs:
In fact, on Apple silicon Macs, the internet recovery mode has been combined with standard macOS Recovery mode. So booting into Mac internet recovery on an M1 MacBook is no different than booting into standard Recovery. In both cases, you need an internet connection.
Turn on your Mac by pressing and holding the Touch ID button for a few seconds. Click the Wi-Fi icon to make sure the network is available. Then click Options and Continue to enter the macOS internet recovery mode on M1.
Alternate choices available within recovery mode
There are also several options that can be accessed from the menu at the top of the page via the File, Edit, Utilities, and Window tabs. For example:
Access Terminal in macOS Recovery
Here's how to access Terminal from within macOS recovery mode:
Start in recovery mode as described above.
Then click Utilities in the menu bar.
Click Terminal.
Check out our full guide on Mac Terminal.
Startup Security Utility
This is a critical setting if you're using a T2 Mac (which, as of 2018, many Intel Macs are), because you need to make sure you can boot from an external media before you can use a bootable installer.
Here's how to open Startup Security Utility:
Turn on your Mac, then press and hold Command + R right after you see the Apple logo. Your Mac will boot from macOS recovery mode.
When you're prompted to choose a user whose password you know, do it. Then click Next and enter the administrator password.
When you see the macOS Utilities window, choose Utilities > Startup Security Utility from the menu bar.
You'll be prompted to authenticate. Click Enter macOS password, then choose an administrator account and enter the password.
Network Utility
Network Utility gives you access to tools and information to help you troubleshoot your network connections. Click the Network Utility option to test ping on your Mac.
Tips on how to keep your Mac optimized
On your new Mac, apps open instantly and there's plenty of space for all kinds of files. Over time, your new Mac will look less and less like that. Folders will pile up on the hard drive, apps will seem slower, and the battery won't last nearly as long. The good news is that our Macs can remain optimized for years to come if you take good care of them. Below are a few great apps we recommend you try to keep your Mac in its best shape.
iStat Menus is a must-have for a Mac. The app is perfect for keeping up to date with what's up on your device – it provides real time data on your Mac's CPU and GPU usage, various internal stats like temperature for battery, SSD, CPU core, and others (may vary depending on your device), upload and download speeds, memory status, which apps are using significant battery energy, your battery health (our is 93%, what's yours?), and a number of other handy info that can help you keep a close eye on how your system is faring.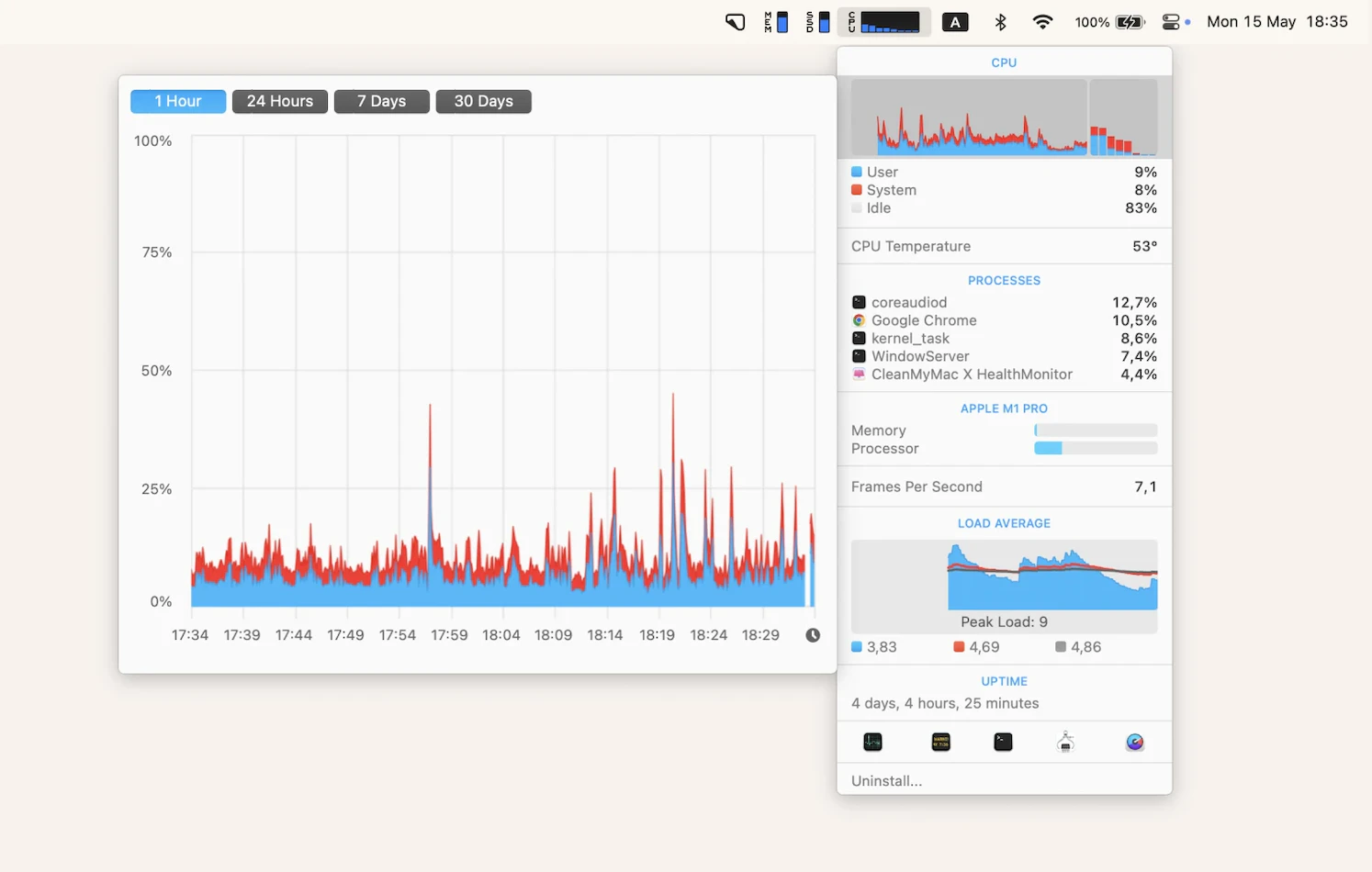 Plus, you can even add weather to your menu bar monitoring kit. Convenient, right?
The second awesome app is Endurance. At some point, every Mac owner has wondered how great it would be if their Mac's battery lasted longer. Even better is having a comprehensive battery life solution.
Endurance is a lightweight utility that manages all aspects of your Mac that can lead to longer battery life. By slowing down Turbo Boost, dimming your display, and hiding background apps, Endurance can give you up to 20% more unplugged time with your MacBook. Sounds like a dream come true.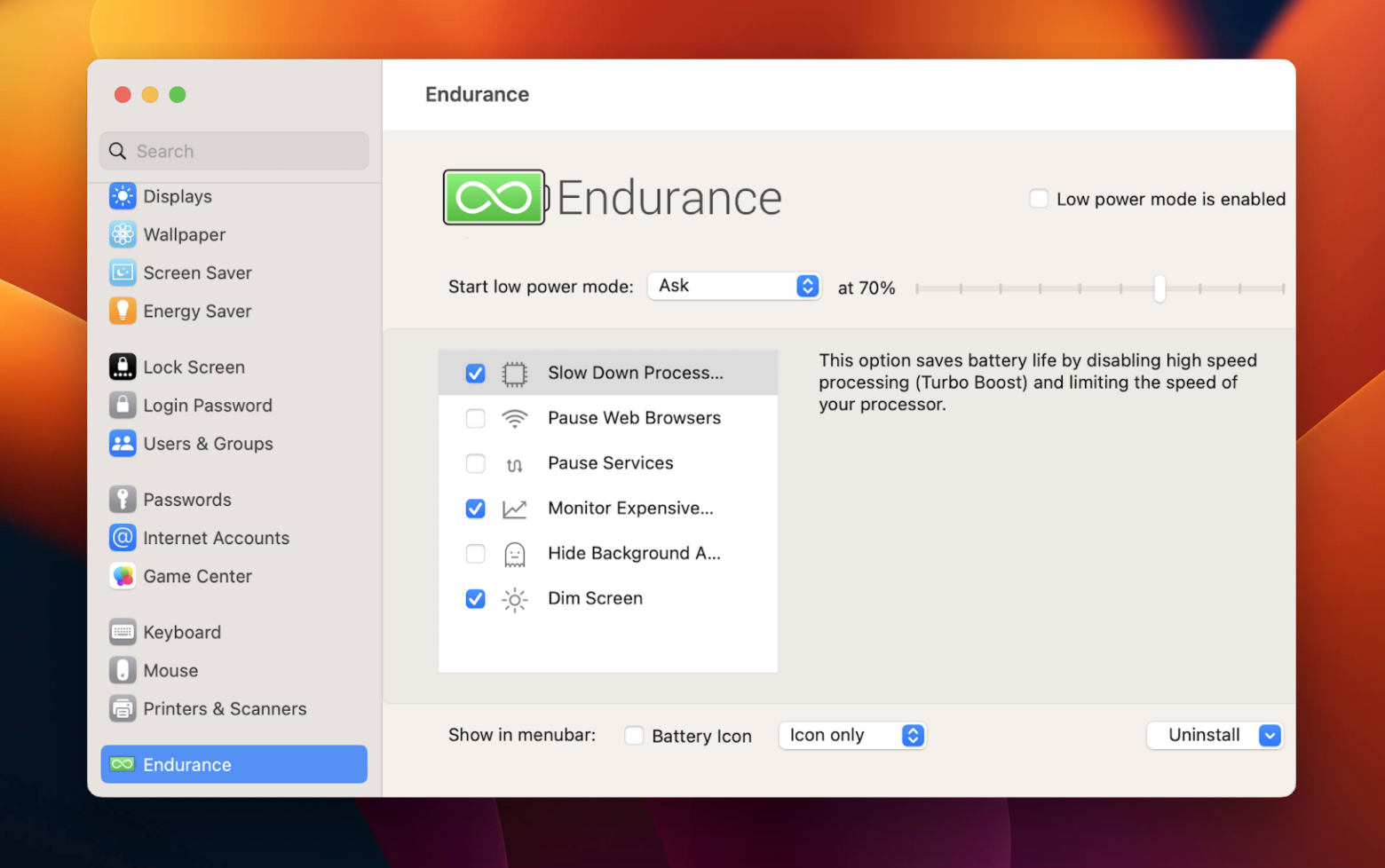 CleanMyMac X is our final recommendation. The tool is easy to recommend with so many Mac users enjoying its handy features from cleaning out junk and old files to uninstalling apps or extensions to malware removal. This versatile Mac cleaner is an amazing solution that can keep your device free from system junk, apps you forgot you installed, and even leftovers from removed apps that linger around somewhere in system files taking up space on your hard-working machine.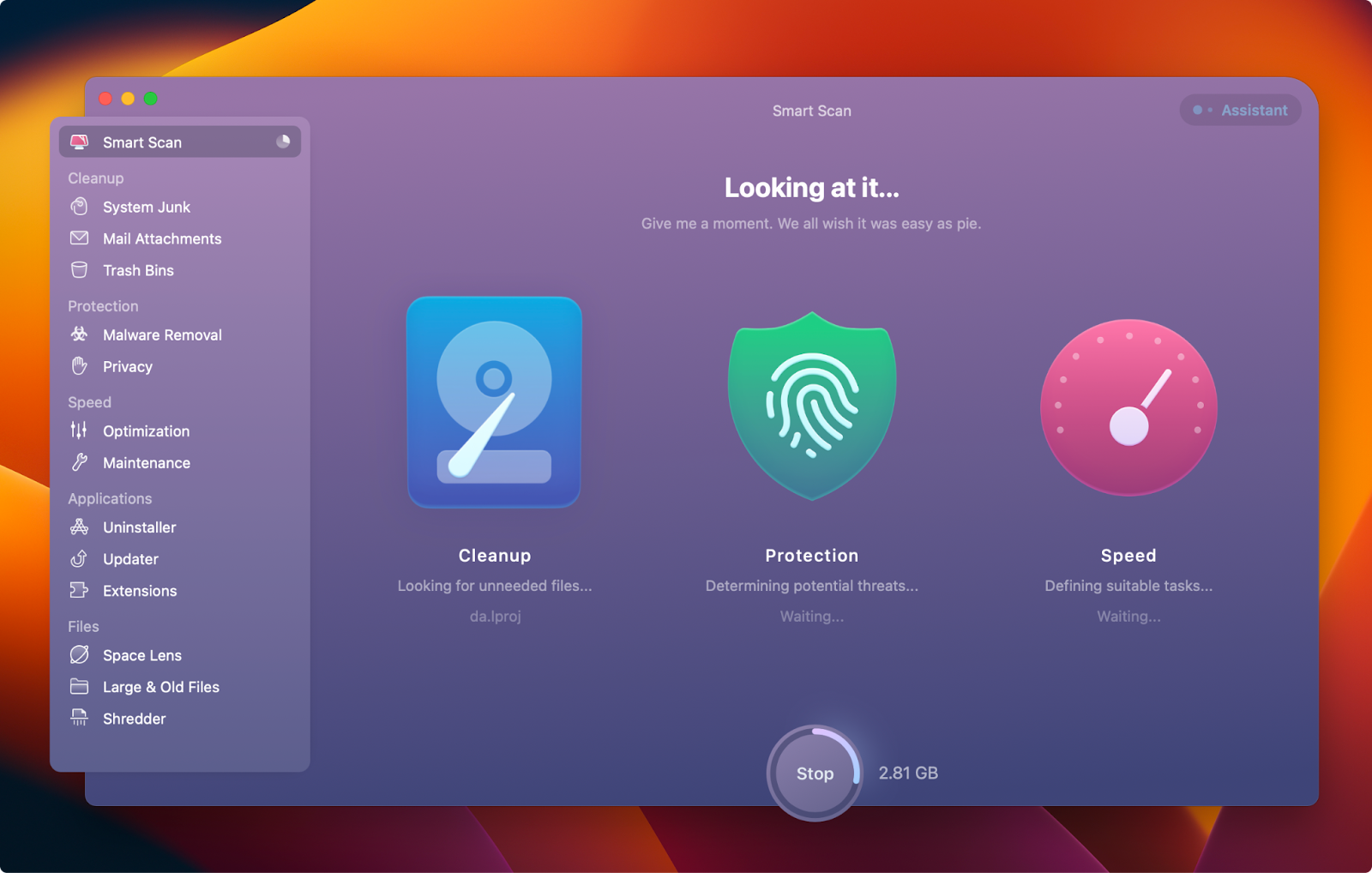 Run a quick scan here and there and clean out unwanted stuff off your machine easily!
MacOS recovery mode: final thoughts
Now that you know how to put your Mac in recovery mode as well as troubleshoot some of the possible arising issues, we hope you feel more at ease with the process and can tackle using macOS Recovery in the future without any snags.
If you want to keep your Mac in tip-top shape, make sure you don't overload your device with too many tasks. You can keep an eye on the workload your Mac is experiencing in real time with the help of apps like iStat Menus and make your battery last longer with Endurance. You can also do routine cleanups with helper apps like CleanMyMac X that can help you get rid of junk files, uninstall apps you no longer want, and even spot and remove malware.
Additionally, make sure your most important files are backed up — as you can see from our guide above, sometimes you have to reinstall your macOS which means any info you haven't backed up may end up wiped. You can use apps like Get Backup Pro to help you with selective or incremental backups, as well as scheduled backups so you don't have to do your regular backups manually. Sync and backup folders with Chronosync Express.
You can find these apps — iStat Menus, Endurance, CleanMyMac X, Get Backup Pro, and ChronoSync Express — in Setapp, a platform with more than 240 apps for your Mac, iPhone, and iPad. Explore the tools we mentioned along with numerous other apps under a single Setapp subscription. What's more, you can try out Setapp and the tools in it with a 7-day free trial and see if it fits your needs!
FAQ
How to exit recovery mode on Mac?
To exit macOS Recovery, just restart your device. You can also just shut down your device. If you need to select a different startup disk, click on the Apple menu, then select Startup Disk and choose your desired startup disk. Click Restart. If your device restarted as part of the Time Machine restoration or macOS reinstall, the restart will exit recovery mode as well.
Can I restart a Mac into recovery mode without a keyboard?
Since the process requires you to press key combinations to enter macOS Recovery, you'll need a keyboard to perform this action. If your laptop's keyboard isn't working, you can try to attach an external keyboard to see if that would help.
What to do if my Mac won't boot into recovery mode?
If your Mac is too old and doesn't have a recovery mode or your keyboard is not working, you might not be able to boot your computer in Recovery. We've found a few solutions you can try:
Restart your Mac and try to enter Recovery again as outlined above.
Check if your keyboard is working or try connecting an external keyboard and booting your device in Recovery that way. If you are using an external keyboard, make sure it's connected properly.
Load your Mac in Safe mode, restart, and try to boot in Recovery again.
If your system is damaged for some reason, but you happen to have a Time Machine backup, you can try to restore it to your device and see if your system works well enough to enter Recovery after a Time Machine restoration.
In the case of your Mac's Recovery partition being damaged or absent (e.g. on older Macs), you may want to try and create a bootable installer to reinstall a macOS on your device from there.