A frozen or unresponsive Mac is rare, but Macs aren't immune from some of the same weaknesses as other computers. At one time or another, we've all had documents disappear, programs crash, and faced that spinning beachball of death during a busy working day.
The best thing you can do is not panic, then follow some simple instructions to get up and running again. If this happens often, maybe it's time to look at long-term solutions. Maybe you've not updated your operating system for a long time? Or your drive is clattered and running out of space?
Whatever the reason, after reading this article, you'll know about a set of stellar troubleshooting tools that can instantly "unfreeze" your Mac. But let's start with the whys first — this will help you prevent similar problems in the future.
Main reasons your Mac is frozen
Macs are fairly powerful devices. But even a simple issue such as running too many programs, apps, and browser tabs can cause your Mac locking up and freezing over time. Like with any computer, when too much is stored and too many apps are fighting for CPU processing power, you're stuck with a spinning wheel, and your beloved Mac not responding to clicks and pleas.
Here are some of the main reasons Macs freeze most of the time.
Too many apps running (this affects memory and CPU)
Too many background processes (same)
App crashing (even a single app crashing can seriously damage Mac's performance)
Sluggish browser (too many tabs open)
Overworked email client (too many attachments)
macOS loaded with system junk or needs an update
Not enough free hard drive space
Hardware problem with your disk or RAM (diagnostics required)
Malware.
How to fix a frozen Mac
First, sigh out: don't panic, don't press every button — this won't help. In this part, we'll go over the best ways to unfreeze a Mac and prevent the issues in the future.
Force quit a frozen or unresponsive app
Apps crashing are some of the most common reasons behind a Mac freezing. Try to determine which apps cause the crash. Sometimes, an app that works in the background is at fault, so it might be hard to spot it. But start with this: when does the crash happen? If it's when you open or work in a specific app, it's probably it.
FIX: Press Command + Option + Esc on your keyboard — this will bring up the Force Quit menu. Pick the app you want to quit and click the Force Quit button. If you have no idea which app causes the freezing, use Quit All to quit all processes, including the background ones, and see if it helps.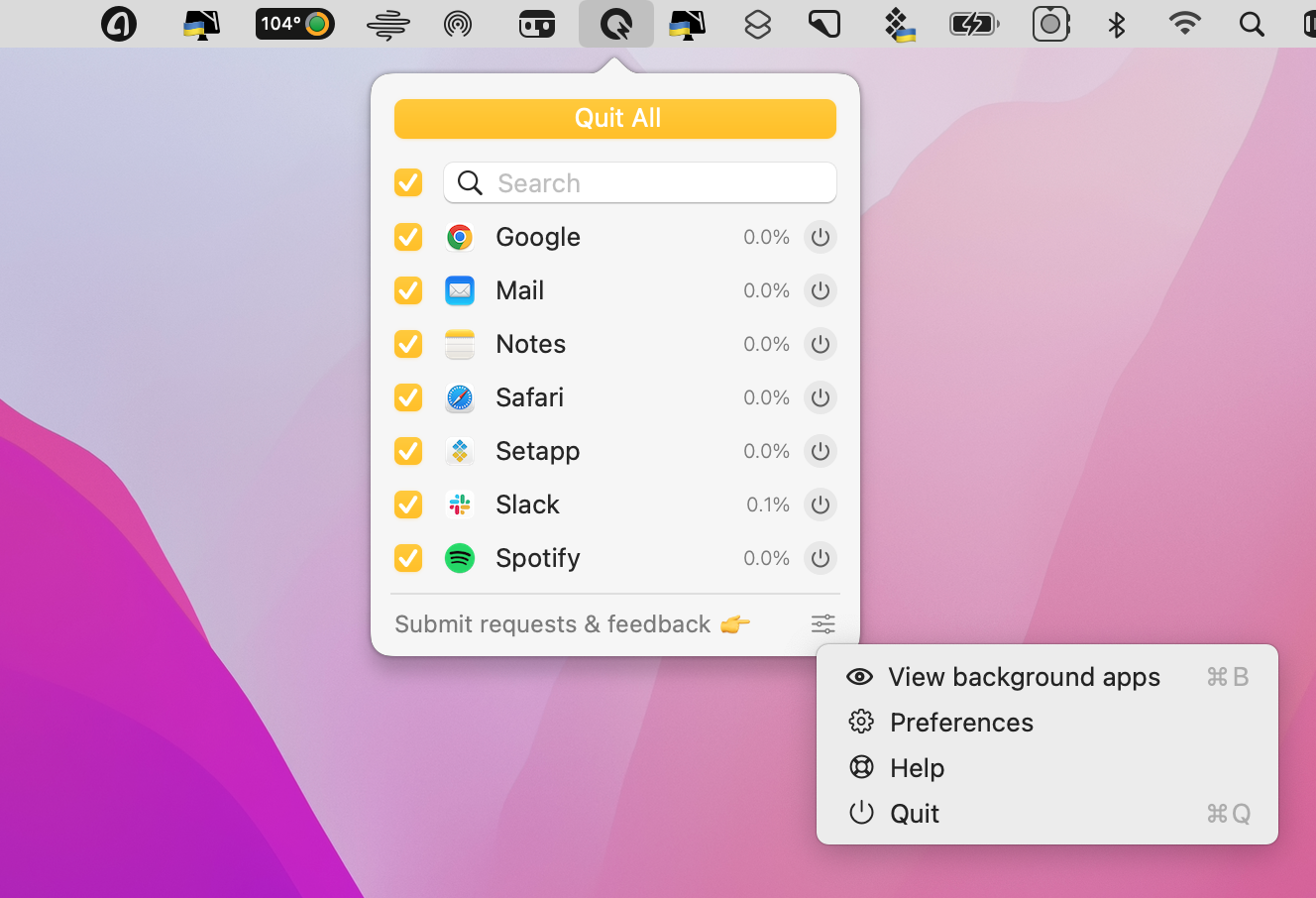 Uninstall or reset unresponsive apps
If you experience issues with unresponsive apps regularly, and your Mac keeps freezing because of them, force quitting is not the best solution. You'll have to uninstall or reset those apps.
FIX: To remove apps completely, use a Mac optimizer app called CleanMyMac X, it has a specific Uninstaller module that can safely perform the task. CleanMyMac X is available with the Setapp membership, and you can use it for free during the trial period.
To uninstall apps with CleanMyMac X:
Open CleanMyMac X via Setapp
Click the Uninstaller tab
Find the app in question
Select the app and click Uninstall.
If you can't delete the app because you need it for work or any other activities, try resetting it instead. To reset an app, repeat the first three steps with CleanMyMac X, and then right-click on the arrow near the app name, and select Reset. Resetting an app to default and cleaning up its cache can help solve the freezing.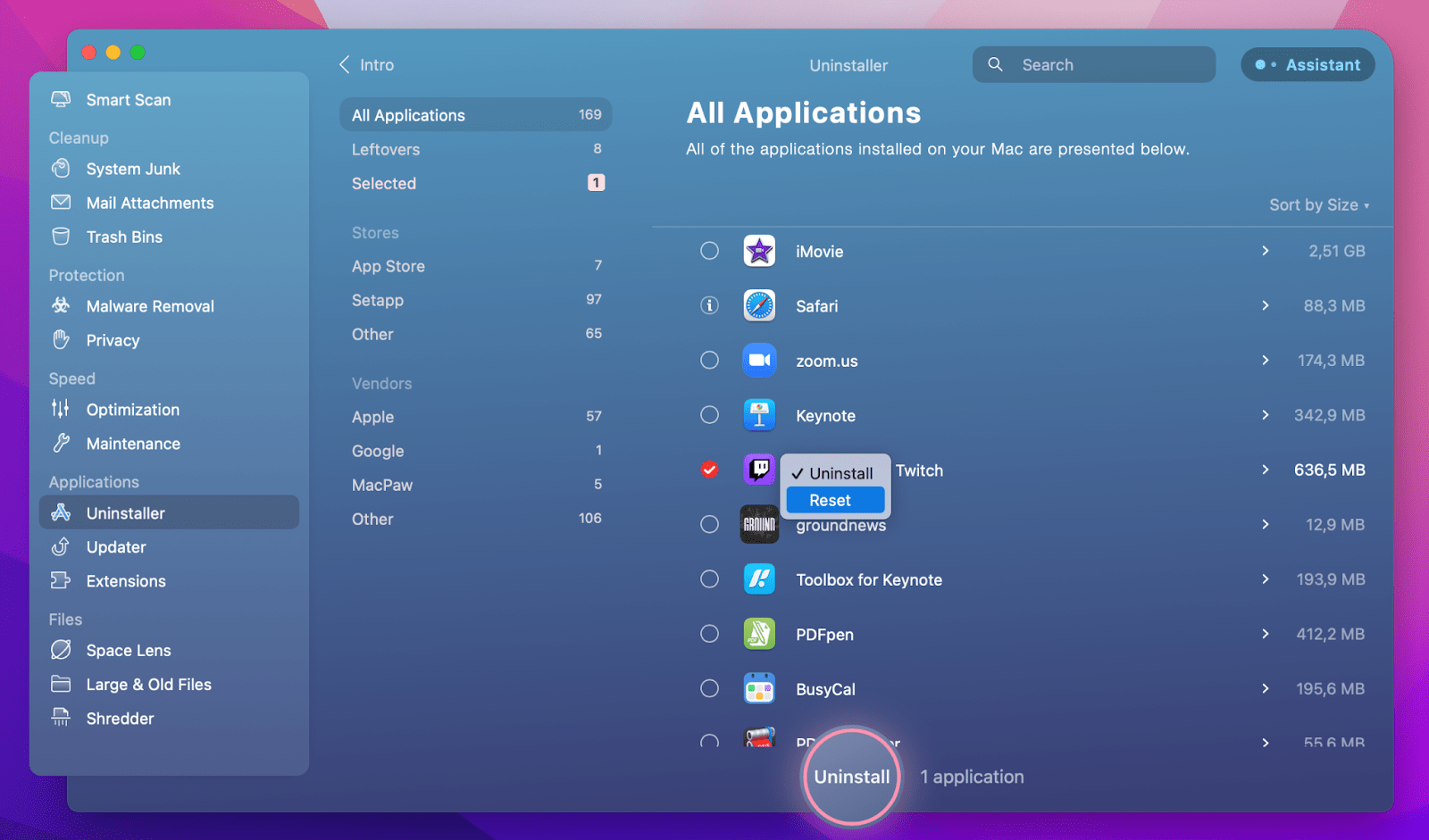 Also, don't forget to check for the app's updates, there's a chance your problems sprout from an outdated version — CleanMyMac X has the Updater module that will help.
Quit all when too many apps are running at once
It's possible there's no particular app that causes all the trouble — maybe it's just too many apps working simultaneously. Quit All will help you fix the problem in this case.
FIX: Click the Quit All icon in the menu bar > Settings > View background processes > Quit All.
If you notice your Mac freeze on startup, there could be too many apps launching with your Mac. You can get rid of those using CleanMyMac X > Optimization > Login Items & Launch Agents > Remove.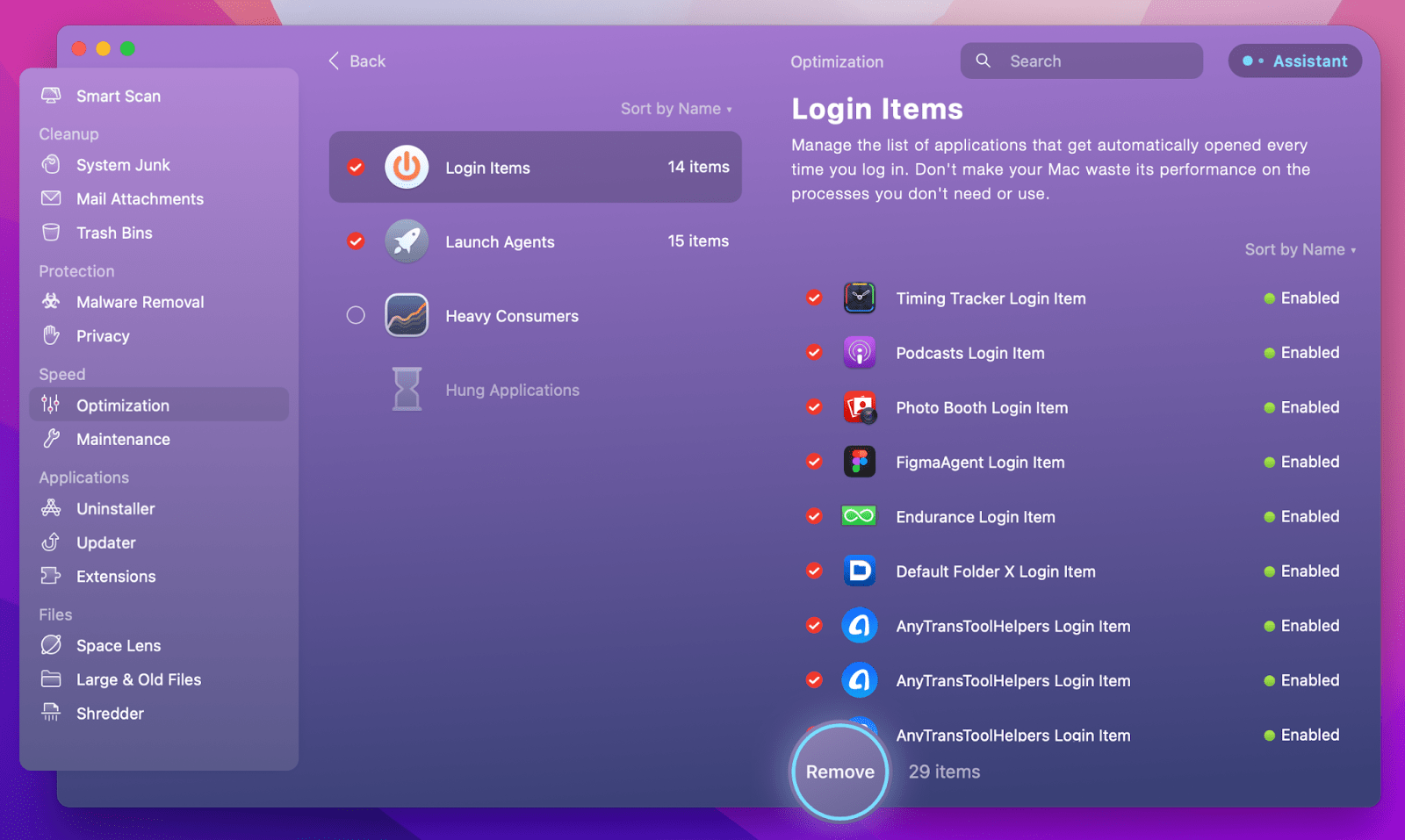 Stop demanding processes
Apple seems to be jumping over its own head, producing ever more powerful processors for Macs every year. But even the mightiest processor can be hampered by a bunch of background processes that put too much pressure on the CPU.
FIX: App Tamer can help you tame background processes automatically. It monitors CPU consumption per app and tames those processes that slow down your Mac.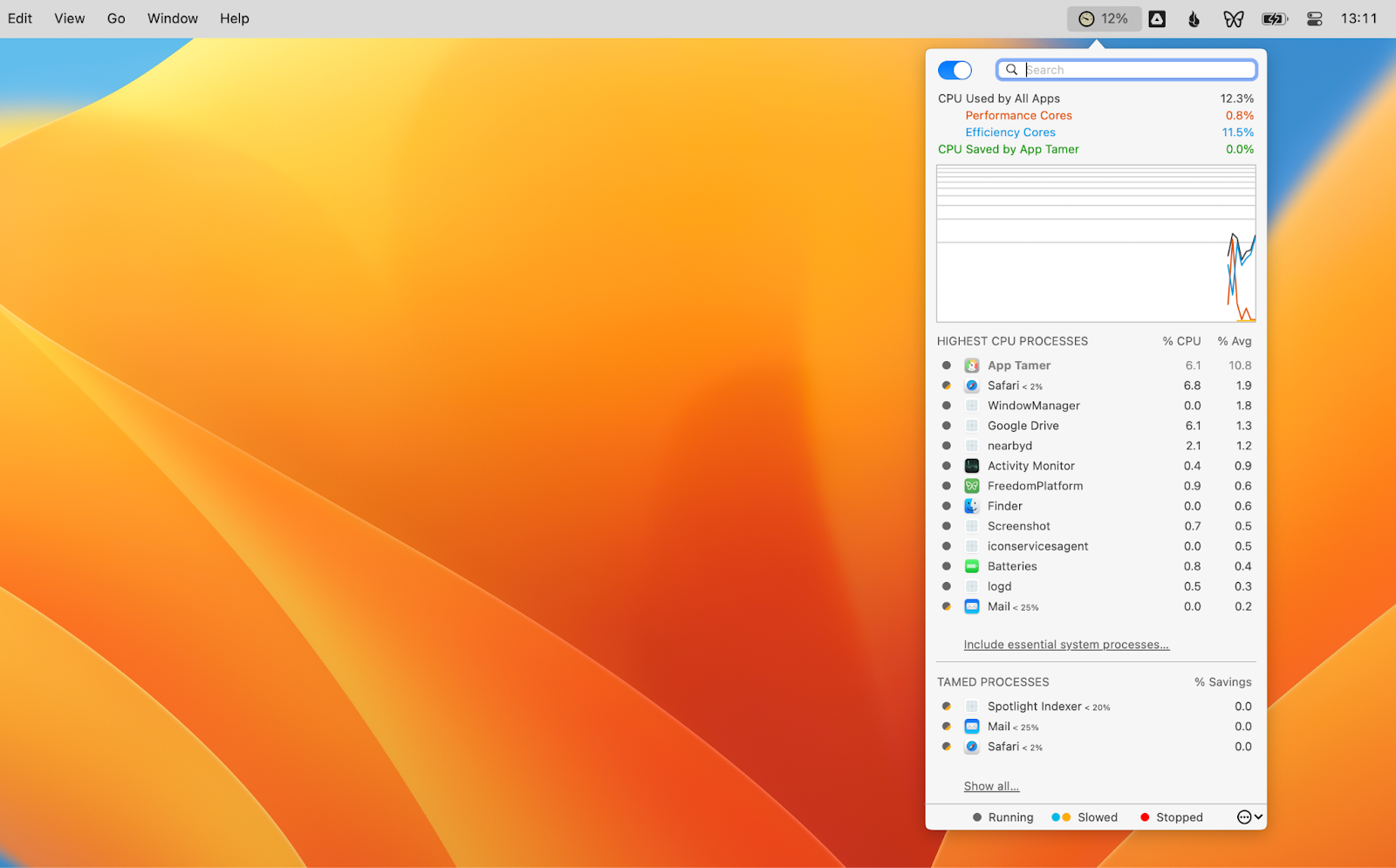 Free up disk space
An overloaded drive can be an answer to the question of why my Mac keeps freezing. You can check if it's the problem by clicking the Apple icon > About this Mac > Storage. If there are not too many GB left, time to clean up.
The easy way to get rid of extra files and give your system a polish is to use CleanMyMac X. Its cleaning module is everything you want from a good app: it has a one-click solution and a bunch of semi-automated options for picking out and removing large old files.
FIX: To clean your hard drive, in CleanMyMac X, click Smart Scan > Scan, and then remove the junk that CleanMyMac X finds on your drive.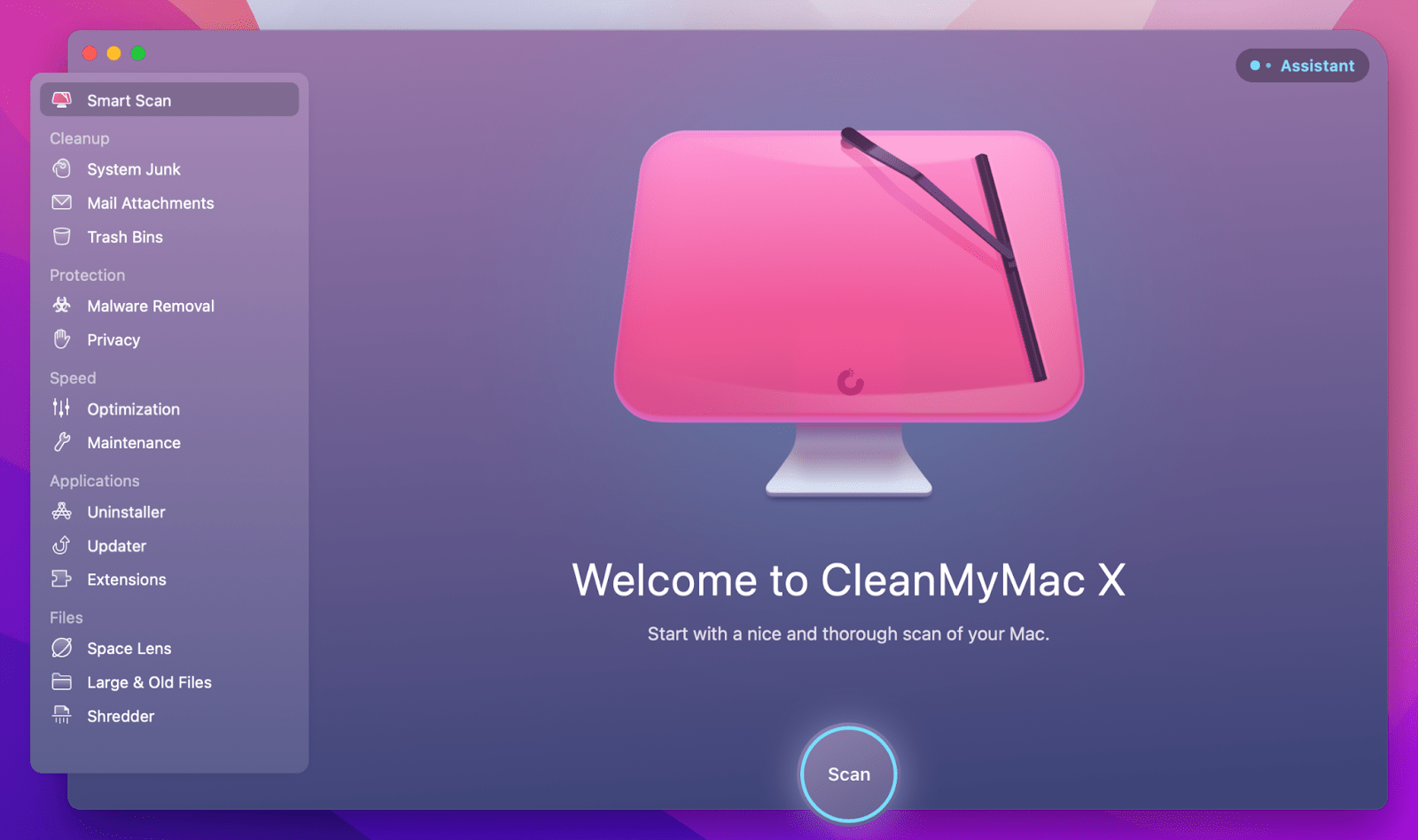 If you take a few moments to carefully clean up Large and Old files, you'll be gigabytes and gigabytes out, you can't imagine how much garbage hangs in there. From personal experience, it takes about half a year to clutter a Mac with random stuff.
Click Large & Old Files and click Scan.
Find what you'd like to remove in there.
Hit Remove.
Now, here are a few other app suggestions to free up more space:
Gemini — removes duplicated images and similar photos.
Dropshare — lets you quickly move files into the cloud.
Clean your desktop
A cluttered desktop can seriously slow down your Mac, and can also cause many problems. That is because every icon on your desktop is an image, not just a link, and it's redrawn each time you start your Mac.
FIX: To clean up your desktop, use Spotless app. Simply drag your files onto the Spotless pop-up drawer in your menu bar and instantly create a rule to organize them in their own folder or delete them. You can automate tidying up with Spotless rules so that all your new files at the end of the day or week get placed into their designated folders.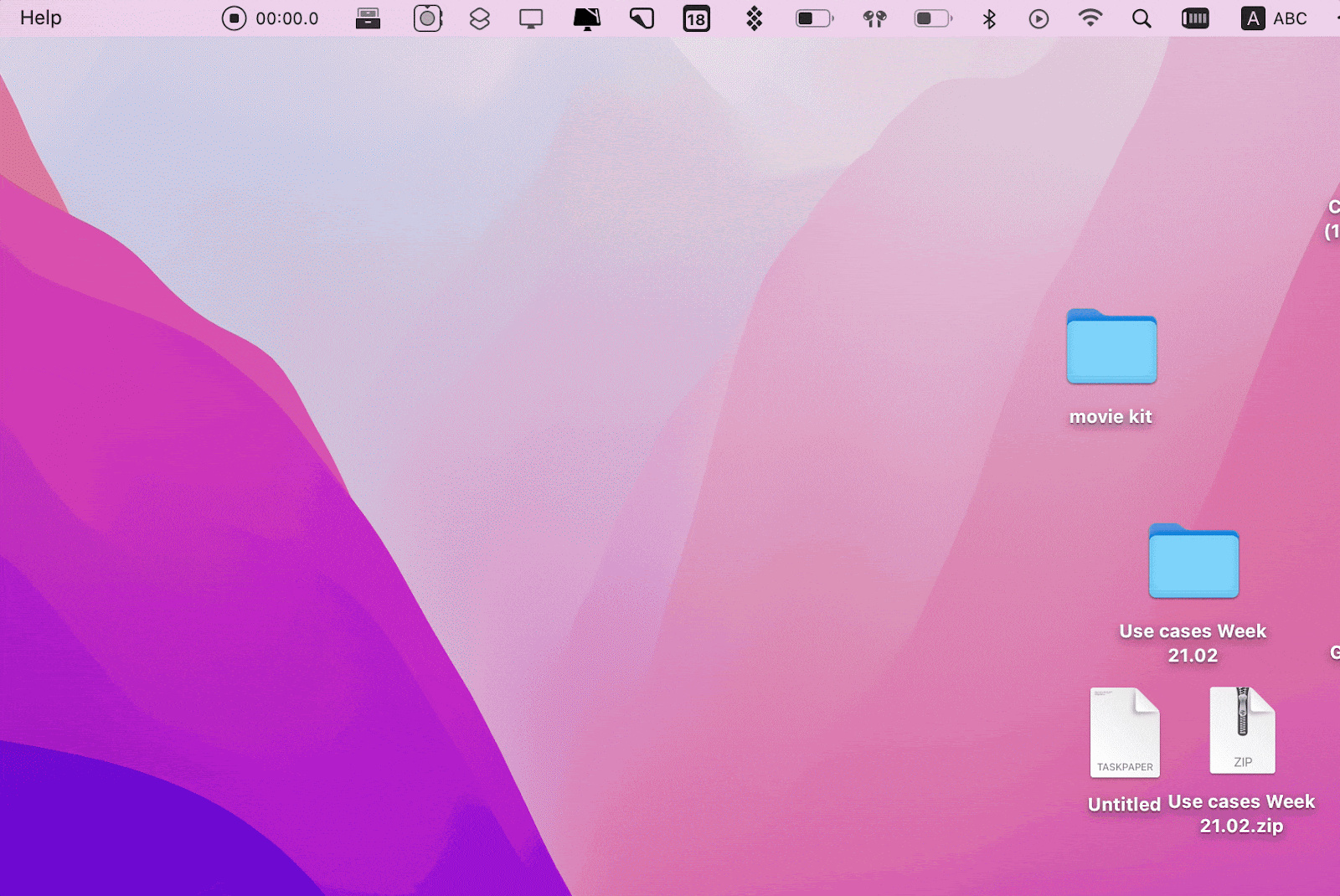 Try a virus scan
If you don't see any trouble with unresponsive apps or hard drive space, there could be some kind of malware hindering your Mac's performance.
FIX: In our beloved CleanMyMac X, navigate to Malware Removal and click Scan. If CleanMyMac X finds any malicious files, make sure you remove them right away.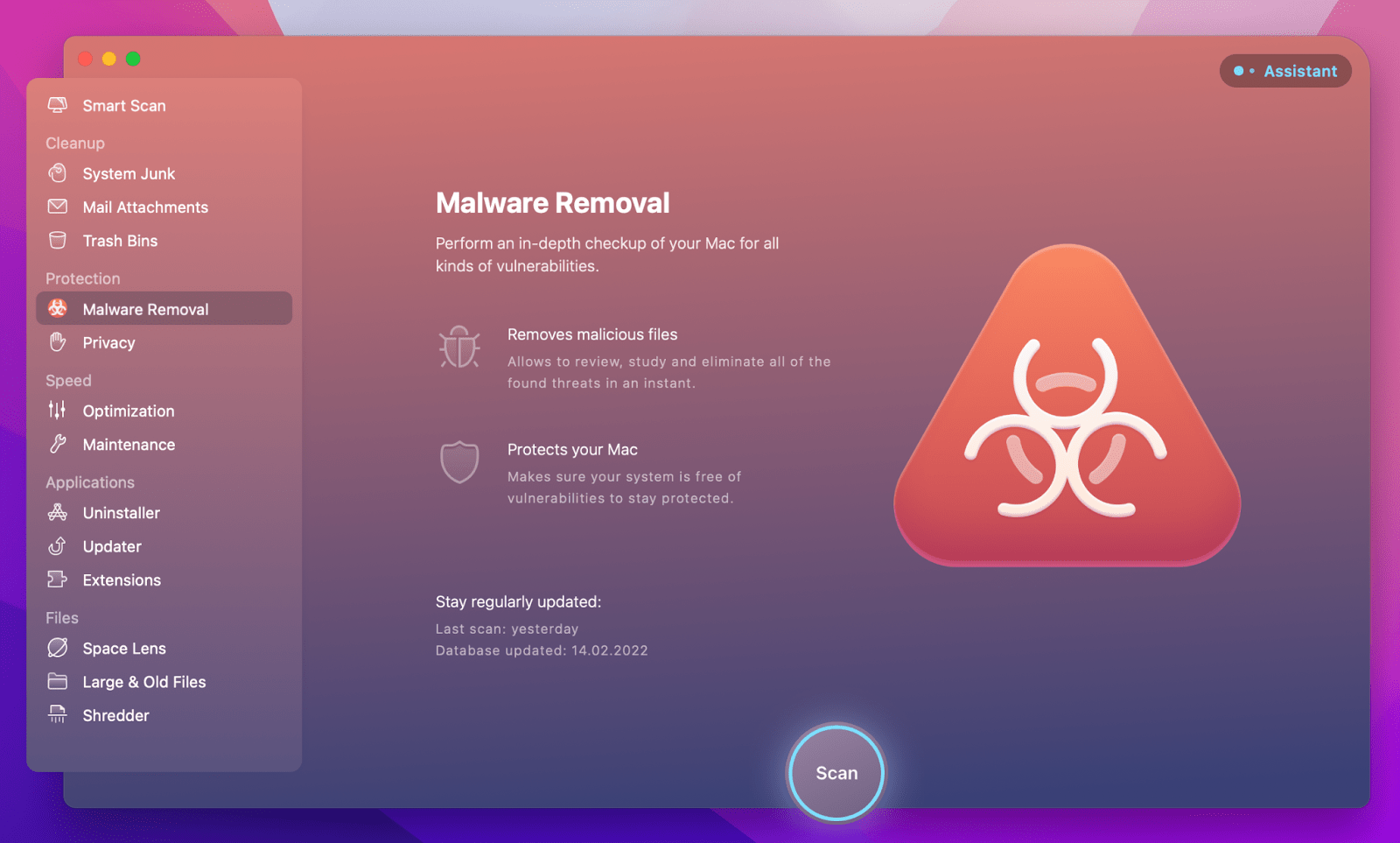 Reset the SMC
The System Management Controller (SMC) is a circuit in Intel Macs, responsible for things like fan control, power management, and more. Resetting the SMC might help fix some of the Mac glitches, including freezing problems.
FIX: To reset the SMC on an Intel Mac, shut down your Mac and disconnect all peripherals except for the power cable, press and hold the power button + Shift + Control + Option for about 10 seconds. Release the keys and turn on your Mac.
On M1 Macs, you can't reset the SMC, but some sources say you could try shutting down your Mac for 30 seconds, and then turning it back on.
Reset NVRAM
Resetting non-volatile RAM or NVRAM (formerly known as PRAM) could help, too. Again, this primarily relates to the owners of Intel Macs. M1 Macs function a bit differently — basically, the system will reset NVRAM automatically if there's such a need — so feel free to skip this step if you have an M1 Mac.
FIX: Restart your Mac, then press and hold Command + Option + P + R, and wait for about 20 seconds. You can release the keys if you hear the startup chime for the second time, or when the Apple logo appears and disappears for the second time (on Macs with the Apple T2 Security Chip).
How to retrieve lost data after a freezing issue
What if you resurrected your Mac and realized some of the files are missing? Don't worry just yet, install Disk Drill, the world's premier data recovery software for macOS. It was created for the cases when Mac crashes and you lose data, as well as when you accidentally delete files.
FIX: In Disk Drill, scan the chosen drive or partition for lost files. Once the scan is done, preview the files and restore those you need.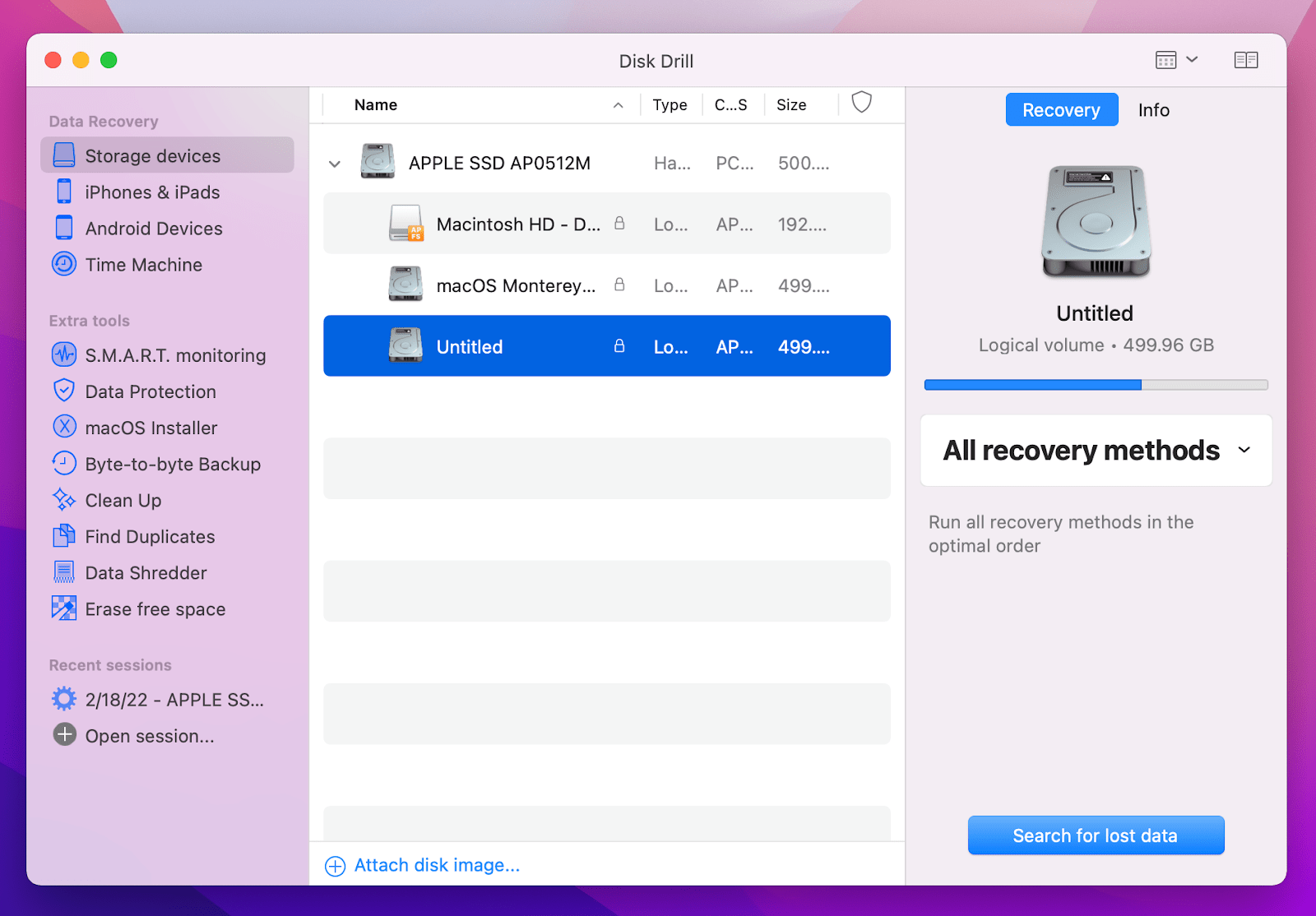 What to do when Mac freezes but the mouse still moves
A rare case that can signal two things: your Mac is nevertheless locked up and you can try out all the regular solutions (restart, find problematic apps, clean the hard drive) or there's a hardware problem.
There's a way you can check if the latter is the case without taking your Mac to a service store. Install iStat Menus and use its indicators to see if there's an ongoing problem with your drives or battery. Pay attention to the CPU temperature and battery life in particular.
Another way to diagnose your Mac would be to run a specific hardware test administered by Apple itself.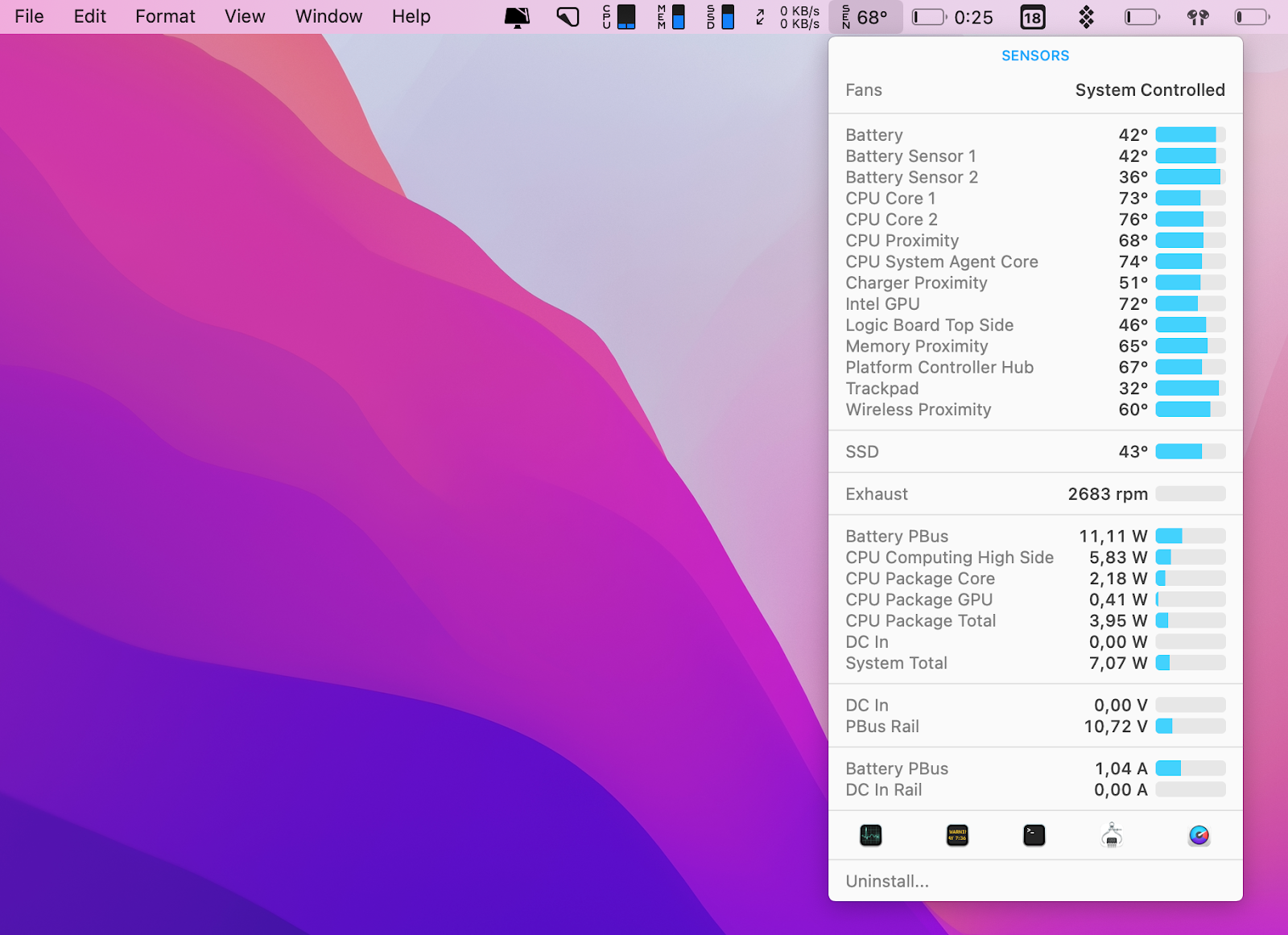 Run Apple Diagnostics
Preparation: disconnect all external devices except for the keyboard, mouse, display, and power cable. Put your Mac on a table or anything flat (a soft bed would be a poor choice). Shut down your Mac.
If you have an M1 Mac:
Turn on your Mac while holding the power button

Release the power button when you see the startup options screen

Press Command + D.
If you have an Intel Mac:
Turn on your Mac and immediately press and hold the D key

Release when you see the progress bar or language picker.
Upon completion of the Apple Diagnostics scan, take a look at the lower part of the window and study the results. To quit, hit Restart or Shut Down at the bottom.
How to avoid Mac freezing
When a Mac freezes, those solutions are reactive, and while you are going to be up and running again soon, you should think about fixes that will help you avoid crashes in the future.
CleanMyMac X is one way to clean up an untidy Mac. Other apps worth installing from Setapp include iStat Menus we mentioned before, a handy app that will quickly identify what is absorbing so much CPU; Quit All, a magic wand for stopping all active processes; App Tamer for taming CPU-hungry apps, and some others.
Setapp has small toolkits to fix different types of issues on Mac — including freezing — so you can get everything you need to troubleshoot Mac problems with this useful subscription. It's free to try for 7 days, with all the apps and features fully unlocked.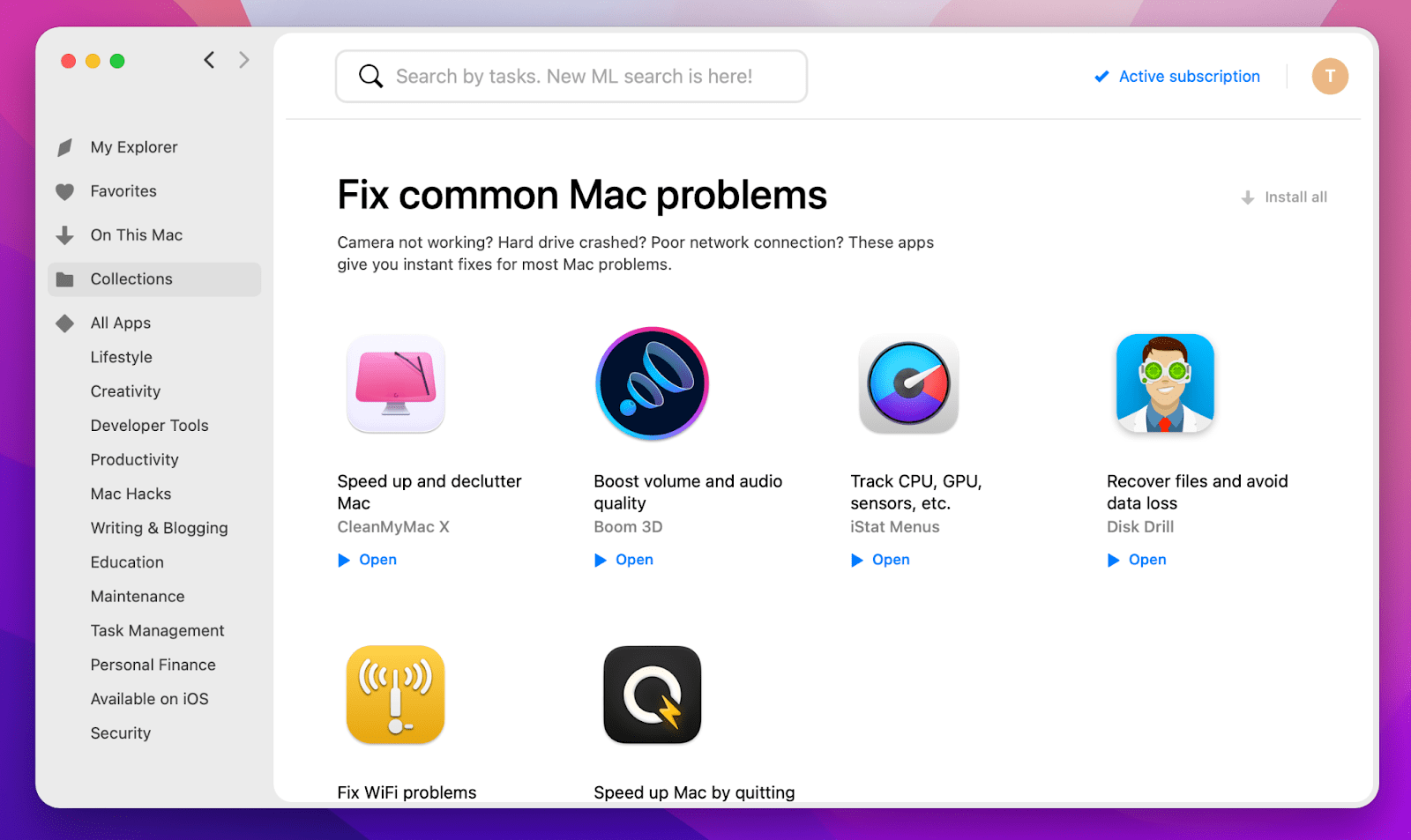 That's about it on the matter of freezing Macs, we hope this article has been of help.
FAQ
Oh wait, just a few more useful tips to finish this up. If your Mac keeps freezing and you're desperate to "unfreeze" it immediately because you have an important task to complete, make use of these methods.
How to restart Mac when it's frozen?
Press and hold the power button until your screen goes black. Wait a few seconds, then turn it back on by pressing and holding the same button.
How to shut down Mac when it's frozen?
If there are no unresponsive apps, you can safely shut down your Mac without forcing the shut down: press Command + Control + Option + power button. Otherwise, press and hold Control + Command + power button to force shut down. If you can move the mouse, use Quit All to safely quit all active processes and save the changes in apps before you shut down your Mac.
How to quit a Mac program when it's frozen?
Press Command + Option + Esc, pick the app you want to quit, and click Force Quit. If you don't know which app causes the problem, use Quit All.