How to run diagnostics on Mac
We associate a Mac with quality, capacity, speed, and reliability. But it might happen so that your Mac underperforms, and unpredictable issues occur. Before taking it to the nearest Apple service, you can try to identify the problem yourself by running comprehensive MacBook diagnostics – Apple Diagnostics, to be precise. It will save you time and money and prevent serious system crashes. In this article, you will learn how to run diagnostics on Mac and how to interpret the results.
What is an Apple Diagnostics?
Apple Diagnostics is a built-in test that helps determine which hardware components are causing the problem and pinpoint system failures. The test checks the RAM, power controller, logic board, battery, and other wireless modules.
That was the hard part. And the easy part is that you can run Apple Diagnostics in just a few steps. The whole process takes about 2-5 minutes but ultimately saves hours of time.
A great feature of Apple Diagnostics is that after it checks your hardware, it displays an error code and provides you with clear solutions and assistance from Apple Support. You can write down the error codes (known as reference codes) and either do the research yourself or contact Apple.
When referring to a Mac diagnostic test, you may also hear about Apple Hardware Test (AHT). This is a predecessor of Apple Diagnostics (AD), and they have some minor differences. Mainly, the results of AHT aren't conclusive and descriptive. AHT is used in Macs released in 2012 or earlier, while AD is a more advanced analog that works with newer Macs.
When should you run diagnostics on Mac?
If you think there's a hardware problem with your Mac – which could be the case if your Mac shuts down randomly, runs extremely slowly, etc. – you should consider an Apple Diagnostics Mac test.
Basically, a Mac hardware test is a great tool to help you understand the problem. And if it doesn't have a fix for it – there are more advanced tools you can use to troubleshoot Mac issues. More on that in a moment.
How to run a diagnostic on M1&M2 Mac (Apple Silicon chip)?
If you are interested in running diagnostics on Mac with the Silicon chip, follow these steps:
Disconnect all the devices from your Mac except for the essentials, such as a keyboard, monitor, mouse, etc.
Shut down your computer in case it was turned on
Start your Mac as usual by pressing and holding the Power button until you see the startup options
Then Press Command + D to run the Diagnostics test on your Mac.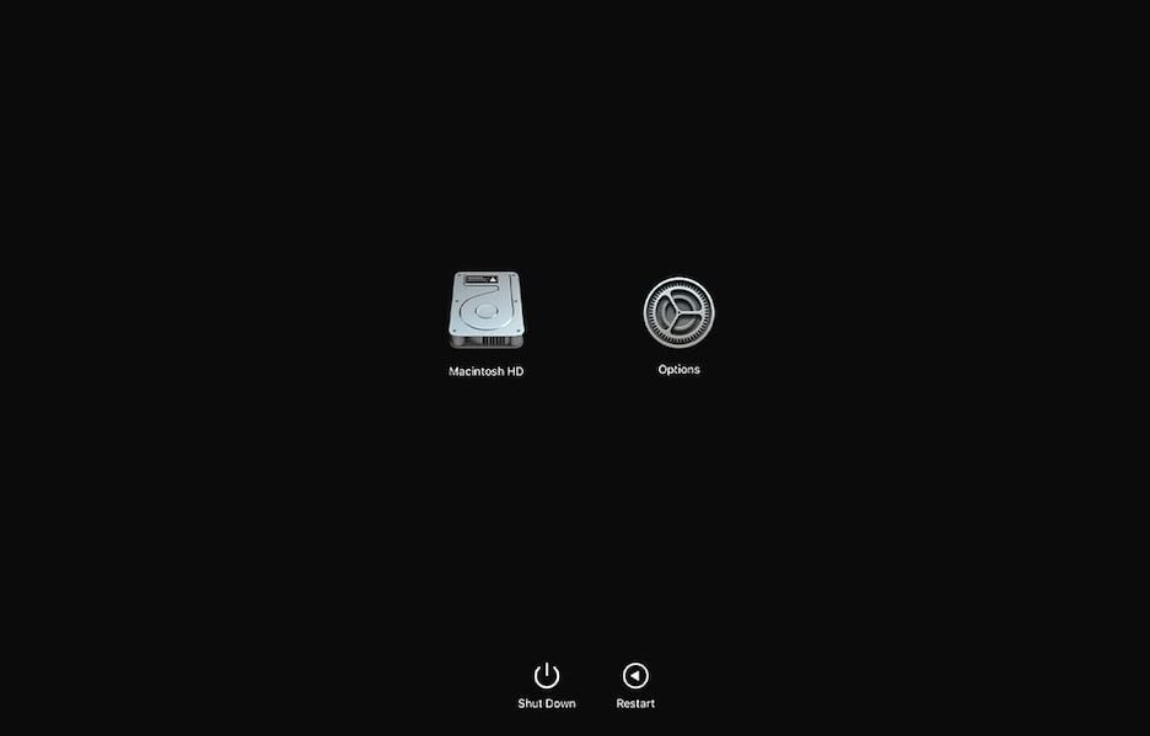 How to run a diagnostic on Mac with Intel Processor?
Now, we will show you how to run Apple diagnostics on Intel-based Macs. Follow the steps below.
Much like with the Apple Silicon Mac, disconnect all unnecessary devices and proceed to turn down your device. Do not wait for the computer to turn off completely. Press and hold the D button right away
You can release the button when you see a selection of languages
Choose the necessary language, and the diagnostics process will start.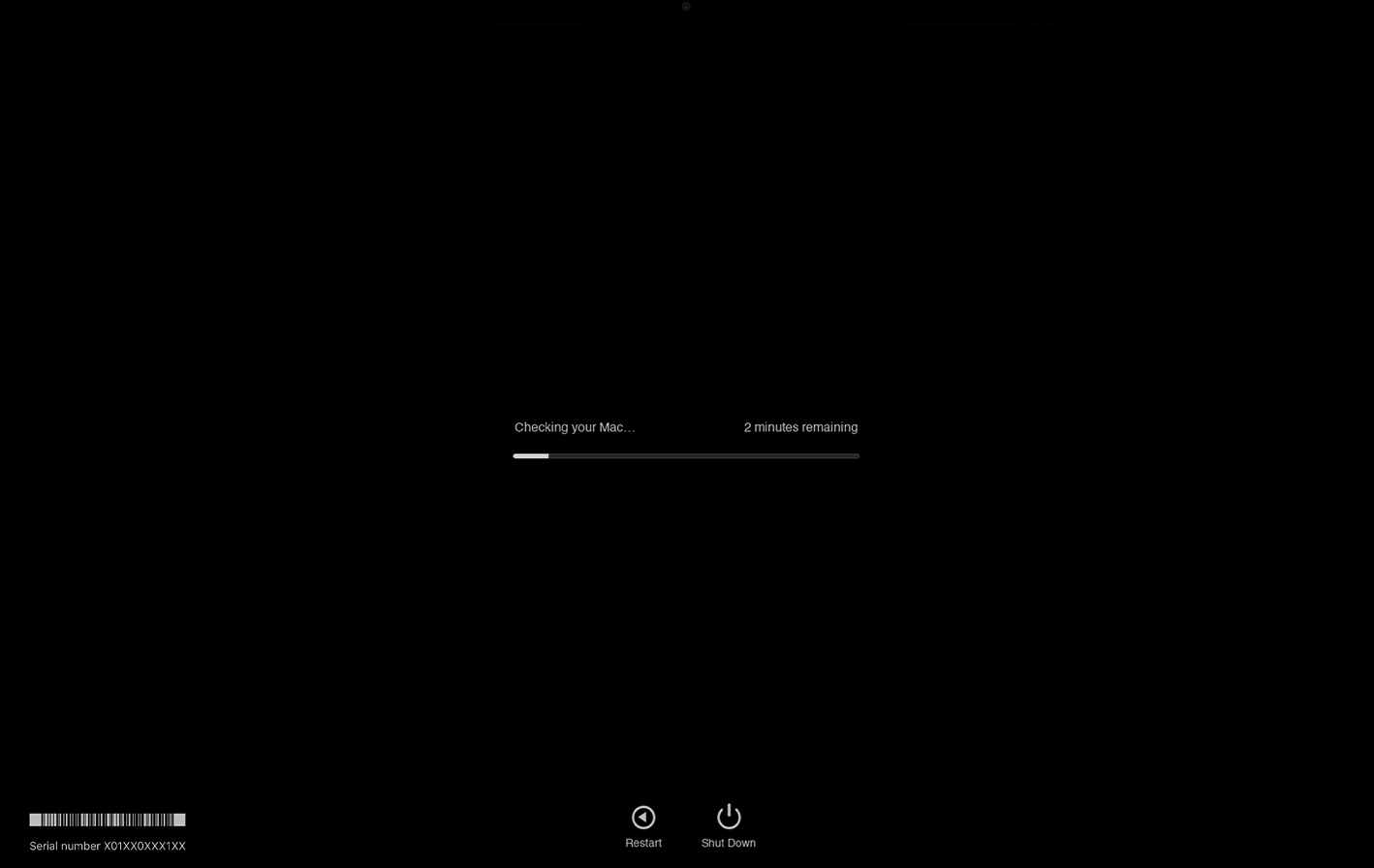 Run your Mac diagnostics with ease
Sometimes you search for how to diagnose your Mac after you have already experienced certain problems with the system. This is similar to many people who only go to the doctor when something starts hurting badly. It is always better to get regular checkups and prevent health problems, and the same goes for computers. It is advisable to monitor and clean your Mac on a regular basis, and apps like CleanMyMac X are incredibly helpful.
The tool offers a range of options, such as speeding up your computer, disc cleanup, uninstalling unnecessary and broken apps, etc.
Many so-called junk files tend to accumulate on your computer, and cleaning them manually either takes a lot of time or requires special knowledge to discover their location. With CleanMyMac X, you can perform regular cleanups with just a few clicks. It is also possible to search for specific types of files if you want to get rid of something particular.
Another app you might find useful in this situation is iStat Menus. It helps with monitoring various stats and providing feedback on the performance of your Mac. You will get info about the memory, temperatures of different parts of your computer, disk performance, and more.
You can display all this data in different kinds of charts for easier comprehension. It is also possible to turn on the specific features you need, which you will see in the menu bar. With all these stats at your disposal, you can always monitor the performance of your device easily and take action anytime certain issues occur.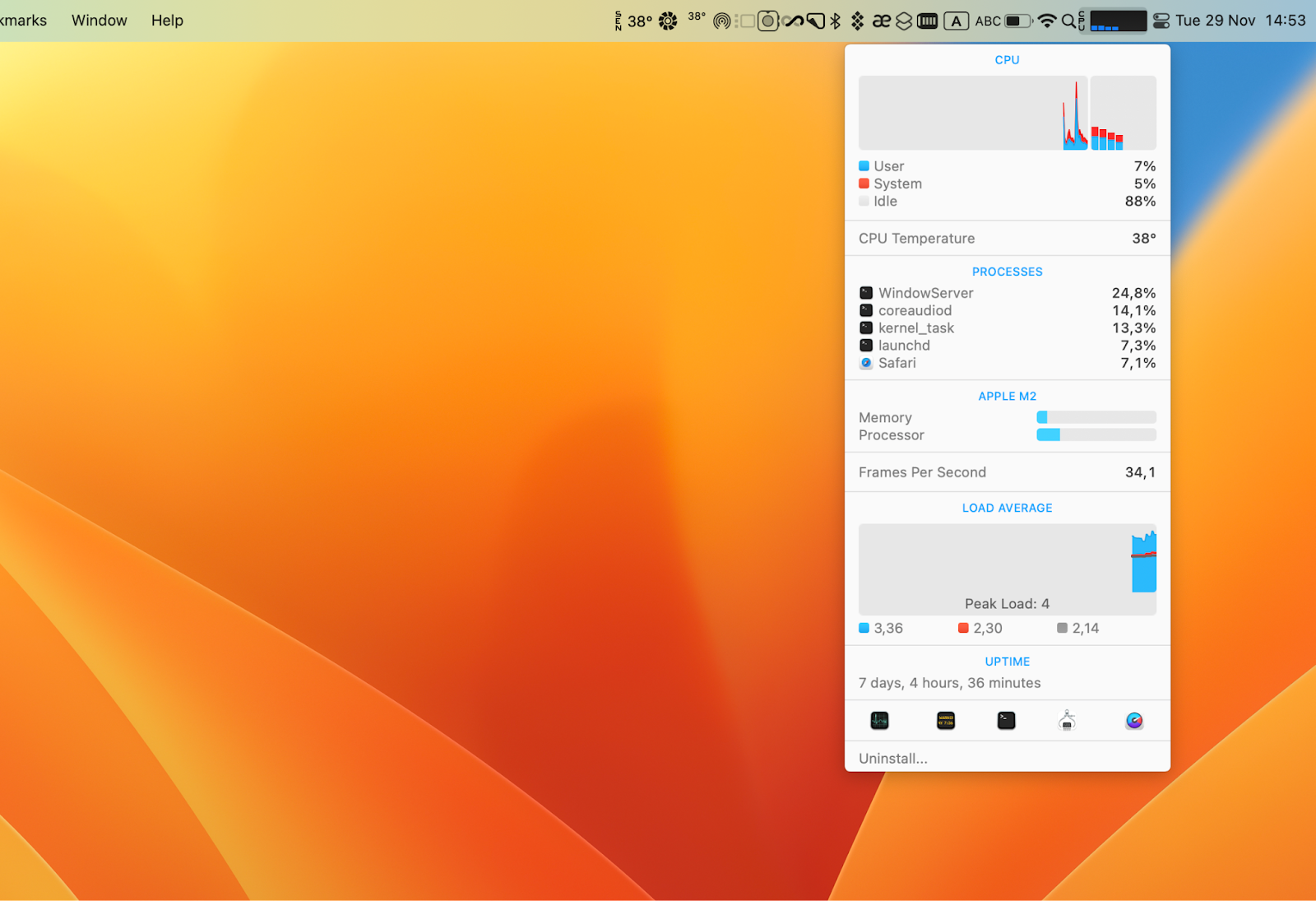 What are the common Apple Diagnostics results?
After performing Mac hardware diagnostics, you'll get the list of found issues with detailed descriptions and related reference codes. Each code stands for a particular error and helps you quickly figure out the next steps. Usually, an error description will suggest possible solutions. However, to fix a specific problem, Apple Diagnostics might recommend you contact Apple or take your Mac to an Apple Authorized Service Provider or Apple Store.
What if you can't run diagnostics?
In some cases, Mac users might experience issues with running Apple Diagnostics in the first place. Here are some things you can do to solve this problem:
Disconnect all other devices. You might have forgotten to disconnect some devices other than essentials (you don't need to disconnect your mouse, computer screen, and keyboard). The power source and the internet need to be connected as well, but all the other tech should be disconnected.
Test hardware. The diagnostic system can also malfunction. You can initiate another test that requires an internet connection by pressing and holding Option + D at the same time.
Disable firmware password. This might be the issue that interferes with diagnosing your Mac.
What if diagnostics found no issues?
Sometimes, there are no issues with your hardware even when the computer seems to have performance issues. In this scenario, the problem might be in your software. The storage might be full, tons of unnecessary and broken files might clutter the system, etc. In this case, we recommend you do a cleanup scan with the help of CleanMyMac X.
This is how you can clean up space on your computer:
Install and open CleanMyMac X
In the left sidebar, click Smart Scan
Perform a scan to discover the files you want to get rid of. CleanMyMac X offers deleting various system junk, mail files, or even cleaning up your trash bins. Pick the necessary option and click on the Clean button.
Wait for the app to delete unwanted files.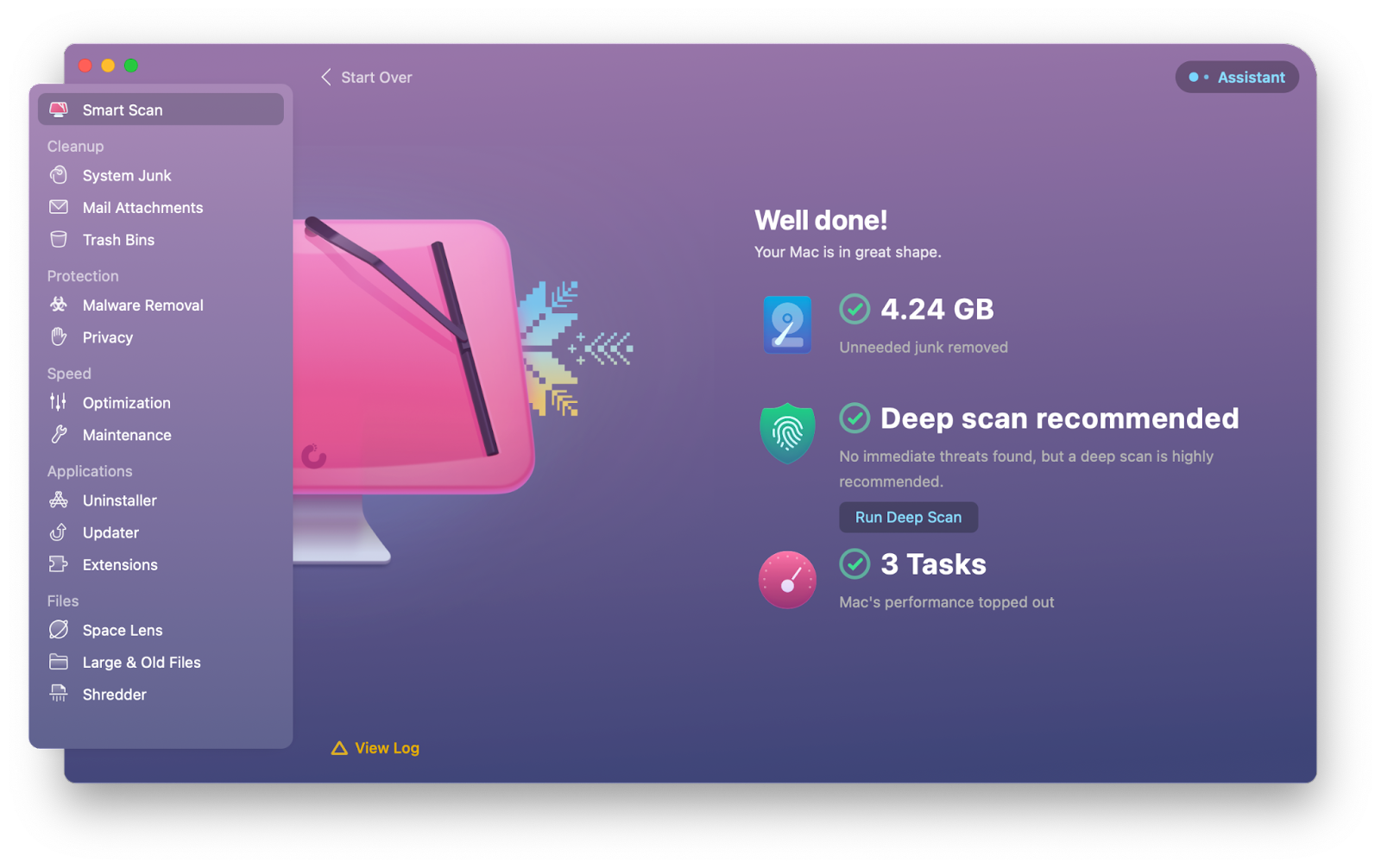 This is only one way of optimizing your Mac by using CleanMyMac X's features. One of the biggest issues that usually slow down the performance of your Mac is crowded memory. Fortunately, there is an easy way to free up some space. To do that quickly, follow the steps below.
Install and open CleanMyMac X on your Mac
In the left sidebar, click Maintenance
Specify what should be done. For example, if you want to speed up your Mac by freeing up some space, check the box next to Free Up RAM. You can select all the tasks at a time, or choose the particular ones
Click on the Run button and wait for the app to clean up some space on your Mac.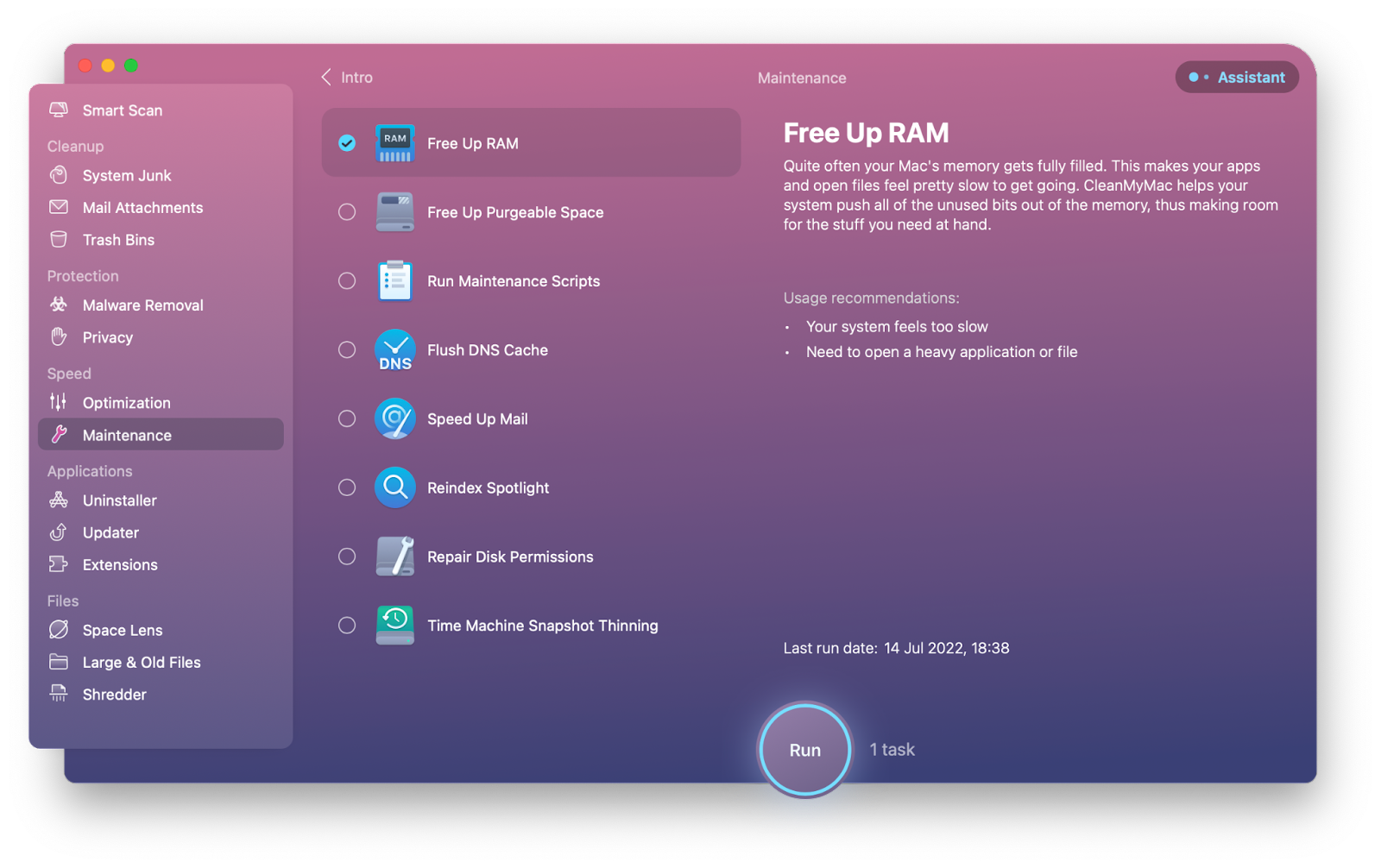 After these cleanups, you'll feel the difference in how your computer performs. However, there are also other ways to improve things even further.
Excessive CPU (central processing unit) use is among the things that often slow down computers. Of course, when the CPU is occupied, the performance can drop noticeably. Different background programs can use the CPU a lot, and it is often difficult or even impossible to slow them down or turn them off manually. Luckily, there is a great app for this.
App Tamer allows finding idle programs on your device that occupy too much CPU and hinder the performance of your Mac. All you need to do is to turn on the App Tamer and see which programs cause you all this trouble. It is possible to turn them off completely or adjust the amount of CPU they are using. These features not only help with improving Mac's performance but also make the battery life longer and prevent the computer from overheating. This is incredibly helpful in the long run as well, as you will not need to troubleshoot your computer as much.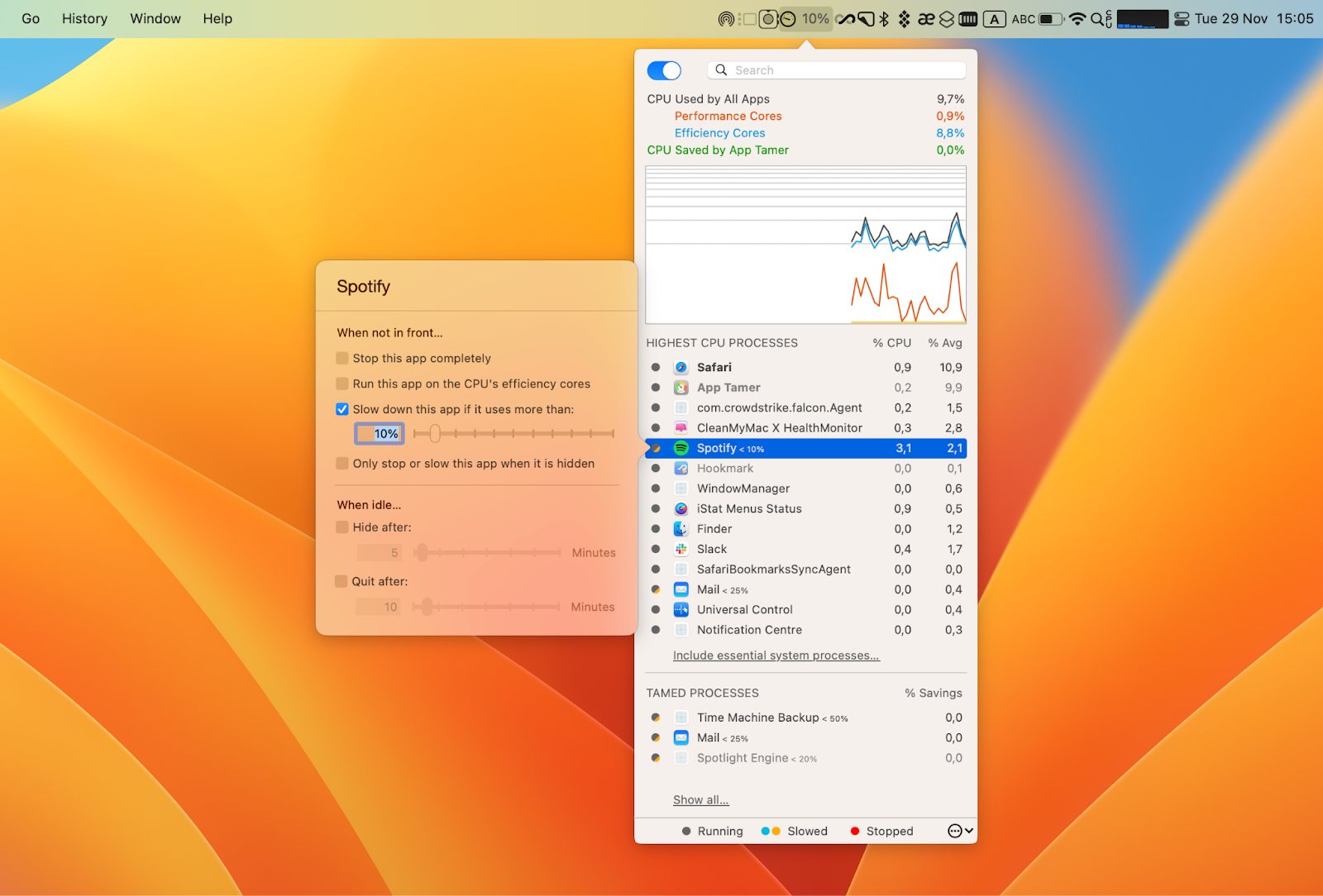 The best way of running diagnostics on Mac
The system diagnostic Mac feature may keep your Mac healthy and save you time and money. When testing your device, the primary step is to understand whether the issue is a hardware or software one. While Apple Diagnostics deals with hardware breakdowns, CleanMyMac X can fix the software problems.
Running Apple Diagnostics and optimizing performance with CleanMyMac X, iStat Menus, and App Tamer prolongs the life of your Mac. These three apps are free for seven days on Setapp, a platform with over 240 curated apps for Mac and iOS in every category you can imagine. Try any Setapp app at no cost today and find new favorites to add to your app stack.
FAQ
Where is the MacOS diagnostics folder?
If you are looking for the files with Apple Diagnostic results, check the following directory: /Library/Logs/DiagnosticReports.
How long does it take to run diagnostics on a MacBook?
In general, both MacBook and iMac diagnostics only require two to five minutes to complete. Sometimes, you might need to wait for about ten minutes for the system to finish the diagnostics.
How do I run a diagnostic test on my Mac that won't turn on?
It's not always possible to run MacBook diagnostics if your Mac won't even turn on, however you can try it by holding down the D key (or Command + D) after pressing the power button. Hopefully, you can get a hardware diagnostic Mac test running.