If your Mac regularly runs into problems or you frequently experience the dreaded spinning color wheel, one of the potential causes could be your Mac's RAM running at close to its maximum capacity.
While memory management in macOS, including techniques like using your startup disk as virtual memory, is excellent these days, there are also more demands being placed on RAM thanks to new features and improvements. The more your Mac has to resort to virtual memory, the less well it will perform. And while the best solution is, if you can, to add more RAM, there are plenty of things you can do to reduce memory usage on your Mac.
First thing, find out what apps and processes are using the most memory. You can do that using iStat Menus.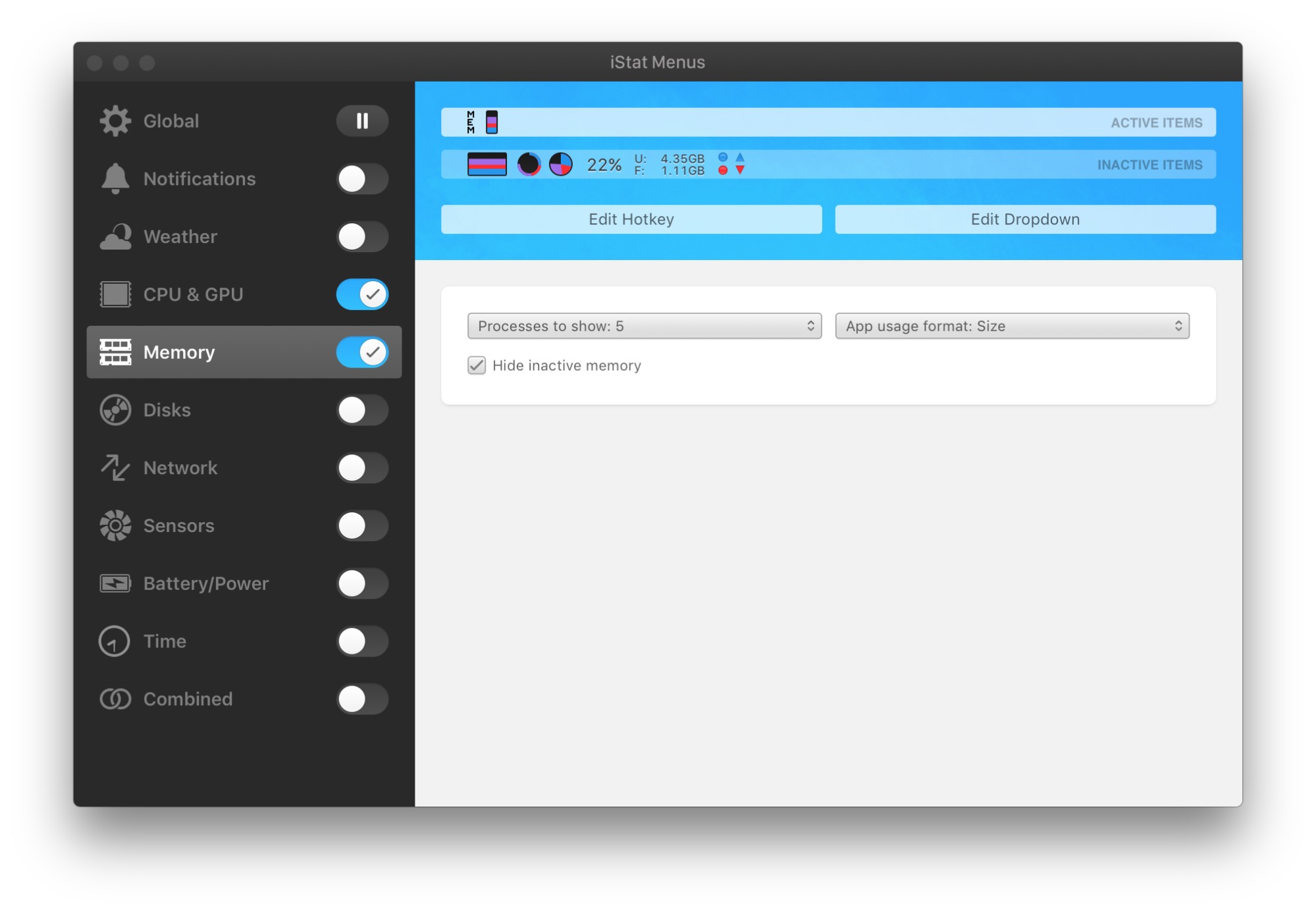 Launch Setapp and search for iStat Menus. When iStat Menus asks for permission to install additional components, click Install.
When you see the Dashboard, switch on the components you want to see in your Mac's menu bar. While there, you should switch on the Memory tab.
Click on the Memory icon in your menu bar and you'll see information about current memory usage on your Mac. Pressure shows the percentage of available RAM that's currently in use. And below that, you'll see a list of processes, starting with the one that's using the most RAM.
Tip: By default, iStat Menus shows only five processes, but you can make it show more. On the Dashboard, click the Memory tab and click on the Processes to show menu and select the number of processes you want to see.
Hover over the colored bar chart in each section to see a larger graph of memory usage. You can click on the tabs at the top of the graph to change the time period over which it shows memory usage.
By now, you'll have a good idea of how your Mac's memory has been used and whether it's caused your Mac to have problems. For a more detailed view on the processes that are hogging RAM, go to the bottom of the iStat Menus and click on the Activity Monitor icon (bottom panel, left most icon).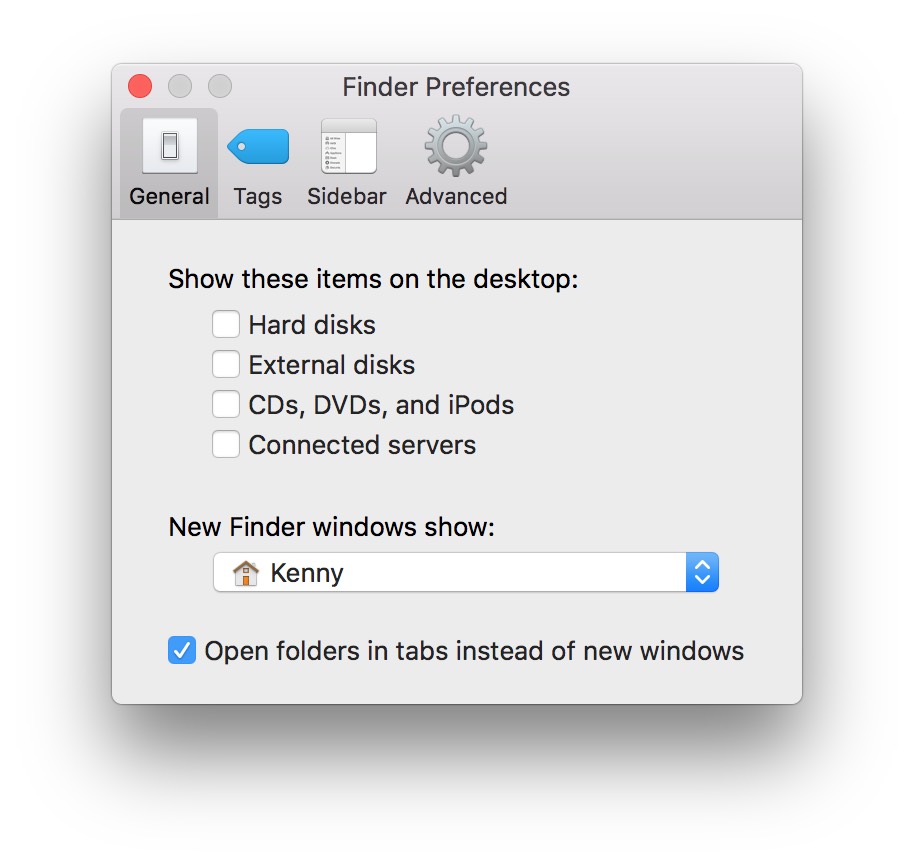 Finder
One common culprit for hogging RAM is Finder, your Mac's file manager. If iStat Menus or Activity Monitor has highlighted Finder as using hundreds of MBs of RAM, there is an easy solution — change the default display for a new Finder window so it doesn't show All My Files.
Click on the Finder icon in the Dock and click on the Finder menu, then select Preferences.
Click on General. Under 'New Finder windows show', click the dropdown menu and choose any option except All My Files.
Close Preferences, press Alt-Control, and click on the Finder icon in the Dock. Click Relaunch. Finder will now relaunch with new windows opening at the option you selected in Step 2.
While we're talking about Finder, your desktop behaves in a similar way. Icons on your desktop are drawn and redrawn each time it changes, and their preview images are stored in RAM, so you can use Quick Look. The more files you have on your desktop, the more pressure they put on your Mac's memory. The simplest solution is to move files off the desktop. Declutter (available in Setapp) can help here. It moves files from your desktop to color-coded folders automatically, based on rules you set.
Login items and extensions
Login items, browser extensions, and preference panes, such as Flash, are another common source of memory usage. Most of us have several installed that we rarely use, but which hog memory and reduce performance.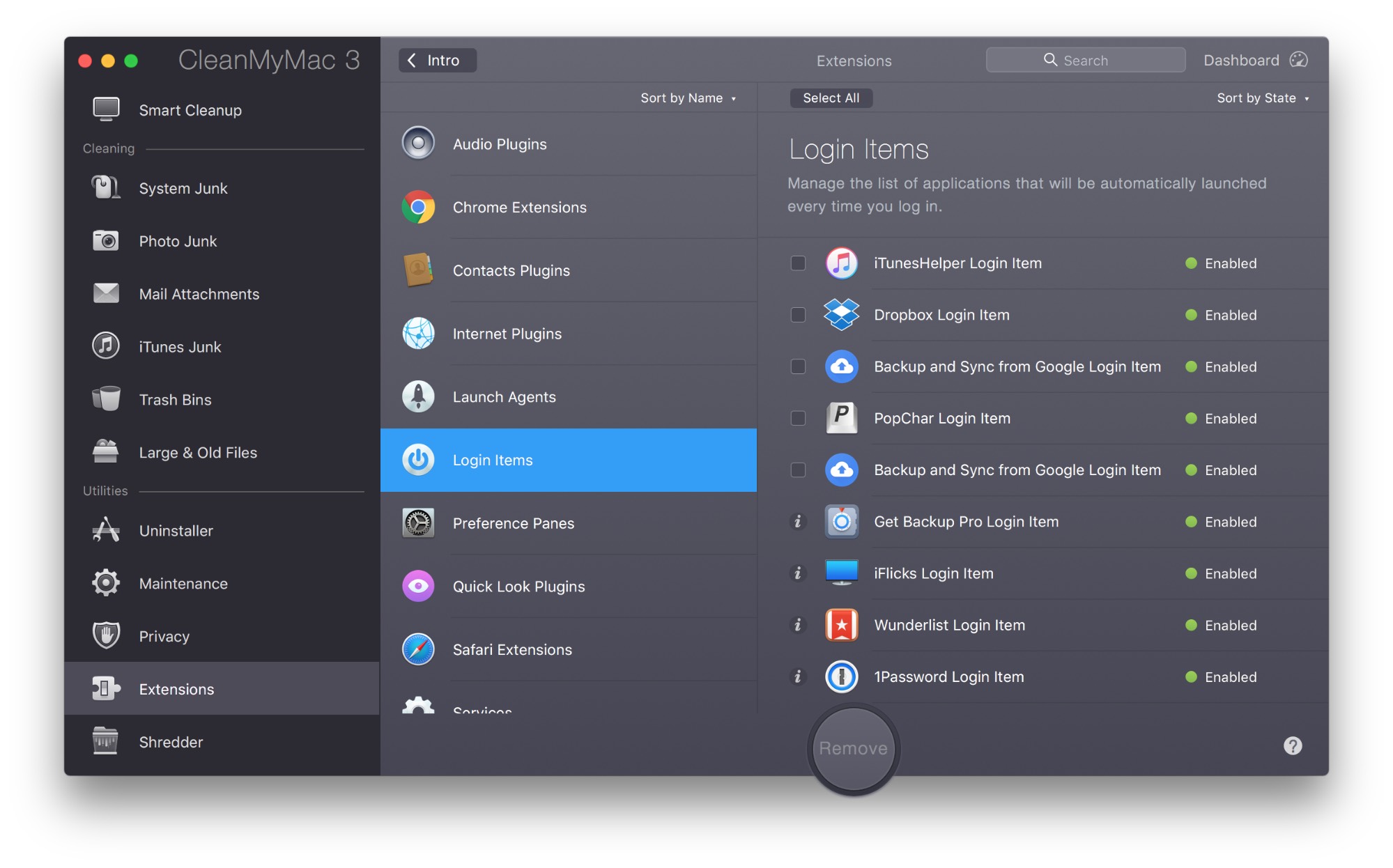 CleanMyMac, one of the apps in Setapp, makes it very easy to uninstall login items, extensions, preference panes, and applications that you no longer need.
If you don't already have CleanMyMac installed, launch Setapp, search for it, and click Install.
When CleanMyMac launches, look for the Utilities section in the left-hand sidebar and click on Extensions.
In the next panel, click on Login items. If there are any login items you don't need or which showed up in iStat Menus as using lots of RAM, click on the checkbox next to their name and then Remove.
Note: Not all login items can be removed on their own. Those that can't have an "i" in place of the checkbox. Click on it to find out why it can't be removed. One common reason is being required by the application that installed it — the only way to remove it would be to uninstall the application.
If you don't use the application, click on the Uninstaller tool in Utilities in CleanMyMac. Check the box next to the name of the app and click Uninstall. The app, its associated files, and the login item will be removed.
How to remove Flash
Adobe Flash is a major culprit when it comes to hogging RAM and making your Mac run more slowly. Most videos on the web today don't need Flash. To remove it, click on the Extensions tool in CleanMyMac, then Preferences Panes. Check the box next to Flash and click Remove.
How to remove Chrome Extensions
While Chrome extensions are shown in CleanMyMac, you have to remove them from Chrome. If you identify a Chrome extension that uses too much RAM, launch Chrome, click on the Window menu, then Extensions. Scan the list of extensions and click the trash can icon next to those that are too RAM-heavy or no longer needed.
Schedule regular cleanups
Consider that every time you use your Mac it slows down a little bit. You use more files, install more apps, and take up more storage. While going through the cleaning process described above isn't an everyday routine, try to schedule it monthly and stick to it. Your Mac will thank you for it.
Get 100+ Mac apps for any job
Sign up to Setapp and try them for free.
Try for free