Review And Best Alternative To CCleaner For Mac
Think about it — all of us spend hours on our Macs every day for years. And it's likely that we don't always use all the apps properly, store away files in an organized manner, and timely delete everything we don't need.
Just like any machine, your Mac needs regular maintenance, even if it's not as regular as one for a PC. The more you use your computer the more errors start to build up, overloaded drive slows down the processor, and resources get stretched too thin. So when you finally can't stand how slow your Mac has become, you turn to Google for answers, and it might tell you that CCleaner for Mac is the way to go. But is it?
What Is CCleaner And Is CCleaner Good For Macs?
You might initially ask, "What does CCleaner do?" CCleaner is an app originally developed by the British company Piriform and later sold to another Czech company Avast that claims to clean up and optimize your slow computer. The initial version was developed for PCs in 2004, with CCleaner Mac to follow in 2012.
So far so good. Moreover, the CCleaner app has become very popular, supporting millions of accounts and has a limited free version that could be downloaded from its website. The CCleaner professional version is available on an annual subscription basis. Let's see how exactly CCleaner for Mac can help you bring your machine back to life.
How to use the CCleaner app for Mac
CCleaner works by scanning your Mac for cache files, browsing history logs, cookies, and more, and then running a cleanup tool to remove them all. The software generally doesn't touch any essential parts of your macOS or any files that are integral to the apps you currently have installed. The whole idea here is to try to clean up unneeded files to help your Mac run better.
Technically, you could even do exactly the same work as the CCleaner Mac app yourself, but it would take you a lot of time to find all those files manually and, unlike CCleaner, you could potentially delete something that should've stayed.
Here's how you'd use the CCleaner app:
Get a CCleaner download from its official website (either the free version or the professional one)
Install and launch the app
In the Cleaner tab, check every option you'd like CCleaner to scan
Click Analyze
If you're satisfied with results ➙ Run Cleaner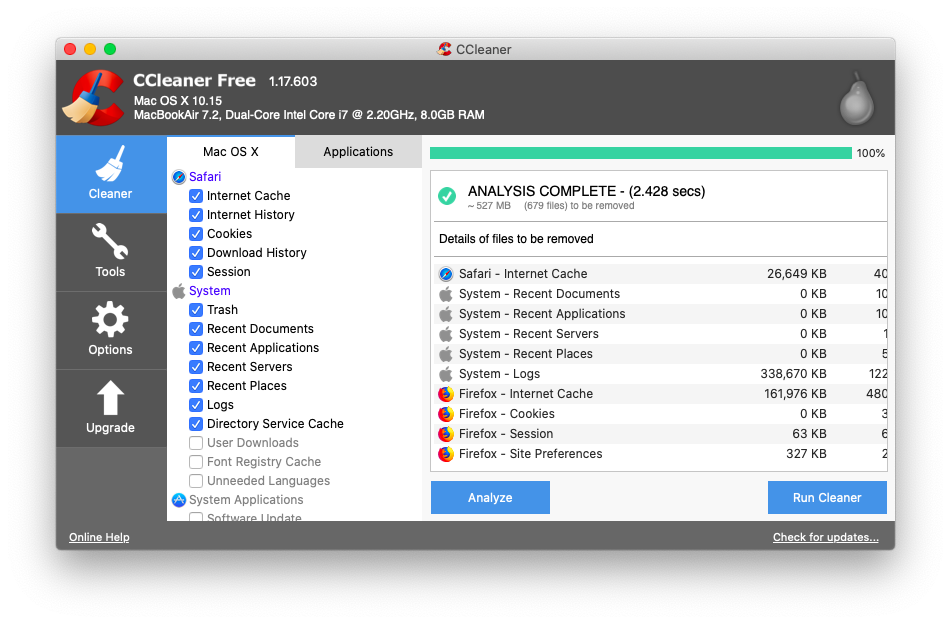 If you get the CCleaner professional version, you can enjoy some additional features, such as automatically cleaning your browser history every time you quit it and monitoring low-quality, suspicious files from getting into your system.
Note: Review all files to be deleted carefully, since most of the time CCleaner will also empty Trash and it wouldn't be possible to retrieve lost files later on.
Is CCleaner safe and other CCleaner reviews
If you've just tried the process above — CCleaner for Mac would sound like a great and easy way to keep your Mac optimized. That's why millions of people have flocked to it over the years.
However, in 2017, the CCleaner app suffered a malicious hacker attack on its 5.33 version for Windows. The hackers were able to create a backdoor and install trojan software that infected around two million users, among which were such prominent companies as Samsung and Intel. The security breach was patched in the next update, but sadly the incident has damaged CCleaner's reputation forever. After all, it's difficult to give a company complete access to all your personal files if it has been hacked before.
It should be said that the breach has only affected the Windows version of CCleaner and not the CCleaner Mac app. But again the question comes down to trust.
Overall, CCleaner reviews have generally been positive throughout its existence, averaging at about 4.5/5 star rating. And it would seem well deserved if not for that one misstep mentioned above.
A good question now is, "What about CCleaner alternatives?"
The best CCleaner alternative today
Naturally, the CCleaner app is not the only Mac optimization utility on the market, and there are other options for everyone second-guessing, "Is CCleaner safe?" One of the most popular ones is CleanMyMac X.
CleanMyMac X is a powerful Mac optimizer used by millions of people every day that has accumulated outstanding reviews, industry recognition, and, most importantly, has never suffered a single breach.
Generally, CleanMyMac X goes much deeper in its scanning of system junk, especially when it comes to locating unnecessary app cache files. Besides, it features a separate anti-malware scan, privacy controls, file shredder, app updater, and much more.
Interface-wise, CleanMyMac X is extremely friendly and intuitive. Here's how to use it:
Launch the app and navigate to System Junk in the sidebar
Click Scan ➙ Review Details
Uncheck anything you're not sure about and hit Clean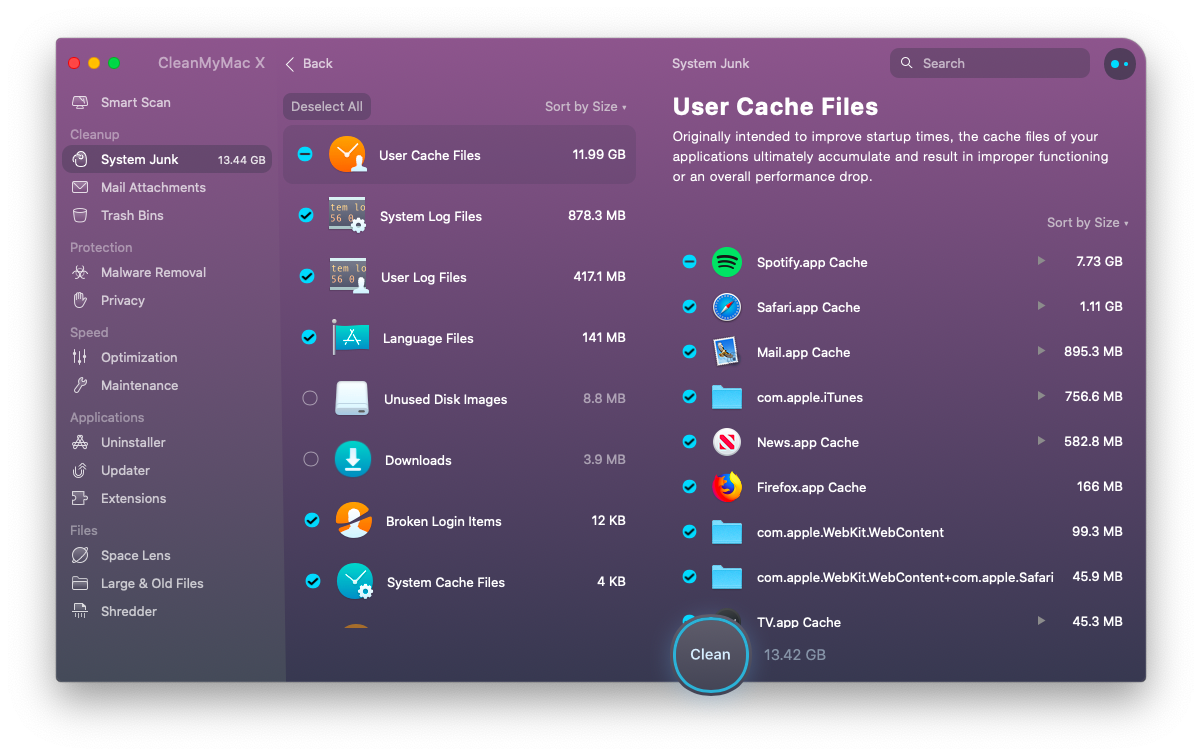 The difference between the CCleaner Mac app and CleanMyMac X is astounding. The same Mac tested in the screenshots above got around 500 MB of junk files in CCleaner against 13.4 GB in CleanMyMax X.
Dive deeper into cleaning
Some things put exceptionally high pressure on your Mac, such as apps working in the background and tons of similar photos you keep on your disk. Both problems can be dealt with.
App Tamer helps you tame the apps that hog your CPU. It's a lightweight menu bar utility with the ability to detect high CPU processes, based on which you can optimize your Mac's performance and eliminate common problems like loud fan noise or Mac freezing.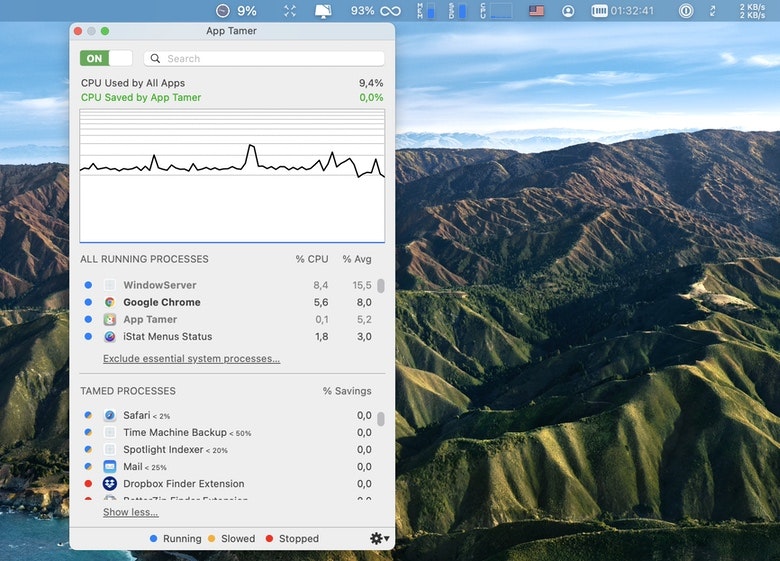 Gemini will help get rid of duplicates and similar files (if you haven't downloaded the same document twice, you're a superhero!) It runs a scan on your disk and identifies files that can be deleted lightning-fast. Even more, with Gemini's Duplicates Monitor, you'll be notified when a new duplicate pops up.

In the end, now you know what is CCleaner and all the basics about it. If you still trust the company and want to use CCleaner for Mac — that might be a good choice. However, the combination of three CCleaner alternatives, CleanMyMac X, Gemini, and App Tamer provides true unparalleled security and the most comprehensive optimization in the industry at the same time.
Best of all, CleanMyMac X, Gemini, and App Tamer are available to you for free for seven days through the trial of Setapp, a platform with over 200 Mac and iOS apps that could help you with any aspect of your digital life, from a speedier Mac to finance management to photo retouching. Sign up for Setapp today, see how much faster and cleaner your Mac can become in no time.