How to get rid of Frequently Visited on Safari in a few clicks
With the total number of websites about to reach two billion any time now, it's easy to perceive the web as limitless. But no matter how diverse you think your internet life is, there are online routines that we establish and web addresses that we visit far more often than others. To facilitate quicker access and spare you the need to type in the address every time, Safari automatically tracks the sites you visit frequently and has their icons displayed for you right on its start page.
Although the Frequently Visited section may be very helpful, sometimes you might want to not have it displayed, especially if you're sharing your device with others. Whether to choose quick access to your usual sites or opt for privacy is up to you. Both scenarios are easy to implement as well as reverse at any time.
So if you're currently wondering how to clear Frequently Visited on Safari, it's fairly easy to do. Let's look into this in more detail.
What is Frequently Visited on Safari?
Frequently Visited on Safari shows the sites you visit habitually and allows you to get where you need to in a single click after launching the browser. It's safe to assume that some of the sites in Frequently Visited would duplicate the pages that you've already chosen to add to your Favorites section. Otherwise, sites just show up in Frequently Visited based on your current viewing patterns and may change over time.
The reason you might want to clear Frequently Visited on your Safari start page is because you no longer use the sites displayed or simply don't want others to learn about your web routines. If that's the case, you should learn how to remove Frequently Visited on Safari.
How to delete frequently visited Safari sites on your Mac?
If your goal is to remove a specific site from the Frequently Visited section, you can simply drag the site's thumbnail or icon and drop it into your Mac's Trash. It's as simple as that. Or right-click on it and choose Delete.
This is a basic method of how to clear Frequently Visited on Safari without disabling the Frequently Visited function itself. With time new sites that you visit regularly will appear as shortcuts on your Safari front page.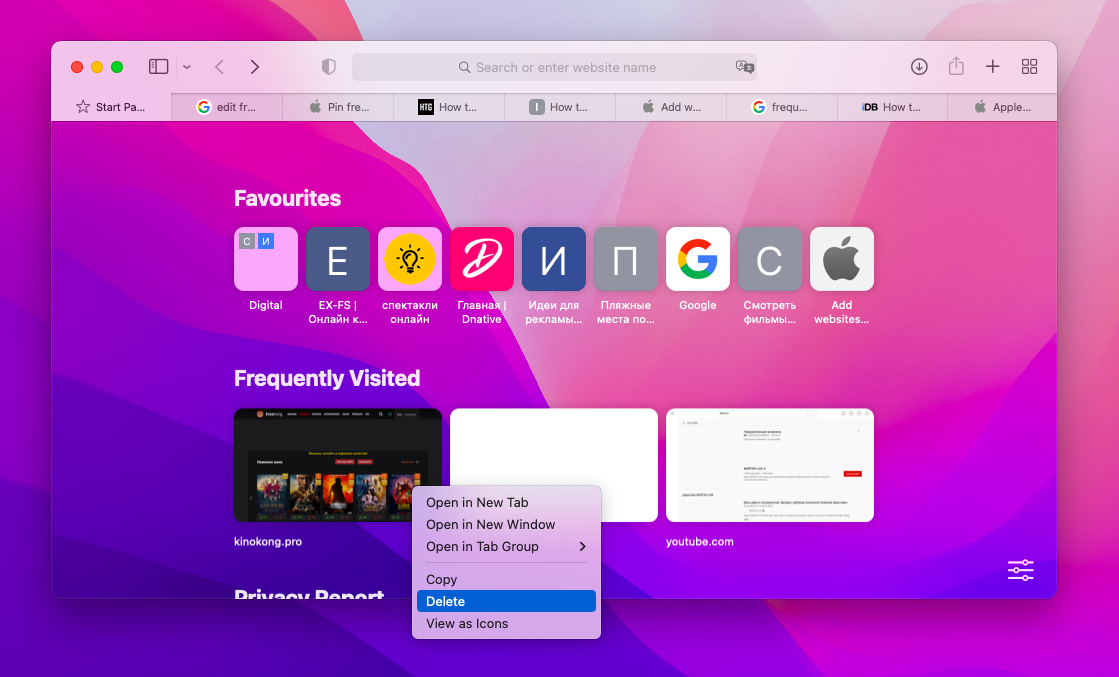 Additionally, if you want to make sure that the sites you're removing leave no trace in your browsing history, it's a good idea to perform search history and cache clean-up on your device. This is how to do it on Mac:
Launch Safari
Choose History from the top menu bar ➙ Clear History
Decide on the period for which you want your browsing history to be cleared ➙ Clear History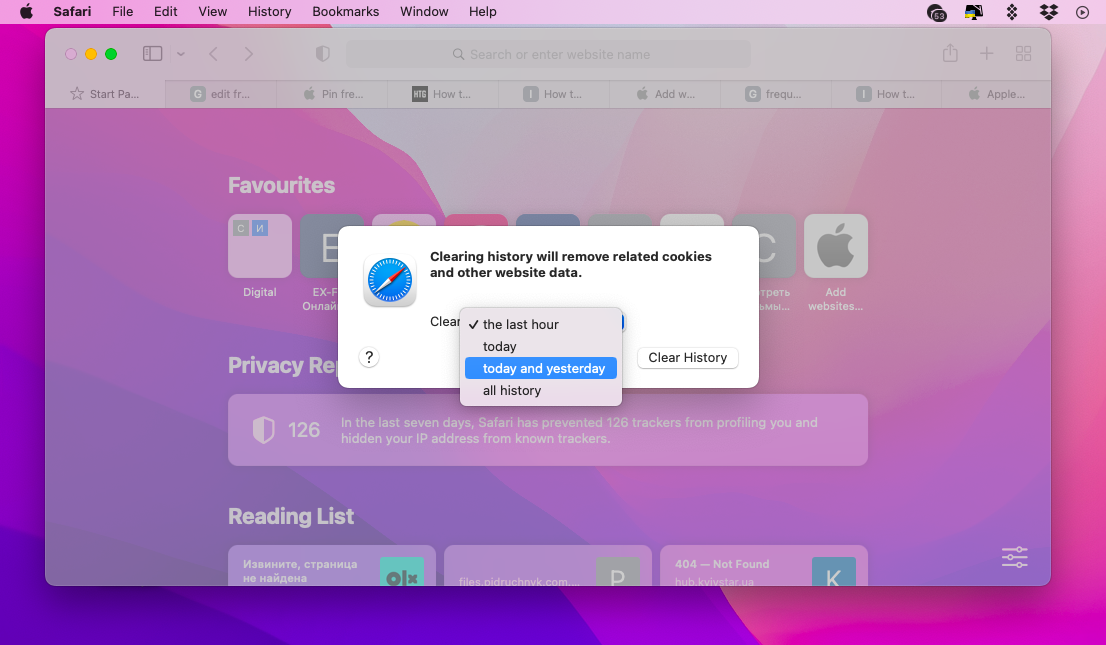 If you want to go about removing histories, cookies, and caches from all the browsers on your Mac the proper way, team up with CleanMyMac X. It's a powerful and super easy to use app that cleans, protects and optimizes your Mac's performance. With a single click on Run, expect your Mac to declutter and get back its speed.
CleanMyMac X will make it its mission to perform regular full system cleanups to:
Sort through the old unused files and random app caches
Help you uninstall apps without leaving behind the leftover files and folders on your drive
Take care of gigabytes of disc space taken by the email attachments you've never even downloaded
Scan for thousands of malware threats and neutralize them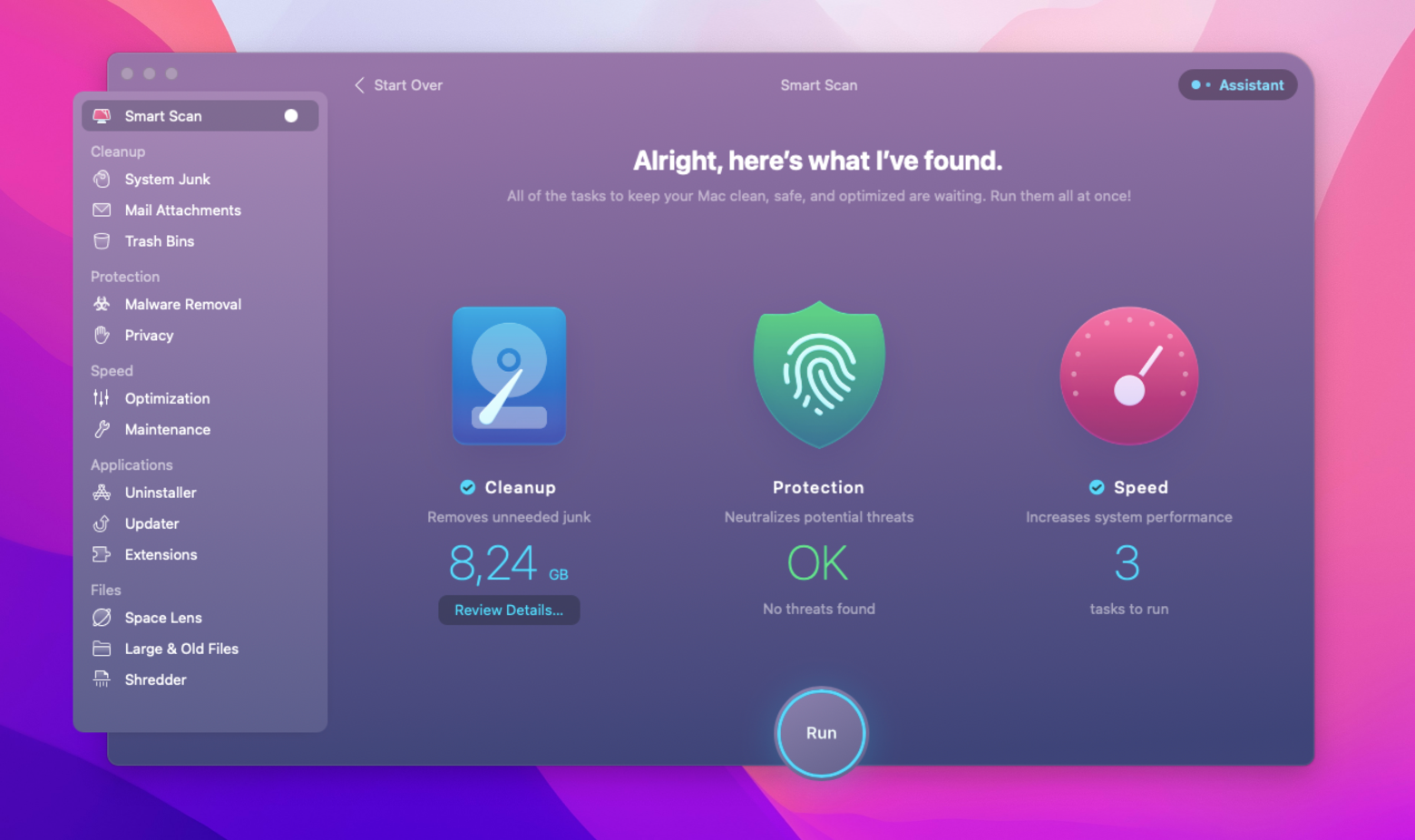 How to disable Frequently Visited on Safari?
If Frequently Visited doesn't work for you, and it's not a matter of getting rid of specific sites, you can customize your Safari start page to not display this section.
If you're wondering how to turn off Frequently Visited altogether, here are the steps:
Open Safari start page
Click on the options button in the lower-right corner of the window
Uncheck the box next to Frequently Visited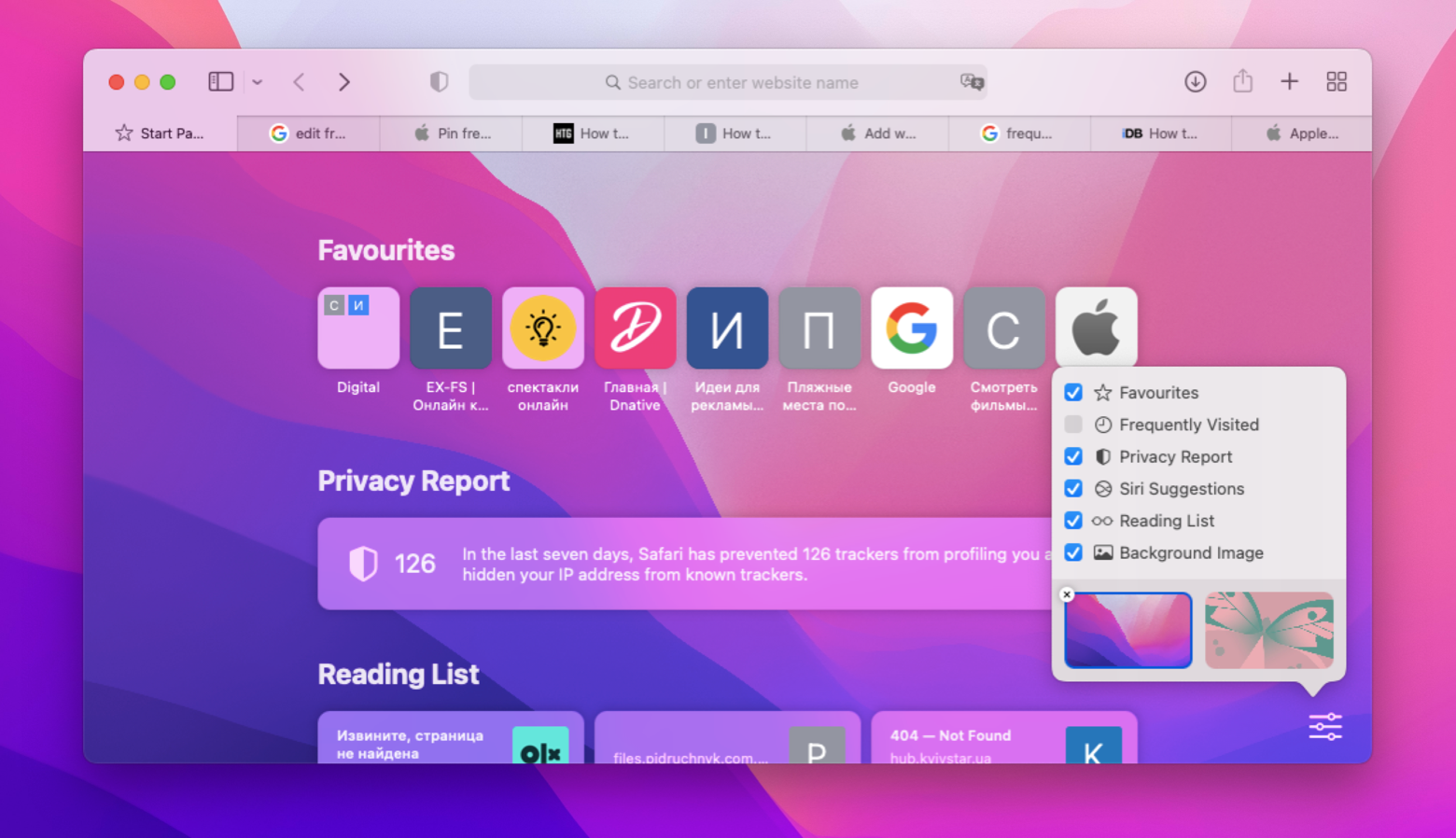 When you opt out of Safari keeping track and providing shortcuts to the sites you visit the most, it might be a good idea to give Tab Finder a try.
Tab Finder helps you quickly find what you're looking for and always come on top of open tabs madness. This smart app is simple, efficient, and oftentimes indispensable as it:
Compiles a list of all your open tabs from all your open browsers so that you don't have to go through individual tabs one by one and switch between browsers
Works with all browsers (Safari, Google Chrome, Microsoft Edge, Opera, you name it)
Can be launched from the Dock or with a shortcut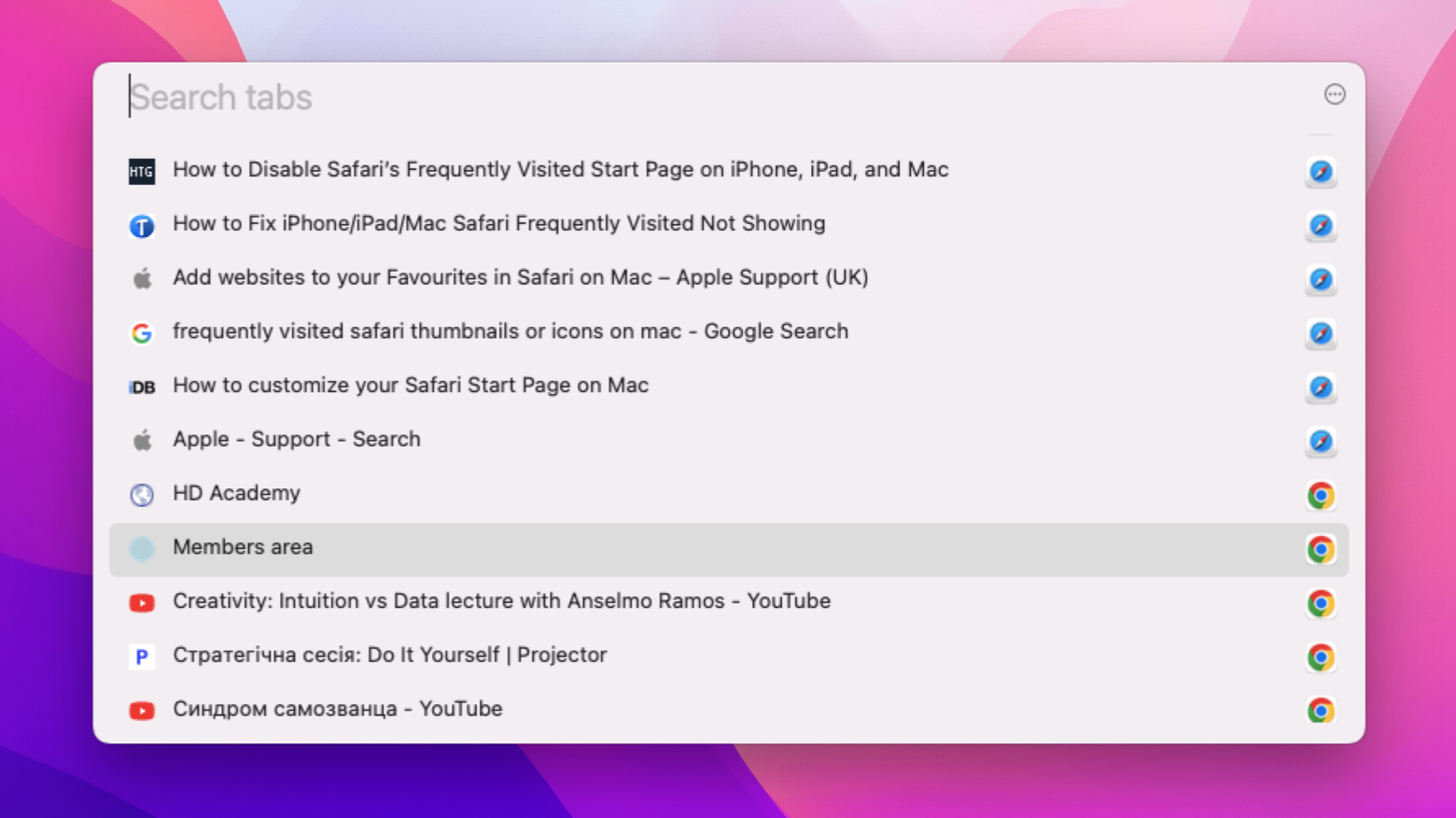 How to add sites to Frequently Visited on Safari
Frequently Visited is Safari's attempt to offer you a backup with the shortcuts to the sites you use most — in addition to what you choose to save in the Favorites section. So there's an extent to which you can influence which sites appear in Frequently Visited. The intended use case here is:
You add the sites you want to access quickly to your Favorites section
Safari provides you with additional quick-access options in Frequently Visited based on your browsing patterns
You can delete the sites you're no longer interested in from both Favorites and Frequently Visited
Shortcuts to the sites you visit are definitely convenient. But there's always more to making life on the web easier. For serious improvements to your daily routines, be sure to try OpenIn and ClearVPN.
Choose OpenIn if you're ready for a boost in streamlining your workflow. This app helps you set default utilities for opening different types of files — for example, always opening Zoom links in the Zoom app or setting specific browsers to open links with certain domains. You'll save time by always opening links in the right way.
Besides, OpenIn could become a real lifesaver if you're looking for a clean and easy way to separate your work, study, and personal online activity. This app:
Helps you use multiple browsers for different tasks
Appoints specific mail clients to open mail links
Lets you customize the way you open files with certain file extensions
Allows for adding any apps or browsers to its Selector feature — so that you could build defaults for all the files you open on Mac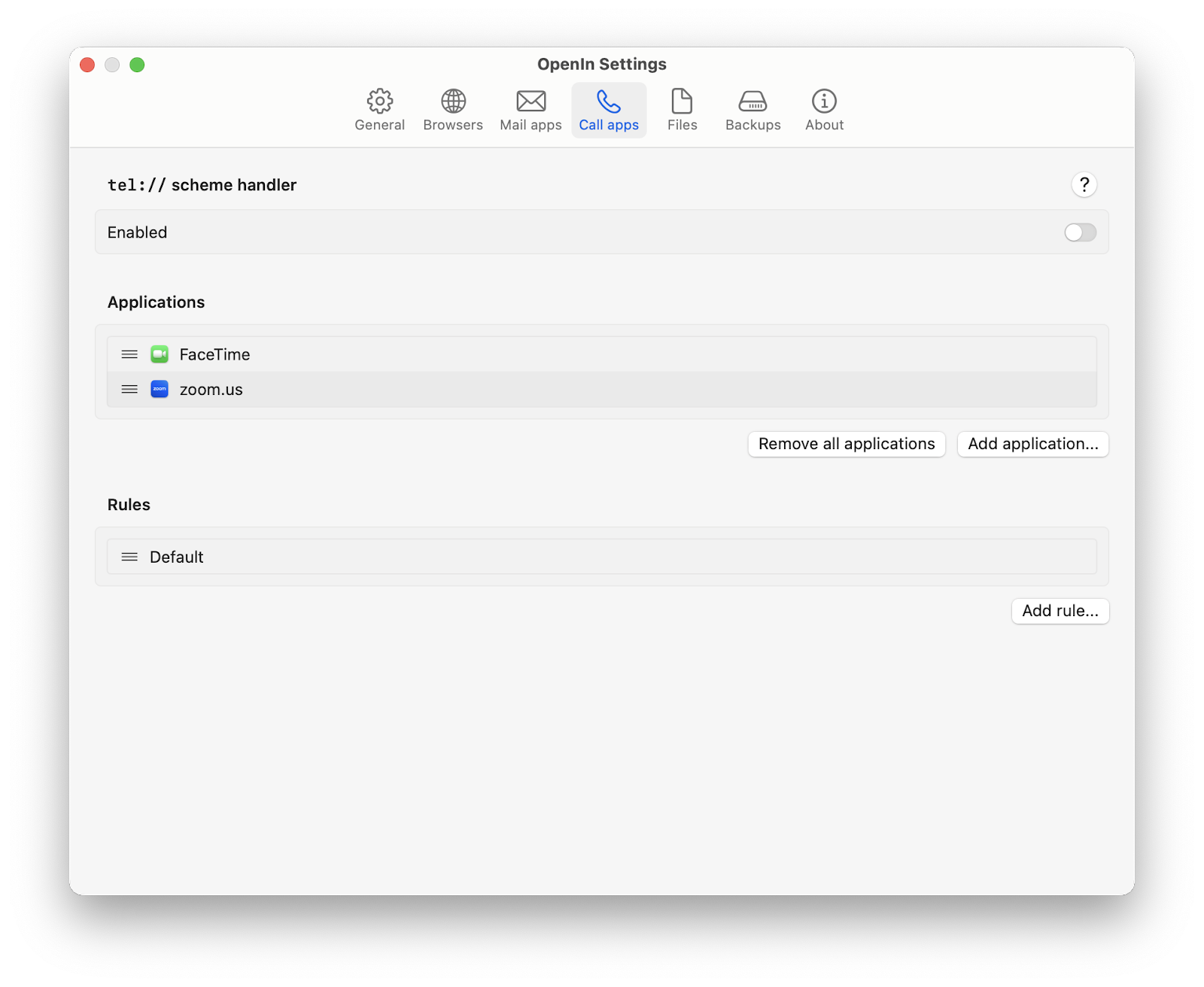 If you'd like to have access to any content anywhere in the world, definitely check out ClearVPN. It's a secure and intuitive VPN app for Mac that offers ready-to-use VPN shortcuts you can personalize according to your interests. ClearVPN lets you forget about all the tech talk and simply enjoy:
Access to content and online services unavailable in your region
Security of all your incoming and outcoming web traffic encrypted with bank-level AES-256 algorithm to prevent tracking
Anonymity with strict no-log policy that ensures that none of your data is collected, stored, or shared
Freedom to change your location to the desired country in a click
Speed with the best available server always chosen for a fast connection
Entertainment with shows and movies on popular services, like Netflix, Hulu, HBO Max, Disney+, and others, available outside your country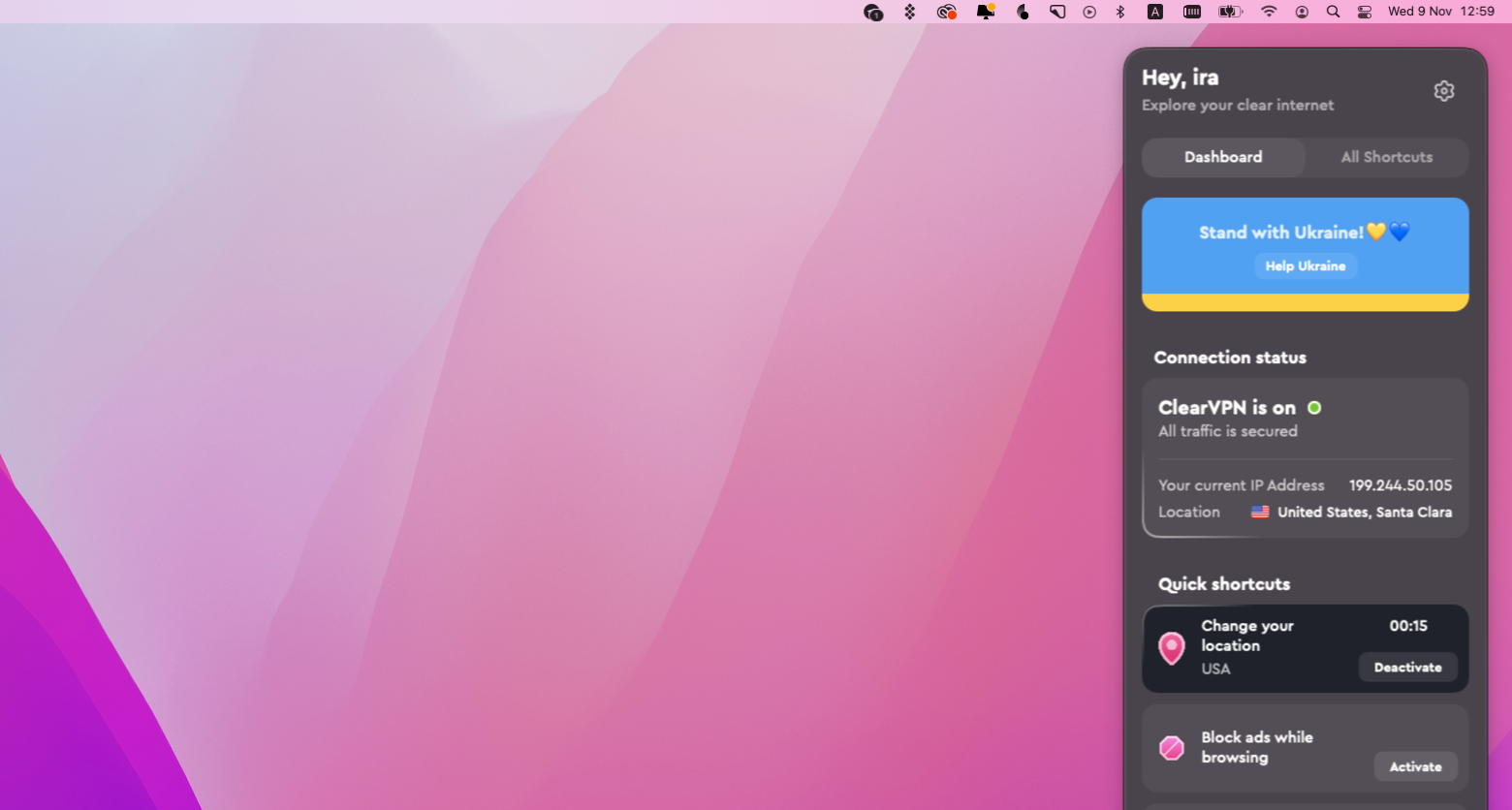 How to remove Frequently Visited from Safari on iPhone and iPad?
Safari tracks frequently visited sites for you no matter what device you use for internet browsing. Luckily, the question of how to remove Frequently Visited on iPhone or iPad is no more complicated than configuring Safari front page settings on your Mac.
Here's what you need to do to stop seeing Frequently Visited when you launch Safari on your iPhone or iPad:
Go to Settings
Tap on Safari
Scroll down to Frequently Visited Sites and make sure that the toggle is off
Tap on Clear History and Website Data further down the same screen (optional)
You can also delete sites from Frequently Visited on your iPhone or iPad one by one, if you're unhappy with the specific ones, not the feature in general. Simply tap and hold the icon of the site you want to delete, then choose Delete to not see this shortcut in the Frequently Visited anymore.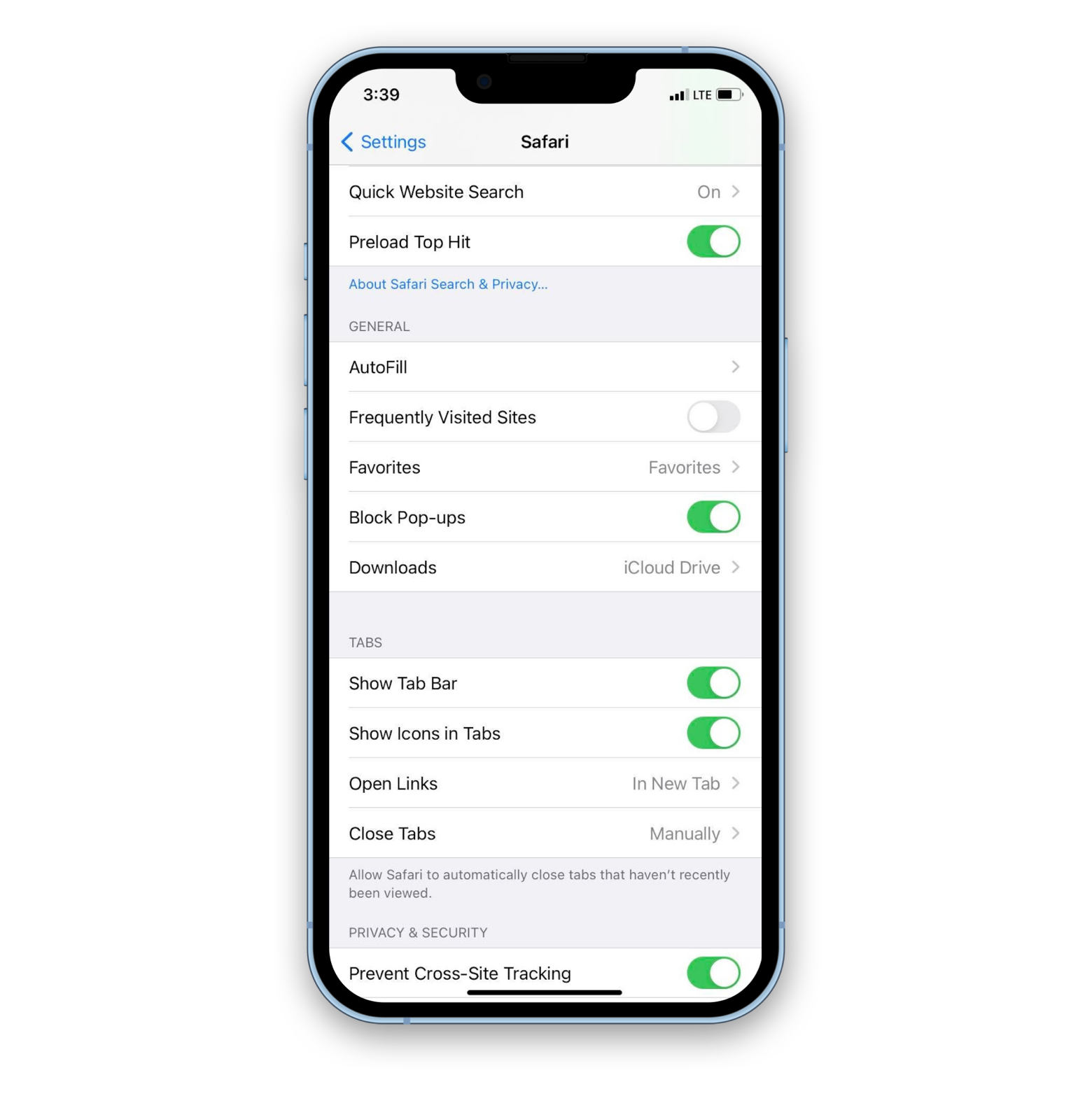 How to turn off Frequently Visited on Safari if it doesn't work for you
With Frequently Visited on its start page, Safari offers its users a great way to access the sites they visit most often. But if you'd rather stick to shortcuts you personally add to Favorites, it's very easy to get rid of Frequently Visited. Just make sure you also clear browsing history and caches if your primary concern is privacy. Try CleanMyMac X for a proper cleanup and speed optimization of your Mac.
If you don't want to have your web habits on display but aren't ready to miss out on productivity, there are always ways to streamline your workflow. Choose Tab Finder to quickly find exactly what you need no matter how many tabs and browsers you have open. Set defaults for always opening your links with the right app automatically with OpenIn. Securely expand your reach to content unavailable in your region with the help of ClearVPN.
Luckily, you can try using CleanMyMac X, Tab Finder, OpenIn, and ClearVPN for free with the seven-day trial of Setapp, a platform of high-performance, best-in-class iOS and macOS apps. See which app is the best fit for your needs and check out more than 230 other options to boost your productivity.