How to clear cache on iPhone and iPad (and why you need to do this)
Memory is overloaded, and malfunctions of some sites or apps may indicate that you need to clear the cache. Let's find out what cached files are, what they are used for, and why they can cause issues with the display of apps and websites. Let's figure out when and how to clear cache data on iPhone and iPad.
What is cached data?
Cached data is data that a browser or another program saves to your device. This helps load websites faster.
Here's a little theory in simple terms to help you understand caching.
When you enter the URL of the website in the browser's search bar, the browser contacts the server that hosts the website. It receives information and displays the web page to you. However, the server may be located thousands of kilometers away, so sometimes, you have to wait a few seconds before the request reaches the server and comes back. The situation is the same with apps.
But you definitely don't want to wait too long. That's why cache comes into play.
When you first visit a web page, your browser saves some images, files, and scripts to your device. The next time you open the site, the browser retrieves some of the information from the cache. This time, it won't have to access the server, and it will be able to display the site much faster.
Usually, you don't need to clear the cache often. You should normally do it in case of some kind of failure or if a lot of time has passed since the previous clearing. Here's why you need to clear the cache occasionally:
To avoid using outdated forms. At some point, there may be a difference between the cached version of the website and the one that currently exists on the owner's server. This may result in malfunctions with certain functionality or even access to the site.
To protect your personal data. Especially if you use a shared device (for example, a corporate iPad). The cache may store some of your personal information, so it's best to clear it after use.
To free up space. Cached files take up memory space. Among them, there are a bunch of cached files from sites that you will never visit again in your life. You can get rid of them if you want.
However, the cached files take up relatively little space on your device. If the memory is cluttered, clearing it won't help much. So start by deleting large files.
Is clearing cache safe?
Clearing the cache is completely safe and even necessary sometimes.
Cached data is important for improving the user experience, but it doesn't contain information that your browser or app can't function properly without. The worst that will happen is that some sites will take longer to load. Instead, you'll get the benefits we mentioned above.
Let's proceed to your main question: "How do I clear the cache on my iPad?"
How to clear cache on iPhone, iPad: Safari
As an Apple user, you probably use Safari when surfing the internet and send a lot of data to the cache. However, Safari doesn't have a separate cache-clearing function. You have to erase your cookies and browser history. Permissions you have granted to various sites will also be deleted.
So, how to clear cache on iPad and iPhone in Safari?
On your iPhone, go to Settings > Safari

Scroll down and click on Clear History and Website Data

Tap Clear History and Data.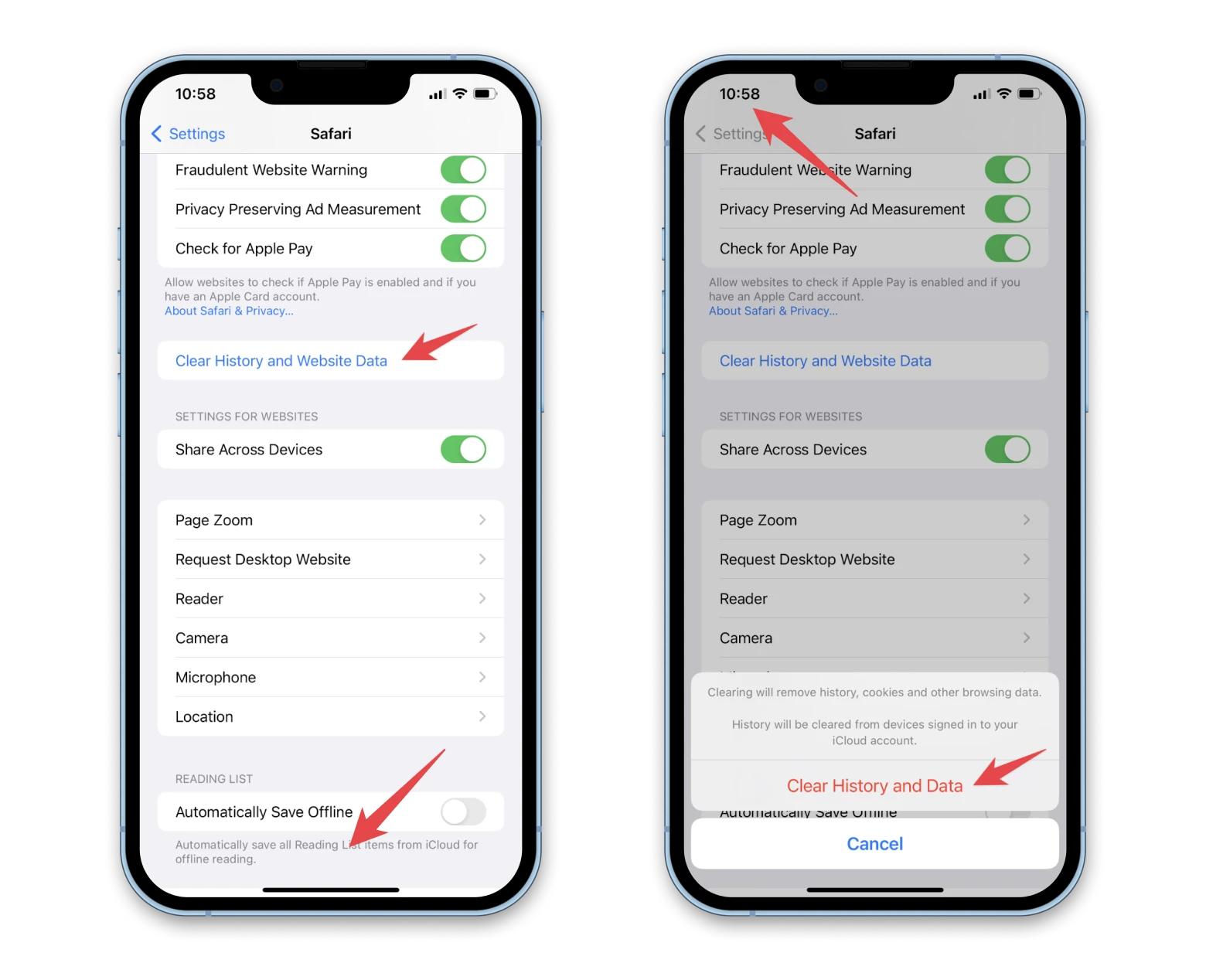 How to clear cache on your iPhone or iPad: Chrome
If you prefer using Chrome on your iPhone, follow the steps below.
Here's how to clear cache on iPhone in Chrome:
Open Chrome

Tap on the three dots in the right corner

Choose Clear Browsing Data in the window that appears
Put a checkmark next to "Cached images and files" and uncheck the other lines if you're not going to clear the rest of the data
Tap on Clear Browsing Data.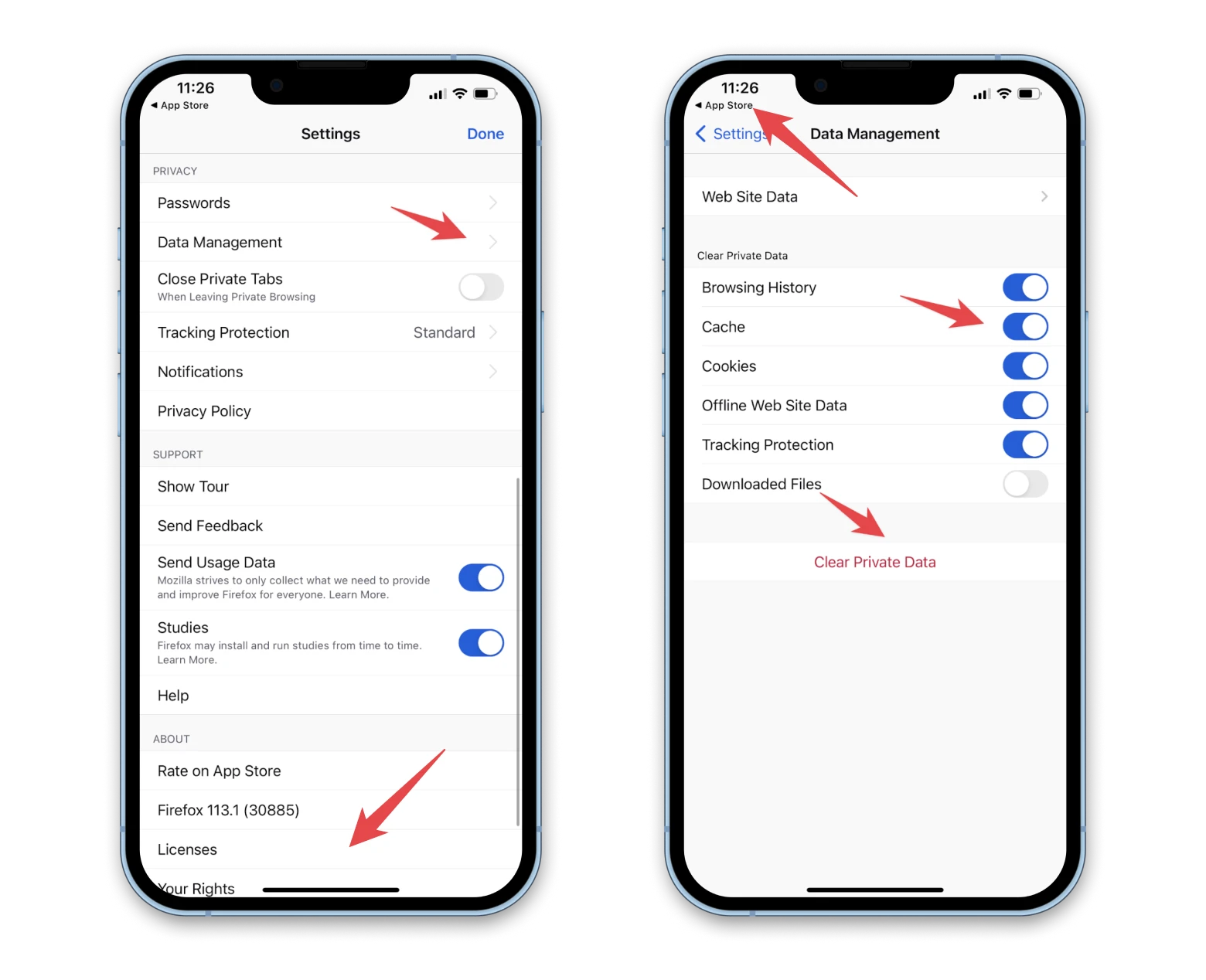 Clear Firefox cache on iPhone or iPad
Clearing the cache in Firefox takes a few steps:
Open Firefox
Click the burger icon in the upper right corner
Choose Settings
Scroll down the page and choose Data Management
Turn on the switch next to Cache and turn off the switches next to the other lines if you don't want to clear other data
Click Clear Private Data and confirm.
What does Other mean in a Storage and how to clear cache for these apps
If you look into your iPhone's storage, you'll see that an impressive portion of the space is taken up by "Other" (or "System Data" for iPad).
"Other" are files on your iPhone or iPad that aren't photos, videos, apps, or messages. These can be the following:
Mail attachments
Offline reading list
Notes
Voice memos.
How to clear app data on iPad? There is no way to delete this data in one go. You will have to open each of the apps and clear them separately.
How to delete Mail attachments
On iPhone, you need to delete individual attachments in Mail one by one. There's also a feature that allows you to review large attachments taking up storage in apps like Photos, Mail, and Messages. Go to Settings > General > iPhone Storage, and review recommendations. There might be an option to Review Large Attachments.
How to delete Offline Reading List
To clear your offline reading list in Safari, follow these steps:
Open Settings > General
Find Safari in the list of apps (or use the search bar at the top of the screen)
Find the Offline Reading list line, swipe left along the line and tap Delete.
You can also delete an Offline Reading List in Chrome:
Open Chrome on your iPhone or iPad
Tap the three dots in the upper right corner
Choose Reading List
Tap Edit
Choose the articles you want to erase and tap Delete
To clear your reading list in Firefox, follow these steps:
Open Firefox
Tap the burger icon and choose a Reading List
Swipe left on the article you want to delete and tap Remove.
How to delete Notes
Deleted notes will move to Recently Deleted. These files also take up space, so delete them again to free up storage.
To clear your notes, follow these steps:
Open your Notes
Swipe left to see the notes home page and folders
Swipe left on the note you want to delete and tap the trash bin icon.
How to delete Voice Memos
Just like Notes, deleted Voice Memos end up in Recently Deleted, so don't forget to clear them as well. Clearing Voice Memos is easy:
Open Voice Memos
Swipe left on the file you want to delete and confirm.
Delete Documents and Data on iPhone, iPad
Another type of data on your iPhone and iPad is Documents and Data. These are cached and downloaded files (images, videos), as well as cookies (logins and passwords to various sites and settings).
These files are needed to make the programs and apps on your phone work faster when you open them again. Over time, they can start to take up a lot of space, especially when it comes to messengers or social networks.
If the memory is cluttered or if you rarely use the program, you can clear documents and data. However, you won't be able to do it with the click of a button. You need to open and clean each program separately.
Moreover, you can't clean these files separately. The solution is to uninstall the program completely and reinstall it. All related information will be deleted. In this case, make sure that you have a backup of the necessary files from the program and that you remember your login and password.
Here's how to delete cache on iPhone using an example of one app:
Open Settings > General
Choose iPhone/iPad Storage
Tap on the app you want to uninstall, and then tap Delete App.
Speed up your iPhone
Many people try to clear the cache in the hope of speeding up their iPhones or iPads. However, deleting unnecessary duplicate files will help much more.
Remove duplicate files
If you want to get rid of duplicates quickly, try Gemini to remove all these identical and similar files in one click.
The app scans the entire device and searches for identical files: photos, videos, music, documents, folders, etc. Then it compiles a list of duplicates that you can safely delete with one click.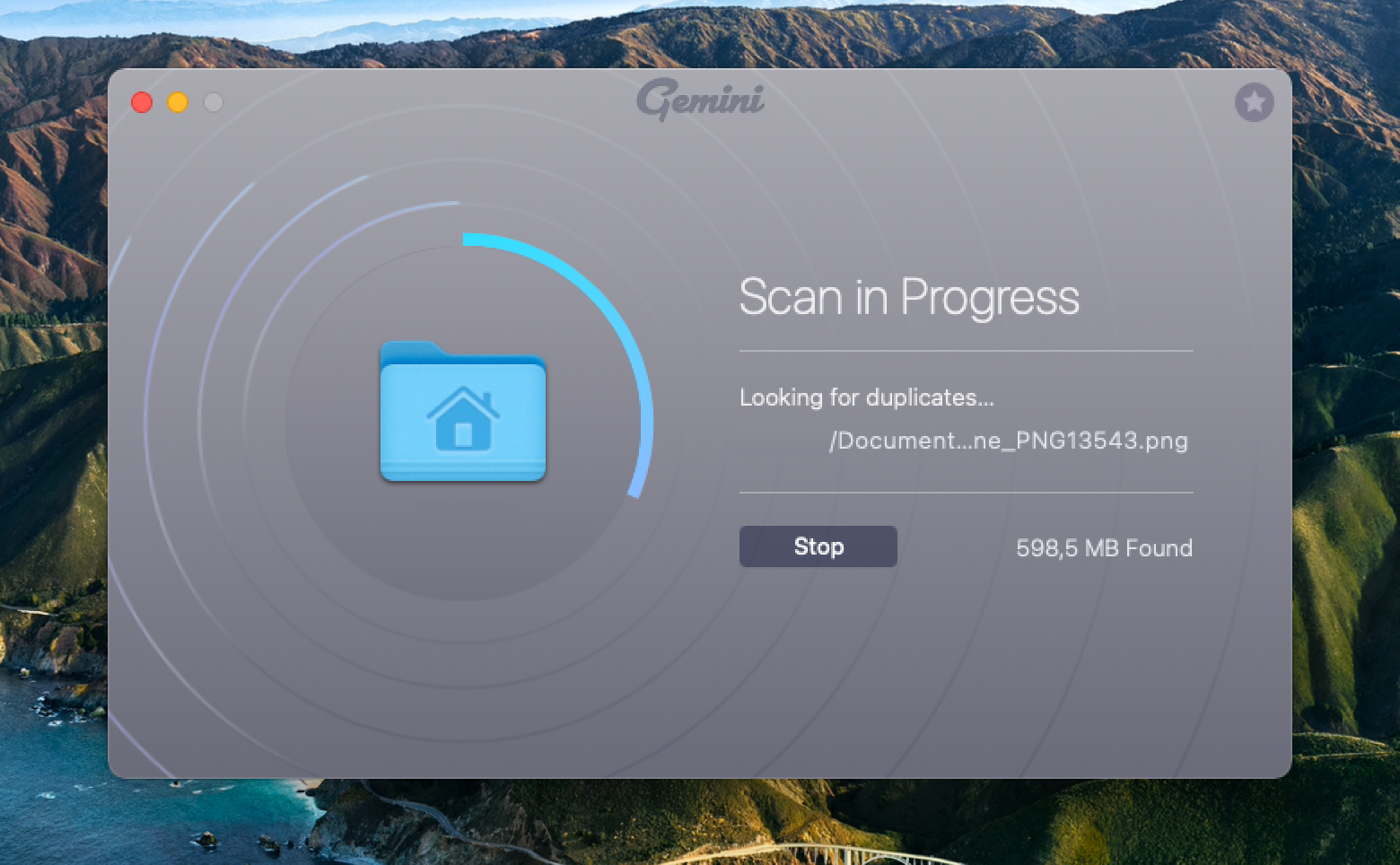 Gemini also finds similar files, such as almost identical photos. In a user-friendly interface, you can preview them before deciding whether to delete them.
As you delete files, the app learns and will offer better results the next time you scan.
Accidentally deleted files won't disappear right away — you'll find them in Recently Deleted and can recover them.
Create a backup before cleaning your iPhone or iPad
Files from the Other and Data and Documents sections will disappear forever if you clear them. Deleted duplicates will also be erased over time. If you're not sure whether you'll ever need them again, back up your device to a computer with AnyTrans.
Export iPhone content to Mac by category or copy all content with one tap.
Install and open AnyTrans on your Mac
Connect your device to your Mac via USB
Go to the Backup Manager
Click Backup Now
That's it, enjoy your files flying.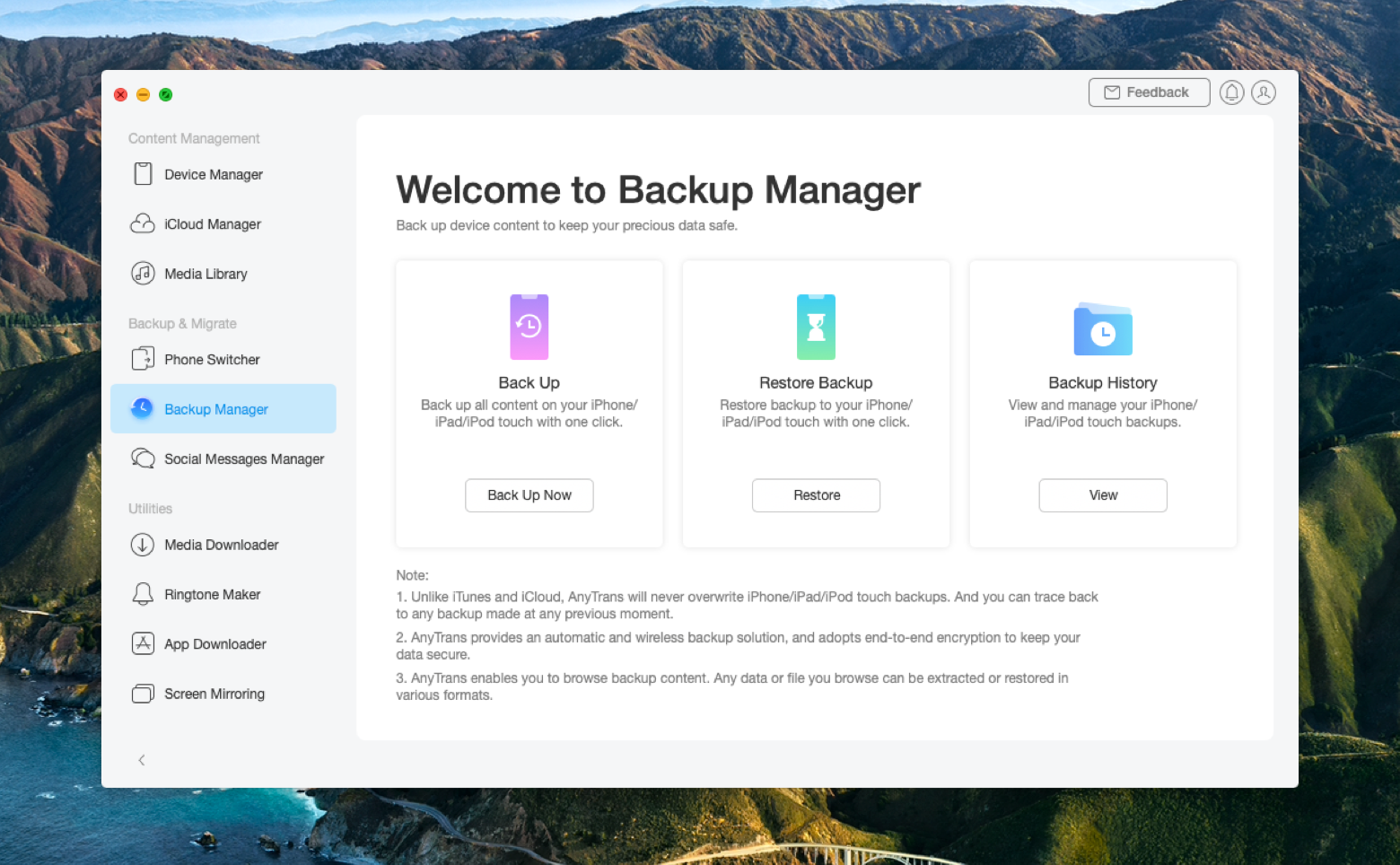 Clear cache on iphone and optimize your all Apple devices
We've found that cached files can help speed up your browser or other programs. At the same time, they can cause programs to crash and can clutter up memory (in some cases).
If you notice one of these problems, try to clear cache on iPad or iPhone. Start with browsers (Safari, Chrome, Firefox).
We also recommend clearing data from the "Other" section (mail attachments, voice memos, offline reading list, notes), as well as from the "Data and Documents" section. Please note that after clearing, the data will be deleted forever. If you doubt, be sure to back up your device with AnyTrans.
Note that cleaning the cache may not free up enough space. In this case, delete duplicate or similar files with Gemini.
The best thing: you don't need to look for these apps and purchase them separately. They are all part of Setapp, along with dozens of other apps for your iPhone, iPad, and Mac. You only get one subscription and can access all the Setapp goodies. For example, try ClearVPN to browse safely, Bartender to personalize your Mac's menu bar, CleanMyMac X to speed up your Mac, etc. There is a seven-day free trial of Setapp. So why wait? Give it a try now.