How to clear cookies on iPhone or iPad
Most people know that it's a good idea to clear cookies from a browser on a regular basis. They do it for a variety of reasons, including better privacy or space optimization on a laptop or desktop computer. You may also want to delete cookies on iPhone or iPad. While it's not strictly necessary, deleting your iPhone's cookies from time to time can help you save space and fix some browsing issues.
What are cookies? These are small files that keep track of what you do online. That sounds creepy, but that's why you see so many ads for things you just looked for or bought. For example, if you just purchased a pair of running shoes, you'll probably start to see ads for other running accessories. In other words, cookies help make your online experience better, but you probably don't want too many of them to build up.
This article will show you how to clear cookies on iPhone and iPad. The instructions apply to Safari and Chrome web browsers.
Why you should clear cookies on iPhone
The more often we use our smartphones to browse the web, the more data is collected. Since this is the data that the browser checks at the start of almost every visit to a website, a lot of it can slow things down. If your iPhone is running out of space, you can clear this data to get some space back and protect your privacy as well. Yes, keeping cookies on your device makes it easier to shop online, but this also means that those sites have information about you. Many people aren't comfortable with this, so they prefer to clear cookies on iPads and iPhones from time to time.
How to find cookies on iPhone
To find out where the iPhone stores cookies, go to Settings > Safari > Advanced > Website Data. Note: To find the location of Google Chrome's cookies on iPhone, you'll need to open the Chrome app and go to Settings > History.
Tip: If you're looking to free up some space on your iPhone, start with deleting duplicate files. Gemini is a great way to manage duplicates (music, videos, photos, etc.) on your Apple devices. The best thing, Gemini works not only with duplicates. It can detect files like pictures that have the same composition (they were taken from the same angle) or files that are almost the same and you might not need both of them. Freeing up precious space on your iOS device is just a few taps!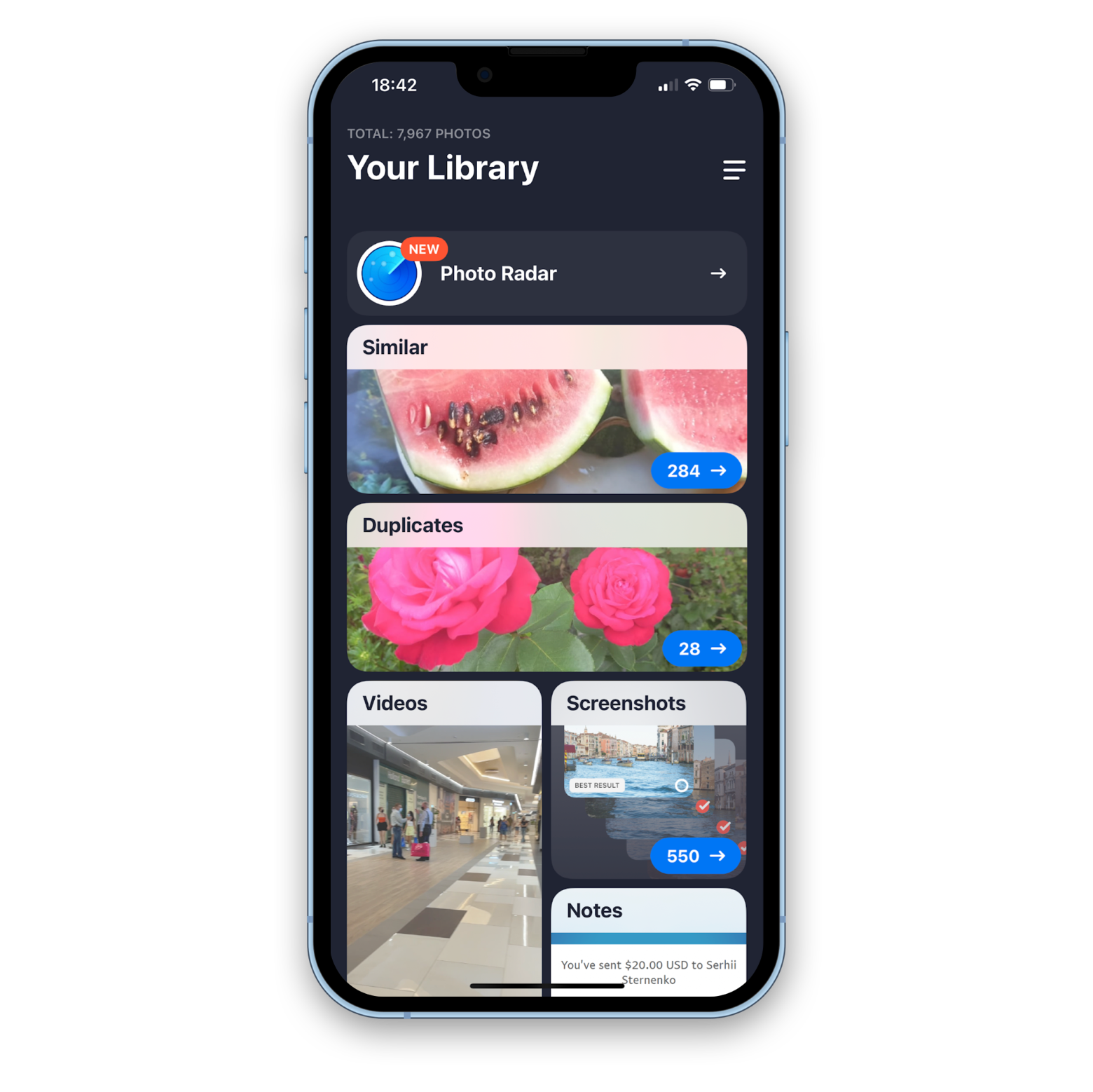 How to clear cookies in Safari and other apps on iOS
Clearing cookies on your iPhone is a very simple process that won't take up much of your time, but the exact steps you take will depend on the browser you use.
If you have an iPhone or iPad, you probably use Apple's Safari mobile browser often. So let's start with the instructions on how to remove cookies from iPhone with Safari as the mail browser.
Here's how to delete cookies on iPhone in Safari:
Go to Settings on your iPhone and scroll down the list of apps until you find Safari. Tap it to open the settings for the browser
Scroll down to the bottom of Safari's settings and tap Advanced
Then tap Website Data. Here's where you can choose which cookies to delete
Tap Remove All Website Data to get rid of all the data. But if you only want to delete some cookies, tap the edit button in the upper right corner of the screen and then tap the red circle next to the files you want to delete.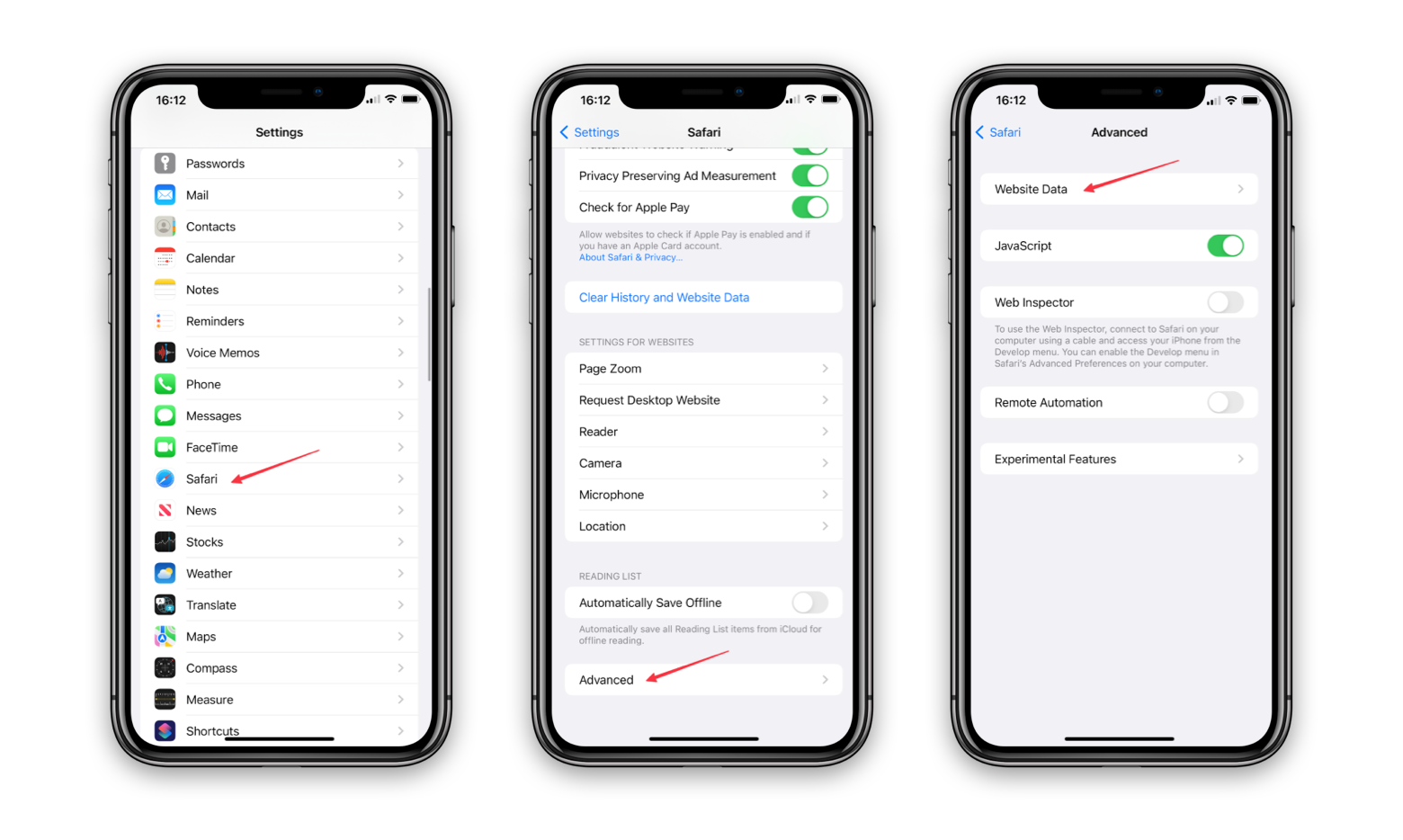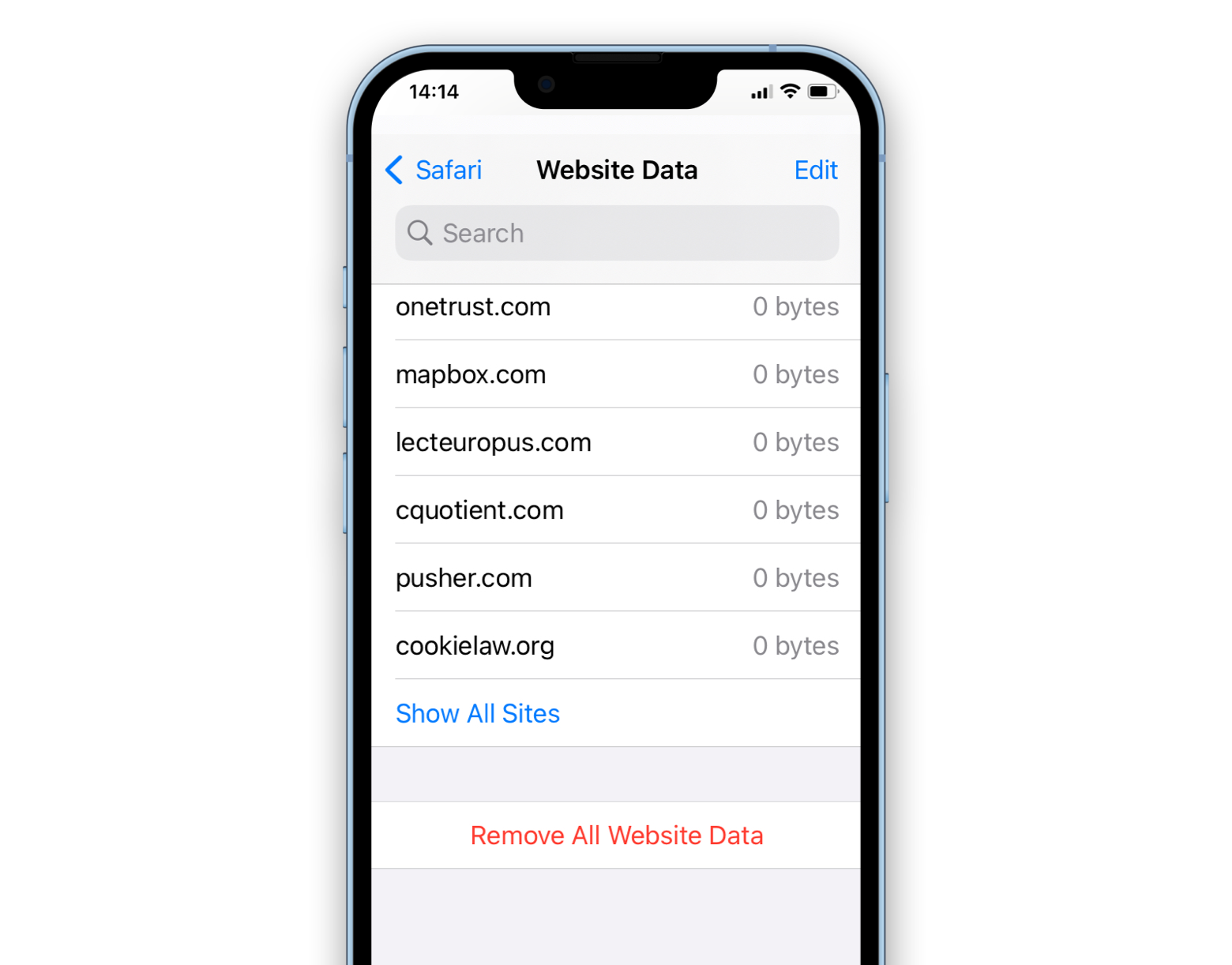 Even though Safari comes pre-installed on iPhones and is a pretty good app, many people use other browsers. For example, Chrome is one of the most popular alternatives. How to erase cookies on iPhone in Chrome is a little different from how to do it in Safari, but it's just as easy.
Here's how to delete cookies on iPhone in Chrome:
On your iPhone, open Google Chrome
Tap the Menu button (it has three dots) in the bottom right corner of the screen
Choose History
Then tap Clear Browsing Data
Tap Cookies, Site Data
The last step is to tap Clear Browsing Data. You will have to click Clear Browsing Data again to confirm that you want to do this.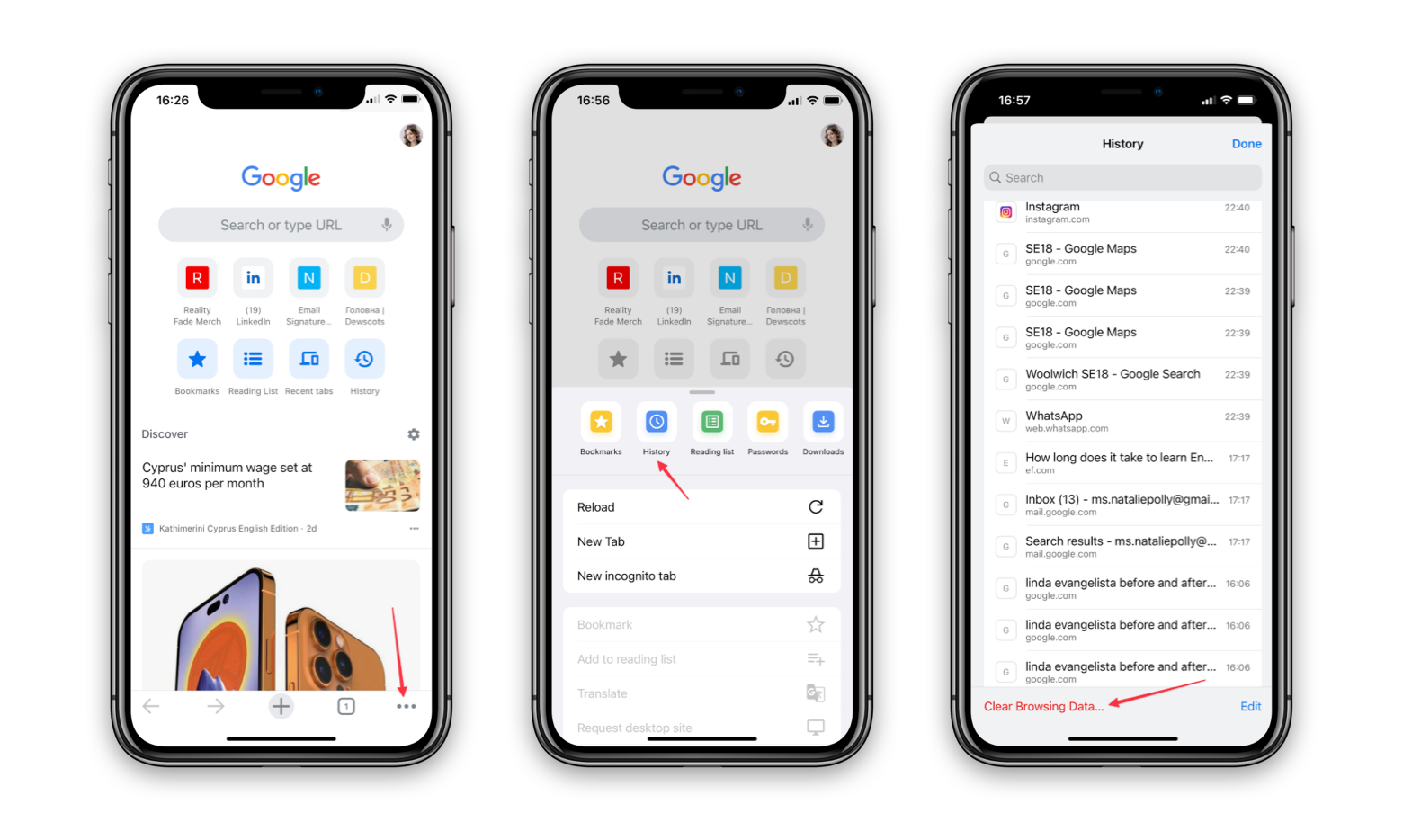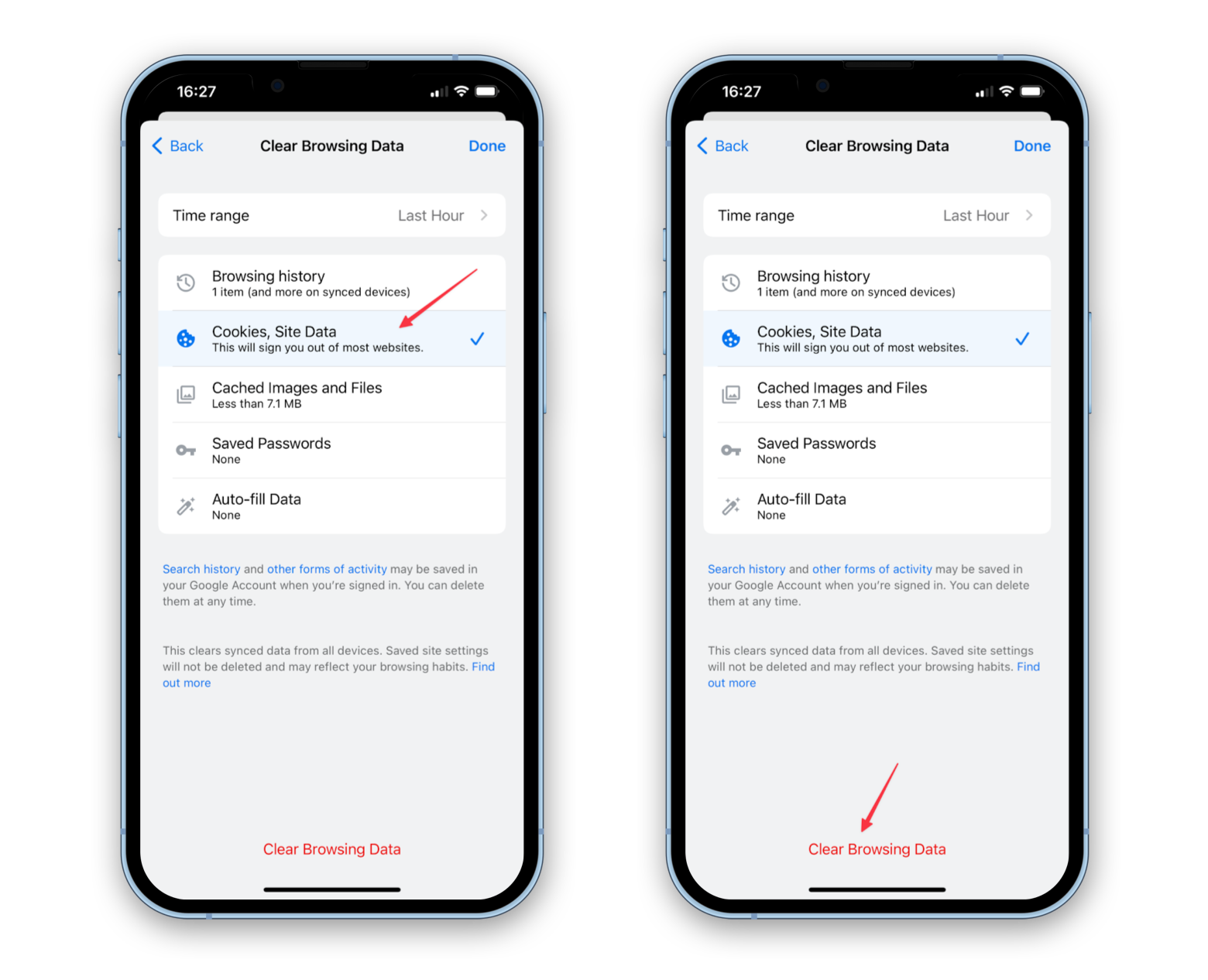 Similar techniques are used for other third-party web browsers on iPhone to delete cookies; you must do so from within the browser app rather than through the iOS menus.
How to clear cookies on iPad and iPhone automatically
Most of the time, it's not hard to find and delete cookies in any browser. But because most people use more than one browser on the iPhone, the process of removing cookies every month or week will get tiring and you may not do it as often as you should. The obvious solution is to use a tool that will automatically remove cookies from everywhere.
CleanMyMac X is the best tool for keeping your device clean, fast, and safe. With just one click, you can clean up your system, uninstall apps completely, find malware, get rid of junk, and remove cookies from all your browsers.
How to disable cookies on iPhone and iPad
Instead of clearing the cookies, you can choose to block them at all. But if you disable cookies, your whole web experience will be slower, and it may affect how some websites work.
For the same reason, you may also not be able to open a few websites. These days, you have to agree to cookies on a lot of websites before you can get in and look around.
It can be annoying, so unless you're really worried about your privacy, we don't usually suggest blocking your cookies.
Anyway, follow the steps below if you want to block cookies in Safari:
On your iPhone, go to Settings
Move down the screen and tap Safari
Slide the button to the right to turn on Block All Cookies, and then tap Block All to confirm.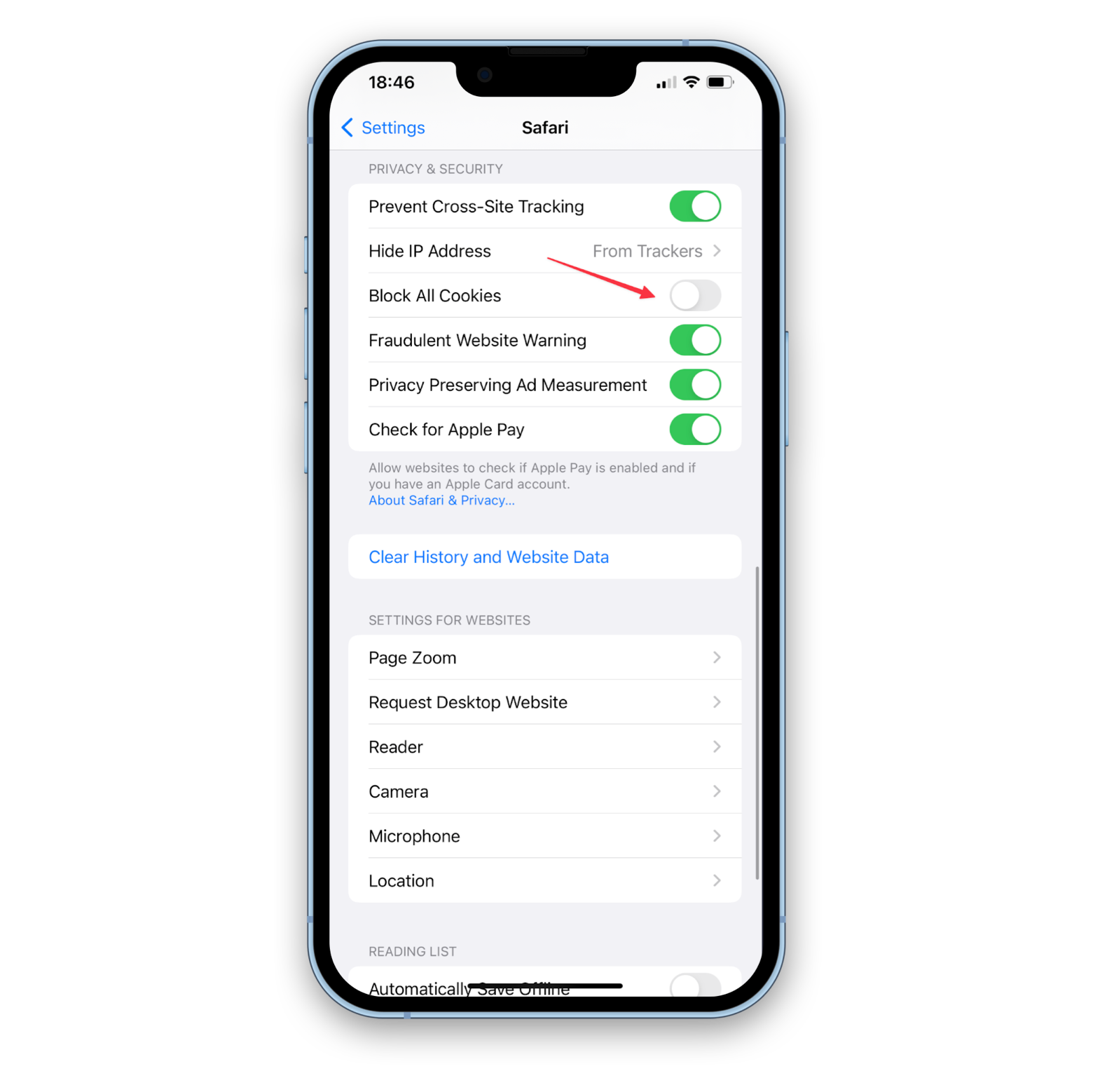 How to clear cookies on iPhone and free up some space
As you can see, you can clear cookies on your iPhone inside of the settings menu. This should free up some space. However, if you take your device's decluttering seriously, we suggest you try Gemini to remove duplicate files in a few taps. Gemini is a part of Setapp, a one-stop toolkit that has apps for just about everything an iPhone/iPad/Mac user could need. For example, if you want to protect your privacy while browsing online, use ClearVPN; in case you need to simultaneously copy and paste multiple items, you need Paste; want to find anything in a PDF? Then the PDF Search tool is your best choice.
With Setapp, you'll get access to the best apps for iOS and macOS for one monthly price – $9.99. The first 7 days are free! During the trial, you can use all of Setapp's apps with no limitations.