Why and how to allow cookies on Mac
Our world is getting faster by the minute, the pace of our lives is increasing every day, and people are constantly looking for ways to optimize their efforts. At the same time, we're surrounded by more information than ever before and often wonder — how can we increase our productivity while always being online?
This is where web cookies come into play — by making it easier and more convenient to surf the internet. In this guide, we explain how to enable and disable cookies in any browser, why you might need to do that, and how to ensure cookies don't violate your privacy.

What are cookies on Mac?
In essence, cookies are files generated by the websites you visit to make your online experience more pleasant. You don't need to sign into your accounts every time anymore, or remember your web preferences, or enter your location — your browser will remember all the reusable information for you.
The problem with cookies is that they provide website and app owners with plenty of your data, so it's important to ensure none of that is leaked or used to compromise your Mac's security. Read on to learn how to make use of cookies while keeping your data private.
Why you should accept cookies on Mac
It could be frustrating to retype your email and password to sign in every time, especially if you're in a rush. It could also be an unnecessary hassle to have to add all your items to the online shopping cart once again after reopening your browser.
In those cases, you want to enable cookies in Chrome on Mac (or in any other browser).
Generally, there are two types of cookie files: first-party cookies, created by the websites you visit, and third-party cookies, created by the websites that run ads or images you see. You want more of the former and less of the latter.
Tip: Keep the ads away with AdLock. It's a simple Mac ad blocker and anti-tracking tool that helps you avoid data privacy abuse and save internet traffic.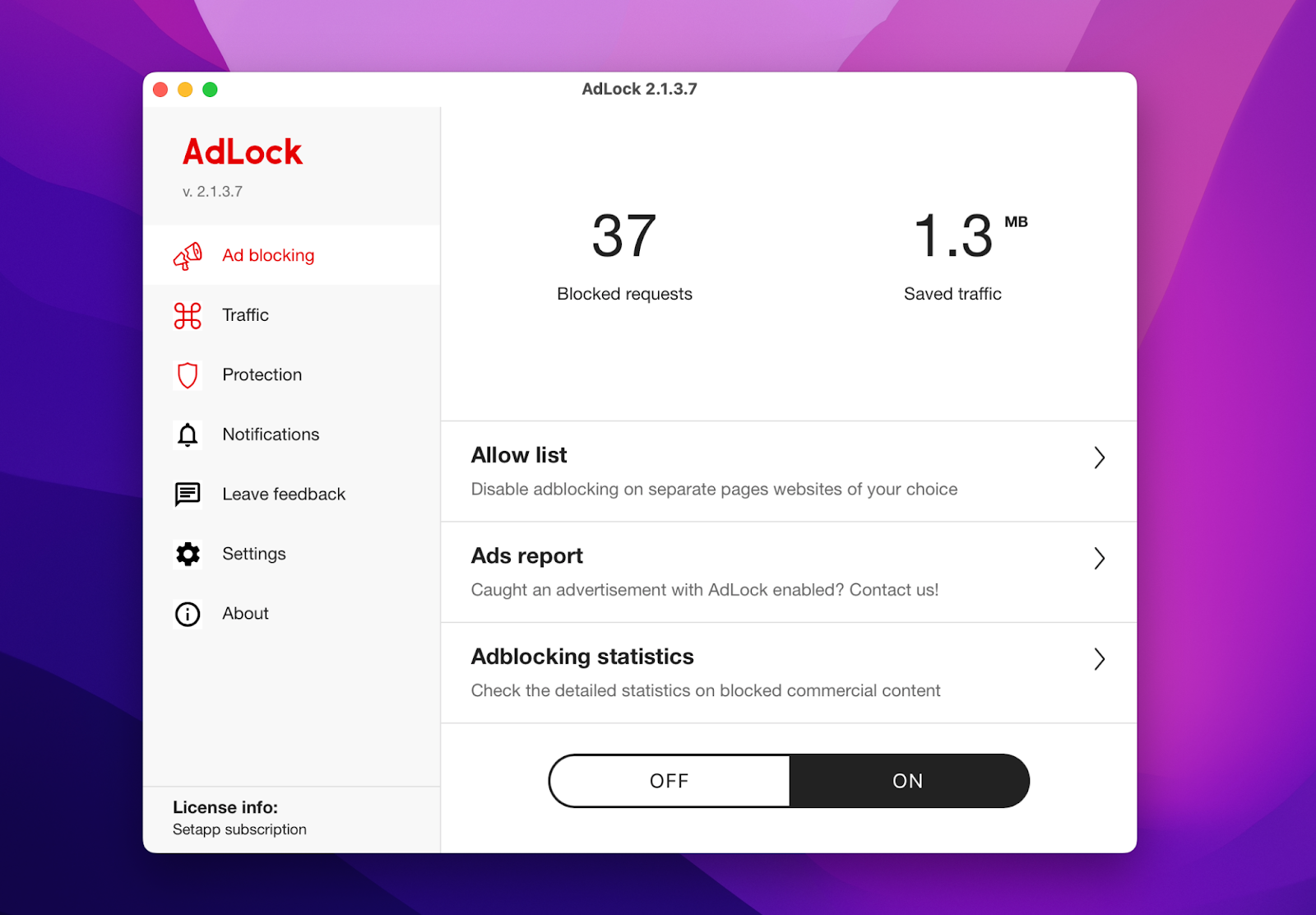 How to enable cookies in Safari
As Apple's default browser on all Macs, Safari lets you change your cookie settings to always accept or always block them (along with other website data). To enable cookies on your Mac in Safari, start by opening the browser:
Go to Safari in the menu bar > Preferences
Navigate to the Privacy tab
Check 'Prevent cross-site tracking' to disable the use of third-party cookies
Uncheck Block All Cookies
Click Manage Website Data to see what kind of information the websites you've been to before are keeping on you (warning: this might result in a strong desire to figure out how to disable cookies on Mac immediately).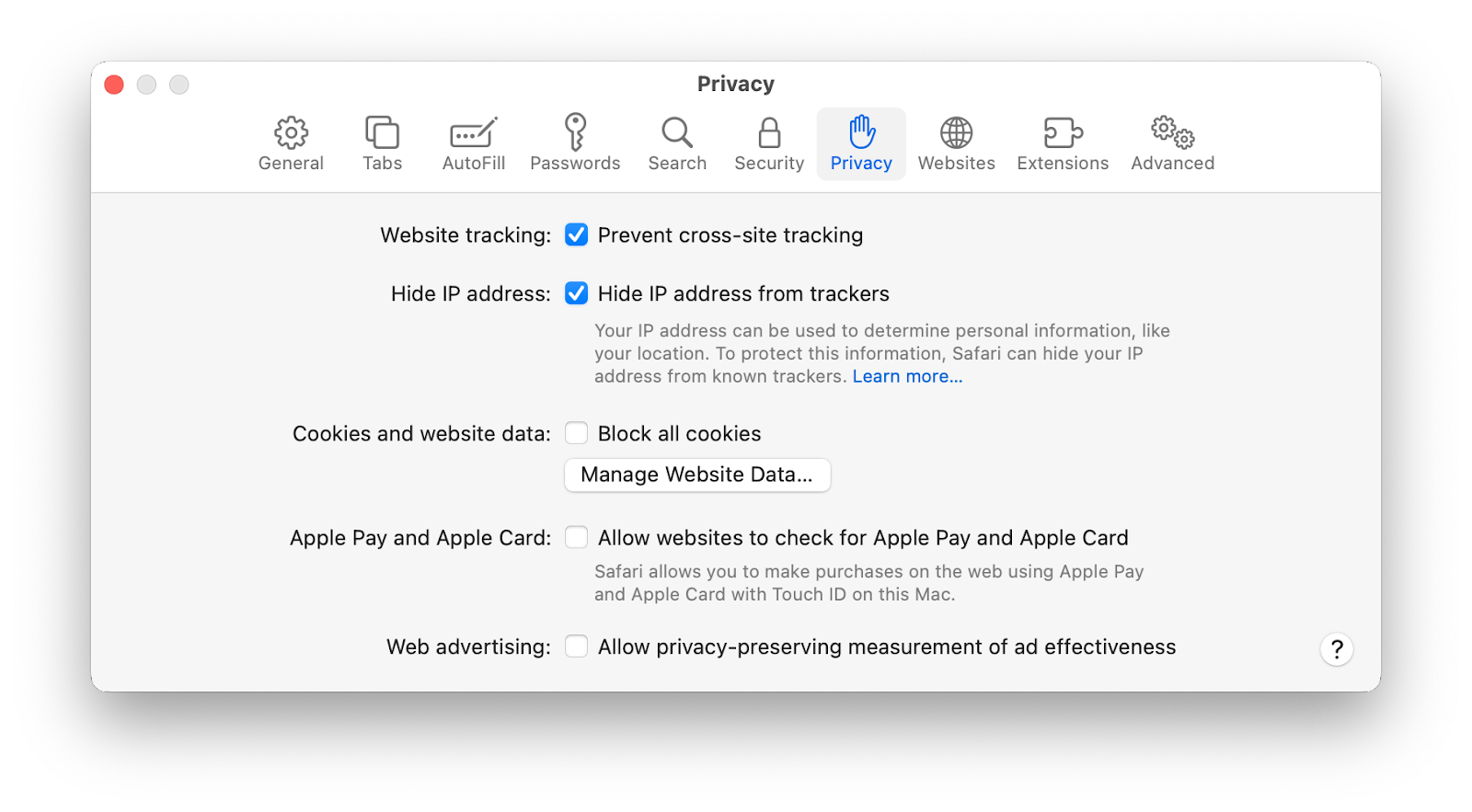 How to enable cookies on Mac in Chrome
Google Chrome is by far the most popular web browser today. And, luckily, it gives us lots of options when it comes to managing cookies. Here's how to unblock cookies in Chrome easily:
Click the three-dotted icon in the upper-right corner > Settings
Go to 'Privacy and Security'
Click 'Cookies and other site data'
Toggle on 'Allow all cookies'
Note that by allowing all cookies, you also allow cookies third-party cookies that might be after your browsing information so they can target ads at you later. To disable this type of cookies, toggle on 'Block third-party cookies.'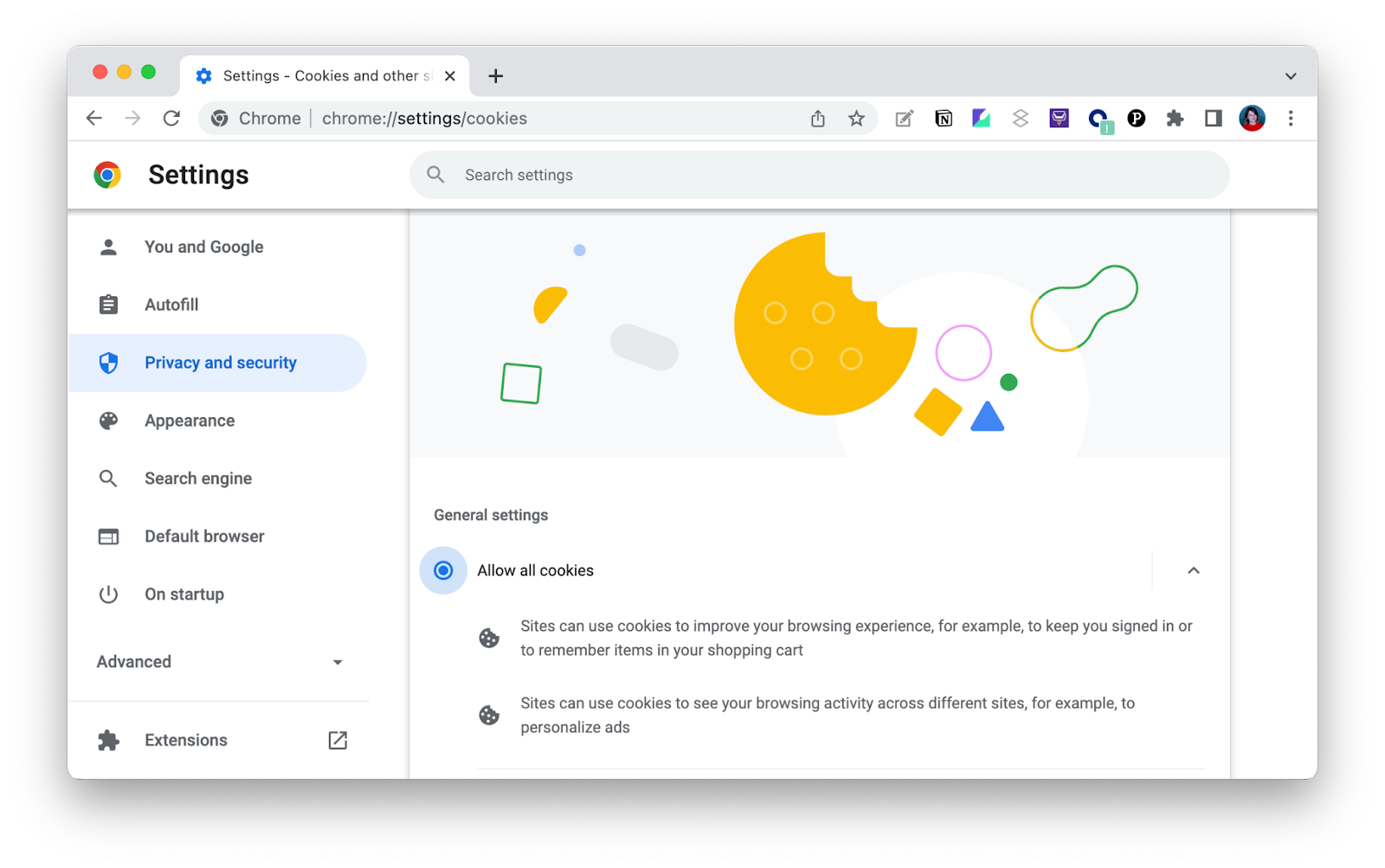 How to unblock cookies on Mac in Firefox
Firefox is famous for its default privacy protections, so it's good to make sure that you know how to unblock cookies just in case you ever need to:
Click the "hamburger" menu > Settings
Navigate to 'Privacy & Security' in the sidebar
Select 'Custom' out of the Browser Privacy options
Uncheck Cookies.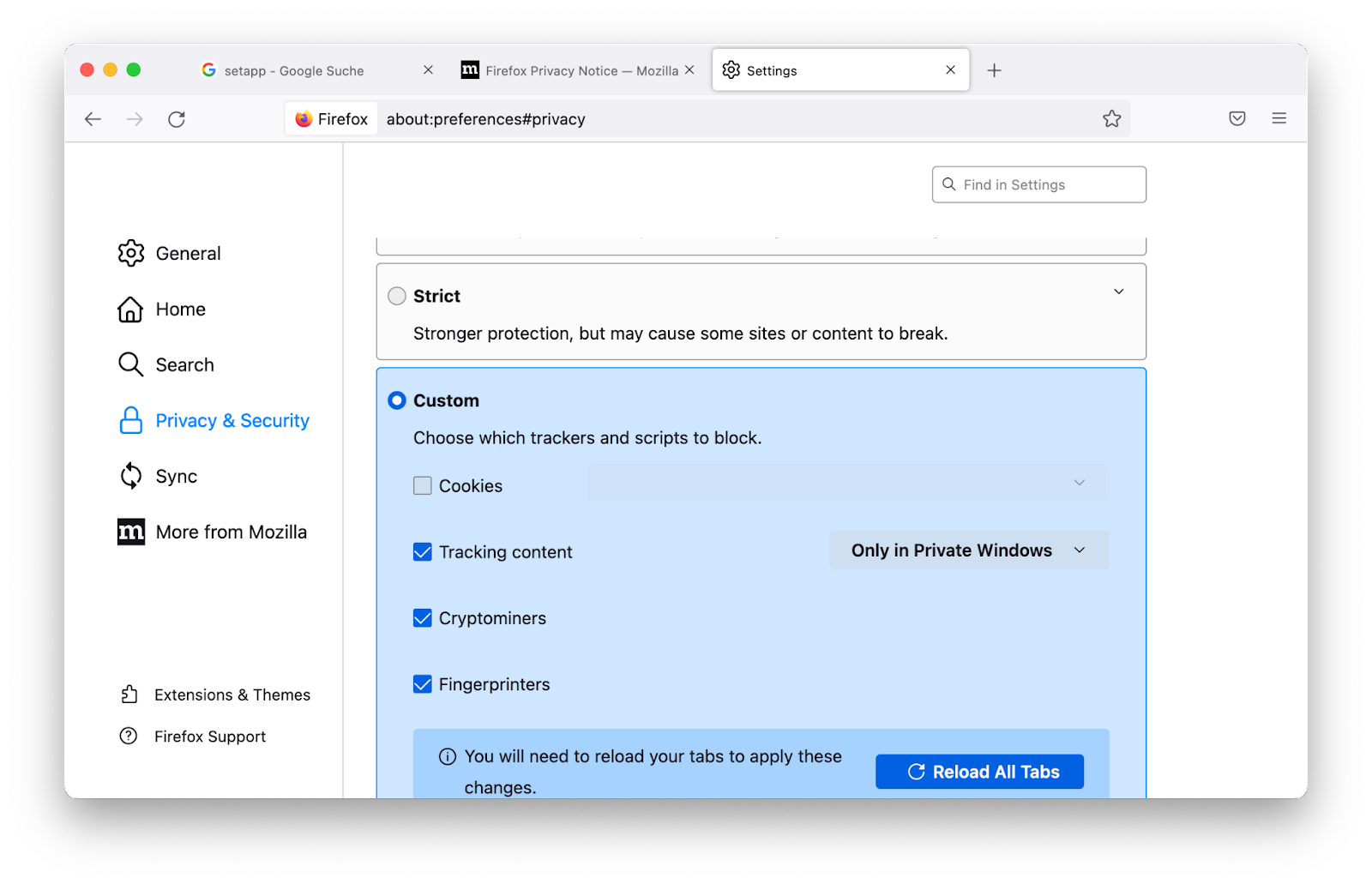 How to disable cookies on Mac in all browsers
Now when you know how to turn on cookies on Mac, time to learn about the antidote — how to disable cookies. Although cookies were originally created to make your online experience more pleasant, their laissez-faire attitude towards letting through invasive trackers has lately earned them a bad reputation.
One of the most effective ways of getting rid of cookies is deleting your browsing history altogether with them, which will help you surf the web anonymously as well as free up some space on your Mac. Here's how to do that in Safari:
Open History in Safari's menu bar
Scroll down and click 'Clear History'
Choose the time period you want to delete history and cookies from
Click Clear History.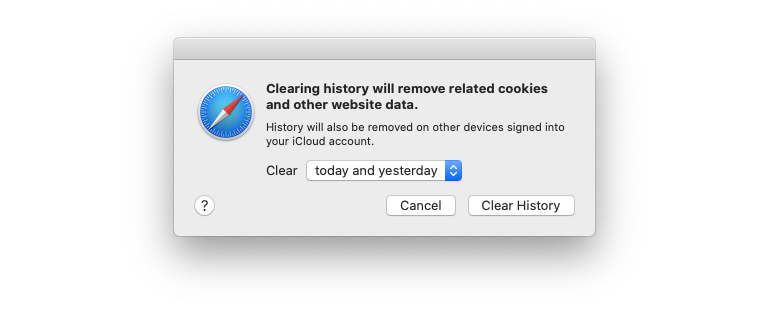 Safari also gives you another, more accurate and selective way for how to delete Safari history on Mac:
Open Safari in menu bar > Preferences
Navigate to the Privacy tab > Manage Website Data
Either click 'Remove All' to delete all cookies and data or select a few websites and then Remove.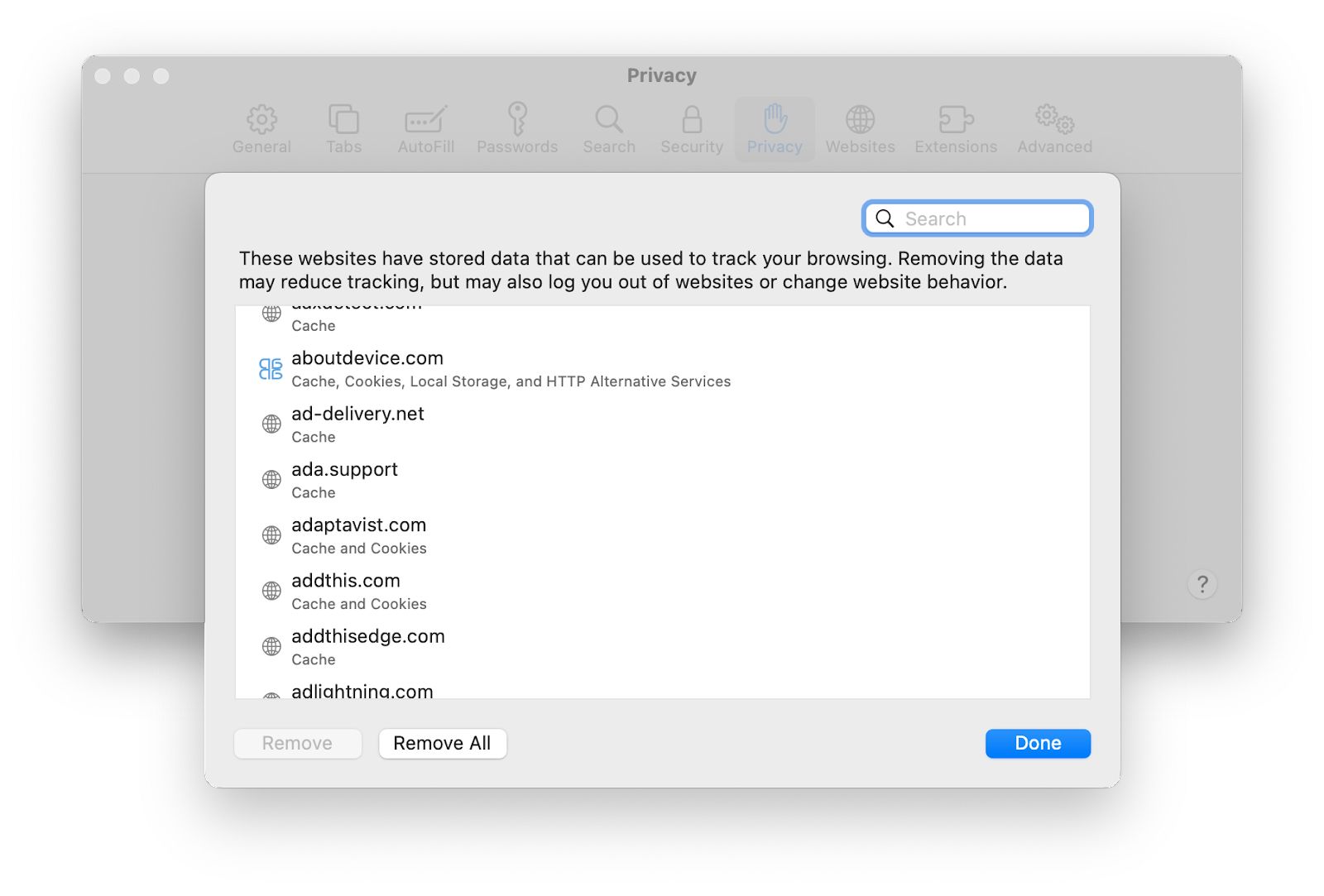 Chrome allows for even more fine-tuned functionality:
Go to the Chrome menu > Settings
Choose 'Privacy and security' and then 'Clear browsing data'
Check everything that applies
Select the time period that fits you
Click 'Clear data.'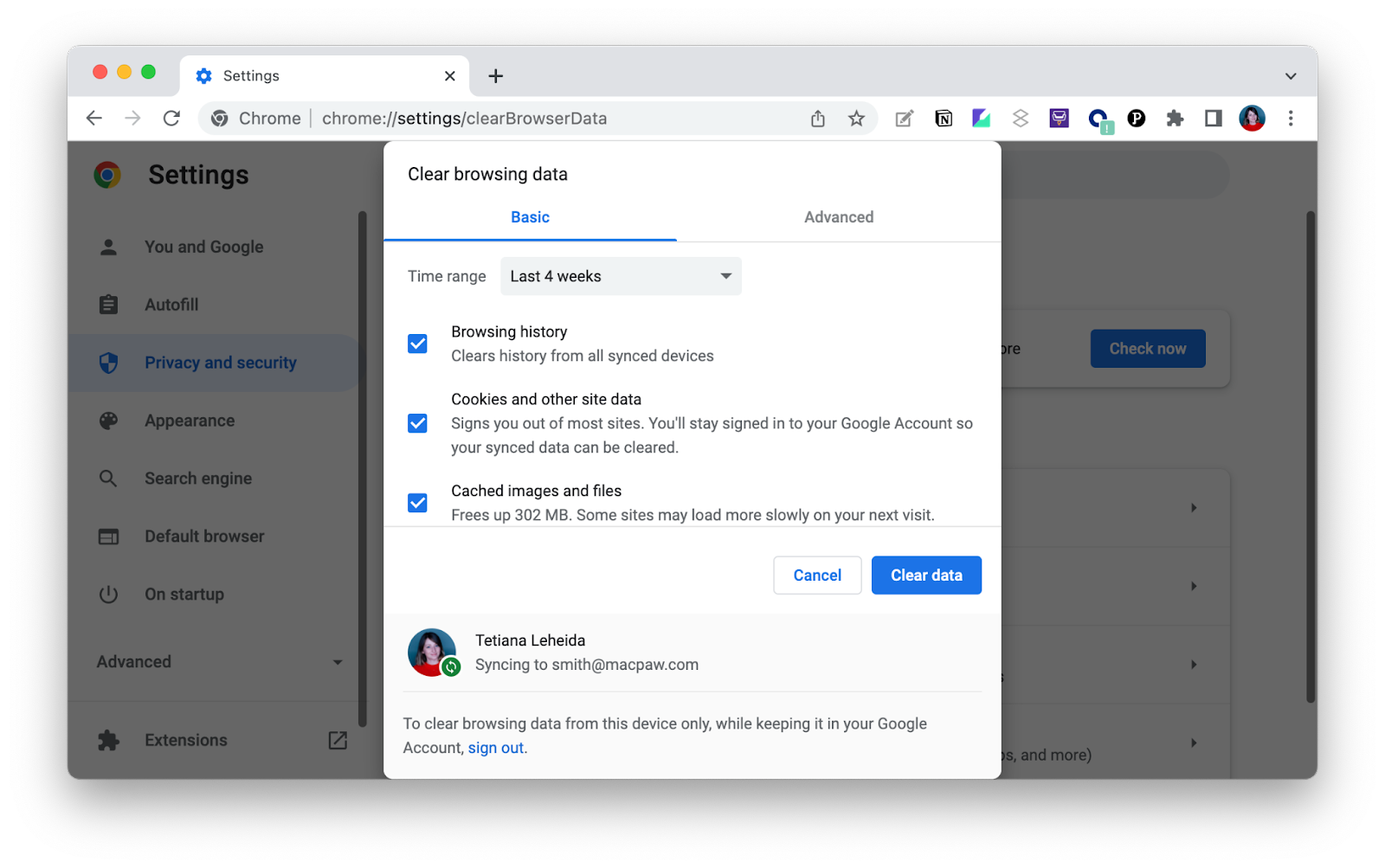 Finally, here is what you need to do to delete your browsing history if you're using Firefox:
Go to the Firefox menu > Settings
Access 'Privacy & Security'
Scroll down to 'History' and click 'Clear History'
Select the time range and history types, and click OK.'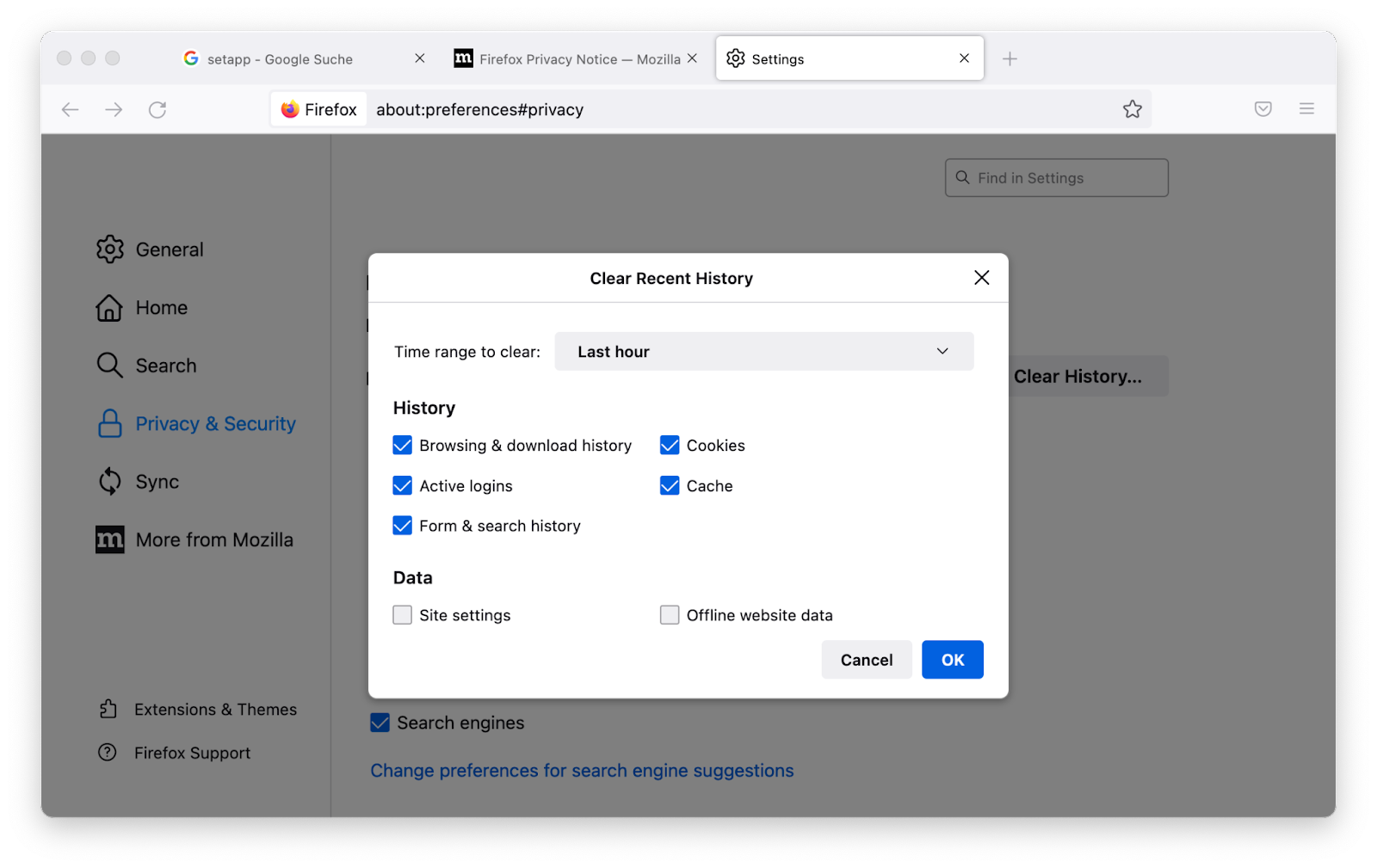 How to delete search history automatically
By now you know that most websites use cookies to store your data, which allows them to identify you when you return later on and offer information that might be of interest to you. You also know that cookies aren't always safe and can be abused, so it's important to learn how to disable cookies on Mac.
However, since every browser behaves differently, deleting cookies in each one separately could be a long process that you might easily forget to follow. The solution is easy — to keep your information private and secure you need CleanMyMac X.
CleanMyMac X is an app created specifically to boost your Mac's performance by keeping it free of any unnecessary junk and unused files. It instantly finds and removes all system trash from your computer, searches for duplicates, and neutralizes viruses as well as potentially dangerous software.
One of the best aspects of CleanMyMac X is that you can do all kinds of cleanups of your Mac in just one click. When you don't want to enable cookies on Mac and need to get rid of everything that has accumulated so far:
Navigate to Privacy under Protection
Click Scan
Check all the browsers you want to delete cookies from
Click Remove.
That's it — super easy to repeat once every few weeks (or days).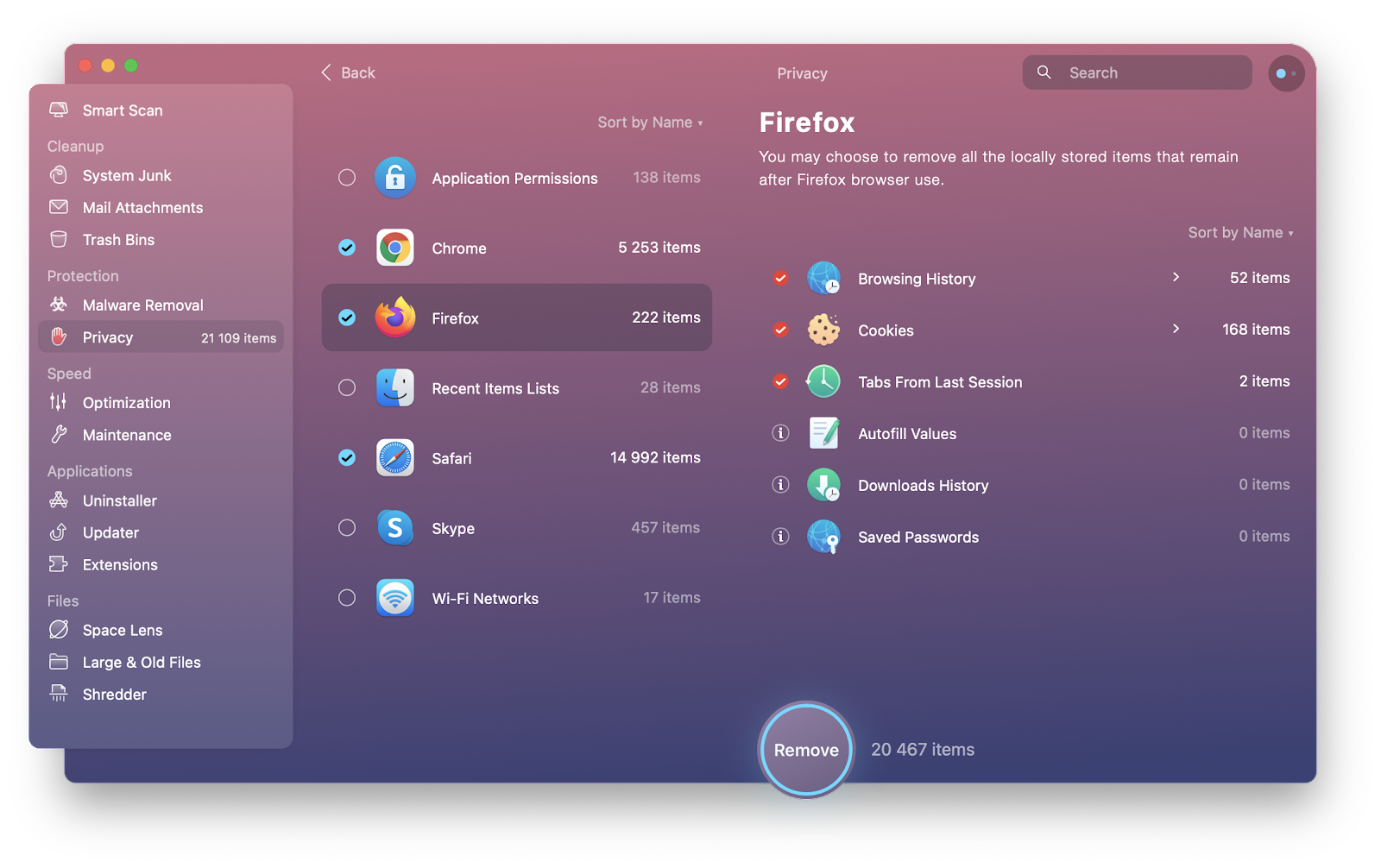 How to keep your passwords secure
Wait, you might say — if I delete all the cookies then my passwords won't autofill anymore on my favorite websites! Yes, that's true. But also, you don't want to rely on your browser autofill capability to paste in any of your sensitive information because:
Someone might gain access to your Mac and thus to your email, banking info, work files, etc.
If you use various browsers on various devices, you'll have different sets of autofill options in each of them.
Having just one password is not a good solution. You need to have a strong, unique, and complex password for every new service you use. How do you memorize them all? Use Secrets.
Secrets is an essential password manager that stores all confidential information in one safe place. Instead of using cookies to keep you signed into your accounts, this app will automatically fill your login information while keeping it protected. At the same time, Secrets offers a creative password generator, which easily comes up with unique and secure keys for all your accounts.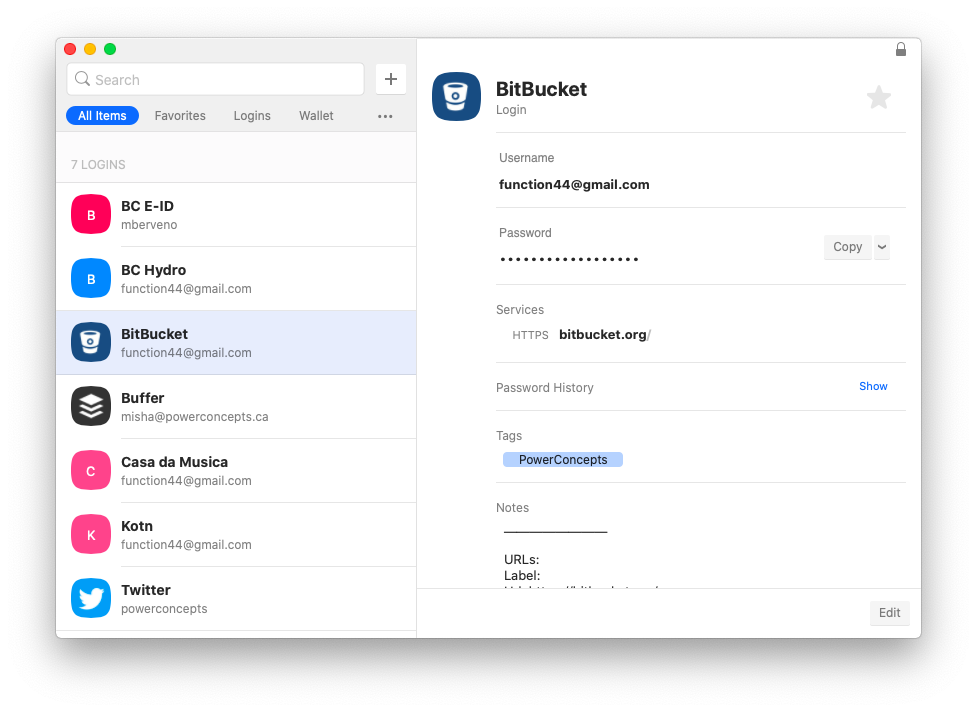 So if you worry that disabling cookies will make your login process more complicated, just grab Secrets and it will autofill secure passwords for you.
That's how using CleanMyMac X, AdLock, and Secrets can help you delete your browsing history and make sure all your passwords and other important information are safe at all times. All these apps are available through a productivity service, Setapp, which is free to try if you don't have the membership yet.
Now that you know how to enable cookies on Mac (as well as disable them) and keep your information secure, you'll be able to surf the web worry-free.