How to use VPN on your iPhone and iPad
VPN is one of the most necessary configurations on your iPhone. You need one to bypass georestrictions, hide your location and IP address, stream favorite movies and enjoy online gaming with no limits. If you never had one or didn't know how to manage it, let's check how to use VPN on iPhone and find you the best VPN for iPhone and iPad.
What is a VPN on an iPhone, iPad?
So, what is VPN in iPhone? VPN is short for the virtual private network. Through VPN connection, your iPad and iPhone can securely connect with others on the internet as if they were a part of the same private network. People use VPN to protect themselves against hackers, stream movies and TV shows, and browse the internet safely. Without the VPN, your computer exchanges all its information with the internet. Your browser sends a lot of different data via your provider to the website you're visiting. Then the website sends back the necessary information and appears on your screen.
You must know that during this information exchange, your connection often is not encrypted, which means that malicious parties can easily view your personal data. Your IP address is visible as well. What is IP? That's something like your postal code online. It indicates who you are and where you're currently located. When you have a VPN, that's a different process. When you use it, the VPN encrypts all your data, and they travel through a secure VPN tunnel via your provider to the VPN server. Then the VPN forwards only the important and anonymous information accompanied by its own IP. When you use a VPN, nobody can see what you do online cause your connection is protected. With it, you stay anonymous.
Using the internet becomes a lot safer as the encryption prevents hackers, internet providers, and governors from accessing your data. In addition, with a VPN, you get more freedom. As some websites and content are blocked in certain countries, VPN changes your IP address and, therefore, your virtual location, and you have no more limits while websurfing. So if you value your safety, online freedom, and privacy, get yourself a VPN.
How Does VPN on iPhone Work?
You might ask yourself, 'do I need VPN on my iPhone?' First, let us show you how it actually works. Imagine you want to access any website, let it be Facebook as an example, and there's a firewall due to some kind of governmental censorship in your country. You connect to your VPN, and it serves as a gateway. What does it mean? It means you control your own destiny now. You bypass your firewall, control your gateway, and no one can block it now as long as you're the only one who has access to your VPN.
Another example, imagine you're sitting in a coffee shop using public WiFi on your iPhone or iPad and decide to check on your bank account. Someone else with the laptop can easily log in to the network and get a hold of your emails, passwords, and other data you might have. But if you use a VPN, your internet connection will be encrypted, and no one will be able to access your data.
What is a VPN used for?
The websites you visit can gather your information to study the demographic situation. Usually, it's not a problem, but sometimes you want to protect your identity and privacy. So when you send your data online, a VPN creates a tunnel that encrypts your information. If someone gets hold of your data, they won't be able to read it. The tunnel also makes it harder to hack in. It's still possible but much harder to do.
VPN also adds an extra server to your internet connection with another website, making it possible to change your location. Many video streaming websites like Netflix and Hulu have strict content depending on your geolocation. You want to watch your favorite show on Netflix, but it's not available in your country. You send your information to one of the VPN servers in the US, and this server sends it to the Netflix website.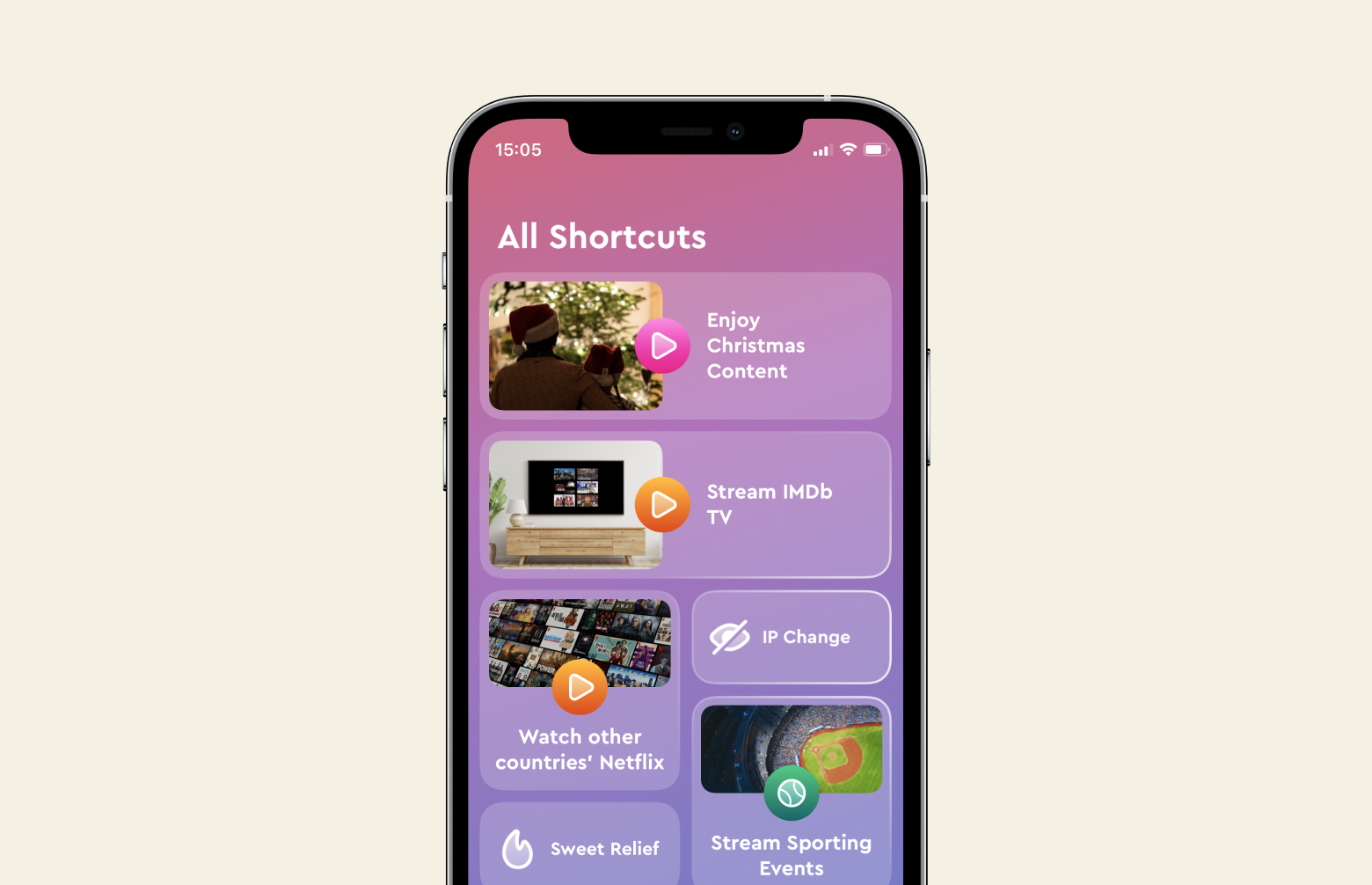 This way, Netflix thinks you're in America, and you can stream your show with no restrictions. Changing your location can also help when booking a hotel or flight. Research has shown that hotels and flight prices vary depending on geolocation, and a VPN can potentially save you money.
Let's specify again that websites sometimes collect your data. Governments can request this information and use these IP addresses to track your location. But with a VPN, your information reaches only the VPN server. They won't be able to track you back to your original IP address. Cool, huh? Many VPNs also have a no-log policy. It means that they don't record what sites you visit. So if the government requests the VPN provider for tracklogs, your information won't even be there. VPNs are perfect for changing your geolocation, encrypting your data, and ensuring your privacy. No wonder that so many people use it on their iOS devices.
How to configure and use a VPN on your iPhone or iPad
There are three primary ways that you can use to set up a VPN on your iPhone or iPad. Manually, through a dedicated VPN app and via a VPN browser. The way you set up a VPN on your iOS device is often dictated by how you're going to use it. You can handle an iPhone VPN setting through the browser. There is a number of browsers that do this.
For example, we can use Tor Browser that comes with the VPN. It's not free though but not that expensive. Once you're on this browser, you can connect to the VPN server in one of the many countries available there. It will not only anonymize your connection and give you an anonymous IP address but also encrypt that connection.
Best VPN for your iPhone and iPad
You can also set up a VPN on your iPhone and iPad using a dedicated VPN app. It's easier to install if you're not tech-savvy, and you don't need to use iPhone settings, only the app interface. Of course, it requires trusting another company with all your precious data, so you'd better find a secure app from a trusted vendor. Let's start with ClearVPN, an app that lets you mask your current location, access content and online services unavailable in your region (hello Netflix!), protects your personal information, and improves online gaming.
The app does all the setup for you, and all you have to do to use that VPN is choose the server you want to connect to, click on it and it will automatically connect. Once you see the VPN icon on the upper right corner of your iPhone screen, you know that you're connected and your connection is encrypted.
Imagine it's a Friday night, and it's time for a movie you've been waiting too long to get released. You launch Netflix and – surprise! – this movie is unavailable in your region. ClearVPN can deal with it:
Switch to the All Shortcuts tab

Click Watch Regional Netflix

Select Watch Netflix USA

Activate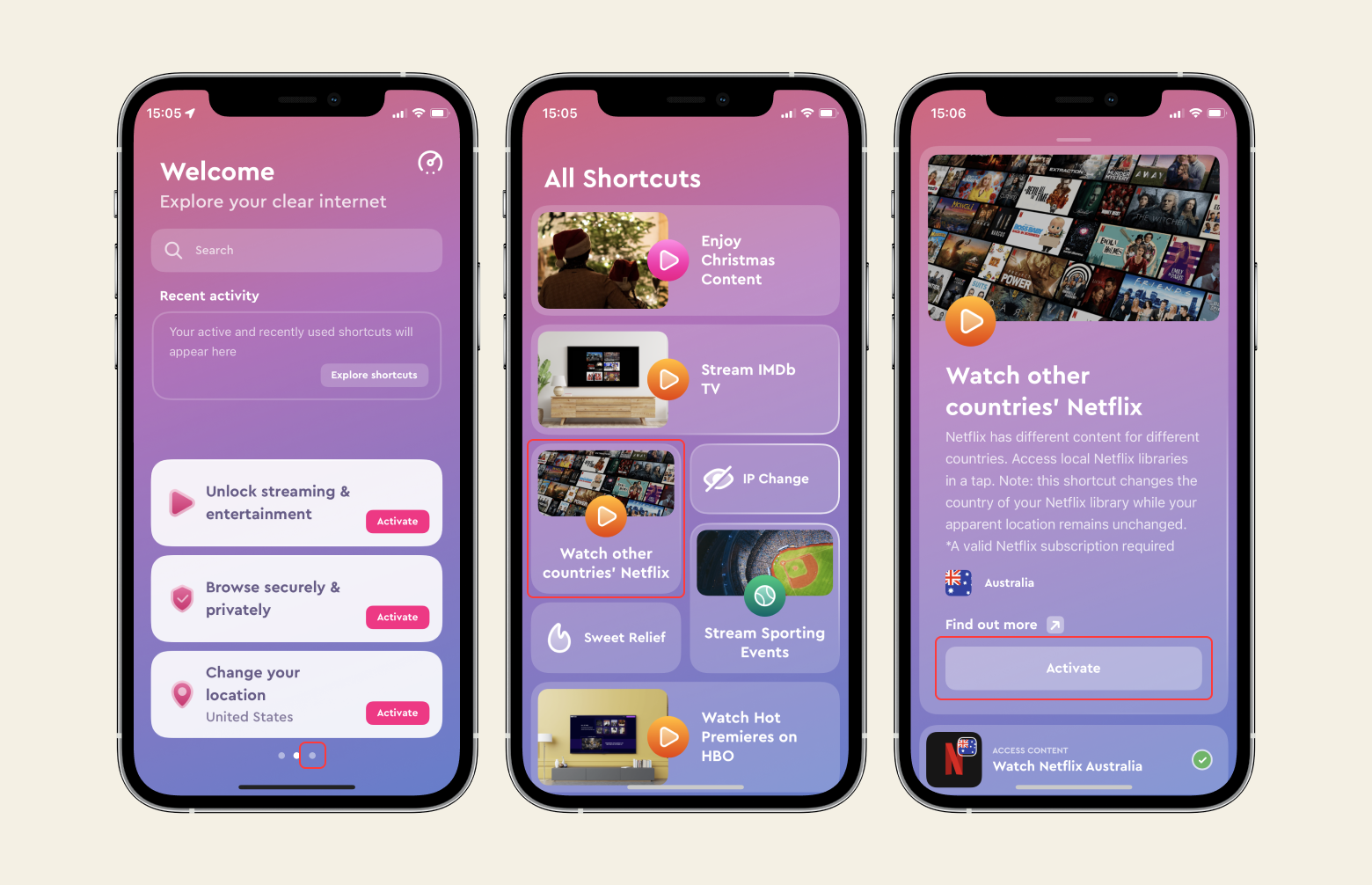 Besides Netflix, ClearVPN is intuitive and has shortcuts for literally any online activity – hiding your IP address, ad blocking, and malware protection. Each shortcut has inner settings that let you configure and optimize your traffic.
ClearVPN is available both on your Mac and iOS devices. With it, you can easily fix any issue through Mac, iPhone, and iPad and have a handy VPN app wherever you are. ClearVPN servers are located worldwide in North America, Europe, and Asia.
If you don't find a shortcut that meets your needs, create one of your own. Configure your shortcut according to your needs, including secure messaging or online gaming. Anything goes. And it looks so gorgeous! Eye candy for those who love friendly design.
How to manually configure a VPN on your iPhone or iPad
Let's continue with the manual configuration. If you've been given all the information for a VPN setup, what you first need to do is to navigate on your iPhone. Go to Settings > VPN > Add VPN configuration.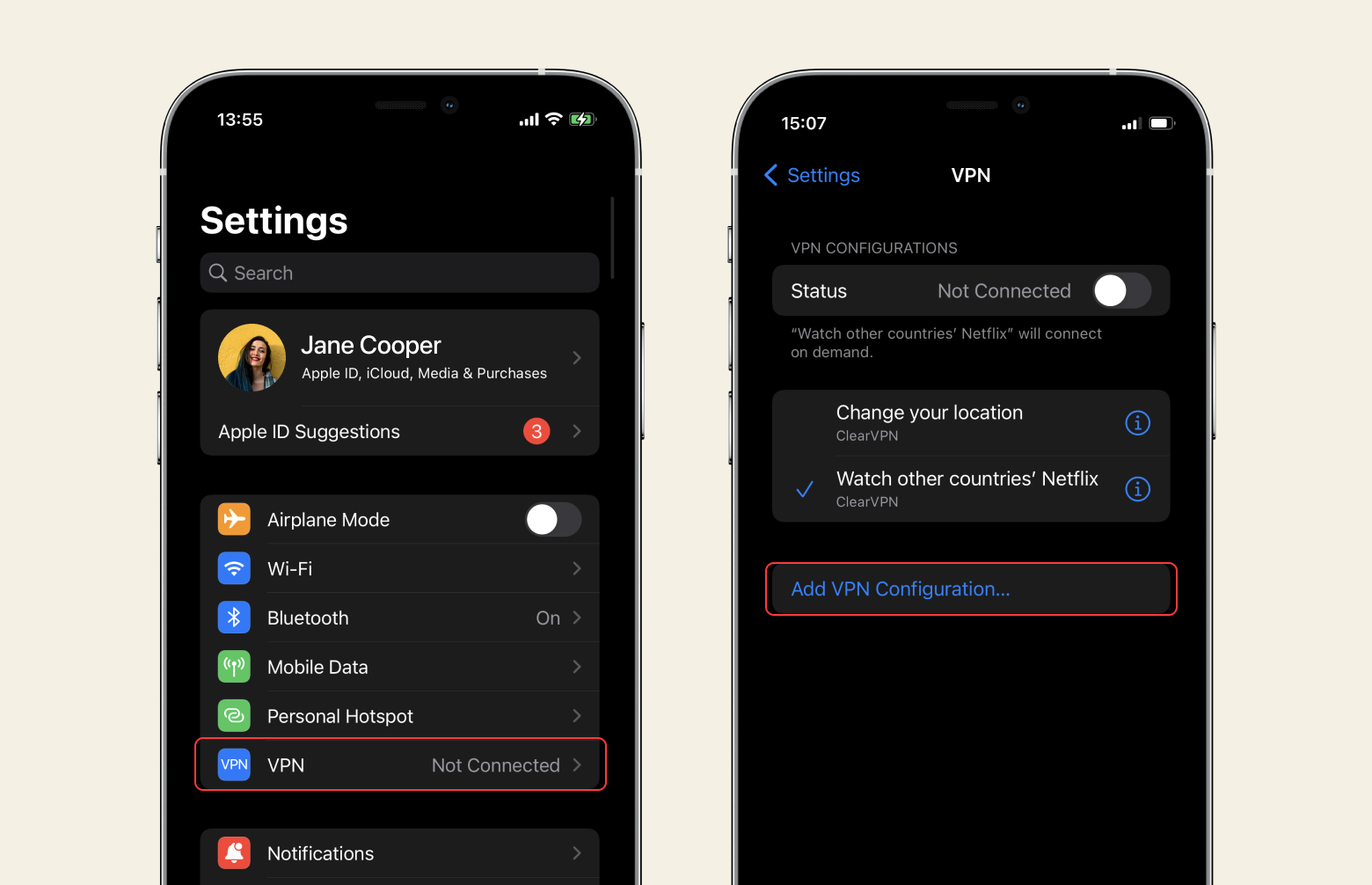 Here you can get all the information you were given from your employer or your network admin, whoever owns and runs this VPN server to give you and input that information. That includes the server, the remote ID, your username, and your password. Fill in all this data and click Done. It will show up as a VPN configuration in this VPN tab.
If it's the only VPN configuration you have, you can use the option to turn that on and off on your settings page. If you have multiple of them, go to the VPN tab and choose the one you want. The advantages of the manual setup are that you can have remote access to work servers via a secure connection and have more control over a VPN configuration.
How to manage your VPNs
With some VPN services, your iOS device automatically connects and disconnects from the VPN depending on how trustworthy is the Wi-Fi network you're using. In other cases, you have to connect and disconnect your VPN manually.
How to manage your VPN services? Go to Settings on your iPhone or iPad, and switch on the VPN to connect to your secure network. If you use a VPN via an app, then you need to open one and connect to the VPN network from inside it. How to turn off VPN on iPhone? Go to Settings on your iOS device, and turn it off there. Or go to the VPN app you're using and switch off the VPN network inside it.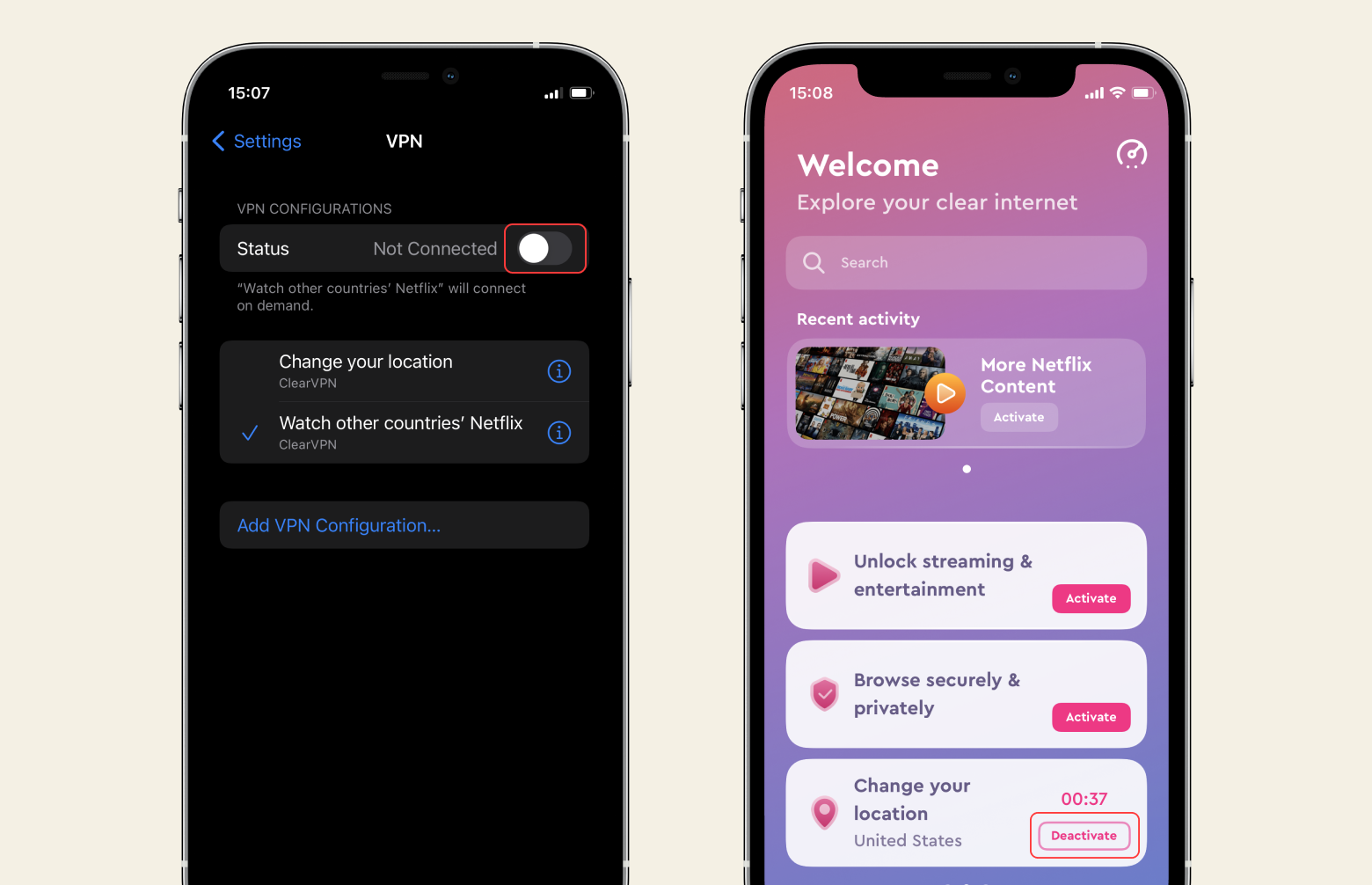 So what does VPN on iPhone mean? It's a whole set of features that allows you can bypass georestrictions, hide your IP address, enjoy online gaming, and watch favorite Netflix movies wherever you are. VPN secures your personal data and takes your online privacy under control.
ClearVPN is a great app that covers all your needs in protecting your data. On Setapp, you get this app with 24 other tools on your iPhone and iPad for any routine you have. No more endless signups, continuous licensing, and billing – now you have all you need literally at your fingertips. Setapp is a small, easy-to-install productivity app that covers many. At the price of a single subscription. Get the fanciest VPN app ever right away.
FAQ
Does Using a VPN Slow Down Your Internet Connection?
Yes, it does a little bit unless you have a high internet speed and VPN server proximity. In that case, you won't even notice a change.
How to remove VPN from iPhone
Go to Settings > Switch off the VPN you're going to delete > Go to General > tap on VPN > Locate the VPN profile you want to remove and tap the (i) button > Tap Delete VPN > Confirm. This VPN is now removed from your iOS device.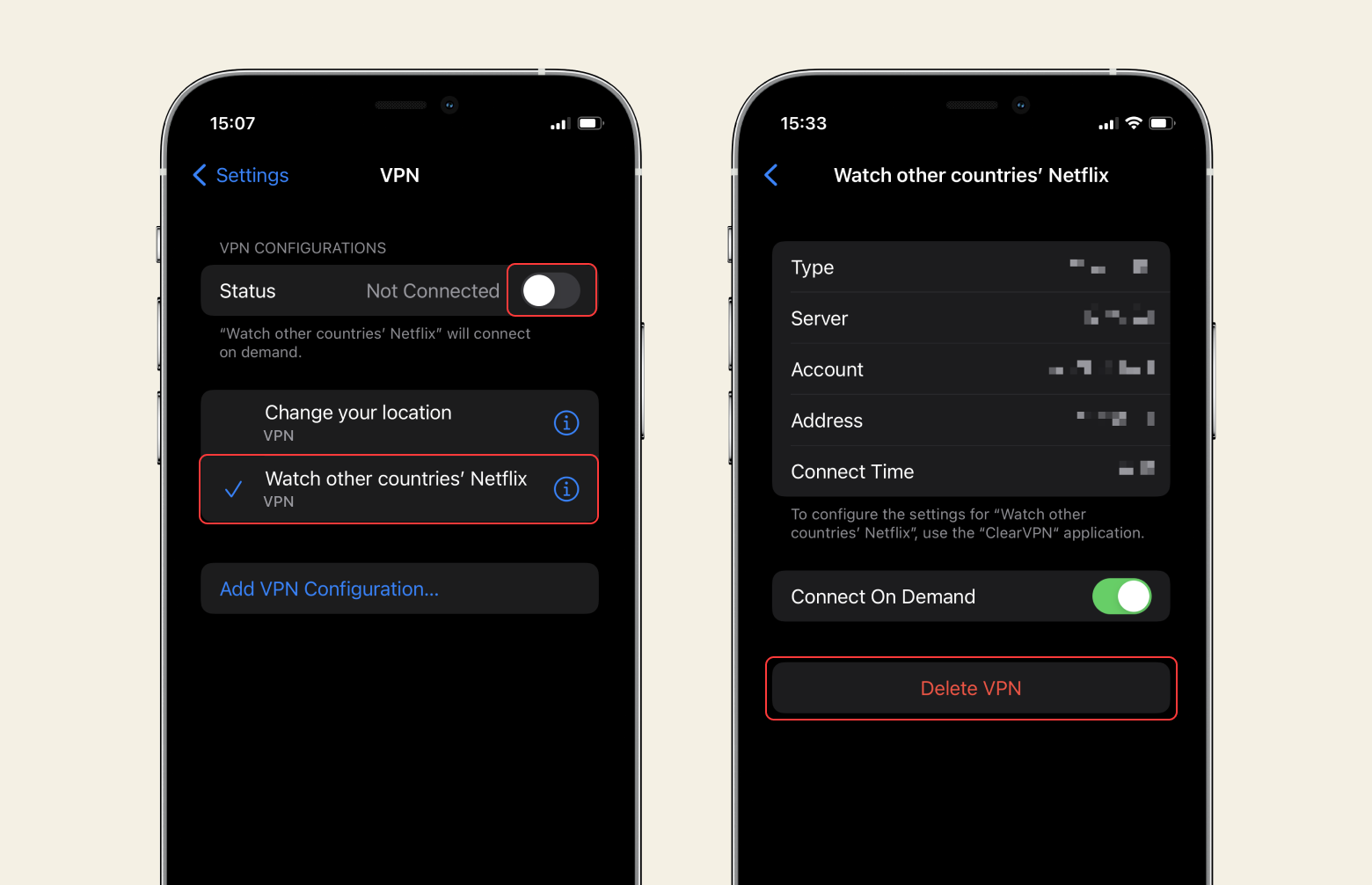 How to cancel VPN subscription on iPhone
Go to Settings > Apple ID > Subscriptions > Choose the app you want to unsubscribe from > Cancel.