The best antivirus software for Mac in 2023
Everyone knows that antivirus protection for Windows is a must. Windows is a relatively exposed system, so it's easy for viruses, trojans, keyloggers, and other malware to get in and wreak havoc.
So when people switch to Macs, they are often delighted to know that macOS is sandboxed in a way that viruses don't have access to admin resources. That leads lots of Mac users to believe that an antivirus for Mac is not required. The reality couldn't be further from the truth.
In this article, we'll see why all Macs need adequate protection from all kinds of malware and suggest a few options for the best virus protection for Mac available today.
How to choose the best Mac antivirus
Even within the same industry, such as security software, it's hard to define what the best antivirus for Mac would be for everybody. Use cases are different. What suits corporate-level security guidelines might be an overkill for personal use. Getting rid of ads is not the same as mitigating targeted attacks by malicious players.
When evaluating the best antivirus for macOS, consider:
Your needs (e.g. protect files, speed up Mac, improve privacy)
Your budget (e.g. free, one-time license, or a subscription)
Number of users (e.g. just for you, your family, or your company)
Admin controls (e.g. none at all or needing to manage other users)
Malware tracking (e.g. trojans, keyloggers, adware)
Monitoring (e.g. continuous or scan-based)
Ease of use (e.g. intuitive or CLI-based)
Depending on your answer to these points above, your pick for the best antivirus MacBooks or Macs can have will differ.
Do Macs need Mac antivirus software?
Macs are certainly more secure than Windows computers, right from the start. In addition, Macs have become even more secure over the years with the addition of Gatekeeper, System Integrity Protection, firewall, and Apple Silicon chips.
However, Macs still have lots of weak access points that hackers are constantly targeting. The most obvious weakness when it comes to Mac — its user. Most of the time Macs get infected with viruses because the user didn't pay enough attention and let the malicious software or script in by giving it admin controls.
No one is perfect, and malware can find its way into nearly any Mac. That's why it's essential to have the best security software for Mac you can get ready to step in as its own plan B.
The best antivirus for Mac in 2023
There are dozens of worthy Mac antivirus options on the market to choose from. We've surveyed the most high-rated ones and present our top-10 picks below.
CleanMyMac — the best Mac antivirus solution
When it comes to balancing continuous malware monitoring, ease of use, beautiful interface, and quick scans — no one beats CleanMyMac X.
CleanMyMac X is a complete optimization solution for Mac. While you can easily scan for malware at any time and immediately remove anything you find, you also get a background monitoring solution that quietly keeps your Mac protected at all times.
To scan your Mac for malware with CleanMyMac X:
Launch the app
Select Malware Removal in the sidebar
Scan
Remove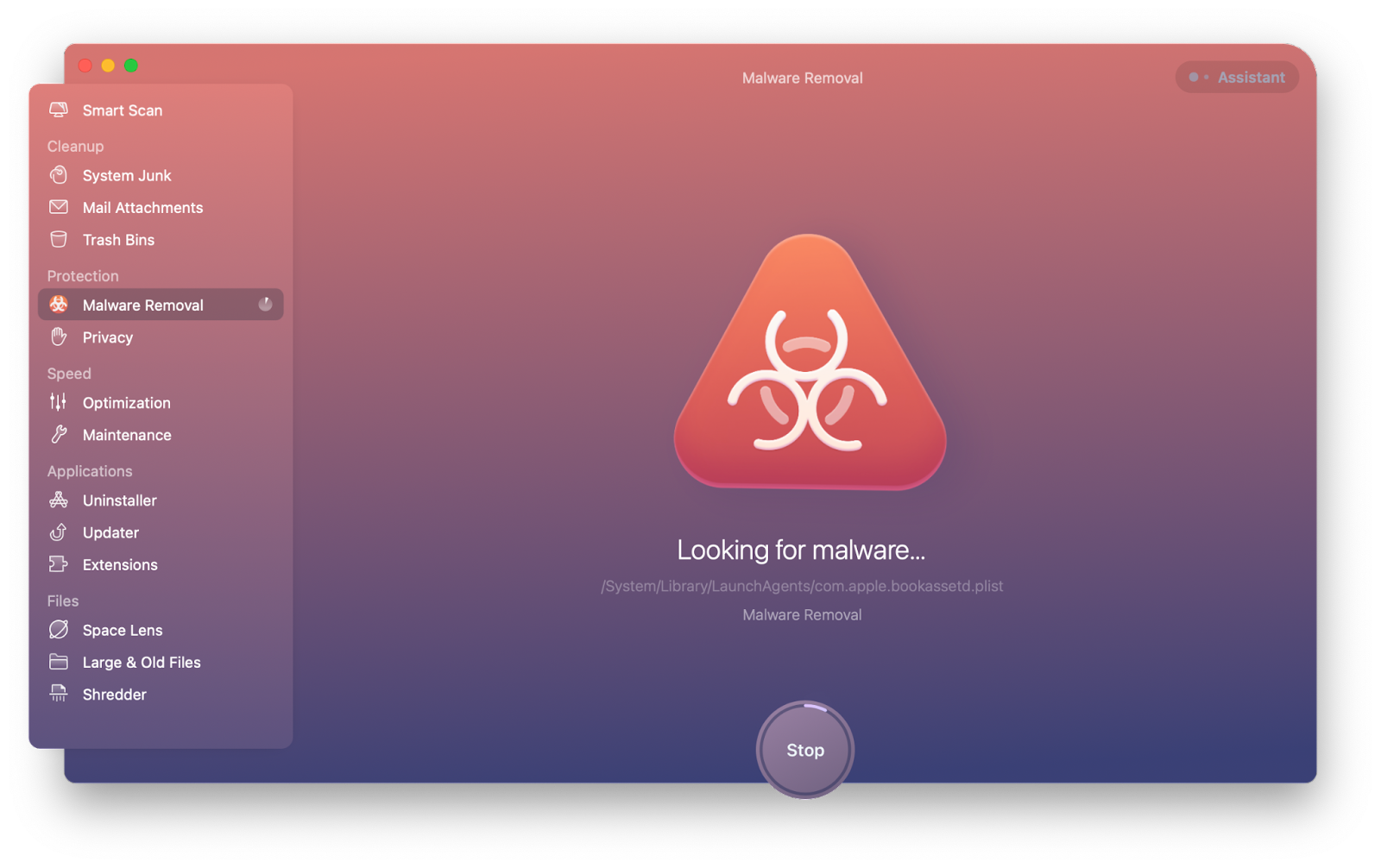 Plus, CleanMyMac X gives you a variety of other tools for optimization, from cleaning system junk to uninstalling apps and detecting large files you haven't used in a while.
Sophos Home
Sophos is a well-respected company in the malware protection space, offering solutions for corporate security, small business, and personal use.
Sophos Home is a personal virus scan for Mac that continuously monitors your Mac for any suspicious activity. In addition, you can set up extra security features like parental controls and filtering potentially dangerous websites.
More advanced features include mic and camera monitoring, ransomware protection, and the ability to manage multiple devices. There's a free trial available but the full version of the software will cost you around $30 to $40 dollars a year, depending on the plan you choose.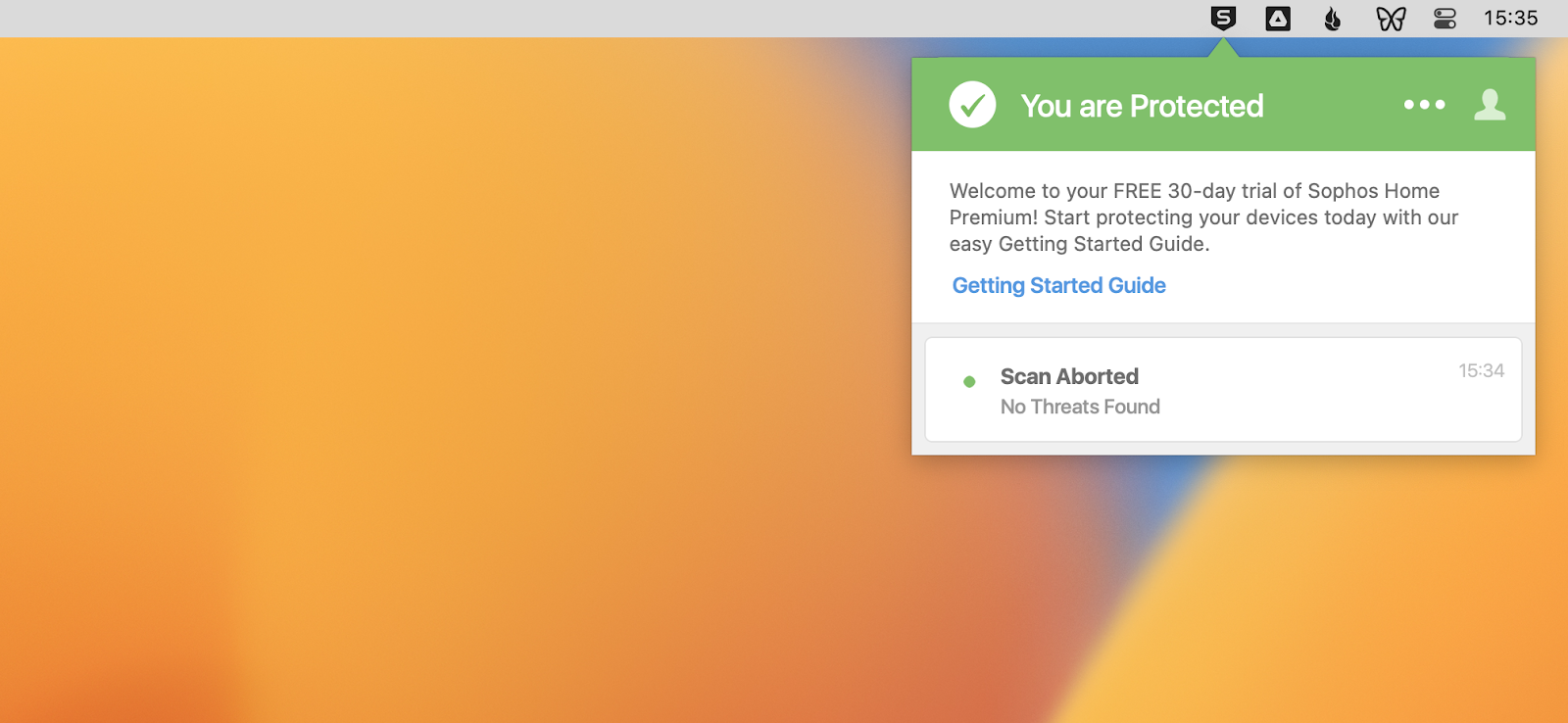 Intego Mac Internet Security X9
Those Mac users who want a little bit more security might consider Intego's Mac Internet Security Bundle, which consists of VirusBarrier and NetBarrier.
VirusBarrier is an antivirus for Mac and iOS devices that provides 24/7 security and peace of mind, keeping your personal files safe. NetBarrier is an enhanced firewall that secures WiFi connections to your Mac and tracks inbound and outbound traffic, immediately stopping any threats.
An annual license for Intego Mac Internet Security X9 comes in at about $40 per Mac.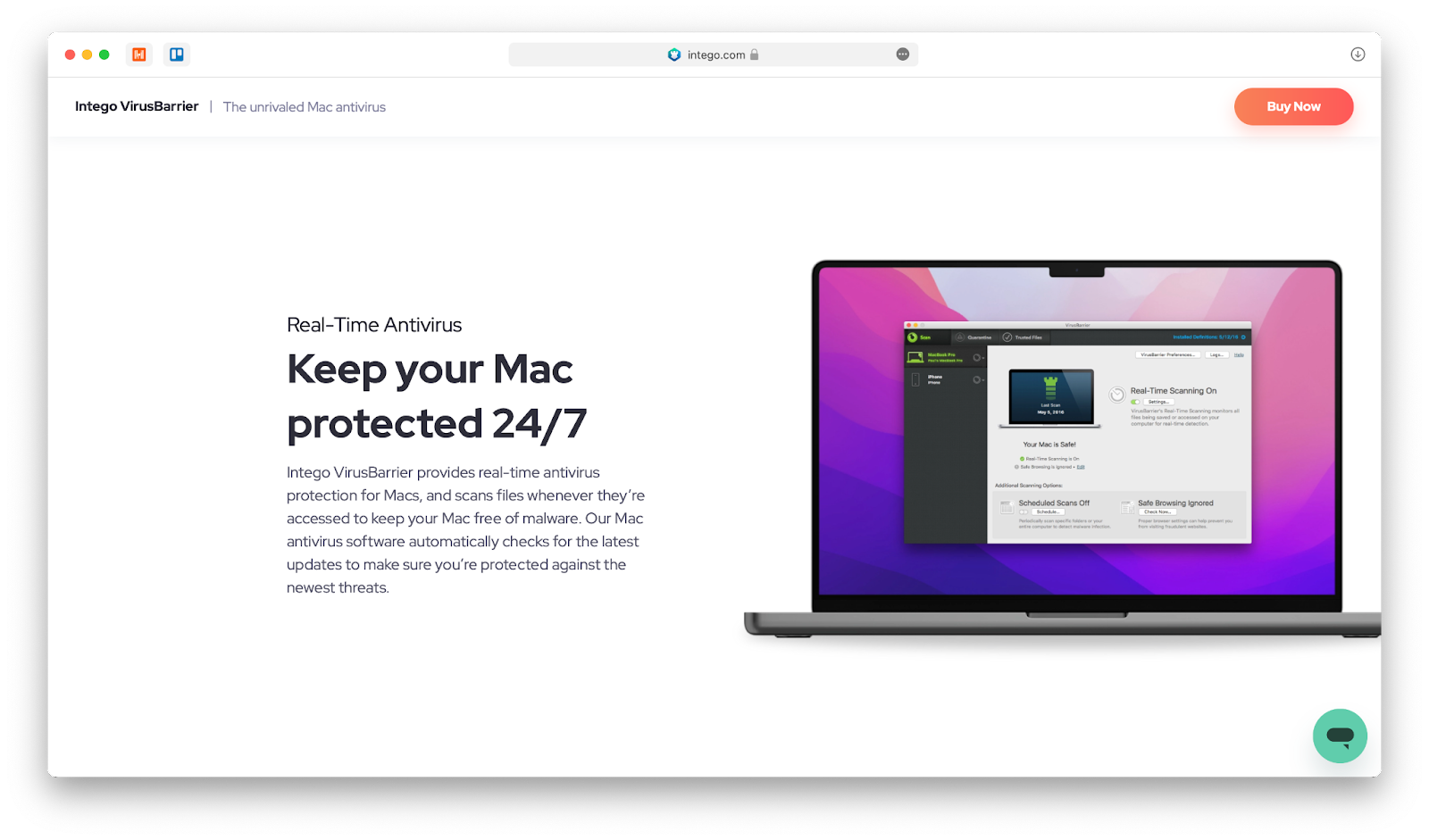 McAfee Antivirus
McAfee is one of the most well-known security companies out there, providing a wide range of products from VPNs to password managers to identity monitoring to antivirus software that covers all platforms.
McAfee Antivirus for Mac gives your devices real-time protection from ransomware, malware, phishing attacks, and more. You also get identity monitoring, a file shredder, a firewall, and a personal protection score.
There's a free trial available and annual licenses range from $30 to $80, depending on the plan you choose.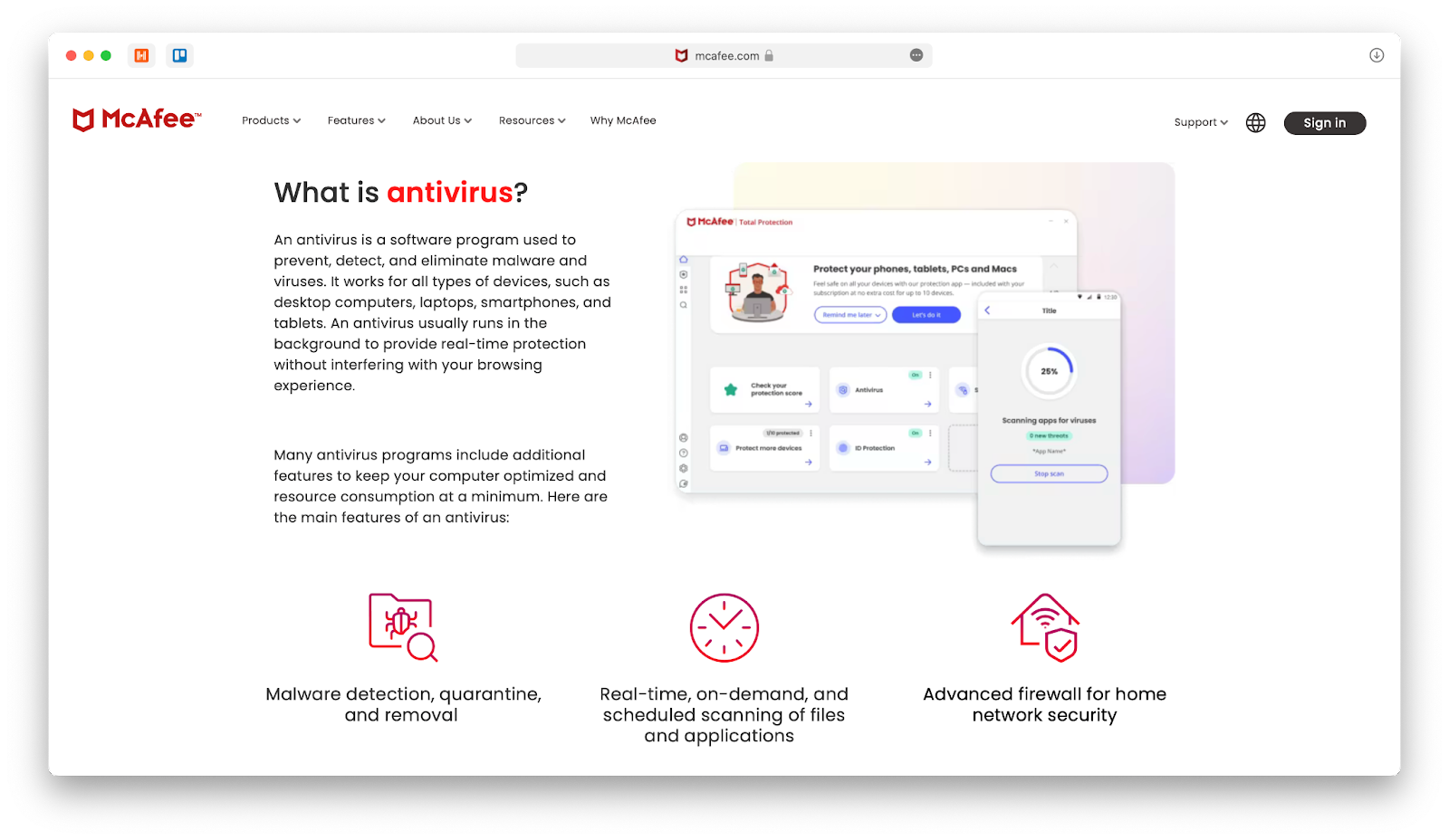 ESET Cyber Security
ESET provides cybersecurity software for both home and business use. Boasting over 100 million users worldwide, this malware protection software doesn't drain your MacBook's battery, doesn't take lots of CPU away from intensive tasks, and automatically monitors all kinds of threats (e.g. phishing and spyware).
There are two versions of the software: Cyber Security and Cyber Security Pro. Each can be purchased for multiple devices with licenses extending to multiple years, with the average price of $30 to $40 a year.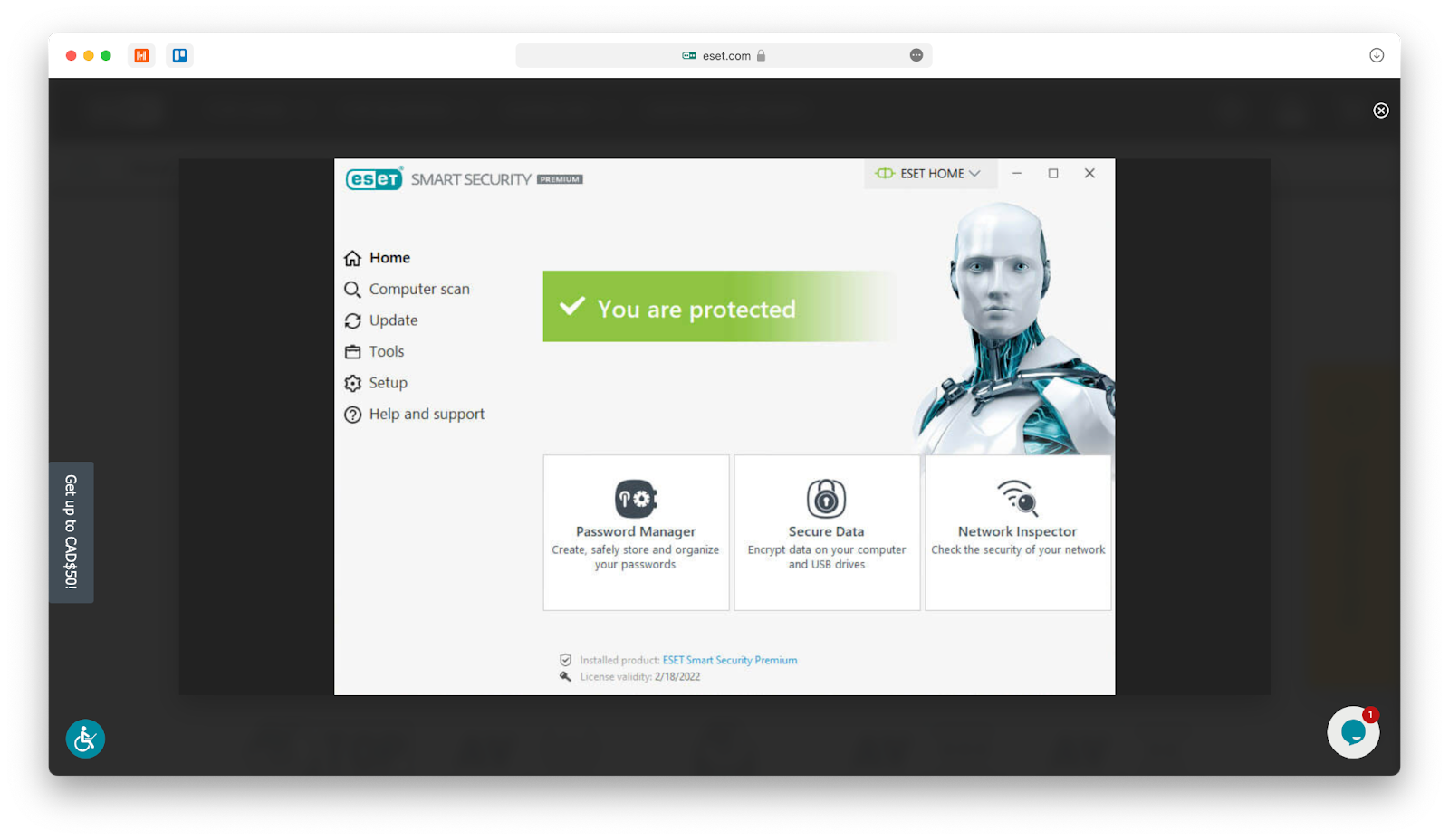 Trend Micro Antivirus for Mac
It's true that most highly-rated malware protection tools are able to detect roughly the same amount of malicious scripts. That's why it's important to consider some additional features when comparing those tools for your needs.
Trend Micro Antivirus for Mac, for example, not only stops malware but also blocks web threats, safeguards privacy, and helps you avoid email scams and phishing attacks.
You can subscribe to Trend Micro via an annual subscription for about $30.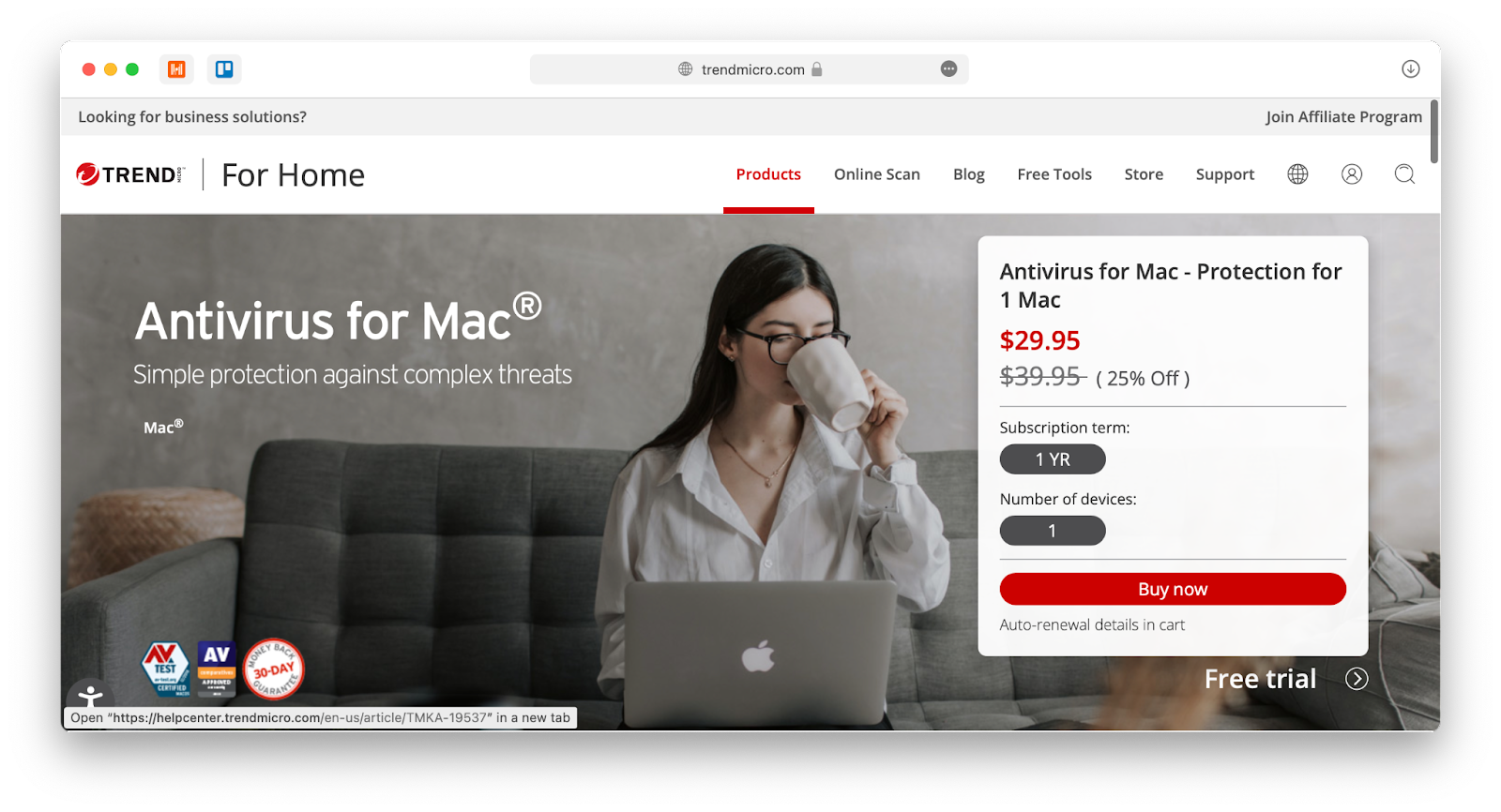 Total Defense Essential Anti-Virus for Mac
If you have more than one Mac or you want to protect your whole family at once, you might consider solutions that include a few devices in their basic plan right from the start.
Total Defense Essential Anti-Virus includes support for three Macs by default. It also offers a 60-day money back guarantee and free customer care. On the protection front, ultra-fast malware scanning due to the company's multi-layer detection technology and always-on ransomware protection make it one of the best internet security for Mac options out there.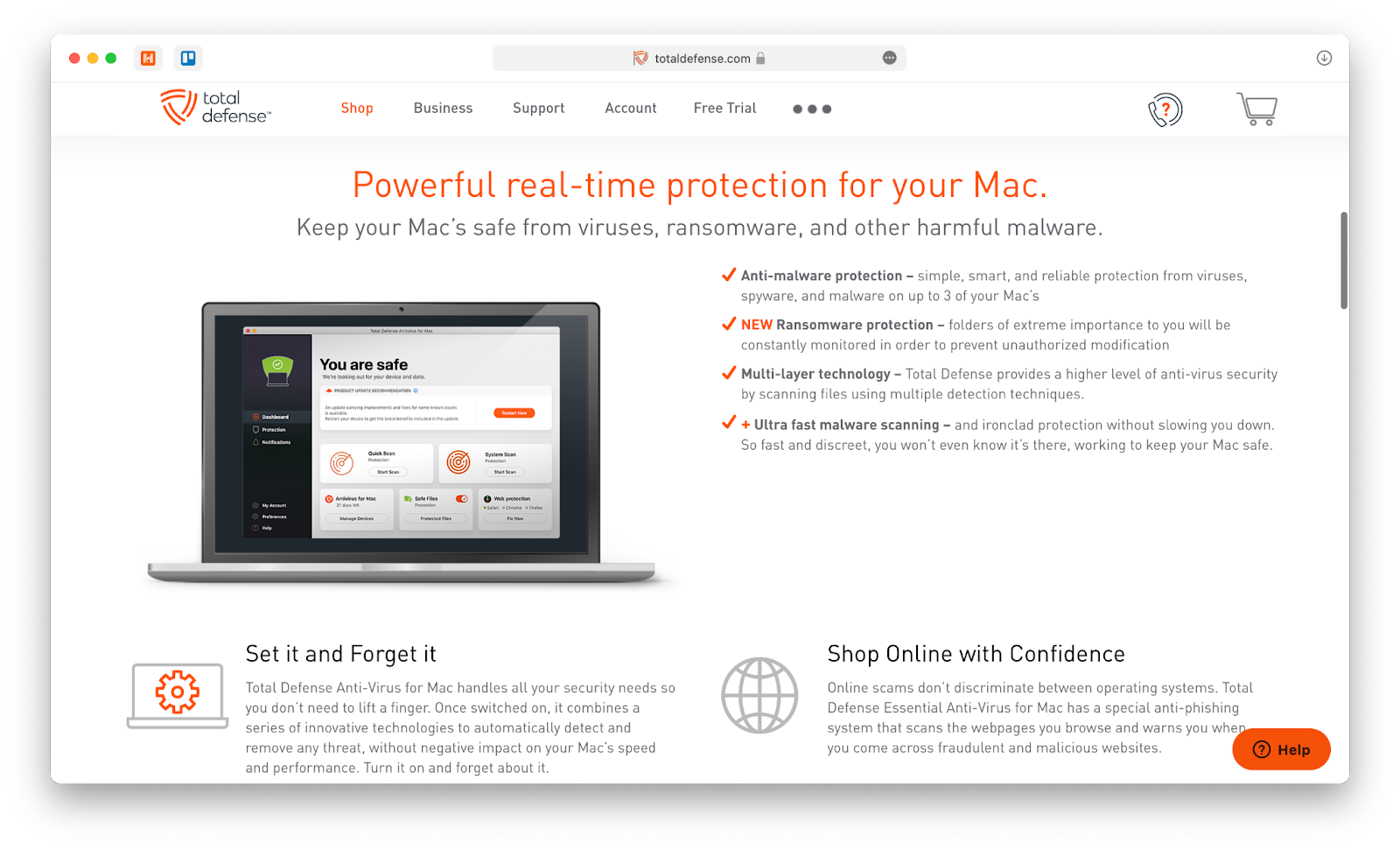 Bitdefender Antivirus for Mac
When you're after the best malware protection for Mac, it pays to consider features other than malware removal. For example Bitdefender Antivirus for Mac features protection for your Time Machine backups, making it very difficult for anyone to hold your files hostage in a ransom attack.
Besides, Bitdefender's solution is a great overall antivirus, providing real-time protection, blocking adware, safeguarding your privacy online, and even including a free VPN.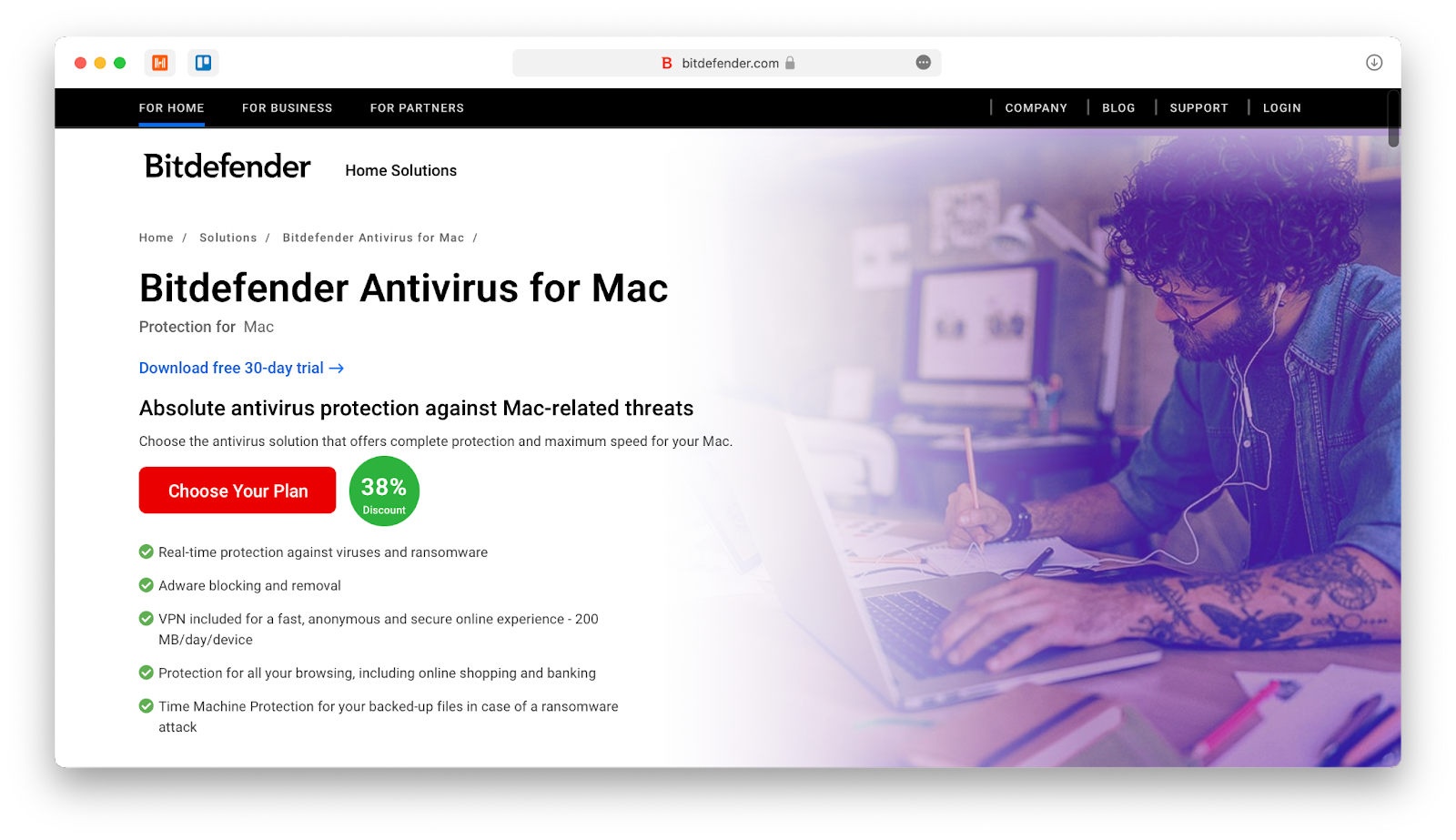 Avira Prime
Similarly to Bitdefender, Avira Prime specializes on other features besides malware protection, such as anonymizing your web traffic, cleaning up your Mac, and saving your passwords — all in one app.
Avira Prime targets families or small businesses by selling five or 25 monthly or yearly licenses at a time.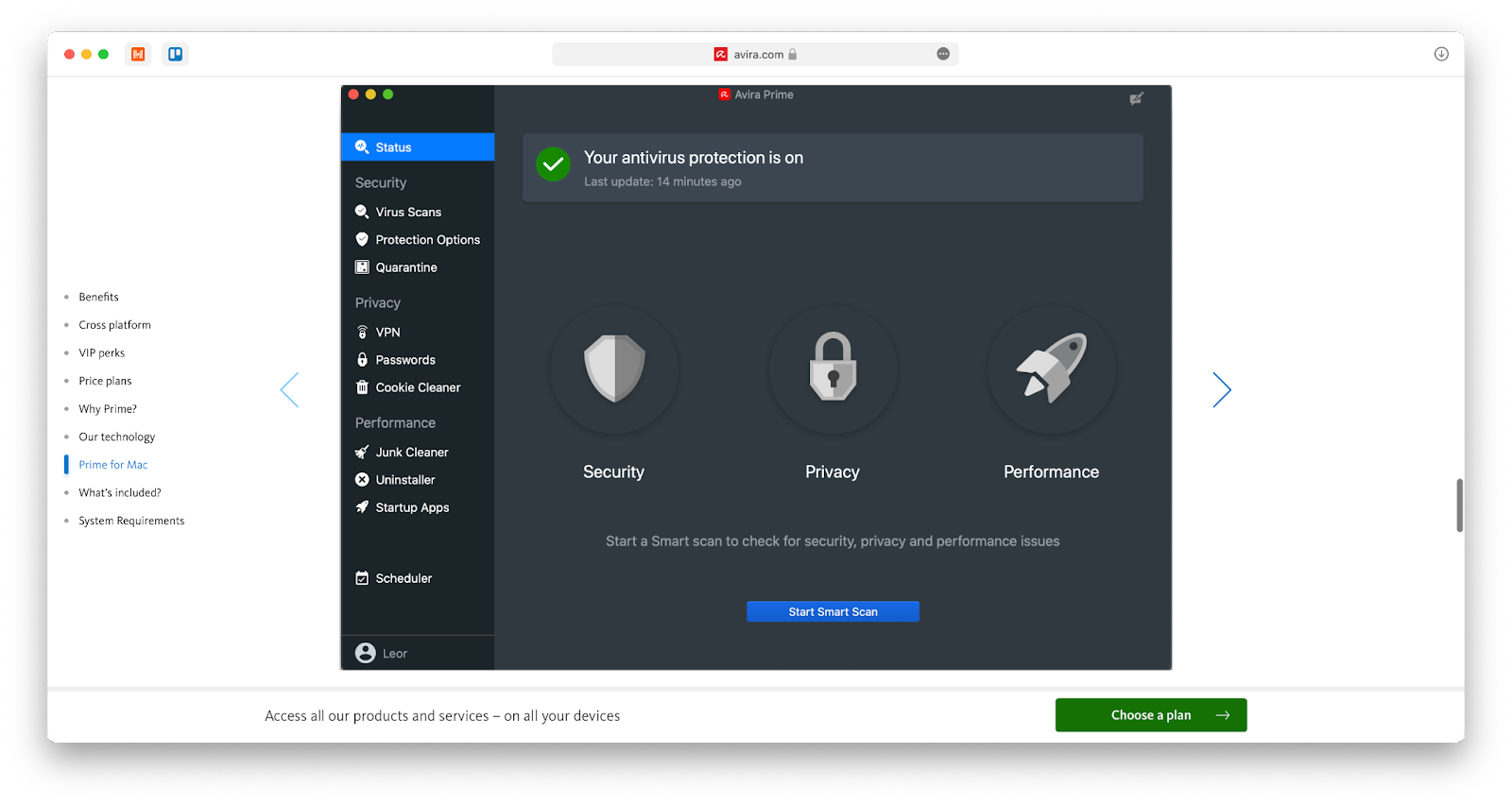 F-Secure Total
F-Secure Total is a comprehensive security solution for your whole family. It includes a powerful antivirus, browsing protection, parental controls, online privacy and WiFi protection, virtual location via a VPN, online identity monitoring, and a password manager.
This all-in-one security app is available for both Mac and iOS, and promises to be so light on your Mac that its performance will never be affected.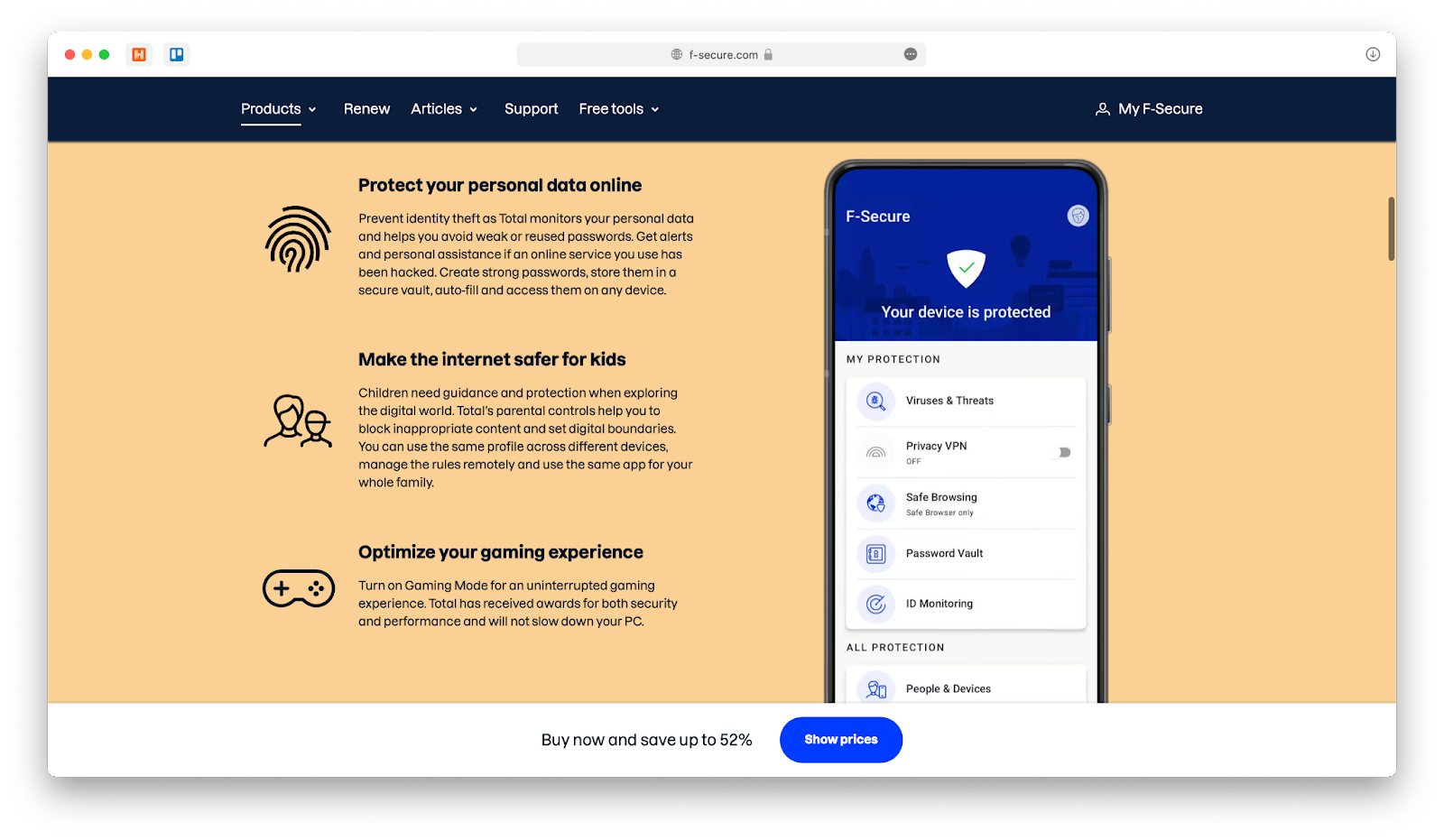 Surfshark Antivirus
If you want a lightweight solution that doesn't include too many features you don't need but still has a robust antivirus core, check out Surfshark.
Surfshark Antivirus is a lightweight protection against all kinds of malware. Keep its real-time scanning on, and you won't even notice it's there. The interface is very user friendly and easy to use.
However, it's not the cheapest option at around $4 a month per device.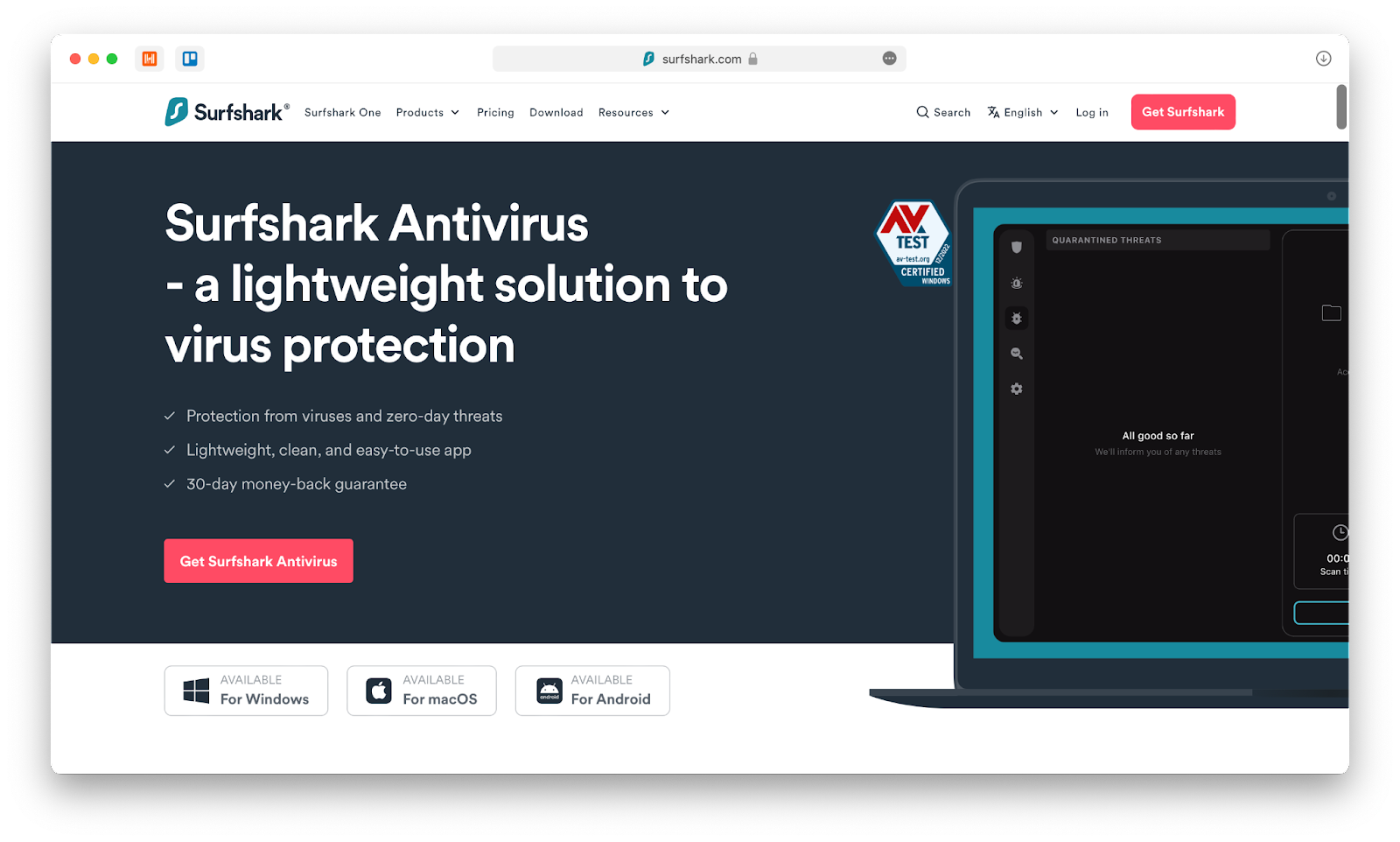 More useful apps for your Mac
It's not just Mac security and malware protection that you have to be worried about. You should also have handy solutions for maintaining your privacy, monitoring the state of your Mac, and getting rid of annoying ads that plague the web today.
ClearVPN makes it easy to change your location, browse securely, and even access streaming services that have geo-blocks enabled. Unlike many other VPNs, with ClearVPN you don't need to tweak lots of settings and preferences — it works intuitively right out of the box.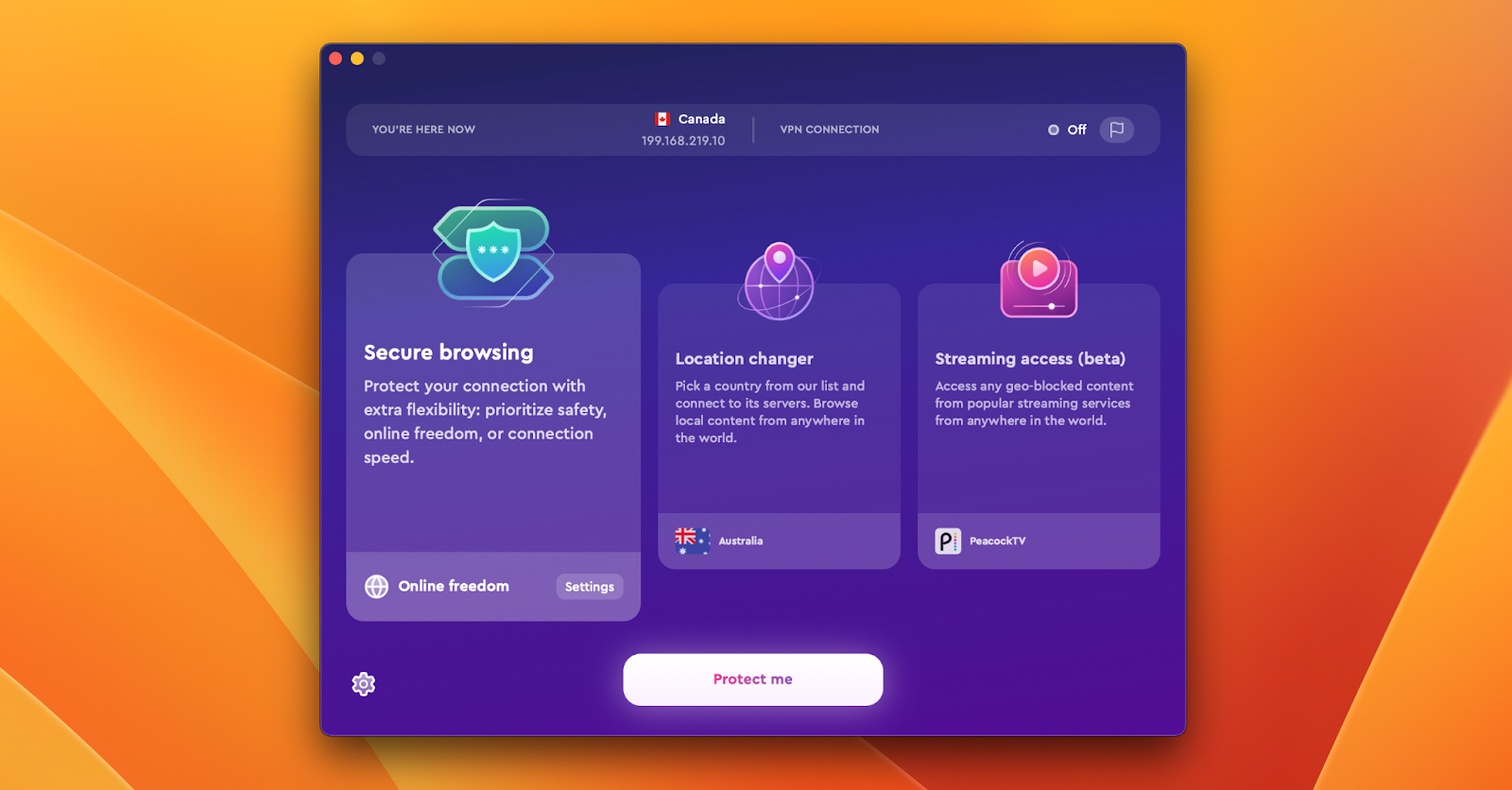 iStat Menus helps you monitor any aspect of your Mac effortlessly via the menu bar. You can track CPU, GPU, RAM, fans, disks, WiFi, and even local weather in real time and in just one click. A complete Mac monitoring solution without any hassle.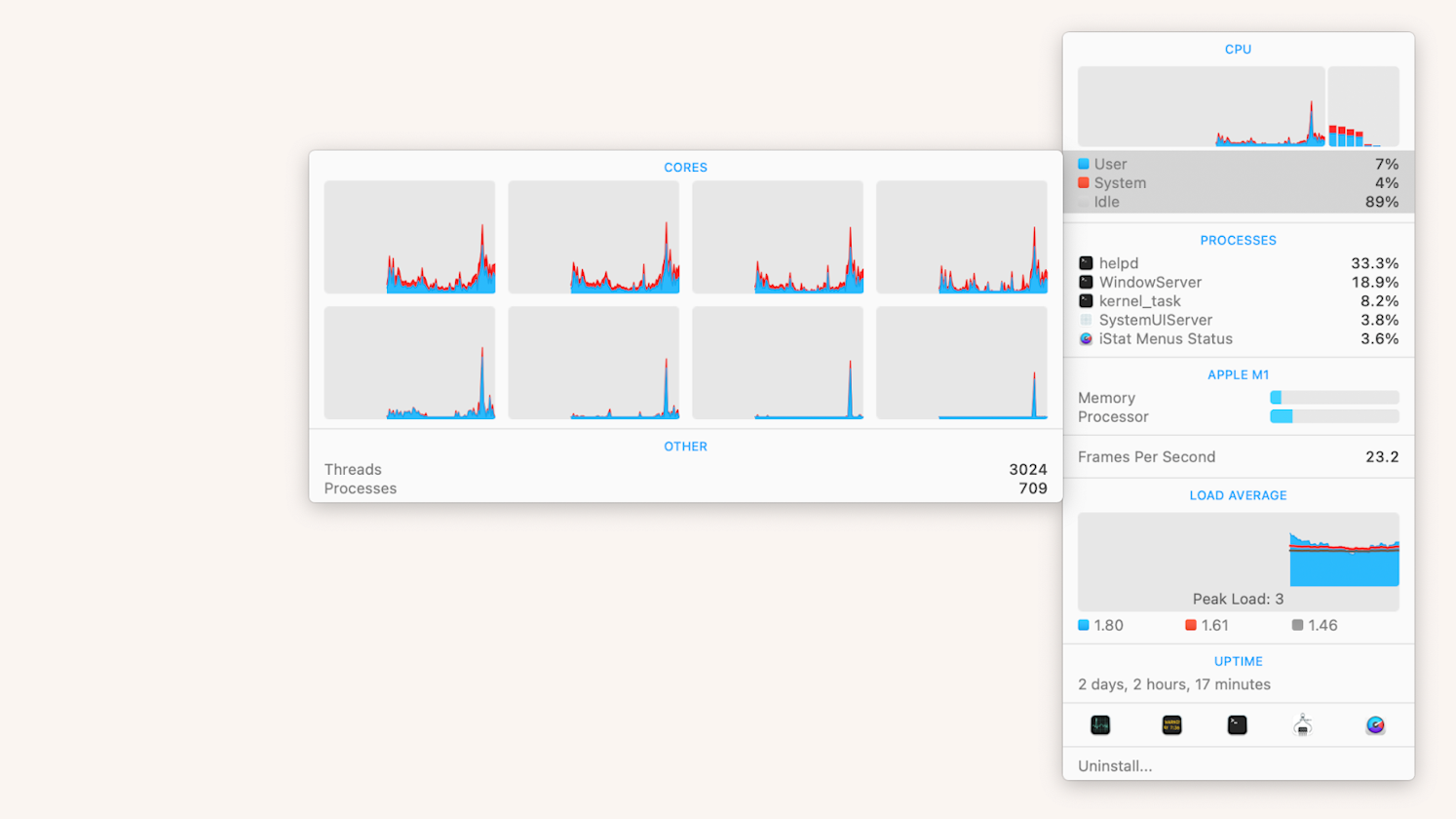 AdLock is the perfect solution against something we all hate — annoying and intrusive web ads. This tool blocks pop-ups, online chats, visual ads, and trackers all at once. It also prevents videos from auto-playing and removes all other web notifications.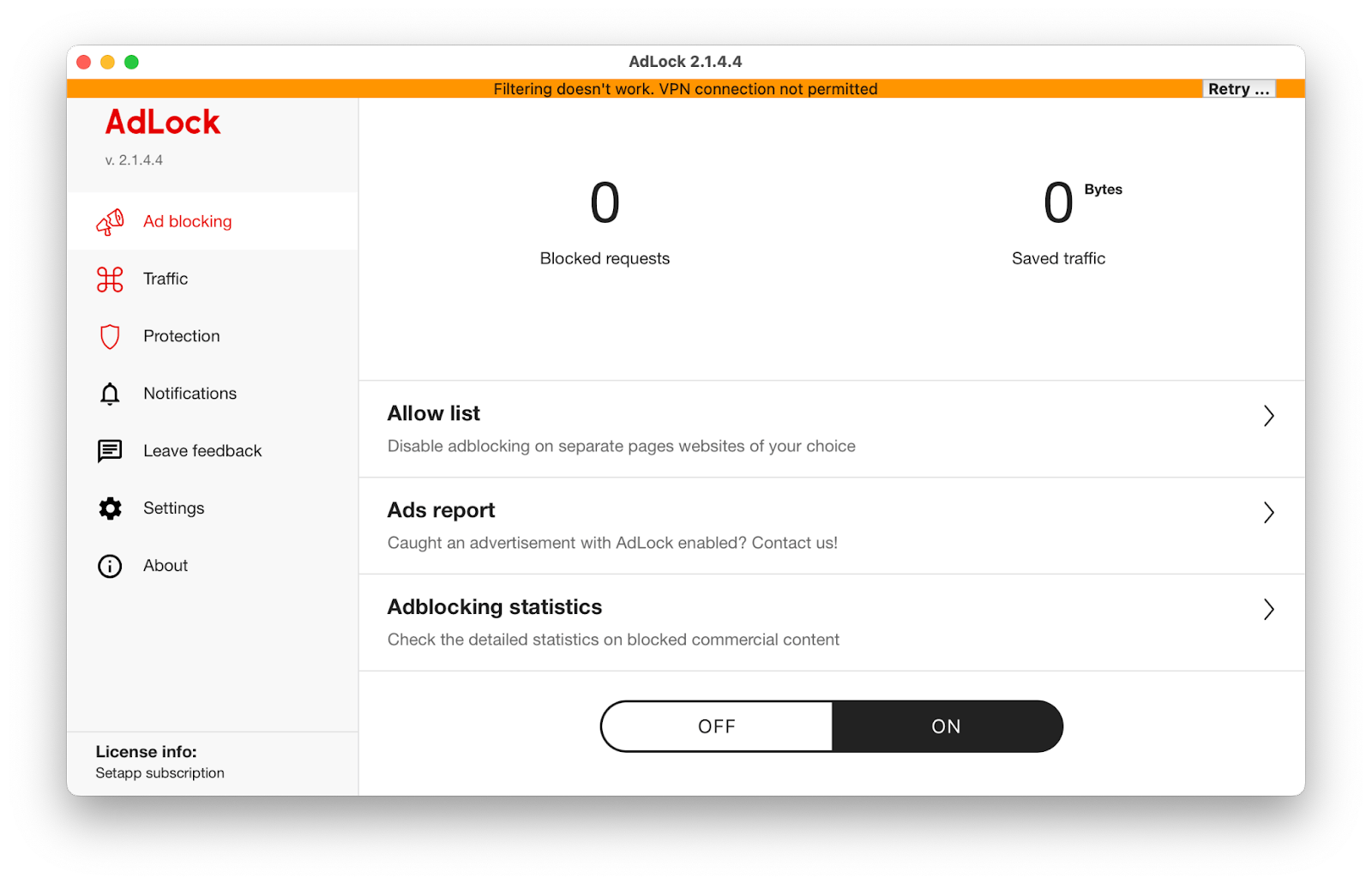 FAQ
Now that you're aware of all the best antivirus software for Mac, let's review some critical points related to protecting yourself online.
Does a Mac need an antivirus?
Macs don't have a full antivirus built in, although solutions like Gatekeeper, firewall, and System Integrity Protection help mitigate most risks that your Mac is exposed to.
Do Macs have a built-in antivirus?
All Macs have an internal microphone built-in, so you don't have to have an external microphone for capturing sound when screen recording Mac.
What is a good free antivirus for Mac?
If you're looking for serious malware protection, you should be cautious about apps that are offered for free — this is one of the primary ways of actually getting your Mac infected with malware.
All the options recommended above are paid, although their prices range depending on the number of devices, and whether it's a subscription or a one-time license.
Does antivirus slow down your Mac?
Some antivirus software could certainly slow down your Mac, but most high-quality options we've picked above shouldn't.
So what's the best antivirus for Mac? If we had to choose, we'd pick CleanMyMac X. Its speed, comprehensive coverage, and intuitive interface cover all the bases that most casual and professional users are looking for. In addition, get ClearVPN to protect your privacy online, iStat Menus to monitor the state of your Mac, and AdLock to get rid of any ads you don't want.
Best of all, CleanMyMac X, ClearVPN, iStat Menus, and AdLock are all available to you for free for seven days through the trial of Setapp, a platform with more than 240 top-of-the-line Mac and iOS apps. Try everything Setapp has to offer at no cost and discover your new favorites.