How to check if a website is safe
Website safety checks are essential for staying secure online because the internet is full of fraud these days. Before you visit any resource and reveal crucial personal information, always ask yourself: "Is this website safe?" Read on to discover our top recommendations for checking a webpage's security.
While it's crucial to understand how to recognize dangerous websites before visiting them, it's not the only thing you should be doing to protect yourself from the different risks you could meet online. We also discuss additional steps you can take to ensure your online safety. Keep reading.
How to know if a website is secure
As promised, in this article, we're going to show you things that you can look for to help check if website is legit and secure. Although this isn't a complete list, hopefully, it will point you in the right direction. Let's jump right in.
Recognize (and doubt) trust seals
You can do this by going up to the URL bar to check for an s after HTTP. A website should utilize HTTPS rather than HTTP! You can also look for a padlock that represents a secure and private connection between the webpage and the device. Click on the padlock to see the certificate to let you know your connection is encrypted.
If you're purchasing something online and don't have an encrypted connection, your personal data, including credit card information, is sent over via plain text. This means anybody that's in between, if there is a hacker or a middleman trying to get that information, can see it. But with a certificate, it encrypts the connection between you and the server, making it a lot harder for that information to be seen.
However, keep in mind that just seeing a trust seal is insufficient. Attackers are now able to imitate authentic seals to deceive users. Fortunately, verifying genuine trust seals is rather easy. Simply click the padlock to see if it directs you to a verification page. This demonstrates that the trusted website collaborates with a security partner who is in charge of safeguarding the data that is exchanged and stored there.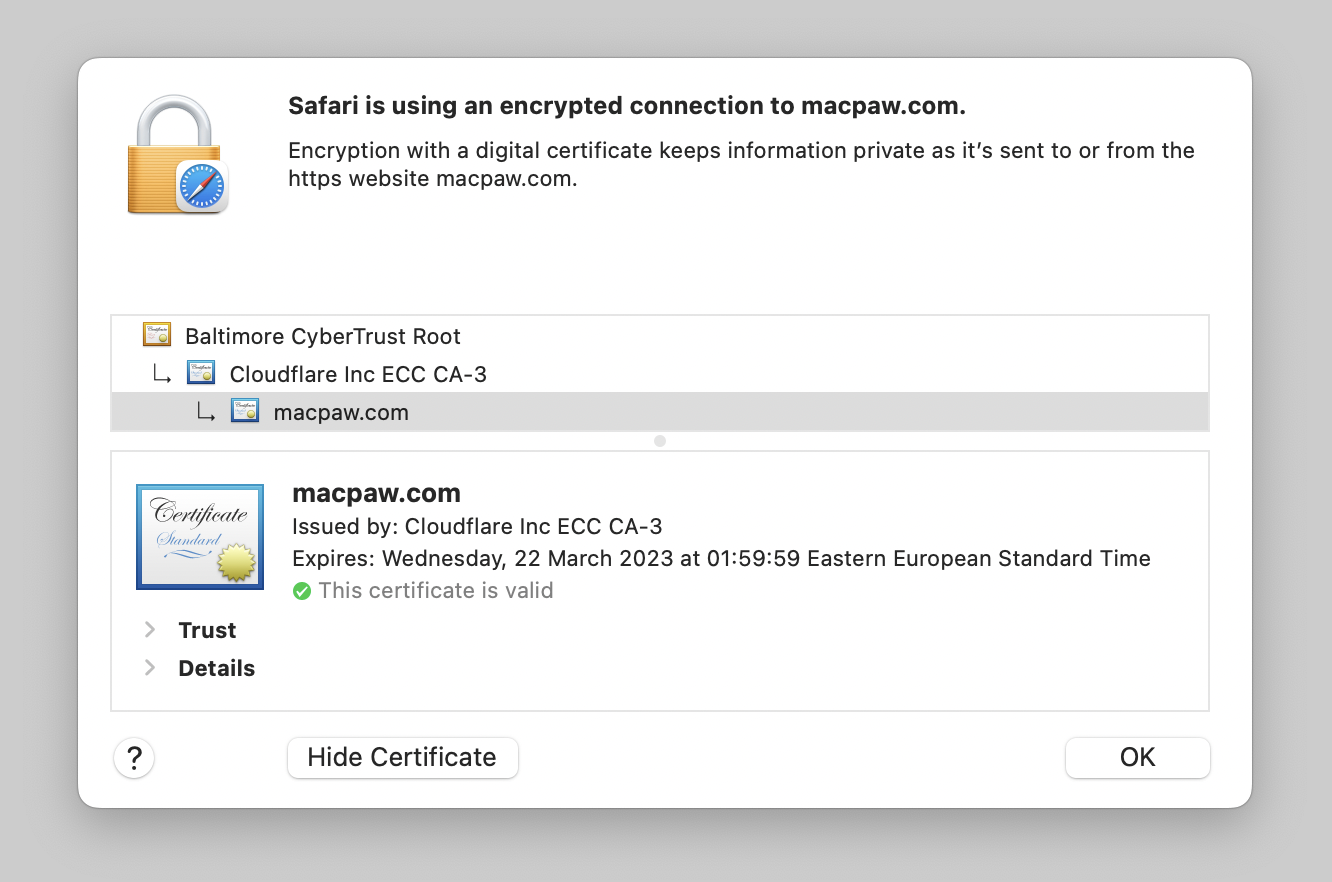 Read privacy policy carefully
The next thing to do when you check the legitimacy of a website is a privacy policy. Every website should provide a clear direction of how your data is being collected. Secure websites that make an effort to create this policy show that they value their customers' privacy.
Unfortunately, a lot of privacy policies are complicated and written in legalese. If you're interested in finding out how the website manages your personal data, look for terms like "third parties," "data," "store," "retain," and similar expressions.
Find contact information
The third thing is the contact information of the company. When you check websites, look for a complete list of all contact info, including email address, contact phone number, and a physical address.
This information won't shield you from risky websites, but it does let you know who to contact if you have any security-related questions.
Try a scam website checker
Use a website safety checker like Google Safe Browsing site status to quickly check if website is legit or a specific URL is safe. This is a wonderful safe website checker tool since, according to Google, it "examines billions of URLs per day looking for harmful websites." Simply copy/paste the URL into the search box and hit the Return key to see if a link is secure. In a matter of seconds, Google Safe Browsing's URL checker will evaluate the link and provide feedback on the legitimacy and reputation of the website.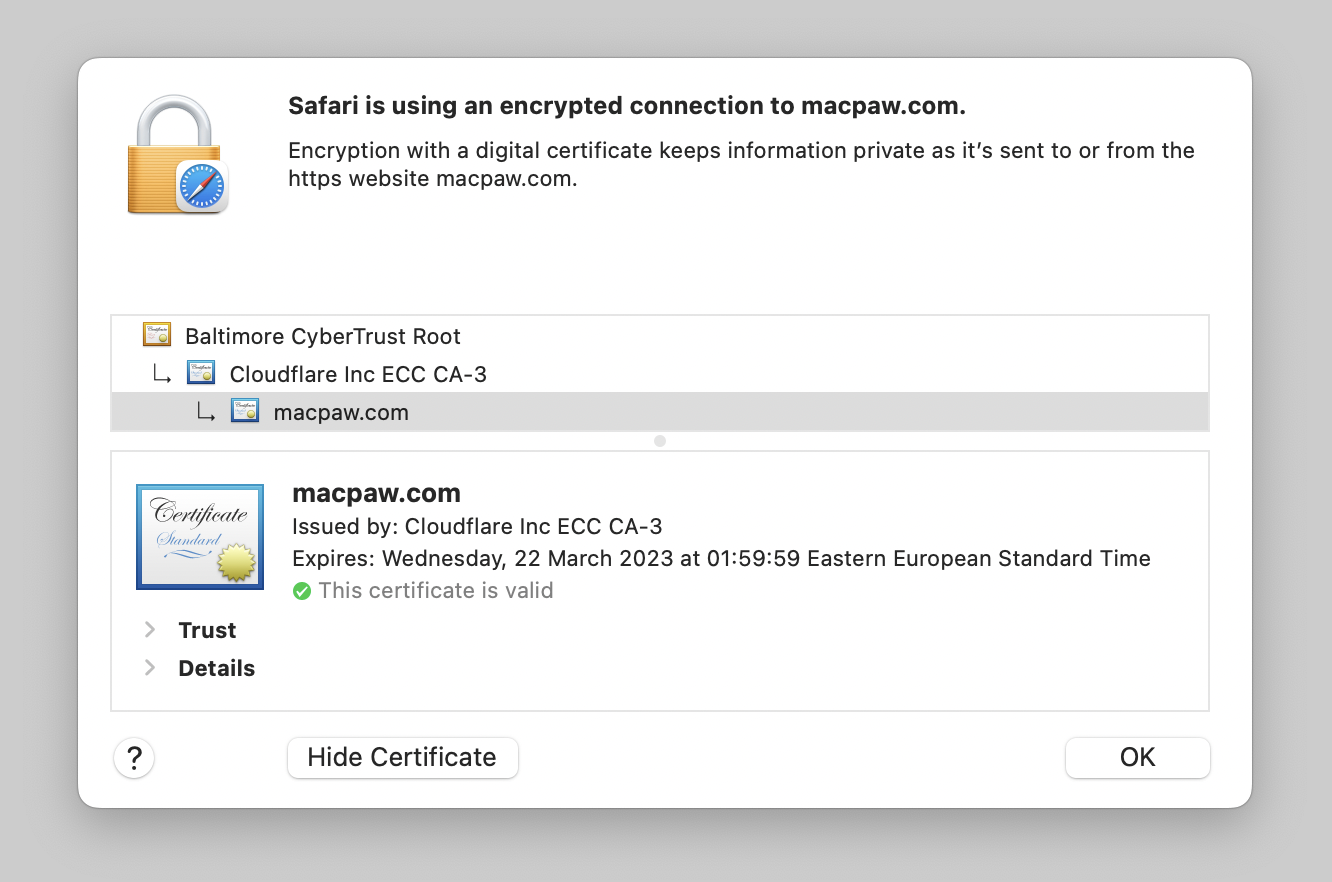 Examine the website's layout
Here's another quick website check method. Cybercriminals frequently create insecure websites quickly, omitting eye-catching design aspects. Look for things like annoying pop-ups, malware advertising, search engine warnings, and tons of different spam. There probably will be grammatical and spelling mistakes on the entire website.
Use security tools
For those who are unsure of how to check if a website is safe or not, employing antivirus software is undoubtedly great. The tools, however, don't end there. You should be aware that you can use additional security technologies to safeguard your computer from malware.
To further reduce risks while web browsing, we recommend using ClearVPN. With its help, you can securely connect to the website you're visiting. ClearVPN is a must if you're on a public Wi-Fi network or any other unsafe area to access the internet. Even if someone maliciously controls the Wi-Fi network, the app will mask your traffic so that no one can see what you're browsing.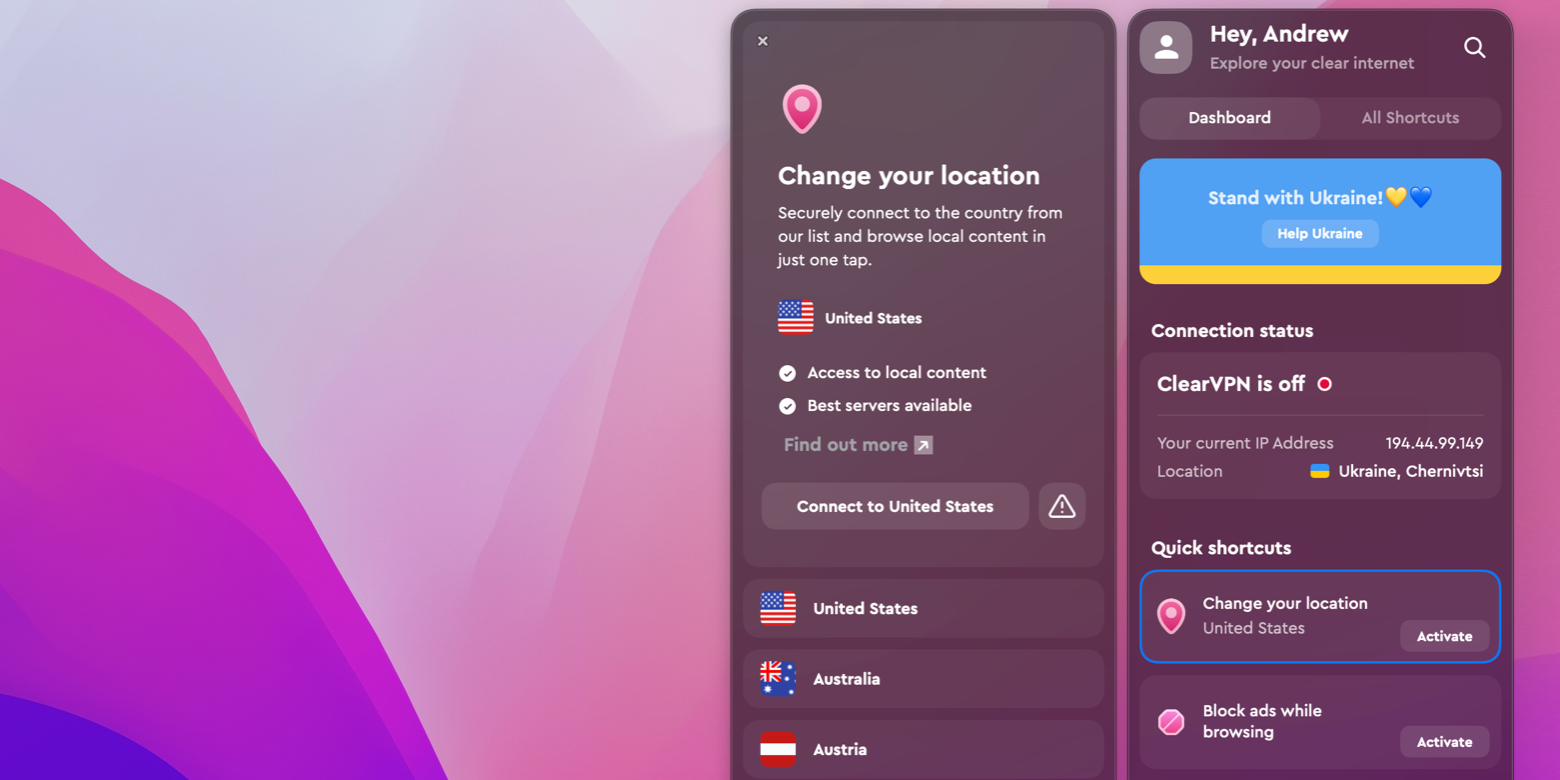 Another app every Mac owner should have is CleanMyMac X. It scans your device and removes malware with a few clicks.
Here's how to clean malware from your Mac with CleanMyMac X:
Open CleanMyMac X

On the left side of the window, click Malware Removal

At the bottom of the window, click Scan.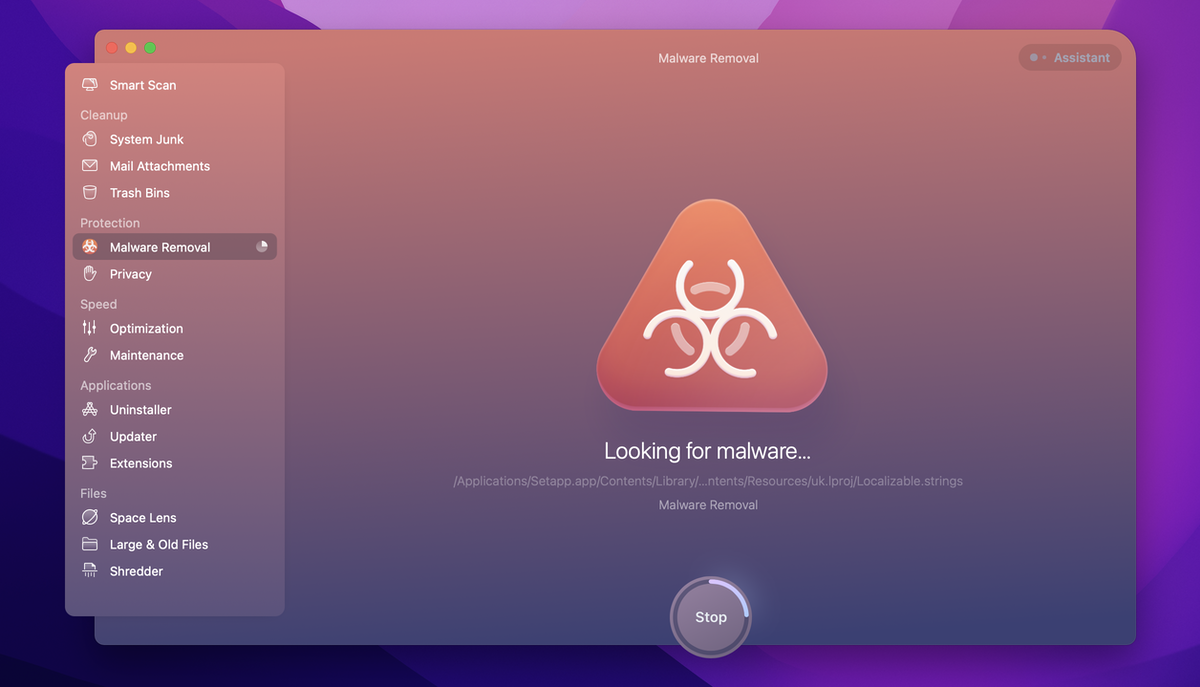 Tip: Reconsider how you store your passwords. Never use weak passwords like the name of your dog, a child's birthday, or the notoriously insecure 12345. Your critical accounts will be safer from prying eyes attempting to steal your data or your money if you store passwords securely.
So the next logical step is to use a password manager if you aren't already. Although Keychain is a feature of macOS, it isn't nearly as user- or business-friendly as other options.
Secrets is one of the most well-liked password managers for Macs. It features a stunning interface that is incredibly simple to use and highly intuitive.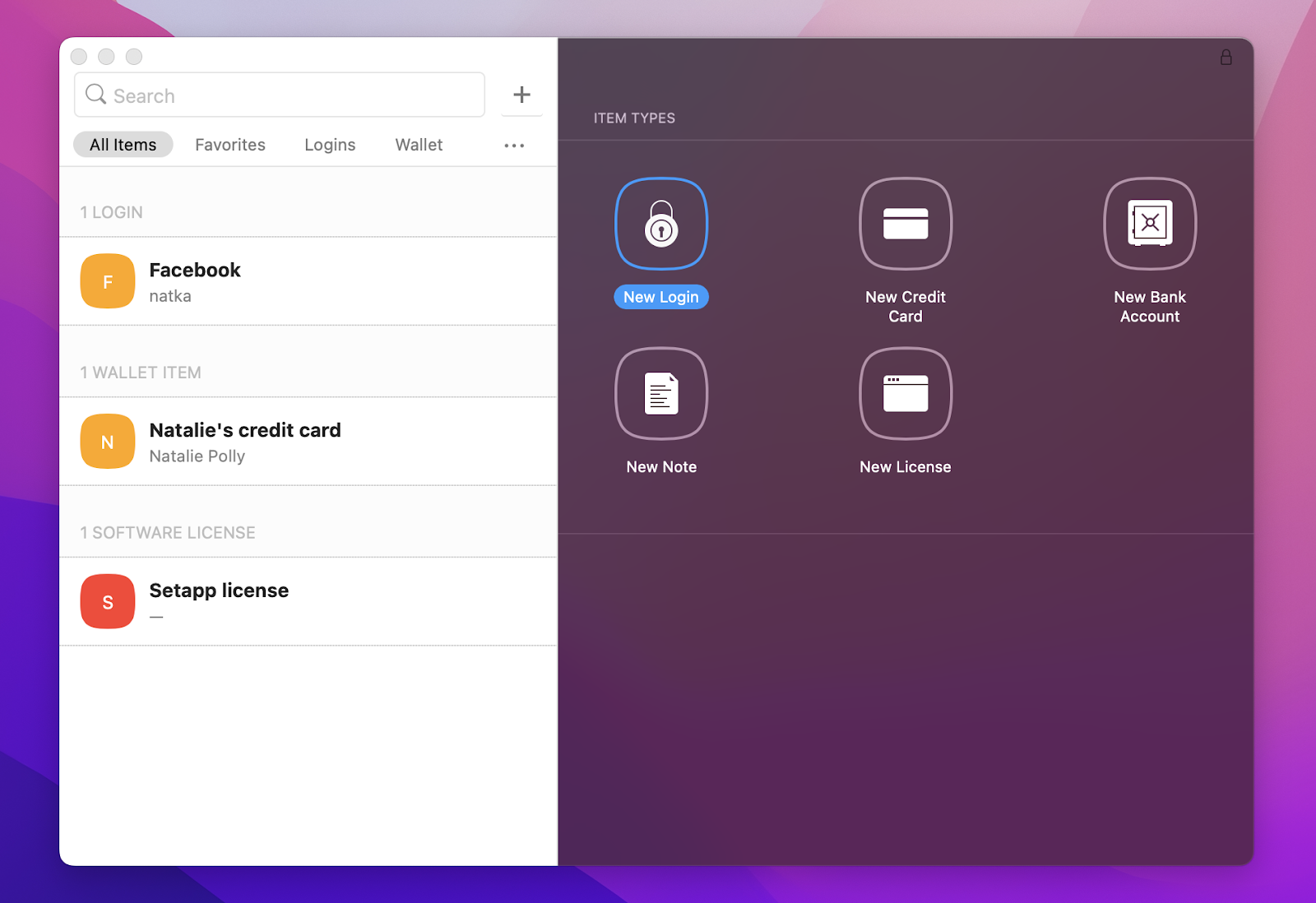 Know the signs of unsafe websites
In some cases, you'll be able to answer the question, "Is this website safe?" right away. These are a few things that could point to the presence of malware on a website you've visited:
Search engine alerts: When utilizing some search engines, alerts may appear when attempting to access potentially hazardous websites. Even though these alerts can occasionally be wrong, it's advisable to use another source.
Spam: Weird websites with exclamation marks and flashing warning flags are indicators of infection.
Redirects: Malware that automatically leads visitors to unrelated and potentially dangerous web pages can be embedded into websites by browser hijackers. Close all undesirable web pages right away if you encounter this kind of technique and launch the CleanMyMac X Malware Removal module.
Pop-ups: If a website you visit causes a lot of pop-ups to appear, close the browser right away. This is a strong indication that the website might include malicious advertising.
Look for the signs that the company is real
You can check for a few indicators to determine whether a company is legitimate or not.
Physical address and phone number: There is a greater likelihood that a company is a legitimate business if it provides both. Reputable businesses won't hide their contact information, so you can get in touch with them if there is an issue.
Return policy: Reputable websites should include both their shipping and return policies. You probably don't want to buy from them if you can't discover these policies on their website.
Prices are reasonable: Finding a deal is wonderful, but you should be cautious of websites that sell goods for far cheaper costs than they ought to be. You can receive fake goods, stolen things, or nothing at all.
Privacy statement: Reputable websites should provide you with a privacy statement that details how they protect your information and whether they share it with outside parties. Before making a purchase, you should confirm that a website has a privacy statement and read it carefully.
Check the legitimacy of a website and leave malware no chance
Now you know how to check if a website is legit. However, not every website is going to follow all of these rules. Some can look credible at first sight, but that doesn't mean they're going to be a safe resource. So the job comes down to you to check if website is legit! Educate yourself on what exactly to look for (hopefully, this article will help) and take advantage of modern security tools such as Pareto Security, Secrets, ClearVPN, and CleanMyMac X.
Today is your lucky day because all the apps mentioned in this guide can be accessed with a single Setapp subscription. The platform is home to 240+ tools for Mac and iPhone to solve almost any task you might have! Try Setapp for 7 days free and see the difference.