Best Password Managers for Mac
Most websites, apps, and digital platforms require you to have a username and password. The username is pretty simple: it's typically your email or a clever handle you create for yourself. Passwords aren't so easy.
Most guidance suggests passwords should be long, have a mix of upper and lower case letters, and use numbers and symbols. They shouldn't be reused, either; each site you visit and app you use should have its own unique password.
Let's be honest: you're not going to remember all those long, fussy passwords! To satisfy password complexity requirements and keep logins convenient, a password manager for Mac is your best bet.
Here, we'll discuss what makes a great Mac password manager, options you have for password managers for Mac, and the best password manager for Mac and iOS users.
What is a Password Manager?
At its core, a password manager is a secure vault that stores login credentials. It keeps your information safely tucked behind a wall of encryption so hackers can't view or edit your data if they surreptitiously got hold of it.
A secure password manager is a start, but the best password app or provider you can download also helps you create secure passwords. Some even handle two-factor authorization (2FA) to give you an added layer of protection online.
How do password managers work?
Password manager Mac apps you'd want to use should keep security at the forefront. Most require you to enter a password for the password storage Mac vault itself. The idea here is that you only need to remember one password to access the rest.
Even your 'main' password should be secure, so choose one that follows best practices but is easy to remember. Many users will swap letters for symbols or numbers in common phrases to satisfy this requirement.
Once you're logged in, a password manager OS X or macOS devices utilize will have your username and password alongside the URL of the service filed under headings of your choosing. You can name your login files anything you like. If you have a favorite recipe site, you can name the login file "favorite recipe site" and keep the username, password, and URL in that file. Then, when you visit the website, you can just access your login details and enjoy!
Some password managers have website or iOS plugins that view your activity and offer to input your credentials for you. In that instance, your password manager will know you're visiting your favorite recipe site and offer to add the username and password for you.
What are the Best Password Managers for Mac
A Mac or MacBook password manager can exist online or natively on your computer, but should always be secure. If you don't feel as though yours is keeping your data safe, below are some password manager reviews that will help you find a new one.
Secrets
Secrets for Mac is one of the best password managers you can use. Backed by the industry-standard PGP (pretty good protection) protocol, Secrets houses all your logins and personal data in an virtually impenetrable vault.
Password generation is also easy with Secrets. Each login file has a password tool that helps you create passwords using whatever rule the website or app has. You can toggle its various settings to curate a password that suits whatever needs you have.
Secrets also has Safari, Chrome, and Firefox extensions, works on Mac or iOS, and has unique categories for credit cards, bank account information, notes, and licenses.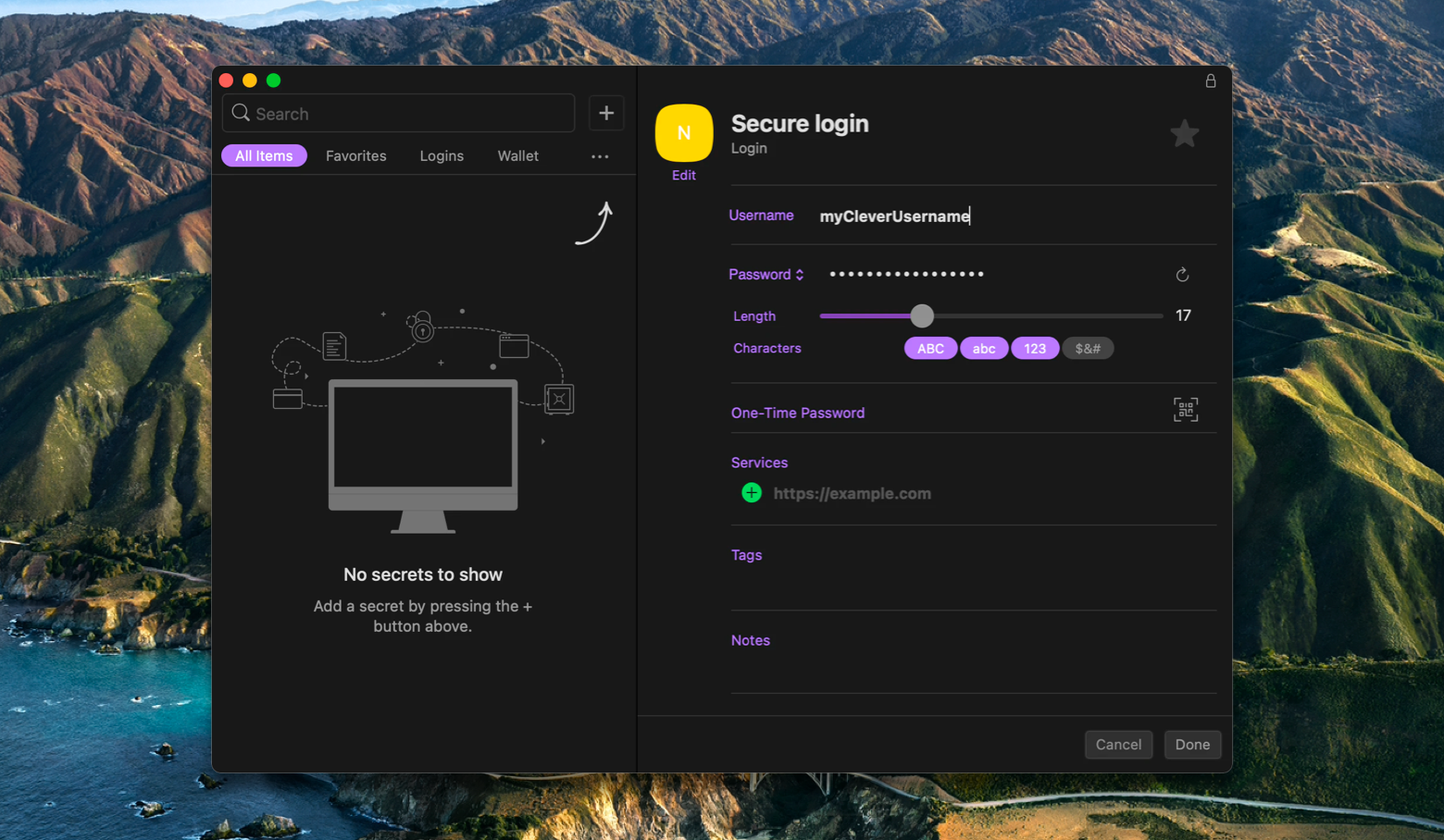 Step Two
No matter how secure your password is, some websites require 2FA when logging in. It's an added layer of security with expiring codes you enter so the website knows it's really you. Most services use your phone number to send 2FA codes to, but the best use Step Two.
Available on Mac and iPhone, Step Two is the fastest, easiest way to generate and use 2FA codes. Its time-based, one-time passwords (TOTP) refresh every minute, and can be used on any site requiring TOFT codes including Amazon, Twitter, and Google.
Step Two syncs via iCloud, and offers a Safari autofill feature to help you login quickly. Users are able to create their own TOFT accounts in Step Two, or use Step Two's QR Code scanner to quickly add accounts. The app's card-based format is easy to read; a subtly great feature for those who add their TOFT codes manually.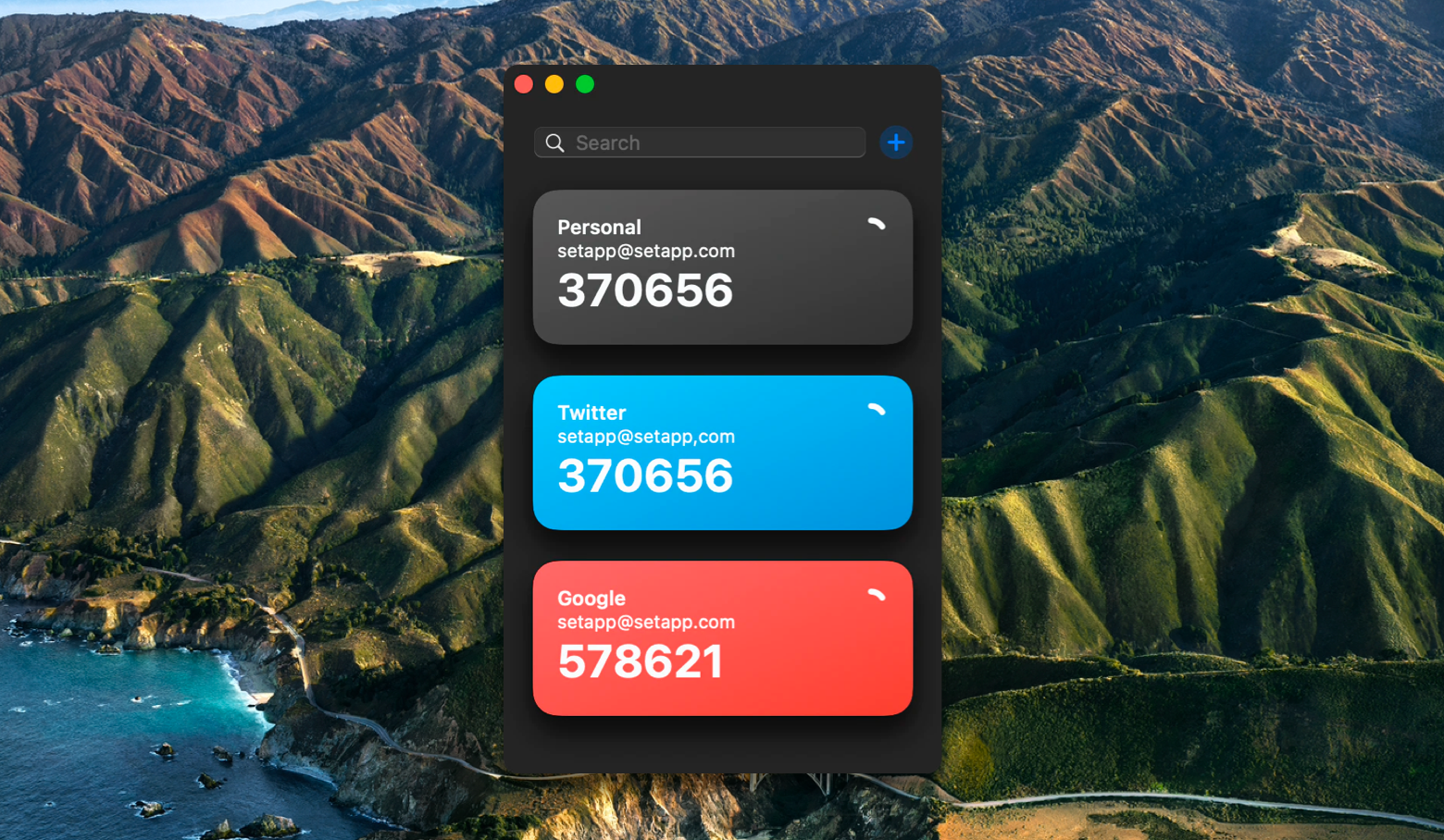 Lastpass
The web based Lastpass is popular for its simple interface. It helped make password vaults less daunting, creating a simple, easy to understand environment where users could create, host, categorize, and share passwords.
This password manager offers a ton of features for personal or business use, and passwords can be shared with family, friends, or colleagues from within the website itself. Naturally, Lastpass has an iOS app with all the same functionality as the site.
Taking security a step further, this app has a dark web monitoring tool. It's also available for Apple Watch if you really need to hide your passwords from prying eyes.
Lastpass can be used for free in a very limited capacity, with its $3 per month Premium tier offering a lot of the features that make this tool good enough. For $4 per month, families with up to six members can use Lastpass.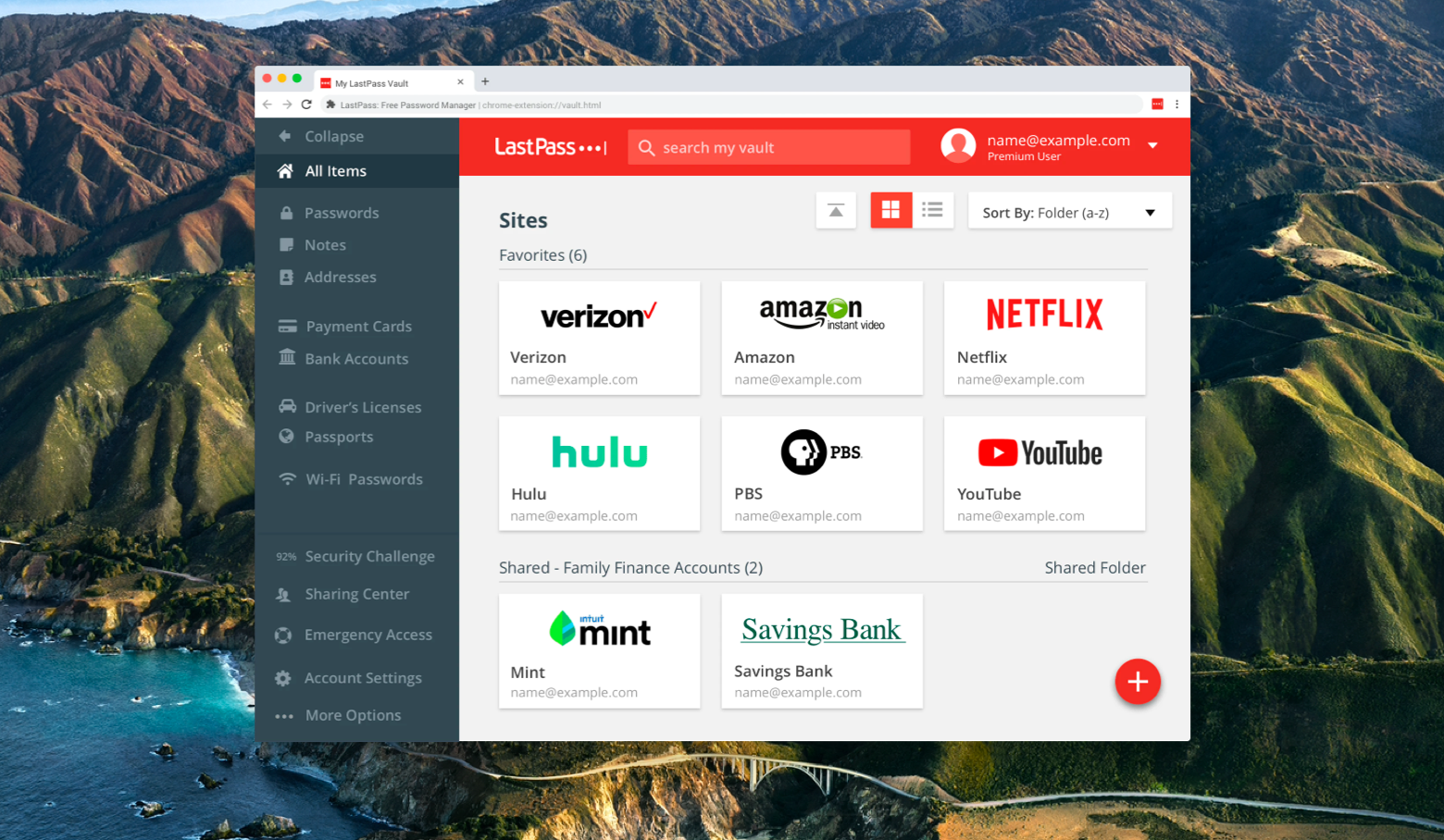 1Password
Viewed by many as the gold standard for password management, 1Password is an industry leader. It offers a highly secure vault, robust password generation, browser extensions, and a service that monitors how old your passwords are so you can generate new ones routinely.
Of all the added security features we've seen password manangers offer, 1Password's are among the best. It has AES-256 bit encryption, and Travel Mode which strips sensitive data from your mobile devices that can be toggled back on once you reach your destination.
1Password can store credit card, banking data, social security numbers, licenses, and other highly personal data in its secure vault, and supports tagging and notes to help you categorize your notes easily.
Though there's no free tier, 1Password is $2.99 per month for individuals, and $4.99 per month for families of up to five.
iCloud Keychain
Apples built-in password manager, iCloud Keychain, is available across all Apple platforms and devices. It lives in the background and works in Safari and with all native iOS apps.
iCloud Keychain is housed in your device's Settings, and exists as a fairly rudimentary list of passwords. Apple chose to keep iCloud Keychain limited to usernames, passwords, and credit cards. Notes, other personal info, and tags do not exist in iCloud Keychain.
When you visit a site, or use an app, iCloud Keychain springs into action. If you've not visited a site previously, or iCloud Keychain doesn't have your credentials stored, it will offer to create a new password. Whether you choose to use its auto-generated password or not, it will also save credentials that successfully log you into a site.
Though free, iCloud Keychain is limited, and often gets in the way. It's particularly finicky when you're trying to use a different password manager to autofill passwords. You can enter your own credentials manually, but iCloud Keychain doesn't offer secure password formulas as 1Password, Secrets, or Lastpass do.

Keeper
Keeper claims to be the most secure of the bunch, with a proprietary "zero-knowledge" architecture and routine auditing. Its interface is straightforward, and like 1Password Keeper offers 24/7 customer support.
Secure, Keeper positions itself for enterprise use, but is competitively priced for individuals. At $2.91 per month ($34.99 per year) you get Keeper's secure storage, generation and autofill of passwords, use on unlimited devices, and 24/7 support. For $4.87 per month, you can add dark web monitoring and secure file storage.
Keeper offers web extensions, an iOS app, and a native desktop app.
Unfortunately, Keeper's best features are all add-ons, with some requiring their own monthly cost not associated with any bundle pricing.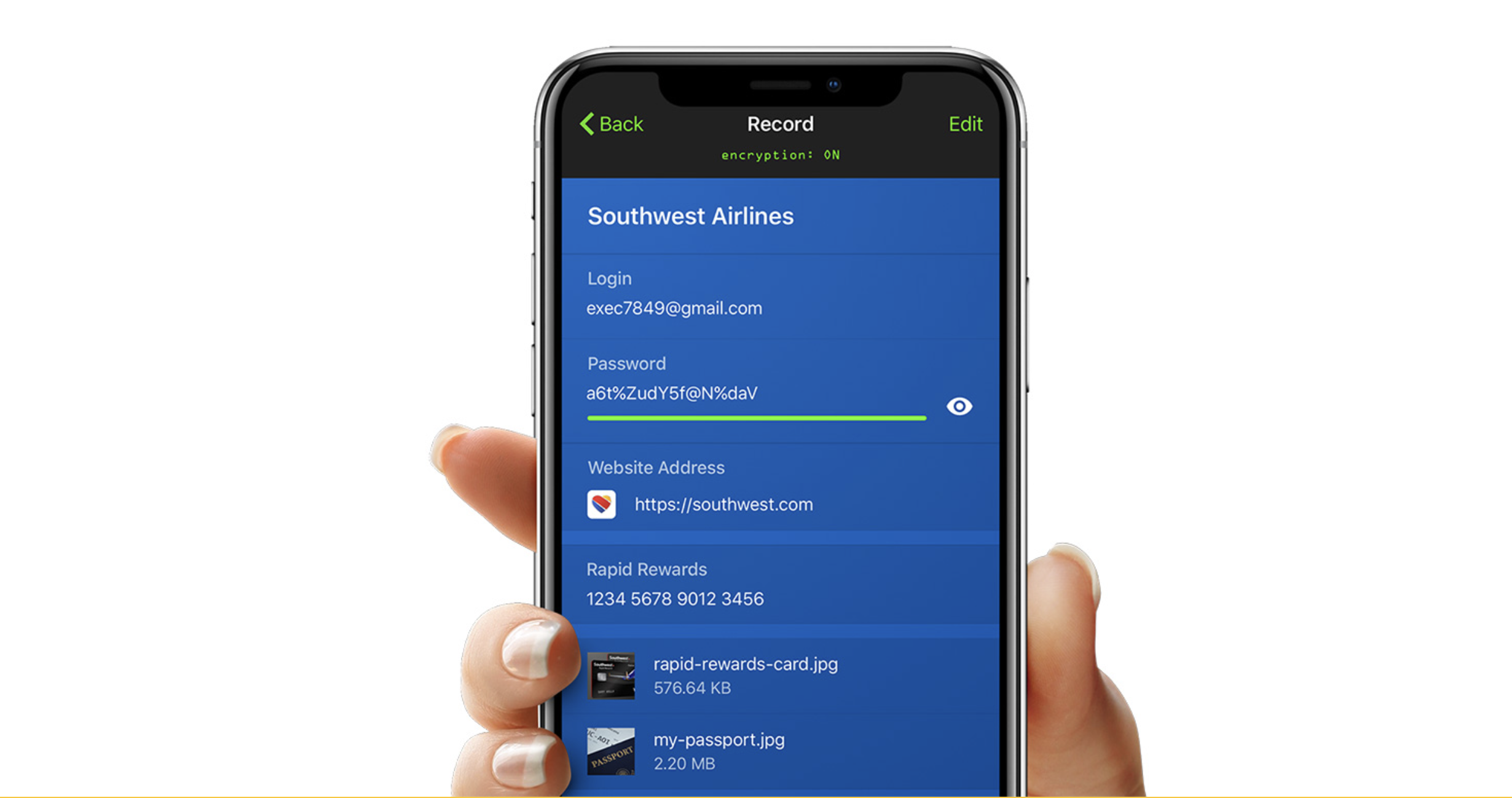 Dashlane
Dashlane is popular in part because it offers a free tier, like Lastpass. That free tier is also limited: you can only store 50 passwords and are limited to one device.
The free tier does come with some interesting features, though. Autofill is included, and you're able to share up to five accounts. Dashlane has personalized security alerts, two-factor authorization, and a 30 day trial of its Premium tier.
The $4.99 per month Premium plan lifts the password storage limitation, works on unlimited devices, and includes dark web scanning and a VPN. The $7.49 per month family plan offers all the same features for up to five others.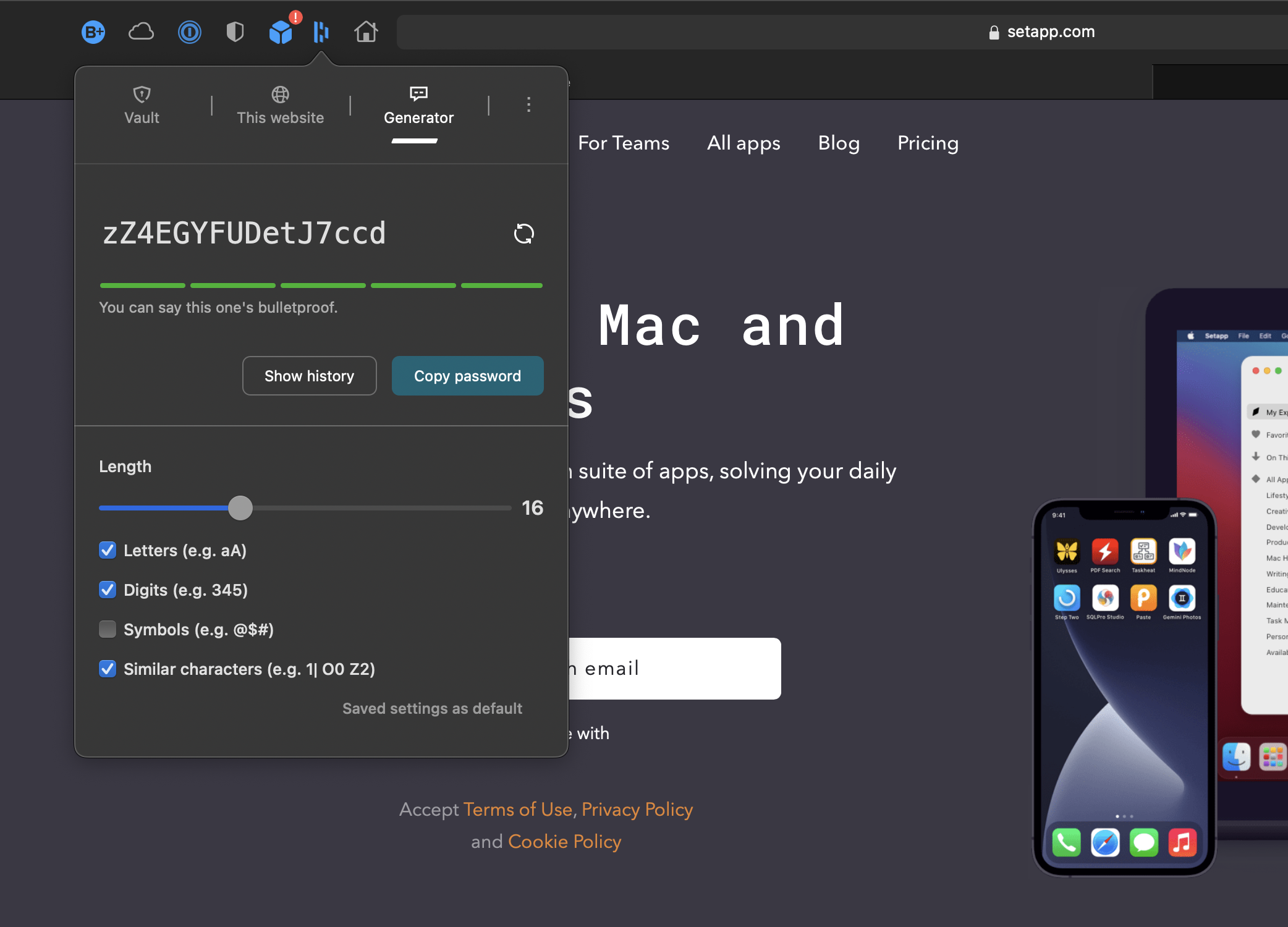 Conclusion
As you can see, there are plenty of password managers to choose from. The best offer secure password generation, a secure vault to house your data, browser extensions, and the ability to work on mobile and desktop while keeping your data synced to the cloud.
Free options sound great, but 'free' often means the company providing the service monetizes data. They likely don't sell your passwords or personal information, but even metadata like how long passwords typically are or how often people use emails as usernames can prove profitable to the right buyer.
Over time, you'll accumulate a lot of passwords, so it's smart to purchase a password generator subscription. Some of the best, like 1Password, are updated routinely and have robust features that make them easy recommendations.
But what if we told you that you could get a password manager and over 200 other amazing apps? With a subscription to Setapp, that's exactly what you'll get – and it's all free during a seven-day trial when you sign up!
Setapp has over 210 incredible Mac apps spanning a variety of genres and use-cases. During your free trial, you can test all the apps in the Setapp catalog for free. You will enjoy unlimited use of each app and are free to download and use as many as you like.
When the free trial ends, Setapp is only $9.99 per month for Secrets, Step Two, and hundreds more apps for your Mac. It's an incredible deal, so don't hesitate – give Setapp a try now!