The best free email services for Mac in 2023
Email runs our lives. Arguably, over the last decade or so, an email address has become even more important than a phone number. Most people rarely get calls nowadays (thanks to instant messaging) but struggle to keep the inboxes at zero.
The role of email is truly multifaceted. We need one for work, for money transfers, for file downloads, for newsletter subscriptions, and more. In fact, any service you sign up for these days requires your email to create an account.
So if you've never had an email account before (really?) or if you've signed up for one in 1999 with Hotmail and are embarrassed by its username (no judgement), now can be the perfect time to review the free email providers list and possibly select your new digital home.
Follow us as we go through the best email services and accompanying apps for Mac and iOS.
The most popular email service providers
When you're looking for high-quality email providers, what should you pay attention to? It seems to be important that you should have email inbox access online, from a web interface, and that it should be user friendly, beautiful, and intuitive.
The best email services also have lots of users, very few bugs, and close to zero outages. Having a free email account or at least an affordable one makes sense.
Last but not least, you should ensure that your new email service is private and secure, ideally offering things like 2FA (two-factor authentication) and some level of encryption. You definitely don't want your private conversations to turn into ads chasing you later around the web.
With all these conditions in place, we've recently reviewed all the most popular email service providers and here are our top choices.
Best extension support: Gmail
Since its release in 2004, Gmail has been heralded as a no-brainer, go-to email solution. Most startups and tech-related companies rely on Gmail nowadays.
A personal account is free to sign up for, has mobile apps as well as a pretty good web interface, and lots of storage (15 GB are free). It also integrates via SMTP into any email app you want to install, from Apple Mail to Sparrow, Superhuman, etc.
What makes Gmail truly stand out from the rest, however, is its ability to integrate with other solutions and extensions. You can install apps on top of Gmail that would schedule your emails or make emails come in batches or do an extensive grammar check, and so on.
At the same time, Gmail has received its share of criticism over the years, mostly connected to its parent company Google, which ranged from your mail being scanned for advertising to displaying ads right in your inbox. Gmail has ended those practices, but whether to trust it with your personal data remains a question.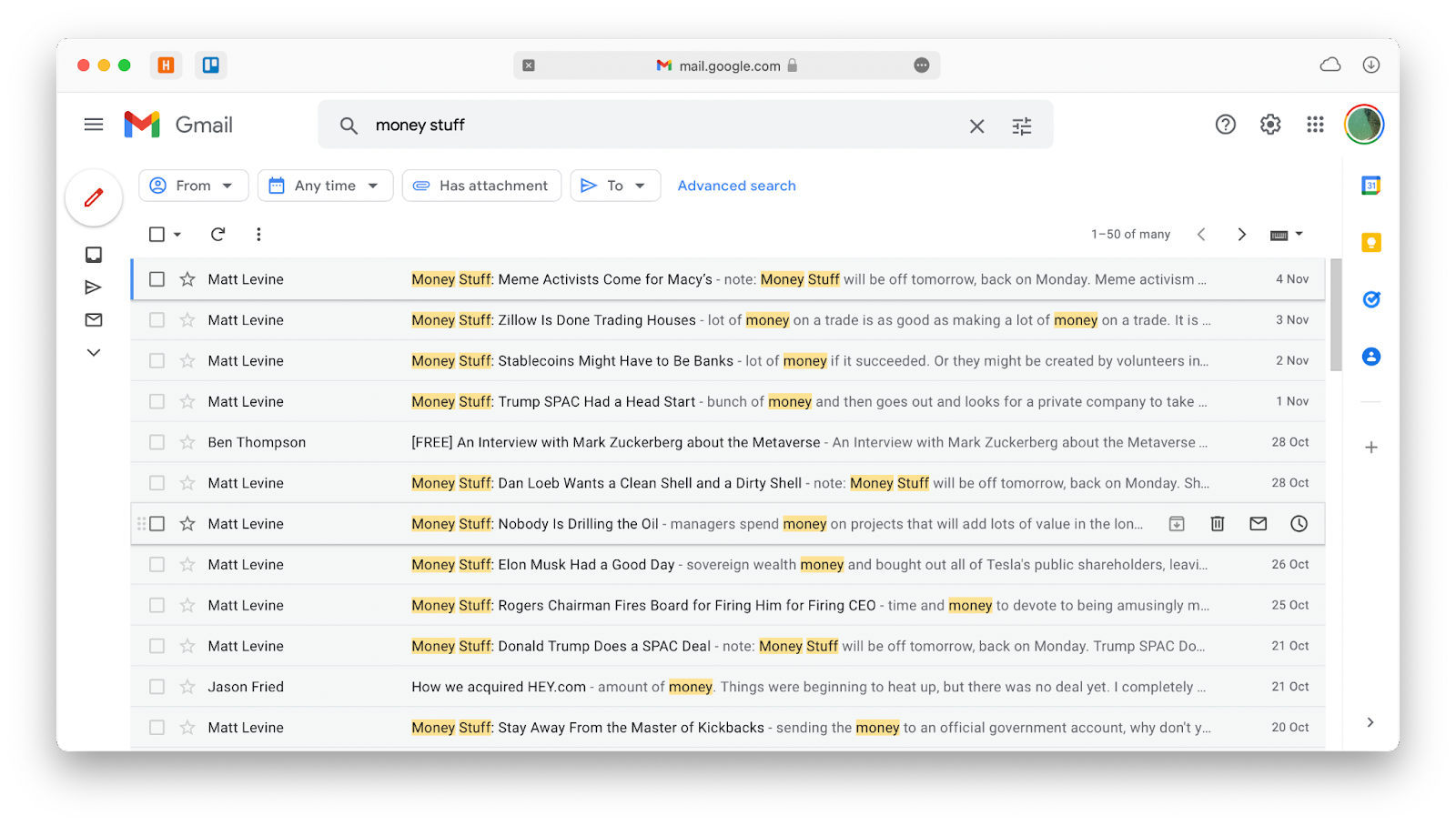 Best Apple ecosystem integration: iCloud
Surprisingly, lots of people don't realize that Apple not only provides default Mail apps for Mac and iOS but also has a complete standalone free email account service as part of the iCloud.
When you register an iCloud email account, you get an email address with the @icloud.com domain name (used to be @me.com, coming from the discontinued MobileMe service). You can route that email address through any Mac or iOS app, or use it through the iCloud web interface online (at icloud.com).
The benefits of iCloud are multifold. First of all, you can benefit from the native-level integration with all of your Apple devices. Then, you can also see iCloud as a more private-minded free email account alternative to Gmail.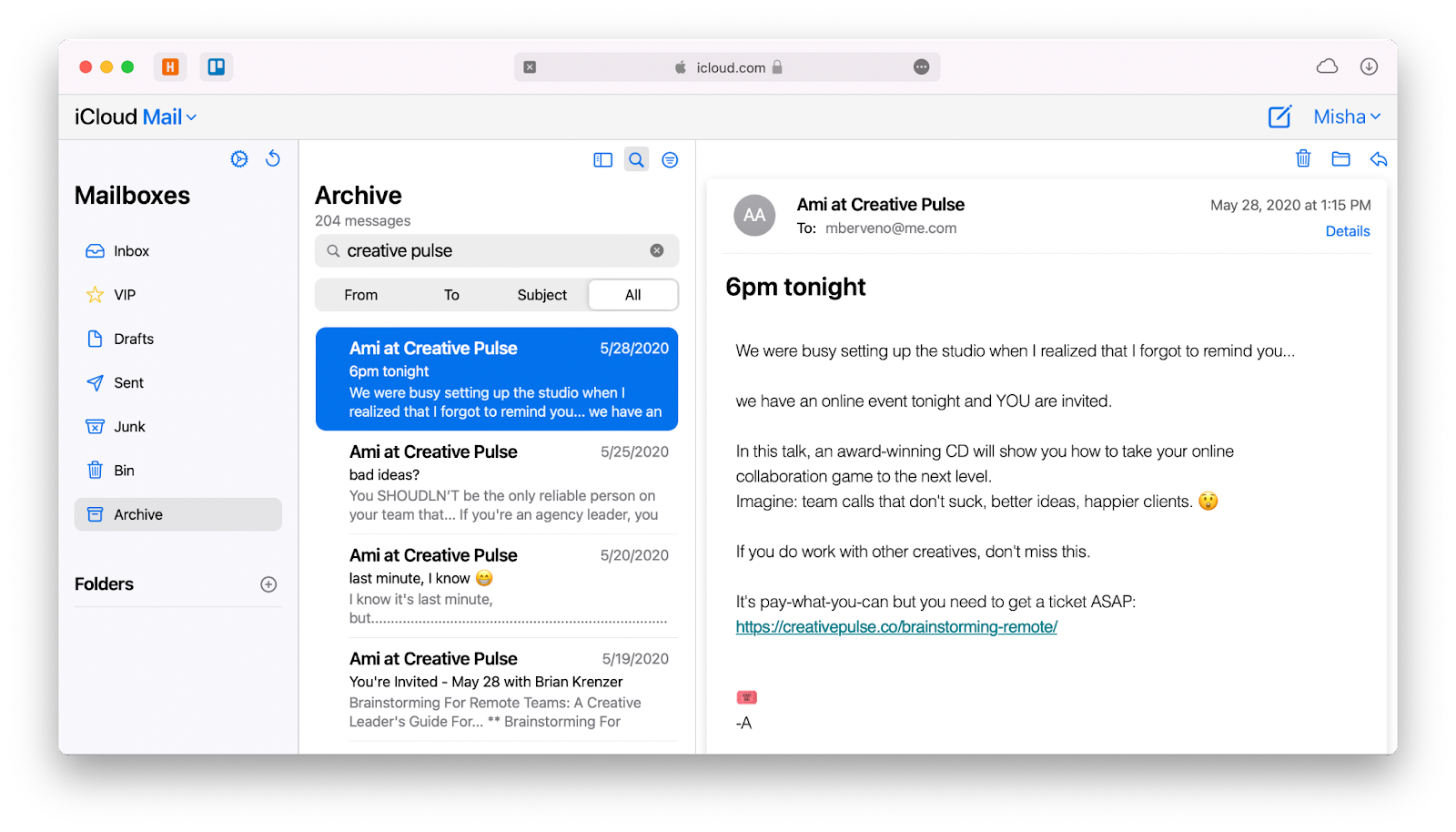 Lastly, iCloud has just released a few interesting features with macOS Monterey and iOS 15. You can Protect Mail Activity, which would hide your IP address and get rid of email tracking pixels by loading all your media email content remotely and privately in the background.
Another addition is Hide My Email — available to iCloud+ subscribers — which lets you create dozens of random email accounts you can use to receive mail on your main account. The benefit is that you can delete random accounts in case you get spam, etc. Finally, if you own any domain names, you can now port up to five to your iCloud account for free and even share them between your family.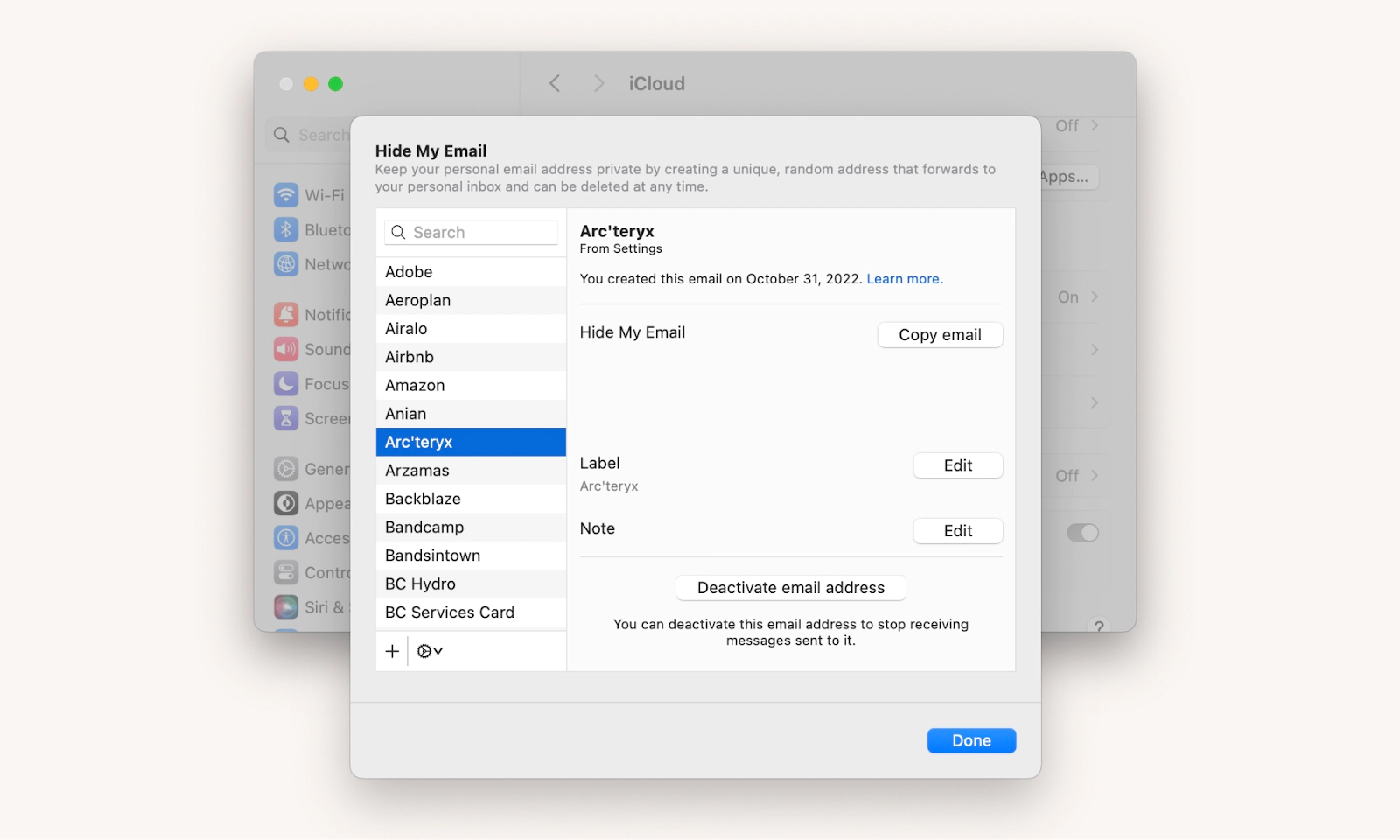 Best email for work: Outlook
While some people think of Microsoft Outlook as something outdated, the service underwent quite a few changes in the past five years or so and now presents itself as a strong contender among the best free email services.
Naturally, Outlook works on both Windows and macOS devices (unlike Apple Mail), as well as iOS and Android. Outlook's integration with its Calendar makes the service very useful for busy people, while its support for the whole Microsoft Office 365 suite is really invaluable in most office environments.
Every Outlook user gets 15 GB of space for free, can use detailed search to find a much-needed email quickly, and receives plenty of aliases to increase their anonymity. The newly updated iOS app is also one of the best designed email apps today.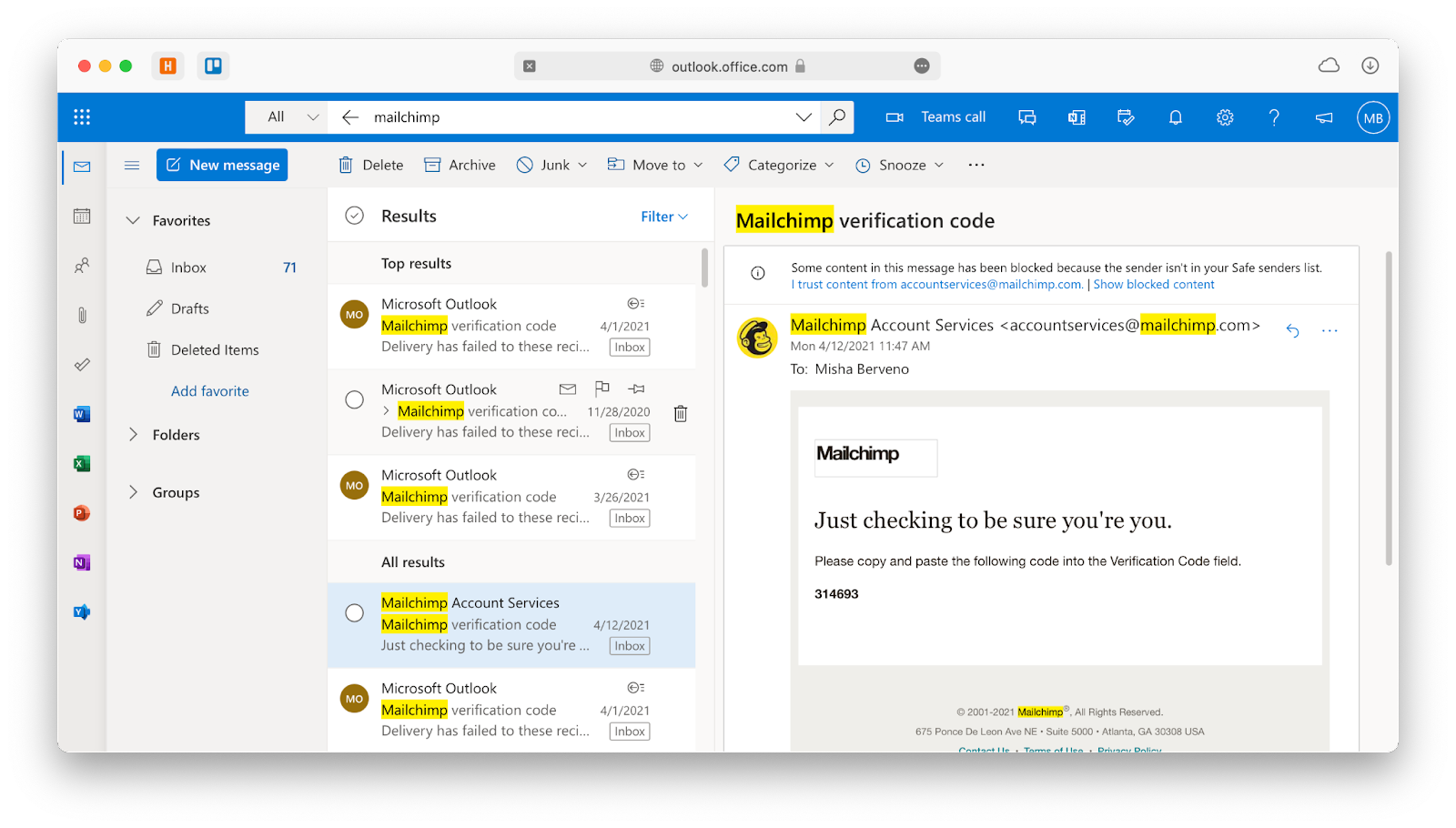 Best independent provider: Fastmail
If what you're looking for in your new email service is to avoid big tech brands, take a good look at Fastmail.
Fastmail is an Australian email service provider that has been around for over 20 years. Today, it offers fast, secure, and private email along with a calendar, contacts app, and notes. You can access all apps through your browser, desktop, or mobile apps.
While the service is not free, since the company is independent and not subsidized by any tech giant, it's affordable and sustainable, making it more likely to stay operational for a very long time. You can even use your custom domain to make sure your email address stays with you forever.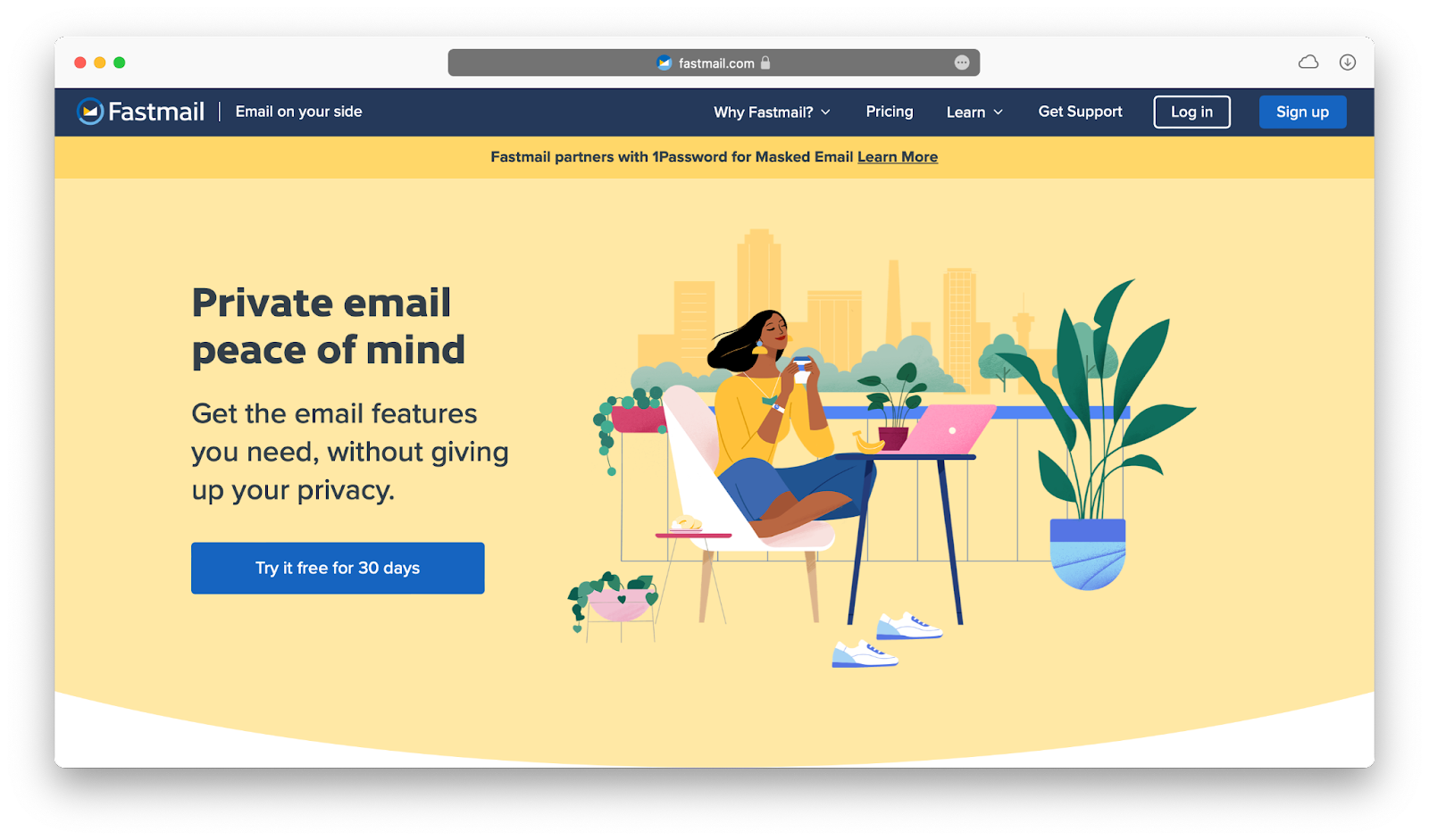 Best private solution: ProtonMail
For those who value privacy and security above all, ProtonMail presents an unbeatable proposition of end-to-end encrypted email. No third parties (not even ProtonMail) can read such emails, since they rely on a pair of private keys to be open.
Being incorporated in Switzerland, with all servers located there as well, ProtonMail benefits from strict Swiss privacy laws and general neutrality. Additionally, ProtonMail is easy to use and your productivity can be extended even further with its calendar and file storing solutions.
There's a free account available, but to get most of the benefits, upgrading to a paid account is recommended.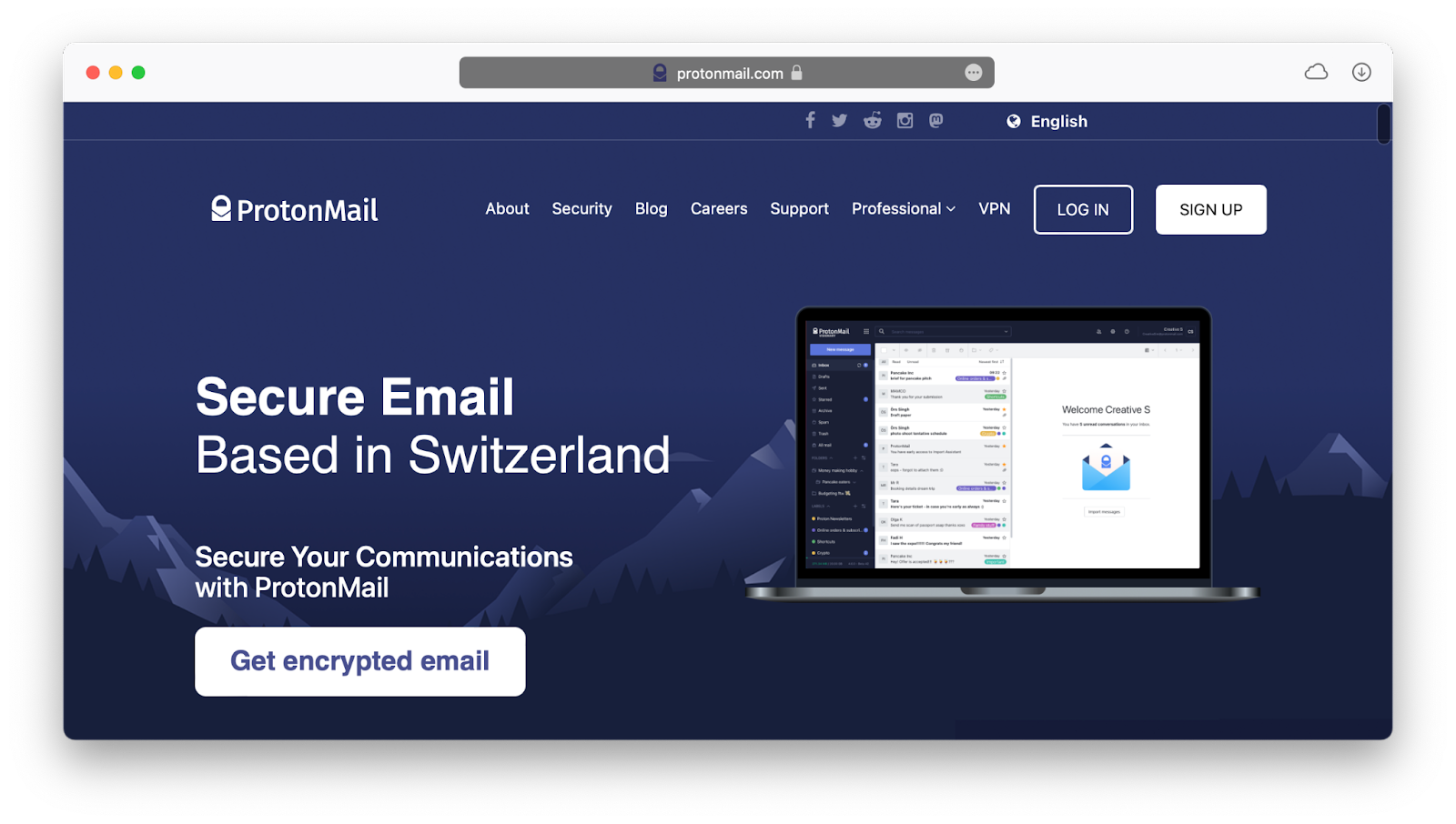 How to create a free email account
Most of the best email service providers listed above offer free or, at least, trial accounts. Feel free to sign up to all of them to get first-hand experience, and then just delete the ones you don't need.
Regardless of the service you choose, the signup process is largely the same (showing a breakdown for Gmail)
Visit the website mail.google.com.
Click Create account.
Fill out first and last name, new email address, and a unique password.
Click Next.
Provide your date of birth and gender.
Agree to terms and conditions. Done!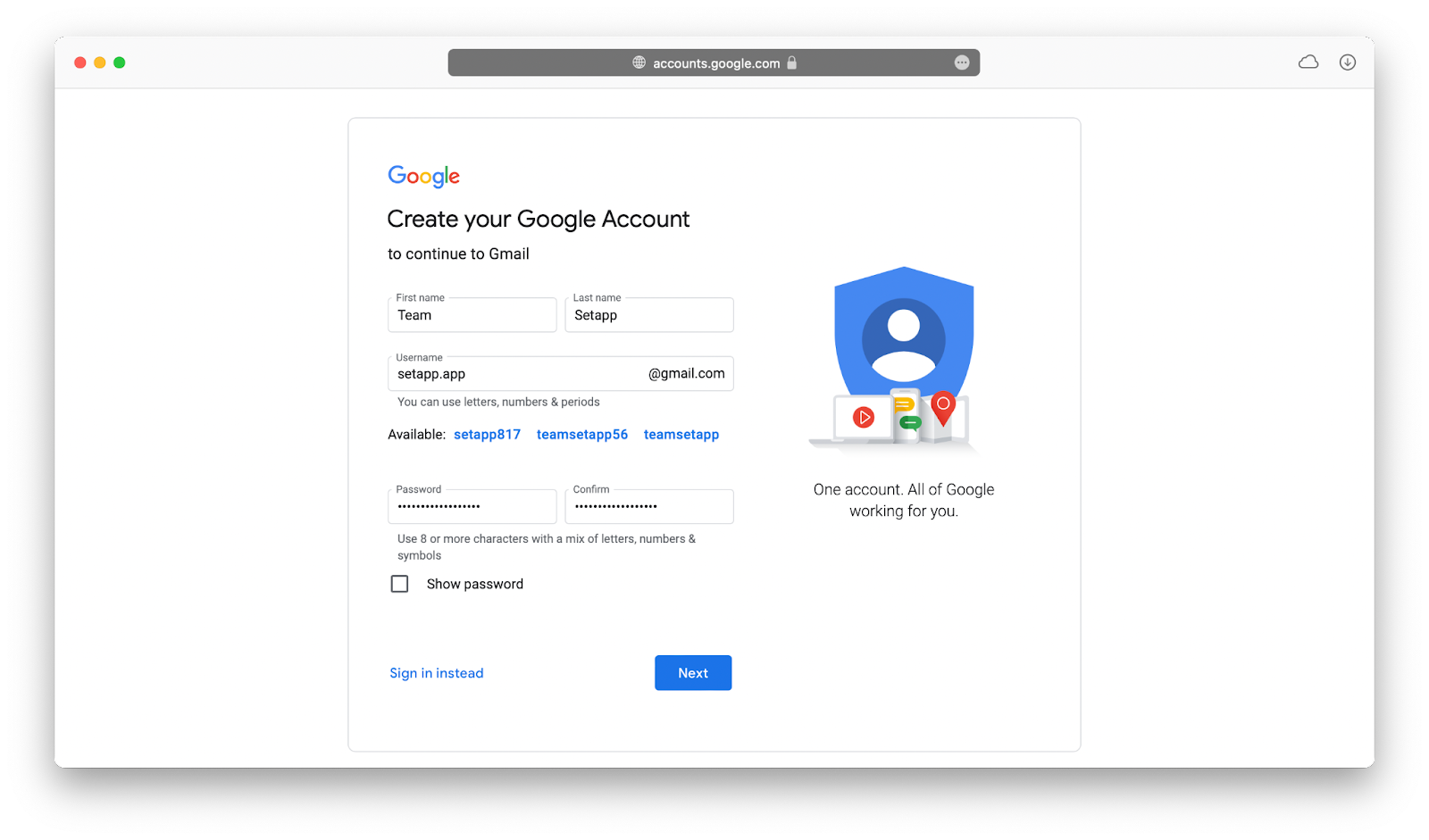 The process of creating a new email account is quite effortless, except for one part — thinking of and remembering your new password. To ensure that your security remains up to the industry standard, we'd strongly advise to use a password manager like Secrets.
Secrets is a very intuitive and user-friendly password manager that can help you bring your security to the next level by only requiring you to remember a single password while generating unique password combinations for every website you visit. Backed by industry-grade encryptions, Secrets makes your new workflow of generating, saving, and retrieving passwords a breeze, especially when you use its browser extension.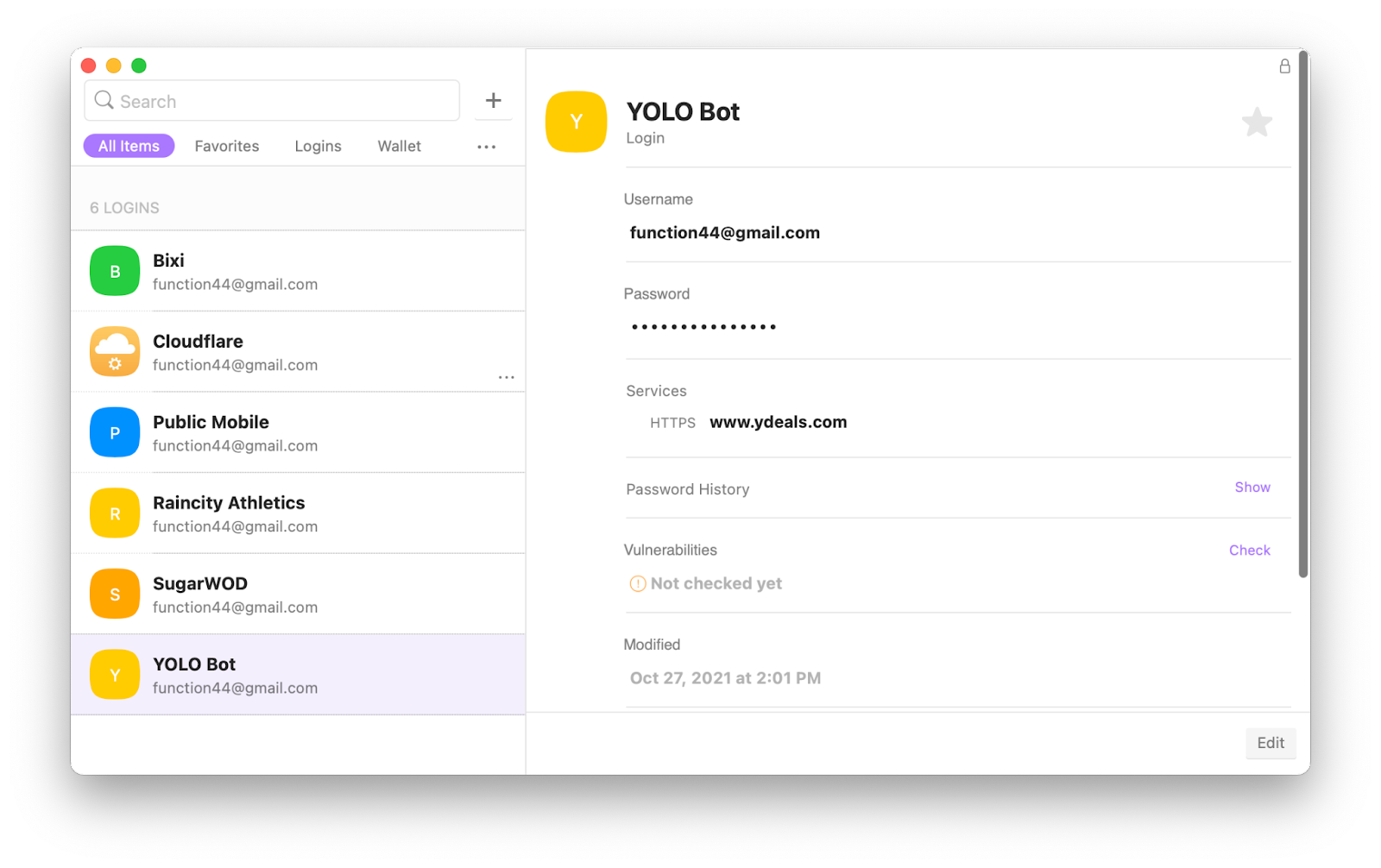 WiFi Explorer is another essential internet tool — a robust WiFi network scanner that can ensure your internet connection doesn't get disrupted and remains easy to fix at the same time. You get real-time information about band, range, security, status, bandwidth, top speeds, etc. If a problem with your connection occurs, WiFi Explorer offers a detailed troubleshooting guide as well.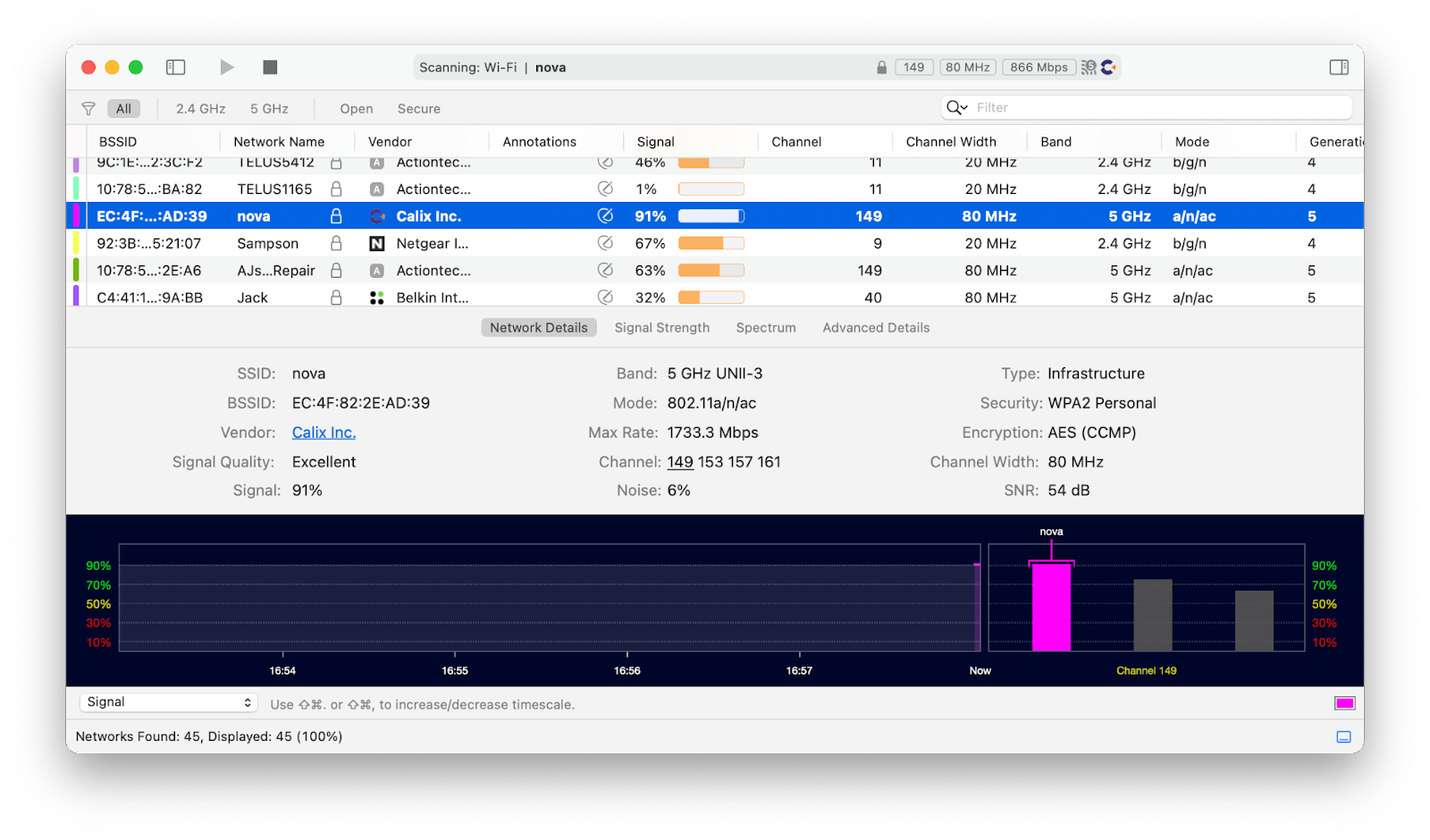 The best email services apps
Even though all email service providers have their own web interface, most have mobile apps, and some even desktop apps, there are quite a few reasons to try using a third-party email app instead.
Email apps normally support IMAP and SMTP email protocols and thus can work with accounts from any email service. What's good about them is that they often add extra functionality that's not available by default, they allow you to merge unrelated email services into a single app, and they are frequently better designed.
Canary Mail adds more privacy and organization to any email service. Its custom flow lets you deal with emails quickly, as well as manage files, events, to-dos from the same interface. You also have options to enable manual or automatic encryption to hide your emails from any third party.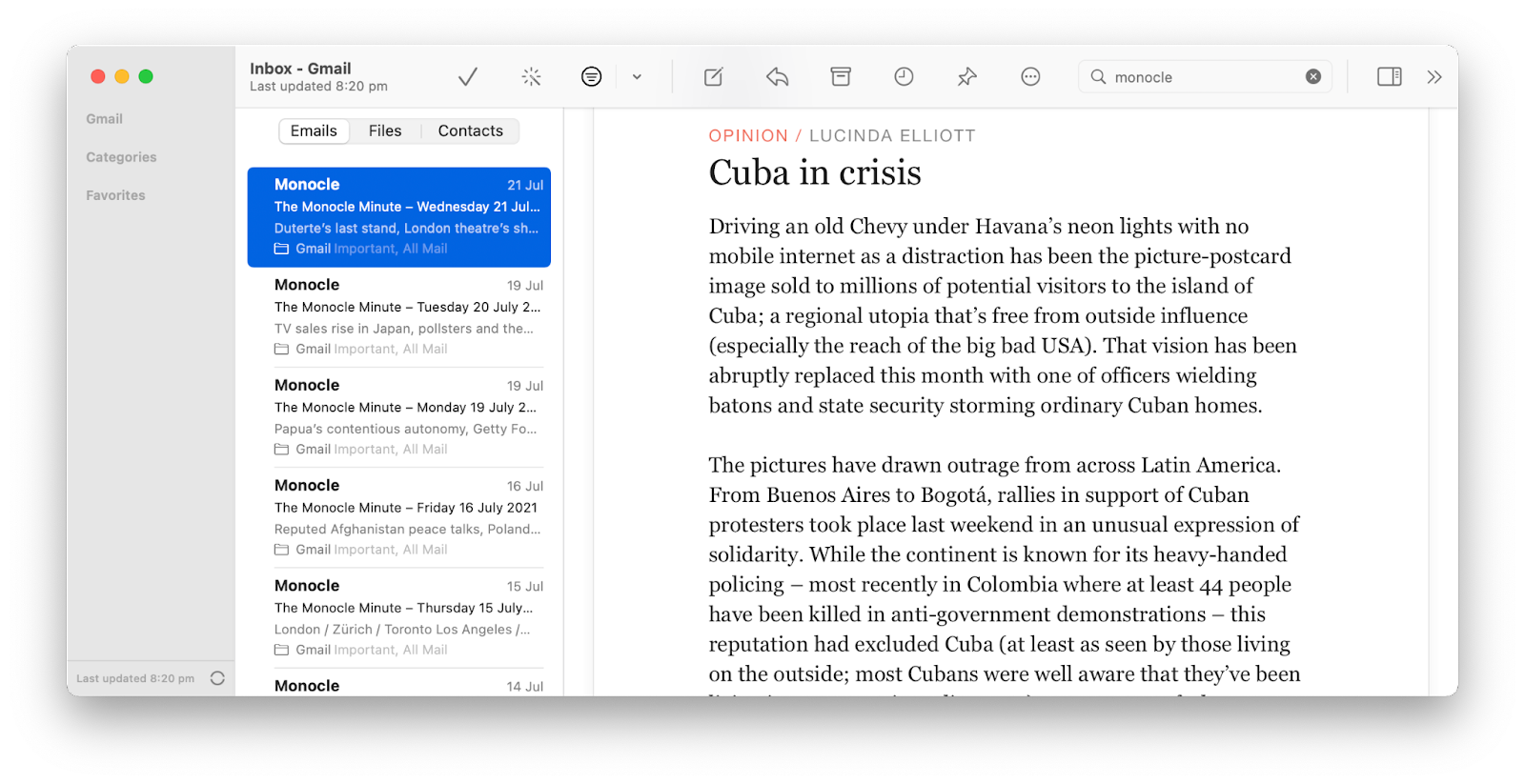 You know how email apps can be a pain when it comes to managing multiple accounts and staying organized? Well, Spark Mail is here to save the day! It's got great tools to make your inbox super clean and easy to use.

The Smart Inbox works like the Gmail interface, which groups email into Primary, Social, and Promotions categories. Users who prefer the classic reverse chronological view can turn off Smart Inbox.
If you have been CC'd on an email thread that is no longer relevant to you, mute the email thread to silence notifications from it. You can also group emails by sender to declutter your inbox if you receive a lot of emails from a particular sender.
Additionally, you can manage your emails and contacts using BusyContacts.

The app organizes contacts from your multiple accounts into virtual cards, so you can track interactions and label or filter your contacts. Sync and share your contacts between accounts and view the history of your meetings, emails, and social media interactions.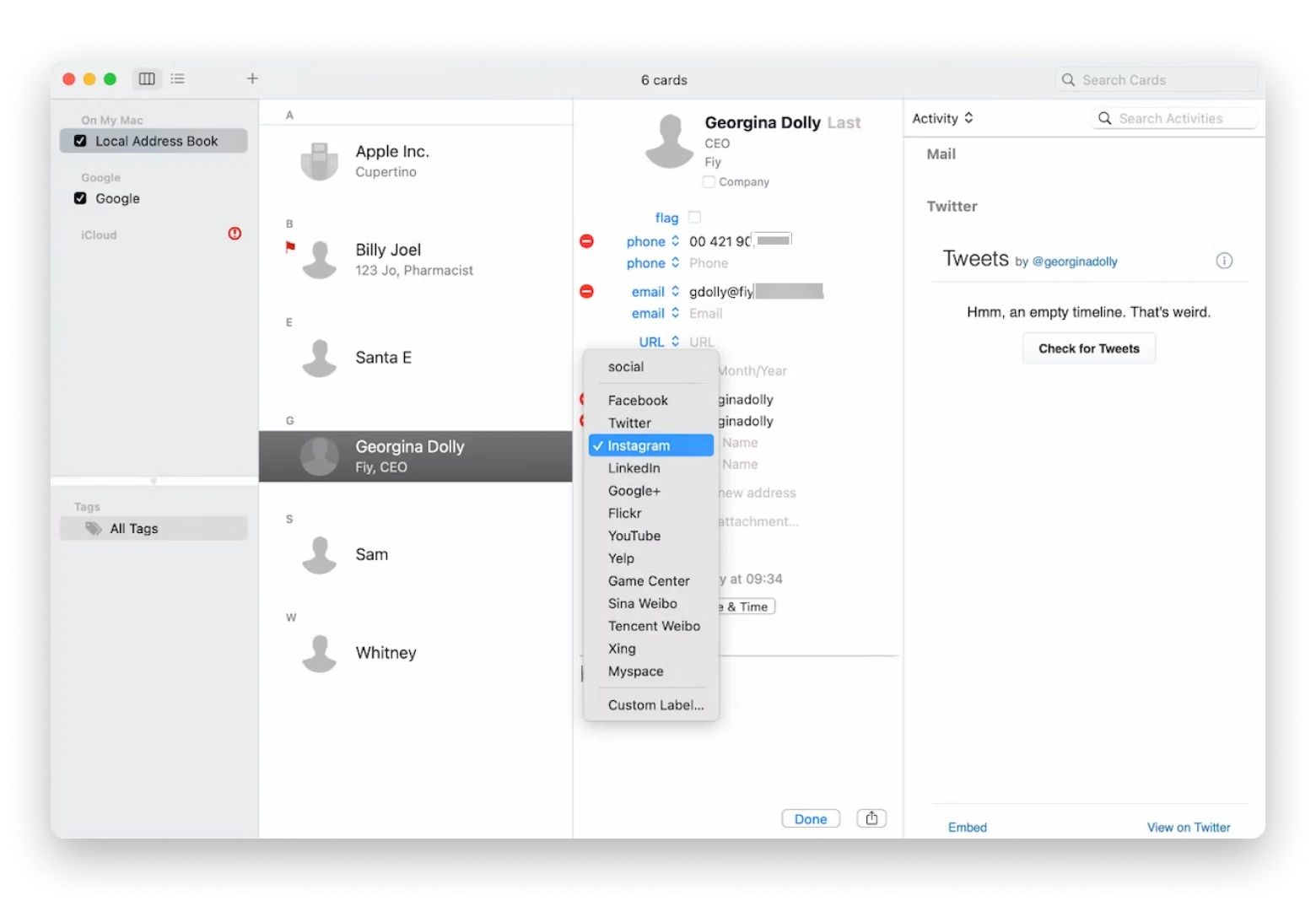 As you can see, there are plenty of options when it comes to the best free email services, from Gmail to Outlook. It's important, however, to create a strong password and save it in a password manager like Secrets. Monitoring your internet performance to troubleshoot receiving and sending emails can be easily done with WiFi Explorer.

You can also manage your contacts and review interactions with them through apps like BusyContacts. Finally, don't forget to try using a separate email app, such as Canary Mail for extended privacy and an effortless email workflow and Spark Mail for a clean and organized inbox.
Best of all, Secrets, WiFi Explorer, BusyContacts, Canary Mail, and Spark Mail are all available absolutely free through the seven-day trial of Setapp, a platform with a curated collection of outstanding tools for Mac and iOS. Browse the apps in the Setapp collection and find the right ones to help tackle any task you can imagine.