How to create folders in Gmail
Emailing has become a full-fledged way of communication. More than half of the world population sends and receives tons of online letters daily.
The first thing that comes to mind when you think about emails is Gmail. It isn't surprising — Gmail is a leading online email service worldwide with more than 1.5 billion active users.
As we receive lots of emails daily, it gets hard to control that chaotic flow of information — work, friends, traveling, receipts, news. It's easy to get lost and miss some really important information. Fortunately, Gmail has the solution for this — you can create folders to organize your emails. Open any folder, and check out all newly added emails there.
Note:
Why you need to create folders
It's so good to keep things organized, and it gets better when organizing is simple. Even if you don't receive dozens of emails a day, you know that it's easy to lose that one important message among the spam.
Fortunately, you can structure your Inbox, and make it look uncluttered. It feels intuitive to group things into folders, but labeling is a perfect match for emails. For instance, you can select letters regarding traveling into one folder, and put a blue label 'Traveling'. Now travel emails will stand out because of that blue indicator. This eye-catching feature makes navigation through your inbox much easier.
Moreover, you can quickly find the labeled emails even if they were sent a month ago. You definitely don't want to scroll looking for that plane ticket right before the airport check-in.
Gmail Labels vs Folders
We all are used to creating good old folders when it comes to organizing some files.
Gmail changed this method of message storing — now it's all about labels.
To understand how they work let's have a look at the standard Gmail's labels like Inbox, Sent, Spam, and so on. All the labels have self-explaining names — Inbox contains income mails, while Sent includes messages that you sent. Yes, that's just it. When you click on the standard label or the one that you created, Gmail performs a search, filters all the matching emails, and shows the set of results.
It's important to remember that the system doesn't make any copies of the labeled email, so if you decide to delete one — it will disappear from your Inbox at all.
You can create folders to group some similar emails. Labeling is like putting colored stickers in a big worksheet — you just mark the page to differ it from others. You can put 2 or more labels on the email to make it even more specific.
How to create a folder in Gmail on Mac
There are two ways to create a folder on a browser version of Gmail.
Let's start with a shorter one. You can create a folder right in your Inbox, so open a browser, go to Gmail, sign in to your account, and let's get started. That will take literally 30 seconds:
Go to the sidebar, the panel that shows your Inbox, Sent, Spam, and so on
Click More, and select 'Create new label'
Name your label in the pop-up window.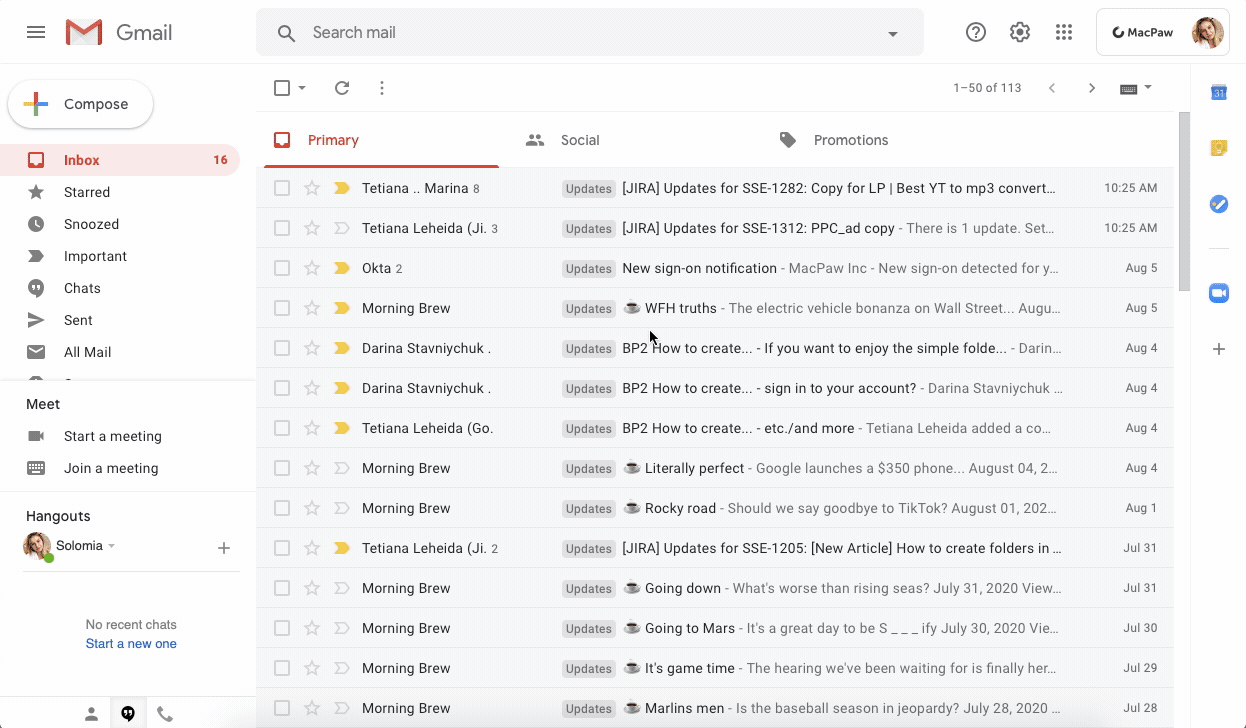 After creating your first label you can add a sublabel. It works like a folder in the folder. For example, you have a label 'Work', where you gather all your business emails. To make the label more specific, you can create sublabels 'Teammates', 'Clients', 'Partners'.
Let's move to a more advanced folder creating through Settings. Here you'll find detailed instructions to customize labels for yourself.
Click on Settings icon > See all settings
Select Labels
Scroll to the bottom, and select 'Create new label.' Here you also can create sublabels
Hit Save.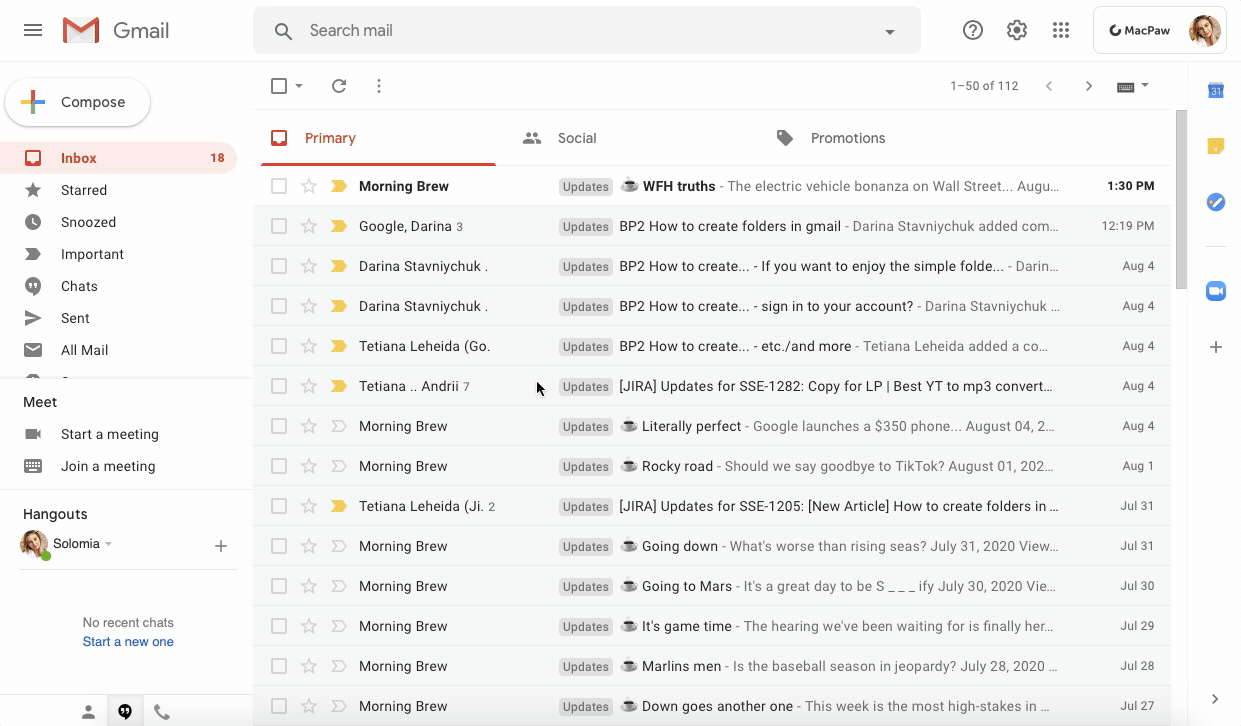 In the settings, you can adjust some preferences, such as 'Show in label list', 'Show in message list', and so on.
Voila, you've created your first label.
The folders will appear in your sidebar so that you can quickly access sorted emails. Just click on a folder, and get a set of results. Moreover, you can change the color of the label that makes some emails stand out. And that's not the end — add several labels to your conversations, and navigation will become even easier.
How to move messages into a label in Gmail
As you could already notice, some concepts in Gmail are a bit confusing, and 'moving the messages' isn't an exception. So what's the problem? Moving emails from one folder to another is just deleting an old label and putting a new one.
Fortunately, in practice, it's not as hard as it sounds. Follow a step-by-step guide, and you'll understand why:
Select a message in the Inbox
Click Move in the button bar above emails. Or just right-click on the message, and select Move
Choose the label you want to apply
If you want to move an email from a particular label, then select it, and follow the instruction above.
There is a more straightforward way to move your messages — just long-press on an email, and drag it to a needed folder. Well done, now you can find moved messages in the destination label.
Smarter Folder Management on Mac
Gmail can be a bit confusing with its labels. If you prefer to fold your mails into well-known folders, and not be afraid that messages can be accidentally deleted, then try out some alternative email management apps. Such tools like Unibox and Canary are improved versions of Gmail. They unlock the advanced features of your Inbox and make it look more organized, personalized, and uncluttered.
The most obvious reason to use alternative mail apps is convenience — you finally control your messages and properly organize them. Also, it's all about saving your time, because such apps help navigate through an Inbox and find the needed mails at the speed of light.
Fantastic, isn't it? There is a lot more to tell, so let's get closer to the point.
How to use Unibox for creating folders on Mac
Unibox is an elegant email app that makes your Inbox look like a handy messenger.
It perfectly groups emails by the sender so that mailing feels like sending SMS or chatting in WhatsApp.
With Unibox's smooth interface, email management gets so intuitive. Just follow a short guide on how to create folders in Unibox:
Go to Unibox tab > Preferences
Select Groups section
Click on the plus sign in the left-bottom corner
Name your folder.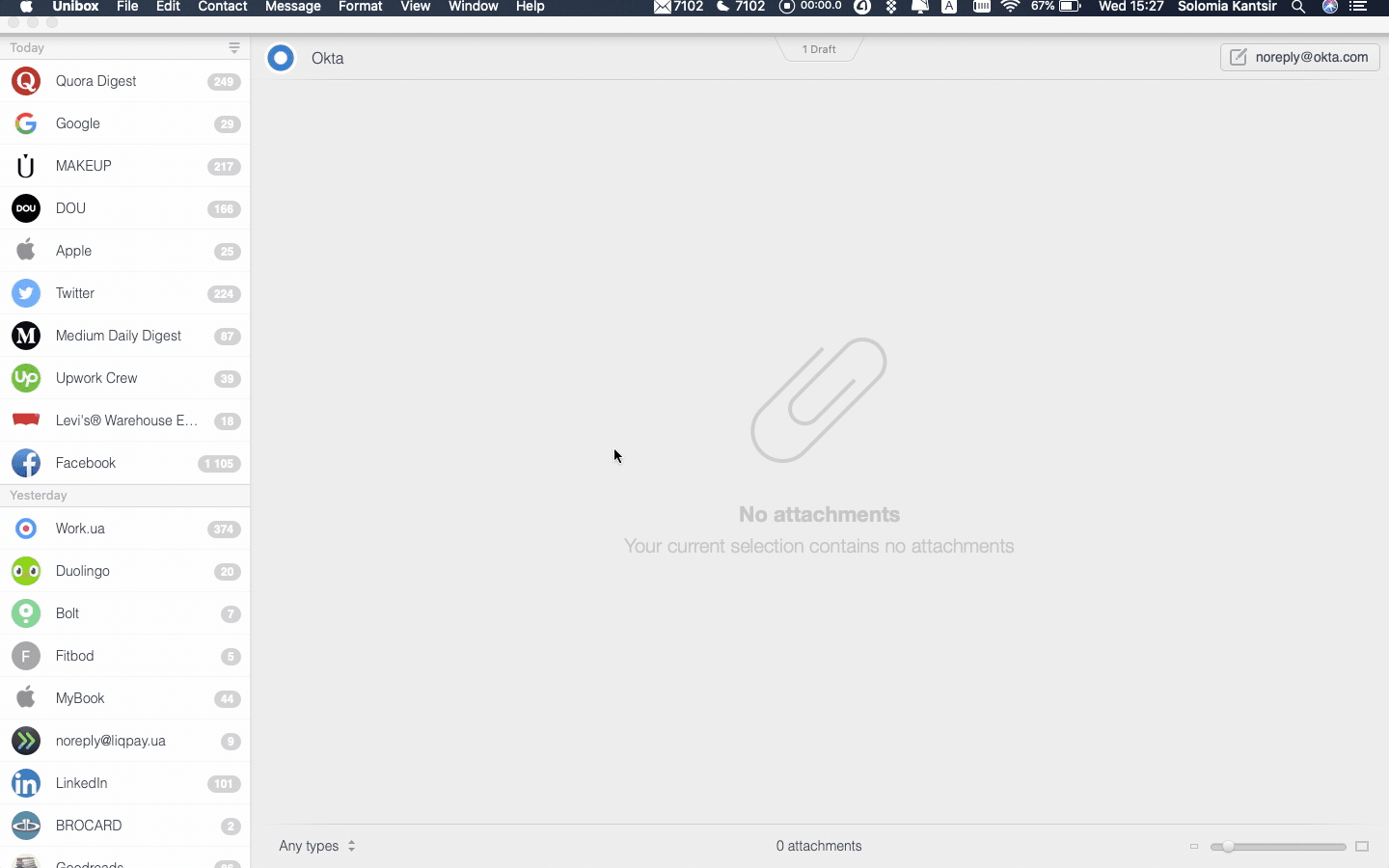 Great, now you can structure your emails into different folders, and keep things more organized than ever.
The best secure email app
Canary Mail is an inbox organization app that not only professionally manages mails but also cares about your security. This mail app highlights important messages for easy access and reminds about them when you need it.
Also, with Canary Mail you can easily create and manage your folders:
Go to Canary Mail > Preferences
Select Accounts tab > Folders
Click on the plus sign in the bottom of the window
Name your new folder.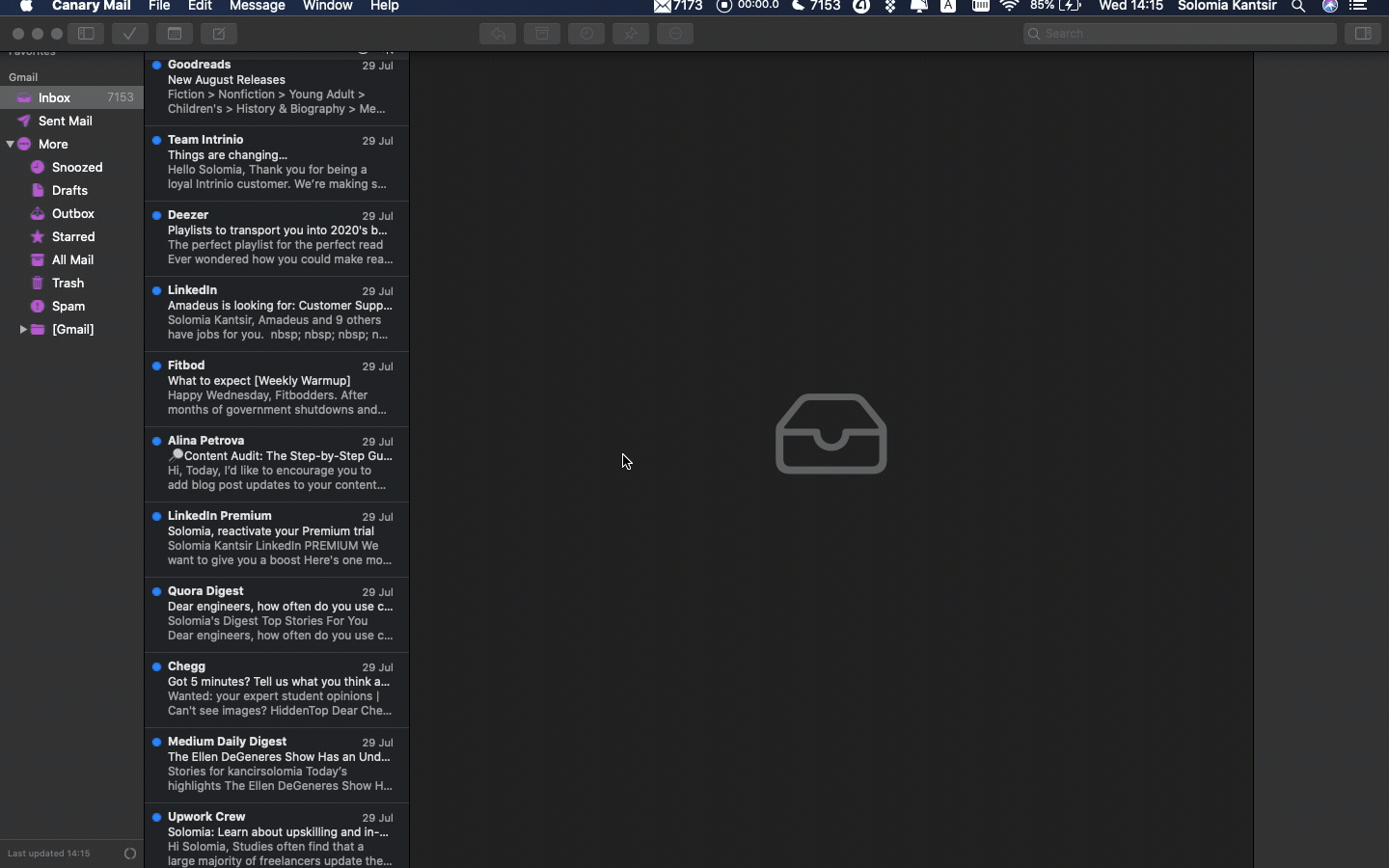 You can create as many folders as you need, and they will automatically appear in your Gmail app. That's such a timesaver.
How to bring together all popular messaging services
Just a couple of new emails in your Inbox, and it's already a mess. And if you use a lot of different messengers daily, managing turns into a challenge — tons of notifications, emails, and chats. Spending a lot of time switching between Gmail, Slack, and Telegram sufficiently lowers your productivity. As always, we have a solution.
Meet IM+, all in one messenger that brings together over a dozen popular messaging services in a single convenient window. Just imagine that you can effortlessly navigate through all your messengers with a single sidebar.
When it comes to organizing your workspace, IM+ is an essential tool that supports multiple accounts, so you can easily switch between home and work. You don't have to open a browser anymore to check your Gmail, everything is right on your desktop.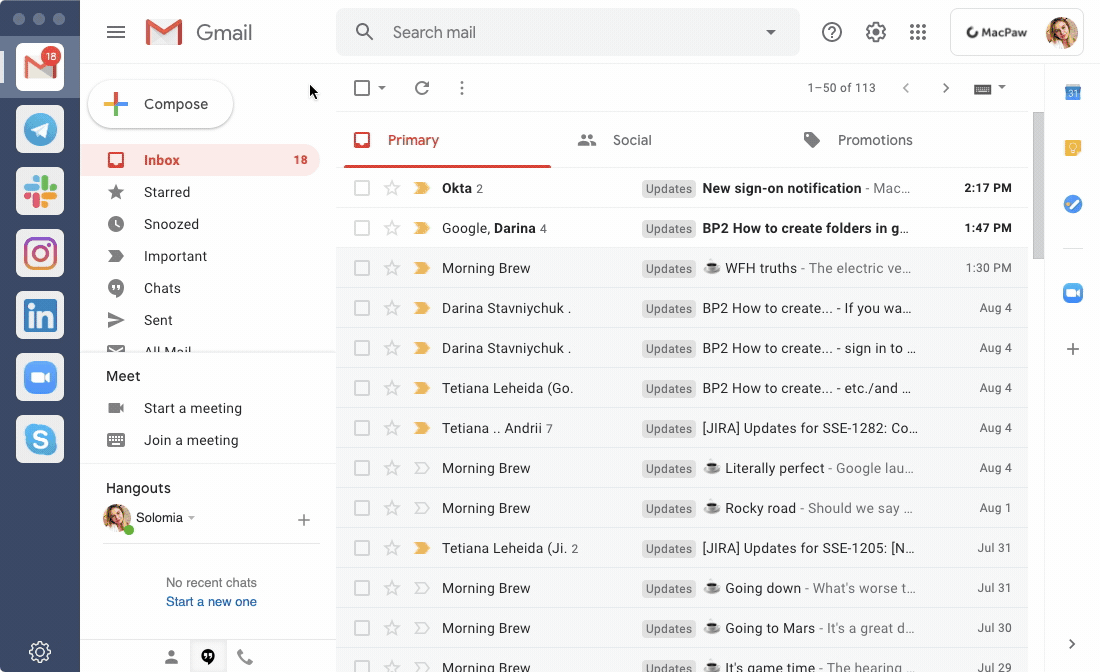 How to create a folder in Gmail on a mobile device
If you prefer a mobile app to the browser version, then good news — it's also easy to create folders instantly from your iPhone. Pay attention that labels you've added are visible only for you.
Download the Gmail app
In the app, select one or multiple emails
Tap the Menu icon. You'll recognize it by 3 horizontal lines in the top-left corner of the screen.
Tap Create new
Name your label, and click Done.
Yeah, that's pretty similar to the creating folders on your Mac, and easy as well.
You can also edit and delete labels, rename them, and create sublabels. After such a cleanup, your Inbox will never be cluttered.
Conclusion
A messy Inbox is such a headache for most of the email users. Gmail solves this problem by introducing labels that quickly arrange your emails. Labels are multifunctional — in addition to standard actions like editing and deleting, you can set any color to the label, move messages between labels, and more.
Although labels are similar to folders, there are some minor differences. If you prefer authentic folders' functionality, enhance your Gmail experience using such inbox management apps as Unibox and Canary Mail. They declutter your email workspace by grouping messages and presenting them more conveniently than in Gmail. Furthermore, both are desktop apps, so you don't have to open your browser each time you want to check your emails.
Organize your Gmail Inbox into convenient folders, sprinkle it with some mail apps like Unibox or Canary Mail, and add a bit of IM+ for beautiful workspace. All the tools you can try free for 7 days in Setapp, suite of best productivity apps for your Mac.