How To Use Sign In With Apple Everywhere
Usernames and passwords have been a staple of our online lives pretty much since the inception of the World Wide Web. On the one hand, they provide unique identifiers to apps and websites, so we're able to get our personal information and preferences displayed. On the other hand, login credentials also guard our private data, making it very hard for someone else to gain access to it.
Everyone, from your note-taking app to your online banking website, relies on keeping your data safe behind the unique username-password combination. With time, however, new authentication methods started to appear. Two-factor authentication (2FA), for example, which requires a one-time 6-digit number to be sent to another device or app, has become a security standard by now.
In an effort to simplify the login process, companies with considerable online user bases — Google, Facebook, Twitter — began offering their own ways of signing up for third-party apps. You could, essentially, use your Facebook or Google credentials to sign in to other apps, sparing yourself the trouble of having to devise a new password every time.
While the upside of using a major tech service to log in is clear, the downside only became apparent over time. Being signed in with borrowed credentials gives these services a lot more insight into your behavior, which they can in turn sell to their advertisers. Luckily, Apple is different.
What Is Sign In With Apple?
Announced in 2019, with the release of iOS 13, Sign in with Apple is an easy, secure, and private way to authenticate with apps and websites. While the process is similar to the one used by Google, Facebook, and Twitter, Apple doesn't mine your data for ad revenue and even allows you to hide your email address by swapping it with a random one that would simply handle the forwarding.
What's more, Apple sign in feature doesn't compromise on security, building on top of the already existing Apple ID login 2FA and asking for a verification code that would appear on your trusted device or be texted to you. The new Apple login also works with Touch ID and Face ID across your devices.
A good question to ask: Is Sign in with Apple required? For apps, as of April 2020 — yes, if those apps also offer to sign in with Google, Facebook, or Twitter. However, apps that offer to register with a username-password combination are exempt for now. So how to Sign in with Apple exactly?
How to Sign in with Apple
Using the new Apple sign in is quite intuitive if you have an Apple device with the 2FA feature on iCloud enabled.
Here's how to enable 2FA on your iPhone:
Go to Settings ➙ [Your Name]

Select Password & Security

Tap to Turn On Two-Factor Authentication

Choose Continue

In the same menu, add a trusted phone number and verify it
To enable 2FA on your Mac:
Navigate to System Preferences ➙ Apple ID

Select Password & Security

Under Two-Factor Authentication, click Turn On…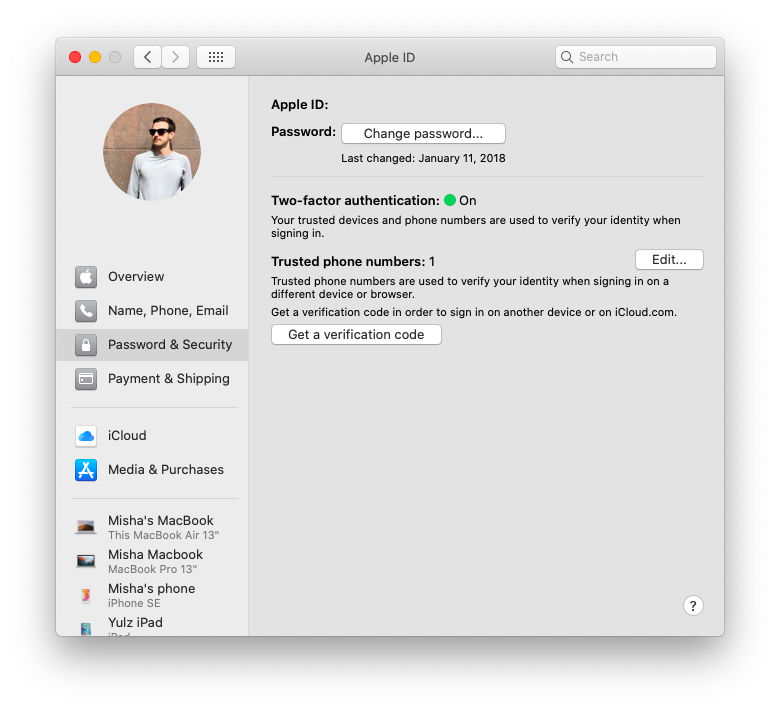 Once you have your 2FA on, Sign in with Apple is effortless. When you encounter an app that offers the new Apple ID login:
Click Sign in with Apple or Continue with Apple

Edit your name if needed and choose Hide My Email and a redirect address if you want

Tap Continue and confirm the login
On a Mac, Apple login page for websites calls for exactly the same steps as on your iPhone:
Click Continue with Apple

Read through the Sign in with Apple features and hit Continue

Share or hide your email ➙ Continue with Password

Enter your Mac password and then Continue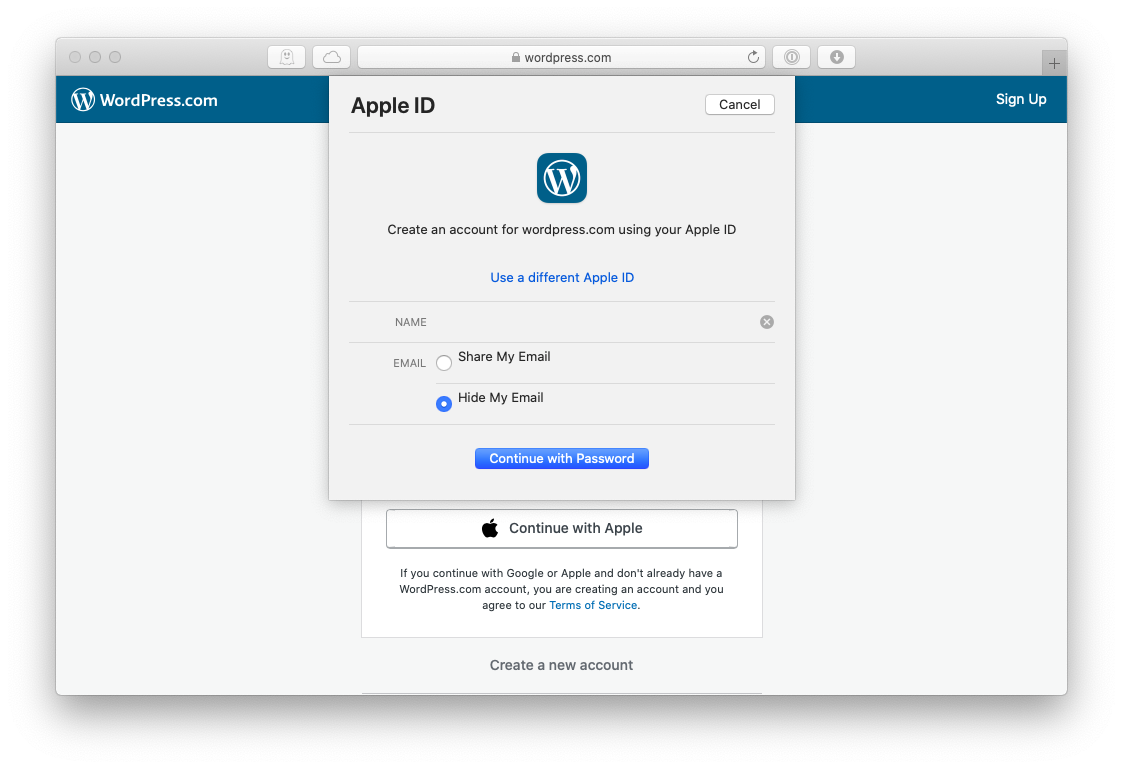 How to manage Sign in with Apple
The new sign in Apple ID process is so easy that you'll almost inadvertently accumulate lots of login information this way in no time. Then the question will be, "How do you manage the Apple sign in effectively?"
Luckily, Apple makes managing all the apps with the Apple ID login quite intuitive by displaying them in a single menu. To access it on iOS:
Go to Settings ➙ Name

Tap Password & Security

Navigate to Apps Using Your Apple ID
The process is similar on macOS:
Open System Preferences ➙ Apple ID

Go to the Password & Security tab

Click Edit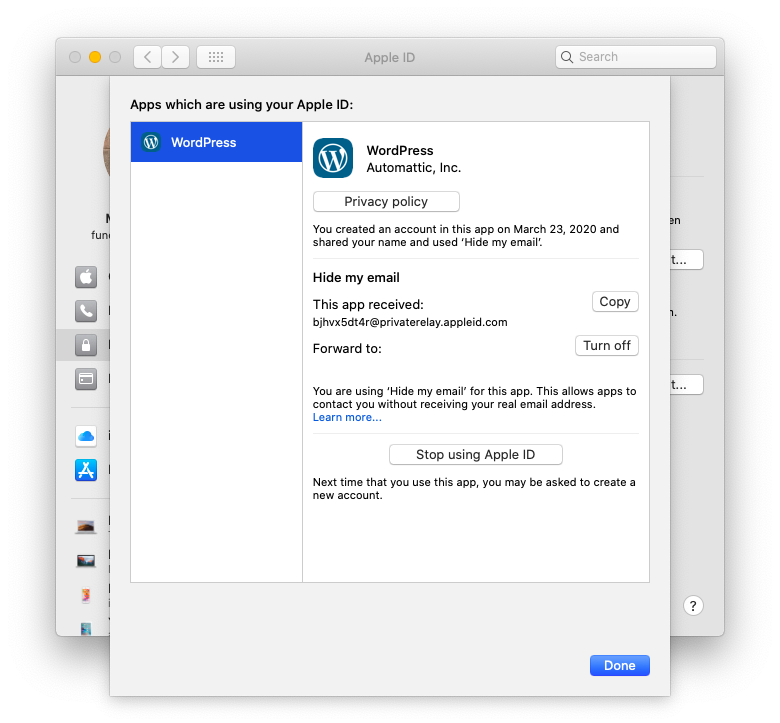 The Apple sign in editing menu allows you to see the cryptic email address that the app or website actually received and to which email all the correspondence is being forwarded to. If you want to cut off communication between you and one of the apps, simply choose to "Turn off" forwarding and they will have no way of reaching you. Instead of deleting your account with the app, you can just click "Stop using Apple ID" and tear all the ties without leaving your personal information behind.
What's the best way to handle passwords
While the Sign in with Apple is a significant step towards better privacy and security in the world of apps and websites, this technology will take a long time to infiltrate them all. Currently, apps are not obliged to use it if they offer a username-password combination for signing up, and websites are not required to use it at all (and can't be since the web is an open medium).
What this means is that the answer to "Is Sign in with Apple required?" is not only "no" but also that the Sign in with Apple isn't enough regardless of how widely you use it — you still need a secure way to store usernames, passwords, payment information, and other private notes. In other words, you need Secrets.
Secrets is your all-in-one privacy guard. This app generates passwords, securely stores credentials, fills out login forms via its browser extension, and keeps your notes private — all under a single passphrase. No more memorizing any access information to any service you use. Secrets does this all for you. A good tip for how to use Sign in with Apple, you can even save your Apple ID in Secrets, to use Secrets to Sign in with Apple, and make the whole process much more secure.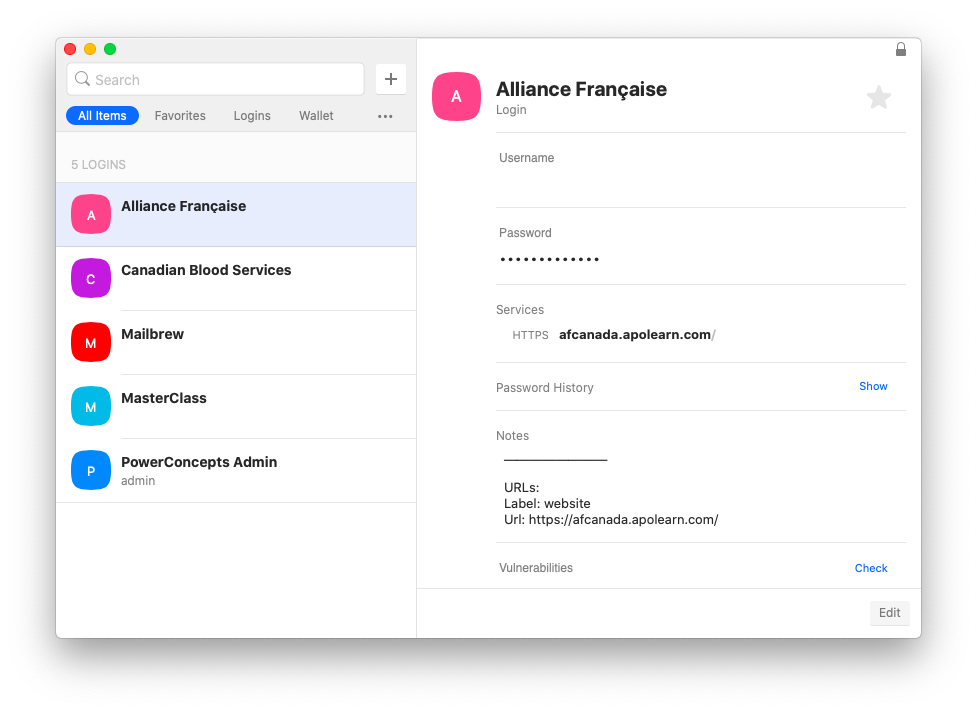 How to unite all messages with one app
Seeing all the usernames, passwords, and private notes being combined in a single app like Secrets or a feature like Sign in with Apple, you might wonder what is Sign in with Apple but for messages?
After all, you get dozens if not hundreds of messages every day through channels as diverse as Facebook, Skype, Slack, WhatsApp, Telegram, and more. Staying on top of them all requires tremendous focus, not to mention the amount of free time. You'd think there'd be a better messaging solution by now.
IM+ does all the hard work of aggregating every messenger you use and funnels it through its beautiful and intuitive interface to make replying to your colleagues and friends easier than ever. You can even create different sets of messaging apps to be open during work and home hours, as well as use custom shortcuts to switch between them. Customization is also possible for your status and notifications — all the essentials to never miss an important update.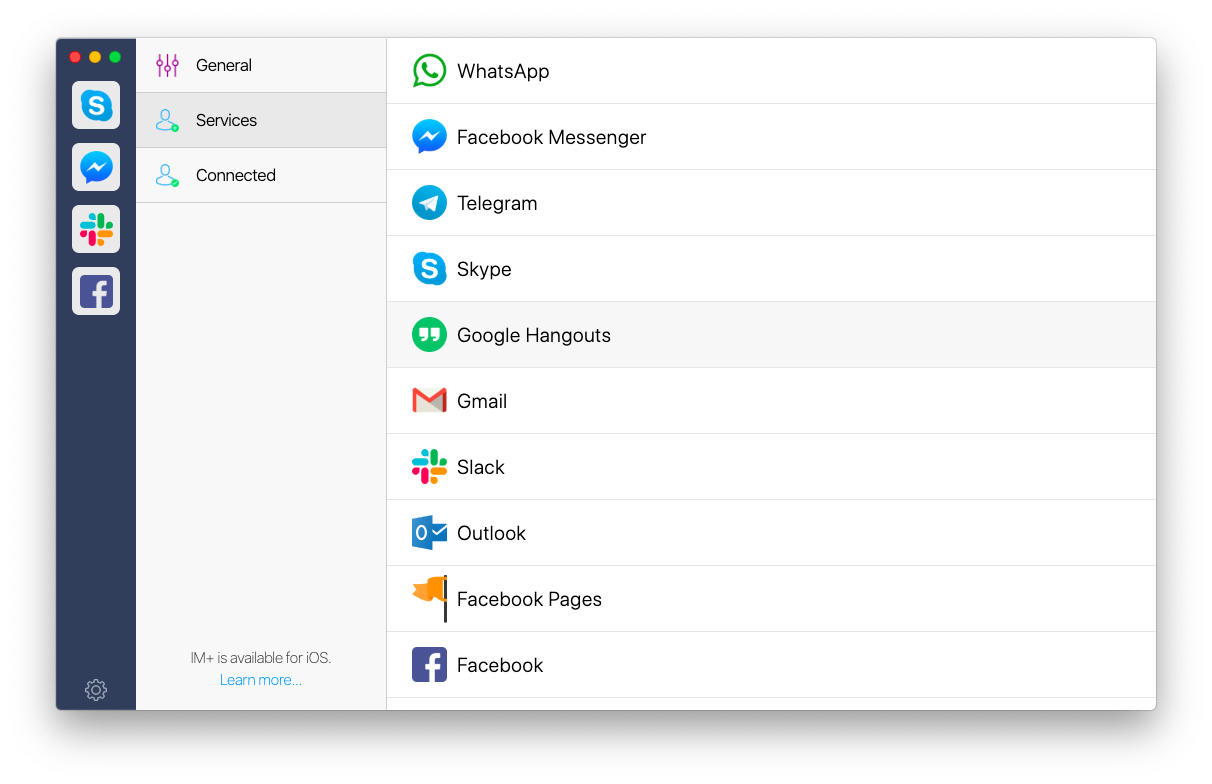 Without a doubt, if the service you use has a way for how to sign in with Apple ID, you should use it. At the very least, it'll protect your privacy better compared to signing in with Google, Facebook, and Twitter, and also significantly decrease the amount of spam you might be getting. But for complete security, you should definitely augment Sign in with Apple with the Secrets password manager. And while you're at it, why not consolidate all your messengers with IM+?
Best of all, Secrets and IM+ are both available to you absolutely free for seven days through a trial of Setapp, a platform with more than 170 apps that would make your daily Mac use a pleasure, from getting your cloud storage to run as a local drive (CloudMounter) to creating outstanding GIFs (Gifox). Try these and more at no cost today, and see how much more efficient your days can be.