How To Turn Off Two Factor Authentication For Apple ID
Protecting personal security and privacy is one of the most essential requirements for tech users today. But first it's important to understand the options available and risks associated with them, so you can decide what works best for you.
Two factor authentication is a method of security that grants access only after the user presents two different pieces of evidence that confirm their identity or access — typically, knowledge (something only they know) and possession (something only they have). Apple ID two factor authentication is one of the most common instances: it requires a secondary verification code from a trusted device in addition to your standard password when you need to verify Apple ID from a different iPhone or MacBook.
Considering that an Apple ID account contains credit card information, contact addresses, emails and phone numbers, photos and videos, backups, notes, and purchase history, the ability to protect this data is crucial.
The two factor authentication process that Apple initiated a few years ago has become commonplace by now, but you might choose to reduce this complexity and turn off two factor authentication from your account for a variety of reasons too.
With dozens of active accounts and services — that all seem to have different requirements for creating login credentials — it can be overwhelming to manage all of your passwords across different devices and make sure you understand the process to access each one when you need to.
Sometimes flaws in technology or human error can get you locked out of an account, or the personal info that you've used at registration has changed and become difficult to keep consistent. By removing two factor authentication, you might feel less anxiety of trusting yet another system (or your own memory) to function properly all of the time, and reduce the fear of being mistakenly logged out.
You might regularly use different, untrusted devices to access your account, such as a school or public workspaces, and get tired of completing two factor authentication all day long. If you frequently change your phone number or upgrade your hardware, you might want to avoid connecting these accounts or devices with the two factor authentication process.
It's possible you're less concerned about the privacy of your information if you only use your account for limited, basic features or plan to use a device for a short time. For example, borrowing a device during repairs or renting one for travels.
Besides, most of us want to avoid going through the technical support process or have difficulty troubleshooting these issues on our own if we get locked out of our Apple ID login during the two factor authentication process. At least, some Apple ID verification settings can be configured to your own preference and updated at any time, so it's critical to understand the process and what works for you.
What Is Apple Two Factor Authentication?
Apple two factor authentication is a security system that requires a secondary code in addition to the password on your account to be entered when you're logging in from a new or untrusted device. For instance, if you're using a friend's computer that you've never used before to access your account on the Apple login page, you'll be required to enter a code sent to a phone number or email address that has already been verified with your account, in addition to your usual Apple ID password.
You won't be asked for the secondary code again once you've successfully logged in with that device unless you sign out, delete the device, or need to change your password due to a security breach.
The two step authentication process enhances security because even if someone were to know the password for your Apple ID, unless they have access to a predetermined trusted device, they can't log into that account. The feature ensures that your Apple account gets accessed only on iOS and macOS devices that you trust.
The risk of anyone except you being able to provide both your Apple ID login password and the code accessed through another trusted account is very low, but might not be worth the added cumbersome process for some users. So then how to turn off two step verification?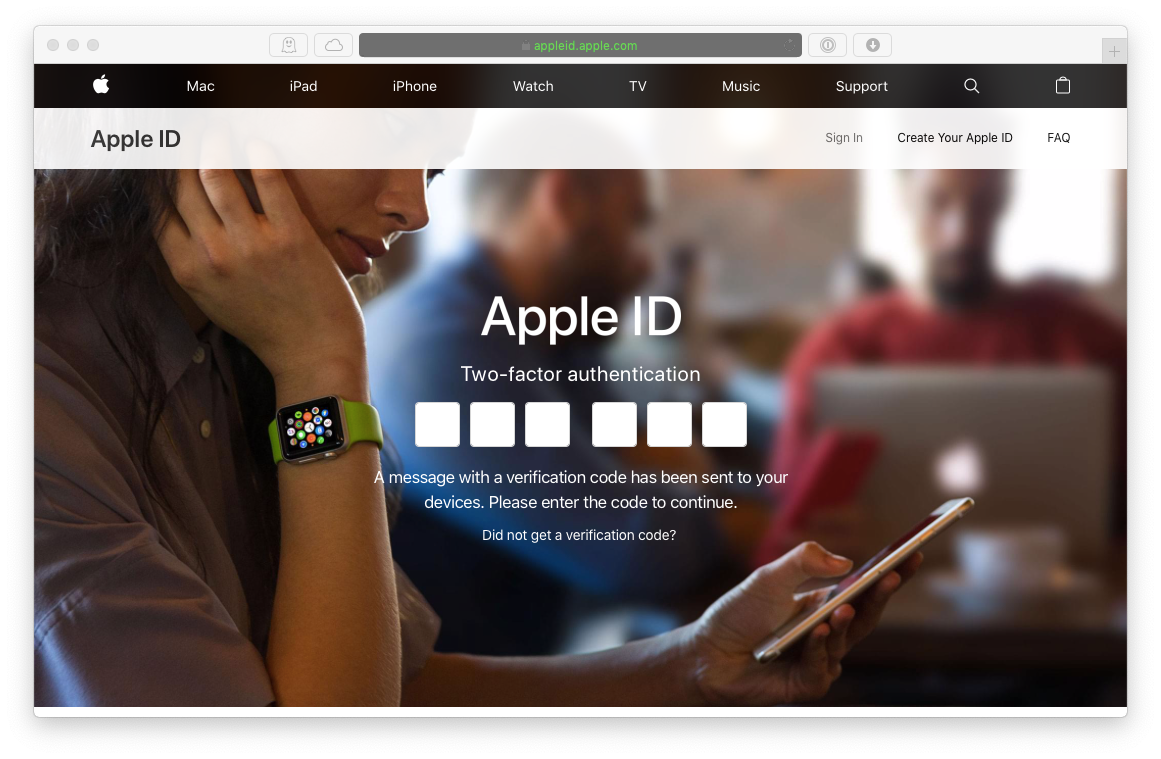 Can you turn off two factor authentication for your Apple ID?
If you created your Apple ID in an earlier version of iOS or macOS, you should be able to turn off two factor authentication for your Apple ID login. And if you turn off two factor authentication with your Apple ID you'll return to a two step verification process that relies on the proper input of a password and answering security questions to gain lost Apple ID access or when signing in from a new device. This alternative two step verification though can't be turned off as Apple requires at least one of the login methods in place.
You also won't be able to turn off two factor authentication for Apple IDs created in iOS 10.3 or macOS Sierra 10.12.4 and later. If you don't see the option to turn off two factor authentication on your Apple ID login page, that likely means you're not able to turn it off. In such cases, you'll have to contact Apple support to request that they disable two factor authentication, or register a new iCloud ID on the Apple ID website and change the iCloud ID on your device.
How to turn off two factor authentication for your Apple ID
If you've confirmed that two factor authentication is active on your account and you would like to remove it, just follow the steps below.
For desktop:
Sign into your account at the Apple login page from any computer and browser. If you're using an unknown device, you may have to complete two factor authentication at this point.

In the Security section, click Edit

Locate the Two Factor Authentication section that says the feature is On and click to Turn Off Two Factor Authentication, then click again to verify

Create new security questions and verify your date of birth — this enables two step verification instead

Check your inbox associated with your Apple ID account for an email that confirms the two factor verification is off
For mobile:
Go to Settings

Tap your Apple ID ➙ Password & Security

Tap Turn Off Two Factor Authentication

Tap Continue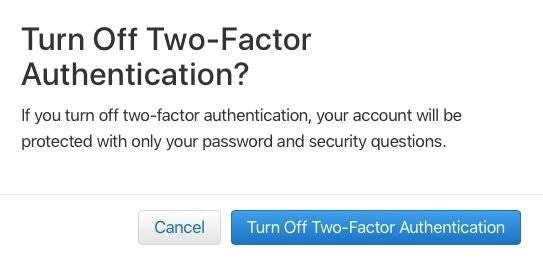 Manage Apple ID without two factor authentication
If you've decided to turn off two factor authentication for your Apple ID login and completed the process for your account, there are other options available to keep your security organized and accessible. Without two factor authentication enabled, you'll have to access your Apple ID with a password and provide answers to security questions.
Keeping this information securely stored will help you feel confident about accessing your account any time you need to without stress, while protecting it from anyone else. Luckily, there are tools available to help you do just that.
Secrets is the most secure and straightforward password vault to keep and retrieve your sensitive account credentials, including your Apple ID login information. You can use it to save passwords and look them up yourself, or enable the autofill feature to have the app sign you into your accounts automatically.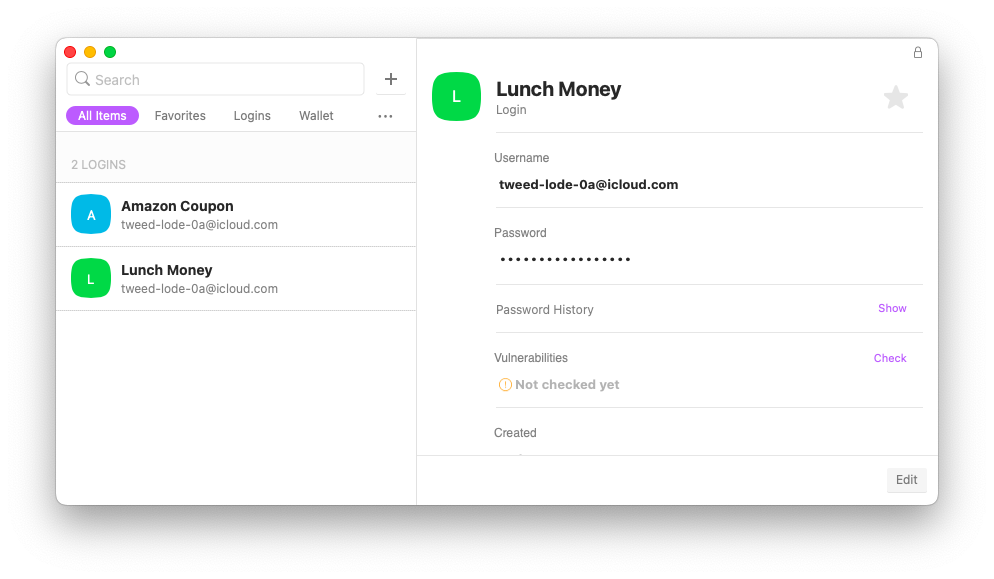 Secrets can also be used to generate custom, strong passwords based on the specific requirements of the app or website you're using, so you don't have to worry about choosing a secure password yourself. All passwords in Secrets are encrypted within the robust interface but are easily organized and searchable at the same time. Use Secrets across all your Apple devices to always have your Apple ID login information at hand.

Best of all, try Secrets for free when you sign up for a 7-day trial with Setapp, the desktop suite that curates, recommends, and gives you custom access to a collection of more than 150 best-in-class Mac apps.
Your privacy is a personal right that you should feel confidently in control of. Keeping informed with your options, tools or resources available to help, and understanding the processes will ensure your peace of mind about your own security.