How to remove devices from Apple ID
Apple ID is an account created by Apple to authenticate the users' identity and give them access to all their Apple services and devices from one place, with one password. Those who have Apple ID set up can also sync data between their devices and use features like Community Camera, Find My, and Sidecar.
All-around, Apple ID seems like a great add-on to make your devices work seamlessly together, and it truly is that helpful if you know all the tricks of using it. But what happens when you need to remove one of your Apple registered devices from the account and can't figure out how? Let's dive right into those details so you can protect your privacy and get the most out of your Apple account.
What is the Apple ID device list?
An Apple ID device list, also called the trusted devices list, consists of your Apple devices, like your iPhone, iPad, Mac, Apple Watch and more, that are signed in with the same Apple ID. Devices on the Apple ID list also have access to cards and accounts stored in your Apple Wallet.
Apple registered devices from the trusted list can be used to verify your identity when you sign into your account using two-factor identification. You can remove Apple device from account by deleting it from the list of trusted devices. If you want to restrict which devices can play content from Apple Music and access downloads from iTunes and App Store, you can edit a separate device list for online services.
Why remove a device from Apple ID?
Before getting too deep into how to remove devices from Apple ID, let's look at the types of situations that would warrant such action:
Privacy protection. A good reason to learn how to remove iPhone from Apple ID device list is to secure your account and data when you've lost or sold your phone, or no longer have access to it for some other reason. The same rule stands for all your other devices.
Apple ID list limit reached. You can have up to 10 devices associated with your Apple ID for purchases at one time, so when you reach that limit and want to add a new device, you'll need to find out how to remove iPad from account, for example.
Connection issues. If you're having trouble accessing any Apple content or services from your device, try removing it from the list of Apple registered devices and then adding it back again.
How to remove a device from your Apple ID using Mac
Keep in mind that when you remove Apple device from account, you can reverse this action, but it may take up to 90 days before you can sign into the removed device with the same or new Apple ID. Before editing your Apple registered devices, make sure you're signed in to your Apple account on the device you plan to use for this task.
Here's how to remove iPad from account using your Mac:
Go to the Apple menu ➙ System Settings
Click Apple ID
View your Apple ID devices from the menu on the left
Select the device you want to remove
Click the Remove from Account link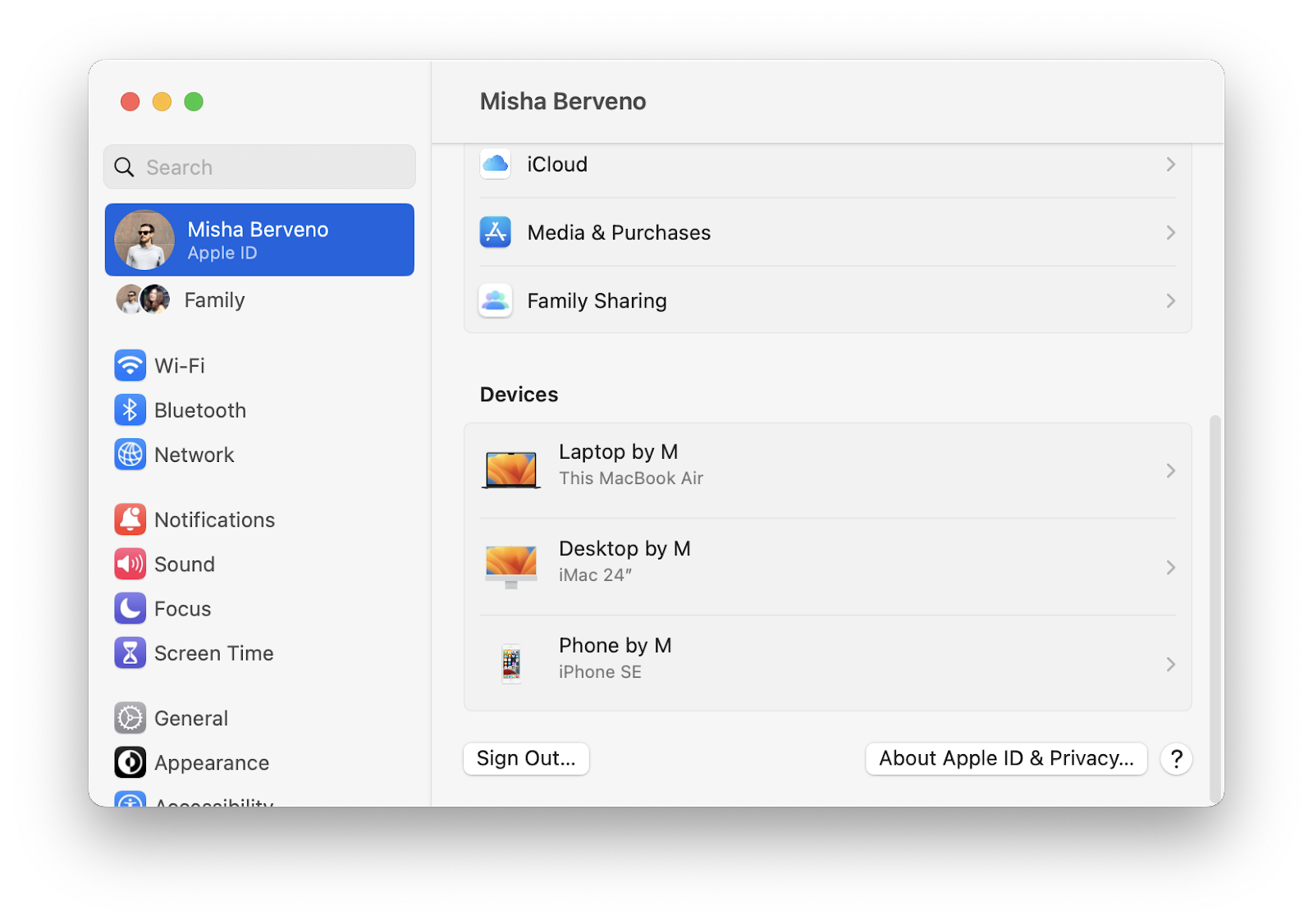 If you ever need to reset your Apple ID password, visit Apple's IForgot website, enter your username, and choose to use a recovery email address or answer security questions to verify your identity and reset your password.
Another option to safeguard not only your Apple ID password but the different passphrases for every account and app online is to use a secure password manager, like Secrets.
Secrets is a utility that keeps your login information safe, plus helps generate one-off passwords and tests old logins for vulnerabilities. Beyond secure password storage, Secrets is an all-in-one vault for your sensitive information. Guarded by industry-standard PGP encryption, this intuitive app provides a place to safekeep credit card information, licenses, and other important documents.
To protect your passwords and private data with Secrets, simply:
Launch the app
Create a master password for your vault and click Continue
Use the + icon and select the item type to start adding secure logins, credit cards, and bank details to your vault
How to unlink a device from your Apple ID using iPhone or iPad
Apple ID device list grants trusted devices access to your Apple accounts, so you should check it periodically and, if you see a device that you don't recognize, remove the device and change your Apple ID password.
Here's how to remove devices from Apple ID using an iPhone or iPad:
Go to Settings and tap on your name
Scroll down to your list of Apple ID devices
Tap on the name of the device you want to remove
Tap Remove from Account
It's a good practice to have all your devices' data synced in case anything unexpected happens to one of them. To get this done automatically, use an all-embracing file-transferring tool like AnyTrans.
AnyTrans can export iOS content directly to Mac and transfer data across iTunes and iCloud by categories or copy everything from your device in a single tap. This app comes especially handy in major content migration, when you need to get all your Apple managed devices up to date. With its built-in backup manager, AnyTrans saves your time and energy by looking after regular device backups to keep all your content intact.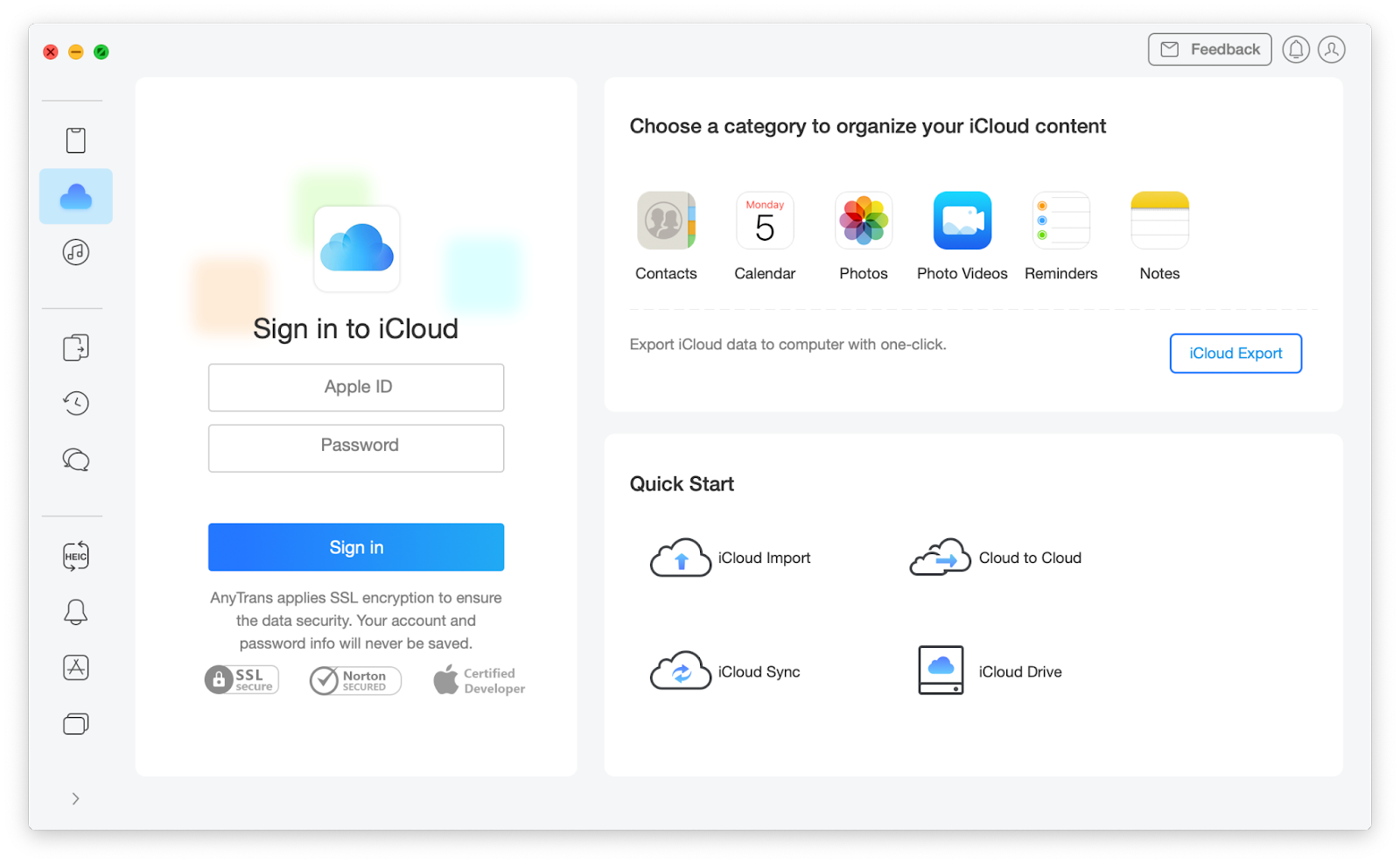 How to use the Apple ID account page to delete a device
This method should help you in a situation when you don't have access to any of your Apple ID devices and can't remove Apple device from account using one of the methods above. The Apple ID account management portal works on desktop or mobile browsers, so you can even use a Windows or Android device if necessary.
Here's how to remove devices from Apple ID through the web:
Open any browser and go to the Apple ID account page at appleid.apple.com
Sign in using your Apple ID username and password
Scroll down to the Devices section
Select the device to remove and click Remove from Account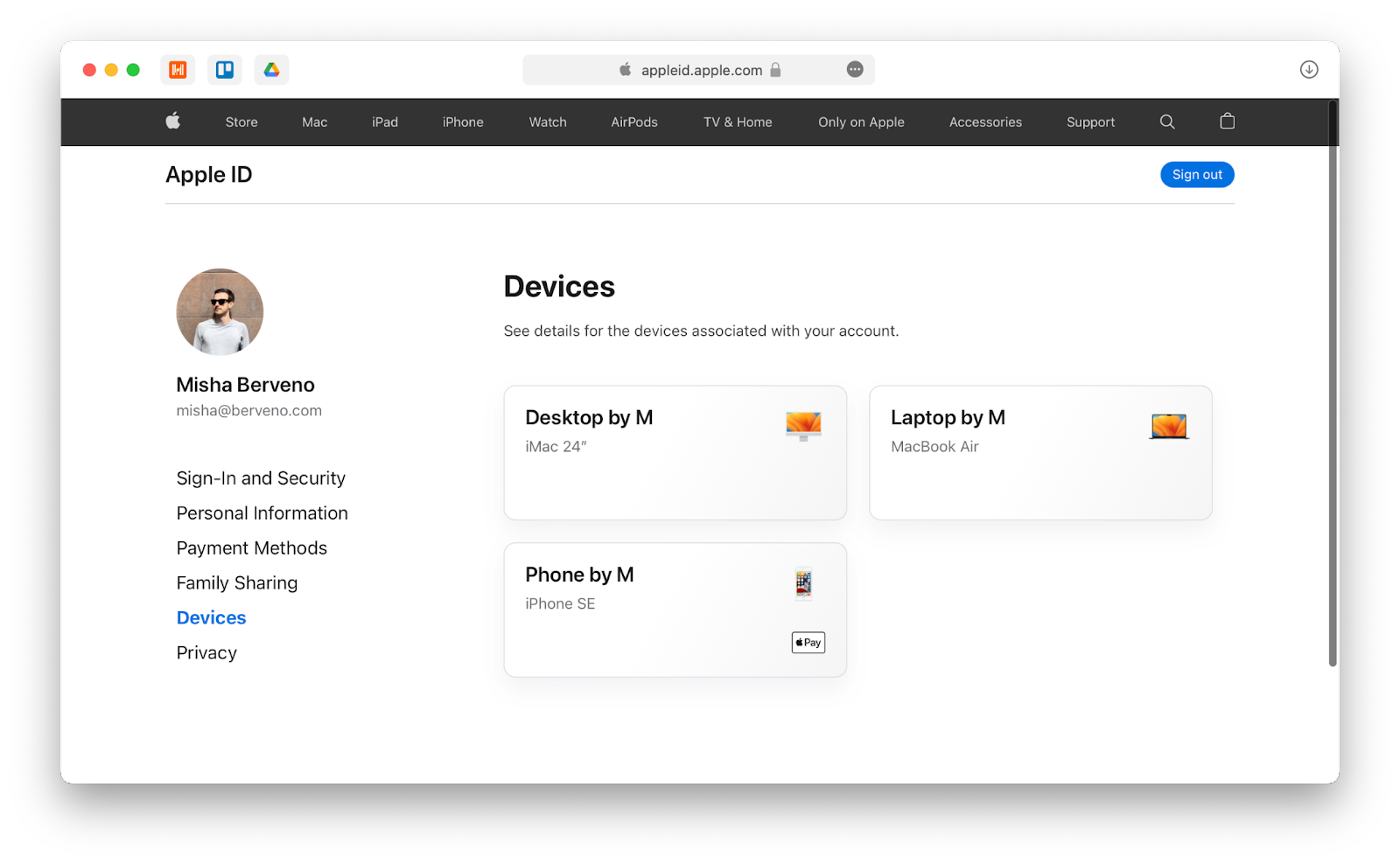 How to remove a device from Apple ID using iCloud
Since you can't remove the same device you're using to perform the action, here's another way how to remove iPhone from Apple ID device list, along with other devices through the iCloud web app.
Note: The iCould web app works best on desktops or on an iPad running Safari in desktop mode.
Go to icloud.com and sign in
Click on your name in the top-right corner of the Launchpad and click Account Settings
Select the device you want to remove under My Devices section and click the X icon next to it
Confirm by clicking Remove
After removing any devices, don't forget to sign out of your iCloud account.
Most users know iCould as a good data storage and backup option, but since it only offers 5 GB of free space, it's not all that convenient unless you're ready to pay. That's when you need a reliable backup utility for your Mac to be able to prevent any unwanted data-loss incidents. Try Get Backup Pro.
Get Backup Pro provides a good mix of backup methods like simple copy, clone, incremental, and versioned. This utility will come in especially handy if you're looking to save space on your device, as Get Backup Pro's compressed backups cut the size of the archives you get by up to 60 percent! Plus, you won't ever have to worry about losing your data again, Get Backup Pro will be on guard and able to recover your backups to any Macs, even once the app is not installed on those machines.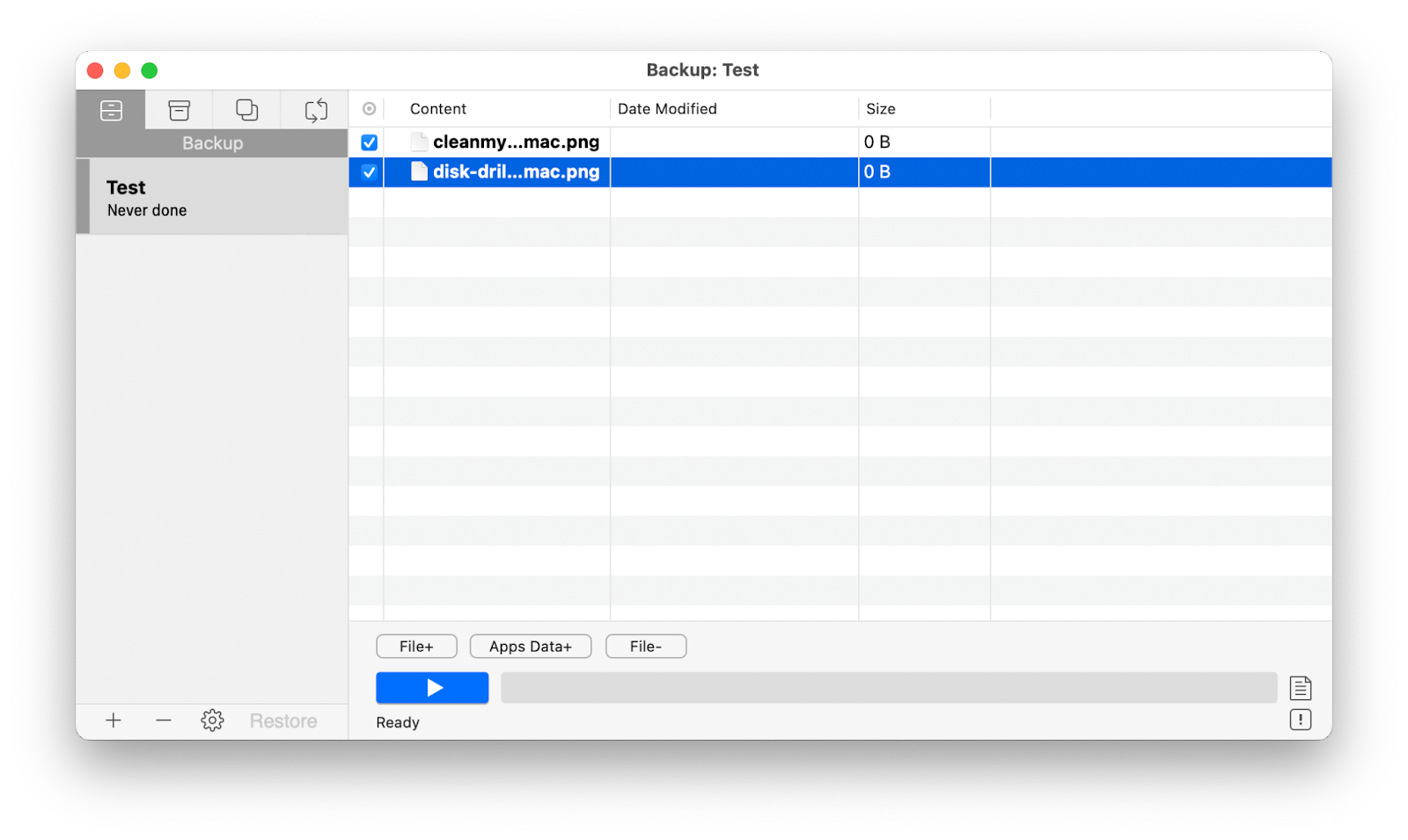 Edit Apple manage devices list with ease
Whether you've sold your iPhone, lost your Apple Watch, or your Mac is not connecting to Apple Music properly, you know different ways to remove Apple device from account to fix any content streaming issues and protect your device's privacy. Now you can take personal security to the next level with Secrets, never lose important data with Get Backup Pro, and benefit from instant data migration features using AnyTrans.
Try these apps for free, along with more than 240 top iOS and macOS utilities available through a seven-day trial of Setapp, a platform designed and curated by experts to make everyday tasks a breeze for you!