What To Do If Your Mac Won't Shut Down
Enough is enough, you have to shut down your Mac and go have some rest. Then, suddenly, you can't. Not because you're a workaholic, but because you literally cannot shut down Mac. Let's figure out why your MacBook won't shut down and how to fix it.
How to shut down your MacBook
Normally, it's pretty easy to tell your Mac what to do — turn off, restart, sleep, or lock screen. All these settings are available in the main menu that you can access by clicking on the Apple logo. So if you want to shut down Mac, you just select this option in the menu and then confirm your action in the dialog box that pops up on the screen.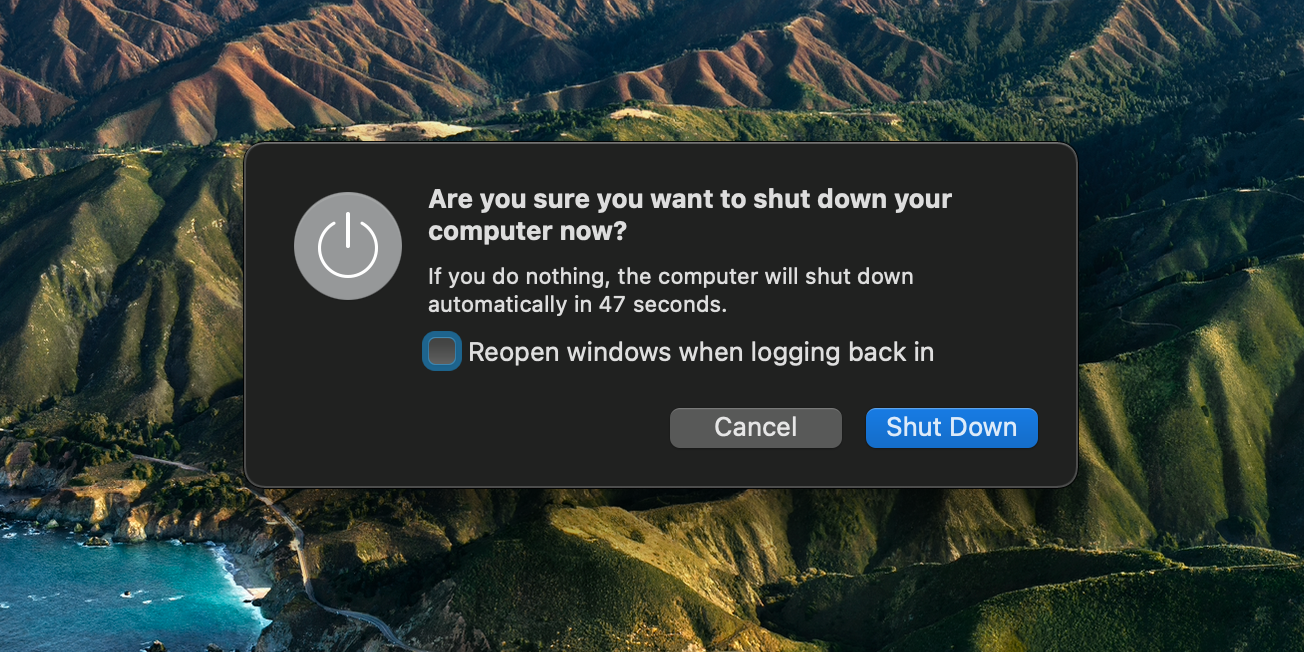 Tip: If you want to skip the confirmation window, hold down Option when clicking on Shut Down in the Apple Menu, and your Mac will shut down immediately.
What to do if your Mac won't shut down
But what if you press that Shut Down button and nothing happens? Very often, when your Mac won't restart or shutdown, it is running some processes that can't allow it to wind down. Knowing how to terminate those processes will help you fix the problem immediately. Here are the things you should do when your MacBook won't turn off.
Wait a few minutes
Maybe your Mac is just tired from all the open files and apps running in the background. In this case, it just needs a bit more time to shut down. We recommend waiting up to 5 minutes for your Mac to quit all active processes and turn off.
Important: Make sure you don't close the lid of your MacBook before it shuts down. This might be the reason why it slows down or misbehaves during shut down.
Force quit apps
Your MacBook won't shut down if some apps refuse to close. So before you start looking for the problems, make sure there are no unresponsive apps hampering the shutdown process.
Here's how you can identify unresponsive apps:
App icons in the Dock are bouncing
There's a dialog box on your screen saying you should quit a specific app
Some apps show alert windows (most often, you'll see them if you've been working on some file and haven't saved the changes).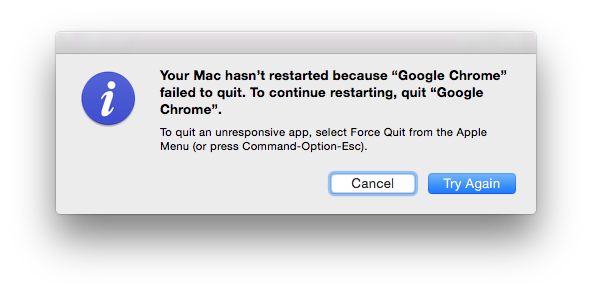 source: Ask Different
Here's what you should do to fix the problem with unresponsive apps:
Right-click on the app > Quit or Force Quit
If that didn't help, go to the Apple menu > Force Quit
If you've quit the app but your Mac won't shut down, click on the Apple logo again > Shut Down.
There might be cases when you don't know the problem exists in the first place. It usually happens when you see no alert pop-ups or bouncing app icons because there are too many windows open on your Mac. In this case, you need CleanMyMac X.
CleanMyMac X is a premier cleanup utility for Mac that helps keep your computer fast and protected. CleanMyMac X will warn you if there are any unresponsive apps on your Mac so you'll be able to force quit them all from the menu bar.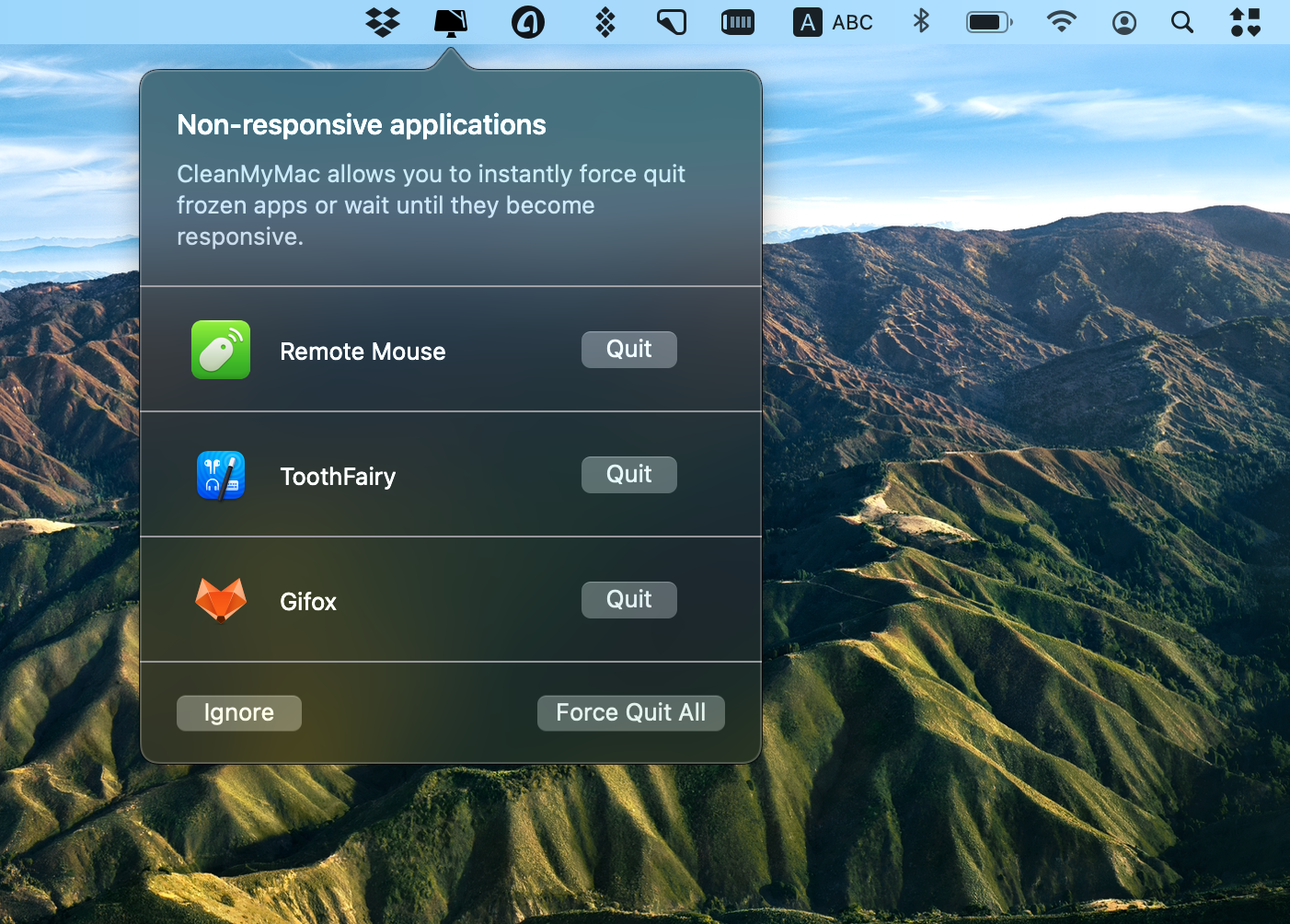 Press and hold the power button
If nothing helps, you might try pressing and holding the power button until your Mac shuts down. This method should work even if some apps act as unresponsive. Once you turn on your Mac after shutting down, you'll see a dialog box saying you've quit because of a problem so you can open the apps that were active when you shut down.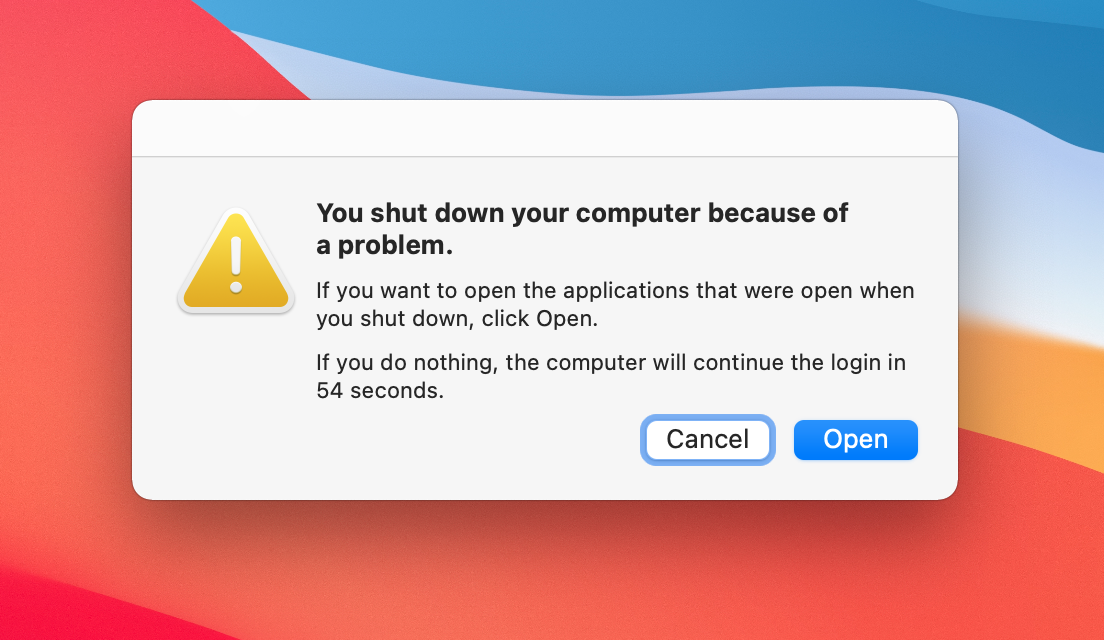 What if there's a freezing issue
Try moving your cursor. If you can't move it, your MacBook has frozen and this is why it won't shut down. Here are a few things you can do to fix it:
Press Command + Control + Power. This should restart your computer.
Press and hold the power button as described above. After you restart, the problem should be gone.
Reset your Mac's System Management Controller (SMC). To put it shortly, the SMC controls some hardware components of your computer. This means if there's a problem with some physical parts of a Mac, resetting the SMC can help. Here's how.
Very often, there's a deeper problem, though. While restarting your computer might fix the symptoms, it doesn't prevent your Mac from freezing in the future. Read this detailed guide to learn why Macs tend to freeze and how to avoid it.
How to prevent Mac won't shut down problems
When you say "my Mac won't turn off" or "my Mac won't restart," you don't talk about the actual problem. You talk about its consequences. To keep your Mac healthy, you should run a thorough diagnostics and figure out why your Mac misbehaves in the first place. This will help prevent similar issues in the future. So read on, the most useful part is below.
1. Speed up your Mac with CleanMyMac X
CleanMyMac X is the app we talk a lot about (as you've probably noticed), but that's because it really is a perfect troubleshooting tool for Mac. From disk space problems to malware, it looks deep into your computer and finds all kinds of issues that could hamper your Mac's performance.
Here's how to optimize your Mac and prevent Mac not shutting down:
Run a Smart Scan to analyze your Mac's speed. Once the Smart Scan is complete, you'll receive recommendations on how to speed up your Mac.
Click on the Optimization module under Speed — this is where you can manage your login items and launch agents. It's recommended to minimize the number of apps that open automatically when you turn on your Mac.
Open Maintenance to free up RAM. Very often, when the disk is full, your Mac will slow down. If that's the case, CleanMyMac X will fix it too.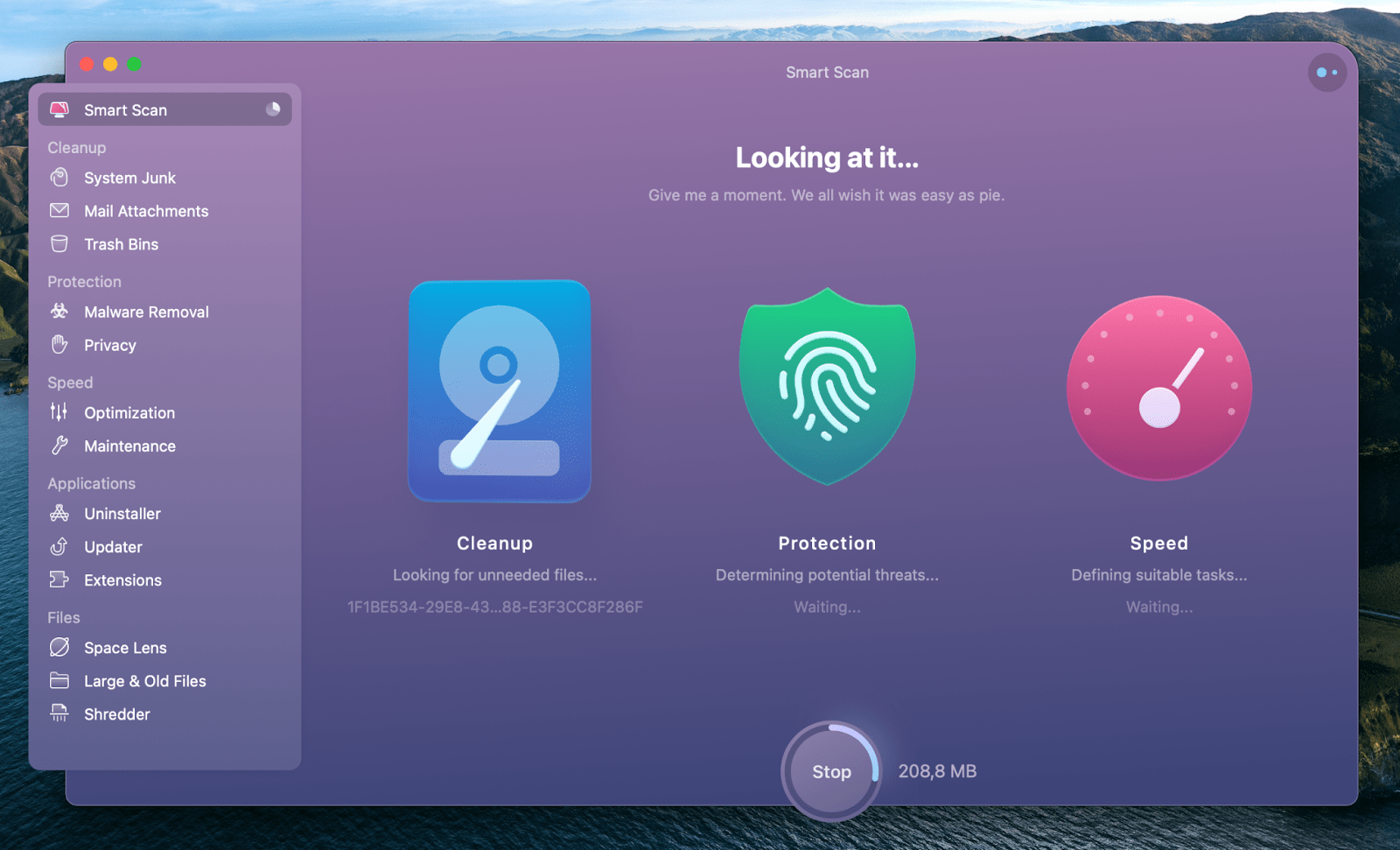 2. Run Apple Diagnostics
If the previous one didn't help, it might mean everything is fine with your system and you should look into the hardware components. Apple Diagnostics can help investigate possible hardware issues. Here's how to run Apple Diagnostics:
Disconnect all external components except for the mouse, keyboard, and display
Connect your Mac to the mains power and ensure the internet is working
Click on the Apple logo > Restart
Press and hold the D key, then follow the on-screen instructions.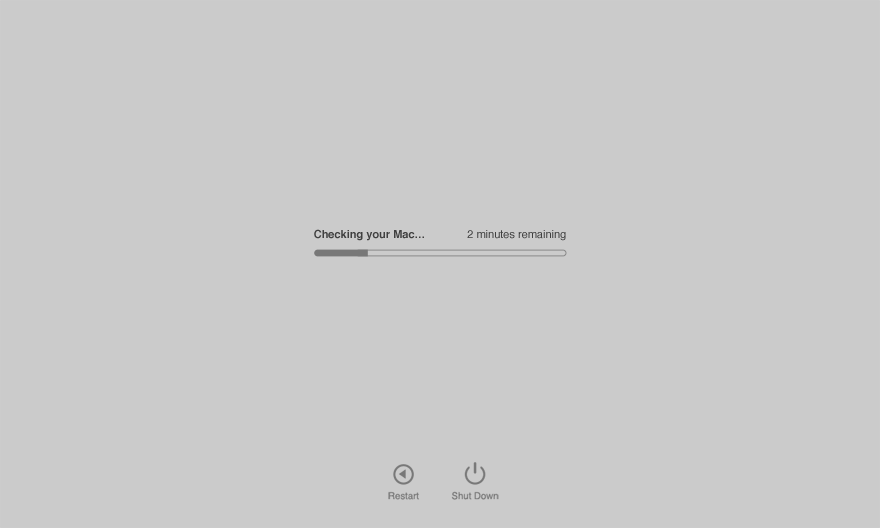 Apple Diagnostics starts automatically and can take up to 5 minutes to complete. Once it's finished, you'll see the list of issues with error codes. Take a photo so you can look into them after you restart the computer.
3. Update macOS and apps
An update is not an answer to the question "how to shut down Mac" but updating your system and crucial apps can make your Mac faster and more efficient. So why not give it a try? To update macOS, access the Apple menu > About this Mac > Software Update. If there are any updates pending, go ahead and install them.
To achieve even better performance, update your apps too:
To update the App Store apps, go to the App Store > Updates > Update all (or select those you want to update)
To update non-App Store apps, you should open every app individually, go to their menu and select "Check for updates."
For sure, the latter is hard to do because you probably don't know what apps need an update in the first place. This is where CleanMyMac X comes in handy, again. It has an Updater feature that helps you install updates for all apps at once (App Store or non-App Store). You can update all of them in bulk or select specific ones and uninstall the rest (CleanMyMac X has an Uninstaller tool, too).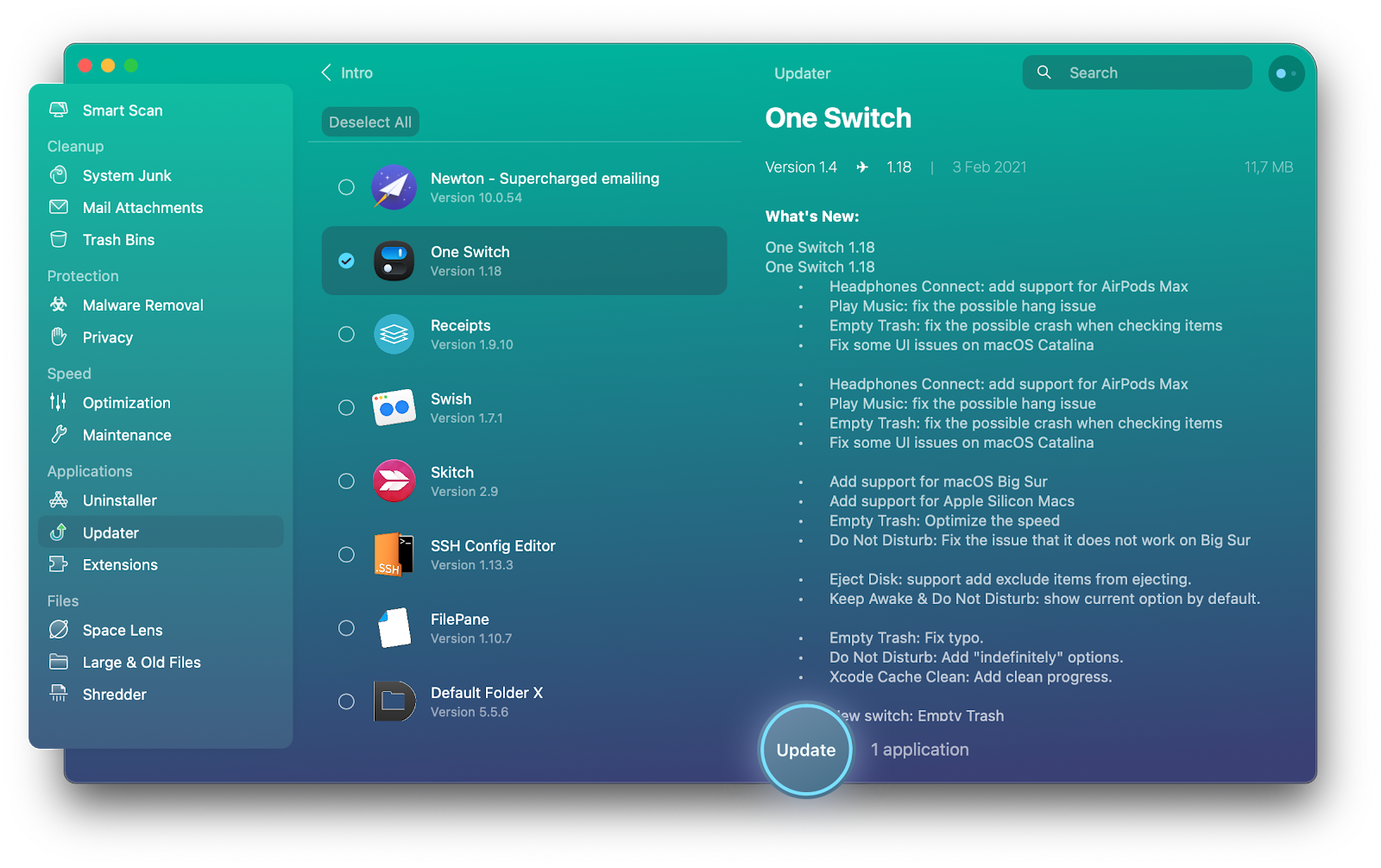 4. Monitor your Mac's performance
You've done a great job cleaning and optimizing your Mac. Make sure it doesn't go in vain! Keeping your Mac fast and efficient is easy if you keep an eye on the key indicators like CPU, memory & disk usage, and more. If you do that, the chances are you don't have to face the Mac-won't-shut-down problem ever again.
iStat Menus is everything you need to monitor your Mac's health on a constant basis. It's a system performance analyzer that lives in your menu bar, pretty much staying out of your way. Whenever you need insights on your Mac's performance, just click on it and you'll see real-time stats immediately. Here's what iStat Menus can do for you:
Check CPU and overall activity by cores
Show the amount of wired, compressed, active, and free memory + a list of apps that use the most memory
Provide insights on disk space and disk activity
Analyze your network connection (this includes a bandwidth breakdown for 5 most-used apps)
Show active processes (if your Mac won't shut down because of an active process, iStat Menus will help you get to the core of the problem)
Show real-time stats on fan speeds, hard drive temperature, voltages, power, etc.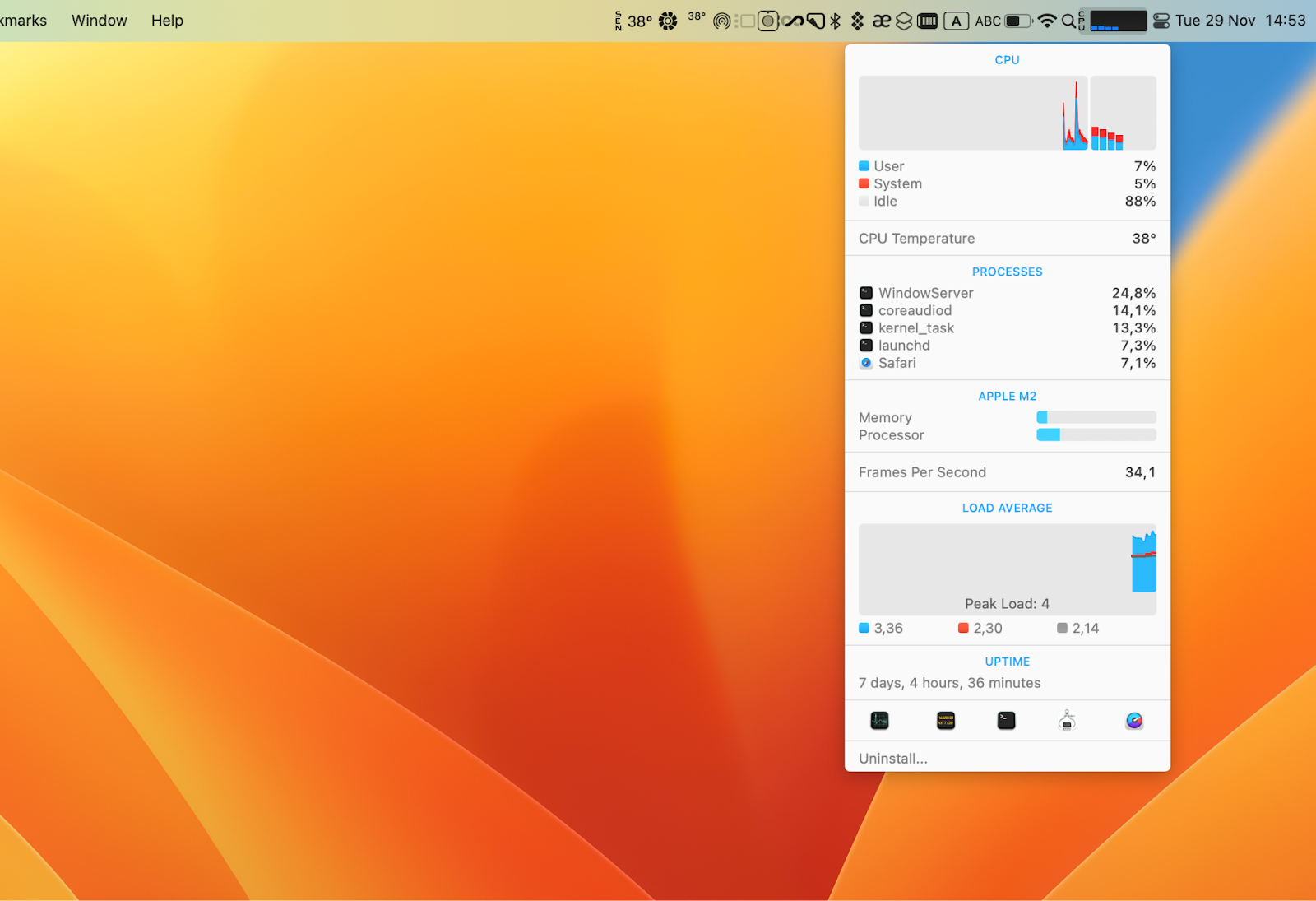 5. Fix Mac issues with Setapp
Setapp comes to help if your MacBook Pro won't shut down, some apps misbehave, there's a problem with sound...you name it. It's a productivity service that combines 210+ Mac and iOS apps to help you work faster and more efficiently.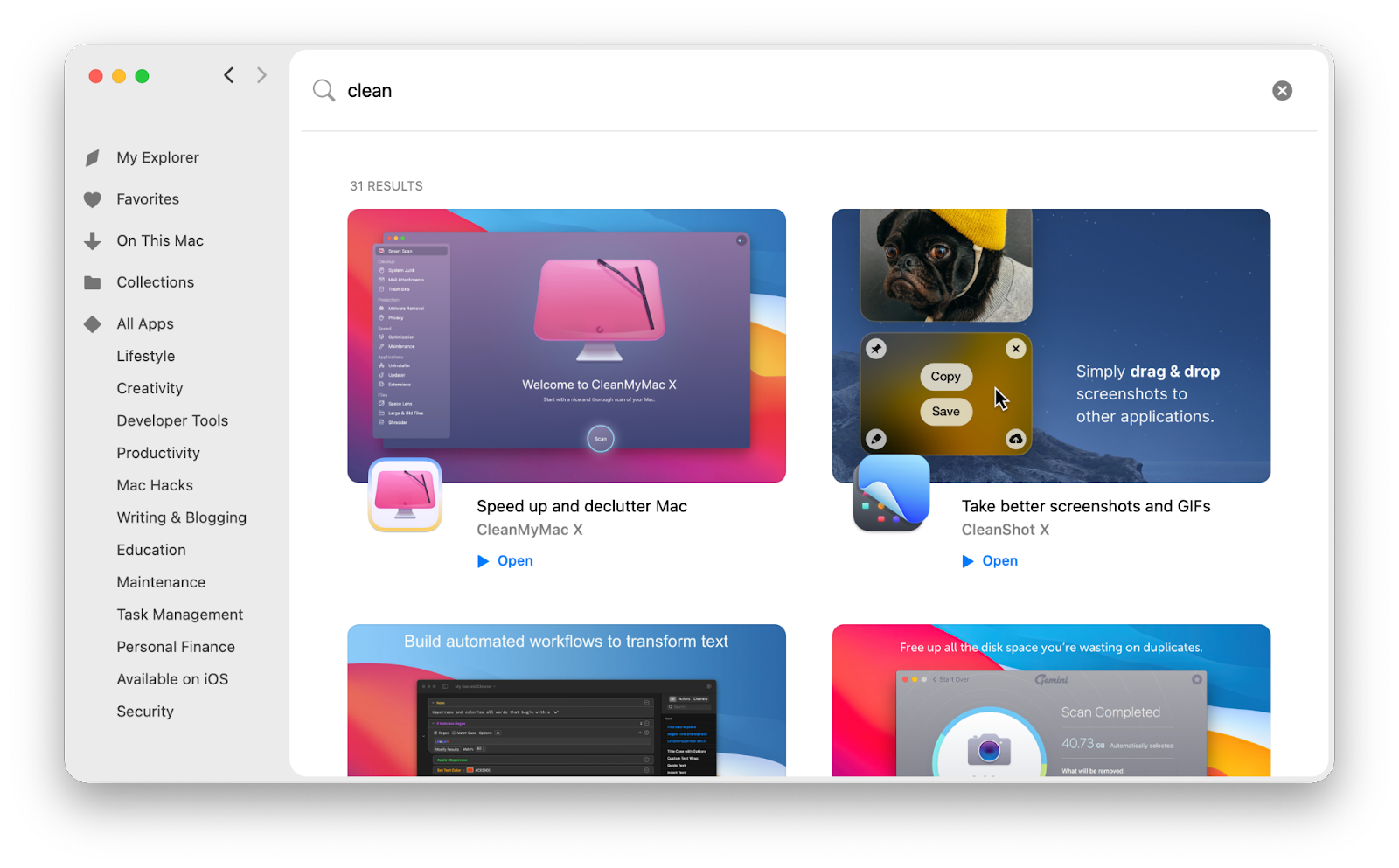 Just install it on your Mac and whenever there's an issue or a task you want to solve, go and type it in search. Setapp will give you the right app to solve your problem. You can try it for 7 days free, then $9.99/month.