Mac won't shut down — how to fix it?
Shutting down your Mac should be quick. If it constantly takes several minutes, or you have to shut it down forcibly, there are probably some issues. Usually, to avoid them, you need to clean up your Mac, monitor its health, and update macOS. Let's find out which apps help automate these tasks and what to do if your Mac won't shut down.
How to shut down your MacBook
How to shut down Mac by default?
Click the Apple logo in the upper left corner of the screen and then click Shut Down.
After that, you have one minute to cancel the action. You will see a window offering to cancel the shutdown.
In the same window, there is a checkmark next to "Reopen windows when logging back in" by default. If you don't want your Mac to launch the programs you're using in the current session when you turn it on again, just uncheck it.

Before closing the lid, wait for the screen to go blank. Otherwise, the laptop won't have time to shut down properly and complete all processes. As a result, it may take longer to turn on next time.
What to do if your Mac won't shut down normally
The scheme described above is simple, and there shouldn't be any problems, but technology can malfunction, so let's face it. So, what to do if MacBook won't shut down?
Wait a little
Usually, shutdown takes no more than a minute, but sometimes, the process takes longer. You may have opened a lot of files or had many processes running in the background. These are additional tasks for your MacBook: to sort everything, save it, and not lose it. Give it at least five minutes to finish. If it doesn't work, try another method.
Shut down your Mac using a keyboard shortcut
If your MacBook Pro won't shut down properly, it might respond to a keyboard shortcut. The correct shortcut is as follows: press one or more keys in the combination, except the last one. Then press the last key to "activate" the combination.
There are two shortcuts to close programs and turn off the Mac:
Control + Option + Command + Power button
or
Control + Option + Command + Media Eject
This is a pretty smart way because it takes care of unsaved changes to files. If you haven't completed an action, Mac will ask you if you want to save the changes.
Force quit all apps
Before the MacBook turns off, it has to close all programs. And this is sometimes where the cause of failure lies. Maybe, there are too many programs opened, or one of them crashed. Maybe, it can't close correctly. Maybe it contains unsaved files.
In any case, the programs will have to be closed, even if it's forced.
Mac offers at least two ways to do this. The first is to use the combination Option (or Alt) + Command + Esc. The second is through the menu that opens by clicking the Apple logo > Force Quit. In both cases, you will see a window with a list of programs that you can force quit.
Note: The above method of closing programs is effective but slow. If you have a dozen of them running, then clicking on buttons can be annoying. Besides, not all programs require a forced exit. In this case, try QuitAll.
Once installed on your Mac, this app appears in the menu bar (top of the screen). When you click on it, all running programs (including the background apps) are displayed, and you can close them all in one click.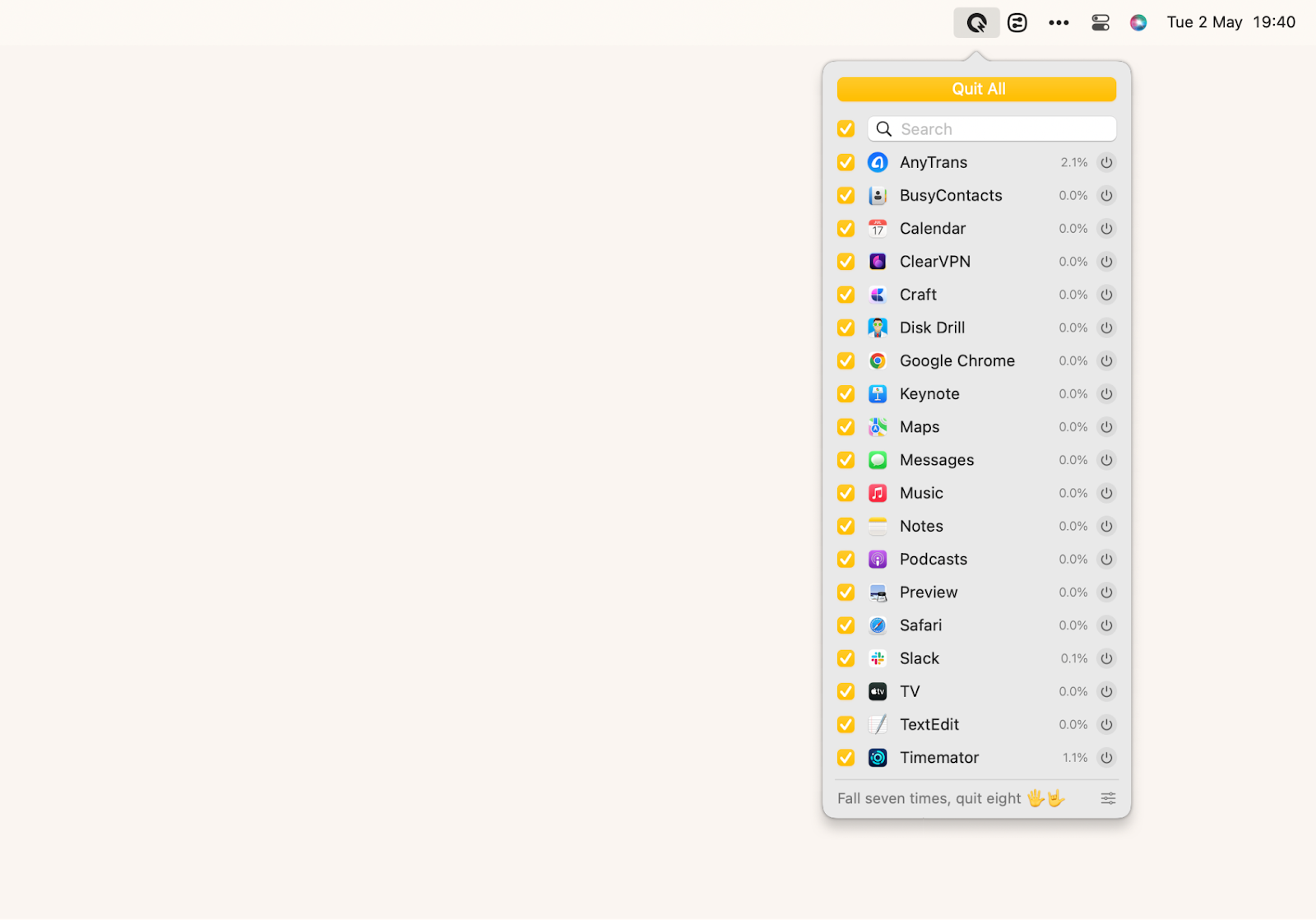 Choose the closing method in the settings: normal or forced. If the program contains unsaved data, the app will ask you if you want to save it.
QuitAll is helpful not only to shut down your Mac. It's valuable because it allows you to speed up your laptop or computer if it's slowing down due to numerous background processes.
Press and hold the power button
If the Mac won't restart, there is a rough way to shut it down: to hold down the power button for 4-10 seconds. You will see a window confirming that the laptop is turning off.
MacBook doesn't like this shutdown method because it has to forcefully close all programs, even if they are unfinished. Data from unsaved files may be lost. We recommend using this method only as a last resort if no other options work.
Reset SMC and PRAM/NVRAM
The crash we'll talk about next is rare, and you'll probably be able to identify it for sure. If your Mac is taking forever to start up, the screen resolution is somehow "wrong," and something is going on with the sound, try restarting NVRAM (Non-Volatile Parameter of RAM).
NVRAM contains information about the speaker volume, time zone, screen resolution, and the boot disk you have chosen.
So, if you're having trouble with this, and the Mac won't restart or shutdown, here's the instruction:
Turn off your laptop and then turn it back on
Press Command + Option + P + R as soon as you press the power button or as soon as you hear the distinctive Mac startup sound
Release the keys when you hear the second beep.
You can also try to perform the same task through Terminal. Follow the steps below:
In Finder, click Go > Utilities > Terminal
Then type in the nvram -c command and press enter.
Another type of problem may involve symptoms like strange behavior of the battery, keyboard, power adapter, fan, trackpad, and too long shutdown. In this case, reset SMC (system management controller). You need to press and hold for 10 seconds the Shift + Control + Option + Power button when your Mac is off. Then release the keys and turn on your laptop.
Has your Mac frozen?
If your laptop is frozen, you can try the methods described above to fix it. Start by forcing the programs to close. If that doesn't work, try a keyboard shortcut:
Control + Option + Command + Power button
or
Control + Option + Command + Media Ejector.
If you cannot shut down Mac anyway, press and hold the power button for 4-10 seconds.
How to prevent these types of problems in future
Usually, the problems that cause your Mac to crash are preventable. All you need to do is clean and speed up your MacBook, monitor its health, and update its macOS. The easiest way to automate these processes is to use dedicated software.
Speed up your Mac with CleanMyMac X
CleanMymac X is an app that cleans, optimizes, and protects your Mac.
Here's what it does:
Speeds up your Mac. Your system and hard drive can get cluttered. It happens. This app will clean and speed them up.
Cleans up your disk. CleanMyMac finds old files and cache with unnecessary content and clears them.
Updates and uninstalls apps. Moving an app to the trash bin isn't enough. The leftover files won't disappear and will clutter up your space. CleanMyMac X can handle it.
Removes malicious data and protects your privacy. The app neutralizes viruses and deletes browsing data if necessary.
Removes unnecessary large files. You may not even know about them. Check them out!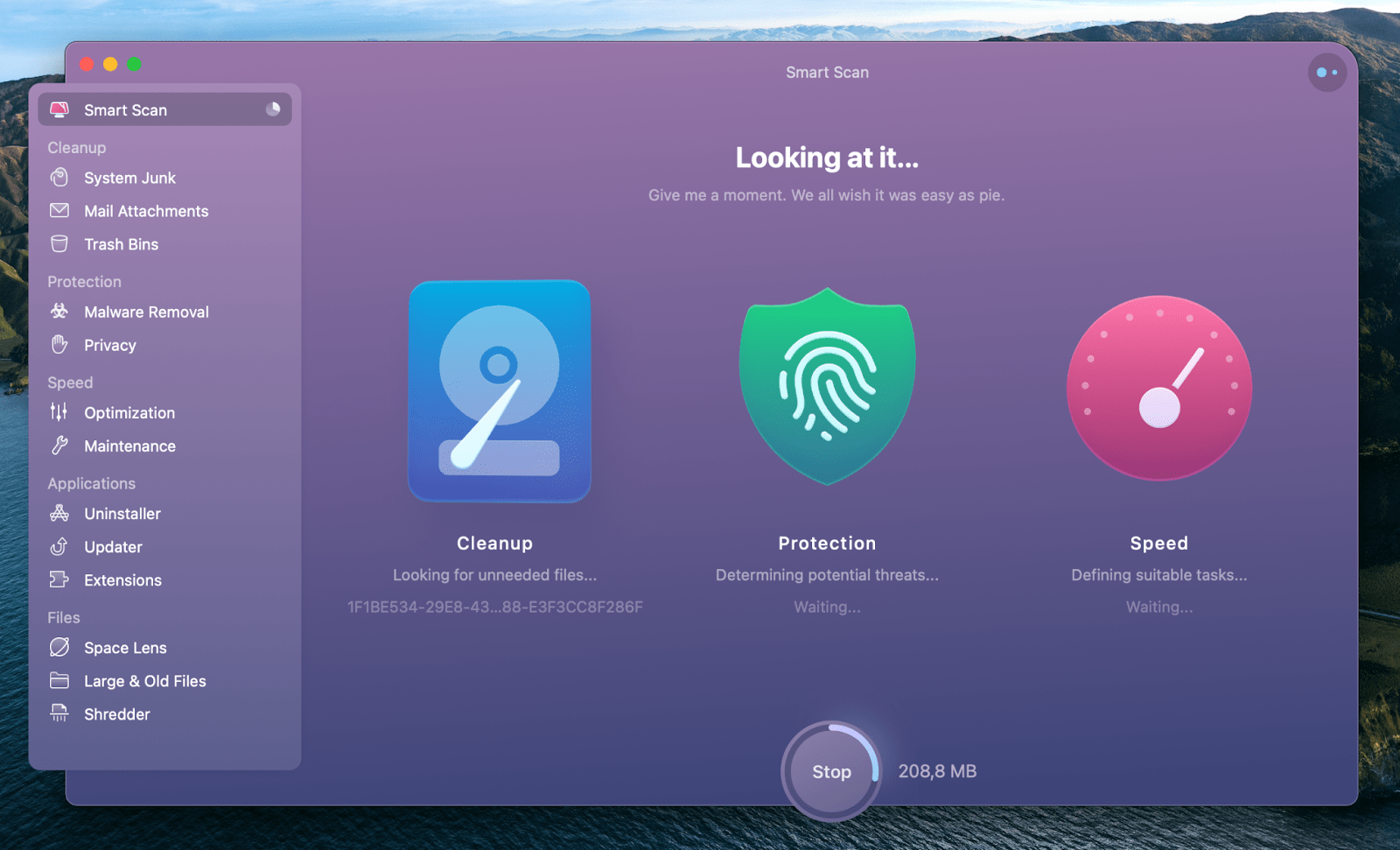 The procedure is simple: launch the app on your Mac, click "Scan," and grant the program the necessary permissions. And CleanMyMac X will do the rest. Just accept or reject its suggestions.
Monitor your Mac's health
To monitor your CPU, GPU, sensors (fan, current, power, voltage), and more, use the iStat Menus. After installation, it will appear in the menu bar at the top of your screen, and with a single click, you can display parameters such as CPU load, disk usage/space, memory load, disk activity, fan sensors, temperature monitor, battery life and cycles, weather, etc.
All graphs are delivered in real-time, and you can display them in different formats, such as a pie chart or bar graph.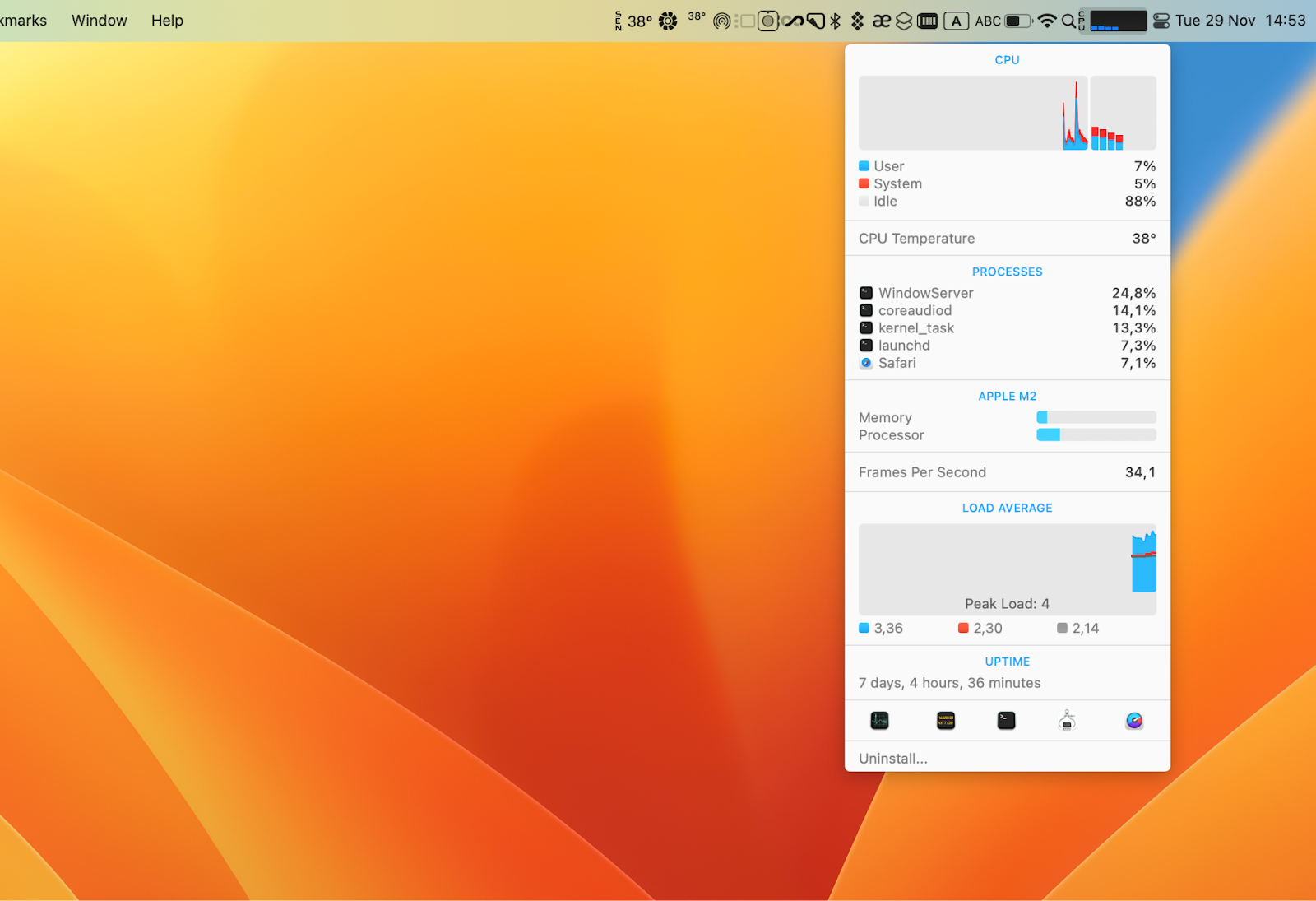 Update macOS
To keep your Mac running well, you need to update the macOS. Let's do it.
First, make sure you're connected to a network and Wi-Fi. Also, it's a good idea to back up your Mac just in case.
The standard way to update the macOS is as follows:
Click on the Apple logo > System Settings
Click General > Software Update. Also in this window, you will see the Automatic updates line. Your Mac can do the updates on its own at night if it's connected to a network and Wi-Fi
Click Update Now > Agree to the terms
Enter your password and wait for the new macOS to install.
Tip: Before installing the new macOS, we recommend that you make a backup of your system. In general, this is an action that should be done regularly. In case of an unexpected accident, you will always have a fresh system and files at hand.
Try ChronoSync for this.
Here's what it does:
Backs up or synchronizes your home folder. Synchronizing a bunch of folder files is easy!
Works on all your Macs, synchronizes all your data, and keeps backups. The key is to install the app on all your Macs.
Supports email and system notifications. Notifications come to your email when you're not on your Mac.
Connects to Mac, iPhone, and iPad and allows you to access data on these devices.
Sets the schedule. Allows you to set programs to run automatically on a daily, weekly, or monthly basis.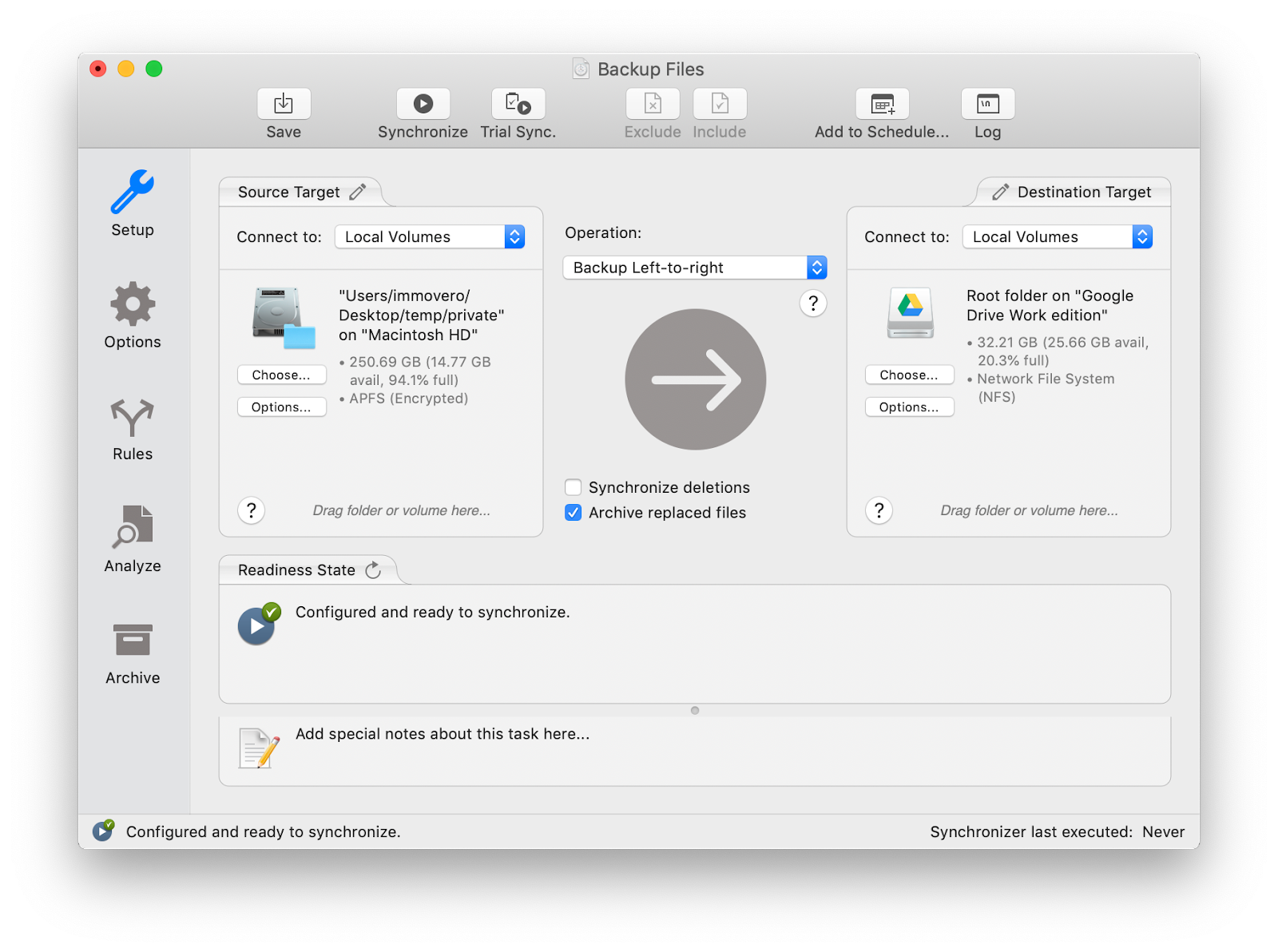 The ChronoSync app also creates backups and mounts file servers, so you won't lose the files you need.
Fix Mac not shutting down and other issues faster
If your MacBook won't turn off all the time, the problem could be that it's cluttered with unnecessary files, running at overcapacity, or running too many programs at once.
The first thing to do is to wait at least five minutes.
If nothing changes, try to shut it down forcibly by using the Control + Option + Command + Power button or Control + Option + Command + Media Eject combination.
You can also hold down the Power button for 4–10 seconds.
If you also have problems with the speakers, screen resolution, or laptop keeps turning on for a long time, then Reset SMC and PRAM/NVRAM.
To avoid these problems, clean and speed up your Mac, monitor its health, and update the macOS using these apps:
All of these tools are part of the Setapp family and come with 240+ other Mac, iPhone, iPad, and web apps in one subscription. Try any of them for free for seven days. When the trial period is over, pay only $9.99/mo for all the awesome apps.
FAQ
How do I force my Mac to shut down with the keyboard?
Macs have a standard combination that shuts down the computer: Control + Option + Command + Power button or Control + Option + Command + Media Eject. The computer will ask you if you want to keep unsaved changes to files or programs.
How do I force my Mac to shut down with a black screen?
To turn off your Mac, hold down the Power button for 4-10 seconds.
Why is my Mac screen black but still on?
There are two most likely scenarios. The first is that your Mac has gone into sleep mode to save power or battery. If you don't like it going to sleep, change the settings. The second is that your Mac is low on power. Plug it back in.