How to do a clean install of macOS 11 Big Sur
A free public version of macOS Big Sur 11 has been available since November 12, 2020. It offers the best Safari we've ever seen, a huge design upgrade, and one very neat Control Center. Ready to dive in? Let's see how you can do it.
There are two ways to install a new macOS: 1) run a regular upgrade via Apple's main menu (replace your current macOS with Big Sur on your startup drive); 2) start from scratch and clean install macOS. Option number 2 is a bit more cumbersome and takes more time — but there are many benefits to it. In this article, we explain how to clean install macOS Big Sur without any trouble and why it's good for your Mac.
Why you should clean install macOS 11
As soon as the new macOS appears, we can't wait to try it. With Apple promising lots of awesome enhancements, it's hard to resist the temptation. So it's no wonder people tend to rush things and choose the quickest way to upgrade macOS — the regular install. Not only is it faster, it also allows you to maintain all your saved settings, apps, and files on a new system. But is it really something your Mac wants?
Speaking in defense of clean install, here's how it benefits your Mac:
You get rid of the unnecessary clutter and old system bugs
Your Mac will run faster — as if you've just recently unboxed it
Uninstall software you never use
Fix common problems like Mac slowing down, freezing, etc.
Generally, installing a new macOS Big Sur on a clean drive will give your Mac enough space to breathe. You'll be less likely to experience common Big Sur problems and you'll get a chance to keep only the data you really need. It's like you bring the new furniture in an empty apartment instead of a cluttered one.
macOS 11 compatible Macs
Before you take any steps to switch to Big Sur, make sure you check compatibility. With the release of macOS 11, Apple moved a year or two ahead in terms of supported devices, so the chances are your Mac might be off the list (ouch). Here are the Macs that support Big Sur:
MacBook (2015 or later)
MacBook Air (2013 or later)
MacBook Pro (2013 or later)
Mac Pro (2013 or later)
Mac Mini (2014 or later)
iMac (2014 or later)
iMac Pro (2017 or later).
Not sure which model you have? You can easily check it by clicking on the Apple icon > About This Mac. You'll find the information you're looking for in the Overview section.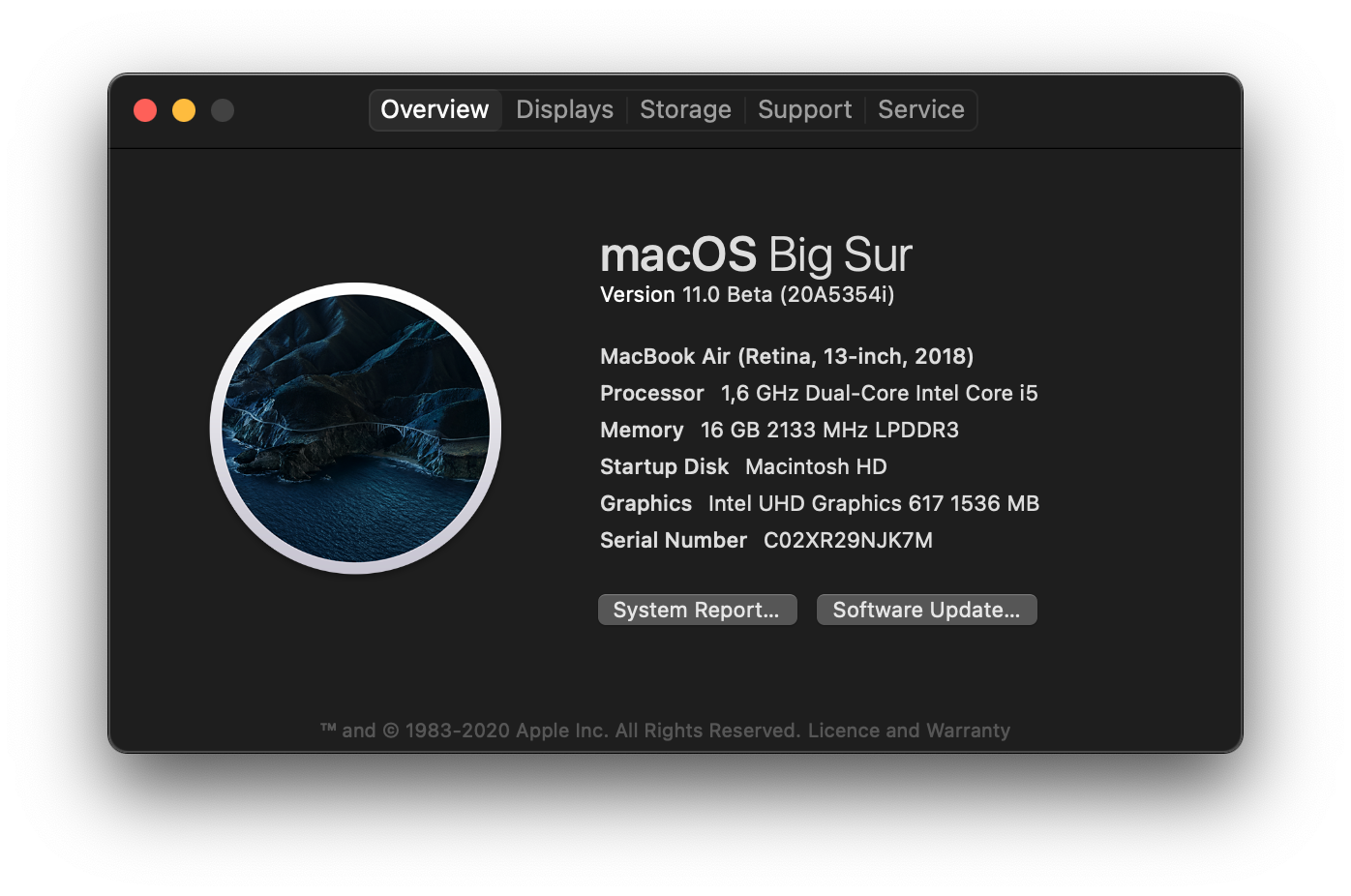 Steps to clean install Big Sur
Once you've decided to start anew with macOS Big Sur, you're only six steps from achieving your goal. Make sure you follow all of the steps and have a safe experience.
Step 1: Remove all the junk
When we say that clean installation removes everything from your Mac, we forget one important detail — a backup. If you back up your Mac before upgrading, you'll be able to restore all your files on the new macOS (and with it all the clutter your old system contained.) You want the files back, but you don't want the clutter. So the first step should be a thorough cleanup of your system.
No worries, it only sounds intimidating. Apps like CleanMyMac X allow you to remove all the clutter — from old caches to file duplicates — in one click. Here's how to get ready for your Mac backup:
Open CleanMyMac X > Smart Scan
Wait a few seconds for CleanMyMac X to finish the scan
View the unneeded files detected by CleanMyMac X and click Remove.
You can also choose to remove system junk only (find the option in the Cleanup section). This will delete most of the redundant files and let you reclaim lots of storage space. Still, a smart scan cleanup will do a better job while it can also detect potential malware and provide insights into your Mac's performance. So if you have a couple of minutes, spend it on Smart Scan.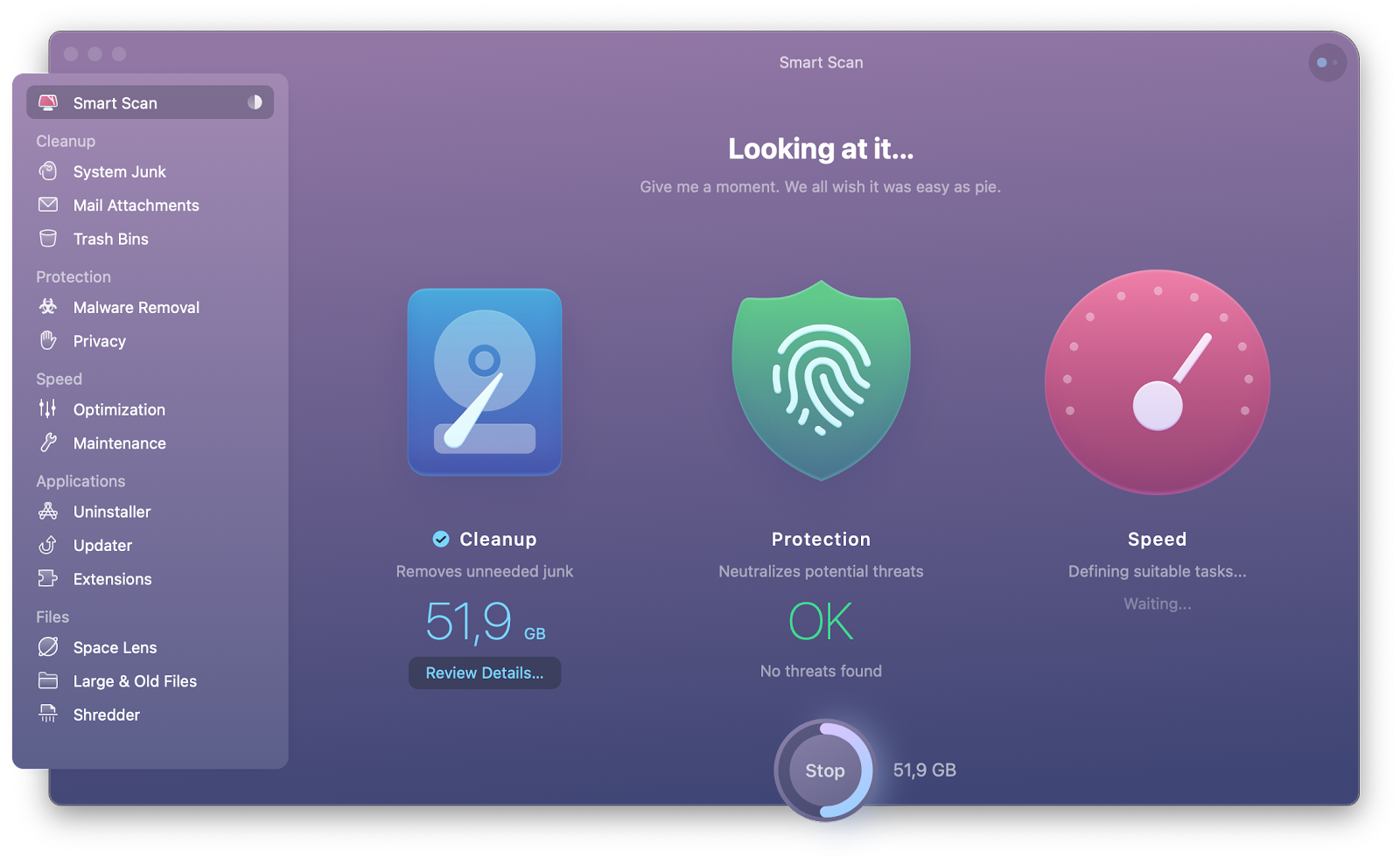 Step 2: Create a secure backup of your Mac
Many people use Apple's native Time Machine to back up their files, but we don't recommend it. Users report Time Machine tends to carry over macOS issues into new installations. What's more, Time Machine can't do bootable backups, which means you'll have to go through a long restoration process in case there's a drive crash or an error of any kind.
Get Backup Pro is a third-party backup utility that makes sure you run zero risks when you clean install Big Sur. And not only Big Sur. It's generally the best alternative to Time Machine we've seen so far. Get Backup Pro allows you to create both backups and bootable clones so you can easily take your data to a replacement drive in case something goes wrong. Plus, you get great features like compression, backup scheduling, and the ability to choose specific files for a backup.
Here's how to back up your Mac before the Big Sur upgrade:
Open Get Backup Pro and select Backup in the sidebar
Click on the plus button to create your backup project
Customize destination (make sure you save your backup to an external drive)
Add files and apps data to your backup by clicking on the plus button
Hit the Backup button (it looks like the Play button) to start the process.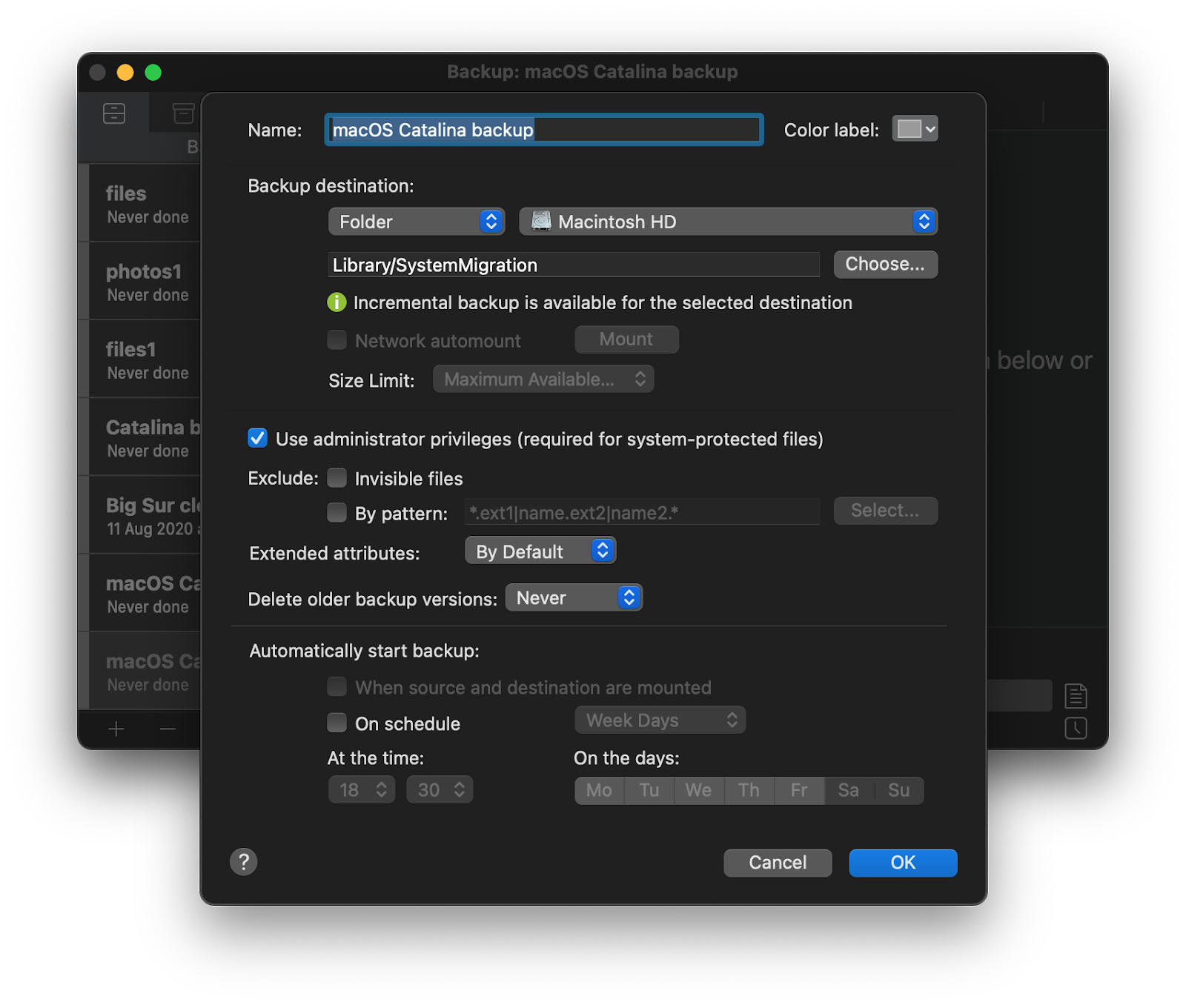 Step 3: Download the Big Sur installer
Starting November 12, you'll be able to access the Big Sur installer in the Apple menu > About This Mac > Software update. Alternatively, you can download the installer from the Mac App Store. It's free and effortless.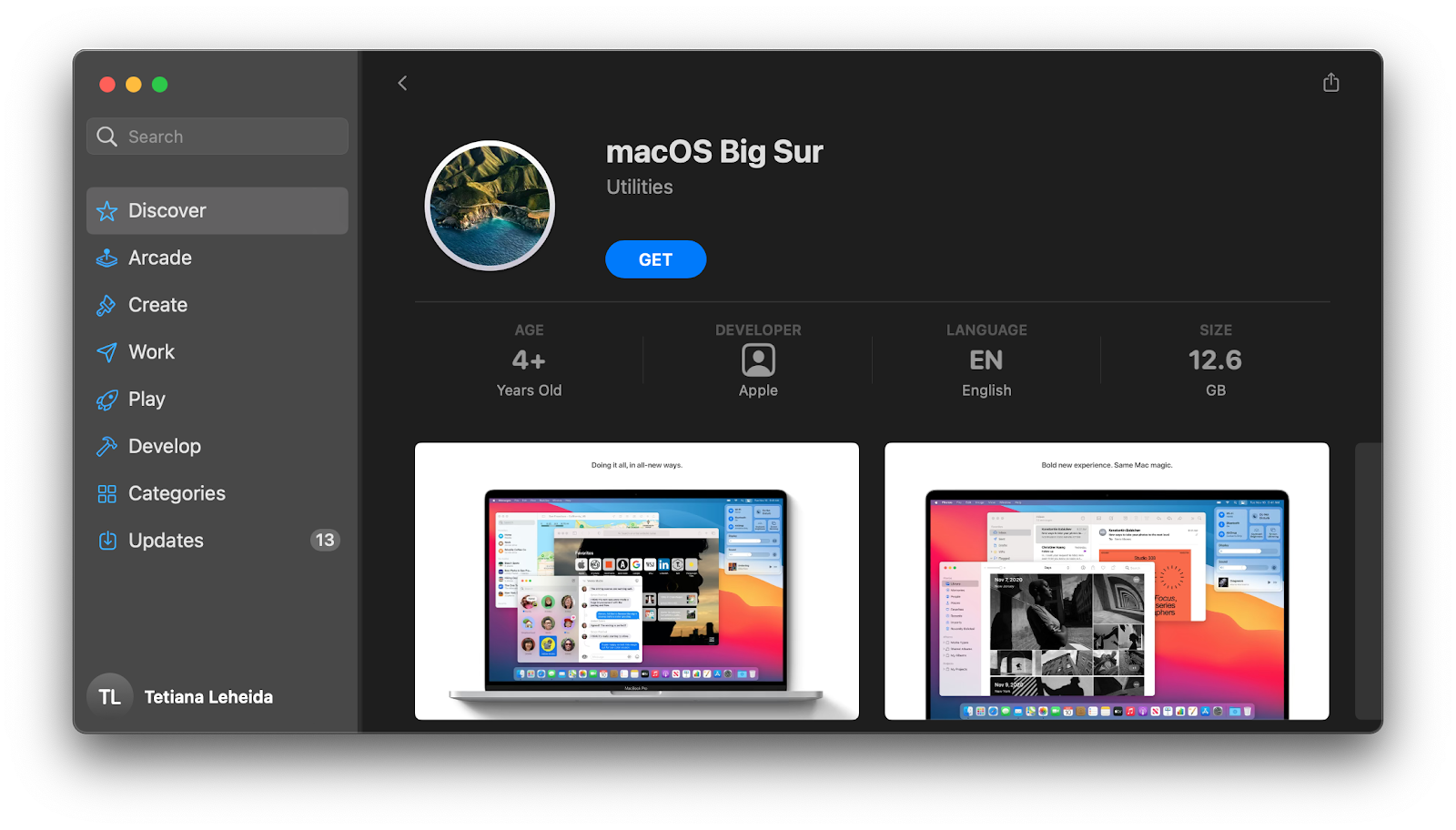 But be careful, it's important to not rush things here. Your goal is to save the installer to your Applications folder and not to go through the installation process. So if the installer automatically launches, don't click Continue. Close the window by clicking on "Quit install." You'll use the installer later when you clean install macOS.
Step 4: Create a bootable USB installer
Prepare a flash drive USB with at least 16GB of free storage. Connect it to your Mac and start creating a bootable USB installer. First, you'll need to erase everything from your drive:
Access Disk Utility on your Mac
Select your drive from the list of internal drives and click Erase
Set the format to Mac OS Extended
Confirm that you want to erase the drive.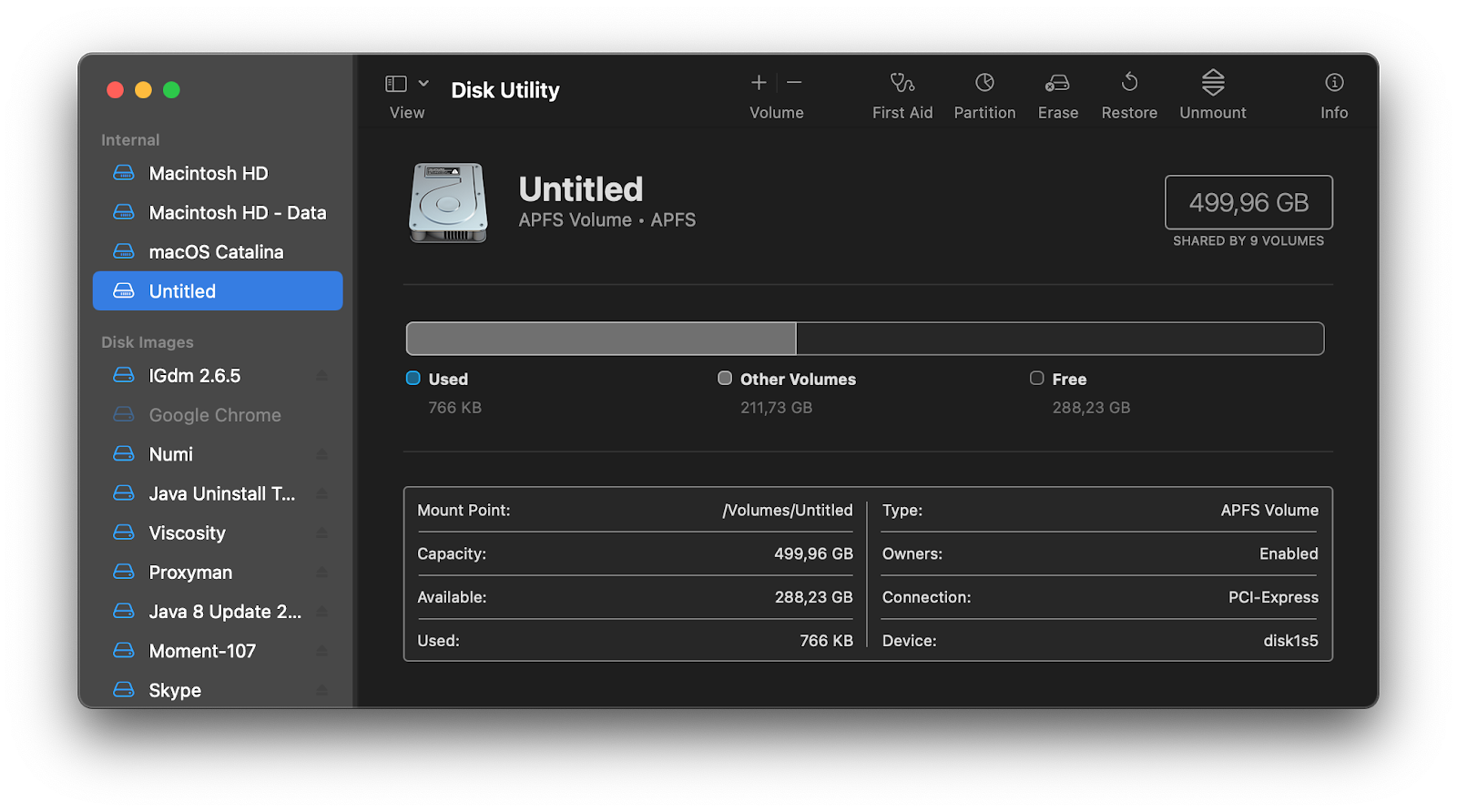 Next step, open Terminal and enter the following command:
sudo /Applications/Install\ macOS\ Big\ Sur.app/Contents/Resources/createinstallmedia --volume /Volumes/Untitled
Remember, "Untitled" is the name of your connected drive. If you name it differently, make sure you replace the name in the Terminal command.
Press Return and Y. You might need to type your admin password to confirm your action. Once the process is complete, click Done and close Terminal. That's it. You just created a bootable USB installer that's based on the Big Sur installer you had downloaded before.
Step 5: Erase your startup drive
Time to say goodbye to your old macOS. Erase your startup drive fearlessly — you have your most important files securely backed up. Here are the three steps:
Shut down your Mac and hold down Command + R to enter the Recovery Mode
Access Disk Utility and select your main startup drive
Click Erase in the menu and confirm your action.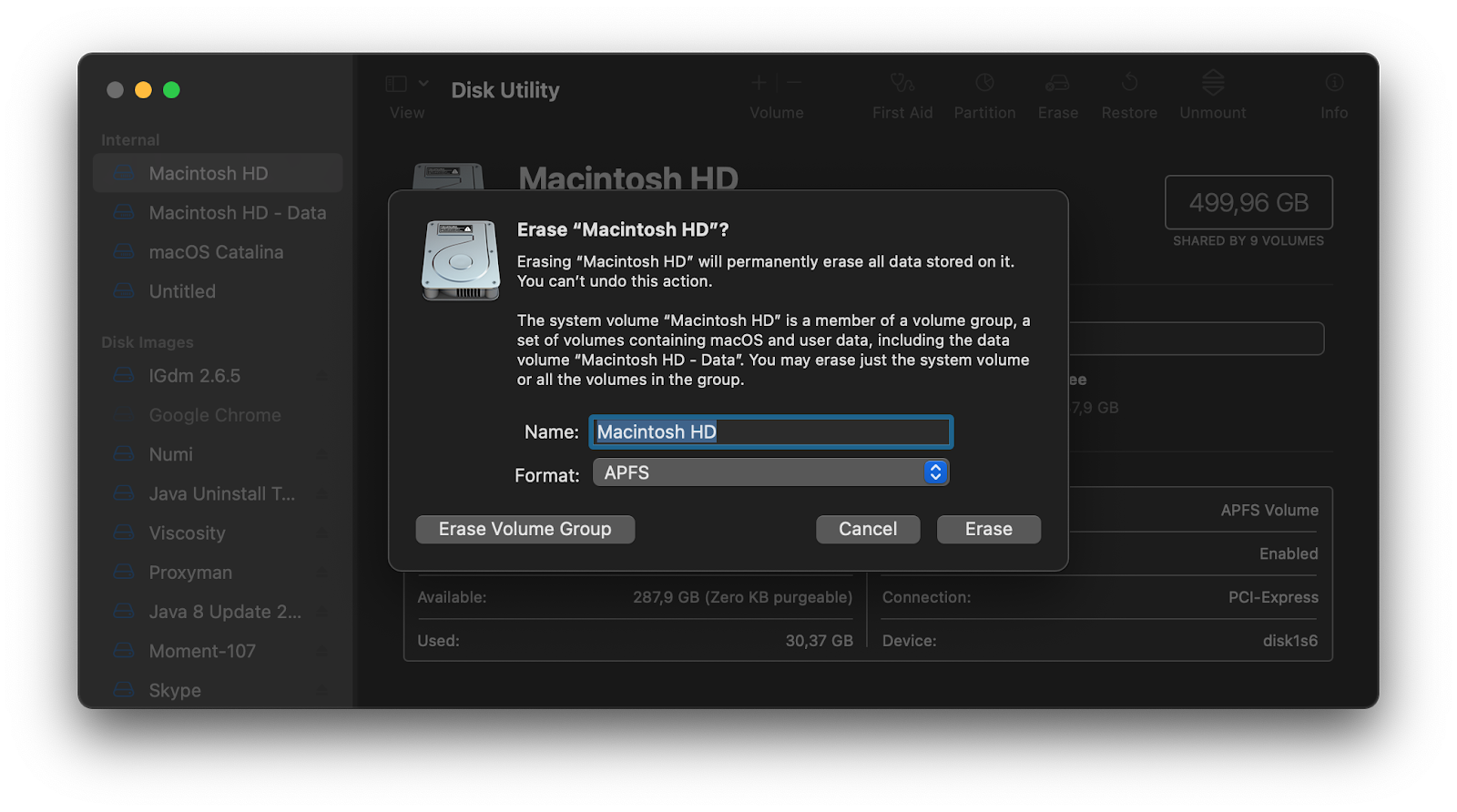 Step 6: Clean install macOS 11 Big Sur
Finally, here's how to do a clean install of macOS using your USB installer drive:
Restart your computer and hold down Option
Go back to the initial screen of Disk Utility
Choose to install macOS from the connected USB drive
Click on Install macOS to confirm your action. Breathe out. And go celebrate!
How to reinstall macOS Big Sur
If you're not ready to go celebrate because the installation didn't work, you can try to reinstall Big Sur. All you have to do is restart your Mac and boot in Recovery Mode (Command + R), then click on Reinstall macOS. Hopefully, it works this time.
How to run a regular macOS update
If you don't want to clean install Big Sur just yet, you can place the new update on top of your current drive, which will preserve all the settings. If your Mac runs on OS X Mavericks or later, you can update directly to Big Sur. Note that Apple recommends you have around 35.5GB available storage and 4GB of memory on your macOS before upgrading. This will be easy to achieve by removing unnecessary files with CleanMyMac X.
Also, even if you run a regular update, do make sure you back up all your data with the Get Backup Pro app. Some might call it an unnecessary precaution. We call it a one-click process that will keep your files safe under any circumstances.
Here's how to run a standard macOS Big Sur installation:
Click on the Apple icon in your menu bar > About This Mac
In the Overview section, click on Software Update
Click on Update Now to download the installer
Follow the installation instructions on your screen.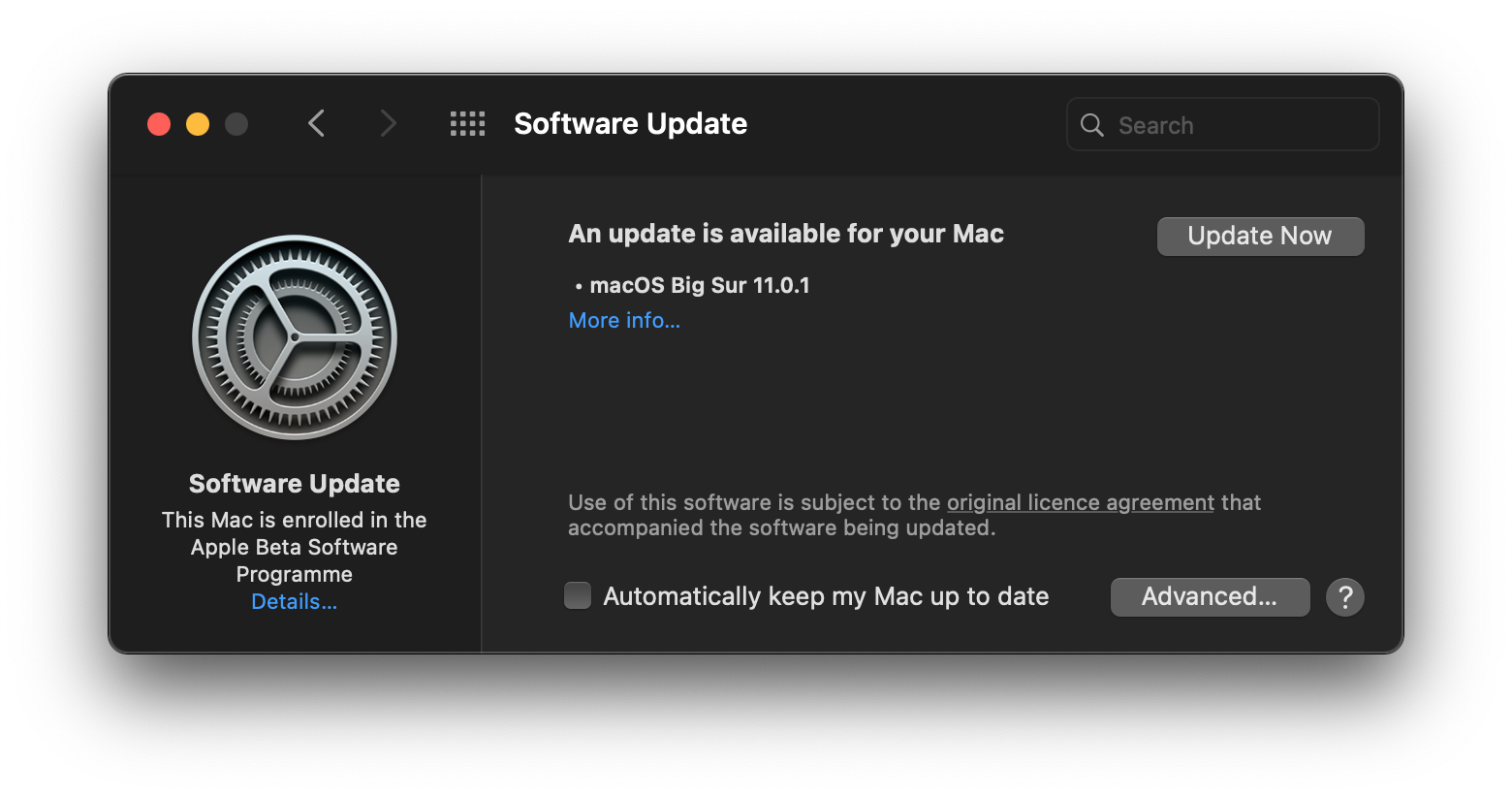 macOS clean install safety toolkit
Setapp has CleanMyMac X, Get Backup Pro, and 200+ other top-notch apps that will support your Mac on its way to Big Sur. So if you have the Setapp membership, no need to worry, you're safe. Even more, Setapp has Disk Drill, a popular data recovery tool — just in case the impossible happens and you lose your data switching to the new macOS. The whole suite of apps in Setapp is free for 7 days, then $9.99/month. Give it a try!