How to downgrade from macOS Monterey to macOS Big Sur
Every major macOS update entails some risk. Especially if it's a beta. Maybe it doesn't work perfectly on your Mac, there are speed issues, or some features are unavailable. For example, early beta users report that Universal Control is not available with the Monterey beta. This is a big frustration for many because Universal Control could be the sole reason you've updated in the first place.
No wonder some people are looking to downgrade from Monterey to Big Sur. In this article, we explain how to do it safely with a couple of apps and a few minutes of your time.
Downgrade macOS Monterey in 5 steps
If you've clean installed macOS Monterey, the process won't seem very new to you. There's some Terminal work involved, plus you'll need a good backup tool, a 16GB USB drive, and — surprise, surprise — your Mac. Ready to roll back? Here's how it works.
Step 1. Back up files
If you've just recently updated to Monterey and now want to downgrade, you might think you haven't accumulated enough files worth backing up. Well, that could be a mistake. The funny image you saved from the chat, the report you've been working on, the PDF your workmate sent you — every small thing will be gone from your Mac after you downgrade. So take a moment and create a backup, it will only take a few minutes with Get Backup Pro.
Get Backup Pro is a great alternative to Apple's native Time Machine — superior in all ways imaginable. It can do scheduled backups, bootable disk clones, and, most importantly, back up only the essential files, which minimizes the amount of clutter backups tend to cause. Here's how to back up your data before downgrading:
Open Get Backup Pro and start a new backup project ("+" button)
Name your backup and choose the external disk to save it to
Add files and folders to your backup > Start.
Because you'll probably only add the important files, it will take much less time to back up than you'd spend with Time Machine.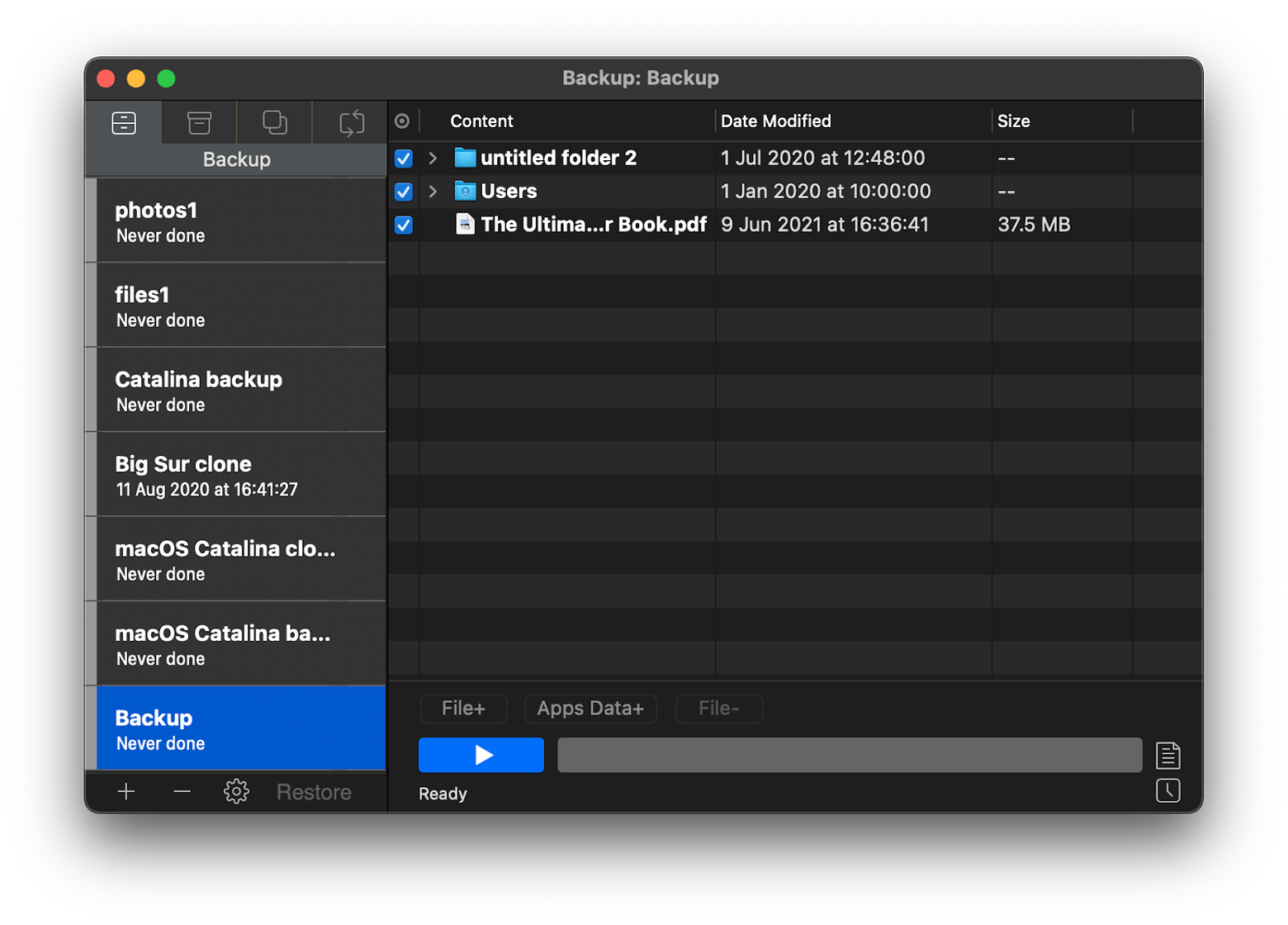 macOS update and downgrade are both a great chance to clean up your Mac. Consider entering your new macOS life with minimum system clutter and great Mac performance.
CleanMyMac X scans every corner of your Mac, detecting redundant files, misbehaving apps, old caches, and all kinds of junk your system generates over time. Even more, it can identify malware and suggest optimization tasks that will make your Mac faster. Fill two needs with one deed — back up and clean up your Mac while downgrading. You can clean up first, and then back up everything that's left to avoid hand-picking files. Or just keep CleanMyMac X at hand for regular cleanups, that's the best investment you can make into your Mac.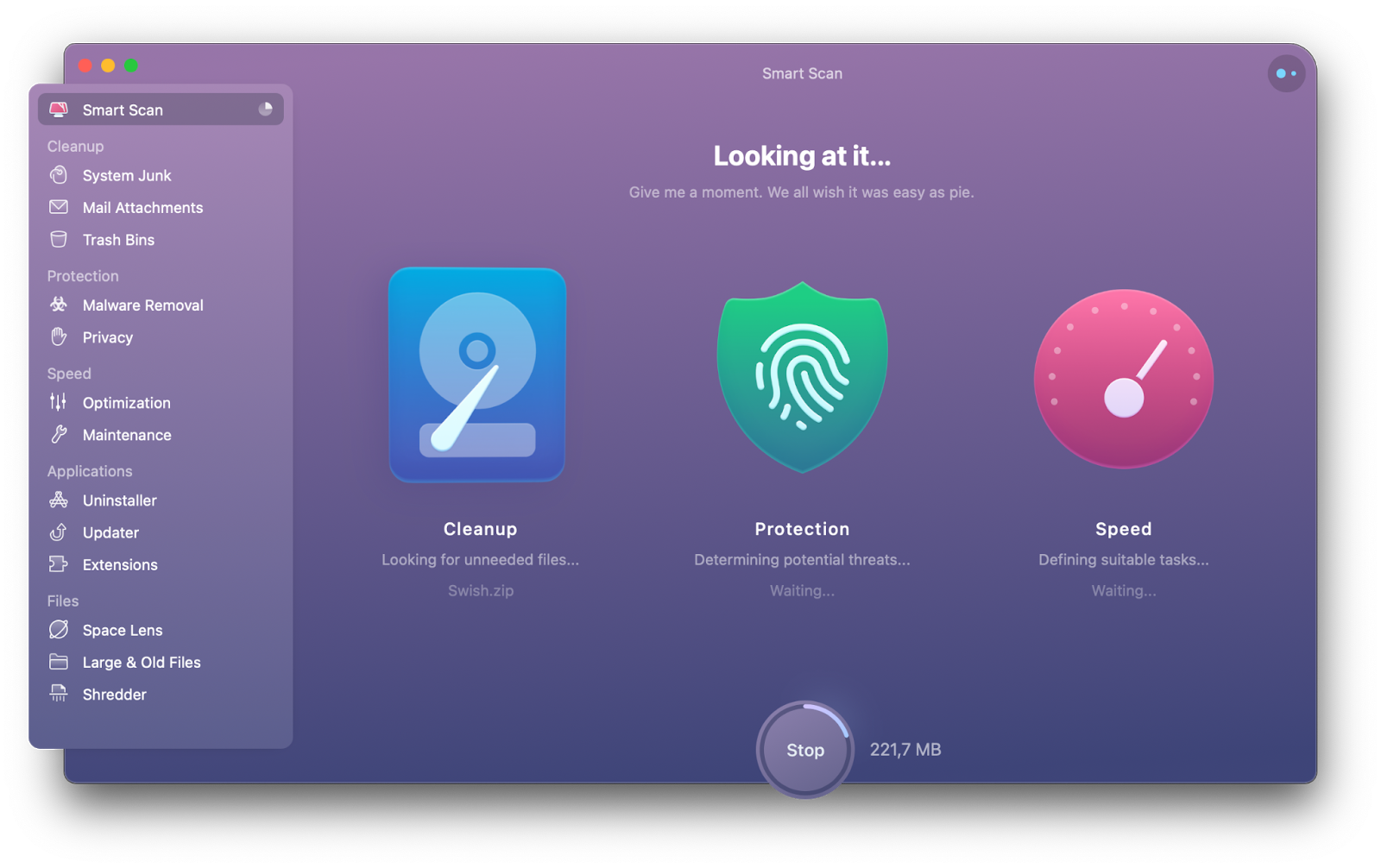 Step 2. Install macOS Big Sur on a bootable drive
After deleting Monterey from your Mac (we'll do it a bit later), you'll need to install Big Sur from a bootable drive. Maybe you have it ready and can skip this step. Otherwise, format a USB drive (minimum of 16GB) and get a Big Sur installer:
With the external drive connected to your Mac, open Terminal
Type the following command: sudo /Applications/Install\ macOS\ Big\ Sur.app/Contents/Resources/createinstallmedia --volume /Volumes/MyVolume
Click Return
Enter your admin password if prompted
Confirm your action
Quit and eject the drive.
Note: If you need to format your drive first, follow these steps:
Connect the drive to your Mac
Access Utilities > Disk Utility
Click Erase next to your connected drive
Choose APFS or macOS Extended and confirm you want to erase it.
Step 3. Delete Monterey
Now you can downgrade macOS Monterey by deleting it from your drive:
In the Apple menu, click Restart
Press and hold Command + R to reboot in Recovery
Access Disk Utility > click your drive > Erase
Choose APFS or macOS Extended and confirm you want to erase it.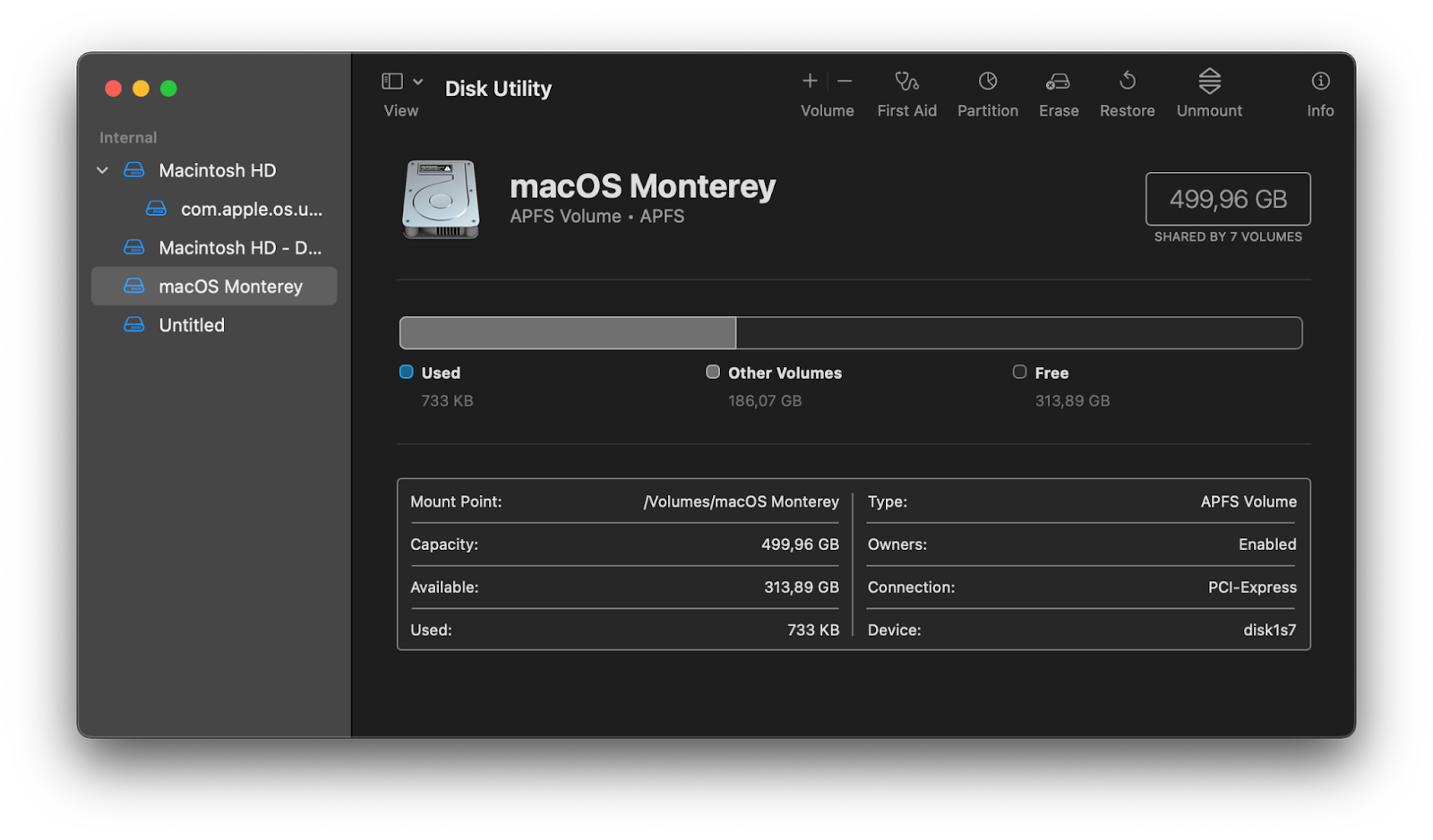 Step 4. Reinstall Big Sur
For this step, please make sure your Mac is connected to the network and you have your bootable drive connected to Mac. Here's what you need to do:
In the Apple menu, click Restart
Press and hold Option
You'll see a window with startup disk options — choose Big Sur installer
Click Continue and reinstall macOS 11. The whole process might take a while.
What if booting from an external drive doesn't work?
It might have to do with booting permissions. With newer Macs (2018 and later), there might be the problem that they don't allow booting from external media by default. You can easily fix this:
Restart your Mac and enter the Recovery mode (Command + R)
Go to Utilities > Startup Security Utility
Type a firmware password
Select "Allow booting from external media" in External Boot.
Step 5. Restore your backup
With Big Sur reinstalled, it's time to get the files you've backed up back. If you've used Time Machine, you need to restart your Mac and boot into Recovery. Then, access Utilities > Restore from Time Machine Backup > Continue. Choose the backup source and then the backup itself, and restore your data. Once it's done, your Mac will reboot.
To restore a Get Backup Pro backup, it's enough to open the app, choose your backup from the list, and click Restore. As easy as that.
Apps to replace macOS Monterey features on Big Sur
Name one thing you'll miss about macOS Monterey. Now, smile, because the chances are you won't have to miss it. Here are the Setapp apps and small app collections that replace some of Monterey's best features:
Live Text < TextSniper
Live Text on macOS 12 makes the text in photos selectable (so you can copy it). With the TextSniper app, this capability is fully covered. Even more, TextSniper enables you to extract text from any visuals — YouTube videos, slides, movie scenes, pictures, anything.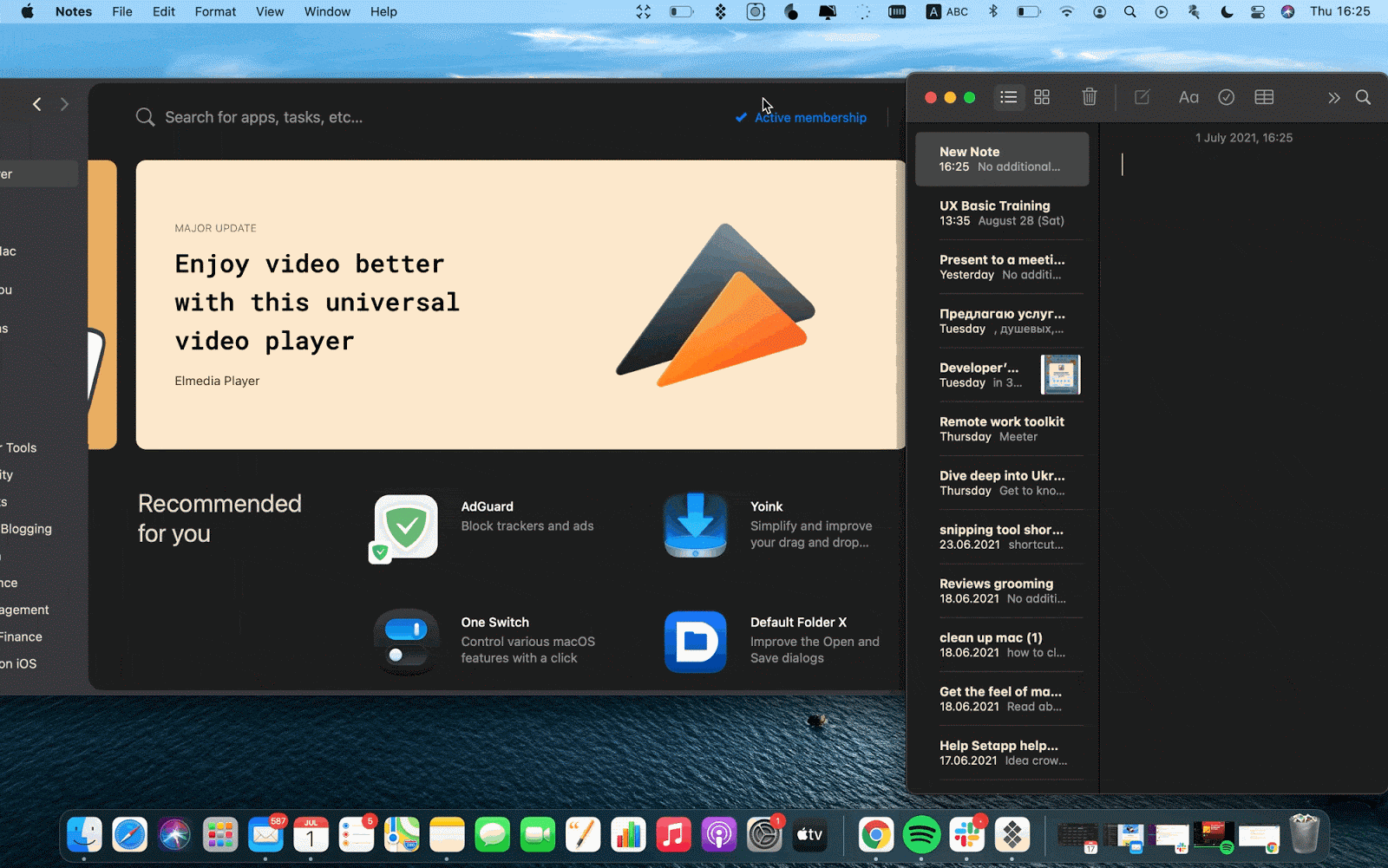 Quick Note < NotePlan + SideNotes
With Quick Note, an update to Notes, you can jot down ideas and save links on the fly. When you want to add something to Notes, just save it to a quick note that pops up anywhere you work — app, desktop, or browser.
Setappians get a duo of apps to replace this Notes update — NotePlan and SideNotes. NotePlan is undeniably a stronger alternative to Notes, with things like bidirectional links, Calendar, task planning, and more. SideNotes does the same as Quick Note — adding contextual notes wherever you work. Together, they make a great match.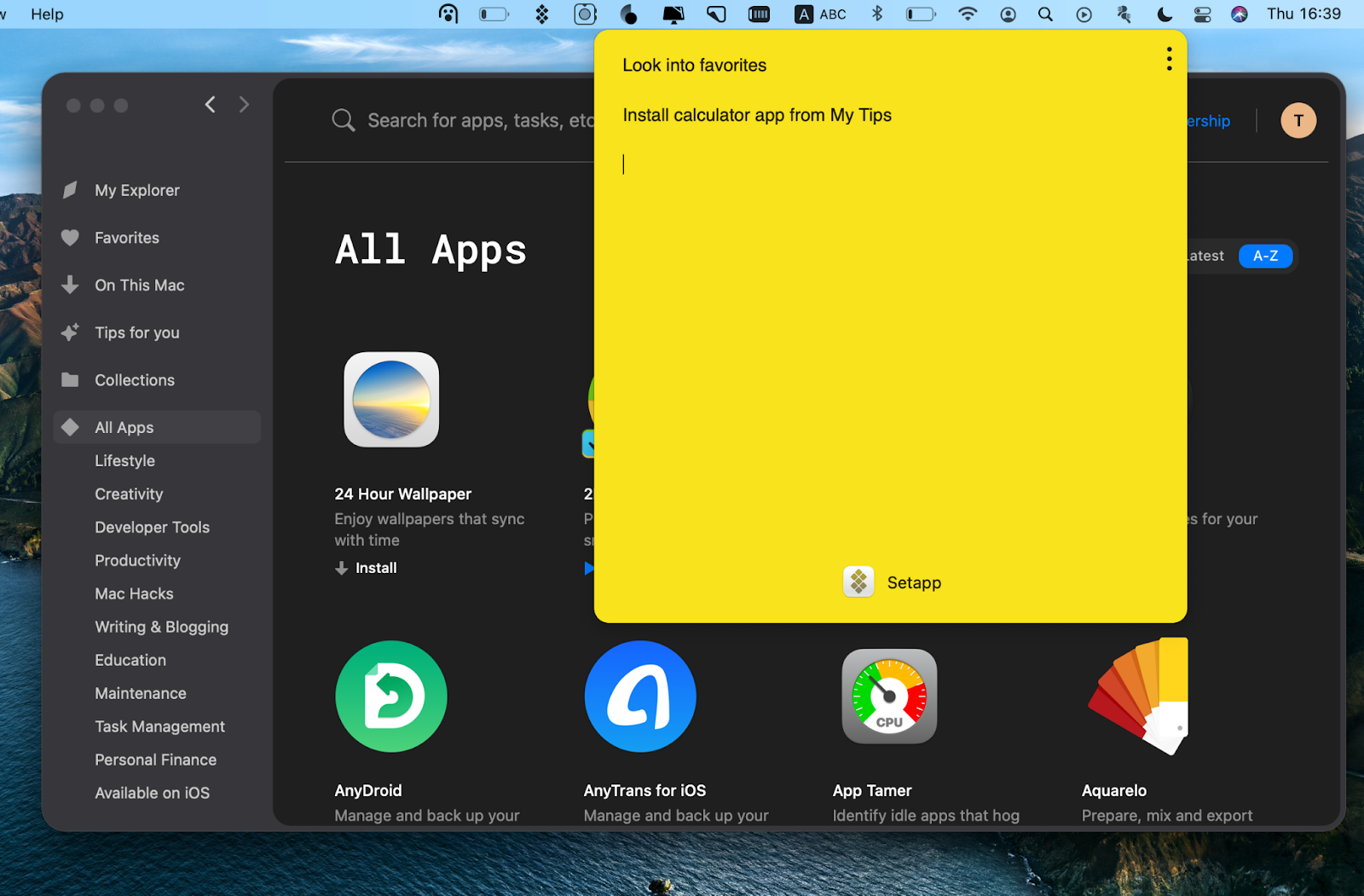 Focus mode < Session + Be Focused + One Switch
Focus mode comes to Mac to help you filter out distracting notifications. It's an improved version of Do Not Disturb that lets you customize notification settings based on what you are doing — working, watching YouTube, or streaming music. For example, you might want to turn off all notifications except when your partner texts you.
You can recreate the zen tranquility of undisturbed work or chill time with quite a few tools on Setapp, even if you decide to downgrade from Monterey. For starters, Session and Be Focused are two excellent Pomodoro apps for timed productivity sessions. The former works great for creative tasks, while the latter is an excellent choice for routine work or, crossing to-dos off your list. Finally, One Switch lets you go beyond Notification Center and put all your frequently-used toggles in the menu.
Psst, and if you prefer to just mute your notification sounds, try out Serenity — the app allows you to quickly toggle on and off various notification sounds without you having to wander to your System Preferences. And if your vice is drifting to fun content instead of staying on task, you can block your most tempting distractions with Focus, an app to block apps, websites, or even specific pages.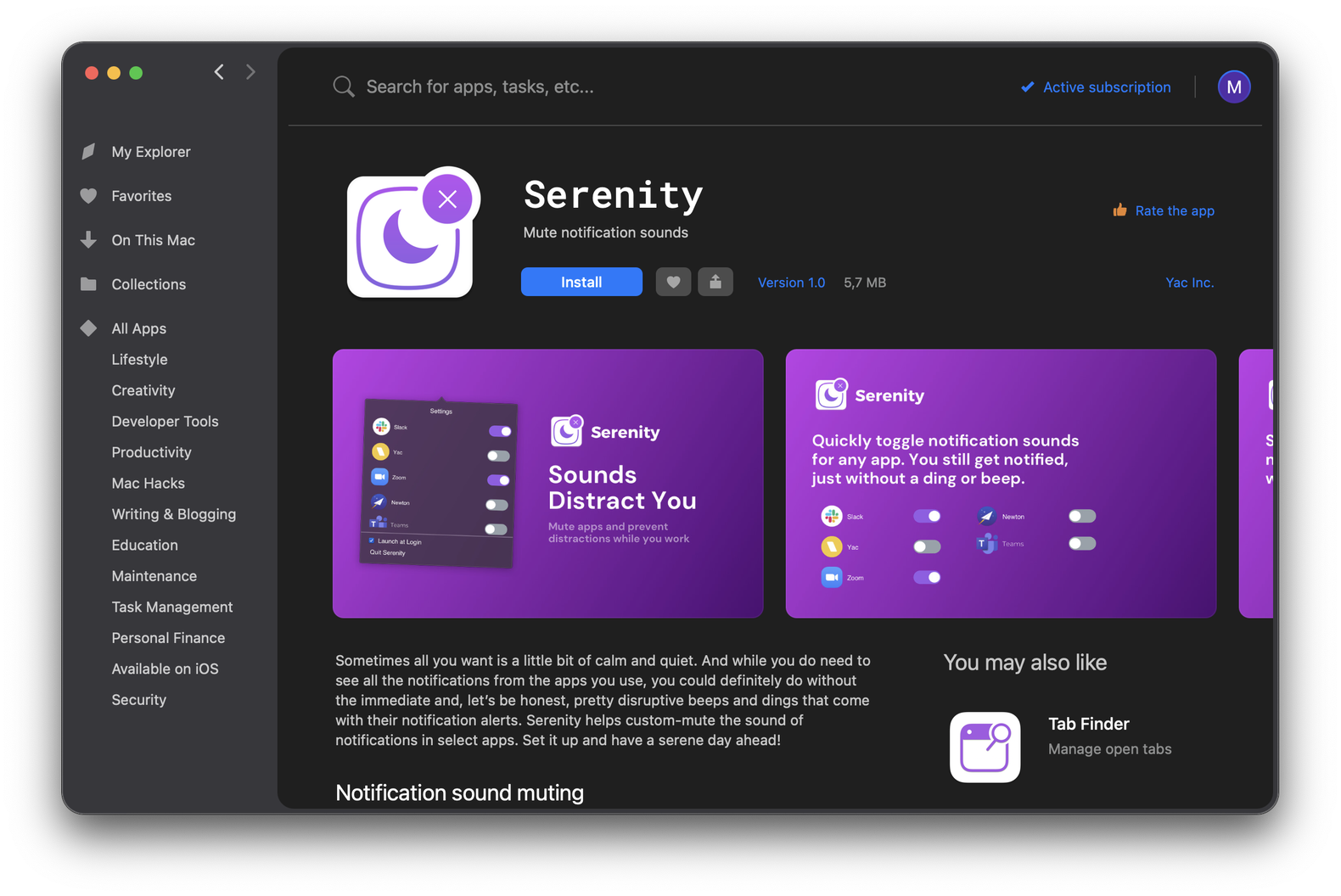 You can try the full Setapp suite for 7 days free and replace all three Monterey features mentioned above with Setapp apps. Even more, you get CleanMyMac X, Get Backup Pro, and lots of other essential apps that will help you run macOS updates safely and keep your Mac in great shape.