How to upgrade to macOS Monterey public beta
Apple adds a bunch of new features with the release of macOS 12 Monterey on Mac. The official update rolls out in the fall of 2021. Starting July 1, the public beta of the newest macOS is available for everyone to try. So if you can't wait to try the new features such as Shortcuts, Universal Control, and SharePlay in FaceTime, you can download and install macOS 12 Monterey on your Mac today.
What's new in macOS 12 Monterey?
As someone called it on Reddit, Monterey is the perfect pandemic edition. It adds new capabilities for online interaction and focused remote work. Here's what's coming:
SharePlay: Stream movies and music in sync with your friends via FaceTime. At the moment, SharePlay works with TikTok, Hulu, Disney+, and HBO Max. More streaming platforms will be added in the future.
Live Text: New AI-backed feature that lets you extract text from photos.
Shortcuts: You might have seen them in iOS. Shortcuts arrive to Mac with Monterey to help automate your flow by combining apps and setting up custom actions.
Universal Control: Move the cursor across Mac, iMac, and iPad, naturally. Universal Control is an advanced upgrade to Apple's Continuity.
Please note that some of the macOS Monterey features will be unavailable on Intel Macs. This includes Live Text, improved Maps, and a few minor ones.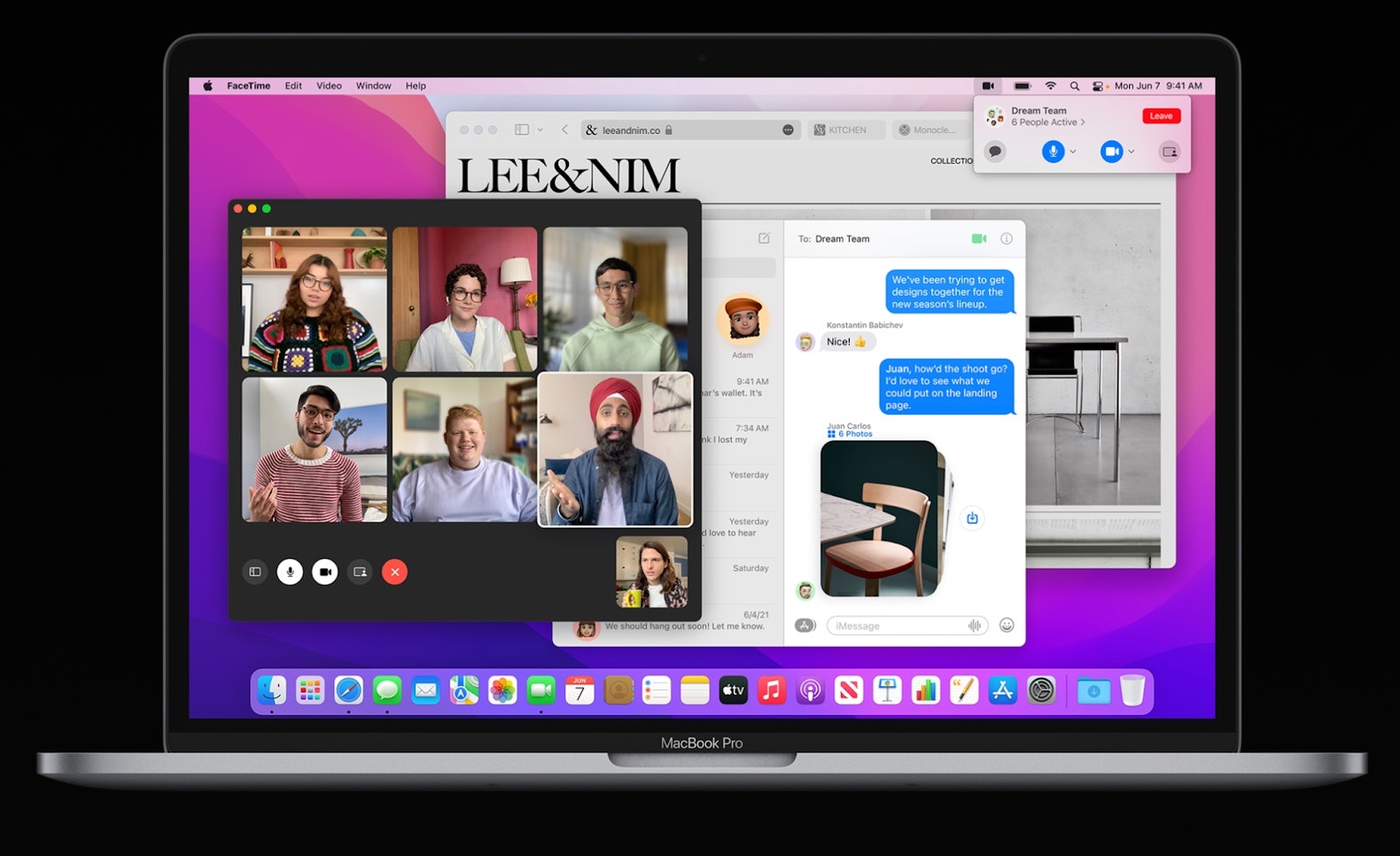 source: apple.com
macOS Monterey compatibility
Before you start macOS update, make sure your Mac is listed among the compatible devices:
MacBook Air (early 2015 and later)
MacBook Pro (early 2015 and later)
MacBook (early 2016 and later)
Mac mini (late 2014 and later)
Mac Pro (late 2013 and later)
iMac (late 2015 and later)
iMac Pro (2017 and later).
macOS Monterey release date
The Developer Preview has been available starting June 7, 2021. The public beta unexpectedly rolled out on July 1 — which is great news for everyone willing to give it a try. If you want to wait until Apple releases Monterey officially (official versions are usually more stable than betas), you'll be able to run macOS update in September or October.
How to download and install macOS Monterey Developer Beta
The process of installing Monterey on your Mac involves a few steps: first, you'll need to create a backup of the data you care about, just to make sure it won't be lost; second, clean your Mac to free up space for the new installation; then, enroll your Mac in Apple's beta program. Finally, you'll be ready to download Monterey and install it on your Mac. Let's dive into each step.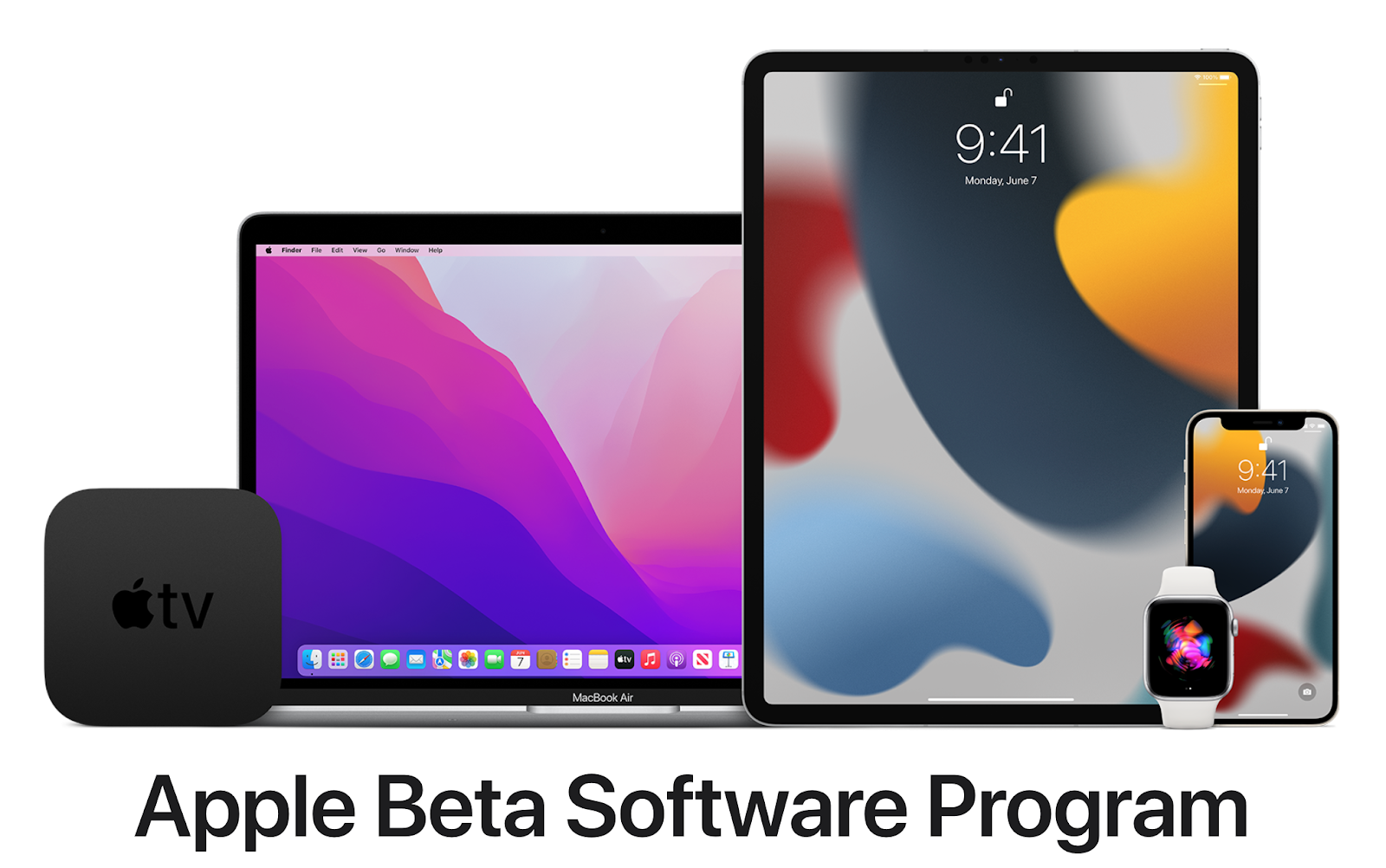 Back up your Mac before you upgrade to macOS Monterey
Backing up Mac is the wise thing to do every once in a while. If you're upgrading macOS (especially if it's a beta), a backup is essential. The thing is, betas can be unstable, and even if you roll out the upgrade over your current system, which theoretically shouldn't erase your data, something could go wrong and you could lose access to the contents of your drive.
You can create a backup with Time Machine, it's relatively quick and easy. However, Time Machine tends to create lots of redundant backup copies, which bring clutter into your system. A better solution would be to use Get Backup Pro or ChronoSync Express.
Get Backup Pro is a great tool that can do bootable clones and scheduled backups in a very flexible way. You can choose exactly which files you want to backup to avoid backing up the whole drive. Here's how it works:
Open the app and click "+" in Backups
Choose where you want to save your backup under "destination"
Choose File+ to add files you want to backup
Press Start to begin the process.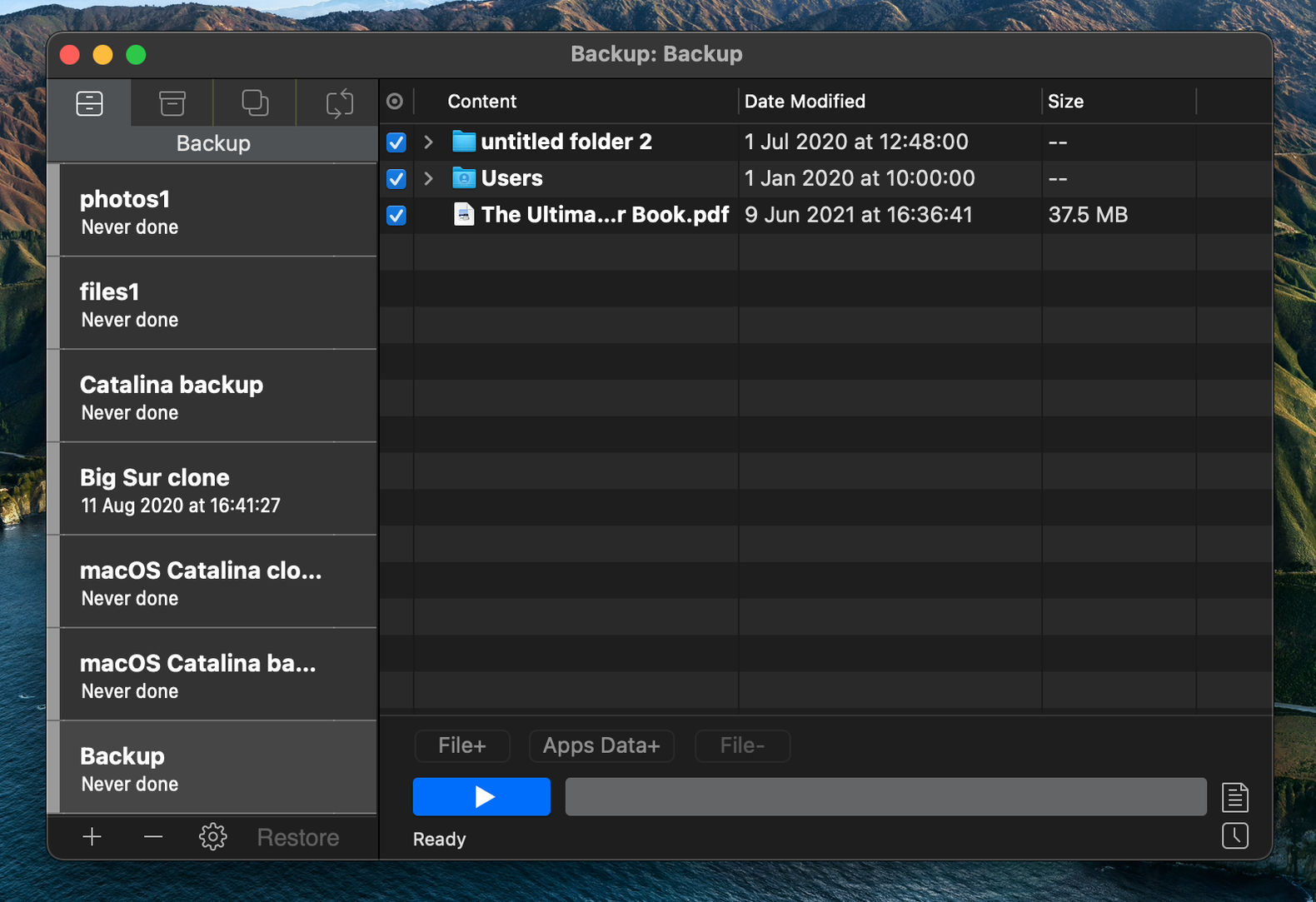 ChronoSync Express is a good tool to back up folders. Plus, you can use it for other tasks like syncing the contents of different folders. Both Get Backup Pro and ChronoSync are part of the Setapp subscription, so you can try both for free and see what works best.
Free up storage for macOS Monterey
Every year, when Mac users are getting ready for the macOS update, dozens of questions on Reddit read "how much space does the new macOS take?" This is an important question because your Mac should have that amount of free space. Especially if you decide to install macOS Monterey on a partition (half of your drive), the chances are you'll need to free up some storage first.
CleanMyMac X will help get rid of the system clutter, old caches, and all kinds of unneeded stuff that is piling up on your Mac. Naturally, this frees up lots of space. But that's not the only reason why millions of people love CleanMyMac X. The app can detect malware, notify you about low RAM, suggest optimization processes, and more.
To free up storage with CleanMyMac X, run a Smart Scan > Remove. That's it. You don't have to go through different folders and locations on your Mac to delete files, although you can review the results of the scan before hitting that Remove button if you like.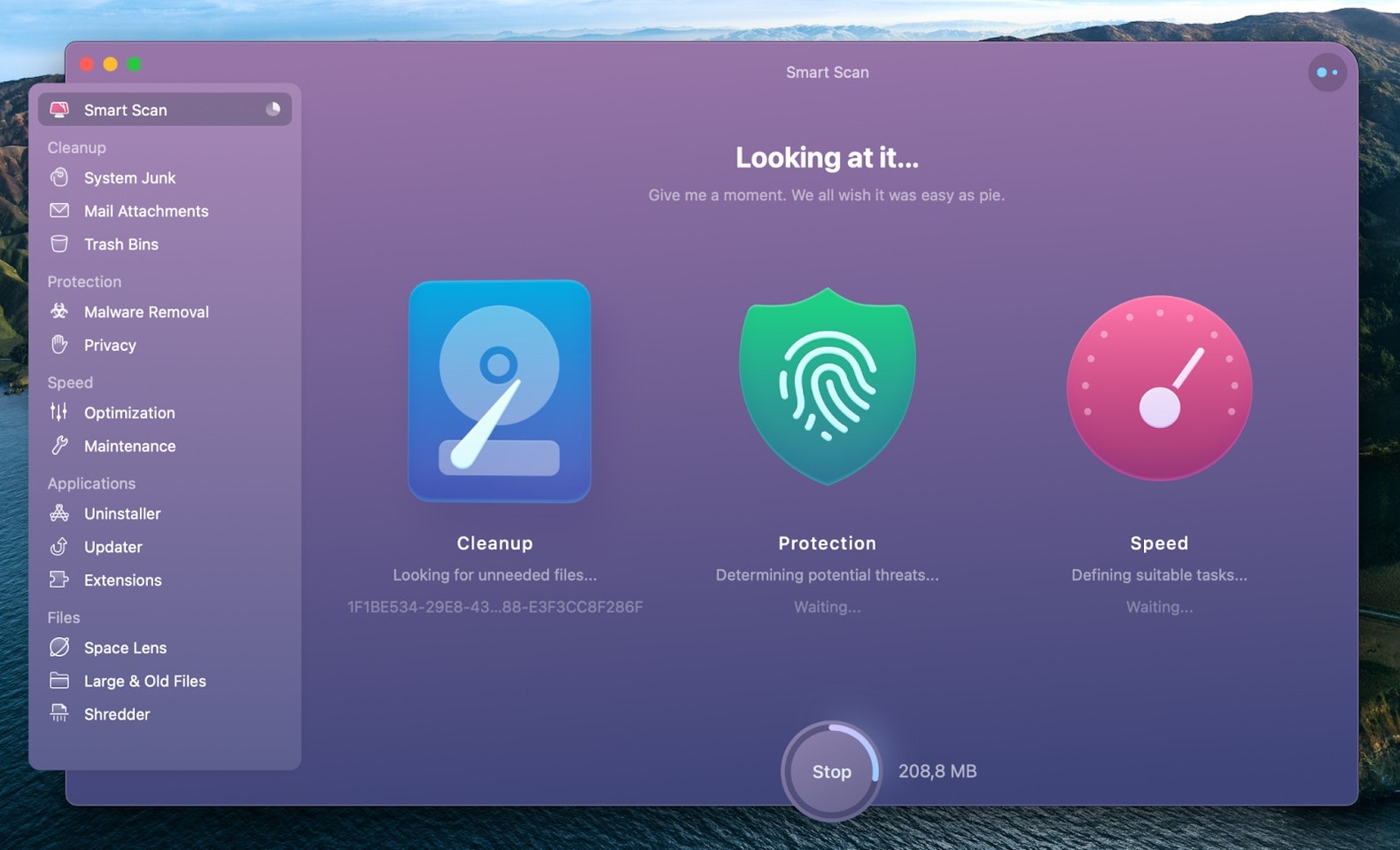 Tip: The latest recommendation is to free up 20GB of space for macOS Monterey, but in reality, it's never clear how much space the new macOS will take, so just try to free up as much as possible. For a deeper cleanup, go through each individual module to delete system junk, mail attachments, and files from Trash Bin. You can also use Uninstaller to get rid of unneeded apps.
Download and install macOS Monterey Public Beta
All backed up and with a good stash of storage, you can now upgrade to macOS Monterey. Since it's a beta, we recommend that you install it on a partition and try all the features alongside your current system. A nice way to compare Monterey with Big Sur too! We describe how to create a partition below. Once you're ready to install Monterey, follow the steps:
Sign in with your Apple ID
Click "Enroll your devices" in the upper right corner
Choose macOS and follow the instructions
Click to download the macOS Public Beta Access Utility and run the installer
Once the enrollment is complete, you can go to System Preferences > Software Update and click Upgrade Now next to Monterey public beta
The installer will launch automatically and guide you through the final installation process.
Install macOS Monterey on a partition
A partition is basically splitting your drive in half. Considering macOS Monterey public beta takes around 20GB, you should ensure half of your drive has that amount of space if it's formatted to Mac OS Extended (that's a challenge unless you clean up with CleanMyMac X!). Here's how to partition a drive:
Access Disk Utility and choose your main drive under "Internal"
Click Partition in the upper menu
With APFS format, you'll be able to just add an extra volume to your drive
With Mac OS Extended, you have to partition your drive (it's possible to choose the amount of storage you want on a newly created part of the drive).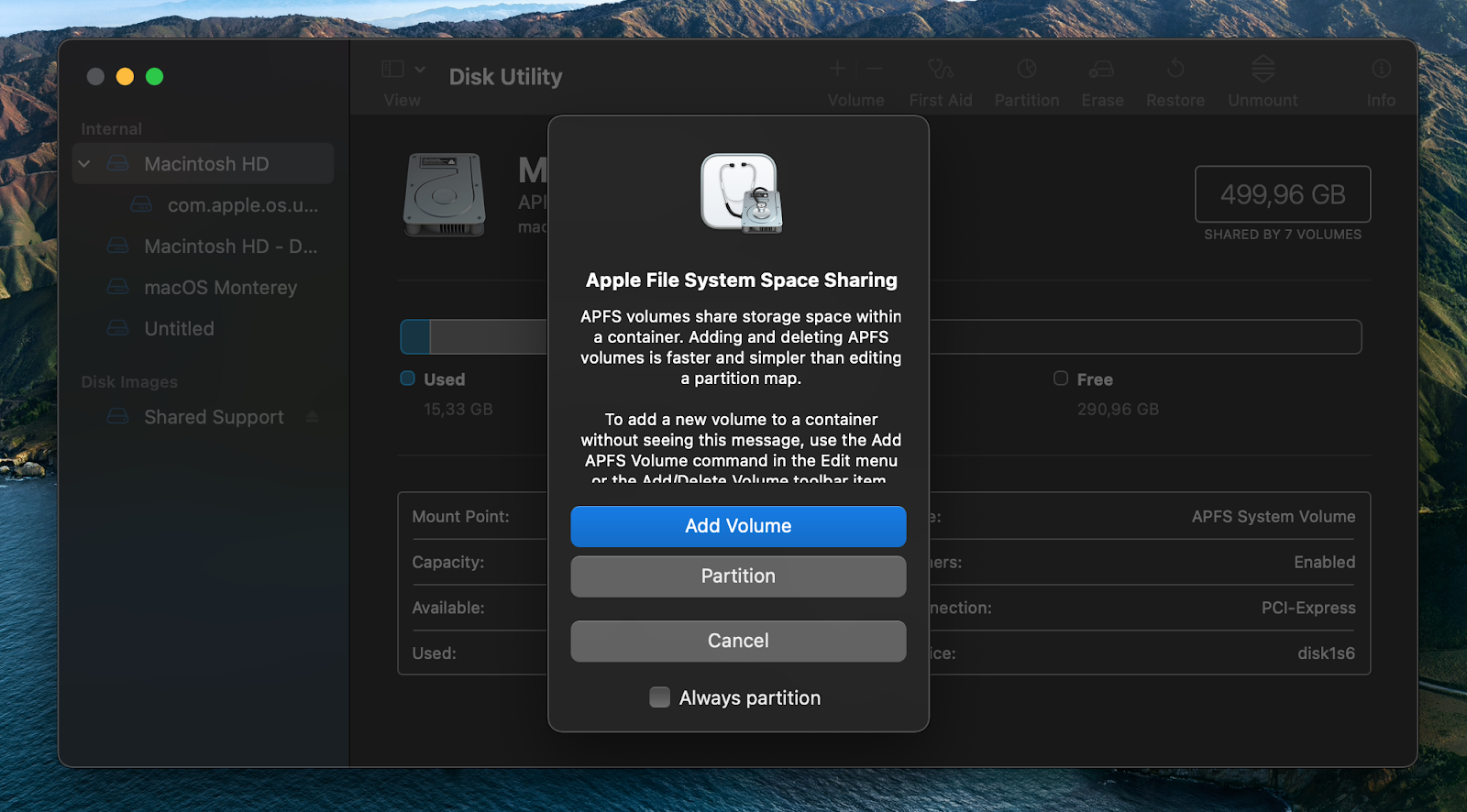 Now you can install macOS Monterey beta on a partition. To access a specific partition, hold down the Option key during startup.
Hope you have a great time exploring everything that Monterey has to offer. If you're sad because Live Text doesn't work on Intel Macs, try TextSniper. It's an app that can extract text from any visual — image, video presentation, YouTube, anything! So it's even better than Monterey's new feature.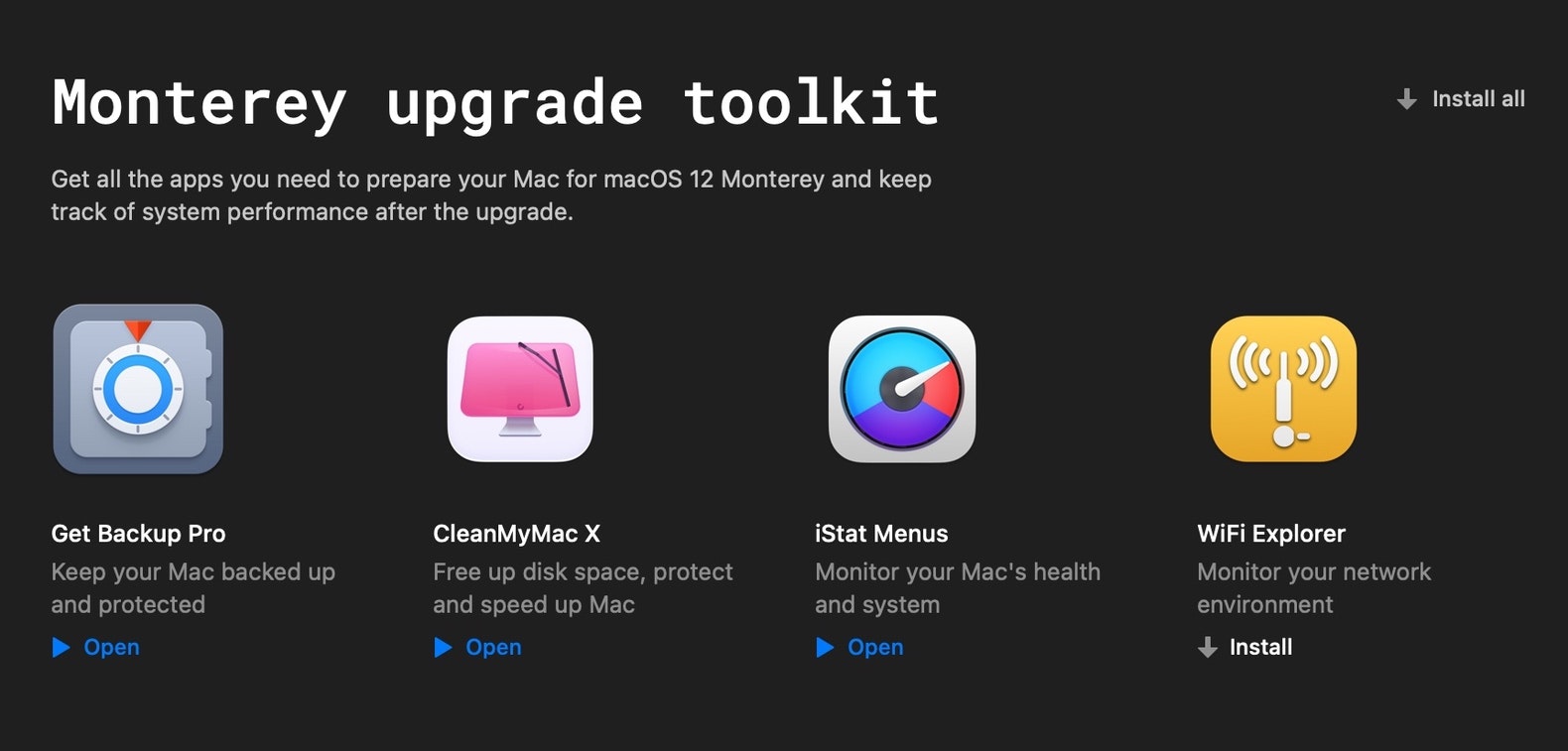 TextSniper is available in one suite with Get Backup Pro, ChronoSync Express, and CleanMyMac X via Setapp, a productivity platform for Mac and iPhone users. Setapp covers around 220 apps, but best of all, it suggests app collections based on your tasks. For example, you can find a ready-to-use toolkit for macOS update in the Collections section. Try it for 7 days free.