macOS Monterey is out and here are its best features
The new macOS Monterey is finally out with a bunch of new cool enhancements for Mac. Starting October 25, 2021, everyone can install the macOS 12 update on Mac (here's a step-by-step guide). Let's take a closer look at the macOS Monterey best features.
FaceTime updates
New and improved FaceTime is coming our way — now the app will allow for watching TV shows during a call with friends or family, joint music listening, as well as easy screen sharing. That's fantastic news that will help you beat the distance with your loved ones and connect in a whole new way! Plus, who didn't watch or at least consider watching a movie or a TV show while discussing it with a friend or a loved one via Zoom?
Addition of spatial audio will help make the connection even more realistic as now FaceTime sound will be separate and broadcast individual voices to match to the placement of each person on your screen. More realistic meetings and hangouts, here we come.
And we've saved the best feature for last — you can now share links to your FaceTime calls with people outside the Apple ecosystem!
Better workflow
In macOS Monterey, Safari will let you organize tabs in groups. What's more, you'll be able to sync or share tab groups in an email.
Safari tab itself also gets a redesign — now the browser's tabs will look more streamlined and as part of the page you are visiting. The page's color will spill over onto the tab bar to avoid distracting you from what really matters, i.e. the page's content.
Another update, Focus, will help you concentrate on tasks at hand or take a short break. Masterful at filtering notifications, Focus only allows the ones you want. In Messages, Focus shows your contacts when your Focus is on. Plus, Focus can be automatically enabled on all your devices if you turn the option on. And you can customize it to your needs too.
Can't wait for the new macOS to try out Focus? You can actually get similar functionality right now with the namesake third-party app!
Focus is an app that can help filter out distractions and help you dodge time-sucking apps and websites. Tailor your blocking with the help of this app to suit your needs and enjoy productive and, well, focused workday.
Conveniently, you can schedule the app's sessions, track your progress, and even add inspirational quotes to appear on your screen when you try to access a blocked website or app:)
Focused work can be the most productive. And uninterrupted break time can be just as precious to restore your productivity and balance. You can advance your focus with more helper apps that target various aspects of your workflow and help obtain laser focus on the task at hand.
Serenity is the tool that makes your notification sound muting that much easier. Instead of going to System Preferences every time, just open this tool in your menu bar and toggle notification sounds for your various apps on and off as needed.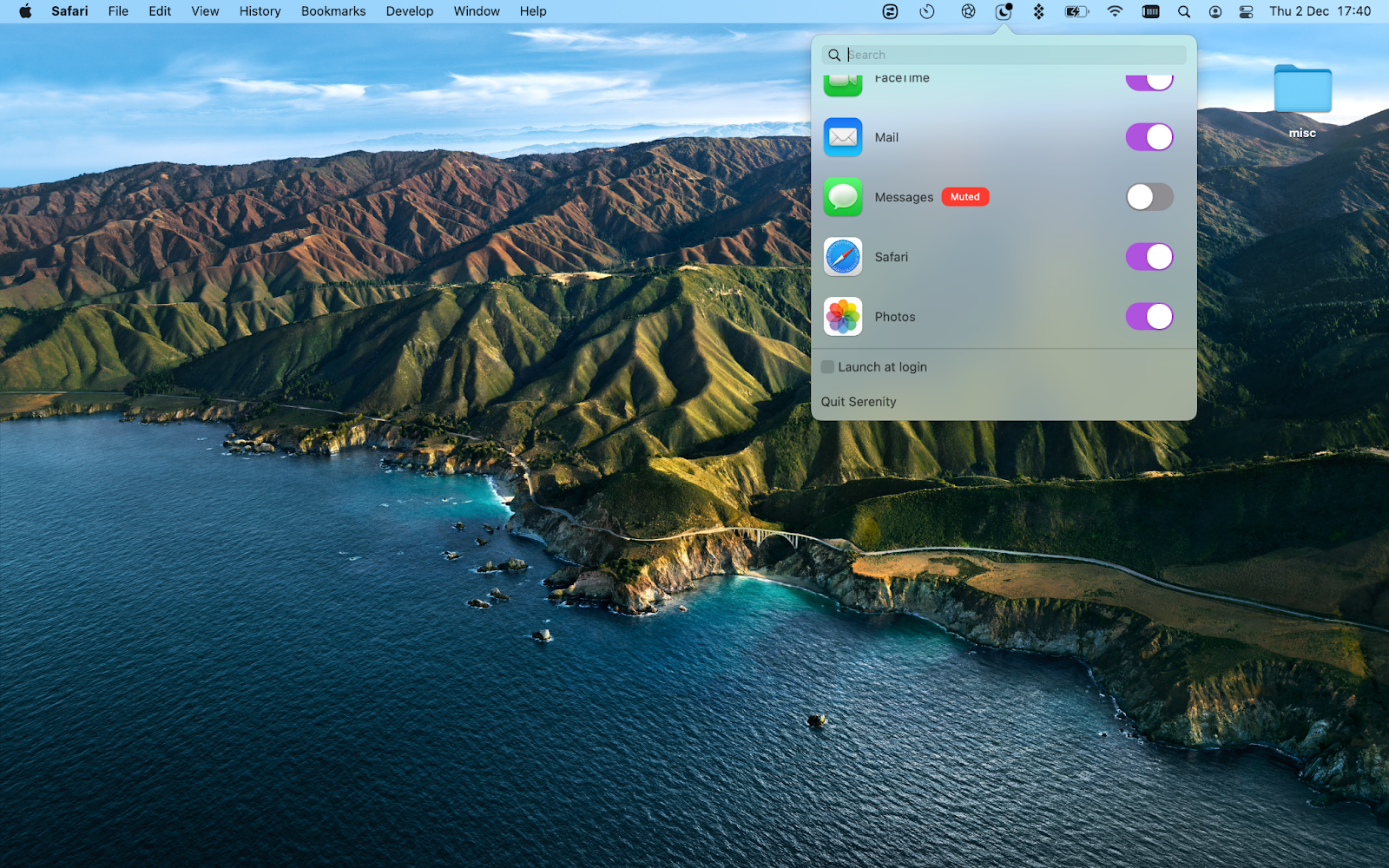 HazeOver is an additional tool to help you stay focused. The App dimms everything in your background, allowing your attention to flow exactly to the task on hand. Now you don't need to go full screen to block out all the distractions!

One Switch is a universal switch that houses all your preferred settings in a single menu — set it up and save time by quickly toggling between your most used settings: dark and light modes, hiding or displaying desktop apps, putting Mac to sleep, connecting AirPods, muting the mic, emptying Trash, locking the screen, and much more.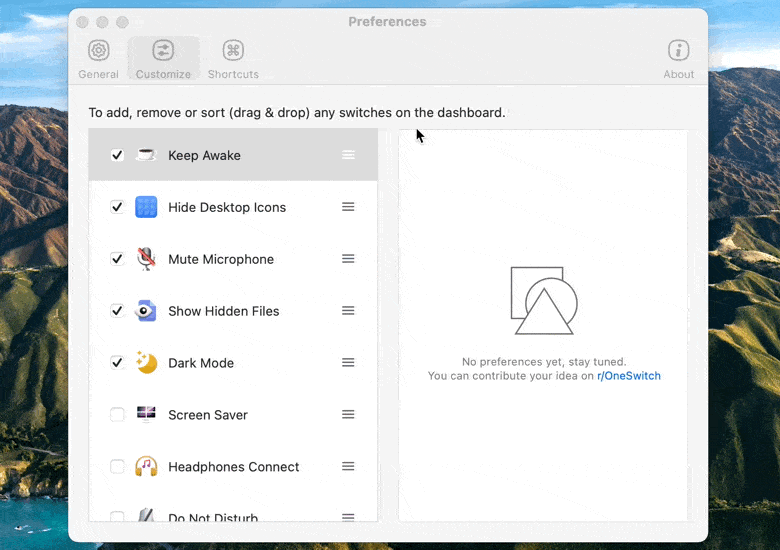 Now, back to the macOS Monterey. We are not even halfway there!
Even better Notes
The beloved Notes app is getting a bunch of updates. Most notably, a new handy feature — Quick Note. It will allow you to jot down ideas while you are in other (supported) apps and without taking attention away from other tasks. Jot down ideas and useful bits of information now, then come back and deal with them later.
Notes also adds #tags and @mentions that you can type in directly into your note. A massively convenient feature we can't wait for.
Don't want to wait for the new and improved note-taking on your Mac? Want even more advanced note-taking features?
NotePlan is a calendar-based note-taking app with markdown capabilities. It's the note-taking experience for the digital age — smooth, interconnected, intuitive, with robust backup. Add location, dates, tag, and hashtag.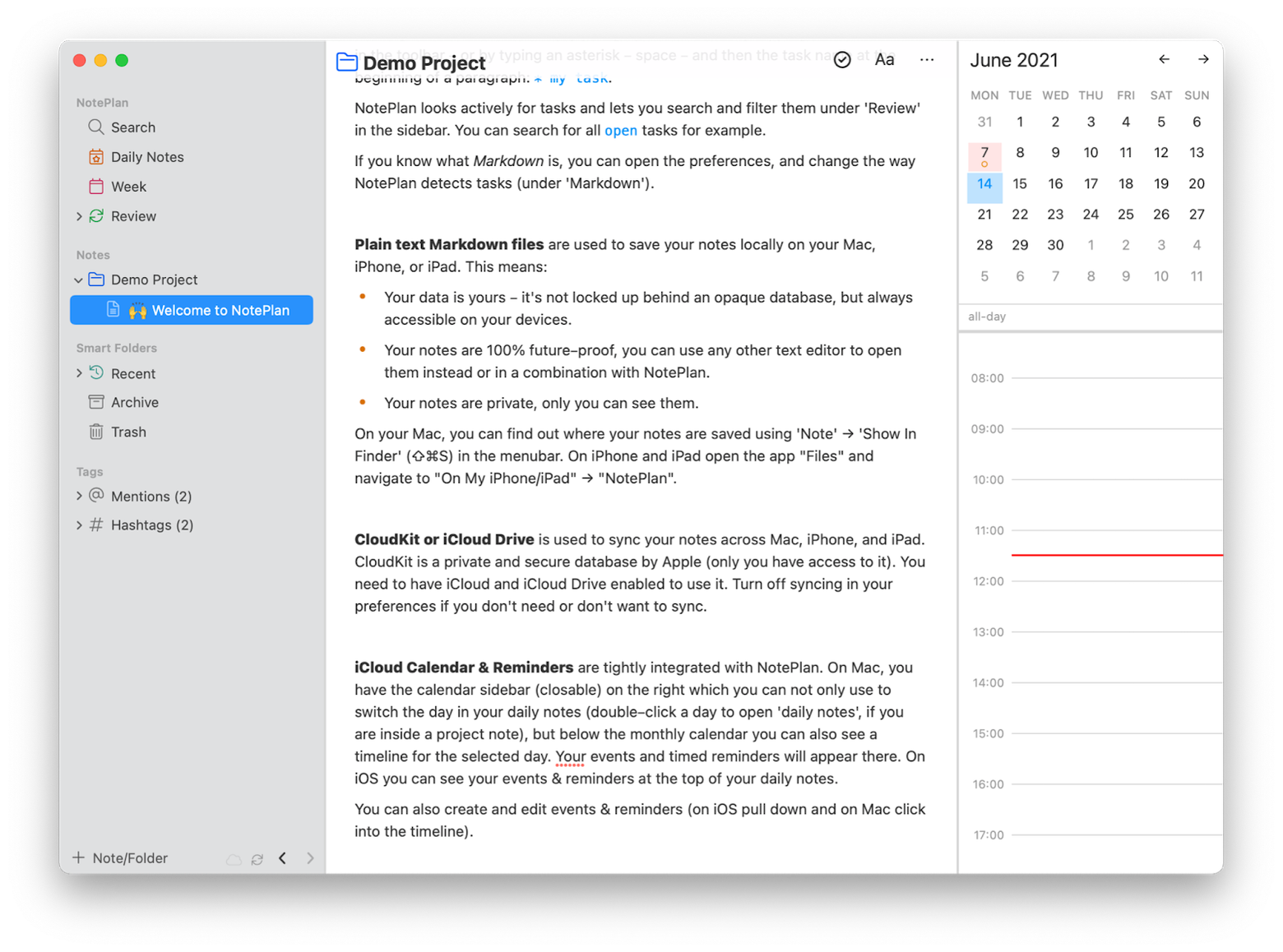 SideNotes is a sidebar app for notes. It allows you to take text, image, and even code notes on one side of your screen. Easily prompt the note-taker and take down all the important ideas before they slip away. Color-code, use checkboxes for tasks, stash notes to folders, and more in this handy note app. This one allows for no distractions, just notes.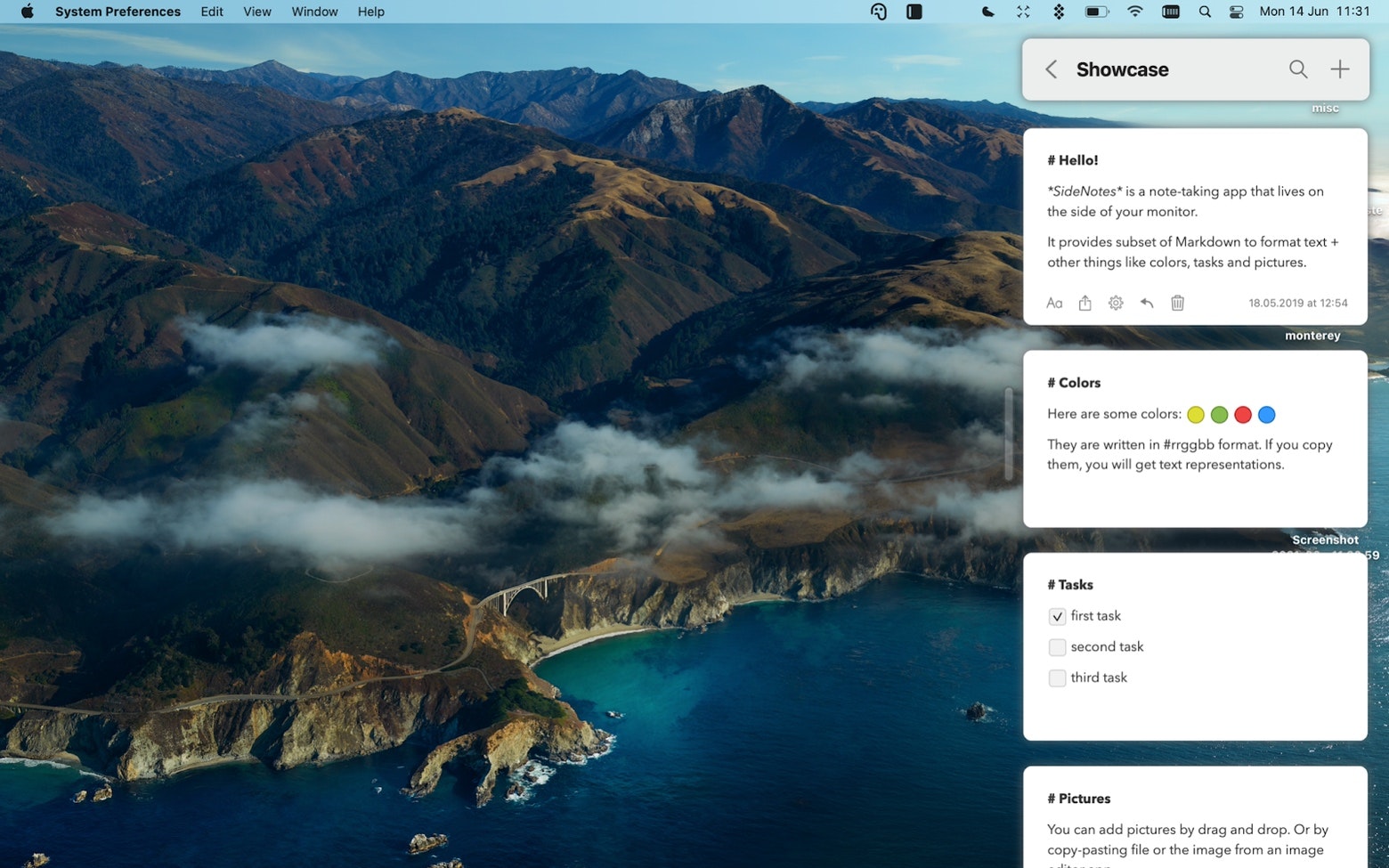 Universal Control
Another new and breathtaking feature of macOS Monterey that we are super excited about is Universal Control.
Most Apple ecosystem users love the smooth interconnection between all their devices. Universal Control takes it to the next level.
With the feature, you will be able to use one keyboard, mouse, and even trackpad with multiple devices. Type on Mac and see the words show up on your iPad and even drag and drop content between devices.
Live Text
The text that you can see but can't copy is always a nuisance. And Apple knows that. Now the new macOS Monterey will allow you to interact with text even when it comes in non-textual form. Copy text in images, look up addresses without having to type them in, save phone numbers from posters, and more. Live Text feature was initially set to work in Safari, Photos, Screenshot, and Quick Look for M1 Macs, but in latest beta was made available for all Macs that support Monterey.
What to get the text out of non-textual formats today? Don't have an M1 machine? We've got a solution that just might exceed your expectations.
TextSniper is an app that helps you extract text from anything. Use the app's hotkey shortcut or open TextSniper select tool from the Menu bar and easily copy any text from anywhere on your screen to clipboard by selecting the part of the screen where the text is located.
You can even copy Mac's menu bar (we've tried). Plus, the app doubles as a bar/QR code reader.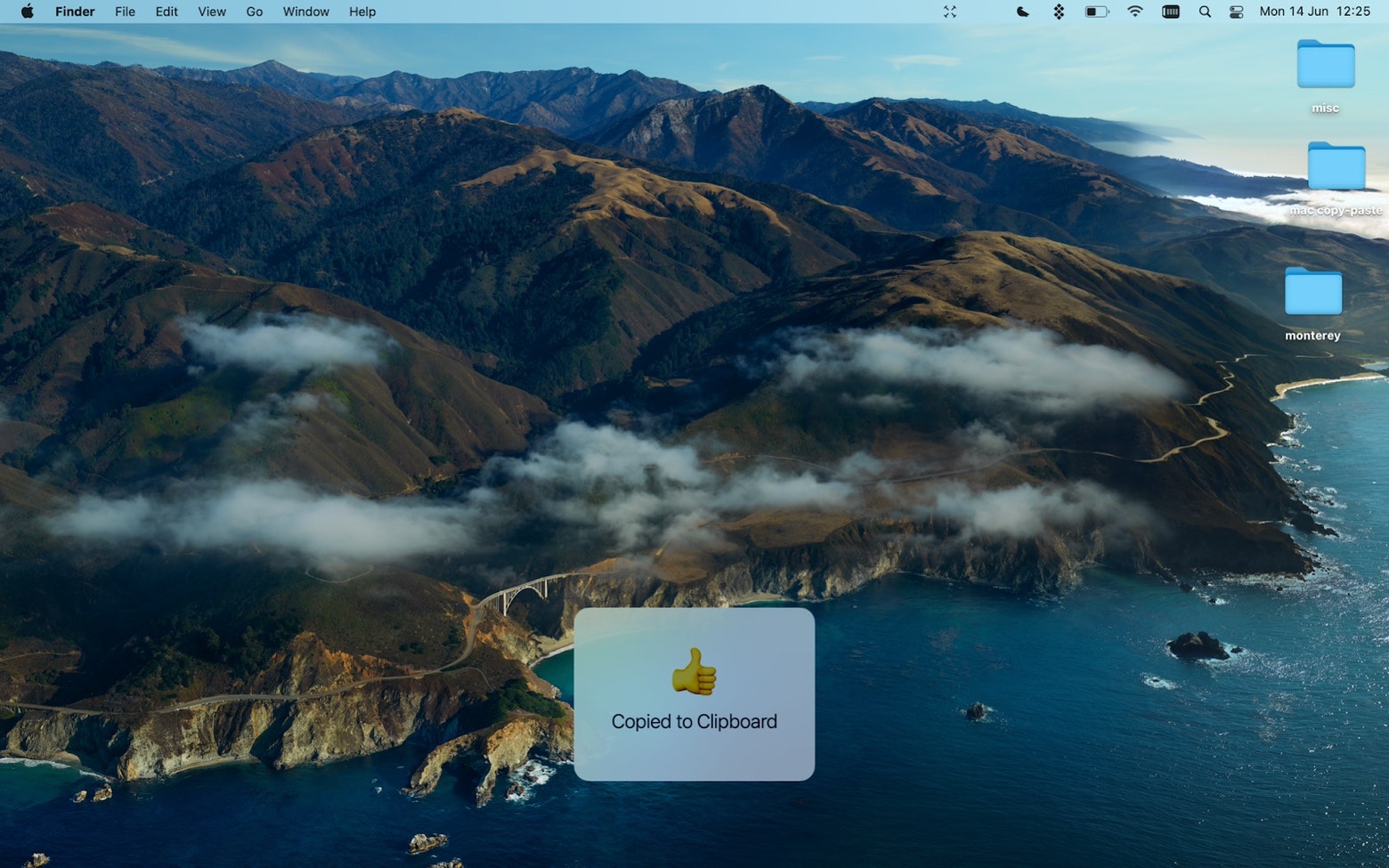 Shortcuts
Another new addition to your macOS is coming with Monterey — Shortcuts. The tool designed to automate things you do most frequently can transform a routine sequence of actions into one single shortcut.
Apple promises the app will come with pre-built shortcuts for popular sequences to help you get started.
Here at Setapp we know for a fact this feature is super handy. This due to first-hand experience with a similar solution — one of the apps in our suite, Keysmith, allows creating macros with any sequence in your workflow and setting shortcut key combinations to prompt it.
The feature is incredibly helpful for things you want to automate to avoid daily routine, but also for new sequences to get out of remembering endless hotkey combinations for various actions in each new app or a brand new but tedious process you add to your workflow.
Just hit record in the app window and proceed with all the steps you want to automate — one last time.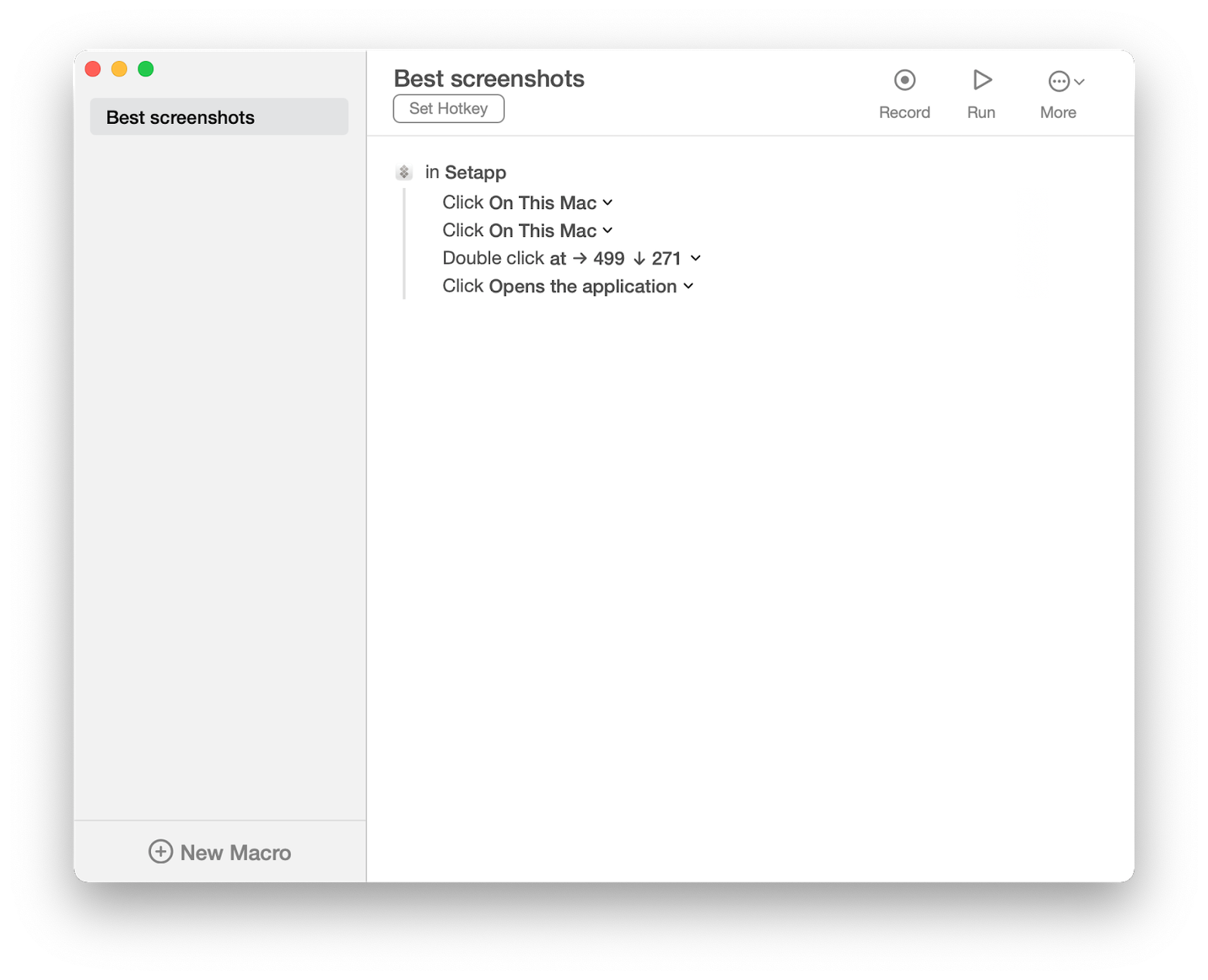 Privacy improvements
With the new macOS Monterey, Apple is also ramping up the privacy features — something Mac users often really care about.
The privacy updates are introduced for, among other things, built-in apps Mail and Safari. A recording indicator is also set to be added. This latter feature will indicate if an app is accessing your Mac's mic, and you'll be able to view which apps have access to your Mac's mic by browsing the list in Control Center.
In Safari, Intelligent Tracking Prevention will help protect you against profilers who use your IP to track.
In Mail, a new privacy update will allow you to turn on a protection feature preventing recipients from tracking your IP or location.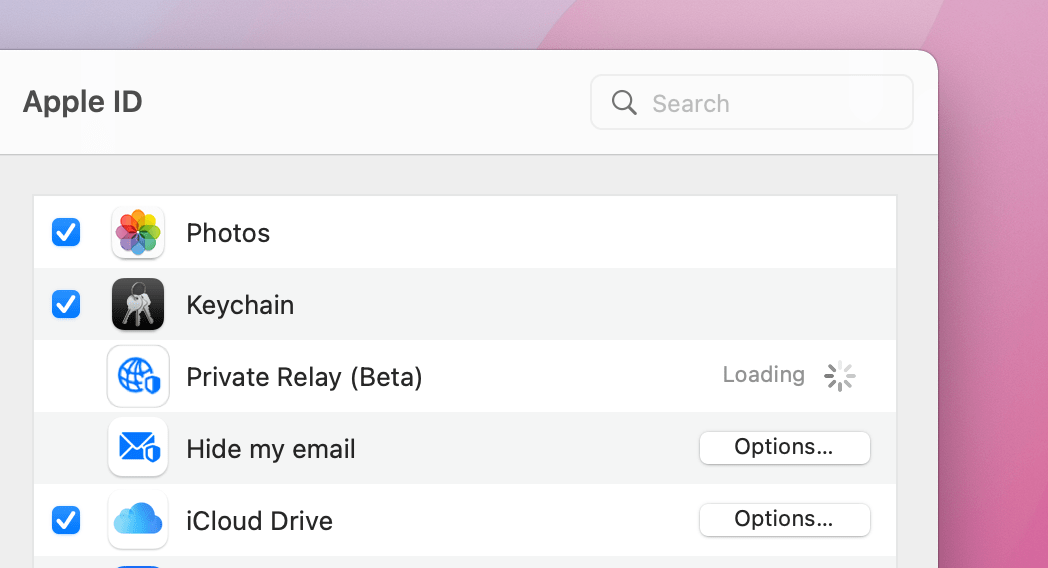 And if you are not a big fan of the built-in Mail for whatever reason, there's a great privacy- and security-minded alternative.
Canary Mail is a popular mail client that offers end-to-end encryption for your messages. It's a distraction-free mail manager that takes privacy seriously. And its organization features will help keep your inbox tidy and manageable, no matter how many messages you get each day.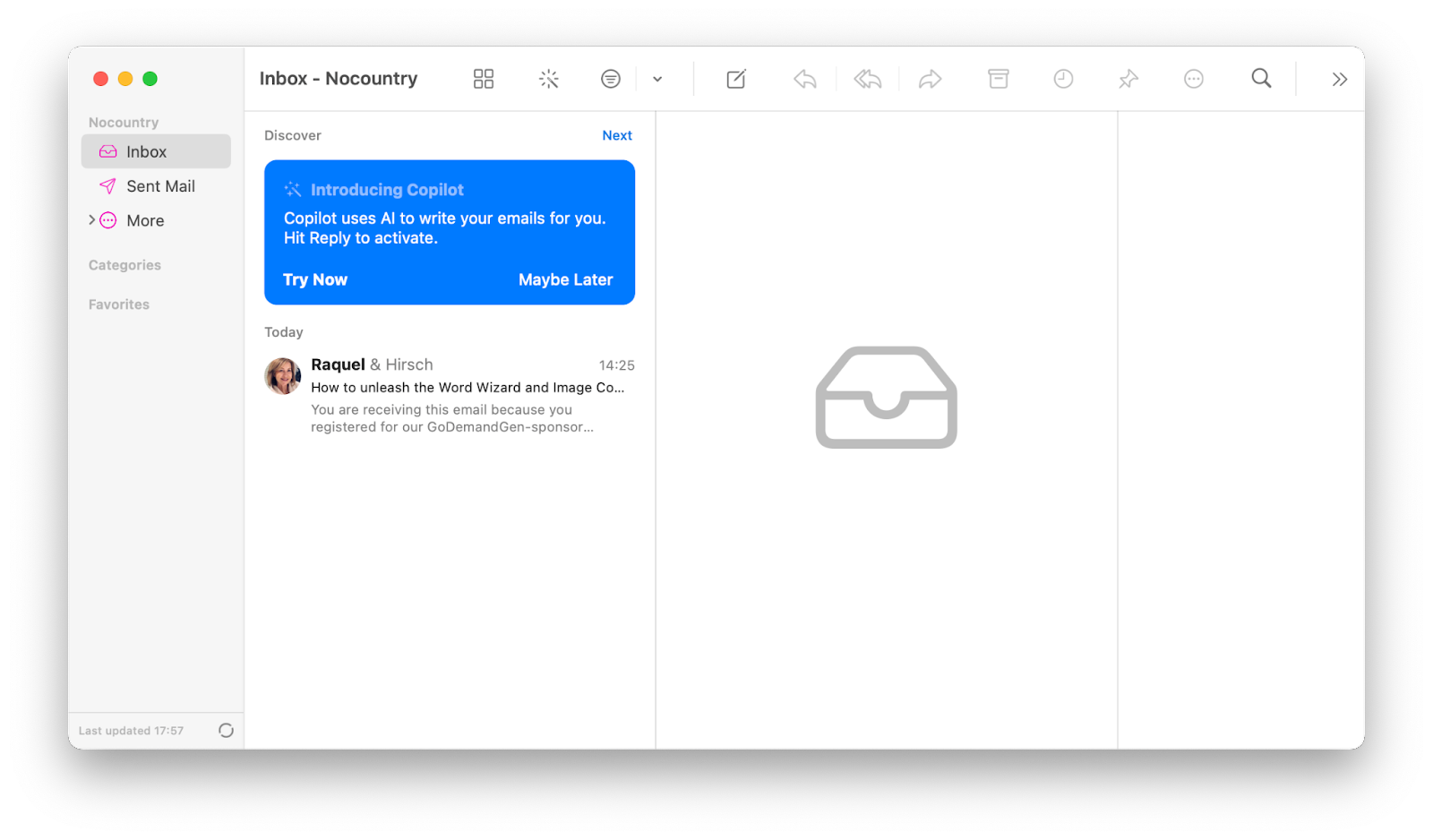 Erase and restore your content & settings
Every year, Apple moves macOS and iOS a little bit closer. With macOS Monterey, you'll now be able to erase all your content and settings — similar to factory reset on iPhone and iPad. This won't uninstall your operating system, but all your data will be gone, which is a great option if you're planning to trade in or sell your Mac.
Note: Erasing content and settings only works for Macs with T2 chip.
Get Backup Pro will help you pick up where you left off once you switch to a new Mac. This powerful tool is the best to create bootable disk backups. Simply connect a disk to Mac and you'll have all your essential files right there.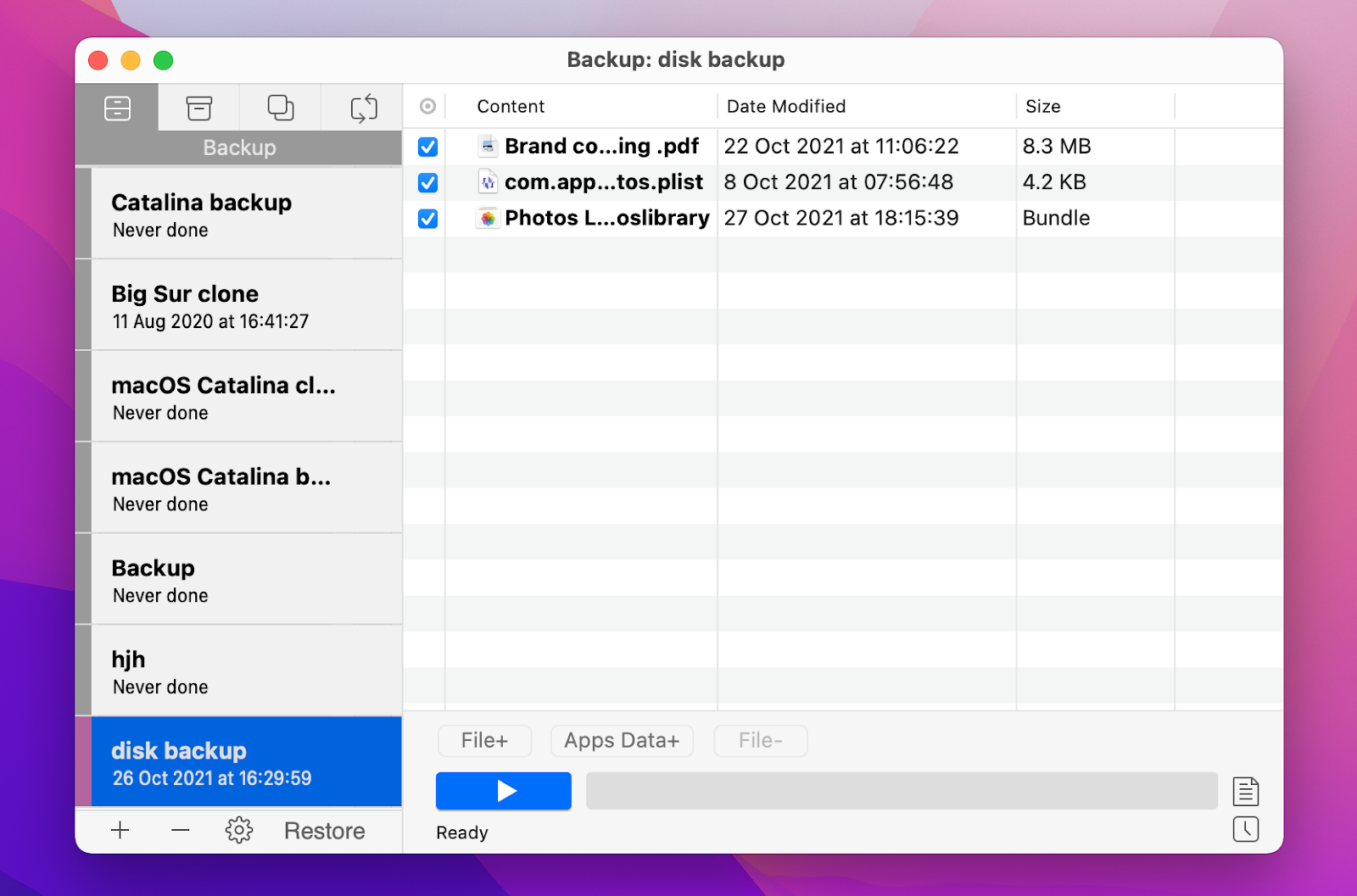 AirPlay to Mac
Mirror any Apple device's display — iPhone, iPad, or another Mac — to a Mac's screen with AirPlay. This is a great way to quickly show content from your iPhone during a Zoom call on Mac, mirror screen to show iOS UI, etc.
Here's how to stream from an iOS device:
Open Control Center and tap Screen Mirroring
Select your Mac from the list of devices
Wait a few seconds until your content is streamed to the Mac's screen.
If cross-device streaming doesn't work, check out Sharing settings in System Preferences on your Mac to make sure AirPlay receiver is on. You can also tweak these setting to limit who can see your device through AirPlay.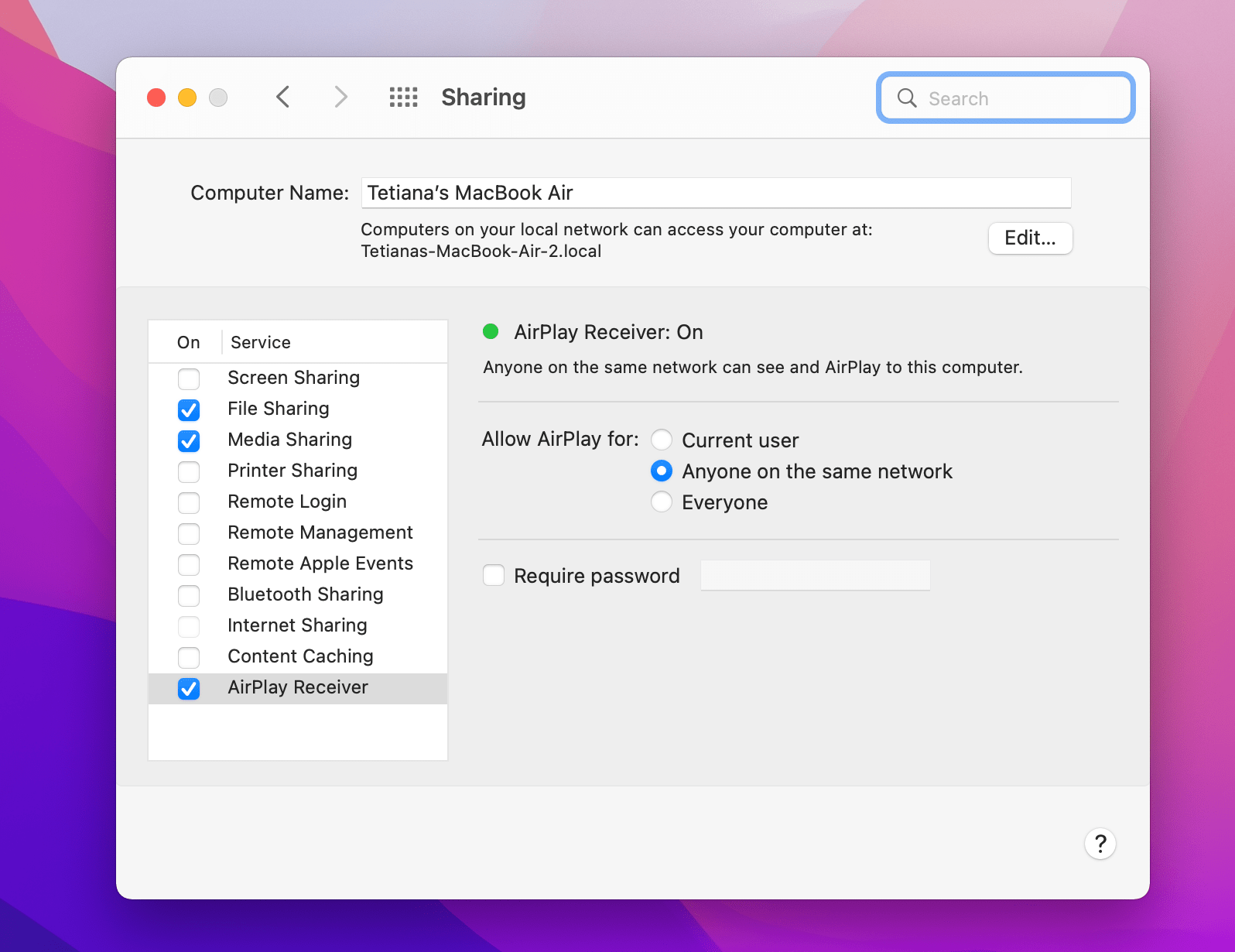 New animated memoji avatar
Memojis have long become a symbol of personalization and diversity on Apple devices. With macOS Monterey, memojis get in the spotlight again. This time — on the login screen. You can now set an animated memoji as an avatar:
Go to System Preferences > Users & Groups
Choose Admin or other User
Click the profile image > Memoji
Customize your memoji and click Save.
The memoji avatar will animate on the lock screen, which adds a nice interactive touch to your login experience. For example, when you type an incorrect password, your avatar will look sad.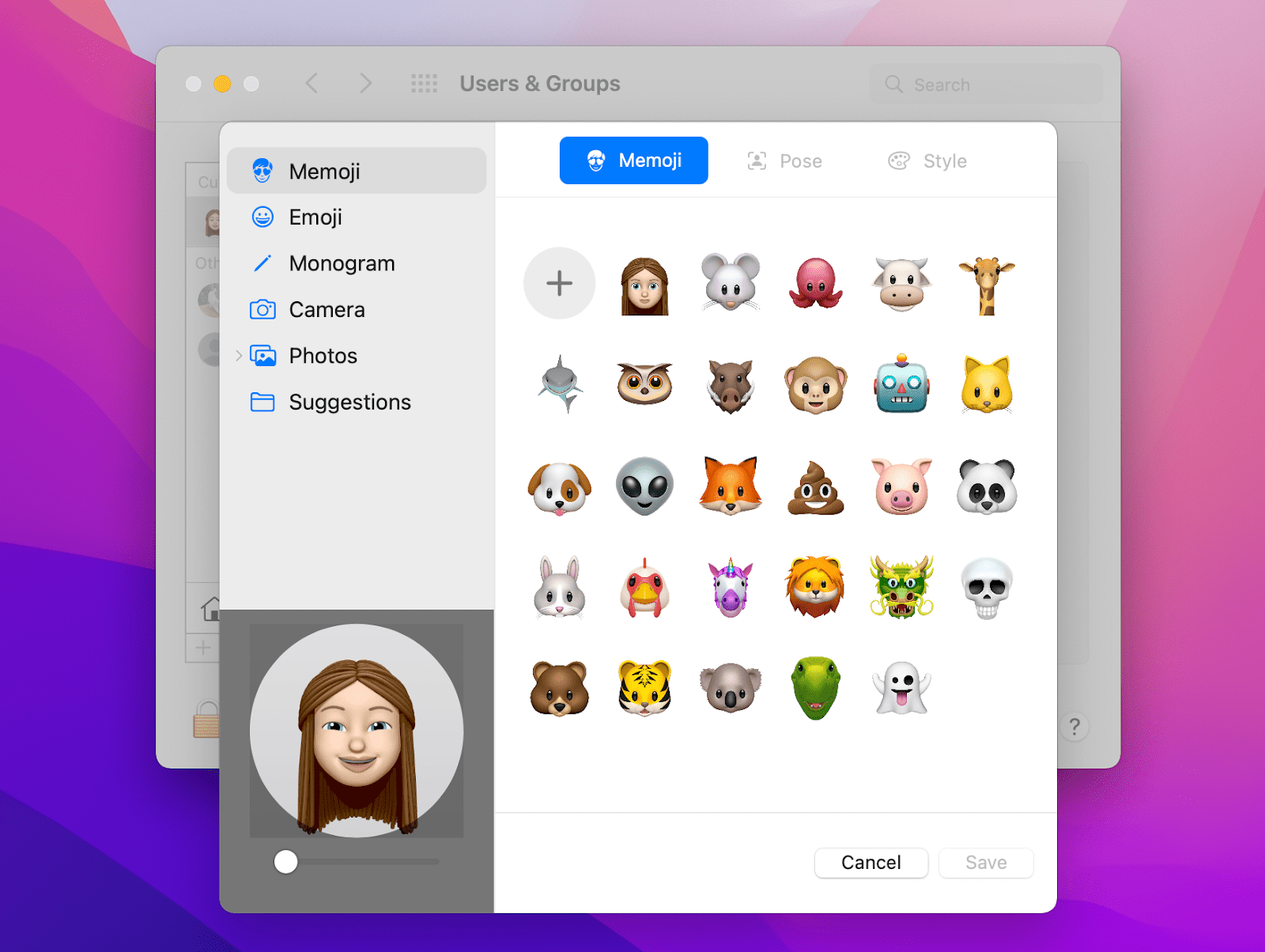 Monterey features exclusive to M1 Macs
Some Monterey features are only available to the lucky owners of M1, M1 Pro, and M1 Max Macs. If you have an Intel Mac, the following won't work on your computer:
Portrait Mode in FaceTime
Object Capture — the ability to turn a series of 2D images into 3D
New languages in Siri (Swedish, Danish, Norwegian, and Finnish)
3D globe for more immersive interaction with different locations in Maps
On-device dictation.
Read the full guide on M1 Mac-exclusive features here.
Conclusion
We've highlighted the most exciting new macOS features coming with the Monterey edition, like new FaceTime features, more privacy, Shortcuts, Live Text, and more. For an exhaustive list of everything new coming to Macs (supported models, at least), you can check out the detailed outline of all the coming features on the official Apple feature page here.
And if you want to supercharge your Mac's abilities on any operating system, check out Setapp, a productivity toolkit that helps you get things done more efficiently than ever before.
All the third-party apps we've mentioned above — Focus, Serenity, HazeOver, One Switch, NotePlan, SideNotes, TextSniper, Keysmith, and Canary Mail — are available with a Setapp subscription with no additional charges. Don't have Setapp? No problem, sign up for a free 7-day trial to try out these and many more Mac and iOS productivity apps today.