How to fix macOS Big Sur issues
macOS 11 is a big hit. Announced in June, during Apple's all-virtual event, this macOS update features the biggest design change in 20 years. No wonder, many want to see it — the sooner the better. Developers are getting all in starting June 2020, the public beta testers will follow in August, and those who want the official version will be able to upgrade this fall.
But there are lots of buts. Just as any major software update, macOS Big Sur might be misbehaving on your Mac. Starting with your Mac being "not good enough" for it. So whether you install the beta or wait for the official release, macOS Big Sur problems are possible. In this article, we'll describe all reported macOS 11 issues and the ways to fix them.
How to fix macOS Big Sur problems known so far
Here's quick navigation through all known macOS 11 problems:
macOS Big Sur won't install
All macOS updates show up in the Software Update section, in the main Apple menu. If you have any macOS Big Sur update problems, here are the possible fixes:
1. Check device compatibility
macOS Big Sur ends support for a few old Mac models that are compatible with macOS Catalina. So before you do any troubleshooting, make sure your Mac can run macOS 11 in the first place. Here's the full list of compatible devices:
MacBook (2015 or later)

MacBook Air (2013 or later)

MacBook Pro (2013 or later)

Mac Pro (2013 or later)

Mac Mini (2014 or later)

iMac (2014 or later)

iMac Pro (2017 or later).
2. Fix wrong macOS version downloading
According to many users, when trying to install the Big Sur beta profile, they end up with macOS 10.15.6. Here's the solution recommended by Steffen Voglmann on Apple Developer Forum:
Open Terminal > sudo -i > enter root password

Copy and paste the following to command line: /System/Library/PrivateFrameworks/Seeding.framework/Versions/A/Resources/seedutil

Next, copy and paste the following: /System/Library/PrivateFrameworks/Seeding.framework/Versions/A/Resources/seedutil unenroll

Enroll in the DeveloperSeed Beta by once again copying and pasting the following: /System/Library/PrivateFrameworks/Seeding.framework/Versions/A/Resources/seedutil enroll DeveloperSeed

Close Terminal and open System Preferences > Software Update

Find the new beta profile under Software Update.
Another issue might be macOS Big Sur appears as 10.16 in Software Update. Don't be confused by the number — this is the profile you're looking for. Users report macOS Big Sur beta uses 10.16 version name instead of macOS 11 (and no one really knows why).

3. Free up space on your Mac
The thing with macOS updates is they need space. Since there's no official recommendation as to how much disk space you should free up for Big Sur, we just try to learn from the past. As the experience shows, you'll need to have at least 15GB of space available on Mac. But why bother if you can get the maximum with CleanMyMac X? This simple app runs a scan on your Mac, detecting anything that can be deleted. From old caches to mail attachments to duplicates. You will be surprised there are files on your Mac that occupy gigabytes of space — yet bring no value at all. CleanMyMac X ensures it's all gone, in seconds.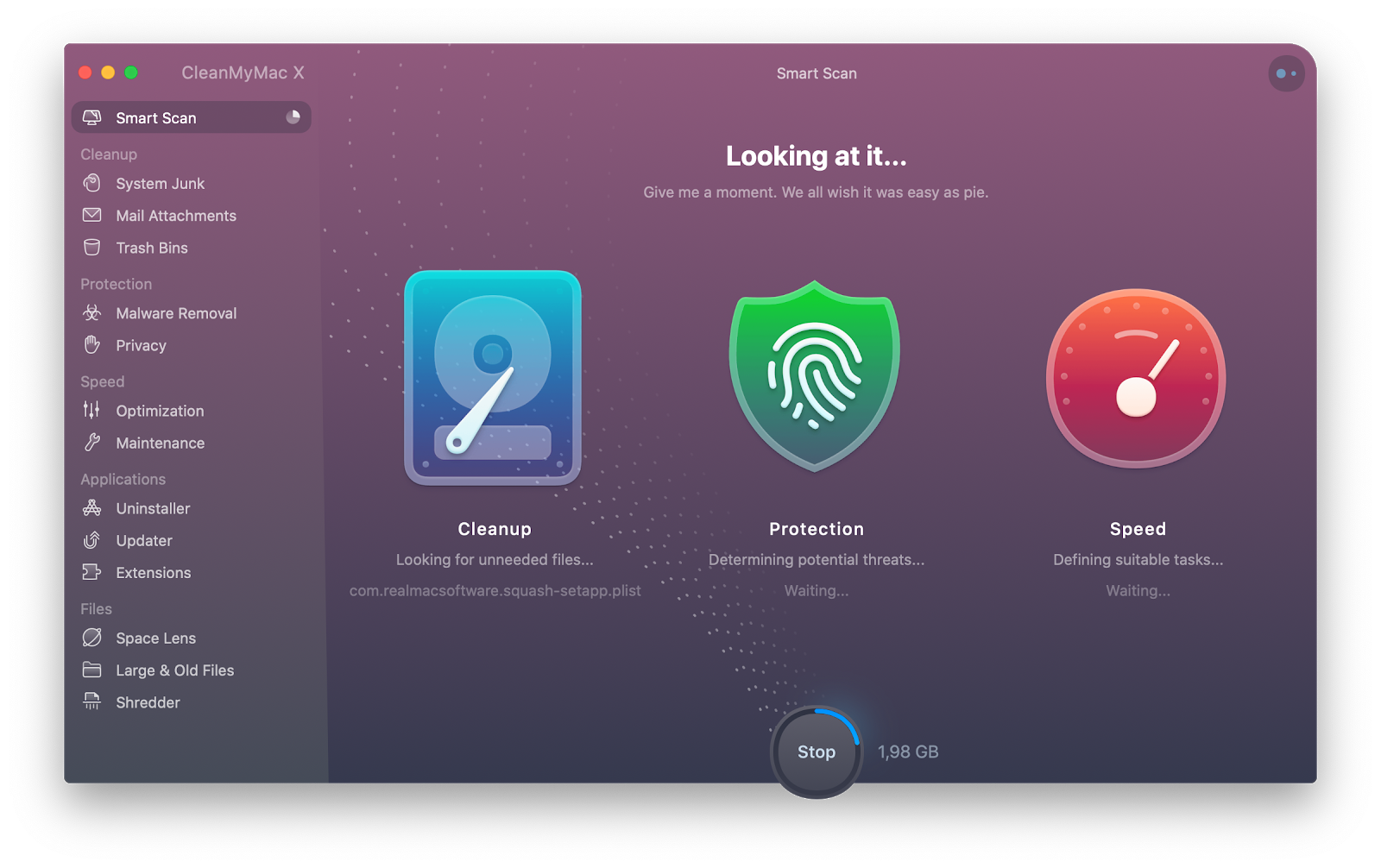 Read more about macOS Big Sur system requirements here.
4. If download went right, but macOS Big Sur won't install
No particular reason why this happens, it just happens. You seem to have downloaded macOS Big Sur, and then it gets stuck during the installation. One way to solve this might be rebooting your Mac in Safe Mode: hold down Shift while rebooting and then restart the installation process. If this doesn't help, try resetting NVRAM:
Shut down your Mac

Hold down Option + Command + P + R for about 20 seconds

Wait until your Mac restarts and try reinstalling macOS Big Sur.
Apple also recommends resetting SMC:
Shut down your Mac

Hold down Shift + Ctrl + Option + Power button for 10 seconds (make sure the cable is plugged in)

Click on the power button

Wait until your Mac restarts and try reinstalling macOS Big Sur.
macOS Big Sur freezing
With macOS 11 up and running, it's important it runs smoothly. Sometimes, new macOS versions tend to cause freezing. With macOS Big Sur in particular, some users report the freezing is followed by an unexpected system restart. Since freezing is a performance issue, optimizing overall performance could help. From what we've tried, CleanMyMac X and its Maintenance feature can be a great solution:
Open Maintenance in CleanMyMac X

Check the boxes next to "Run maintenance scripts," "Free up RAM," and any other option that might affect performance

Hit Run.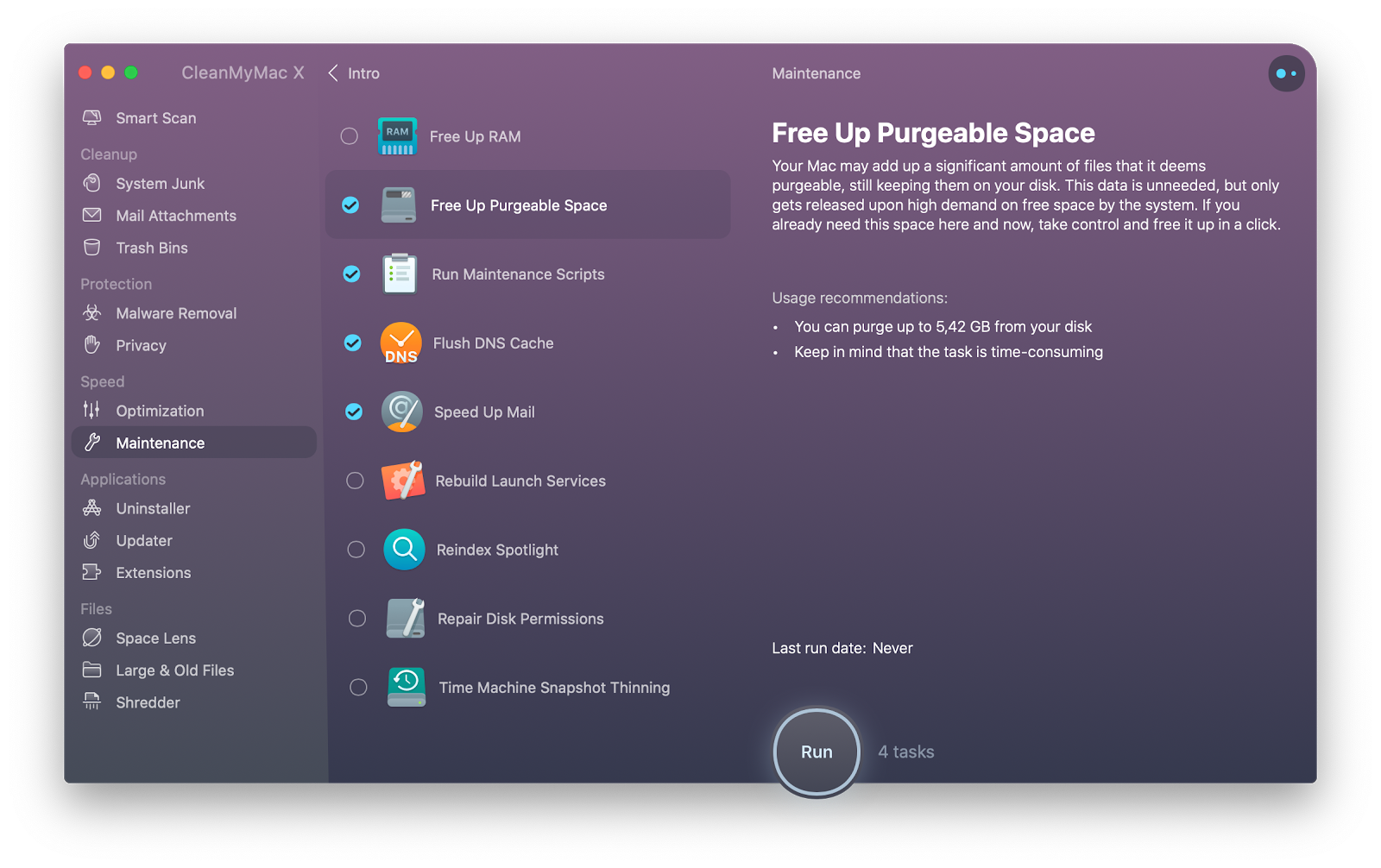 macOS Big Sur battery drain
One of the common macOS 11 Big Sur issues is battery getting to its low point — faster than before. Here are the ways to solve the problem:
Find out the energy impact of apps. Traditionally, new operating systems feature updated and new apps, which might put extra pressure on your machine. To know exactly what apps are draining battery, use Apple's built-in Activity Monitor. You'll find insights on the energy impact of every active (or recently active) app under the Energy tab.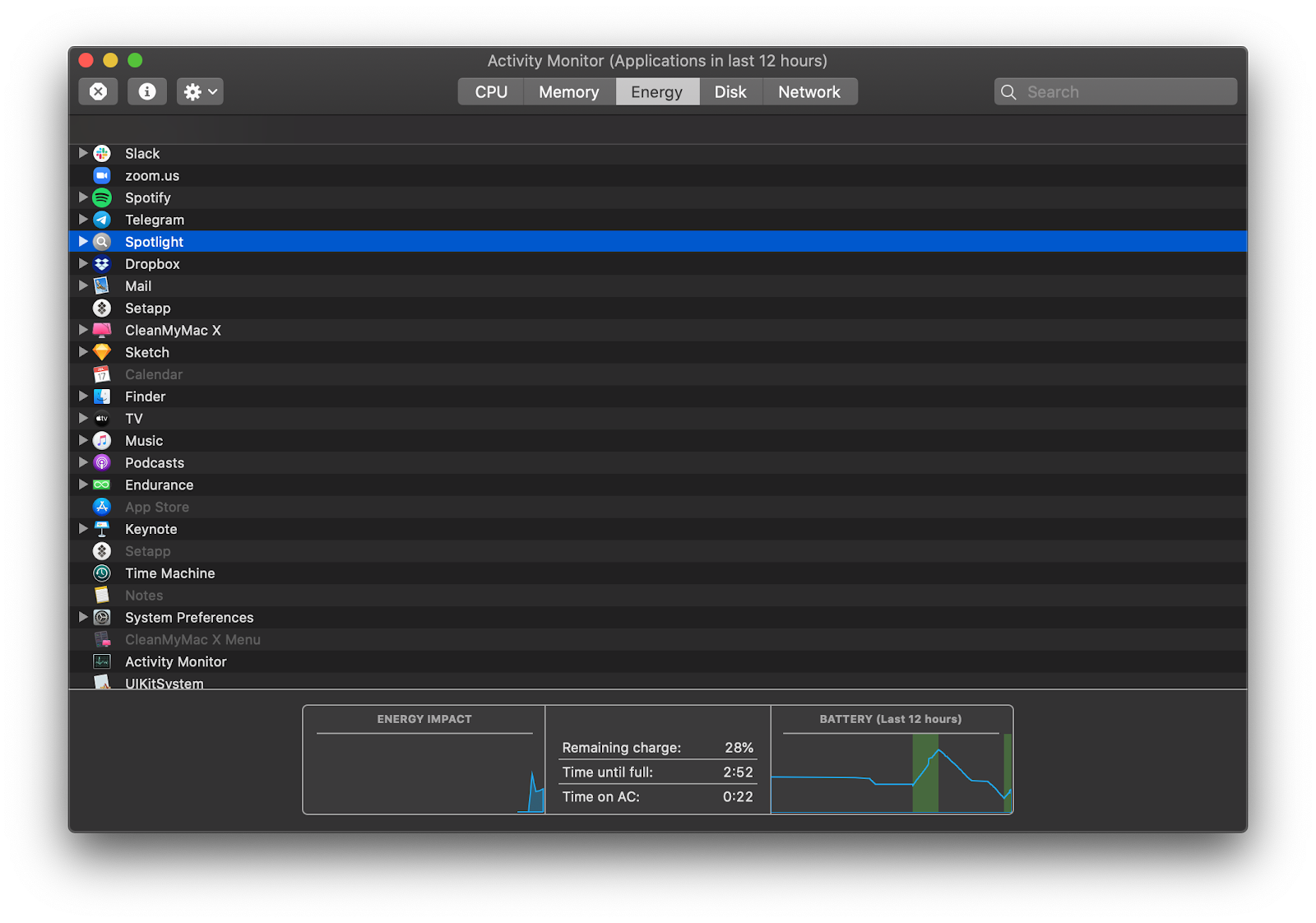 Use iStat Menus for system monitoring. If you want a more advanced Activity Monitor alternative, try iStat Menus. It will show "Apps using significant energy" right in your menu bar. What's more, the app can monitor a whole lot of different indicators — from CPU to disk usage to memory load.
Get a MacBook battery extender. This is a universal fix. Endurance is an app that can make your Mac's battery last longer, whatever macOS you use. It slows down apps that work in the background, gradually dims the screen (you won't even notice this), and lowers your Mac's processing speed for when you're working on simple tasks.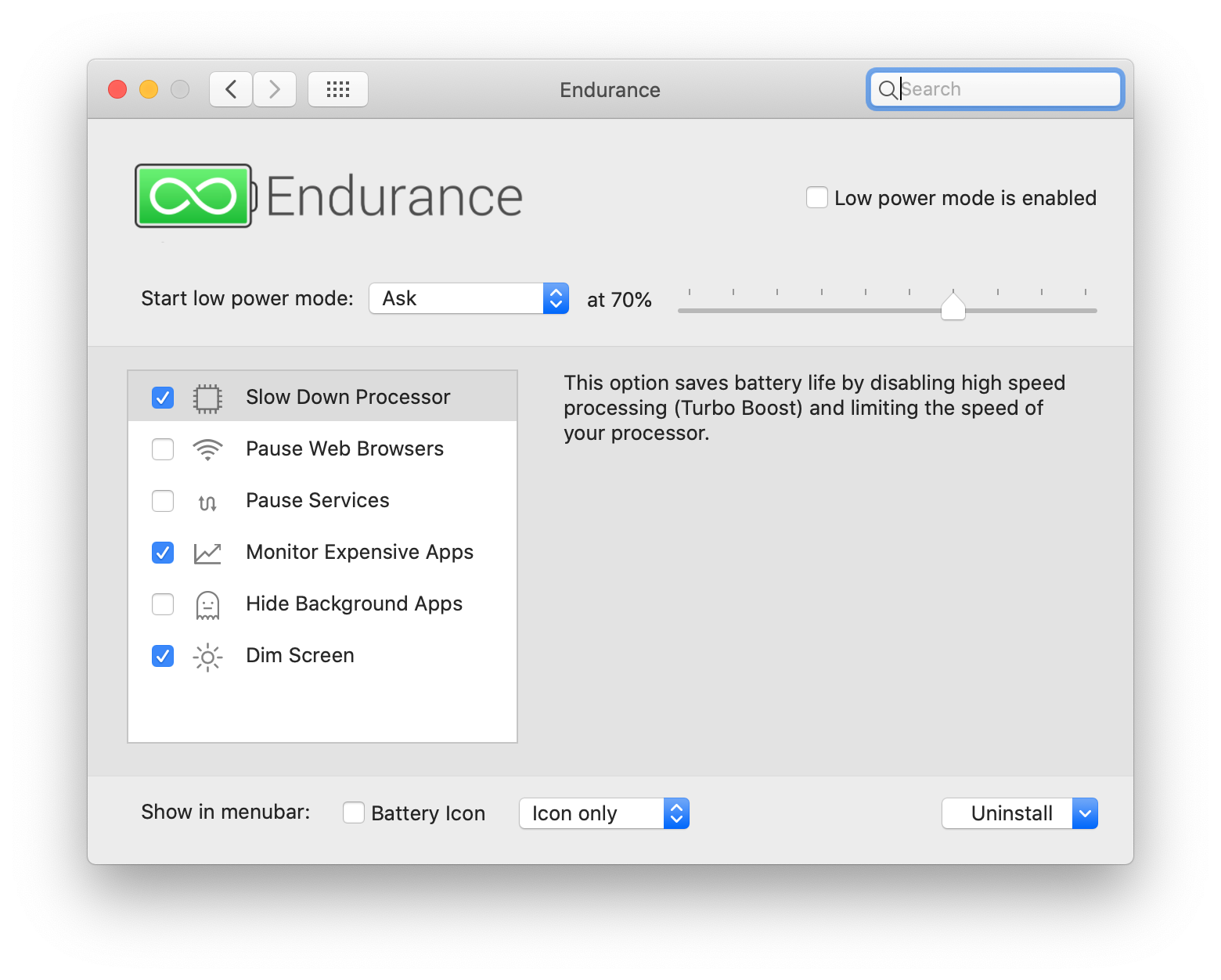 macOS Big Sur running slow
First of all, be prepared for a slow download. According to numerous reports, macOS Big Sur downloads much slower than the previous versions. This doesn't seem to be a bug, so there's nothing to fix about it. Just make sure you don't start updating in case you need your Mac in working mode in the nearest time.
And what if the installation went right but your Mac has been slowing down ever after? The problem might be old apps or too many apps working in the background. Here's what you should do:
Disable login items. This is the first thing to try because too many apps launching at startup hamper your Mac's performance. You can stop apps from working in the background in System Preferences > Users & Groups > Login Items. Simply check the boxes next to login items and hit the minus button.
Track performance and remove the clutter. iStat Menus and CleanMyMac X make the perfect match when it comes to fixing any macOS Big Sur issues. This is not an exception. Too many things might make your Mac go slow. iStat Menus will help you see what the problem is, and CMM X will run a smart cleanup to optimize performance.
Reset SMC. If nothing works, resetting SMC might be a way out. We've described how it works above.
USB 2.0 connection problem
Owners of the new 13-inch MacBook Air and MacBook Pro released in 2020 might not be able to connect USB 2.0 accessories like keyboards or mice to their Macs via hubs and adapters. This is not exactly the Big Sur problem and was first reported on macOS Catalina. While Apple has recently fixed it with the 10.15.6 Catalina update, the problem persists on macOS Big Sur. The only possible solution so far is to restart your Mac and try reconnecting.
Menu bar disappears on macOS 11 Big Sur
If your redesigned desktop misses the menu bar on macOS Big Sur, don't worry. This is easy to fix:
Open System Preferences > Users & Groups

Click on Login Options and type your admin password

Disable the option "Show fast user switching menu as"

Once the menu bar is back, go to System Preferences once again and select Dock & Menu Bar (the new preference pane that lets you show/hide controls)

Disable Fast User Switching to remove it from Control Center.
These are all known macOS 11 Big Sur issues reported so far. Hopefully, this guide helps you get your Mac up and running with the new, fully redesigned system. You'll learn it's definitely worth the effort: macOS 11 covers a new sidebar look, curated notifications, enhanced Maps and Messages, and more. You don't want to miss this.
To ensure you stay on the safe side and can fix all Big Sur macOS issues on the go, get iStat Menus, CleanMyMac X, and Endurance with Setapp. It's a curated membership of 190+ apps that are all free for 7 days. So if you won't need them to fix macOS problems (which we hope you won't), you'll need them for lots of other jobs.
If you haven't found your problem on the list, we encourage you to try a system clean up anyways. It can help solve lots of macOS Big Sur issues by boosting your Mac's capabilities. Otherwise, stay tuned. We'll be updating this article as new issues emerge.