The top 5 macOS Big Sur features
Apple debuted macOS 11 in June 2020, and it's been a big move. Not only because macOS 11 Big Sur officially ends the era of OS X — well, this too. The new operating system version 11 has a design that changes everything about the way you use a Mac. So whether you like it or hate it, the newest macOS is the one to remember.
What is new on macOS Big Sur
Hopefully, you'll remember the best of it — because there's a lot to love Big Sur for. macOS 11 beats macOS Catalina with the growing number of Catalyst apps, an all-new Safari, greener Maps, and more intuitive Messages. Also, Big Sur will be the first operating system catered for new Macs with Apple silicon chips. Hence the first macOS to allow running iOS apps on Mac.
The macOS Big Sur release is presumably scheduled for September, and the public beta has been available since July. So if you can't wait to upgrade your Mac, the beta is the answer. And if you're still in doubt, check out the top 5 Big Sur features to see whether it's worth it:
1. Big time for Safari
Launched in 2003, the Safari browser will reach its prime time on macOS Big Sur. Think of it as Safari officially becoming an adult — and a very ambitious one. The recent update makes Safari 50% faster than Chrome and more personalized than ever before. Here are the major highlights you can benefit from:
Start page designed for you. Choose a custom background picture as well as anything that should appear on it. You can personalize Safari's start page with quick access to Reading List, Privacy Report, Favorites, Siri Suggestions, and more. Make it look like it's your personal browsing shelf (which it is).
Privacy Report. Based on Intelligent Tracking Prevention, Safari's new Privacy Report will show how the browser helps you stay anonymous on the web. It blocks cross-site trackers on the websites you visit, and lets you actually see those trackers. So yeah, you can basically track the trackers.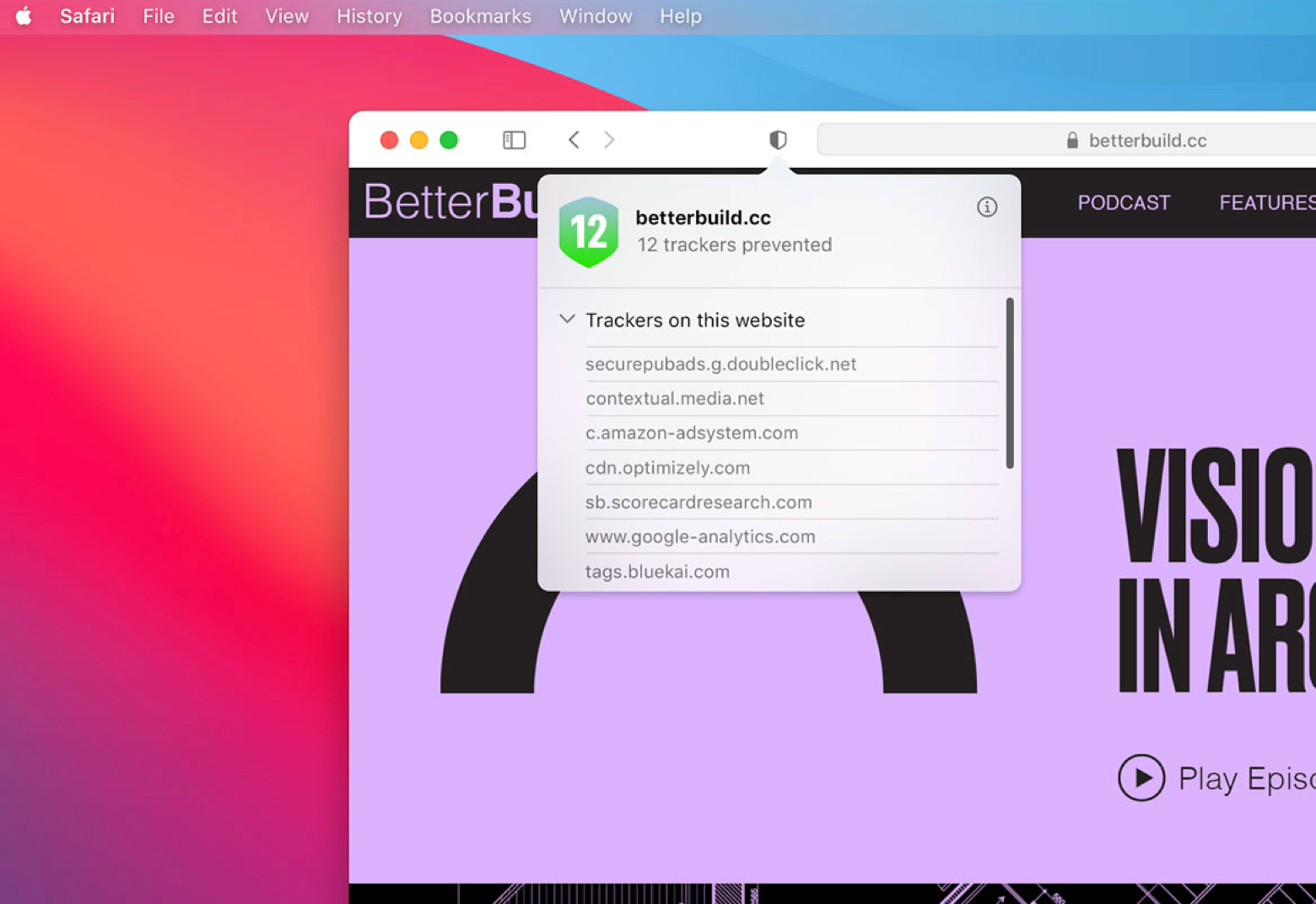 Website preview from a tab. The macOS Big Sur Safari makes tab multitasking great again. With the improved tab design, it lets you see what's behind the tab — like a quick website preview — by hovering over it. So there's no such thing as too many tabs open at the same time.
More extensions. You'll be able to migrate your extensions from other browsers to Safari in a flash. Plus, more extensions will arrive on the App Store — Apple will put them all into a dedicated category.
And that's not it. The new Safari also features built-in translation, smart password monitoring, and lets you easily transfer all your history and passwords from Chrome. You know, kind of hinting at what your next favorite browser should be.
2. Control Center for excellent control
Here's what is new with Big Sur for Mac: It lets you take control. With a revamped Control Center, you can take your favorite menu bar tools into one handy spot on your desktop. If you're like "wait a minute, I've seen this before," you're totally right. The Big Sur Control Center is very similar to the one you use on iOS devices — but with controls adapted for macOS.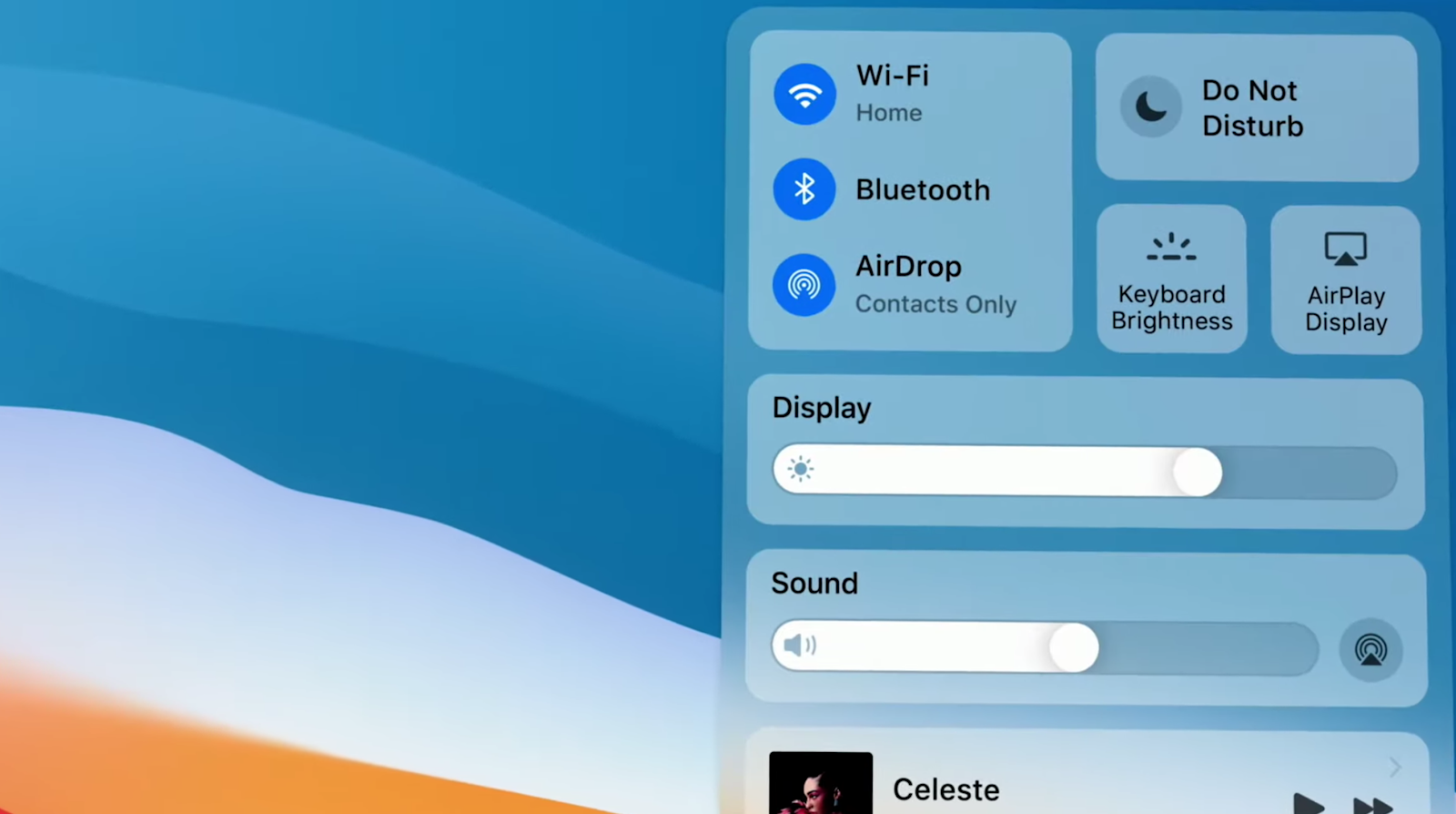 You'll probably want to use it for quick access to Wi-Fi, Bluetooth, and Dark Mode. But the options are limitless, really. You can add custom controls for your favorite apps — and even choose the most favorite of all the favorites to pin them to the top of your menu bar. Control Center has a "show more" feature that lets you expand the menu, so your desktop doesn't look cluttered at all.
Apart from the Control Center, macOS 11 Big Sur introduces three new widget sizes, notifications grouped by apps, translucent Dock, and more. The whole experience is very different, in a good way.
3. Catalyst apps and iPadification goals
Many of the macOS 11 Big Sur features are connected with Project Catalyst, the method that allows porting iOS apps to macOS. Maps and Messages have been redesigned with the Mac Catalyst app, and the Catalyst app itself gets a huge update on macOS 11 — with more iOS frameworks, new APIs, and keyboard-controlled Catalyst apps.
What does it mean for you? The experts predict there will soon be no difference between an iOS app and a Mac app. Since Apple is shifting to its own ARM chips and the Big Sur design covers many iOS elements, the so-called "iPadification" of Mac might be the future. In the meantime, we see more Catalyst apps arriving with macOS 11 — easy to port and fitting the interface perfectly. If this is something that appeals to you and you will be switching to Apple silicon soon, Big Sur is worth a try.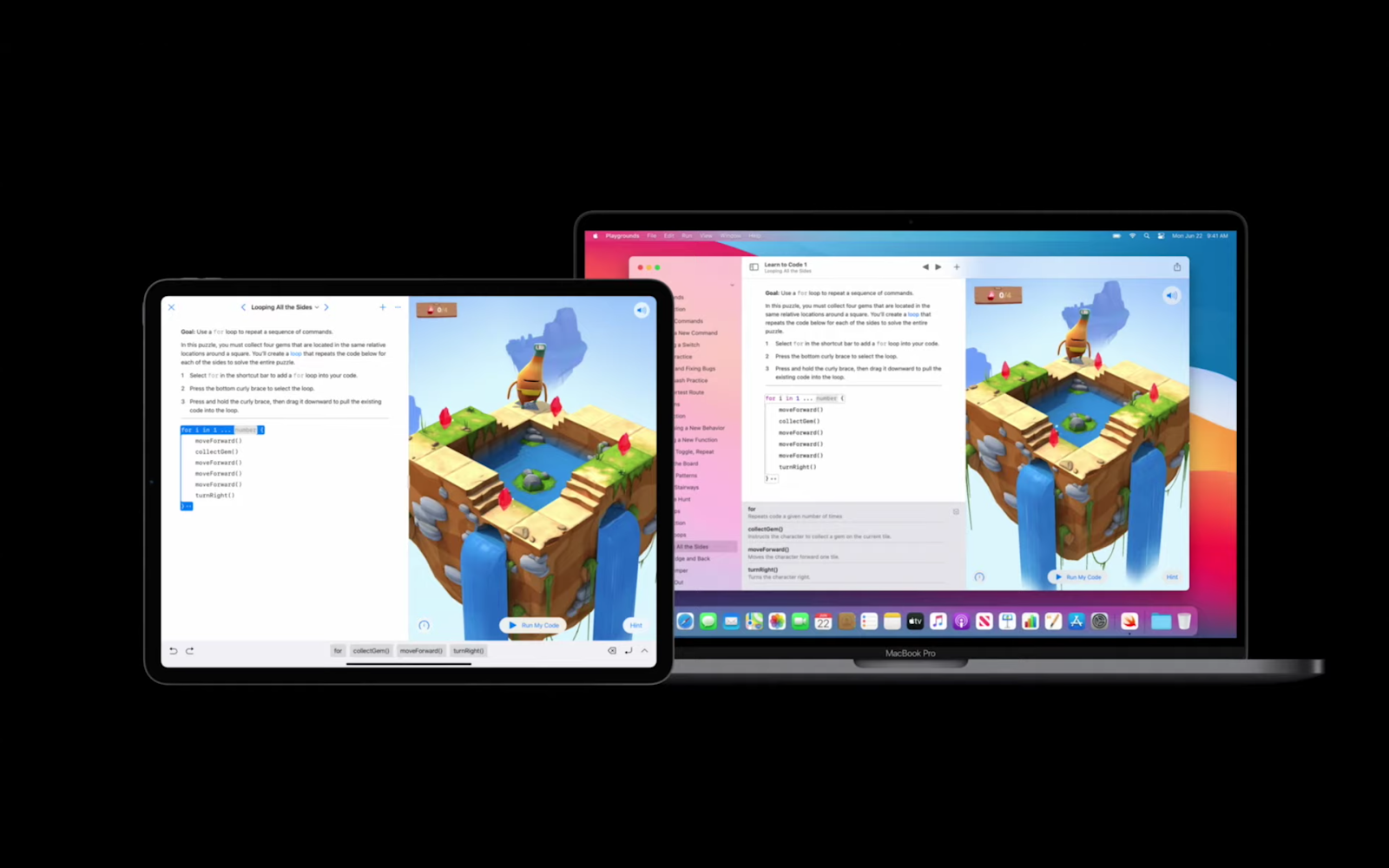 4. Messages, with new faces
New faces also known as Memojis. The Big Sur Messages, redesigned with the upgraded Catalyst app, lets you create a personalized Memoji sticker. The app generates a Memoji for your profile automatically, which you can edit at any point — as you're growing older (or younger) — so that your online chats look crazily authentic. And yes, Messages has more useful features, too:
New Search that highlights the matching terms. Find links and photos across your past conversations simply by specifying the search term.

Inline replies for group chats and pinning chats to the top of the list. This way, you can easily stay on top of a conversation, no matter how many people you're chatting with.

Up to nine pinned conversations that will all be synced across your devices.

Trending GIFs and images you can browse through and add to your conversations in a click. Think Facebook Messenger.

Set an image for a group conversation. It could be a photo, emoji, or Memoji — whatever defines your chat in the best way possible.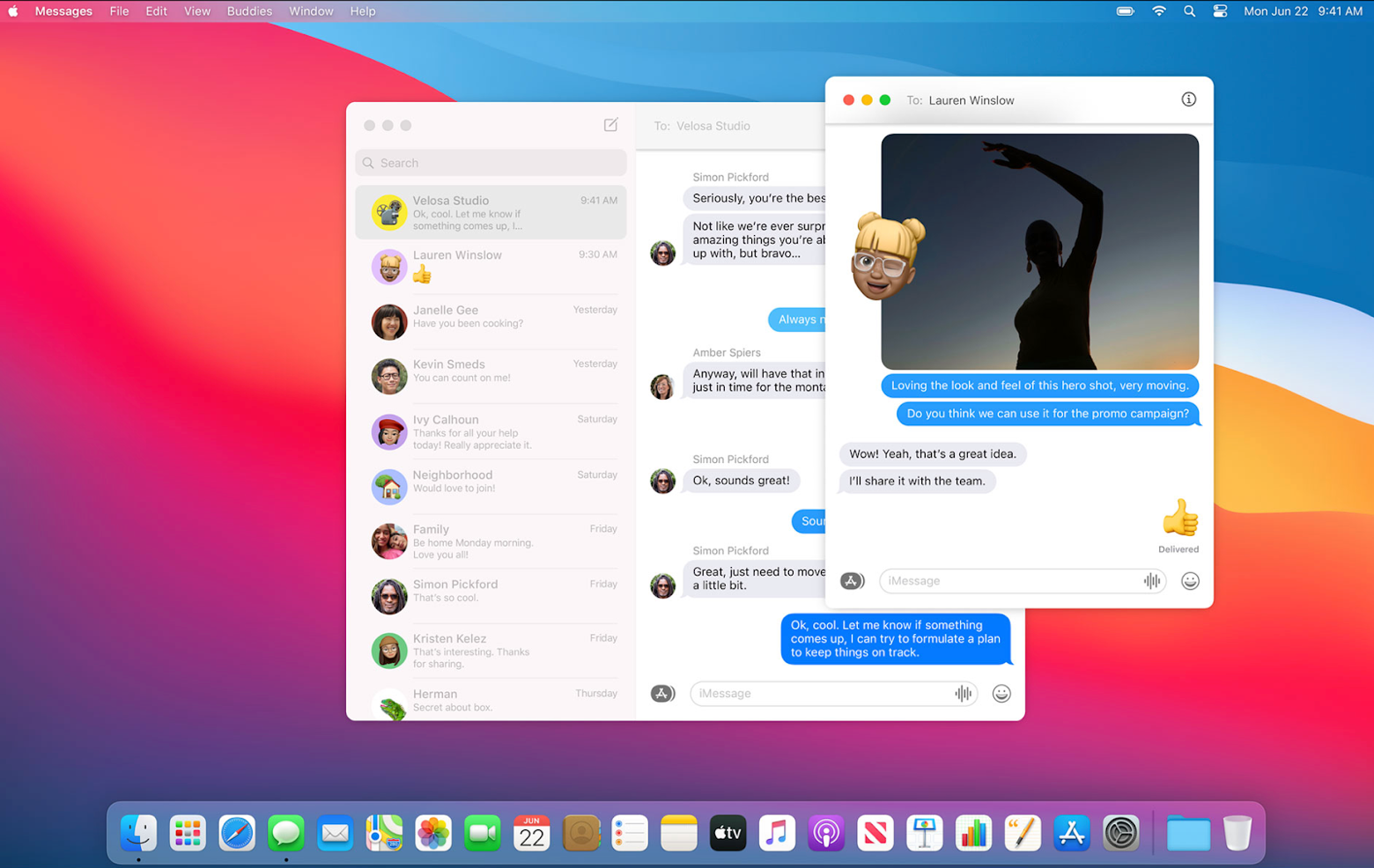 5. Maps with curated Guides
On macOS Big Sur, Maps are more of a tour guide than a map. It has a brand new feature called Guides, which is essentially a list of must-visit places in a city. You can follow the recommendations or create your own curated Guides, which you can use for future visits or share with family and friends.
Apart from that, Maps has been redesigned for better navigation, with Look Around and Indoor maps added. For the fans of green travel, there are new cycling and electric vehicle routes available. If you travel to a city with extensive congestion zones, Maps will help you route around them. So it's all about more detail, more precision, and more green routes.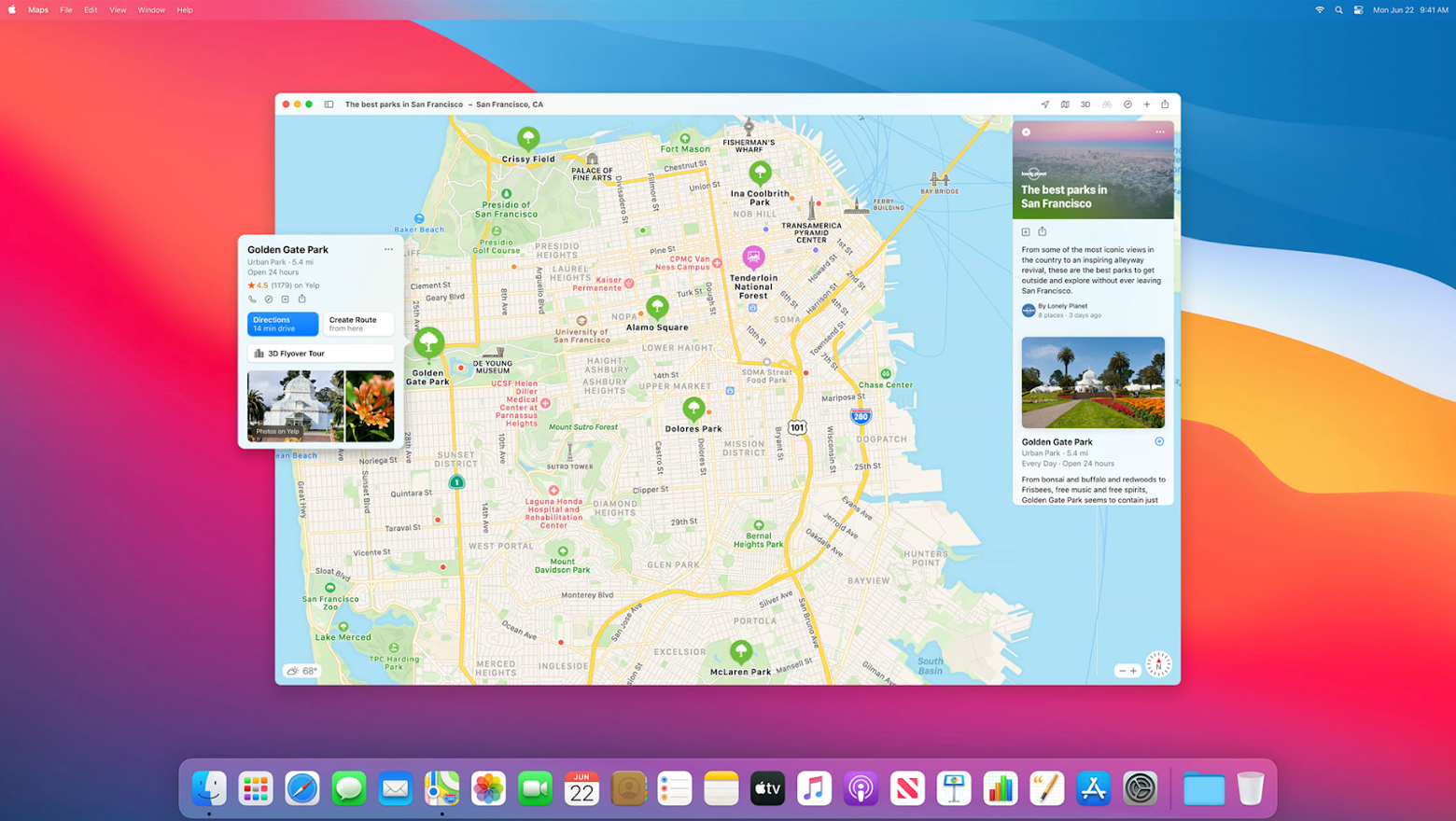 How to download and install macOS Big Sur public beta
Should I update to Big Sur? This is still up to you. But it's fair to say macOS 11 is setting a high bar — and it looks like even more impressive features will be built on top of it in the future. So if you're ready to try and get a feel of it, here's how to install the macOS Big Sur public beta:
Create a fresh backup of your Mac with Get Backup Pro (unlike Apple's own Time Machine, Get Backup Pro can create bootable backups)

Go to Apple's beta website and sign up

In the top right corner, click on "Enroll Your Devices" and navigate to the macOS tab

Scroll down and click on "Download the macOS Public Beta Access Utility" > Allow

Find the beta utility.dmg in your Downloads folder and double-click it

Launch the .pkg installer and follow the instructions

Find the new public beta available for download in System Preferences > Software Update.
If you experience any installation problems, you might want to check system requirements for macOS Big Sur. The common problems are lack of storage and macOS compatibility. Luckily, with a few tweaks, they can be solved. You can run a few simple upgrades to match the Big Sur minimum macOS requirement and free up disk space with CleanMyMac X. While CleanMyMac X and Get Backup Pro are both a part of Setapp, you can use both tools to prepare your Mac for macOS 11 — the membership is free for 7 days.