Ventura vs Monterey: is it worth updating?
Ventura vs Monterey: should you update? Today we're gonna be taking a look at new macOS Ventura features and comparing Ventura vs Monterey performance so you can decide which macOS is best for you. Ventura was released on October 24, 2022, so you can now fully experience all its perks. Speaking of which, let's look at what Ventura brings to the table.
Ventura vs Monterey: what's new?
So what's new in Ventura compared to Monterey? Over the past few generations, macOS has seen some significant revisions. Big Sur brings a new interface with it, with an updated Notification Center and Control Center. This was improved upon in macOS Monterey with the introduction of new FaceTime features, including Voice Isolation for better audio and SharePlay to share content with other callers. Continuity capabilities like AirPlay, which let other Apple devices appear on the bigger screen, were also introduced to Mac by Monterey. The main feature, Universal Control that allows the use of a single mouse, keyboard, and trackpad to control multiple iPads and Macs has also come with Monterey.
The new macOS Ventura includes a ton of things that can improve your Monterey experience, such as Focus Filters and SharePlay now available in Messages. But most importantly, macOS 13 adds some revolutionary new features — from Stage Manager to Continuity Camera to Undo in Messages and Mail.
Here are some key distinctions between macOS Ventura and macOS Monterey.
Stage Manager – enjoy a new workflow for windows and apps
In order to make focusing on activities and moving between apps and windows easier and faster than ever, Apple is introducing its new Stage Manager feature in Ventura. While other windows are displayed as thumbnails on the side of the screen, it centers the one (or the group) you're working on. If a given application has numerous windows, they are grouped together. Applications update as though the windows were full-size; thus Mail keeps checking for new messages, and Messages shows conversation updates.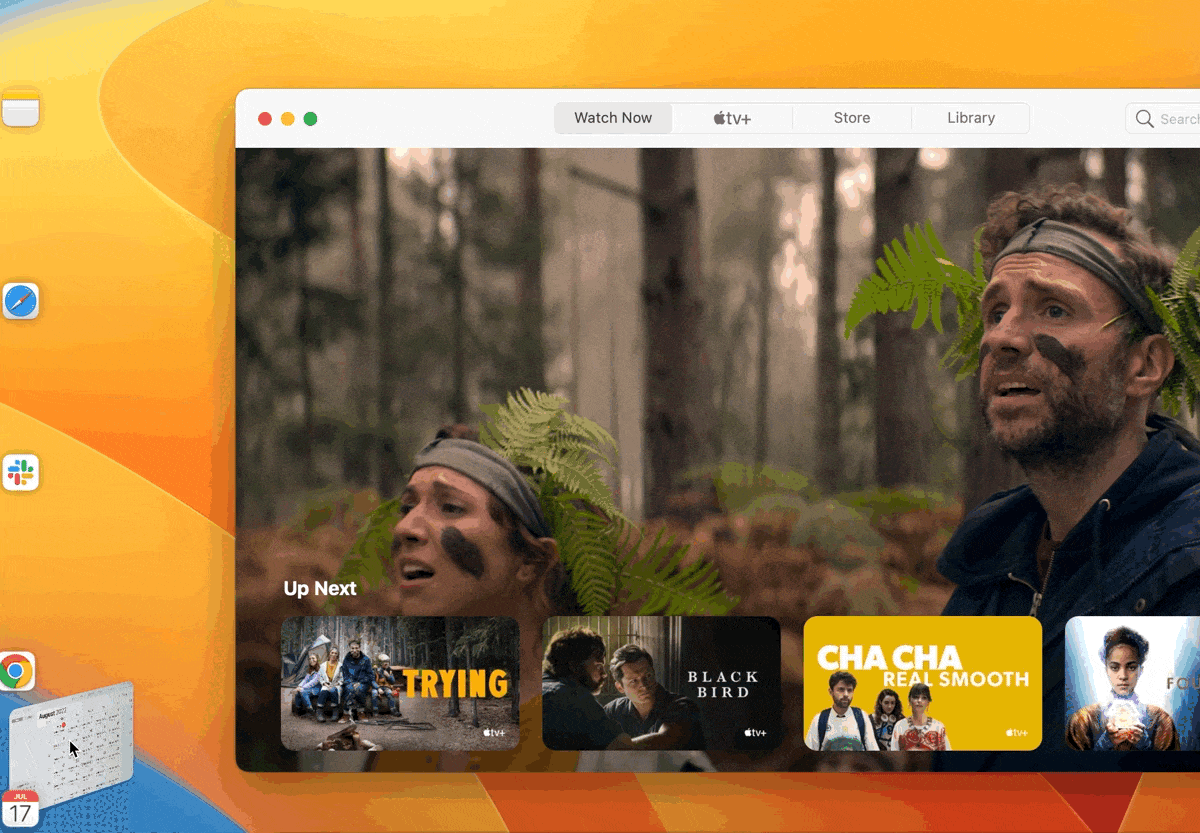 You may create workspaces with windows arranged on various screens. The apps you require for business may be on one screen, and you could use a second screen for pleasure or keeping up with friends. That sounds just great!
Spotlight – use improved search and recognize the content of photos
MacOS Ventura improves Spotlight's functionality by adding new ways to use the app. For instance, now, you can quickly find pictures from your iCloud Photo Library, your hard drive, or the internet. Let's say you need a cat picture. Because Spotlight utilizes machine learning to recognize the content of photos, typing it into the search bar should return a ton of results! On top of that, Spotlight in Ventura supports the iOS 15 update's Live Text feature, which lets you interact with the text contained in those photos.
You can also preview files with Quick Look and get all the information you're looking for in one rich result (Rich Results).

Mail – unsend an email 10 seconds after it's sent
Our favorite new macOS Ventura feature is the mail client's ability to schedule and unsend emails. On top of that, when a user clicks on search, they can instantly locate what they're looking for, including recent emails, contacts, documents, photographs, and more, all without having to type a word. Mail now automatically recognizes if objects like an attachment or a recipient who was added to the "CC" line are missing from users' messages.
If you want even more flexibility with emails, try Canary Mail. It allows setting an expiration date for emails. If you do so, a recipient won't be able to access an email's contents beyond the specified date if you include an expiration date in it. Here's how you set the expiration date in Canary Mail:
Start writing a new email in Canary
Turn on SecureSend
Select the expiration date from the list or set your own date.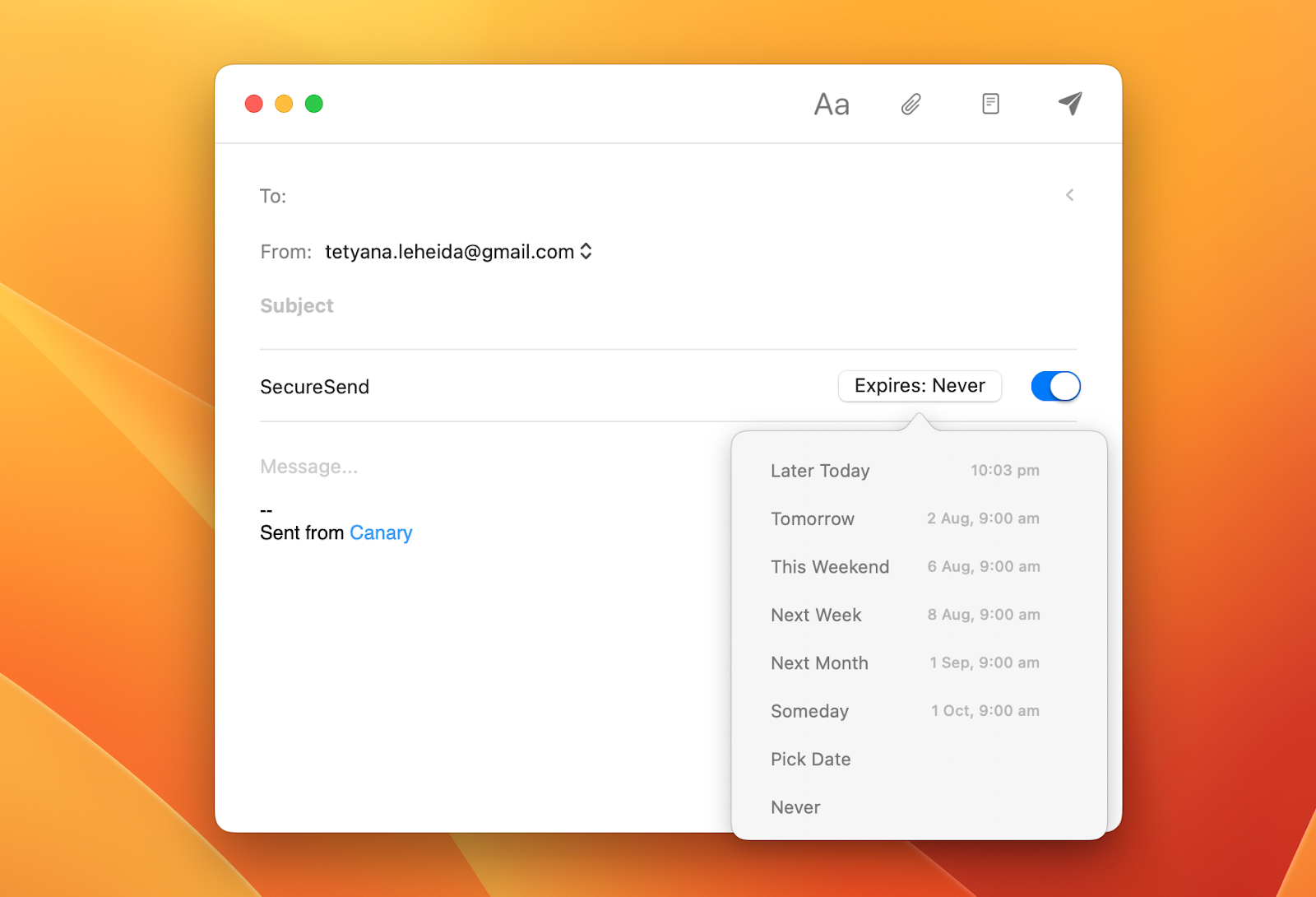 Safari – get new collaboration features and enhanced privacy
Tab groups have been added to macOS Monterey, enabling users to establish a set of tabs that can be accessed separately from others. This means you can have collections of tabs for various things. For example, buying certain products or gathering information for a specific project.
With the addition of new shared tab groups in macOS Ventura, you can now go even further. Although it functions similarly, it also enables you to share the tab groups with other people so they can work together. This can be particularly helpful for coordinating travel plans, collaborating on projects, or just showing friends fun things you find online.
Furthermore, macOS Ventura brings a new feature called Passkeys. Passkeys are just as simple to use as passwords, if not simpler. They use a biometric check on our phones or laptops to replace the deluge of keystrokes required for passwords. Additionally, they eliminate phishing attacks and remove the difficulties associated with two-factor authentication, such as SMS codes, which exacerbate the flaws in the password system.
Give your online accounts an extra layer of protection with the help of Step Two, the app that is designed to make two-step verification friendlier and easier to use.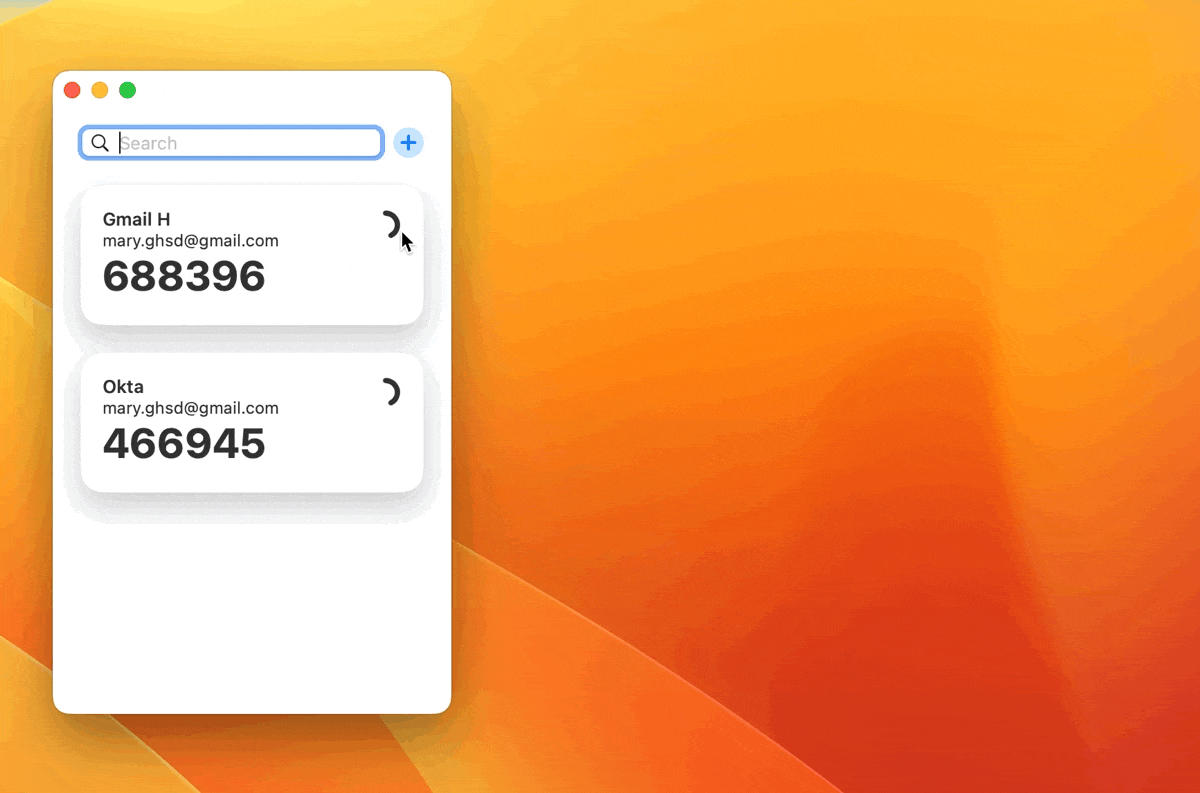 Continuity Camera – try out new camera tricks
Ventura's new Continuity Camera function enables you to utilize your iPhone as a webcam. We think it makes sense to be able to use the far better rear cameras on your iPhone because, as you may know, Mac webcams aren't all that impressive. On top of that, a new Desk View feature for iPhones takes advantage of the ultrawide camera to produce side-by-side portrait and desktop views. According to Apple, every video chat app can function with a Continuity Camera.
Games – expect a brighter future for gaming on the Mac
With the release of macOS Ventura, Apple is giving Mac gaming more attention. The introduction of Metal 3 by Apple is one of the most significant upgrades, while not being particularly visible. Metal enables it to fully utilize a Mac's GPU. So the visual quality of games should significantly increase with this release. What does this mean in terms of Ventura vs Monterey performance? The MacBook Air will be able to smoothly play games at 1080p quality thanks to these enhancements, and Mac Studio machines will be able to play at up to 4K!
One of the fastest ways to free up some space on your Mac is by using CleanMyMac X. Here's how:
Open CleanMyMac X
Next, choose Large & Old Files from the left sidebar and click Scan
After the scan is finished, choose the things you want to remove from the list, then click Remove.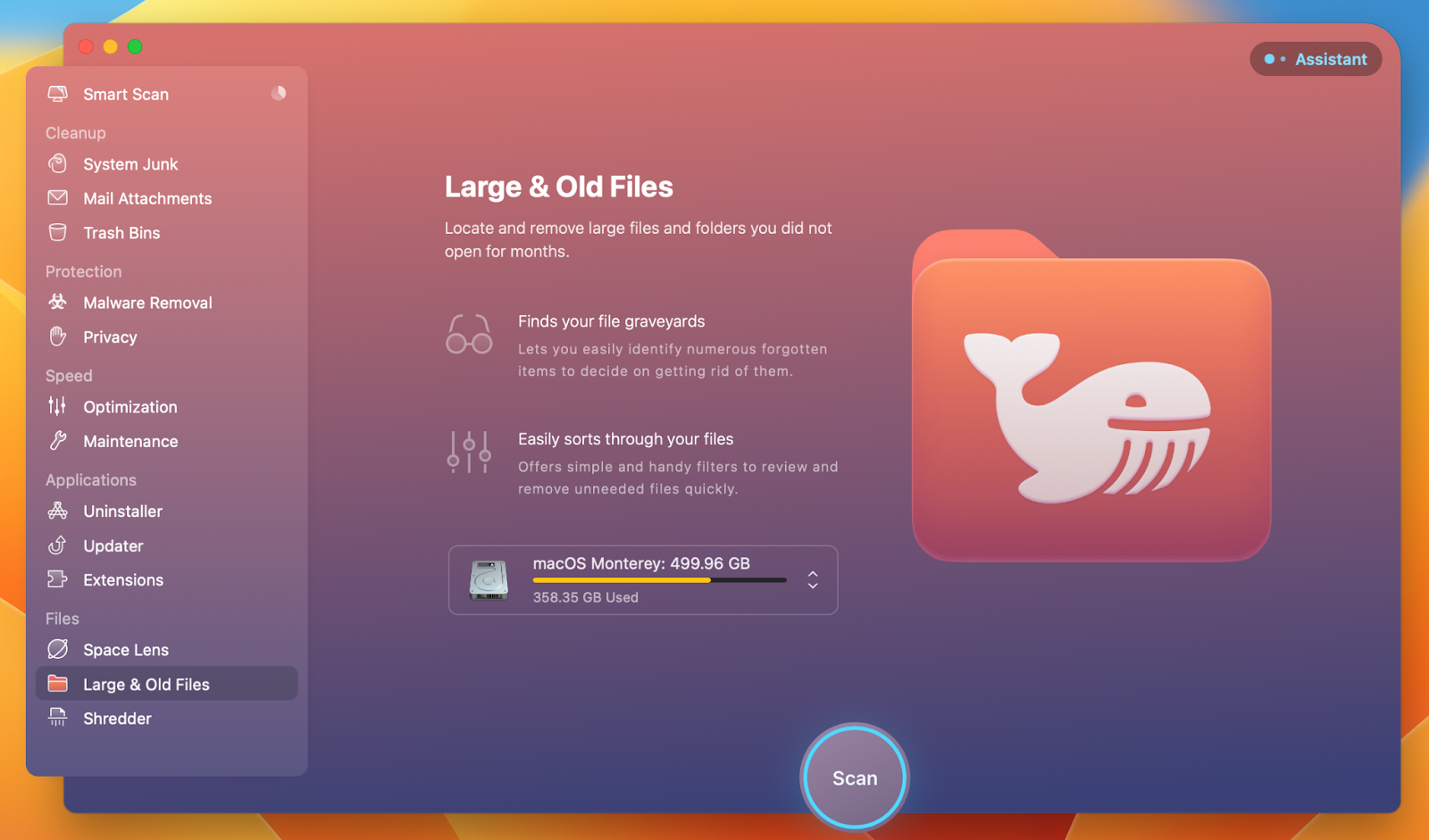 System Settings – enjoy simplified System Preferences
System Settings, the new name for System Preferences, has a simplified and updated interface that is simpler to use and immediately recognizable to iPhone and iPad users.
The checkboxes for the various options in macOS Ventura have been replaced by toggles. This gives the app a more modern look, which is again similar to iOS.
Additionally, we liked the fact that Wi-Fi now has its own option in the sidebar rather than being tucked away in Network.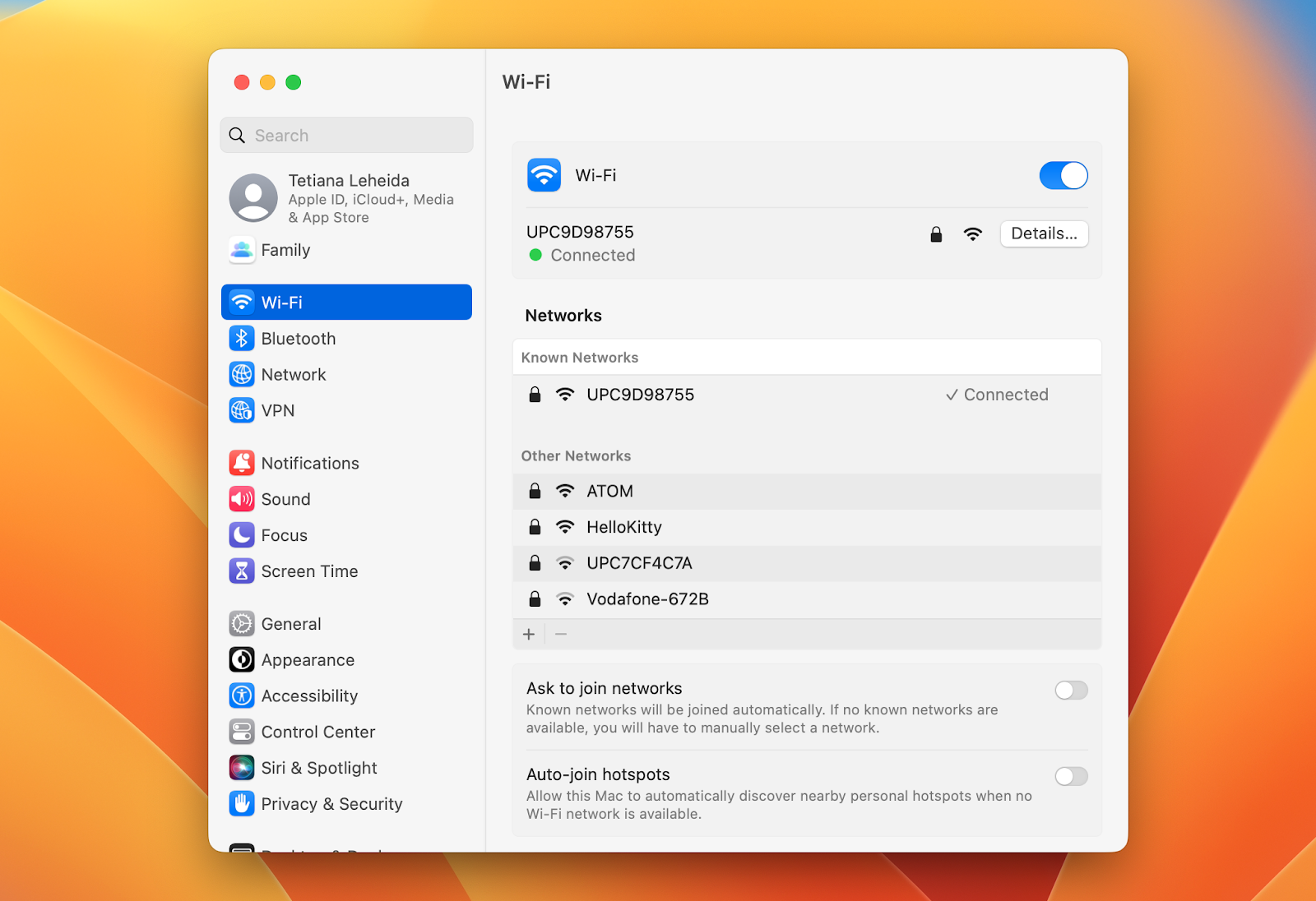 Ventura vs Monterey: Is it worth updating?
Although we adore Monterey, macOS Ventura appears to be a fascinating new addition to the macOS family. The new features are designed to improve the efficiency, security, ease of use, and speed of your Mac. So we believe it's worth updating to Ventura.
The only recommendation before you make the update is to ensure your Mac is prepared well in advance. Free up some space on your Mac with CleanMyMac X and Gemini. Both tools are on Setapp, a platform that has more than 240 apps for Mac and iPhone, and are available with a 7-day free trial. Other tools mentioned in this article are also available under a single Setapp subscription.