How to remove Yahoo search virus on Mac
Yahoo is one of the most popular websites in the world. It's a search engine, an email service, a news provider, a financial analysis tool, and much more.
Even if you don't use Yahoo's services a lot, you might see your browser redirecting to search.yahoo.com, regardless of the website you go to. This is likely happening because your Mac has been taken over by the Yahoo redirect virus.
Let's see how to get rid of Yahoo search on Mac and reclaim your web browser.
What is the Yahoo redirect virus?
It might be confusing that a virus would redirect you to the Yahoo website. After all, Yahoo itself is not affiliated with any malware.
The way the Yahoo redirect virus works is by referring users to Yahoo and then getting a fee from the Yahoo referral program, as users see ads when they browse the website.
That's why the Yahoo redirect virus situation is not as dangerous as other viruses on your Mac. However, since your browser is next to unusable with Yahoo redirects, it's a good idea to look into removing Yahoo search from Chrome, Safari, or another browser you use.
How did Yahoo redirect get into my Mac?
When you get Yahoo redirects, it means that your browser contains the redirect script somewhere in its preferences.
The most likely reason for getting the redirect in the first place is clicking on suspicious ads or downloading files or software from unverified sources. The redirect virus then gets to your computer with the download bundle and installs itself. At the same time, the Yahoo redirect can be part of more serious malware on your Mac.
Luckily, removing Yahoo search from Safari and other browsers can be done in a few clicks.
How to remove Yahoo search redirect with one click
As Yahoo search redirect is technically a virus, it could be quickly detected and deleted by a capable malware-removal app, such as CleanMyMac X.
CleanMyMac X is a powerful Mac optimization software that scans for malware, fixes bugs, improves privacy, deletes space-wasting files, and uninstalls apps you don't need.
All CleanMyMac X scans are safe, have thorough explanations, and can be initiated with one click. Plus, you can monitor your Mac in real time from the menu bar, including CPU and RAM loads, network speed, Bluetooth devices, and more.
Here's how to block Yahoo search engine redirect virus with CleanMyMac X:
Launch the app
Go to Malware Removal
Click Scan
Click Remove if any malware was found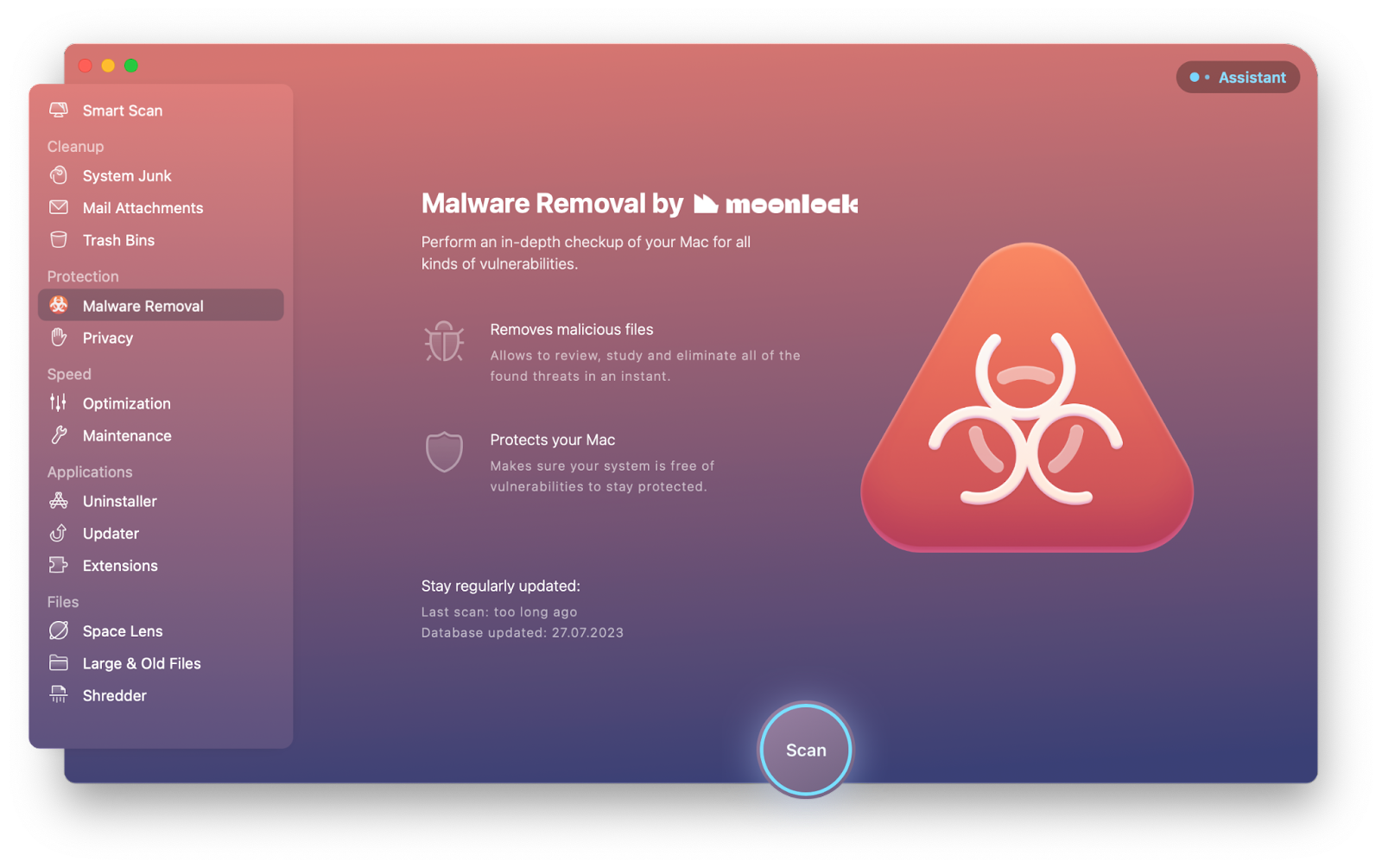 Another important tip for preventing malware from damaging your Mac is monitoring its vital indicators, such as CPU, RAM, disk heath, network speeds, temperature, and more.
The best way to monitor all exact aspects of your Mac is by using iStat Menus.
iStat Menus is the most comprehensive Mac monitor available today. It's precise but not overwhelming, letting you choose the exact monitoring components you want to see. Your Mac scans will then be accessible from the menu bar in real time. Now, no change (or new virus) on your Mac will go unnoticed.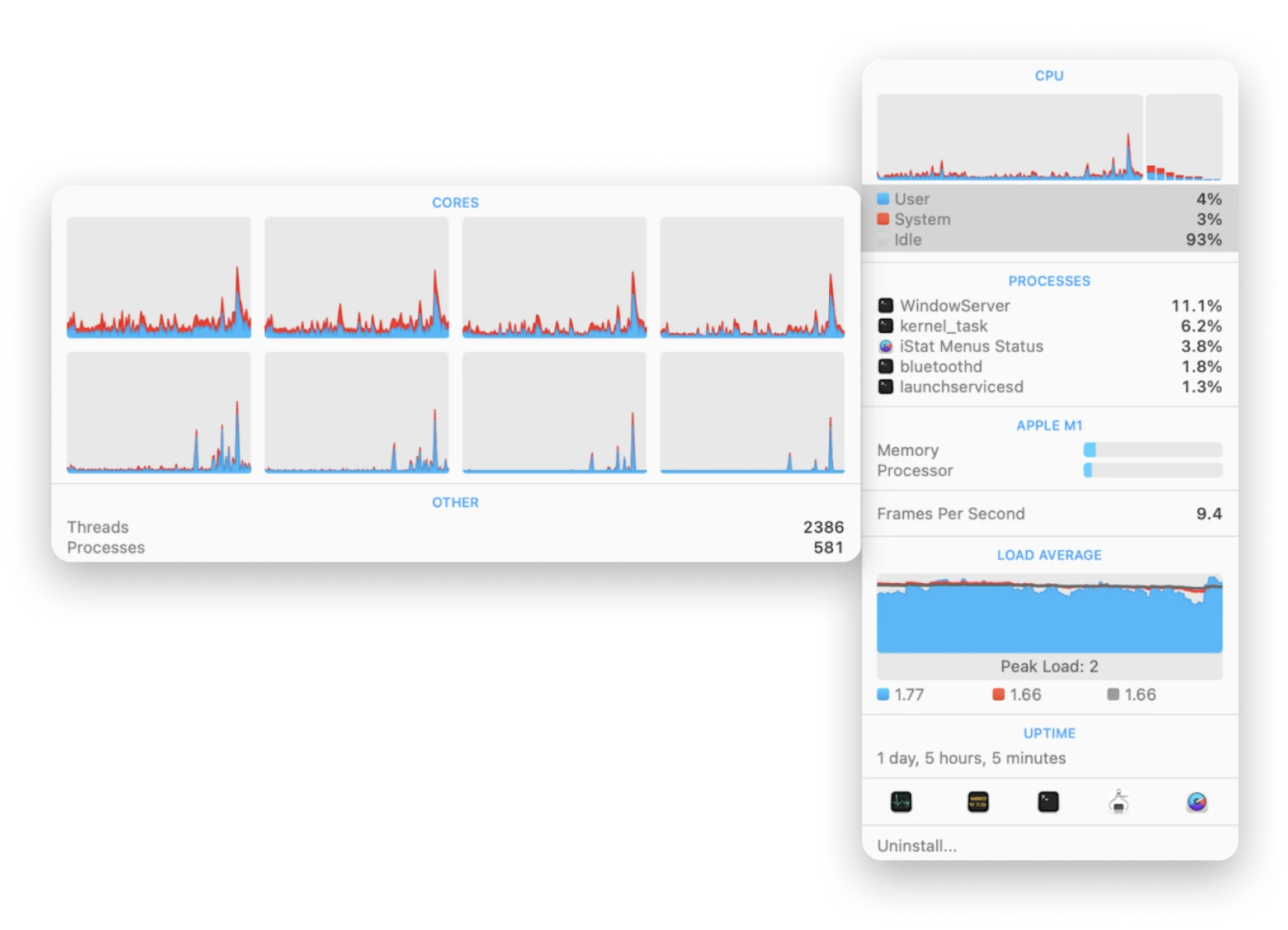 How to manually remove Yahoo search redirect from Mac
Even though the best way to delete Yahoo redirect virus is by using a tool like CleanMyMac X, you can try to go through the process manually to learn where dangerous files on your Mac might hide.
Check Activity Monitor for malicious entries
Any active process on your Mac gets an entry in Activity Monitor. That's why sometimes you can find malware scripts there, although they might try to hide their true nature with ambiguous names.
To get rid of malware scripts with Activity Monitor:
Go to Applications ➙ Utilities ➙ Activity Monitor
Look through all the entries in the CPU tab, writing down any processes that look suspicious
Research suspicious processes on Google. Note that some obscure processes are vital to your Mac's performance, such as WindowServer, kernel_task, coreaudiod, and bluetoothd.
Stop any processes that you've verified to be malicious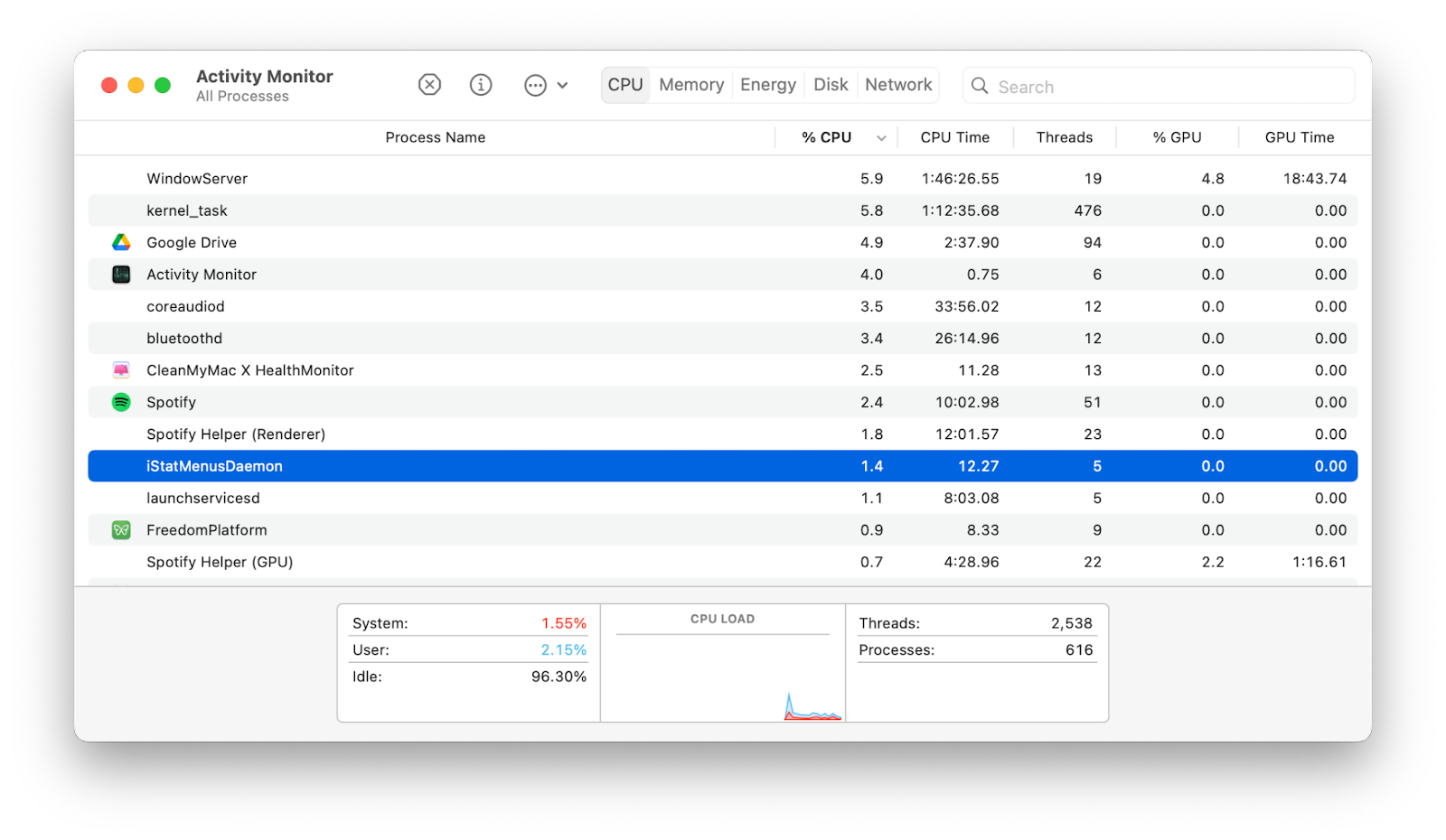 Check Login Items
Another place to look for malicious scripts is in Login Items. As Login Items manages everything that starts up together with your Mac, a script inserted there can be certain to run without you even knowing.
To scan through your Login Items:
Open System Settings
Go to General ➙ Login Items
Select any item you want to delete
Click the minus button
Just below the Login Items, you can also toggle off any apps that are able to continue working in the background (when the app is not open).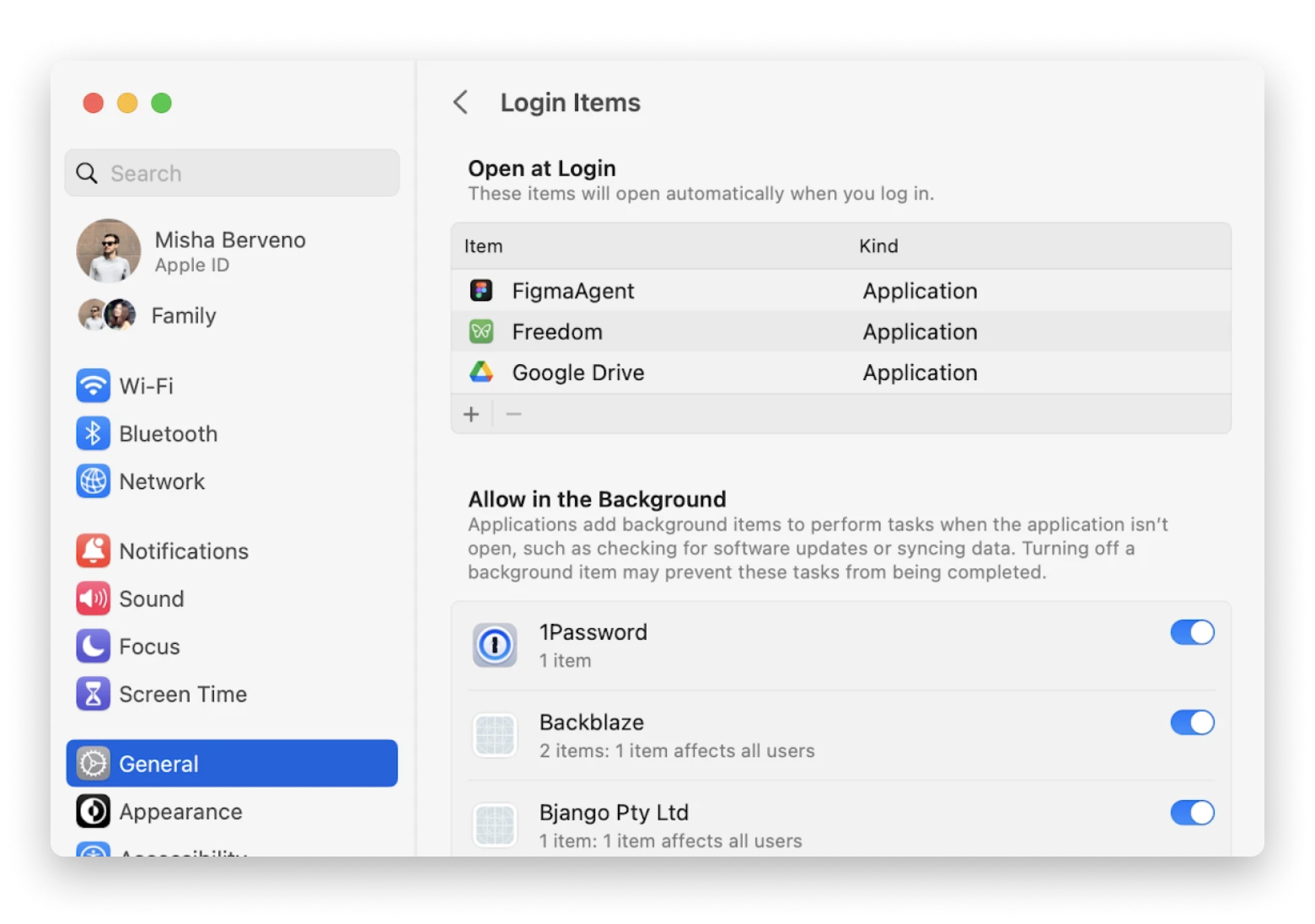 Delete Yahoo virus redirect from Google Chrome
Since Google Chrome is the most popular browser in the world, removing Yahoo search from Chrome should be at the top of your to-do list when you get the redirect virus.
One option is to go to Preferences (Command + ,) and then remove any extensions that might be infected with the virus.
If you know and trust all your extensions, you can reset your Chrome settings instead:
Go to Preferences in Google Chrome
Click "Reset settings" in the sidebar
Hit the "Reset settings" button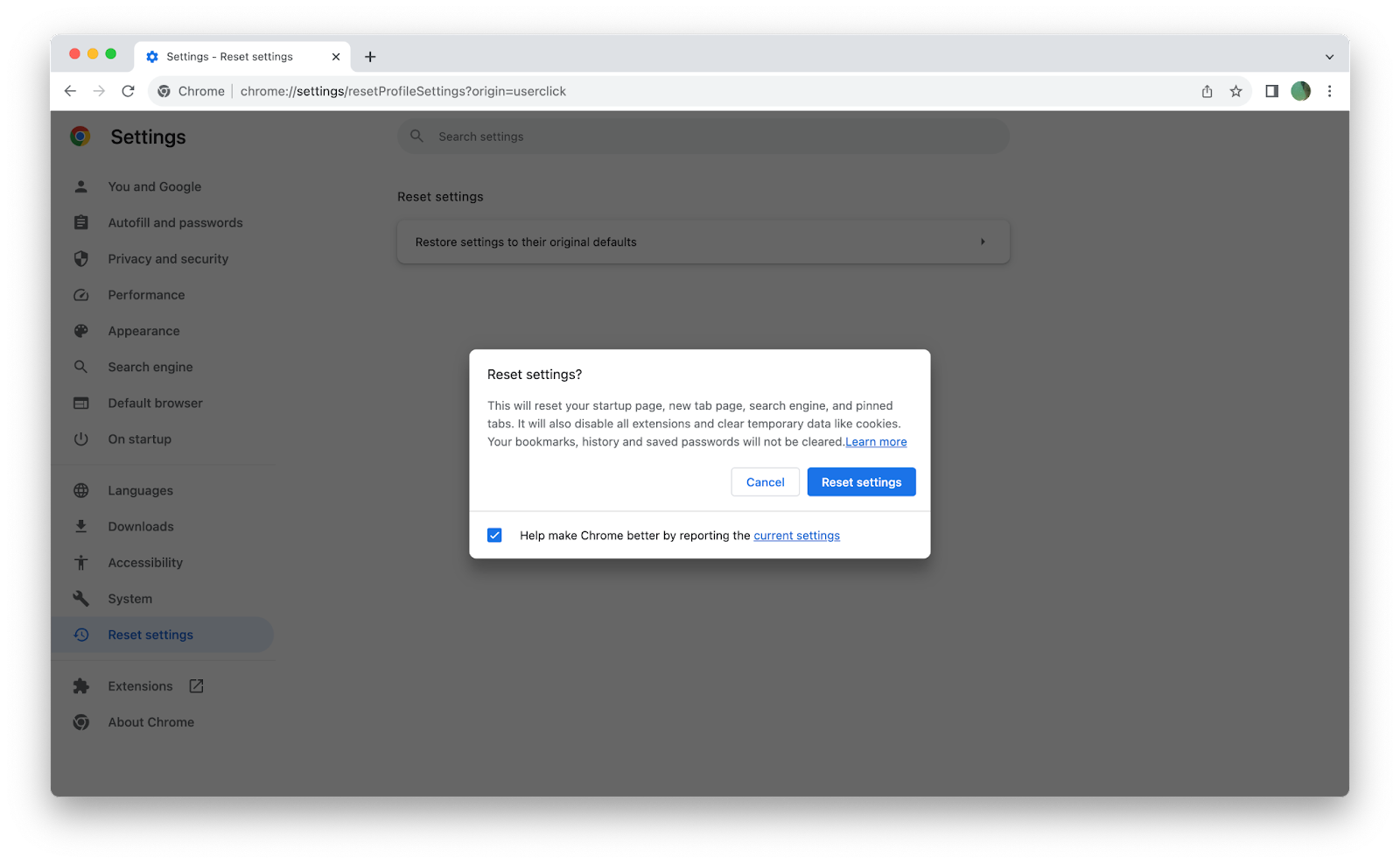 Remove Yahoo redirect virus from Safari
Going about removing Yahoo search from Safari follows a similar process. First, go to Preferences and check if there are any extensions you can delete.
Then move over to the Privacy tab. Turn on "Prevent cross-site tracking" and "Hide IP address from Trackers & Websites."
Finally, click Manage Website Data… and Remove All.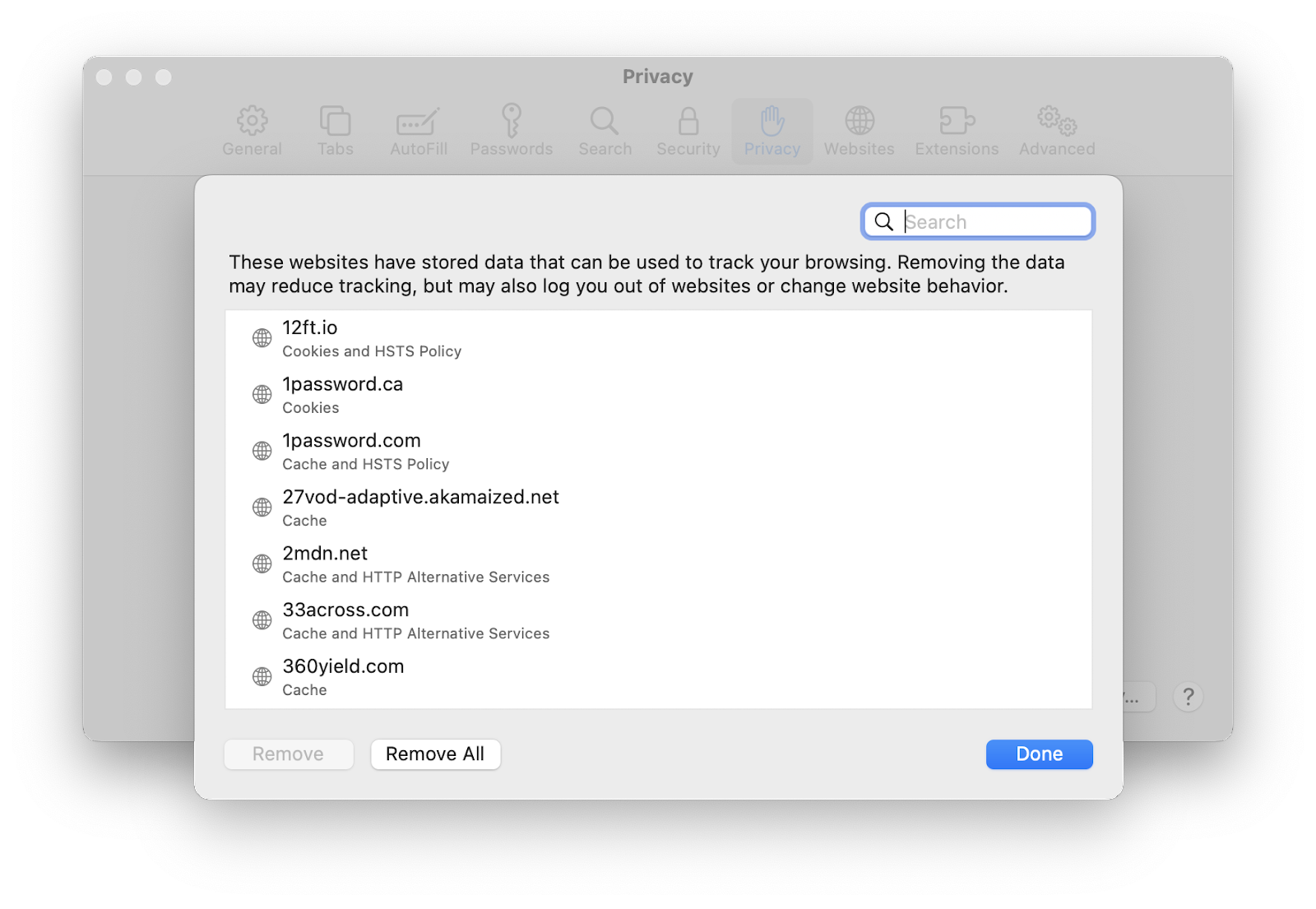 Remove Yahoo redirect virus from Firefox
Repeat the above steps in the Firefox browser as well, starting from removing any unneeded extensions.
Then click the Firefox menu and select Help. Go to More Troubleshooting Information. There, click Refresh Firefox.
As you can see, learning how to get rid of Yahoo search redirects is not that difficult. You can either do it manually or in just one click with CleanMyMac X. In addition, having a Mac monitoring solution like iStat Menus installed will make sure you don't miss any discrepancies in your system in the future.
Best of all, CleanMyMac X and iStat Menus are available to you for free through the seven-day trial of Setapp. Setapp is a platform of more than 240 curated apps for Mac and iOS. Search for any task you can think of and Setapp will find an optimal solution. Try all the apps at no cost and save your new favorites!
FAQ
There's not much more to removing Yahoo search from Safari and other browsers than getting through the steps above. However, you might have a few extra questions about the process.
Why does my Mac keep searching with Yahoo?
If you find yourself googling "how to get Yahoo off my computer," chances are, it's been infected with the Yahoo redirect virus. It's nothing serious, just follow the steps above to remove it manually or use a quick solution like CleanMyMac X.
How do I stop Yahoo from hijacking my browser?
To prevent Yahoo from taking over your browser, avoid any suspicious downloads of files and apps. Don't click on ads and don't open any scripts that you get by email either.
Why is Yahoo taking over my search engine?
When you get redirected to use Yahoo regardless of the website you visit, it's because the Yahoo redirect virus has installed itself on your Mac.
Instead of trying to search for "how do I block Yahoo search engine," read the guide above and clear out the problem in a few clicks.