Mac Screen Goes Black? Here's your troubleshooting guide!
Have you ever tried to boot your MacBook Pro and found it unresponsive? It happens to many users, and can seem like your computer is just broken.
There are many reasons you encounter the dreaded MacBook black screen. It may be a deep issue, like a corrupted driver or display, or something as simple as a third party app hijacking your display's settings.
We'll tell you why it happens, and how to fix it when your MacBook Pro screen goes black randomly.
How to fix MacBook Pro screen black
When your Mac screen keeps going black, there are several things that can cause it. Unfortunately, your Mac won't tell you what's going on, so you'll have to do a bit of diagnosis. But don't worry – it's not hard! We'll show you how to fix your issues with ease.
Check the power of your MacBook
Sometimes the 'MacBook screen black' issue is solved by a Mac not being plugged in or charged up. Pretty embarrassing when you realize it's the issue, so always make this your first checkpoint when diagnosing the problem.
MacBooks typically display an icon when not plugged in and out of juice. iMacs and Macs not tethered to a power source simply won't turn on. As silly as it can see, charging your device is the easiest MacBook Pro black screen fix there is.
Check screen brightness level
It's also possible your screen brightness is just turned all the way down! Once you're sure your Mac is powered on or charged, try using the screen brightness keys on your keyboard. If you see the screen brightness logo on the screen, you may be in luck!
Settings can be tricky to manage, which is what makes One Switch a great accompaniment for your Mac. The app lives in your menu bar, and provides one-touch access to many of your Mac's settings like Night Shift, Do Not Disturb, Display Sleep, True Tone, and Dark Mode. It also tidies up your desktop by hiding icons with the click of a button. One Switch also offers easy, one-click pairing for Bluetooth peripherals like AirPods.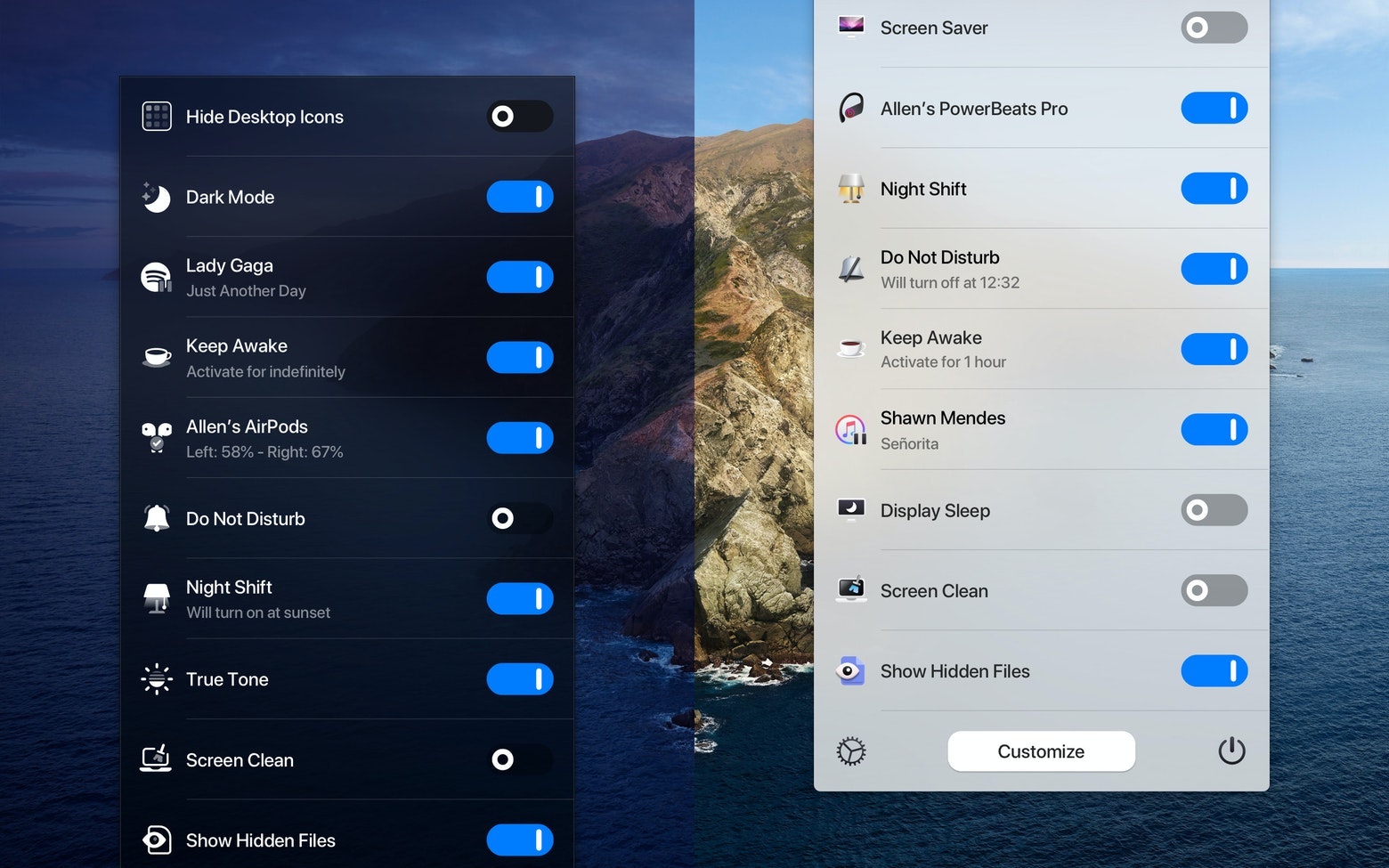 Force restart your Mac
Sometimes your Mac just needs a hard restart to fix its issues. Apps services may be bogging it down, leaving it unable to figure out how to proceed. If you've powered your device up and made sure the screen brightness is up, a hard restart may fix your issues. Here's how to do it when your Mac is on:
Hold down the power button for 6-10 seconds
When your Mac powers down, wait ten seconds
Press the power button to boot it back up
If your Mac is off, hold down the power button for a few seconds to try to force it to boot up if pressing the power button once doesn't help.
Resetting the NVRAM/PRAM
NVRAM (nonvolatile random-access memory) and PRAM (Parameter RAM) are both small memory partitions that store some settings for your Mac like volume control and display resolution, which allows it to access those settings quickly. At times, either (or both) of these RAM partitions can get 'stuck' – but a reset can help! Here's how it's done:
Power your Mac down completely
Press the power button to start your Mac's bootup process
Immediately hold down the option + command + P + R keys while your Mac boots
Hold the keys for at least 20 seconds
Note: your Mac may appear to restart while you're holding the keys down. Macs with a startup chime may sound a second chime during this process. For newer Macs with Apple's secure T2 chipset, you can release the keys once the Apple logo appears for the second time during the bootup process.
Reset SMC settings
SMC (Systems Management Controller) is a feature for Macs controlling temperature, keyboard, lights for the keyboard and display, fans, and other processes. Like resetting PRAM and NVRAM, triggering the SMC is a common (and easy) fix for the MacBook black screen issue.
Here's how to reset your SMC settings on Mac:
Power your Mac down completely (Note: if your MacBook, iMac, Mac Mini, or Mac Pro is connected to power, first shut it down, then unplug it for at least 15 seconds. Then proceed to step two.)
Make sure your Mac is connected to power
Hold down these keys while your Mac is powered down: Shift + Option + Control + Power button
Once your Mac starts booting up, release the keys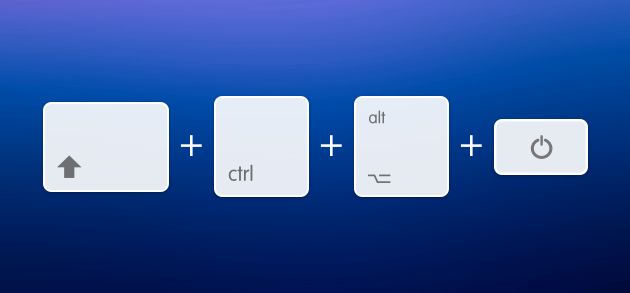 Repair Disk Permissions
Like settings that car errantly cause your Mac's screen to go dark, so can disk permissions. On the Mac, disk permissions allow apps, files, and folders access to other settings on your Mac. It's how apps can cause issues, and resetting permissions can be a big help.
The best app for cleaning up your entire system is also the best for resetting your disk permissions. CleanMyMac X has a section named "Maintenance" with a feature named "Repair Disk Permissions" that makes clearing up your Mac's disk permissions a snap. Here's how to reset your disk permissions on a Mac using CleanMyMac X:
Open CleanMyMac X on your Mac
Select "Maintenance" from the left side of the window
Select "Repair Disk Permissions" in the main window
Click "Run" at the bottom of the window
That's all it takes! CleanMyMac X will reset your disk permissions in a snap.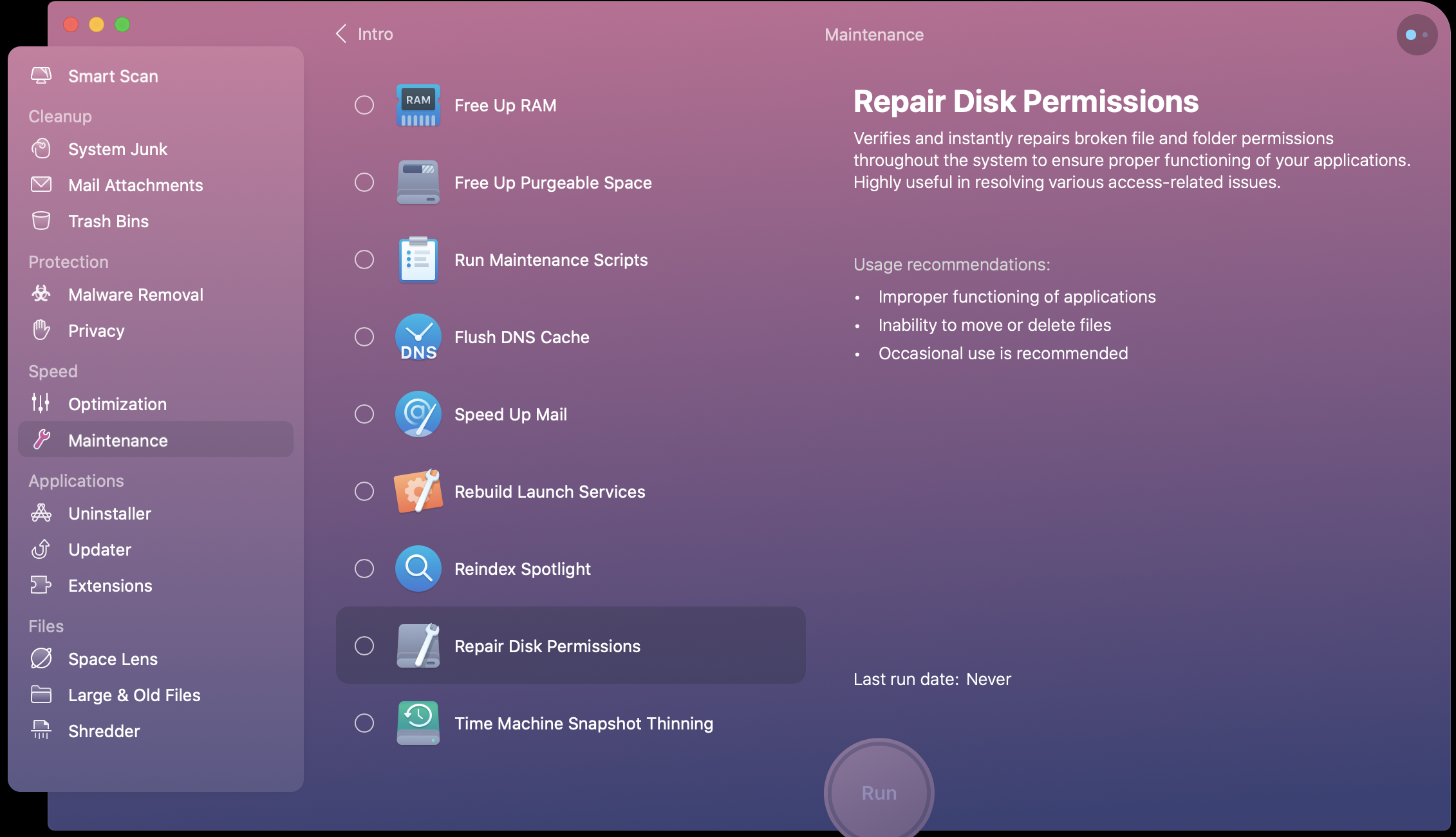 Unplug all accessories
Like apps messing with your Mac's settings, peripheral devices can also cause issues. Printers, external drives, keyboards, trackpads, mice – all of these things can cause your Mac to go dark on you. If all else fails, make sure your Mac is disconnected from other devices, too.
Boot into Safe Mode
Safe Mode for your Mac prevents other startup services from booting up. You likely have a few different apps or services that boot up when your Mac does, and those apps may be causing issues. Launch agents are meant to provide background support for you without the need to launch an app every time you boot up your Mac, but some can be troublesome.
To boot into Safe Mode, follow these steps:
Power your Mac down completely
After your Mac has sat idle for 15-20 seconds, press the power button to turn it back on
Immediately hold down the Shift key as your Mac boots up
When you see the login window, release the Shift key and login
Note: You may be asked to login a second time. This is normal; at one or both login screens, you should see "Safe Boot" in the upper right corner of the window.
Also, check the article about how to factory reset MacBook Pro, Air, and iMac
Reinstall the macOS
If all else fails, you can always try a clean install of macOS. Keep in mind this essentially starts your Mac from square one, like a brand new device. It should be your last-ditch effort.
But backing up your Mac should be a practice you do regularly, especially if you're going to reinstall macOS. To avoid losing all of your files and folders, create a backup often so you have all of your digital stuff tucked safely away on an external drive.
For this, there's no better app than Get Backup Pro for Mac. It performs backups quickly, and you can even automate the process so your Mac backs up automatically on a given schedule. You can set your Mac to backup to an external drive nightly, weekly, or whenever!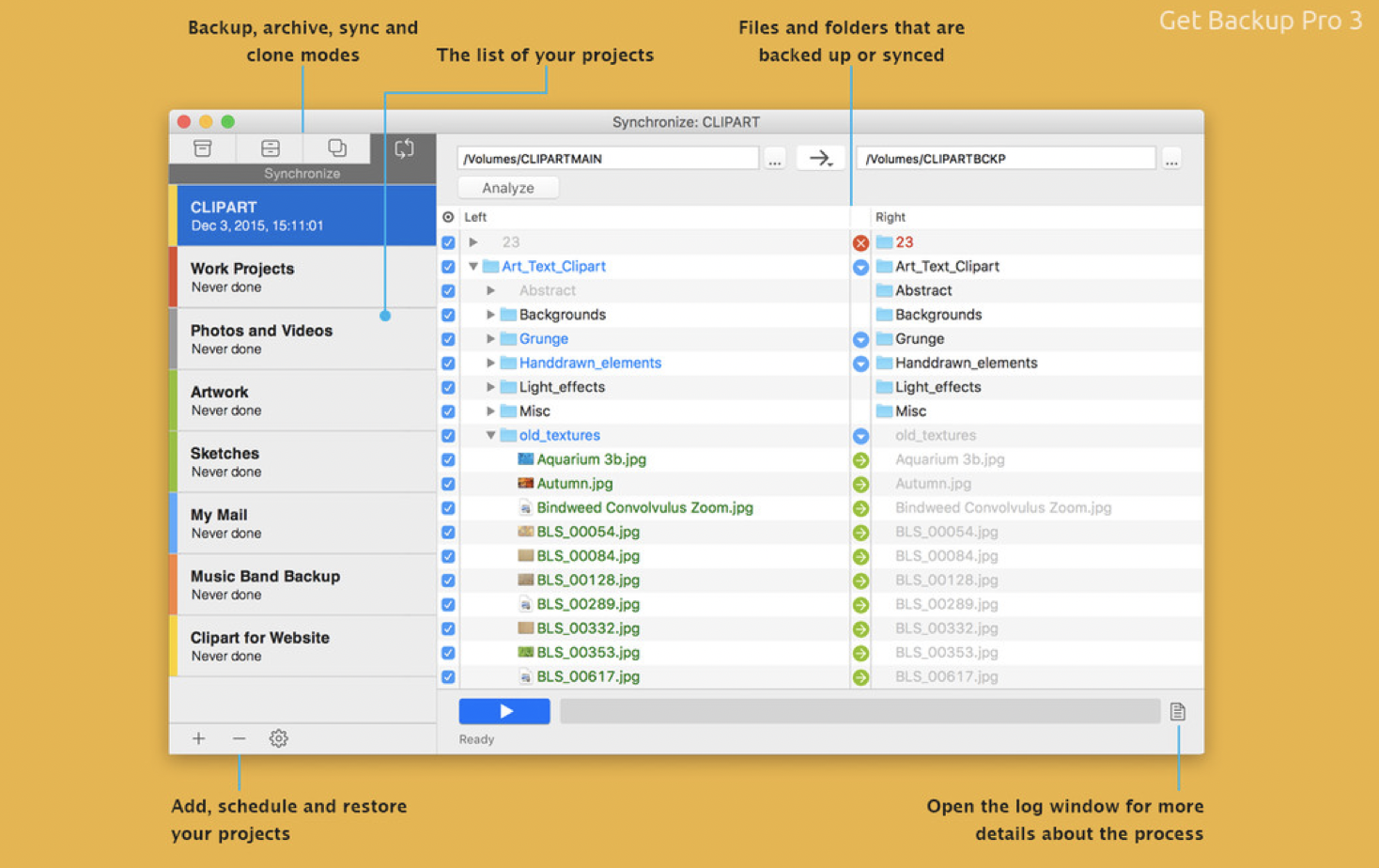 Get Backup Pro creates full backups, or you can choose the folders you want to backup. You can also create full, bootable backups via cloning, and compress your backups to save almost 60 percent storage space!
Conclusion
The dreaded black screen of death for Macs is frightening, but there's typically an easy fix. We're sure one or more of the solutions in this article will solve your black screen issues.
Many issues can be solved with maintaining your Mac, which is why CleanMyMac X is so useful. It performs routine maintenance to keep your Mac running in peak condition, and has several modules for those times you want to give your Mac a more thorough scrubbing – like resetting disk permissions.
Get Backup Pro is the perfect accompaniment for your Mac's backup regiment, too. It creates backups on your schedule, and is a lifesaver if your Mac ever encounters issues that cause you to need to boot from scratch. We also love the ease and functionality of One Switch, which provides immediate and easy access to your Mac's settings.
All three apps are available for free during a seven day trial of Setapp, the leading suite of productivity apps for your Mac. In addition to these apps, you'll get immediate and unlimited access to nearly 200 other amazing apps for the Mac. When your trial period is over, Setapp is only $9.99 per month for total access to the entire suite of apps. It's an incredible bargain, so don't wait – give Setapp a try today!