The easiest way to convert RAR to ZIP on Mac
Part of our digital day-to-day lives right now, whether personal or work-related, is the constant sharing of files. It could be a photo album from the latest trip or a collection of financial reports from the last quarter — our goal in all cases is to make sure the files arrive intact.
While it's relatively easy to share one file over email or a cloud storage solution — sharing folders or multiple files at once is often a challenge. If you share too many files, they become hard to manage and some of them could get lost or overlooked. If you put them in a folder, it often arrives empty. Similarly, when you share an app (which is essentially a folder), most likely it won't work on another Mac. So what do you do?
A great solution is to archive whatever you're about to send before you send it. Archives keep the files and relationships between them exactly the same — with the added benefits of only having to deal with a single file that could also weigh less due to compression.
There are lots of formats for archiving files. Some of the most famous are RAR and ZIP. Let's look at the differences between them, how to use them, and how to convert RAR to ZIP and back at any moment.
What's The Difference Between RAR and ZIP?
Both RAR and ZIP are incredibly popular when it comes to creating archives. But they are also not the same and are used with slightly different goals in mind.
ZIP is one of the original archive formats created in 1989 by Phil Katz. It's open-source and supported by all major operating systems right out of the box. ZIP also supports light compression and password-based encryption.
RAR, on the other hand, was developed by Eugene Roshal in 1993 (RAR stands for Roshal Archive). Even though the format is available to all, it's not open source due to limitations set on reverse engineering. Unlike ZIP, you do need third-party software to open or create RAR formats, but you get the benefit of much better compression.
Historically, RAR has been predominantly used on Windows, while ZIP acceptance is universal. For this reason, a frequent question is how to turn a RAR file into a ZIP and what's a good RAR to ZIP converter available for Mac.
How to convert RAR to ZIP on Mac
Doing a quick research online, you'll come across dozens of websites claiming to convert RAR to ZIP archives for free. But it's not always a good idea to trust a free website you don't know. If the conversion works, it might not be of the best quality. More likely, however, that you might get some malware installed in your files or some of your files being copied elsewhere on the website's server.
It's much better to work with any kind of archives directly on your Mac. Even though you can archive and unarchive files with ZIP format using your Mac's default Archive Utility (just right-click the file and choose Compress or double-click to uncompress), it doesn't work like that with RAR files. You'd need to use some proven archival software.
BetterZip is one of the most powerful compression tools available on Mac today. With support for over 30 archival formats, this app quickly creates new archives and un-compresses pretty much any zipped file sent your way, including RAR.
The key feature of BetterZip is in how you can peek into the archive folders and files without even unarchiving them, just like you'd do with Finder. You can take files out of the archive or add new ones, rename things as you see fit, etc. You can even set strong passwords and automate repetitive workflows with AppleScript.
Here's how to manage your RAR files with BetterZip:
Launch BetterZip
Drag and drop your RAR archive onto the app
Feel free to drag files out of the archive one by one, or use Quick Look to peek into the files, or extract all files by clicking Extract in the top bar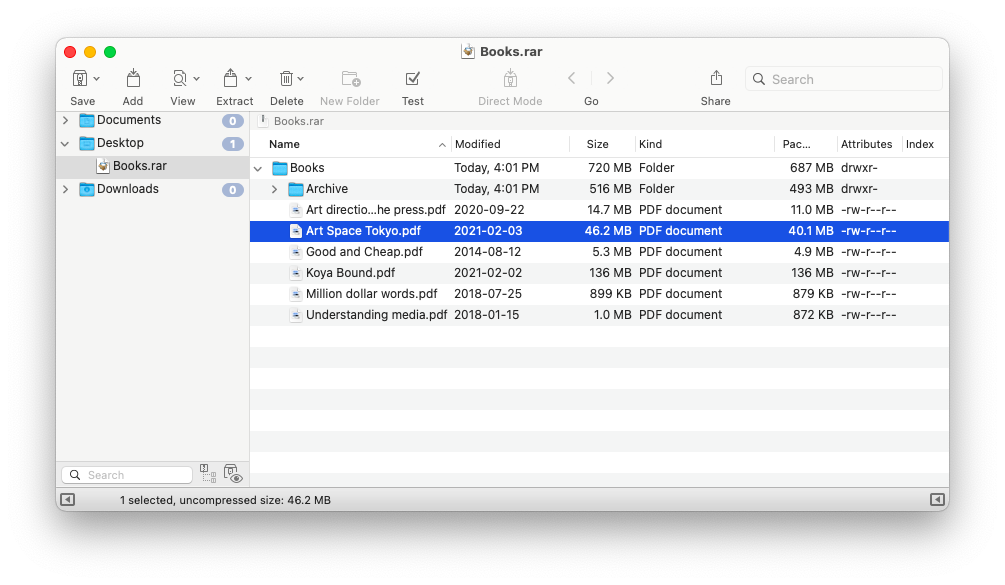 The only thing you can't do with BetterZip is actually create RAR archives. For that, you need a special archiving utility like Archiver.
Archiver is a lightweight Mac app that is so intuitive you often forget how powerful it really is. This utility can archive and unarchive dozens of formats, including RAR, and also convert one archival format into the other without unzipping the files first. In addition, you can preview files in any archive, extract anything selectively, split one archive into many to decrease file size or combine a few archives into a single one. Finally, set passwords and fine-tune the level of compression you're looking for — all in one app!
So to convert RAR to ZIP with Archiver:
Launch Archiver
Drag and drop your RAR archive into the app
Select Convert from the bottom menu
Choose ZIP
Rename your new archive, pick compression level, and set a password if you need to
Click Convert when done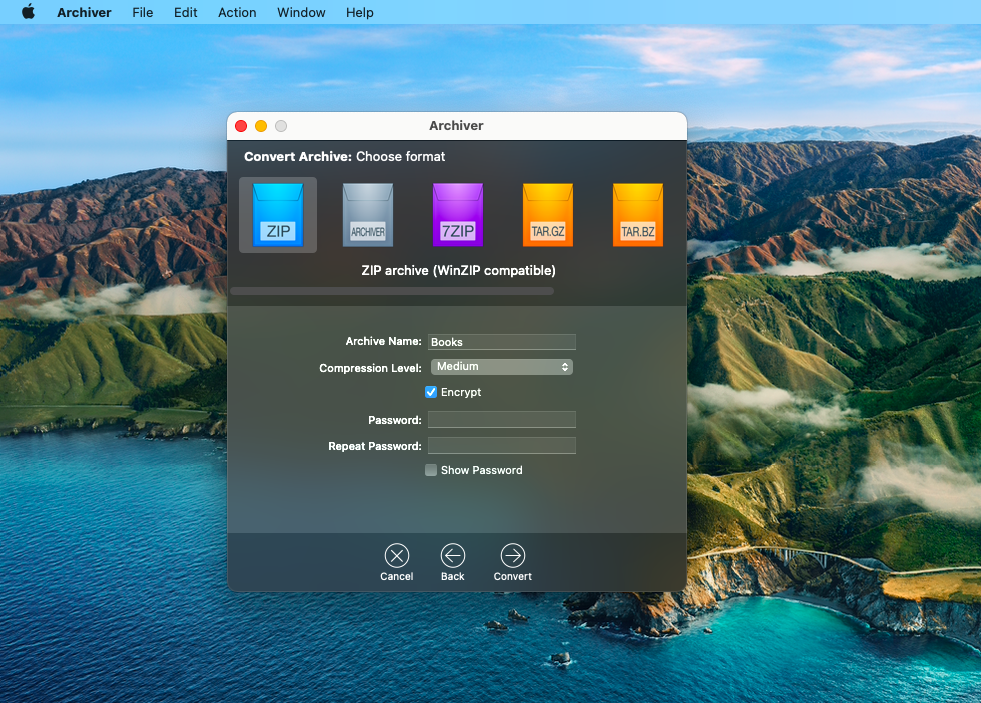 How to reduce RAR archive file size
The only major advantage of RAR as an archival format over ZIP is much better compression (up to 11% better), since ZIP is generally regarded as lossless.
But what do you do when your RAR archive is still too large for your purposes? Here, a regular lossless RAR to ZIP converter won't help — you need an app that would include some level of compression.
Archiver comes to the rescue again:
Open your RAR archive in Archiver
Select Convert
Choose ZIP, or even better 7ZIP (which has better compression)
In the Compression Level dropdown, pick Highest
Click Convert
If compressing your archive by conversion is not enough, your only other option is splitting it into a few equally sized archives. Luckily, Archiver can handle it in seconds:
Drop your RAR archive into Archiver
Choose Split
Set the "Chunk size" to a specific amount of KB, MB, or GB (select in the dropdown)
Click Split
Drag your resulting split archives to anywhere on your Mac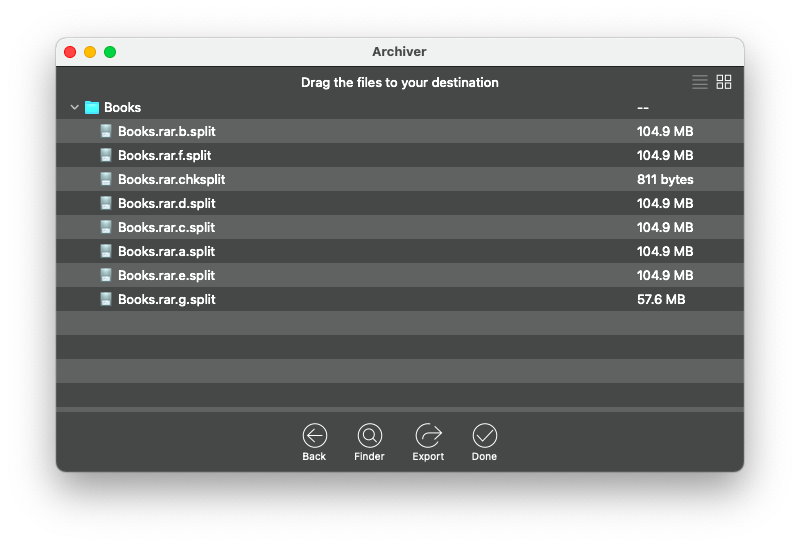 As you can see, there are more than a few ways for how to turn a RAR file into a ZIP. Sadly, there's no easy way to do it on your Mac by default, and you should avoid all the free websites that claim to do so right away. Your best bet is to use BetterZip for professional unarchiver, and Archiver for all the archiving, converting and splitting.
Best of all, both BetterZip and Archiver are available to you absolutely free for seven days through the trial of Setapp, a platform with more than 210 top Mac apps for any task you can imagine, from surfing the web safely (ClearVPN) to managing your budget (MoneyWiz) to upgrading your calendar (BusyCal). Try every Setapp app at no cost today and see what you've been missing out on!