If you need to zip or unzip files on a Mac, you could just use macOS' own Archive Utility. However, while that will compress and de-compress files, that's all it does. It won't, for example, allow you to password protect zipped archives, nor does it support many file types. If you want to open RAR archives, for example, you'll need to use something else.
BetterZIP, available in Setapp, has both those features and many more. It allows you to add comments to archives, delete files from archives without unzipping them, and it's fully AppleScriptable so you can integrate it into your workflows. It will suggest passwords for you to use to encrypt archives, and you can tell it to automatically trash archives once you've unzipped them.
How to Zipping a File or Folder with BetterZip
Here is a wrap-up video of how BetterZip works:
That's it. Yes, it's really that easy.
To get this app:
Launch Setapp, search for BetterZip, and click Install.
Answer the questions in the dialog boxes when the app launches, specifying whether you want to use the menu bar item or drop bar.
Set up encryption
One of the best features of BetterZip is the ability to encrypt archives when you create them. To set it up, open Preferences and click on the Presets tab. With Clean and Zip (the option you'll probably use most often) selected in the Q and T columns, go to the Encryption method menu and select 'Strong.'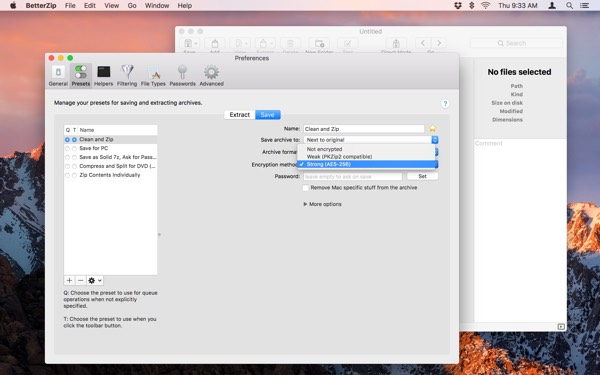 If you want to use the same password for every archive, type it in the box beneath. If you'd rather choose a password when you create an archive, leave the box blank. Close Preferences.
Zip multiple files and folders in an archive
Drag the files or folders you want to archive onto BetterZip's main window.
To preview a file, click on it and you'll see details in the right hand window.
To add comments to an archive, click on an empty section of the box and type into the Comments box.
Click the tick symbol when you're done.
Look inside an archive
In the Finder, right-click on the archive you want to look inside.
Select Quick Look from the drop down menu. The app will take over and show you a list of the files in the archive, with details of their names, types, and sizes.
If you want to see more, choose Open with BetterZip. The archive will then open and you can preview the contents of each file, all without extracting it.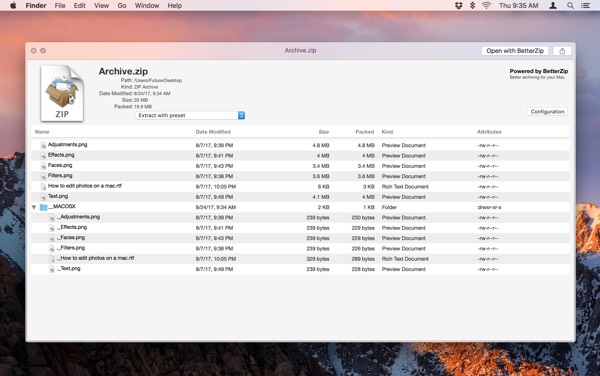 Add additional files to an archive
Right-click on an archive in the Finder and choose Open with BetterZip.
Click the Add button in the toolbar and navigate to the file or files you want to add.
When you've selected one or more files (Command-click for multiple files), click Add. The new files will be added to the existing files in the archive.
Click and hold on Save and choose Clean and Zip to create a new zipped archive consisting of the existing files and the ones you just added.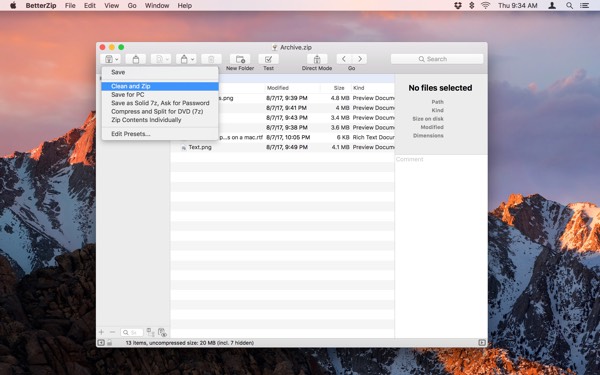 Extract files from an archive
In the Finder, right-click on the archive and select 'Open in BetterZip' or drag the archive onto BetterZip's main window.
Select the file or files you want to extract. In the toolbar, click and hold on Extract and then choose 'Extract to' and navigate to where you want the files to be saved.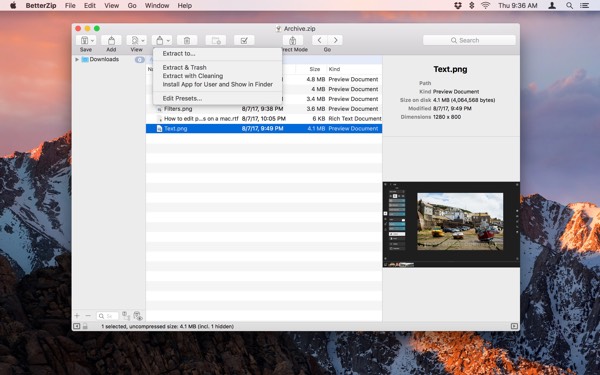 Once you've extracted archives, you might find you have a rather cluttered Desktop – if that's where you choose to extract them to. Declutter, available in Setapp, will fix that for you. It will organize your Mac's desktop for you and make it neat, allowing you to create color-coded smart folders. It can even do it automatically, following rules you set up. If you need to rename files you've extracted in large batches, turn to Renamer, also available in Setapp, which makes it really easy to do just that.
Get 100+ Mac apps for any job
Sign up to Setapp and try them for free.
Try for free