The simple way to zip and unzip files on a Mac
The allure of zipped files is simple: they allow you to directly send and receive files, or batches of files, without encroaching on file size limits. Often, email providers have limits on how large attachments can be. Zip files make it easy to bypass that limitation without sending multiple emails.
Zipping files can also be useful for compressing files for storage on your Mac, or an external hard drive.
How do you open a zip file on a Mac? Or what's the best way to do that? There are, of course, several methods for creating archives, such as built-in utilities, Terminal, and third-party apps. Below, we are going to explore how to unzip files on Mac, how to create zip archives, and showcase some archivers that make it really easy to zip and manage zipped files.
What is a zip file?
A zip file is a lossless way to compress and archive files and folders. You often encounter zip files in emails, as mentioned, but also when downloading from the internet. If you've ever downloaded an app or extension directly from a developer website, chances are it was a zipped file.
It uses the '.zip' filename, and its icon is typically a folder with a zipper running up the middle. Zipping files is a time-tested method, and is largely unchanged. Its use-cases have expanded, though. We use zip files for sending large files and bundles of PDF or text files, but it's now used as a method to send large folders of images as well as for downloading applications or games from the internet.
The fastest way to zip and unzip files on Mac
Archiver is the tool you're looking for. It uses a drag-and-drop interface, allowing you to quickly archive and unzip all kinds of archiving formats, including RAR, which is not supported by macOS native archive utility.
Archiver also offers encryption to additionally secure your files — it's as easy as checking a box and assigning a password. Here's how:
Open Archiver on your Mac
Drag the file you want to zip into the app
Select 'encrypt' if you want to secure the file with a password
Enter and verify your password
Select 'Archive'
How to zip files on a Mac with native utility
There's also a built-in macOS utility that allows you to compress and decompress files and folders. Your Mac's simple Archive Utility, stored in the Applications > Utilities folder, is a simple, direct way to zip files. Its functionality is limited, but it's a decent option for quick zipping and unzipping of files and folders when you need to open zip files someone has sent you.
Here's how to zip a file on Mac with the Archive Utility:
Find the file or files you want to zip.
Note: if you'd like to zip multiple files, it's best to put those files in the same folder. Then you can proceed to step two.
Right-click on the file or folder.
Select 'compress'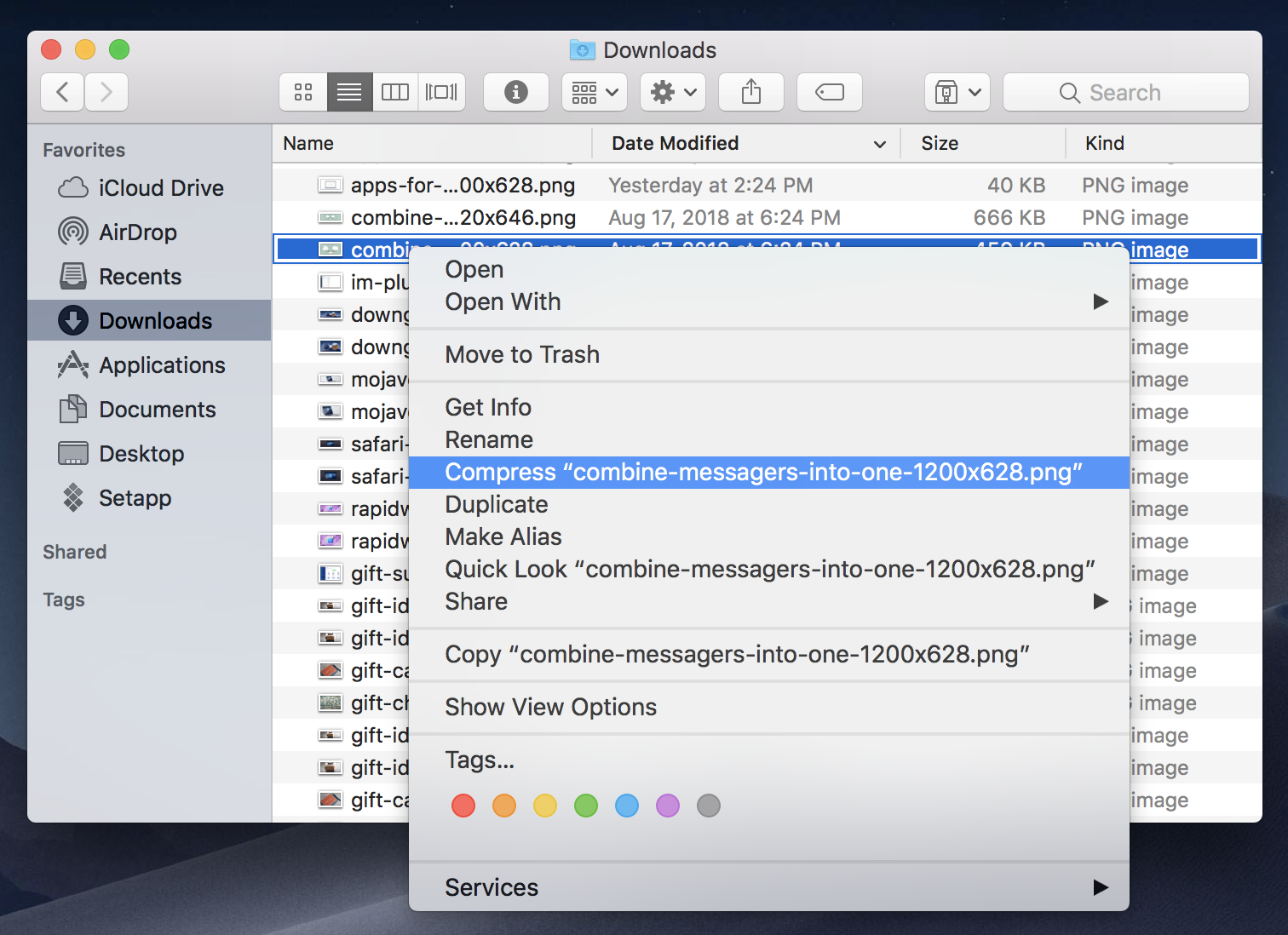 That's all it takes. Note the zipped file or folder will be created in the same location as the file or folder you zipped. You can move it manually if you like.
If you want to zip multiple files without first adding them to a folder, that's also possible with Archive Utility. Here's how:
Open the folder with files or folders you want to zip up
Select the items you want to include in the zip file and right-click on any one of the items.
Select 'Compress (x) Items' from the pop-up menu.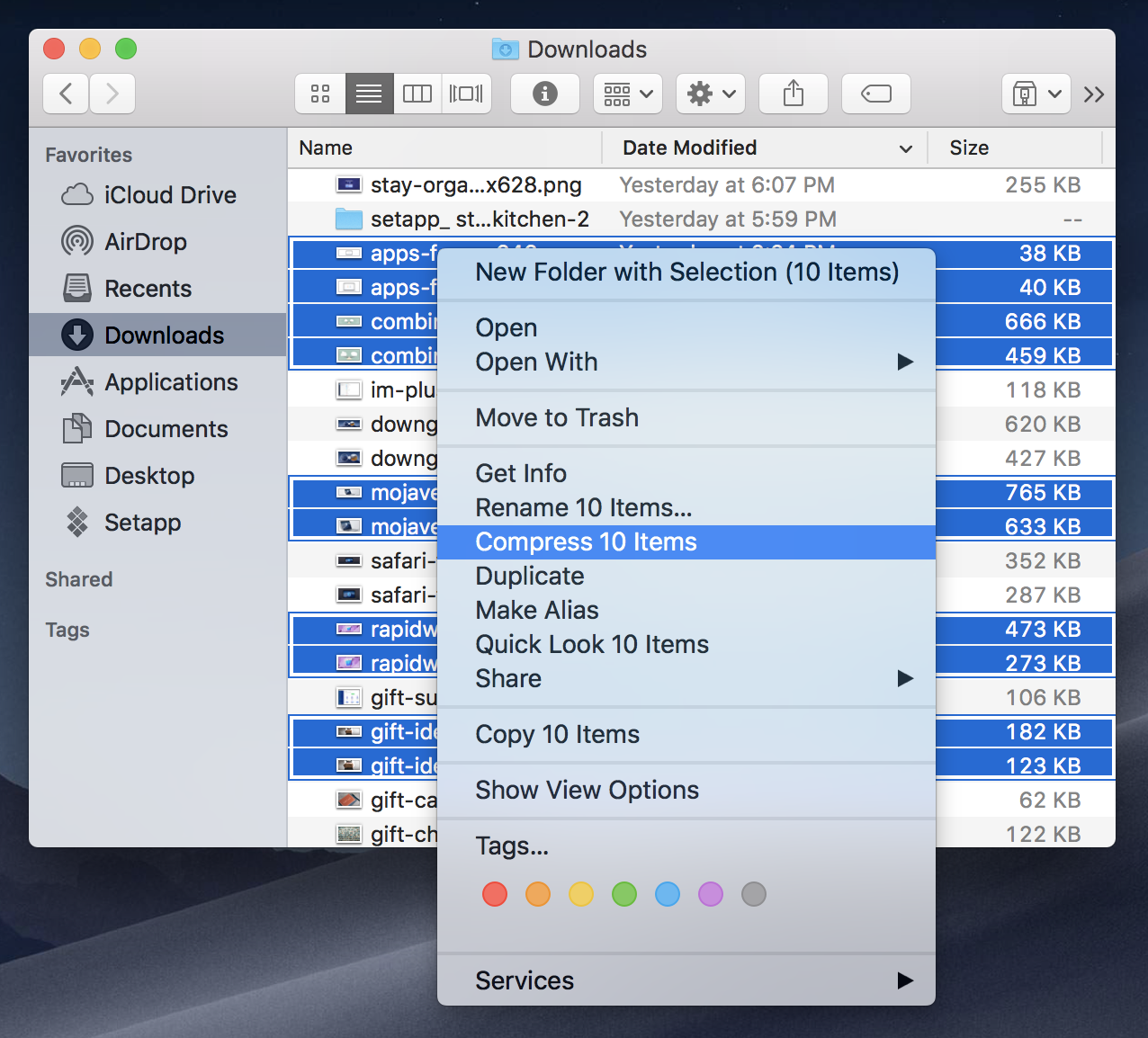 Once again, a progress bar will display. When the compression is finished, zipped items will be stored in a file called Archive.zip, which will be located in the same folder as the original items.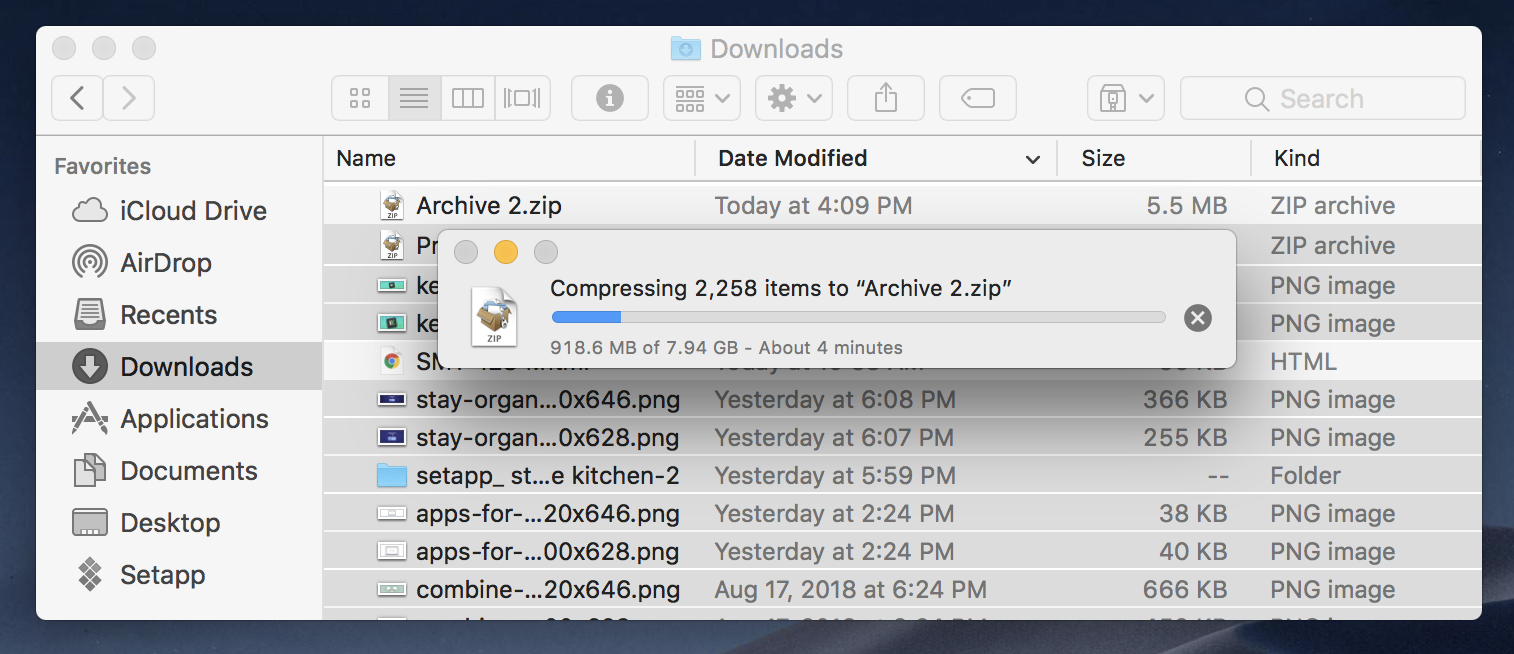 How to create an encrypted zip archive
Now that you know how to create a zip file on Mac, you may be wondering how to encrypt that zipped file. Archive Utility doesn't allow for this, but you can use the Terminal to accomplish this feat. Here's how:
Open Terminal
Enter the following command: cd desktop
Press enter on your Mac's keyboard
Enter the following command: zip -e [zipped filename]
Note: Do not use brackets. If your filename were 'test.zip', you would enter: zip -e test.zip
Press enter
Terminal will ask for you to assign and verify a password.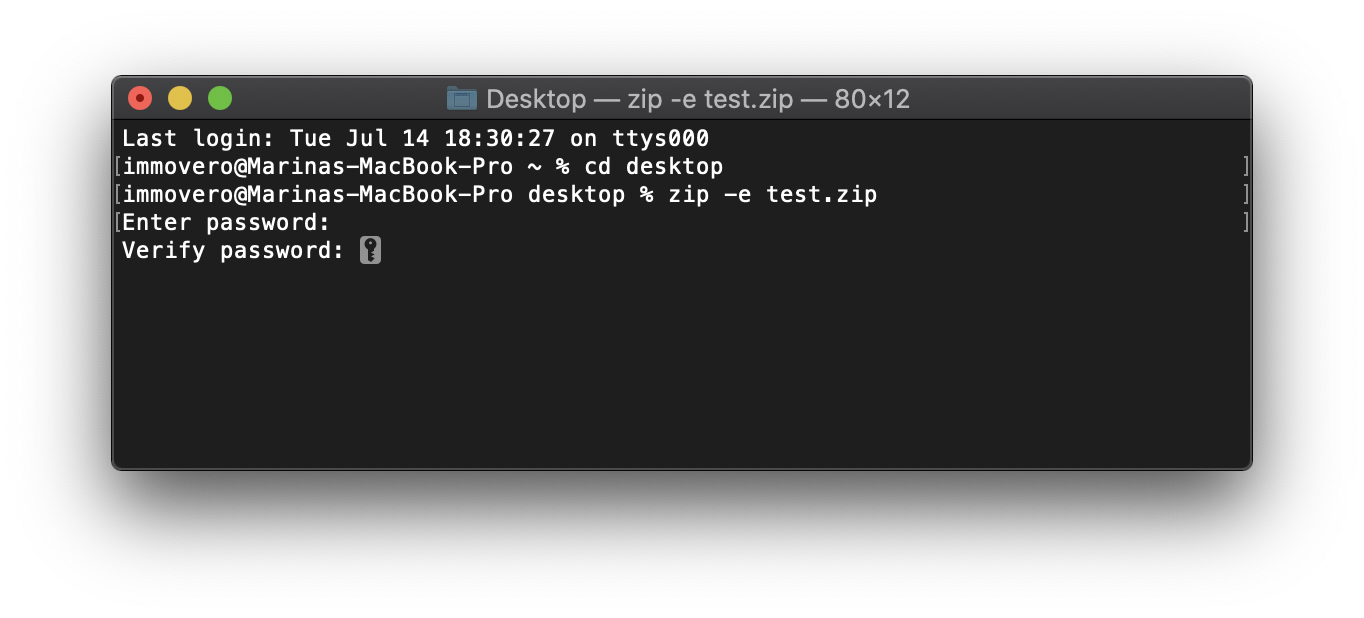 The encrypted file will then appear on your desktop. Opening it will require a password.
We should note this method is clunky, a bit confusing for many – and dealing with Terminal is always a bit nerve-wracking. There's a much better way!
Mac zip command for Terminal
To compress folder, Mac Terminal will work, too:
Open Terminal
Enter tar command and press Enter
Enter the command % tar -czf LotsOfFiles.tgz LotsOfFiles replacing "LotsOfFiles" with your folder name and press Enter.
We should note these methods are clunky, a bit confusing for many – and dealing with Terminal is always a bit nerve-wracking.
BetterZip is an app that makes compression and encryption a breeze. In fact, you can set BetterZip up to encrypt all files by default! It uses strong AES-256 encryption, and has the same lossless compression you'll find with any zipping method.
Here's how to encrypt zip files using BetterZip:
Open BetterZip on your Mac.
From the menu bar, select 'BetterZip,' and 'Preferences'
From the 'Presets' menu, select the 'Save' menu
Select 'Clean and Zip'
Under 'Encryption method,' select 'Strong (AES-256)'
If you'd like to use the same password for every file you encrypt, you can enter it in the filed just below 'encryption method'. If you don't supply a password, BetterZip will prompt you for one each time you zip and encrypt a file.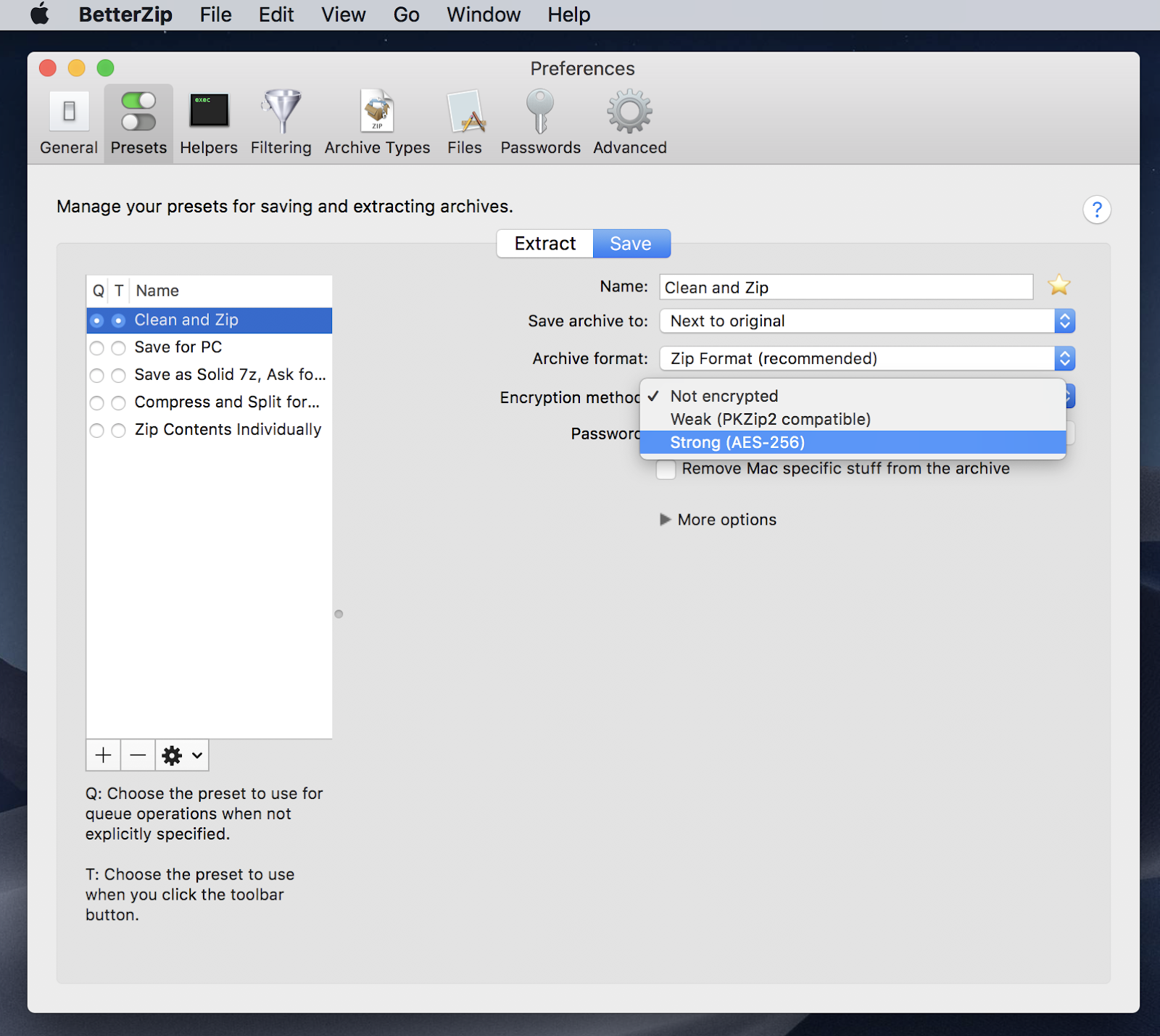 As we've mentioned before, Archiver has encryption, too, and it's a great tool for those who're looking for a simpler one-click solution.
How to add files to an existing zip file
BetterZip is your best path forward for adding files to an already zipped file. Here's how it's done:
Open BetterZip on your Mac
Select the zipped file you want to add new files to
Select 'Add' from the top of the betterZip window
Select the file or files you'd like to add to your already zipped file
Note: If you want to add multiple files, you can shift-click to add a list, or command-click to add them one at a time.
Select and hold 'Save' from the top left of the BetterZip window
In the menu that appears, select 'Clean and Zip'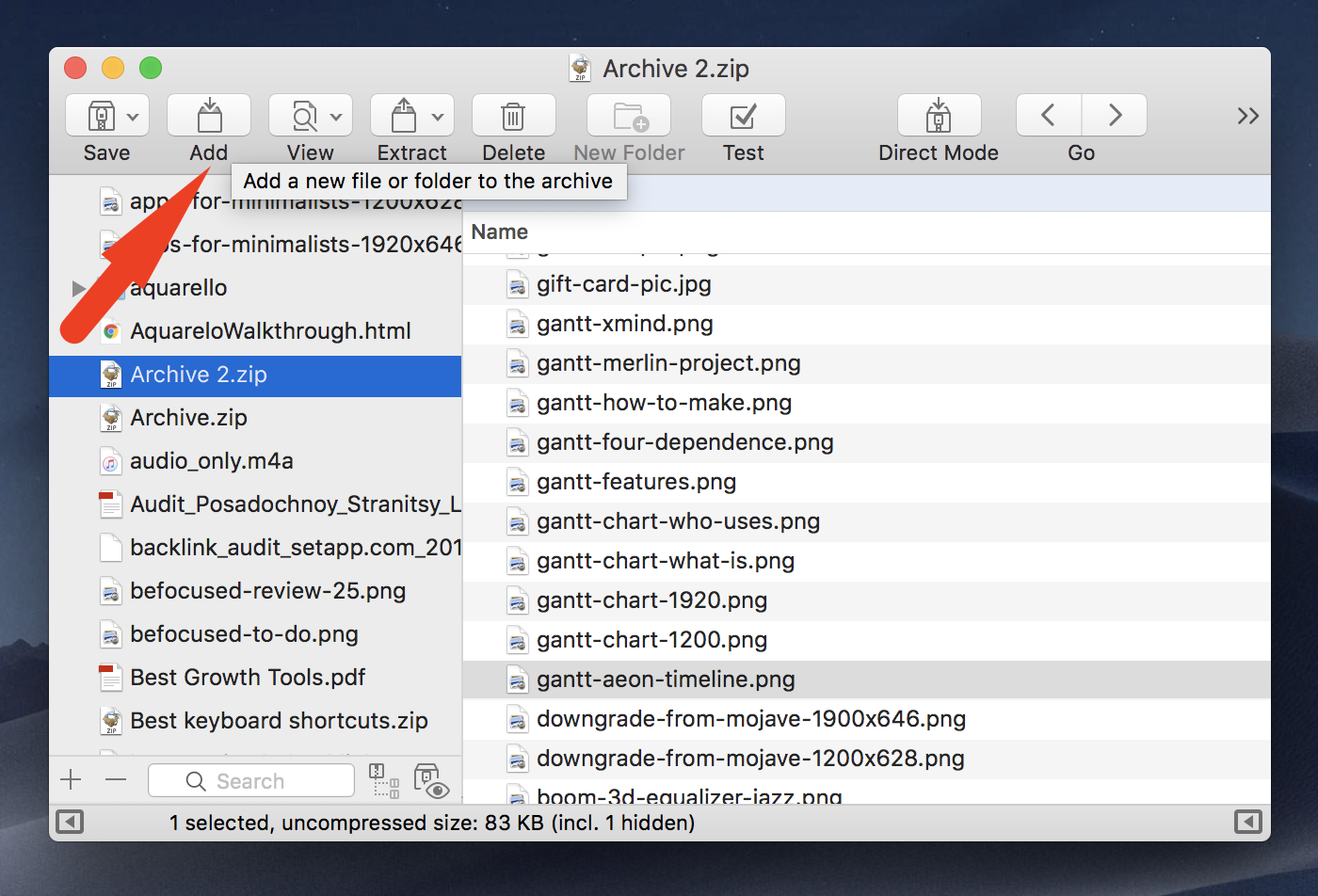 This creates a new .zip folder with the already-zipped file, as well as the files you added, all of which are now zipped in the same folder.
Unzip files on a Mac
Unzipping files on your Mac is simple. The best method is using the built-in Archive Utility app. The process is simple, and essentially a reversal of the process for zipping a file. Here's how to unzip files:
Right-click the zipped folder or file you'd like to unzip
Select 'open with'
Select 'Archive Utility'
The zipped file or folder will be unzipped. If you'd like to re-zip the file, simple follow the steps we've outlined in this article to zip it again.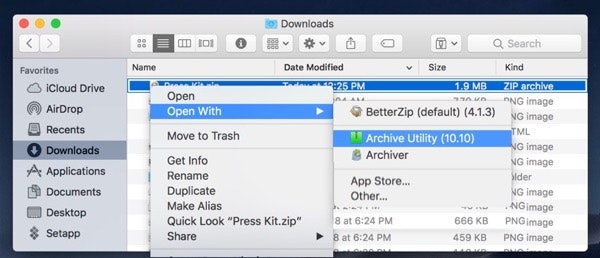 Unzip files with macOS Finder
To unzip files from Finder, locate your .zip file and double-click it. This action will take you to the contents of your zipped folder.
If you're used to accessing your files through Finder, you might find it useful to zip files from Finder, too:
Locate and select the files you want to zip in Finder
Rick-click the selection and choose Compress
Find the zipped file in the same location in Finder.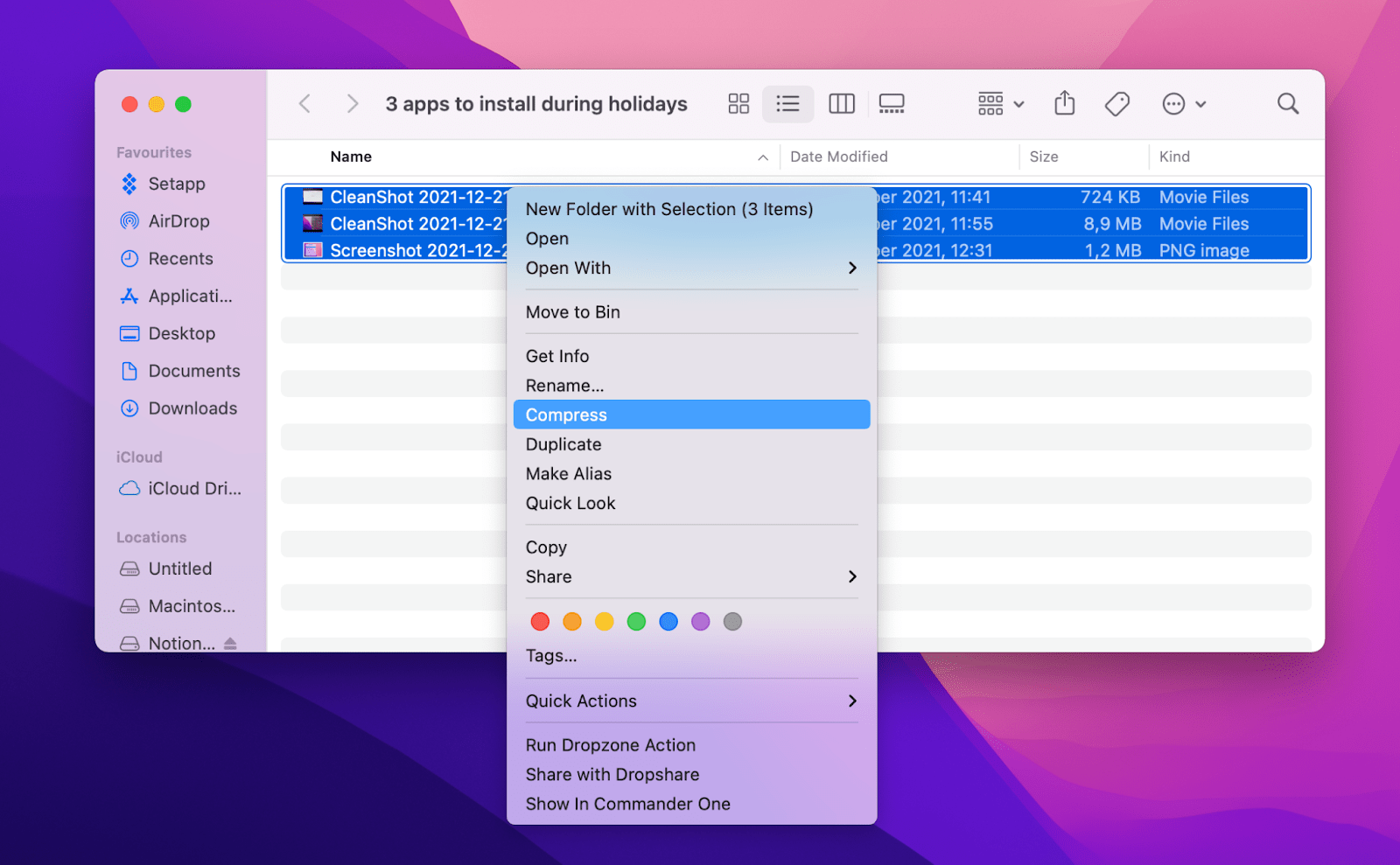 How to open zip files as a pro
To open zipped files and folders, both BetterZip and Archive are great options. We especially like BetterZip, here, because each zipped file or folder is previewed in the BetterZip window before you open it up. That way, you always know what you're about to open!
Here's how to unzip files using BetterZip.
Open BetterZip
Select the zipped file or folder you want to unzip
Select 'Extract' from the top of the BetterZip window
Your file or folder will be unzipped.
Here's the method if you choose Archive:
Open Archive on your Mac
Select the zipped file or folder you want to unzip
Drag it to the Archive window
Select it from the menu
Select 'Extract' from the bottom of the Archive window
That's all it takes!
Look inside the archive without extraction
Viewing a zipped file without actually unzipping it can be important if you have many zipped files on your computer, or have zipped folders and can't remember where you stuck a particular file.
For this, we like BetterZip. It automatically offers up a preview of zipped files and folders on the right side of its screen. There's no guessing, or fussy methodology. All you have to do is select the file in BetterZip, and the preview loads immediately.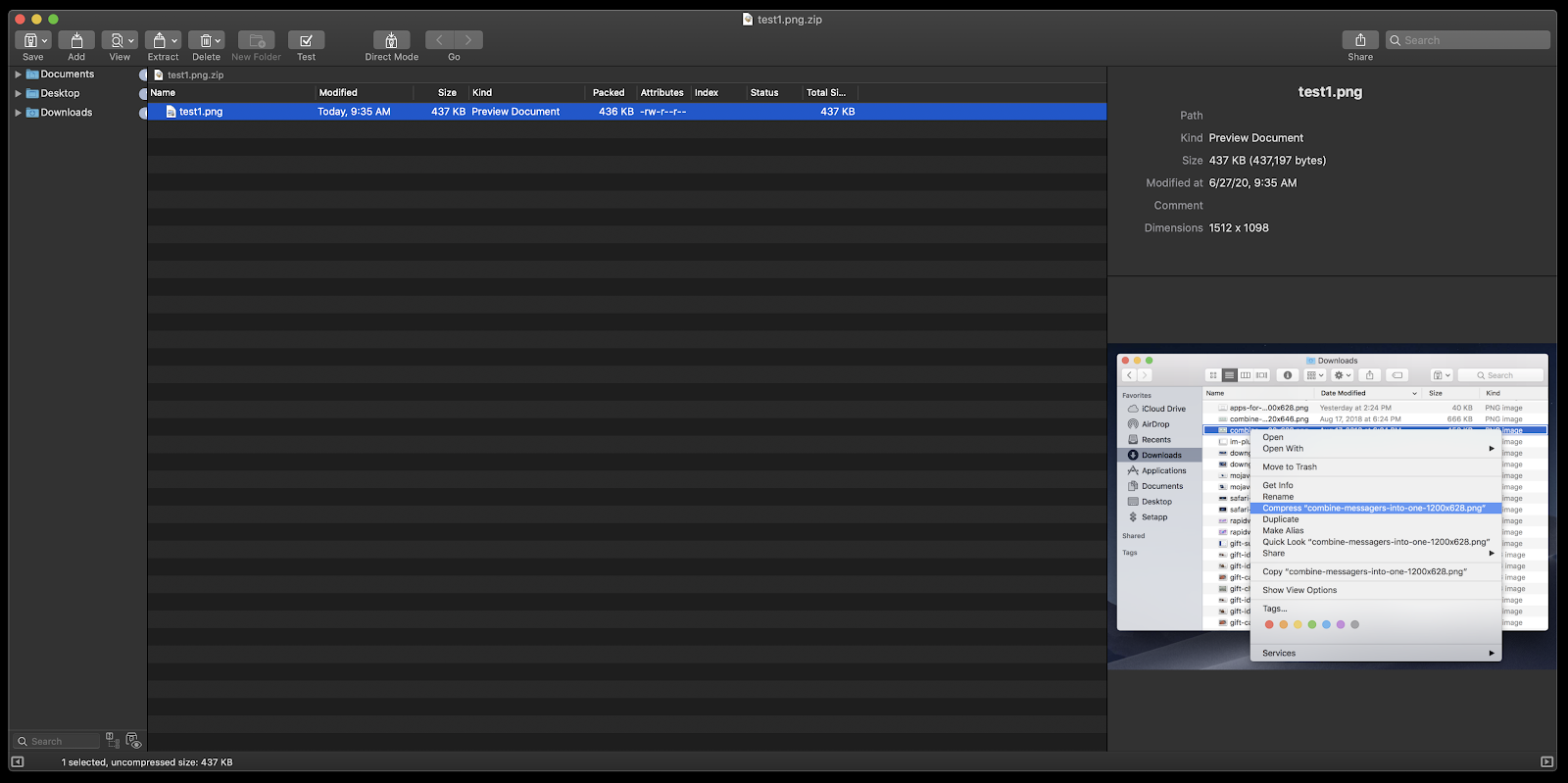 Extract a separate file from a zip archive
Again, we really like BetterZip for this. Here's how to do it:
Open BetterZip on your Mac
Select the zipped folder with the file(s) you want to extract
Right click the file you want to extract
Select 'Extract Selected' from the drop-down menu
Unzip files and folders using Terminal
If you would rather unzip files using the Terminal, here's how to do it:
Open Terminal on your Mac
Change directory to where your zipped file or folder is located using the 'cd' command. (As an example, if your zipped file were in the documents folder, you would enter 'cd documents' into Terminal – without the quotations. Keep in mind if your zipped file is buried in another folder, you will have to change directory until you reach the file's location.)
Enter the following command: unzip [filename]. (If your file were named zipped-stuff.zip, you would enter 'unzip zipped-stuff.zip' – again, no quotations.)
FAQ about how to zip and unzip on your Mac
How to unzip RAR files on Mac
Unlike zip, RAR files are slightly less common — although ever more so in the recent years — because they are formatted with a third-party archiving algorithm. This algorithm offers much better compression, though. So you might need to have a tool that opens RAR on Mac. Answering your question, both Archiver and BetterZip work with RAR archives.
How to unzip BIN files
BIN is an archive file extension that is pretty rare these days, and accordingly not supported by most archive tools. The aforementioned Archiver and BetterZip can work with .bin files, though, so you can rely on them.
How to unzip files on Mac with password
Password protecting your archives is smart, especially if those archives contain any private or sensitive information. It's impossible to use the default Archive Utility to unzip password protected files, though. You can either do it with Terminal or using the same app you've password-protected your files with — Archiver or BetterZip.
That's all you need to know about how to zip and unzip multiple files Mac. While this guide gives you many options, Archiver and BetterZip are the most secure and flexible ones. Not only do they let you zip and unzip in a click, they also work with the archiving formats your macOS utility doesn't support — such as RAR, and they work great for encrypting files.
Archiver and BetterZip, plus 230+ other essential Mac and iPhone tools, are available with a free trial of Setapp, an innovative productivity toolkit.