Best WhatsApp alternatives in 2023
WhatsApp is having a hard time. This is because people are having a hard time trusting WhatsApp with their personal data. If you're concerned about WhatsApp privacy loopholes and want to move to a more secure messenger, you're in the right place.
In this article, we explain why so many people don't want to use WhatsApp anymore as well as review the best private messengers, each of which can be a good WhatsApp alternative 2021. Even more, we found a few messengers that beat WhatsApp — not only in terms of privacy, they are faster, allow more flexibility with multimedia sharing, and have some cool features that WhatsApp doesn't have. Let's pick the right one for you.
Why people search for WhatsApp alternative 2023
Recently, WhatsApp announced an update to their privacy policy that required all users to consent to sharing their data with Facebook by February 8, 2021. If you don't check the box, you won't be able to use the messenger. Since Facebook is not exactly a privacy-conscious business, many users say no to the new requirement and abandon WhatsApp.
Interestingly, according to Wire, the practice of sharing data with Facebook has been in place since 2016 but the vast majority of WhatsApp users have only found out about it now. And that's not the only WhatsApp scandal the world has seen recently. Last year, there was a privacy breach with Google indexing some private links shared via WhatsApp app. While the company promised to fix this, the same thing happened recently, in the beginning of 2021. For sure, people are concerned and looking for the best WhatsApp alternatives.
WhatsApp new privacy policy explained
But what actually happens if you consent to the new policy? WhatsApp remains an encrypted messenger, which means your personal conversations will stay private. However, WhatsApp will get a legal right to share lots of your other data such as your device information (hardware type, battery level, etc.), user ID, IP address, email, phone number, contacts, payment and advertising information. Needless to say, that's a lot of data that might be used to manipulate your newsfeed on Facebook, target you with ads, and more.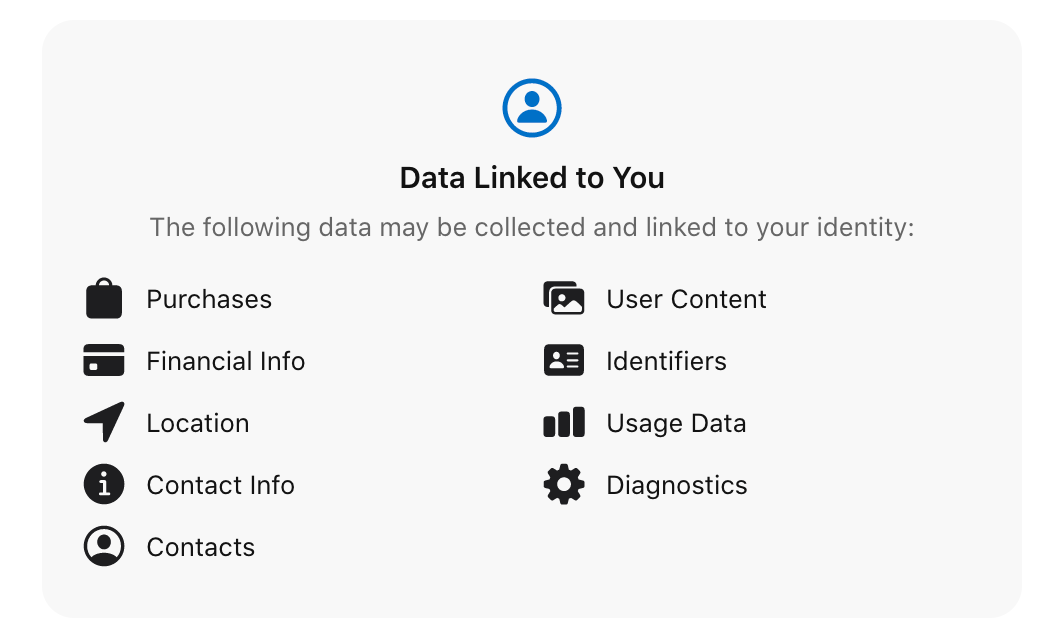 Update: Facing harsh backlash, WhatsApp ultimately decided to delay the enforcement of their new privacy policy by three months.
Best messengers for the privacy-conscious
Following the WhatsApp news, many people moved to alternative messaging services. The two apps that benefited the most were Telegram and Signal. But there are also quite a few lesser-known alternatives trending on the App Store that are worth mentioning. Here are the best messengers to replace your WhatsApp app with.
Telegram app
Telegram has long been one of the top WhatsApp competitors. In 72 hours after WhatsApp announced their privacy policy update, Telegram gained around 25 million new installs, ultimately hitting 500 million active users.
Telegram is a cloud-based messaging service created by a Russian entrepreneur Pavel Durov. The platform offers instant messaging, group chats, and video calls. The perks? End-to-end encryption and unlimited file sharing.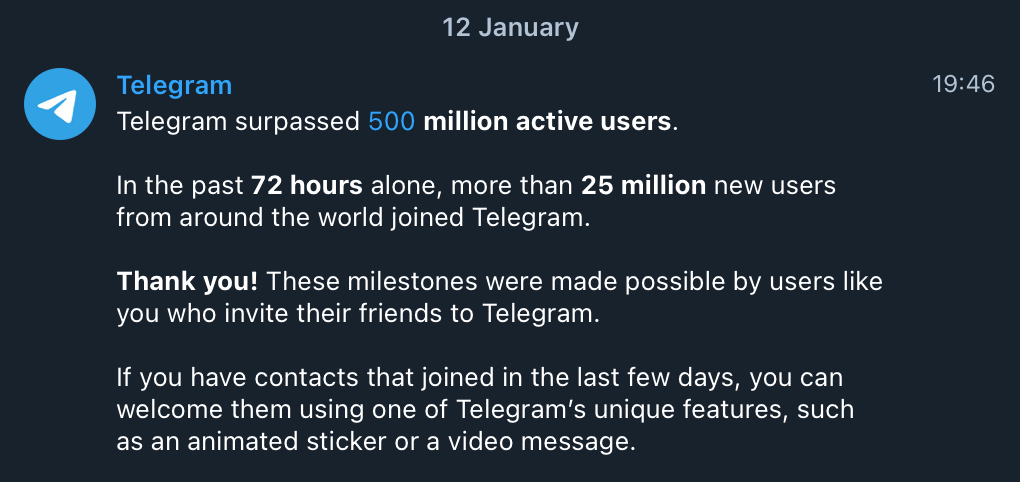 You can exchange media files on Telegram without any limit on their type and size (this is possible because chat history is stored in Telegram cloud and not on your device) — and each of your chats is securely encrypted. What's more, Telegram has a secret chat feature that allows you to create messages that will self-destruct on all participating devices after a certain time.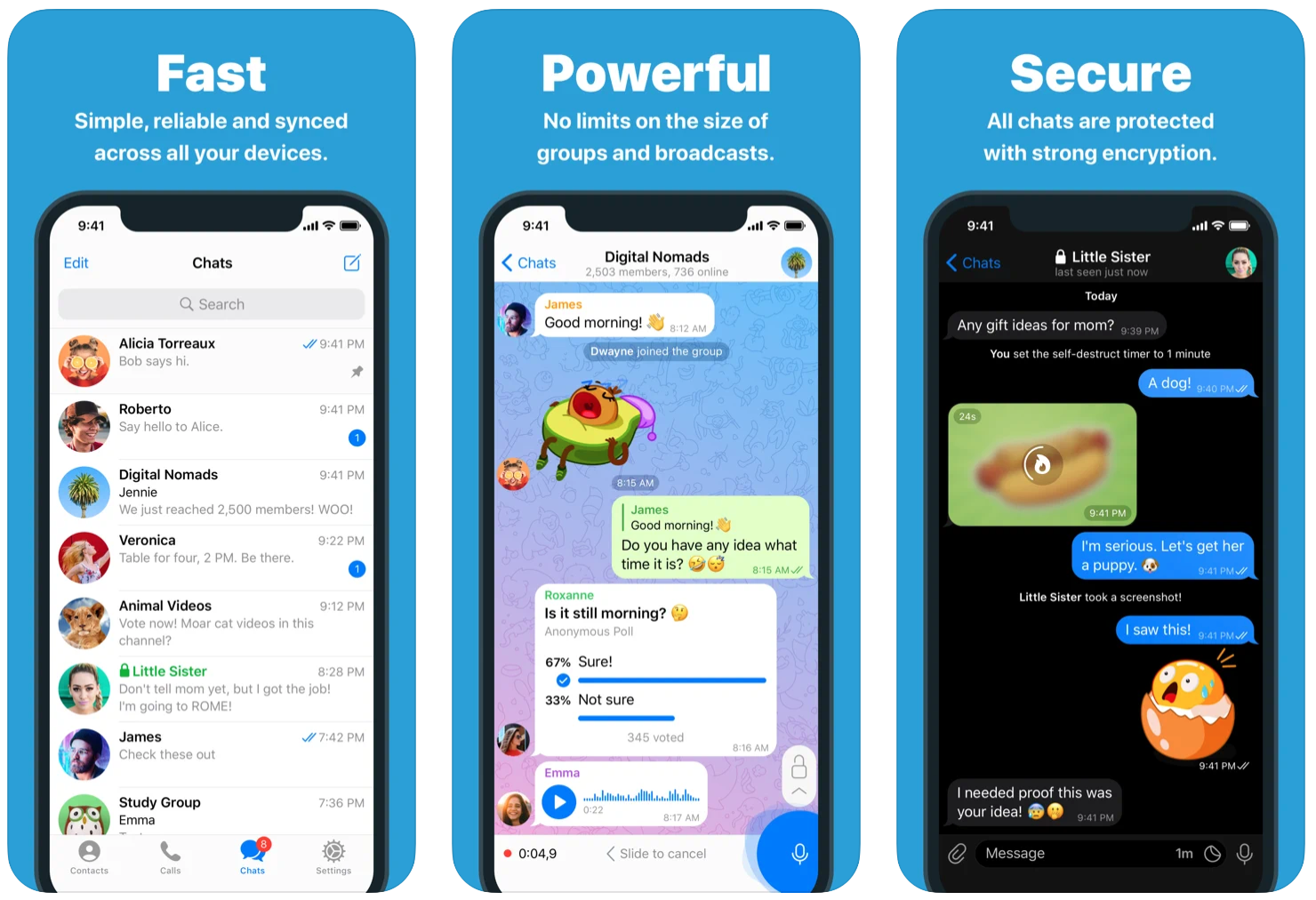 Telegram app pros and cons
One of the fastest and most secure messaging apps

Unlimited multimedia file sharing

Ability to create secret chats

Available on iOS, Android, macOS, Windows, and Linux.
Automatic contact syncing across accounts might be a problem for some people

There's a risk Telegram might be removed from the App Store, following Parler scenario.
Verdict: Telegram is great for people who need a fast private messenger with multimedia sharing. It also offers lots of bells and whistles like in-app bots, sticker packs, GIFs, and more.
Signal private messenger
Elon Musk was one of the first to publicly criticize the WhatsApp privacy situation. He suggested moving to Signal app — a private messenger developed by a non-profit, Signal Foundation. Following the tweet, Signal stock skyrocketed, just as the app's popularity on the App Store.

The funny thing is there's been some confusion with the names and many people invested in the wrong Signal — a small Texas-based medical company called Signal Advanced. Well, perhaps Mr. Elon should have been a bit more specific in his tweet.
Anyway, Signal private messenger is the real thing and it has huge perks for former WhatsApp users. The best advantage is end-to-end open-source encryption. Based on the Signal Messaging Protocol, Signal's encryption is one of the best you can find. The app features text messages, image and file transfer, video chats — everything you can expect from a modern messaging platform.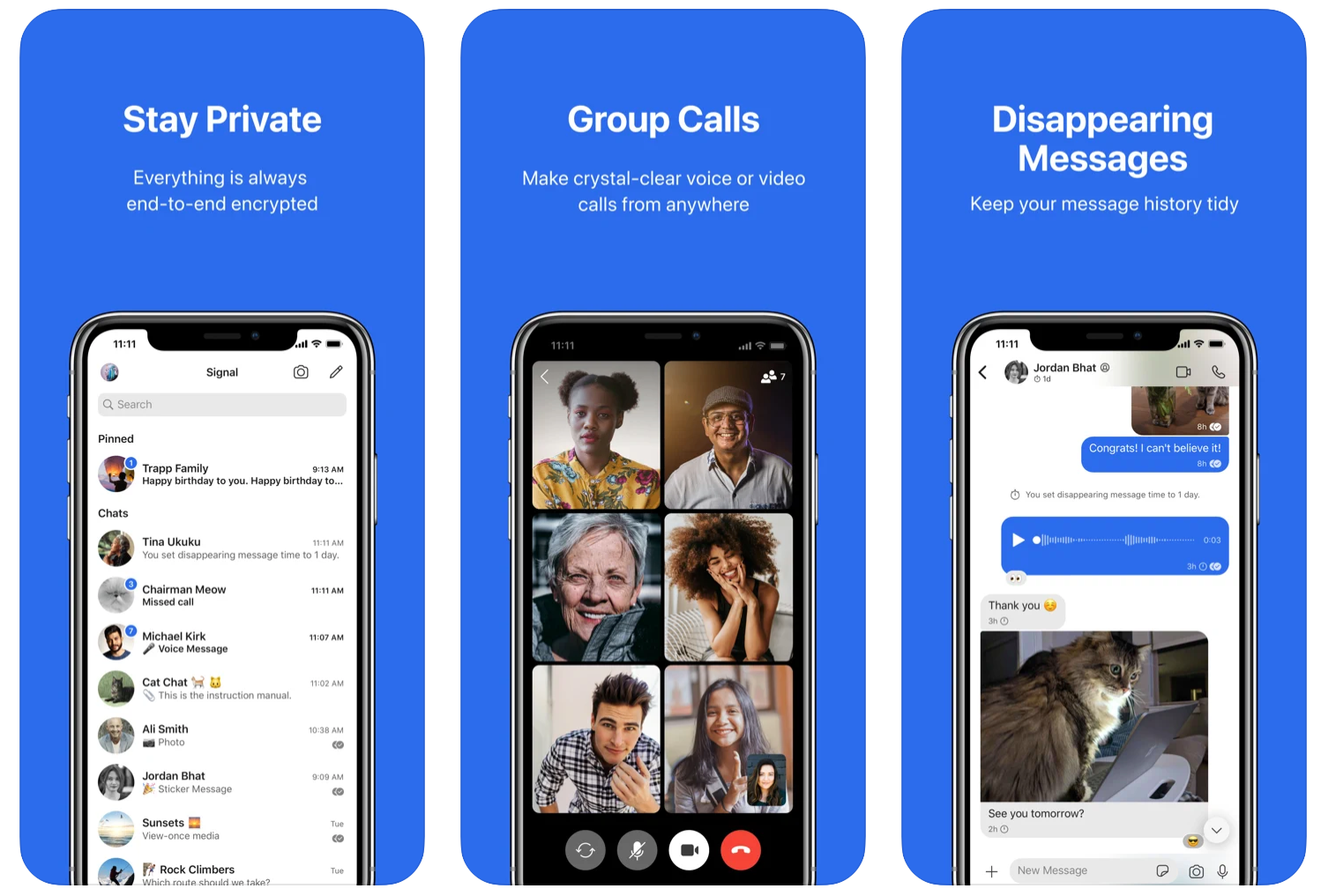 Signal app pros and cons
Best encryption ever, keeping every interaction you make 100% private

Free to use without ads or behavior trackers

Available on iOS, Android, macOS, Windows, and Linux.
Phone number required to sign up

No animated emojis.
Verdict: If privacy is your priority, Signal is one of the best WhatsApp alternatives you can get in 2021 — almost every Signal app review on the web will tell you that. The only information the app collects is your phone number and the time you joined/last logged in. So yes, Elon Musk definitely has a point and Signal app download might be worth a try.
MeWe social media & messenger
If you're thinking about an alternative for both WhatsApp and Facebook, MeWe could be a nice choice. It's one of those no-one-ever-heard-about platforms that suddenly made it to the App Store's top 10 days after the WhatsApp policy announcement.
While it's still a minor player on the marker, MeWe has some very ambitious plans. It basically tries to replace Facebook and become a go-to spot for those who're tired of ads, feed manipulation, and political bias. MeWe's privacy policy says "you have control over your newsfeed," and it's even possible to make your newsfeed private (think Instagram private account).
You can use the MeWe private messenger for 1:1 and group chats. The platform also includes next-gen voice messaging — something that according to many people makes MeWe superior to Facebook Messenger and WhatsApp.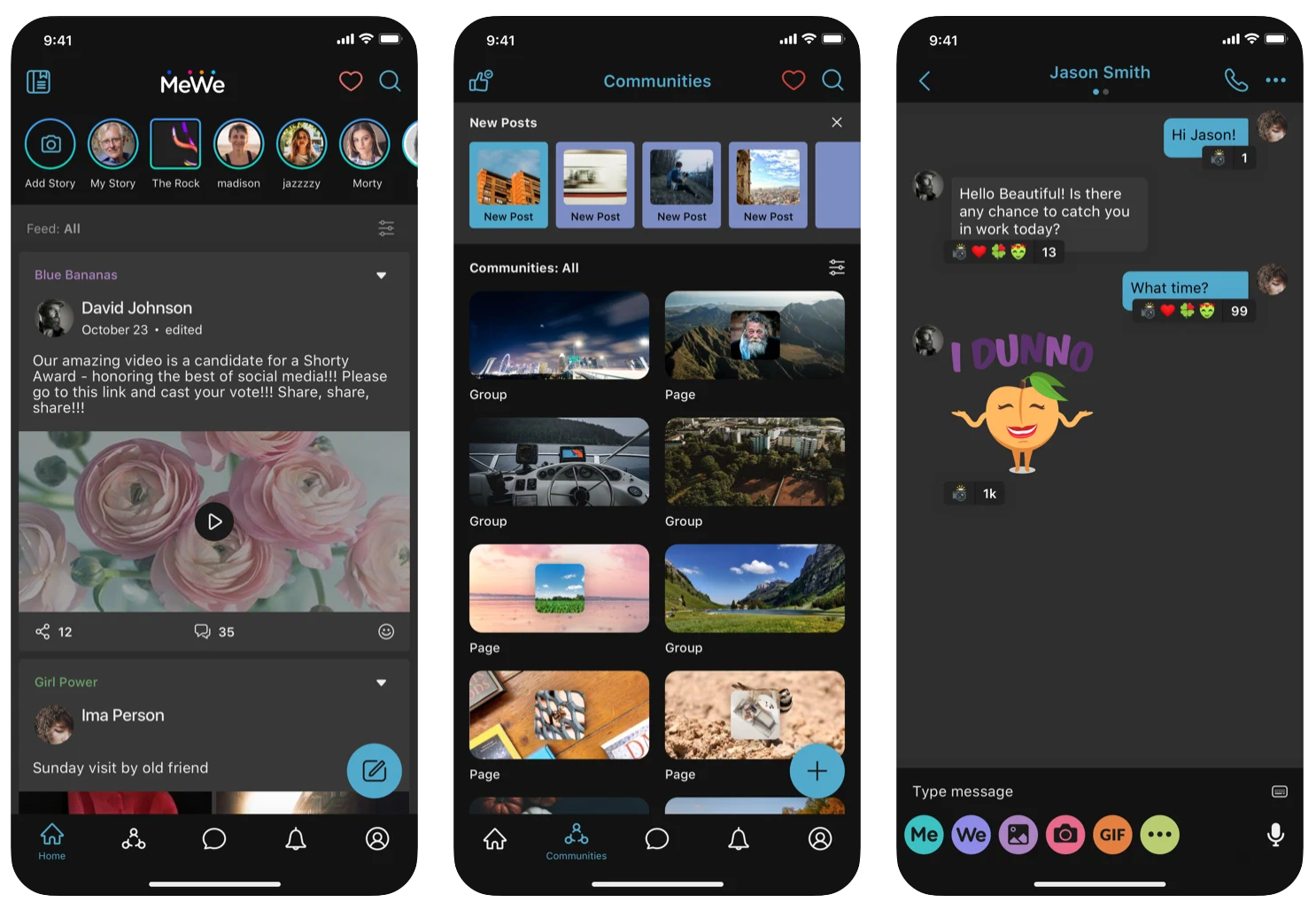 MeWe app pros and cons
All-in-one private social media and messenger

Securely encrypted chats

No newsfeed manipulation or ads
Too few people use MeWe

It's a subscription service, so you have to pay $1.99/month to unlock some features.
Verdict: MeWe could give you a bias-free communication ecosystem you've been looking for. The only problem is most of your friends probably never heard of it. Still, the recent WhatsApp news raises awareness about platforms like MeWe, so the chances are it will grow in popularity.
Threema app for private and anonymous chats
The messenger that puts security and privacy first. This is Threema's primary value proposition, and it clearly resonates with many recent WhatsApp divorcees. Threema is a Swiss-made instant messaging platform that can be used for both private and business communication.
Threema doesn't require you to link your phone number or email address to the account. When you sign up, the app generates a random Threema ID for you — and that's it. You won't be asked to provide any personal information whatsoever.
Threema is a paid app and is not financed by advertisers. Neither does it collect any of your data for whatever purposes. So it's just you (completely anonymous if you wish) and your securely encrypted chats.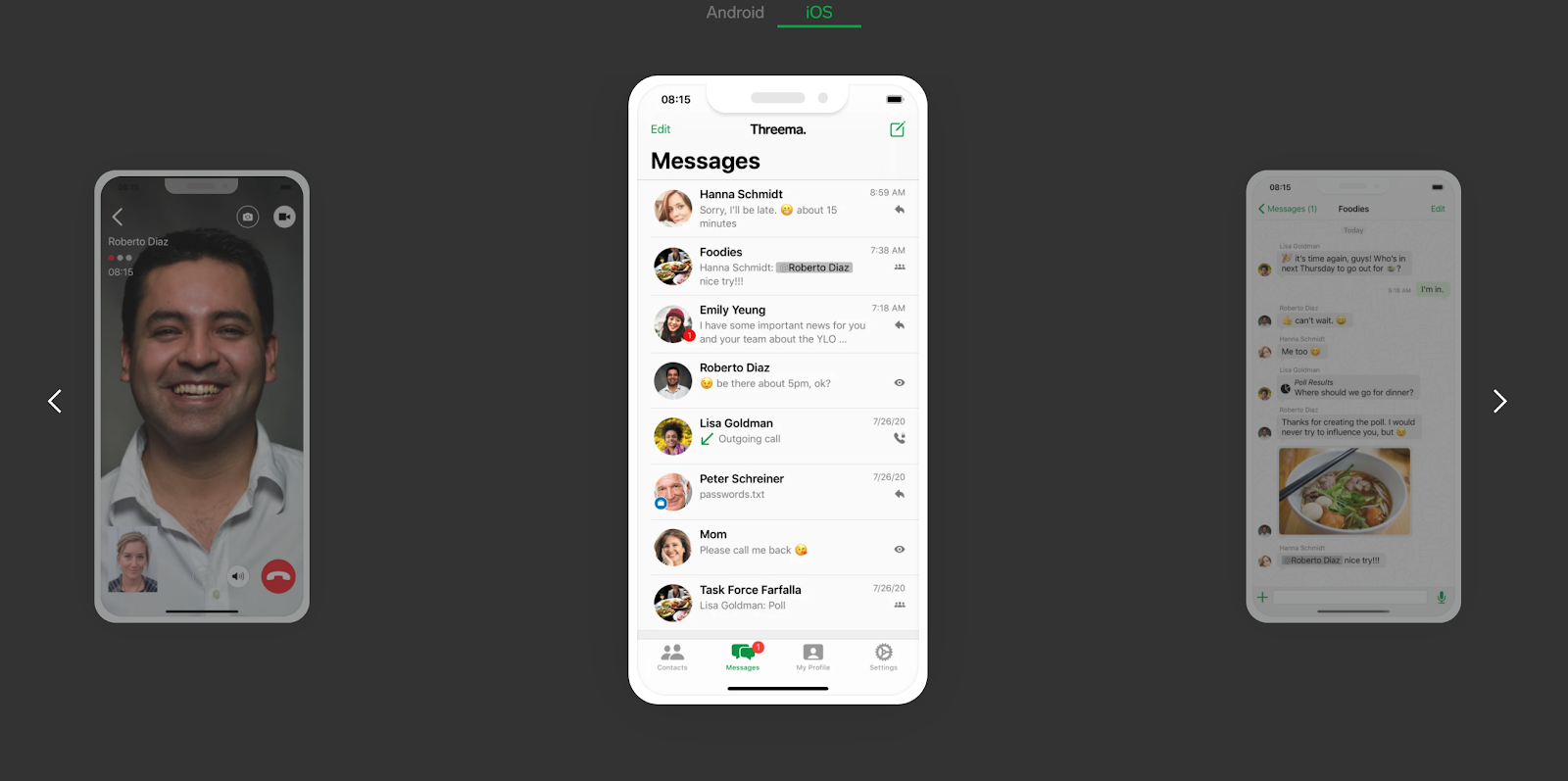 Threema app pros and cons
No phone or email required to use the messenger

High-end encryption and GDPR compliance

No user data collection and no ads.
Paid app (around $4 depending on the platform).
Verdict: There's no such thing as free lunch, says Threema. And if you agree with them and are ready to pay a small fee for private messaging — awesome! Threema gives you a unique way to communicate digitally without providing any of your personal information.
Wire for private team communication
People at work discussing the recent WhatsApp news? The chances are you've been thinking about a private messenger for your team. Wire is a good enterprise-level messenger with encryption for all types of group communication, from online chats to video conferencing. It's a paid app for businesses but there's also a free plan with encrypted messenger available for individuals. So how about pitching it to your team?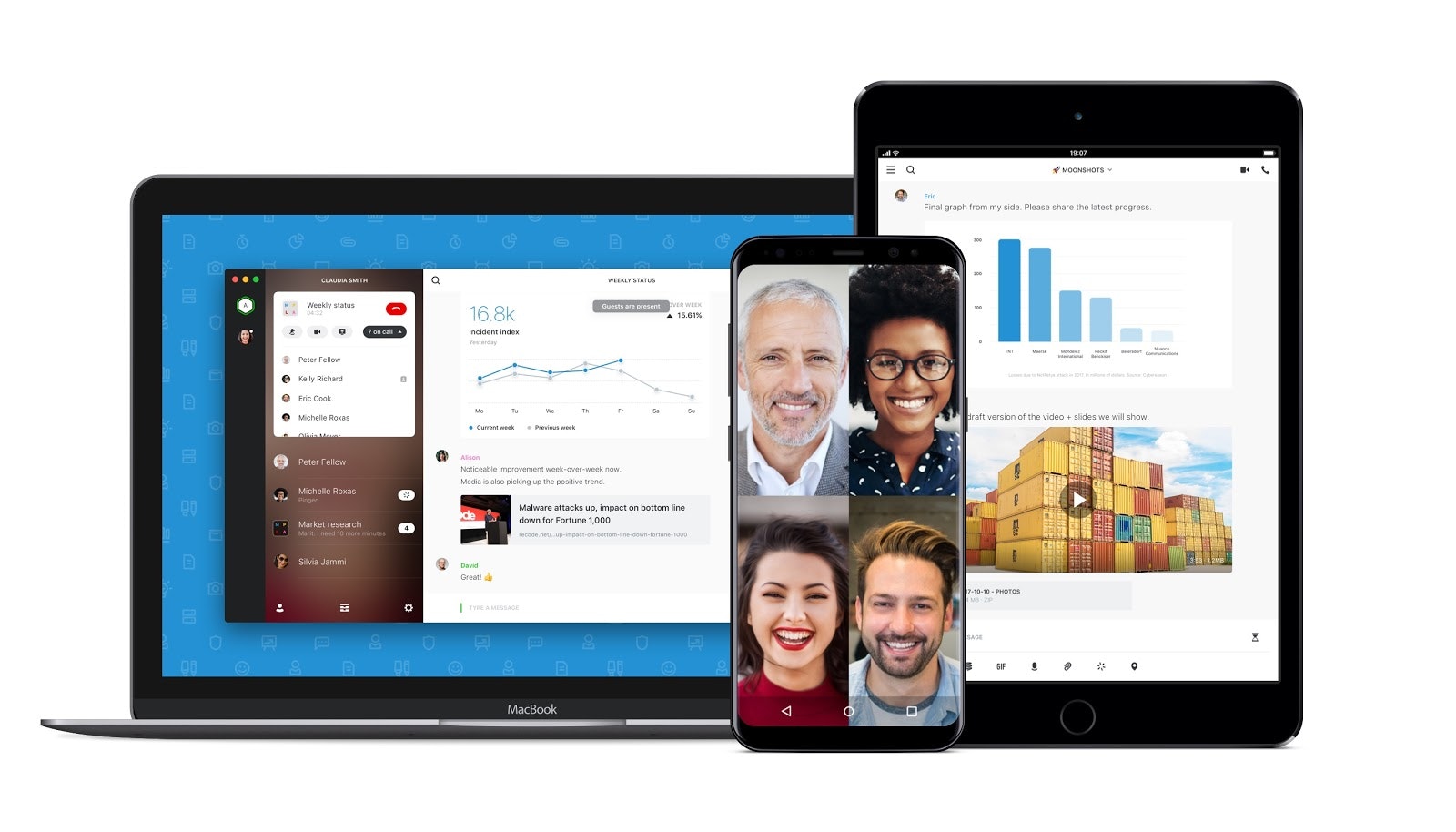 Wire app pros and cons
All-in-one private suite with messenger, video conferencing, and more.

End-to-end encryption available with any plan

Available on iOS, Android, macOS, Windows, and Linux.
Sign up with email or phone number

Paid app (from $5.8 to $9.5 per user per month).
Verdict: If your primary goal is to make team communication private
IM+ for keeping all your messengers in one
If you're like me, the thing you hate most about messengers is having too many of them. Especially now, when many people are looking for the best WhatsApp alternatives, it's very easy to fall into the trap of unnecessary app installs. Luckily, IM+ can solve this problem for Mac users.
IM+ is an all-in-one messenger app. It's main job is connecting messengers and video conferencing tools in one place to streamline the way you communicate on Mac.
Let's say you use WhatsApp web, Slack, and Telegram on Mac. Now you would like to replace WhatsApp with Signal and a few other tools — just to compare the functionality and choose what works for you. Or, maybe you already use more than one messenger on a daily basis: Slack for work, Telegram for group chats, and Signal for personal communication. Plus, IM+ allows you to add video conferencing tools like Zoom and email clients. Now, instead of launching 5+ apps, you have to launch just one.
Here's how it works:
Open IM+ and click on Services to view all the messengers available

Select those you want to connect — they will appear in the left sidebar

Add custom tags to differentiate between private and work chats

Access all your communications within IM+.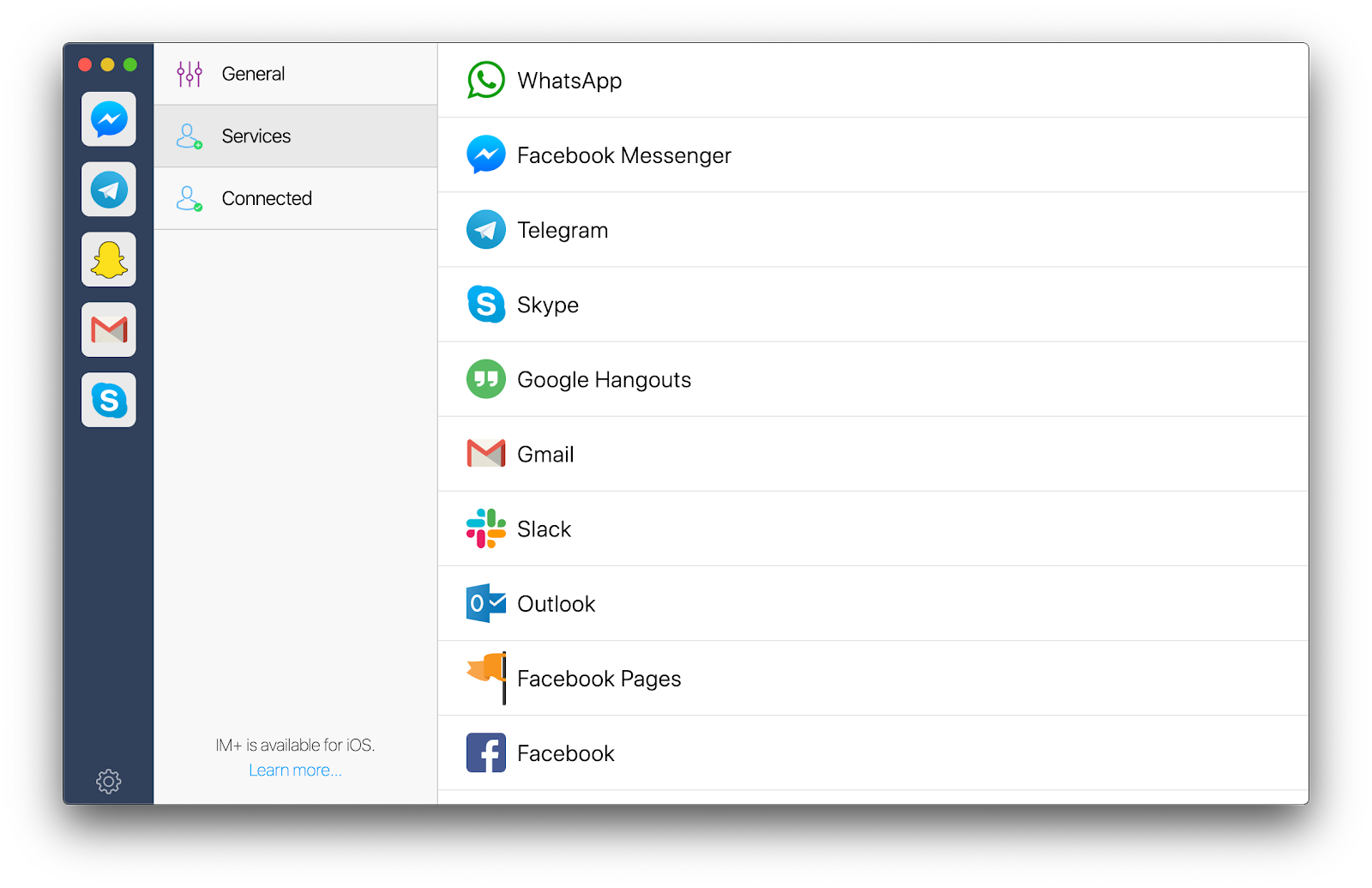 IM+ is available with Setapp, a productivity-focused subscription service where you can find a solution for all your daily tasks. Anything from a data recovery app to an Instagram client for Mac is on Setapp — so if you have a Mac, you should also have Setapp.
You can try IM+ along Setapp's other apps for 7 days free, then $9.99 per month. Other messengers mentioned in this guide are either free or provide a free trial — so you can choose what works for you before making any decisions. We wish you best of luck with finding a secure messenger.