Setapp for iOS: App Store Guidelines compliance
We've recently announced that Setapp is finally expanding to iOS, with access to a limited number of compatible iOS applications. Immediately this announcement raised a number of questions like "how this is possible?" and "how can it be compliant with Apple's App Store Review Guidelines?" considering Apple does not allow the use of third-party mechanisms to unlock apps.
First of all, it is important to mention that we highly value our relations with app vendors and would never want to expose them to the risk of being punished by Apple. At the same time, we were looking for a solution that would provide the best possible user experience given the existing platform limitations.
After several years of consultations and validation of different approaches, we finally came to a solution that would satisfy all parties.
For developers, Setapp is an innovative solution to monetize their applications in a new way. Instead of asking for payment details and charging each customer directly, Setapp plays the role of a payment processor, just like PayPalTM does, holding and processing credit card information for their merchants. So when users are using applications from Setapp, the developers of these applications are rewarded according to their agreements with Setapp.
According to the paragraph 3.1.2(b) of the App Store Guidelines, apps may offer auto-renewing subscriptions on multiple platforms, if the user acquired access to your app's content or features on other platforms or your web site, it is not prohibited by the rules if the following criteria are met:
Those items are also available as in-app purchases within the app.

iOS users are not directly or indirectly targeted to use a purchasing method other than in-app purchase, and general communications about other purchasing methods do not discourage the use of in-app purchase.

iOS apps fully comply with the App Store Guidelines and are distributed through Apple's App Store.

Must use the App Store to distribute updates; other update mechanisms are not allowed.

Apps may not use their own mechanisms to unlock content or functionality, such as license keys, augmented reality markers, and QR codes.

Apps and their metadata may not include buttons, external links, or other calls to action that direct customers to purchasing mechanisms other than in-app purchase.
How Setapp for iOS really works
Desktop apps that have iOS companions, providing great multi-platform experiences, are the only apps available on Setapp that may comply with the existing iOS requirements.

All the iOS apps have successfully passed the App Store review process and are available as a free download from the App Store.

iOS users are not targeted or in any way encouraged to use a purchasing method other than in-app purchase.

All the functionality and content are available for purchase via in-app purchase or subscriptions on the App Store.

The apps don't include buttons, external links, or other calls to action that direct customers to purchasing mechanisms other than in-app purchase.

The apps are not reading QR codes, augmented reality markers or license keys to unlock content or functionality.
The activation of iOS apps is not available to non-Setapp users. Each iOS app that wants to allow access to multi-platform subscriptions through Setapp must include the Setapp framework in their apps, which will provide information about the user's subscription status. The only possible way to activate this verification mechanism is by opening an App-Specific Universal Link.
There are a limited number of ways users may receive this link on a mobile device. We use a QR code in the Setapp desktop app, which is readable by the default camera app, to pass this link to the mobile device conveniently for the customer. The app itself cannot read the QR code directly.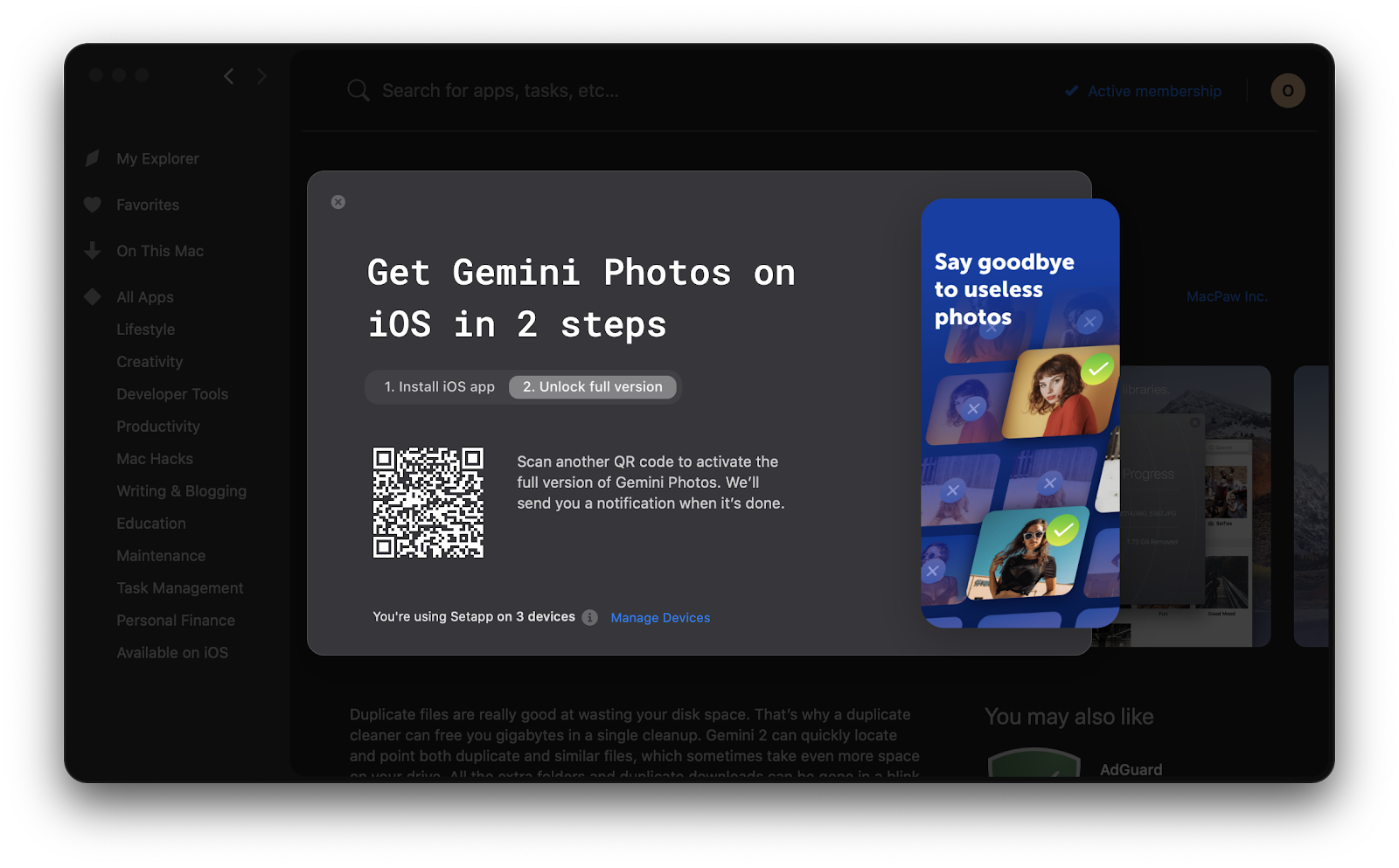 We've put a lot of effort into thinking through the business model to ensure it was 100% compliant with the App Store Review Guidelines.
We encourage our vendors to fully comply with these rules during the review process when they submit their applications to Setapp. We're convinced Setapp for iOS will attract lots of great developers, giving them the possibility to access new audiences and monetize their apps with a novel approach while increasing the value for our users.